Wed 21 June - 1 Wedding and No Funerals

(thankfully) Yesterday evening a boat rolled into Frikes bay with Sharon, Roger and their Wedding Party. They love the island so much they chose it as the place to hold their wedding. Rementzo Restaurant scored the reception. Sharon and Rogers' plans became a little skewed once they reached the island with plans to marry at the Villa in which they are staying, thwarted, but luckily and happily things all worked out in the end with a boat ride to Vathy where the current Mayor of Ithaki, Mr. Karavias, awaited to perform the civil ceremony. Sharon and Roger are both practicing lawyers, so luckily there were no complaints.
| | |
| --- | --- |
| | |
| Ithakis own Stavros and Saki played live Greek tunes, and I must say, very, very, well, to entertain the Wedding Party at the reception. It created such a nice atmosphere, that maybe it should be considered for the future. | |
| | |

| | |
| --- | --- |
| | |
| | |
| Below - Mel and Paul are back again this year. Their 8th time. This is the lovely couple who sent me a modem last year when I couldn't find the one I needed in Greece. A huge thanks!!! | |
Who's Here

The faces of Summer on Ithaca 2006

| | |
| --- | --- |
| | |
| Left - Sakis is originally from Thessaloniki, lives most of the year in Munich, Germany, but has a home in Perahori which he calls his home 3 - 4 months of the year. | |
| | |

Thu 22 June - Day Trippers trip into Frikes on a hot day in June, but once they're off the boat, they disappear until it's time to board again. With the load that came into the village, only a handful sat to eat at one of the restaurants on the waterfront. Looks like everyone is counting their pennies.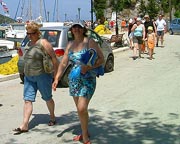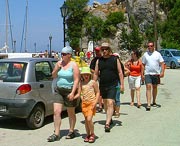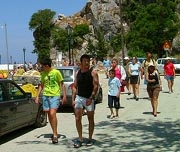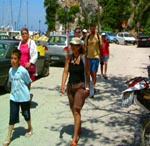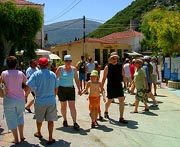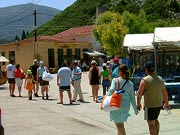 Left - Teresa looks happy and it's no wonder. She loves being back on Ithaca, where her family has a home just outside Frikes. She's here for a 5 week break on leave from S. Africa. We caught up with her hanging out with her friends at Bemenis Cafe Bar, where the cool breeze made the hot day yesterday a little more bearable.

Right - Niko is here from Melbourne Australia, visiting his family in Lahos. Niko decided to leave the island a couple of years ago to try his luck in the sun burnt country. Looks like it's doing him good, but a local Ithacan boys' heart is never far from the core.

_______________________
| | |
| --- | --- |
| | |
| Above - Kevin and Jackie are here for a few weeks from Cape town SA. They are no strangers to Ithaca, but it's been 3 years since their last visit. Kevin is a photographer and makestv | |

Fri 23 June -

Right

- Jillian leaves the UK each year to spend her Summers on Ithaca. She's here until the weather changes and then heads back to her home for the Winter. Jillian has adopted Gefyri Restaurant in Platrithia as her haunt on ithaca, very occasionally peeling potatoes there. A far cry from her profession as a Clinical Psychologist.
| | |
| --- | --- |
| commercials with Egg Films in SA and Jackie has a little shop. She's keeping her eye out for some special Greek things to take back with her. While they're here they spend as many hours as they can at the beach, they walk, eat and RELAX! They enjoy the easy lifestyle of Ithaca. | |
| | |
| As we head towards the end of June, more and more people are gracing the island with their presence. | |
| | |
| Sat 24 June- Below - Lee, his wife Shannon and son Daniel, chartered a yacht, the 'Argebeleno', in Lefkada to sail around the calm Ionian, spending a few days on Ithaki. This family is holidaying here from Cape Town in SA. Lee, in his youth, worked as a model, but now runs an investment company in South Africa. | |

Left - Maureen is on Ithaca for a week from Sussex in the UK. It's her third trip to the island. In Sussex she works as a GSE Maths Teacher, but don't judge a person by their profession, Maureen is also a dancer. She actually attended the classes Andy Pappas, once dancer, now restaurateur, once from London, now from Kioni, used to give in London in another life.
| | |
| --- | --- |
| | |
| Sun 25 June - Above - Sue and Mike spend as much time on the beach as they can when they come to Ithaki. They're favourite beach is Polis, just below the village of Stavros. They are here from the UK and head back there again today. | |
| | |
| | |
| --- | --- |
| Above - Michiel & Renske are here from the Netherlands and have been staying in Lefki. they've made the most of their holiday and had a few adventures thrown in, but then, Michiel who is a pilot for KLM Airlines, would be no stranger to adventure. Renske and Michiel are soon to be first time parents. Congratulations! | |

| | |
| --- | --- |
| Above - Juan and Isabelle sail all sorts of people around the Ionian. They have friends in every port and are just a couple of the well-loved 'Incoming' during this time of year. Juan is Spanish and Isabelle, French. In Summer they sail from island to island and port to port, and in Winter they live in Paris. During the Summer Season, they have been regulars on the island and the website for quite a few years. | |
| | |
| Yesterday 6 buses rolled into Kioni and then rolled out again, bringing day trippers into the small fishing village to take photos and eat at one of the many good tavernas along the bay. | |
| | |