| | |
| --- | --- |
| | Ithaca Summer Lodown 2008 |
| | These pages are for all the fun, activities, parties, festivals, news and visitors coming to Ithaca in Greece for the Summer of 2008. You'll still find Who's Here, Around The Villages and Ithaki General, but this year they'll all be packed into one. Enjoy the Summer, be it on the island or online. It's bound to be huge! |
Wed 4 June - Above - Locals relax in Frikes at Symposium restaurant and Fiorendino Bar. Left - The underrated village of Perahori, from where one gets the best perspective of the southern island of Ithaca. Perahori doesn't just have stunning views, but it's also the Agro-Tourism capital of Ithaki. The village is well known for its organic olive oil and wine, but also for its very friendly community.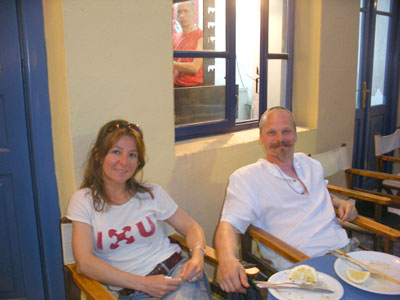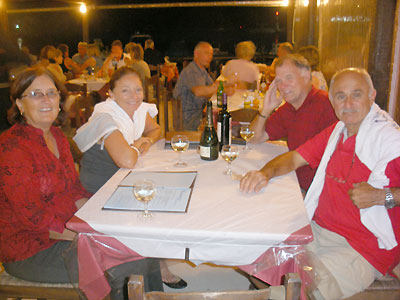 Above Left - Zen and Erik are on Ithaca for a couple of weeks from the UK, getting a well deserved rest. They are staying in the northern village of Ag. Sarantas where traditional life still dominates. Above Right - Well known Summer residents, Chandra (2nd left) and John Ventouras (far right) from Kioni show friends Margaret and David around the island. The four stem from Australias sunny capital of Perth in Western Australia.
Left - Stavros locals, Ourania and George Vasilopoulos, take a night off to take some friends out to dinner in Frikes.

Yesterday was quite a strange day with dirty drizzle falling on and off all day. Very humid and sticky. Today, although there was more rain predicted for the area, the sun is shining again with just a little cloud here and there coming in from the horizon.

Locals in the north are up in arms with news that ADSL will not reach the villages. With 'the more than inferior' dial-up, businesses and the general public have little luck logging on. Locals have asked me to make a LOUD NOISE about their discontent and we'll be starting up another petition and declaring the local provider otenet inept once again. If anyone out there has any suggestions how a small community can twist the arm of their big brother, please write in to let us know. Wireless broadband was our great hope, but even this has fallen way short of expectations in the north. Those who have paid for plans are now paying a small fortune for the frustration. Northern business who relies on email for communication is left without service most days. Otenet continues to blame individual lines when they know full well it is their network at fault. Dialing in with FREE or ACN works.
Fri 6 May - Above - Bet you don't find one of these just laying around in your backyard. It's a goats head, horns included.
Above - Platrithia local, Kathy, with mum Sia and husband Phillipas. Sia hasn't been on Ithaca for 8 years and arrived this month to see her daughter Kathy who has been living on Ithaki since the 80's. In those days Sia also spent much of her time on the island, but in recent years had little opportunity to leave Melbourne to revisit her roots, family and friends. Sia says 'hi' to all her friends at the Ithacan Philanthropic Society of Melbourne Australia. Below Left - A passion flower growing wild on the mountain side of Perahori.
Since the early hours of today, the earth trembled and shook 5 times. First tremor was at 2am, then again at 5am, then 2 in quick succession mid morning and again tonight at 9pm. The 5 am tremor was the worst, so say the locals, so the rest are thought aftershocks. Personally, I missed the 2 early morning tremors, heard the mid morning tremors, but didn't feel them, but did feel the 9pm tremor while in Frikes. It was loud, but short. Many locals welcome frequent tremors as they believe the more small tremors are experienced, the less likelyhood of a big one. Earth tremors are something you become accustomed to when living in Greece. We're pretty safe here, most houses are earthquake proof to 10 Richter. It is a weird sensation however, to hear the rumble and roar of the earth vibrating beneath us.

Sat 7 June - Below - The main road in and out of Kioni was blocked today due to the construction of a private house, BIG, private house in fact. It would have been nice if they'd put a sign up as you come into Kioni, instead the only hint of something going on were concrete trucks reversing up the hill to Raxi because the road isn't wide enough to turn. So for all heading in and out of Kioni, it was down (or up) the old narrow road which became blocked a few times as there is no room for two-way traffic. Kioni was harder to escape than Alcatraz, thankfully it's one of the prettiest villages in the Ionian, so I don't think anyone cared too much.
| | |
| --- | --- |
| | Above - Costa, looking very fashionable in his mini blue apron, gets his feet wet at Spavento Cafe Bar in Kioni. Left - One of the hardest working women in Kioni is Aleka from Pantopoleion Mini market. I don't believe there's a person that has passed through Kioni that hasn't met Aleka. Her face is better known than the Mayor around these parts, and that's not surprising, since I have personally been watching her work since 1983. |
| | |
Sun 8 June - Absolutely bucketed down with rain last night. The weatherman said it would and it did. From around 10.30pm into the early hours of the morning, the thunder roared and the lightning cracked overhead. It was actually really nice. Over the past month the steamy weather had made everything dusty and congested and last nights' rain just washed it all away to give a brand new start to June...well, almost. There is more rain predicted for the area over the next couple of days. This morning the sun is shining, but alas, there are clouds beginning to form again overhead so who knows whether Ithaki will maintain it's ability to be sunny while the rest of Greece is wet.
If you tried to get on to ithacagreece.com yesterday (US time - 2 - 11pm) you would have realized the site had disappeared into thin air. Due to ithacagreece.coms American server ipower. Around 1,000,000 milion other sites suffered the same. Between trying to get online and finding something where when i do, you could say it's a frustrating experience. ipower is so frustrating that its clients have actually started a 'I hate ipower.com' So if it wasn't already depressing enough to be offline, reading the horror stories made me feel no better, especially the ones about changing server. Looks like ipower is inept from go to woe. So why not change servers as fast as I can? Well, ipower looks like it doesn't lose customers easily and does everything to impede the process, especially the very important bit that allows the site to be found on the new server. So, in the future, if ithacagreece.com is offline, please bare with me until the end of the season at which time I will look into moving the online island to a safer port (if there is such a thing).
The skies were looking quite a bit threatening, but rain held off for most of the day. The big news through the wire was about another tremor, 6. something on the Richter. I was in the street and didn't feel a thing, but I may have been one of the very few. Calls and emails from all over the world came flooding in, asking about the state we're in. Well, we're fine. Really? Yes, Really! Flights from the UK to Cephalonia were diverted to Athens, but there really wasn't any reason. .Below Left - Donkeys are not dead on Ithaki. This one is taking his owner through the streets of Vathy.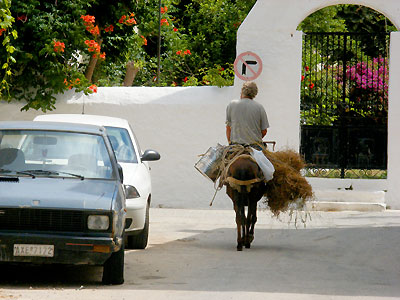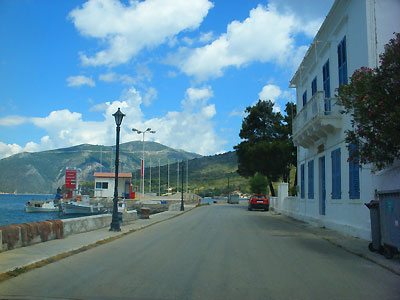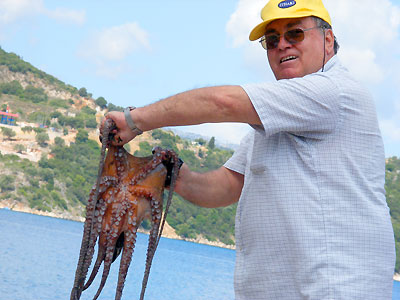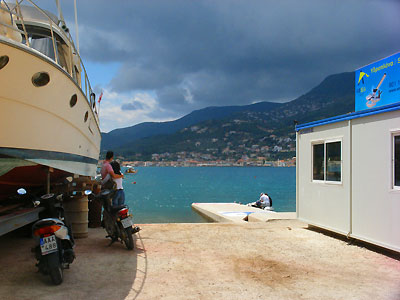 Above Left - A vathy fisherman pulls in a big octopus and we've got the proof. Above right - Waiting for the plane to touch down on the far side of Vathy bay. the sky threatened to storm, but before too long the sun was out again and life went on as usual on Ithaki. Below Left - Airsea lines plane ferries into the harbour from Corfu. Below Right - Wally Kempton, member of Melbourne band 'Even' and 'The Meanies' wastes no time in getting his feet wet. Within 10 minutes he was learning the Ithaki lingo and feeling very much at home. Wally is taking a short break after some UK gigs and before he heads back to Australia to promote Evens new album which NME noted as genius in their review.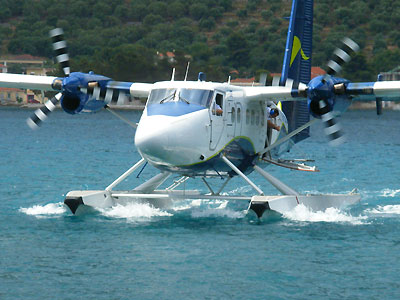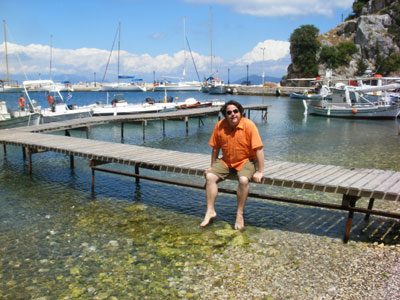 | | |
| --- | --- |
| Mon 9 June - Left - No, the circus hasn't come to town. It's a Billy truck with lots and lots of lights. There's barely enough room on the road for a car let alone one of these trucks, but when there's no power, this one can light up an entire village. | |
| | |

Tue 10 June - Above - Tony and Barbara are having a real hoot on Ithaca. They are staying in Vathy and enjoying the company of their local friends. They're here from the UK and say if that if it wasn't for the grandchildren, they'd plant themselves on Ithaca for good.

Left - L-R - Nancy, Tom, Sandy and Moira looking very relaxed against the blue bay of Frikes. Tom and Nancy have been writing into ithacagreece.com and logging on for quite some time so it was nice to see them in person. They have been visiting Ithaca for many years from the UK and are quite well known around the traps of northern Ithaki. People often ask how I keep up the energy to maintain the site, well Tom and Nancy are one reason. I know there are many nice people out there logging on, and that makes it a real pleasure. A show of human kindness from them has made my day today. Thank you!

| | |
| --- | --- |
| | |
| The Summer community of Ithaki display a real passion for Ithaki. | |
| | |
| --- | --- |
| | |
| Above - The tenor and the 2 chorus girls live at the Frikes concert corner. Right - John and Gina are here from the UK and enjoy life, love and Ithaki. John is a very young 73 years old and both he and Gina believe having an enthusiastic attitude keeps them young. | |

Wed 11 June - We're still getting phone calls about the earthquake a couple of days ago. Yes, there is damage in the Peleponnese, but not on Ithaca, as I said, I didn't even feel it personally. There have been stories from people on the ferry from Patras, who report the ferry lifted as the sea swelled under it with the quake. Now that would have been a bit freaky, but everyone arrived safe.

Thur 12 June - Below - The most read on the island at present must be the menus around the island as visitors decide which Moussaka or which Grill looks the most appetizing.
| | |
| --- | --- |
| Above - With the yachting season upon us, local fishing boats look a little cornered in the small bay of Frikes. | It seems that each day now, more and more people are arriving on Ithaca. The streets are livelier and so are the bays around the island. |
| | |