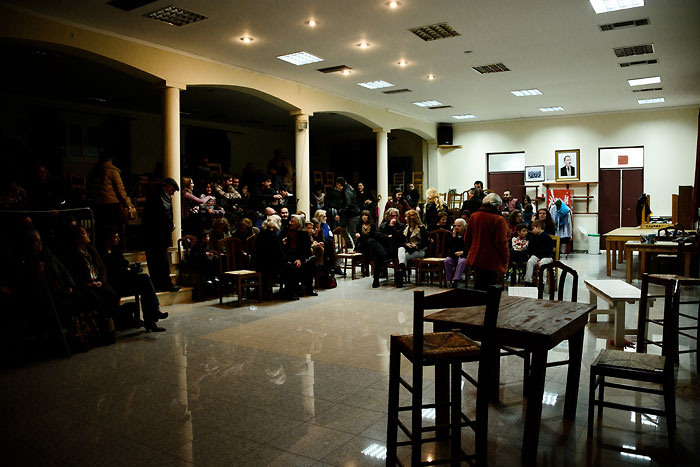 After having noticed that people have been really thin on the ground over this winter, it was great to see the locals ventured out of their houses, despite storms and rain, to support the Northern Ithacan Mother's Club and thus the Primary school with donations raised through this very funny play - The Murderesses of Papadiamanti. All about murder, drugs, sex and women gone wild.
Stelios Parris, Director and celebrity in his own right from Athens, plucked some mums out of theatre obscurity, gave them characters far from their own to let them shine, and shine they did. Each gave a powerful first performance, the audience was in hysterical laughter almost from beginning to end. Some of it due to the notoriety of seeing their friends and relations, wives or mothers up on stage, acting a world away from their real lives on our little rock of Ithaki and more due to the hilarious script which reeled off one sexual inuendo after another, a little taboo and alot of fun!
Doors opened at 8pm, but the Stavros community hall was already almost full at 7.30pm. Everyone eager and looking forward to this unusual event for the north of the island. Theatre has historically been performed by Forkis Theatre Group. This was something completely different. Inexperienced women, acting, most, for the very first time. There had been months of rehearsals and all the hard work culminated in a very funny and satisying 3 hours of amateur theatre.
Before the play began, Stelios Parris, Director and somewhat of a snake charmer, igniting this explosion of passionate enjoyment from actors and audience, gathered the women for a Madonna like prayer circle, thanking the Council and others for their support.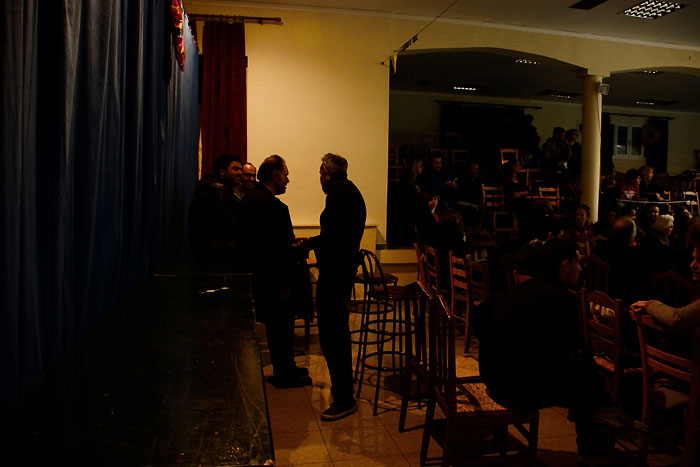 In Order of Appearance
Zafiria Karamanou: Vana Raftopoulou
Goulios Papadiamanti: Helen Noutsatou
Petroula Laspi: Andrianna Vassilopoulou
Aspasia Vourlami: Poppy Pagoulatou
Manousos Markogiannaki: Denise Trochoulia
Sister Iliostalakti: Helen Gaila
Mimosa Vogel Marianna Lekatsa
Konstantina Louvari: Joanna Griva
Rosa Papadogiannis: Helen Nevradaki
Cop: Stelios Parris
Palmyra: Jenny Vlassopoulou
Meroula: Sarah Murray
Katy: Mara Raftopoulou
Eleanor: Helen Mitsoura
Alia: Makis Vassilopoulos
Minos: Theophilus Karantzis

Script: Alexandros Rigas + Dimitris Apostolou
Directed by Stelios Parris
Production Assistant: Eleni Noutsatou