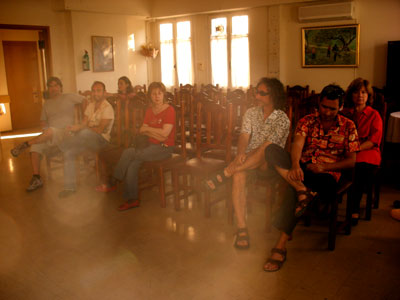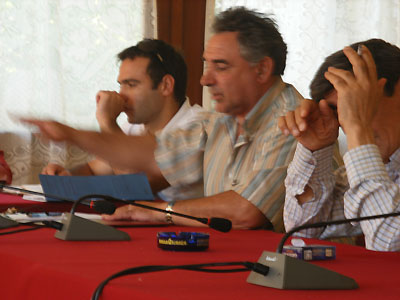 What on earth would make bar and cafe owners from all over Ithaca go to the Kapi for a meeting with the Mayor and a couple of other Council members? Simple, well it's not really, it's bizarre and could be very funny if it wasn't so serious for the Cafe Snack Bar owners.
A little background to begin with - the law to do with music states that Cafe Snack Bars should stop music at 11pm, but touristic municipalities all over Greece, such as Ithaca and not in the least including Athens, allow them to continue until 3am, unless of course there is a complaint, in which case the police are sent, the Cafe Snack bar is given a warning and after the third time, may be closed down for a period of time along with a hefty fine as punishment. Cafe Snack Bars are not licensed to play loud music, but are licensed to have snacks and have seating outside (although seating outside on the road is actually illegal, unless it's on a footpath, but still it's a privilege for which the Council accepts a yearly fee from restaurants and bars around the island, as does every Council all over Greece). A Bar, bar is licensed to have music until the early hours of the morning, but not to serve food or have tables outside. They must have their premises sound-proofed and theirs doors should be shut.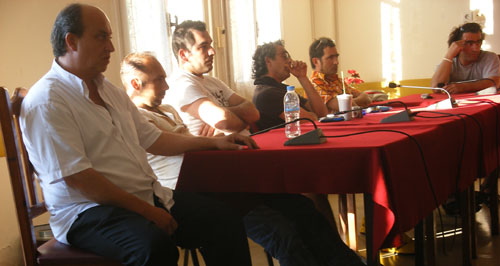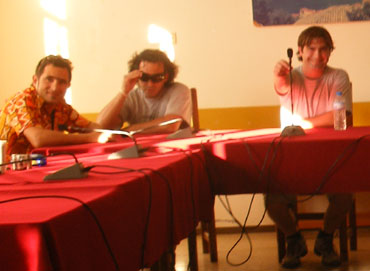 .
So, here's the story. A Bar, bar owner in Vathy was closed down for having chairs outside his premises last year by a Cafe Snack Bar owner getting his own back after being shut down himself for playing music. Competition being high for the tourist dollar, sometimes these things get a little out of hand, or as in this case, alot out of hand. The Bar, bar owner has now taken his complaint to a higher court than the local court, to have the Cafe Snack Bar owners closed down if they play music after 11pm, also making a complaint about seating on the road, which is illegal. A Bar licence is more expensive than a Snack Bar licence, even though on Ithaca, both bars work the same and have for years, but nevertheless, the Bar, bar owner insists that the Cafe Snack Bar owners should pay for a Bar licence if they want to play music past 11pm, stop serving food and bring their chairs in from the road. Problem is that the Snack Bar owners are happy with their cheaper licence and wouldn't want to lose their chairs on the bayside or road or their ability to serve snacks to their customers. Are you getting confused yet??? Well just wait, it gets worse.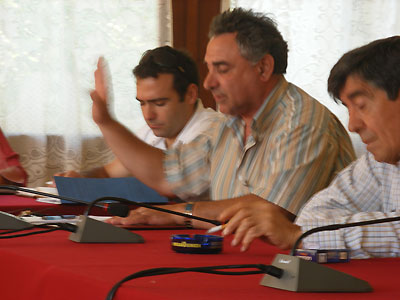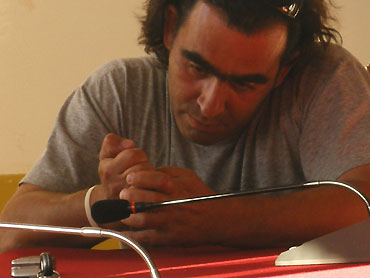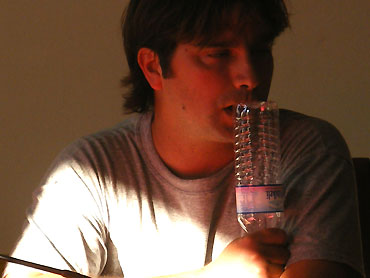 .
Now the best resolution would be for all sides to get together and find a solution to suit all, but that would be logical and we can't have that when we're in the midst of a bar room brawl. Hit hard, hit anyone, get blood. Anyway, the Council in an effort to resolve the dispute amongst the parties organized a meeting at the Kapi, but only one side turned up. The Bar, bar owner merely sent along a legal document from his lawyer summizing there will be hell to pay if his demands aren't met.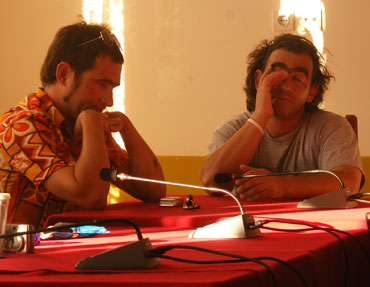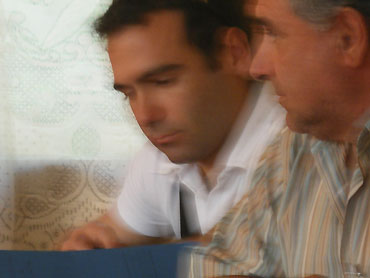 The Cafe snack bar owners were more than a little peeved and quite worried that they would be shut down during the season, the altogether short season of Ithaca, thus losing income. Big discussions about noise pollution took place, all the while, workers were jack-hammering just outside the door of the Kapi and roofers were disembling the Kapi roof, tossing down grid iron with a great big thump, over and over and over and over, and the Mayors phone, with an extremely loud ringtone, rang off the hook. There was alot of shouting in anger, shouting to be heard over the builder noises, spouting and regurgitating, all for the sound of music. One of the Cafe Snack Bar owners of Ithaki, who has a business for over 20 years was quietly outraged, stating that his bar can be closed down, but if he goes upstairs to his apartment, he can open the windows and turn the music onto volume 11 without consequence.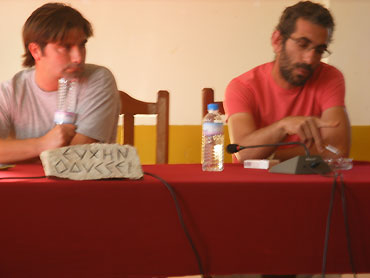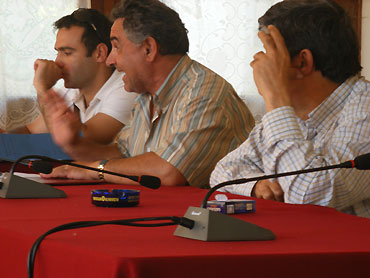 .
There was no doubt all knew that the easy solution would be to let the Bar, bar owner have his chairs outside without complaint from the Cafe Snack Bar owners and for the Cafe Snack Bar owners to play their music until 3am without complaint from the Bar, bar owner. Everyone could happily be doing the Greek thing - letting the illegalities slide for the greater good, and with the informal blessing of the powers that be what's more, but the Bar, bar owner has now invested a great deal of money, anger and time into the complaint and refuses to compromise. He wants to close the Cafe Snack Bars down and won't rest until he gets vindication. The minute one of them exceeds the 11pm deadline, he will be calling the police, the police must then go and deal with the complaint and after 3 complaints will be obligated to fine and shut down the Cafe Snack Bar.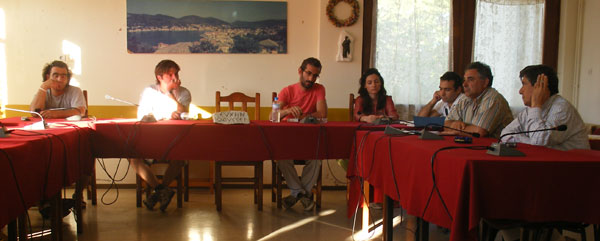 Just when you think it's safe to go back into your Local, there's a bar room brawl that knocks everyone for a six, seven, eight, nine, ten and eleven. Shut down! Yes?? well, maybe not. It seems the Council will take responsibility on itself to take the hits after some raucous encouragement from the Loud Ones, the Cafe Snack Bar owners of Ithaca. It's worth noting that the Bar, bar owner will continue to fight for the right to party all by himself until only he will have legal right to have the music in him... and you thought Ithaca was all about pretty views and sushine.