| | |
| --- | --- |
| | |
| Above - Gypsies back on our rock for the Summer rush. Everyone hopes to make a pretty penny at this time of year. Here they are singing and playing for their bread and butter (oops, I mean olive oil) Below - A gypsy truck puts up camp near the northern Ithaki football ground. Behind a bush and tree barely conceals their heavily laden truck from view. | |
| | |

Saturday 1st - So the month everyone has been waiting for is finally upon us. August means the height of the tourist season everywhere in the Med, including Ithaki. Left and below - Marmaka views. One of the unspoilt natural areas of northern Ithaki.

August is Festival month. We've had a few here and there over the past month, but this month it's the BIG Sotiros Festival in Stavros which goes over 2 nights, 5th and 6th of August, then the Anoghi festival and to conclude the summer festivals, the Platrithia Festival, which is a huge event every year. Keep your eye on the event Calendar for all the dates.

Position Vacant

- Hospitality Service. Dodonis Cafe Frikes seeks waiter/waitress for casual and semi permanent positions. Some experience and speaks English and Greek. Call Pano on +30 677700377

Sunday 2nd - If you're up to some music tonight, then make your way to School in Frikes (you can't miss it, chairs are already set up) where Daniela Tabernig (vocalist) and Spyros Koutsouvelis (pianist) will take you on a musical journey with the old Greek songs of Astor Piazzola. It promises to be a very special night in an open but secluded setting.
| | |
| --- | --- |
| | Left - Just off the Square in Vathy down a narrow paved lane, right next to the Post office, you can find some well priced gifts and some original artwork from Forget Me Not (mi me limonis) and Dia Heiros. Just remember, not all the good stuff is on the bayside, take a look in the back streets of Vathy to discover a whole other scope of Ithaki. |
| | Now that the height of the Season is upon us, it's worth mentioning that if in need of a good travel agent (for all the extra activities you may like to do while on Ithaca) Polyctor Tours, opoosite the Vathy Square can help you with all sorts of enquiries, from ticketing to accommodation booking. You may like traditional when it comes to your holiday location, but for the details, it doesn't hurt to have a modern and organized travel service. |
| | On August 3rd, the Alfa Theatre Group is putting on a performance of William Gibsons Play 'The Miracle of Anny Sullivan. A different angle on the Helen Keller story. Perfomance starts at 9.30 at the Garden Theatre in Vathy High School. Brought to you by Fimios. |
| | Below Left - I have it on good authority that the Erika Bullseye is a great way to entertain your guests at your next party. Friends and foes unite in a common distraction. Enjoy. |
| | |
| --- | --- |
| | |
| | Monday 3rd - Above - Nikos from The Gods takes pity on boy with handbag and leads him to salvation at the Orange Bar where all is forgiven over a shot of vodka. Below - Beautiful piano and voice performance last night at the Frikes Primary School where Spyros Koutsouvelis and Daniela Tabernig put on a great performance. |
The school yard packed out rather quickly, so the organizers quickly ordered some more chairs (put away for the Panighiri) to seat the enthusiastic audience. From Daniela Tabernigs' first note, the mostly local audience, was thrilled with her velvet tone. The well and tastefully lit ground made for an excellent venue.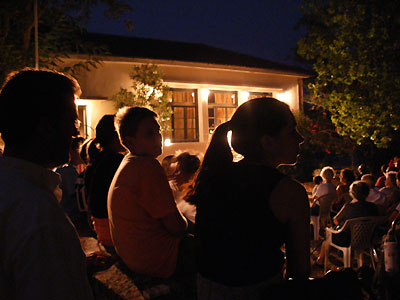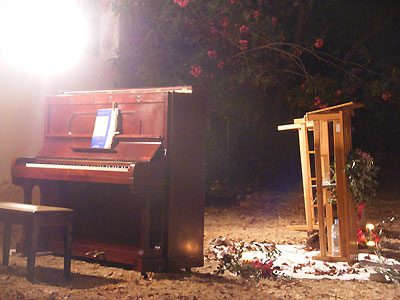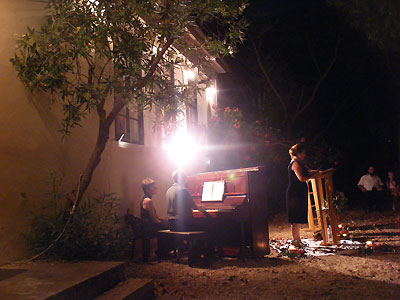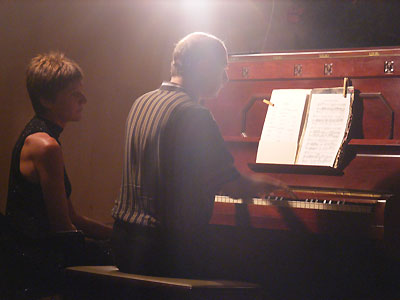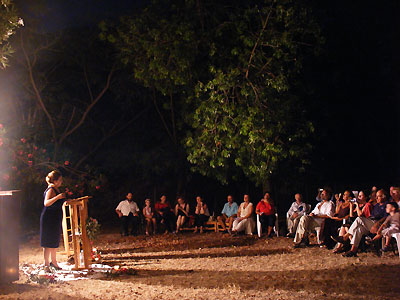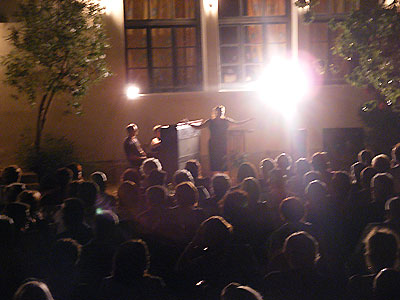 | | |
| --- | --- |
| | |
| | Tuesday 4th - The new road from Frikes gives another great view of Ithaki. In the past, this area of Marmaka was only seen by herders, trekkers or by people on boats, now anyone can drive around to Marmaka if they're not too scared of the loose stones and rubble on the newly cut road. Many, many years ago, when tourism first came to ithaki, Club Med set up a little thing at Marmaka, but all signs of it are now gone of course. In picture left, the village way across the water is Raxi just outside of Kioni, the Lefkada ferry is on its way into Frikes and yachts drop their anchors to keep a good position overnight. Marmaka is accessible from Frikes and Afales. |
| | |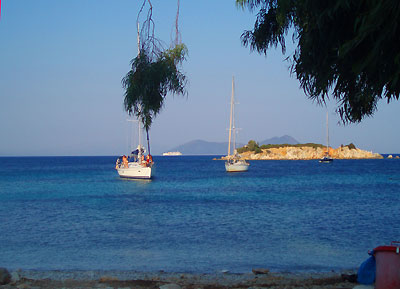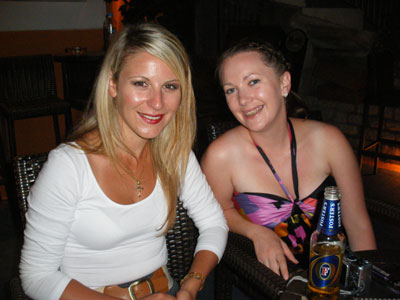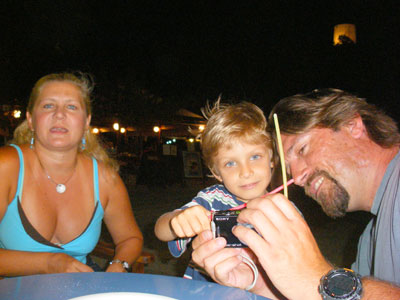 Above Left - Fiorendino Bar in Frikes has a couple of new fans, Serina and Gemma. Behind the pretty smiles I can hear the echo of Aussie Aussie Aussie. Above Right - Poppy, Georgie and Jerome are busy all year round in Athens, teaching English as a second language, but when they come to Ithaki, they leave the stress behind and get back to what's really important - family, sleep, friends, sleep, swimming, sleep, a drink or two, sleep. Ithaki is the paradise they just can't go past. It doesn't hurt that Jeromes family home is in Exoghi where they have a birdseye view.
| | |
| --- | --- |
| | Wednesday 5th - Night views around the bayside. Warm nights and cool evening breezes that give a little respite from the days' heat. Lots of people, some new to Ithaki, many return visitors or living abroad locals and their children. Almost everyone wearing an ear to ear smile. |
| | |
| | |
| | |
| | |
| --- | --- |
| | |
| | August also equals a little too much alcohol, a little flirting while the cat is away and mornings sleeping off the night before. The sun, the summer heat and the warm nights at the bar can make people forget who they are, or remember just how much Ithaca brings out ones' spirit. Ithaki brings out the artist, the musician, the poet, but also the networker who is always aware of a good opportunity, of which there are plenty in Summer. |
Sotiros - Stavros Panighiri 2009

Click Here or on photo below for more pics

Thursday 6th - Yesterday, on the first day of Sotiros, clouds were beginning to head in over the island, making one wonder that the distant predictions of rain may be a possibility, but the clouds had little impact on Ithakis Summer weather and no impact at all on the Stavros Panighiri. As every year, the Stavros Square was layered with lots of people wanting to be part of this 2 day street party.

Great Panighiri Fun!!!