| | |
| --- | --- |
| | |
| Below - Feeling Lucky? Well maybe someone is because Lucky (Northern Ithakis resident umbrella man) definitely isn't at Polis Bay at this time of year. He's quietly tucked away in a cosmopolitan corner of Melbourne Australia glimpsing at Ithaca from a distance. Polis beach looks pretty good from the main road way up high, but up close it's a bit of mess. Big seas and wild winds over the past weeks, have flushed much of the debris and rubbish floating aimless around the sea, into the bay and onto the beach. The reason Lucky comes to mind is that when he arrives on Ithaca at the beginning of each season, he and his faithful crew go about cleaning up the beach ready for your swim. | |

Thursday 1st - Tis the Season to be jolly, tis also the season to be fluy, so sorry I haven't been updating much over this week, but I've been flat on my back with my nose in a tissue.

Left - Chani Cafe must be the only Cafe on Ithaca where people come even when it's not open for business to enjoy the wonderful views, both over Vathy and the Cephalonia Strait, which Chani has to offer.

Below - The grass is definitely greener on this side of the street. With so much rain over the past couple of months, no one is complaining. All the water cisterns are full and that's always good news for Ithacans.
Saturday 3rd - Well, I've missed all the celebrations for the New Year, the parties, the dinners, the lunches due to the flu which seems to have a series of aftershocks. Just when you think it's better, another round hits. Oh well. Anyway, I dragged myself out of bed last night to take a drive to Vathy. It looks so picturesque. Even the puddles from yesterdays downpours played a role in making the village look magical at night with Christmas lights reflecting in them. Small groups of friends gathering here and there in the Cafes and restaurants, making the most out of the blue winter months.
Thunderstorms and rain today, but the bitter chill over the past couple of weeks is definitely out of the air. It feels quite mild. In rolls the thunder as I write so better load up before the power goes out. Epiphany coming up in a few days (Cross throwing in the water for young men, and now days also young women to retrieve), hopefully I'll be out taking pics for you all to see.
Tuesday 6th - Epiphany celebrations today. Click here or on photo right for more pics from Kioni and Frikes.

Monday 5th - Looks like it will be raining all day today. Ithaca is so green this winter, it's barely recognizable to those who only see the island in summer.

The Ithaki Calendar 2009 is now up and running. This year the Calendar was made by Demetri Vlass. Click Here
| | |
| --- | --- |
| | Left - Marmakas road at a standstill. Locals with business in Frikes hope the road work doesn't start again when the Season starts. |
| | Friday 9th - Another gloomy day yesterday. As you can see below, Exoghi is completely covered in heavy cloud. It seems it's one day rain, next day sunny so far this month. The amount of rain that has fallen on Ithaca so far this winter, will go a long way to replenish the water table and mountain springs around the island. Locals are quite pleased about the rainfall. |
| | |
| | Tonight, Odysseas Football Club will be having a dance to raise money. Location - Old school in Kioni. I'll try to get along to take a few pics if they let me. I think Prodo (south Ithacas team) has already had its dance for which I was ill, but if they haven't I'll try to get along to that as well. As we know, there's little excitement during this time of year. |
Saturday 10th - Odysseas Football Club had their annual party/dance last night at the old Kioni Primary school. Considering how few people are left on the island at this time of year, the party had a good turn out.

Click here

or on photograph right for all the pics.
Ithaca woke to a bright and sunny day today, barely a cloud in the sky. A good day for football if the boys aren't too hung over after last nights' party. Guess we'll see it in the score cards.
Forkis Theatre group is in the process of rehearsing their next play to be presented in March. We'll go down and see a rehearsal next week to get the low down.
Another performance planned for the end of this month, will be held at Dimitris Danis' Ores Gallery, where I hear Tomi Dendrinou will be doing a 'spoken work'. We'll post the details when they come to hand so keep your eye out here or in the Calendar.
Monday 12th - Another fine, but quite chilly day yesterday. Above - Raxi on the crest of Kioni.
Old locals say that if the sky is clear on the first night of the full moon, it means the skies will be clear at least until the next full moon. They seem to be right. The weather has opened up a little since the full moon the other night. More blue skies and no rain so far. Above - Kioni is one of the most popular villages for holiday makers in summer, but in winter, Kioni is a sleepy little hutch with very little movement apart from Sundays when all the mums and kids seem to come out to the park and meet to have a chocolate croissant and coffee at Spavento Bar.

Left - Food, wine and SYRIZA in Raxi yesterday. Click here or on photo left for more pics.

| | |
| --- | --- |
| | Tuesday 13th - Cutting the New Years Pita (pie/cake) is an annual tradition in Greece. I was invited to take some pics of Forkis Theatre Group Pita cutting occasion. The group is in the midst of rehearsals for the play 'Germa' an early 20th century drama of which I will get more info on soon. |
| | |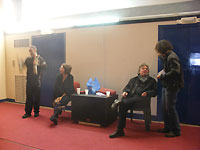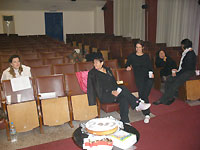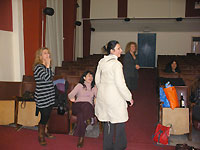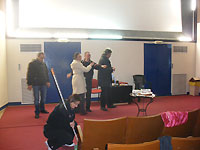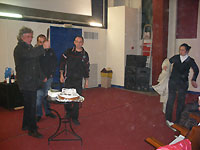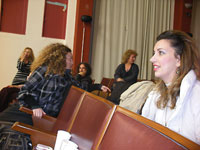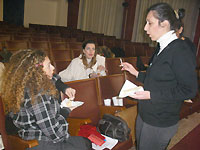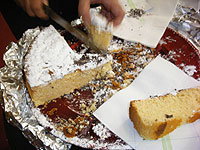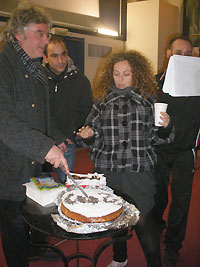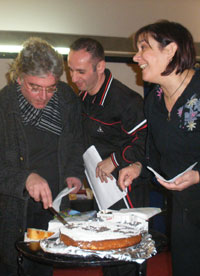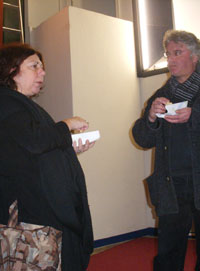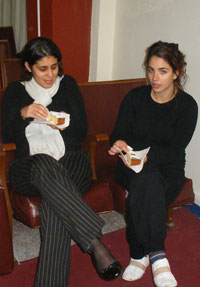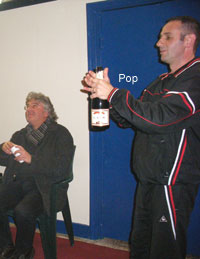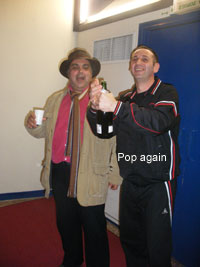 Hanging out with Forkis is alot of fun. The performance of 'Germa' is touted to happen in March/April, exact dates are not determined at this time. Director Eleni Karabetsou will be sure to get the best performances out of the ensemble group which puts on a great performance each year. What I can tell you so far is that the play is a personal drama with bitter consequences during a time when women were not equal to men and had to be creative, to their detriment, to solve problems.
Right - Laertis and Alexia Moraitis, with their roots in Stavros and their lives in San Francisco, are here on Ithaca to visit their grandmother who is 101 years old. Both Laertis and Alexia are studying Economics. Alexia is already onto her Masters while Laertis finishes off University. Ithaki has visitors even when it rains..

Kimis Butcher in Stavros is one of Ithakis remaining traditional icons. Kosta (son of Kimi) knows full well that little corners of tradition such as these are

disappearing the (modern) world over. The lovely woman along side Kosta is his mother Maria, wife of Kimi, who has been serving up portions of meat freshly cut on the chopping board to the local community.
Guess I spoke too soon about 'full moon' 'good weather' etc. It's absolutely bucketing down at the moment. For the first time in many years, the river that runs from Platrithia through Lahos and down to Frikes is flowing again. Yes, there is the sound of water trickling at Yefyri.