| | |
| --- | --- |
| | |
| Right - One of Stavros' favourites, Makis from Margarita Cafe (also known as the Zac, short for zacharoplasteio which means sweet shop) Below - Fatouros Taverna and Below Right - Dimitris and Laertes Vegie Market. | |
| | |

Position Vacant

- Hospitality Service. Dodonis Cafe Frikes seeks waiter/waitress for casual and semi permanent positions. Some experience and speaks English and Greek. Call Pano on +30 677700377

Friday 17th - Everyone in the north is buzzing with the knowledge that tonight, the small mountain village of Exoghi will come to life with the Aghia Marina Festival. It's a personal favourite summer festival that never disappoints. Parking is at the cemetary if you're making your way up by car. If you want a table, it's best to get there early-ish, otherwise you can still enjoy the atmosphere and dance circle from the nooks and crannies around the village square.

Above - Peter Razos and Maria. Peter is one of the naughty aussie boys (?!??!) here for the Summer. Peter has been a regular to Ithaki for many, many years and his roots are from Ag. Ioannis. Left - L-R - Foti, Mandy, Maria and Lucky. Maria and Lucky (Polis Beach) are regular faces on ithacagreece.com, but Foti and Mandy (Marias parents) are first-timers. Mandy was last on Ithaki 9 years ago, but for Foti, many, many years have passed since he visited. Last time was in the early 70s. We caught up with them while they waited for their spagetti marinara. Bottom Left - Margarita Cafe. The night begins to wind down in Stavros.

Saturday 18th July - Above and Below - Stavros is northern Ithakis hearbeat. In winter its usually the only village in the north that has local activity with Cafes and Restaurants open all year around, not to mention Odysseas Supermarket and Laertis Vegie Market (very important) but in Summer, many forget that Stavros, although not on the bayside, is a great place to spend a morning, afternoon or evening. It's not long before you get to meet all the local characters who work or spend their time in this village.
| | | |
| --- | --- | --- |
| | | |
| | Exoghi Panighiri | |
| | Aghia Marina Festival | |
| | | |
| | It's no wonder that Aghia Marina Panighiri is the favourite Summer Festival of so many who live and visit the island. It's well organized, friendly and alot of fun from start to finish. The Exoghi Community get right into the Kefi to make this Panighiri unforgettable year after year. This year a parking area near the cemetary was provided, making it easier for cars to deliver right to the Festival doorsteps...and the band really soared. For more pics and fun >> | |
| | | |
| | Click here or on photo | |
| | |
| --- | --- |
| | |
| Sunday 19th - Above - Yesterday started still and eerie with Frikes, a bayside village, submerged in a very low hanging cloud that seemed to drape over it completely. Below Left - View to Afales from Exoghi. | |
| | |
| | |
| --- | --- |
| | |
| Can you ever get enough of this blue? Again Afales Bay from Exoghi. | |
Right - Ag. Ioannis beach between Lefki and Hani, has the aqua waters we all look for in a Greek beach. Cephalonia across the way, shimmers a little through the Summer mist.

Don't forget the Kioni Panighiri, Ag. Lia, is on tomorrow, 20th July. It takes place on the main strip of Kioni, there'll be dancing, live music of course, and lots of food and fun to be had.

Kioni Panighiri

Monday 20th July 2009

Below - A great night was had by all who attended the Kioni Panighiri. The small bayside village was filled comfortably with revelers and bystanders along the picturesque seaside. The usual squeeze around the dancefloor was overted with a smaller attendance this year, but it made for a more intimate opportunity for fun. For more pics

Click Here

or on photograph below.
Photos by Demetri Vlass. Unfortunately I was in bed with a migraine and couldn't attend.

| | |
| --- | --- |
| | |
| | Tuesday 21st - Sunday night Dimodokos presented The Boats Are Leaving with traditional Greek folk songs by Spyros Arsenis (music) and lyrics by Dimitris Christodoulos, Aggelos Sikelianos, Michalis Bourboulis, Illias Katsounis, Makis Galatis, and Andreas Varvarigos. An intimate crowd braved the windy and quite cool conditions to take part in this traditional concert at the Platrithia village Square. The wind carried the music across the valley and over the mountains into Stavros area. Spyros Arsenis has written so many beautiful folk songs that this, although a small occasion, is one of the annual events on the Ithaki Summer Calendar. |
Wednesday 22nd - In the north of Ithaca, August has definitely come early. all the restaurants full and the Orange Bar (Fiorendinos) in Frikes was rumbling with energy once restaurants patrons started to leave and the music was turned up. Costa, the dj, knew just what to play to get the yachters going.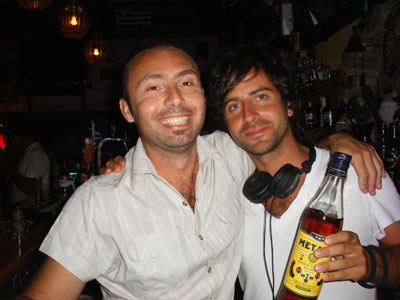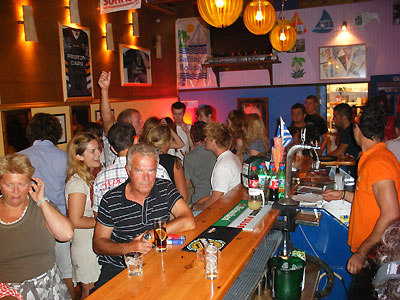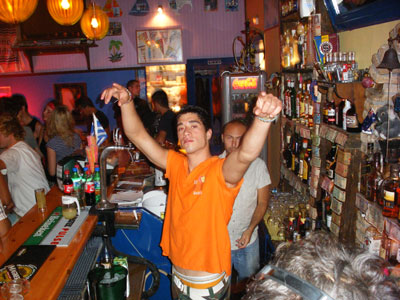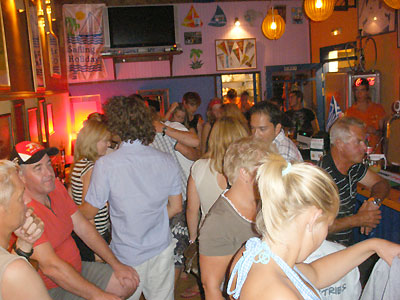 | | |
| --- | --- |
| | |
| Thursday 23rd - Very warm days again after a short blip in the weather last week. It's no secret that in the north of the island, the majority of the visitors are Ithacan Australians, and it's also no secret, that they're having a passionately great time. Right - Locals Lila and Andrea Alimantiri with Ithacan Australians (also members of the Ithaca Philanthropic Society) Georgia and Panos Paxinos, having dinner at Rementzo restaurant in Frikes. Below Left - Yachters enjoy a few beers in Frikes. Below Right - The reflective waters of Vathy Bay. We take a look around this picture perfect capital of Ithaki on a warm night, lit up for Summer. | |

| | |
| --- | --- |
| | Left - Marianne, Melina and Nick Raftopoulos from the Frikes Raftopoulos' from Melbourne Australia. Marianne and Nick have come to the island often over the years, but for Melina, it's her first visit since 1992. |
| | George Florence, Ithacan/Australian film maker has recently uploaded another video of Kioni, this time in the 1980s, It depicts a trip down the mollo with Moska The Donkey. Click Below to view video. |
| | http://www.youtube.com/user/rainscratch |
| | |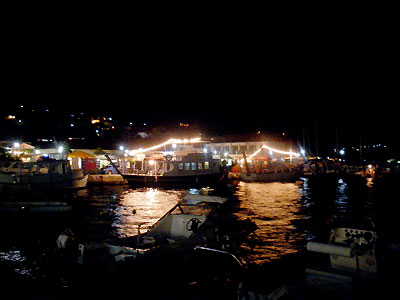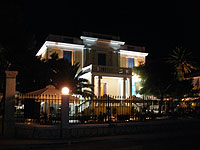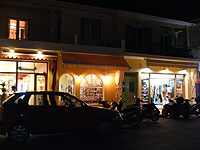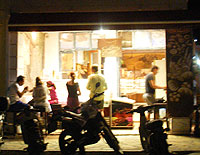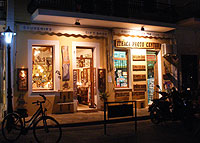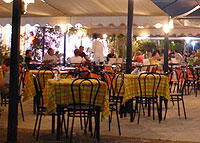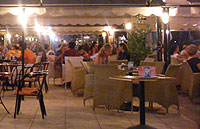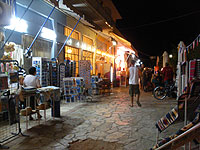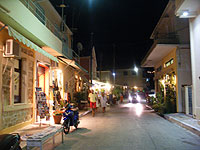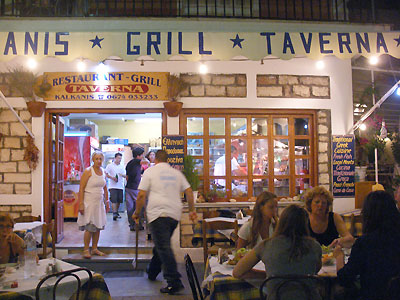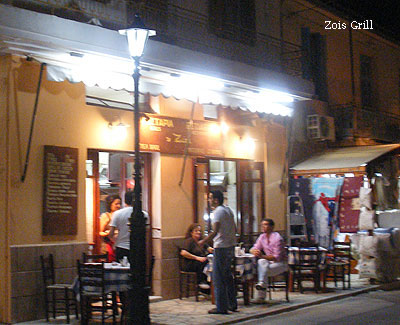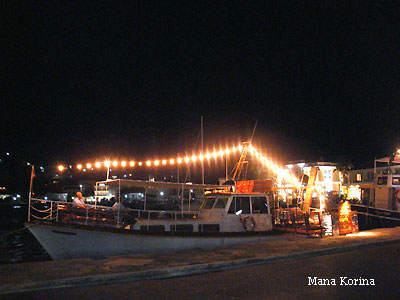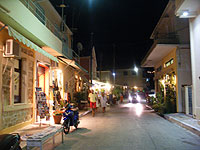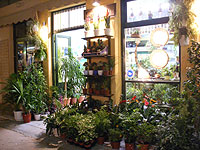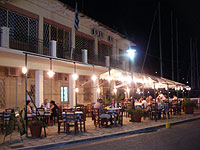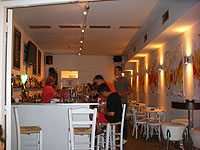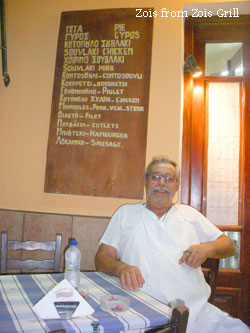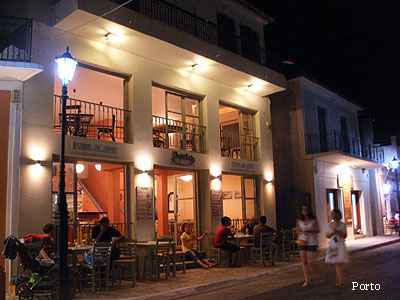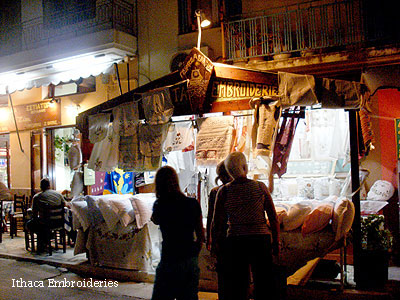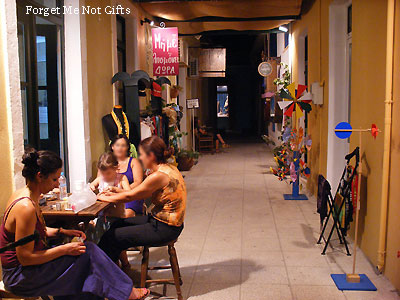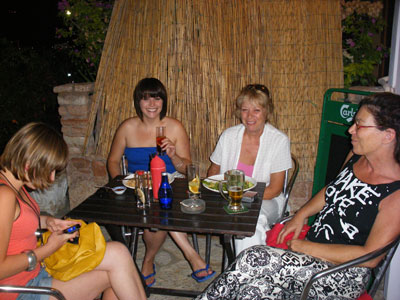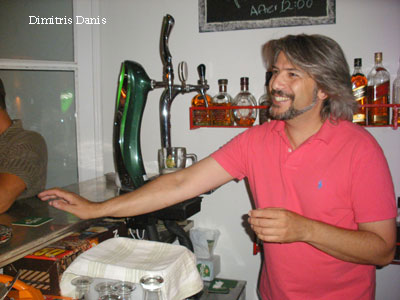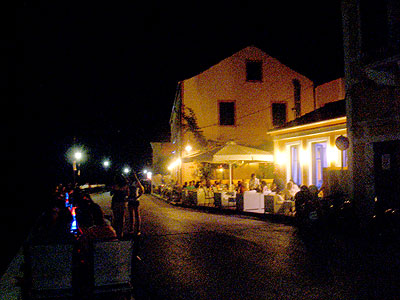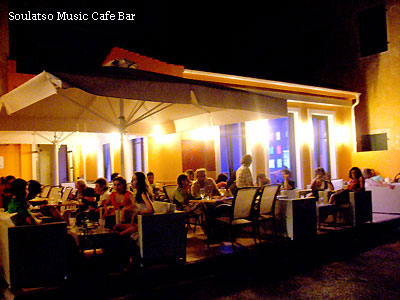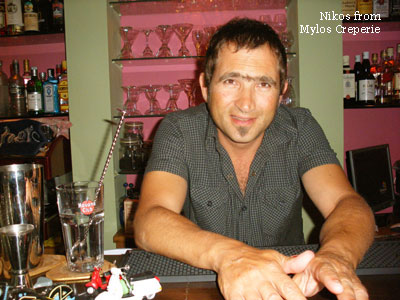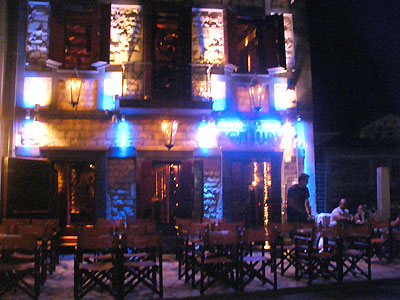 .

Vathy, Ithakis colourful Capital lit up for Summer