| | |
| --- | --- |
| | |
| Right - Andriana and Christos take the opportunity of the long weekend, to escape Patras. These two had an almost Alfred Hitchcock experience with grasshoppers on a little sojourn into the hills which had them jumping back on their bikes for a little more concrete under their feet. | |

| | |
| --- | --- |
| | Monday 8th - It's the time of the year Ithaca sees many regulars return to the island. Some for a few days, others for a few months or til Summers' end. Left - L-R Nikos and Arthur from Australia spend a little time with local archivist, Andreas Anagnostatos at Penelope Restaurant in Frikes. |
| | |
| | |
| | |
| --- | --- |
| | |
| Dodonis, on the far side of Frikes Bay, is officially open for business. Apparently Dodonis are well-known for their exquisite range of ice-cream so I guess if you like ice-cream you may want to do the taste test. The interiors of Dodonis are quite impressive, and by the look of the people in their outdoor area, the view isn't too shabby either. Dodonis gives us a new perspective in Frikes. | |
| | |
| So, while eveyone was enjoying their early evening snack, the backwash from the Superfast ferry either to or from Italy, which had passed maybe 20 minutes earlier began to rock the flotillas on the (bad) dock side. Frikes has been shouting for a new pier for as long as this dangerous pier has been built. The swell pushes the yachts into the concrete here, giving the crews much reason to worry. One 'fast thinker' threw his Dingy inbetween the pier and the neighbouring yacht to stop it from crashing and smashing. For some yachters, this excitement was a little more then they had bargained for and quickly headed back to safer bays. For Frikes to be a viable place for yachts to come, this pier issue needs serious attention. Would the names Mega, Antenna, Star, Sky, ERT make anyone ask "Jump? of course. How high?" Yachters love coming into this village and it would be a devastating shame to lose them. <end soapbox> | |
| | |
| --- | --- |
| | |
| Right - Bystanders help incoming yachts and boats moor safely in Kioni. Seems like there's always someone to lend a helping hand no matter where you are on Ithaca. Below Left - One of the oldest buildings on Ithaca now houses one of Kionis jewelery shops, Tehnima. A place where you end up looking at more than just the hand-made jewelery, but the traditional features that make up Tehnima as an icon in Kioni. Below Right - In Stavros there are still plenty of old traditional buildings to admire. Stavros has more to show off than the wonderful Sortiros church in the Square. | |

| | |
| --- | --- |
| | Tuesday 10th - Panoyiotis Dorizas from Sanyocom shop in Vathy would like everyone to know he's having another party with lots of give aways at the Cafe Bar underneath Lalas club in Vathy on the 20th June. Who doesn't want something for nothing... so get along. Just to mention, for every 2 Mythos beers, he'll shout the 3rd. Drink up and get freebies. |
| | |
Thursday 11th - A couple of nights ago, Rien Post celebrated his (?) birthday. He was working on his Grill shift at Rementzo, but that didn't stop his friends from dropping by with good wishes and cake, and his bosses putting down their trays to light a few sparklers and sing a round of Happy Birthday.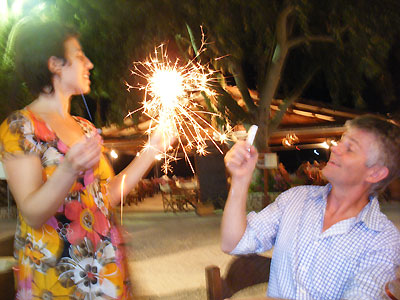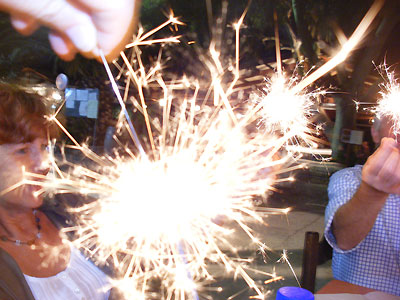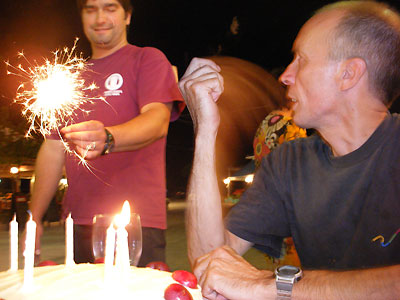 | | |
| --- | --- |
| | |
| Right - Mr. Spavento, George, swizzles up a good mixed drink on a hot Summers' night. | |
| | |
| | |

| | |
| --- | --- |
| | Left - As Rob says his farewells on Ithaca, Kate and Ed say their hellos. Kate and Ed have been coming to Ithaca, in particular Kioni, since 1997 and love Spavento Bar in Kioni for the music and relaxed nights. |
| | |
Above Right - Midnight action from the yachts moves to Frikes, in particular, Fiorendino Bar where the music was pumping. Below Left - Last drinks at Rementzo restaurant. Below Right - Tassos the jeweler from Amfitriti Gift Shop in Kioni working his craft.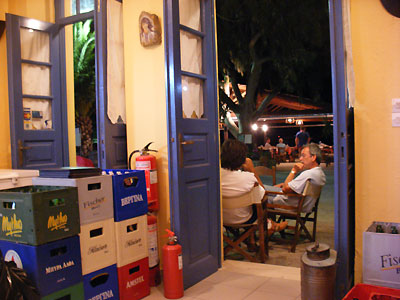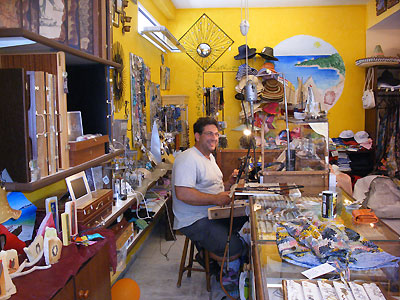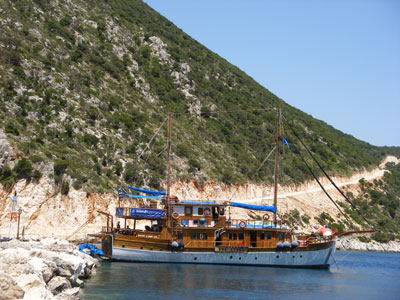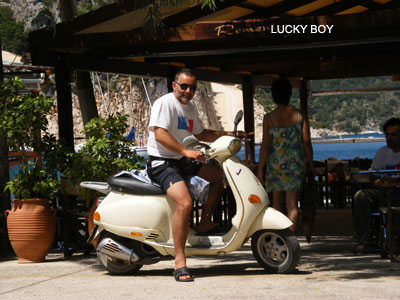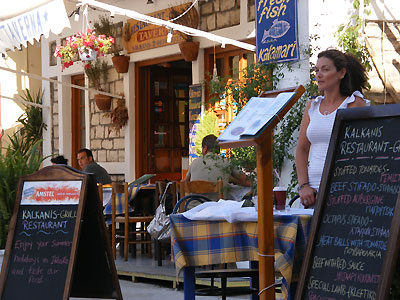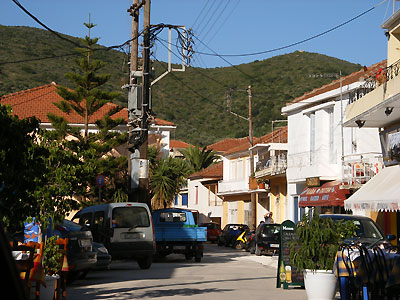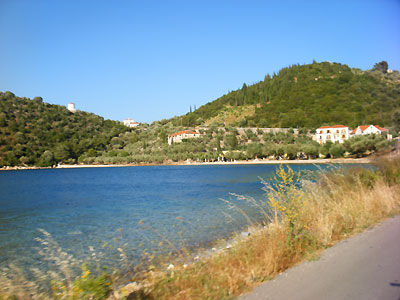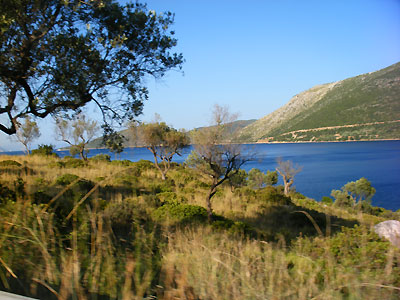 | | |
| --- | --- |
| | |
| Sunday 14th - After a couple of days of wind, the weather has now settled down again to give us warm and sunny days. The nightlife around Ithaca is now also starting to pick up (as is the DayLife). | |

| | |
| --- | --- |
| | Above Left - The wonderful Dexa Beach where one of the olive trees in the grove is sure to give you great shade on those hot days. Above and Left - Aetos views. |
| | |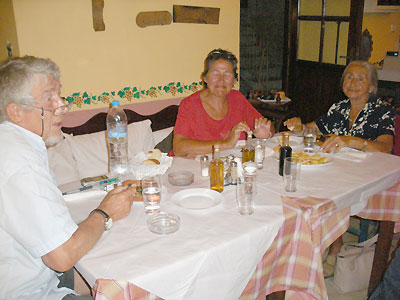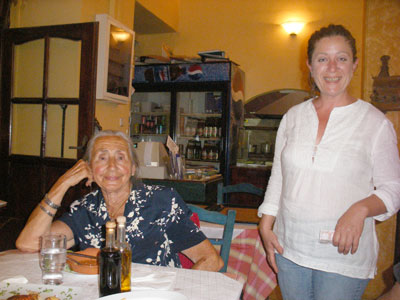 Above - The Lavelle/Fitzgerald family spend their nights eating at Symposium in Frikes, and with Meropes' undying smile (no matter how hectic it gets) it's no wonder people go back time after time, but then, this is the story wherever you land yourself on Ithaca. Visitors have no trouble settling into a comfort whether its in Vathy, Stavros, Frikes or Kioni. If you're on Ithaca longer than 5 minutes, you'll make friends with the locals.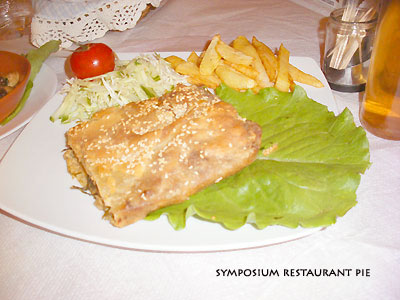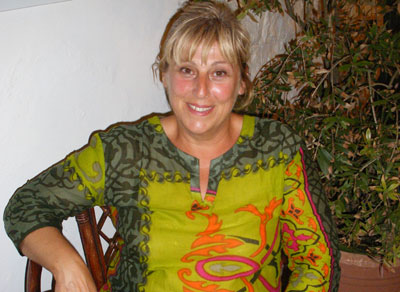 Above Left - Symposium Pie. Above Right - Diamanto from Cafe Mentor in Kioni, looking very colourful on a warm Kioni night and quite relaxed after a long shift at the Cafe.
| | |
| --- | --- |
| | |
| Monday 15th - Every time I pass this plot, I want to get out of the car and settle myself deep within it. | |