Sunday 21st - Above Left - Jennie from Spavento Cafe Bar welcomes Anna Vlass to Ithaca. Annas' last visit was a whirlwind stop-over in Summer 2007, this time she's laying back and making the most of her free time to get in a little relaxation. Annas' roots are in Lahos in the north of the island. Above Right - The weather bureau suggested there would be a 6% chance of rain yesterday. Well, the sky certainly looked like it was going to open up, but the afternoon only brought a few scattered drops here and there. If there was any rain in them there clouds, it would have evaporated before it hit the ground. Although Ithaca had a record amount of rain over the winter, you can see by photo below left, that after a couple of months of sunshine and heat, the growth is already browning under the sun.
| | |
| --- | --- |
| | |
| | We watch fisherman come in to Frikes, after an afternoon out at sea. It's better than television while you have your drink or snack at one of the bayside establishments. |
| | Good news for Filiatro Beach goers is that the Cantina on the beach is now open for business and is touted to be a fantastic place to get your refreshments. The word is that night time at Filiatro (south Ithaca) is very special now. |
| | The question on everyones' lips is "Where is ADSL" - Answer "I don't know". It was promised to be set-up in the north by Summer, but after the whirlwind works to put in the lines, nothing has happened since. |
Monday 22nd - Saturday night alright. It's been some time since I've cruised the streets on a Saturday night, but last Saturday night the temp was so mild and the night so still, that I got the urge. For more pics

CLICK HERE

or on photograph right.

While walking along the Promenade, opposite the former Art Gallery, I was quite surprised to see someone sleeping on the pavement. That's not a sight we're used to on the island, but I guess there's a first time for everything.

With the school year finished and exams completed, it's nice to see all the young people returning to Ithaki. They not only make the place look beautiful, but bring their youthful liveliness back to the baysides. As in many rural areas, and islands in Greece are quite rural, the young leave the island for their tertiary studies elsewhere in Greece leaving their parents behind waiting for Summer Break.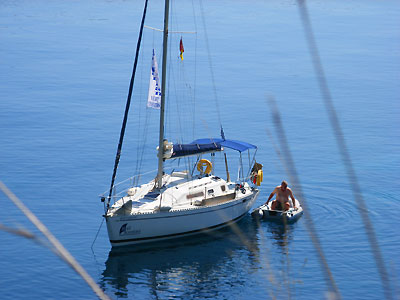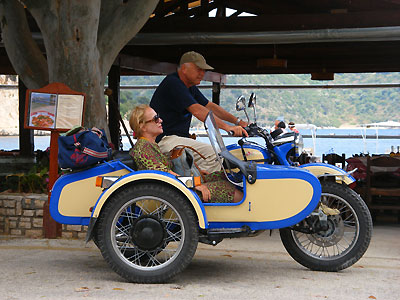 Above Left - Krouvoulia 3 beach between Frikes and Kioni. Above Right - A beautiful machine turns heads in Frikes yesterday afternoon
| | |
| --- | --- |
| | |
| From top to bottom, left to right Spero Davias (Lefki), Con Megalos (Stavros), Eleni Cominos (Lefki), Dimity Raftos (Lefki), Michelle Raftos (Lefki), George Sofianos (Lefki), Liz and Spero, Peter Cominos (Lefki), Jeremy & Michelle Raftos (Lefki), Liz Davias and Kerry Cameron (Xeni), George and Jeremy (Lefki), Greg Lekatsas (Stavros) and Spero Davias lovin it! | |
| Right and Below - Excavations continue in Vathy to undercover more of the Roman ruins found recently. | |
| | |
| Below - Dimitris Danis from Ores Gallery puts on his welcoming smile. | |
| | |
| Right - Now that we're having some soaring temperatures the Fire Truck takes a look out position in the north. | |
| | |
| Yesterday started off with rain, but by midday the rain cleared to a mostly fine sky. By mid afternoon, heavy clouds began to roll in again, occasionally drizzling on us, but nothing too severe. Right - Frikes Bay. | |
| | |

| | |
| --- | --- |
| | Tuesday 23rd - Spero Davias (Australia) celebrated his 60 years Lefkisanos (2 nd june) on a "Saturday Night in Stavros" Liz, his wife, converted the family room to resemble any restaurant in Stavros with about 6 tables, dressed with the authentic Ithaki table cloths and all the food they normally consume in Stavros. The XENI (non Ithacans) that turned up were regulated to the kitchen to help make the Calamari and Souvlakia! |
| | Ithacans in Newcastle Australia don their new t-shirts at Spero Davias' 60th birthday party. Eleni Cominos put in a great effort to make the t-shirts for the night. You can see the different designs to suite the regions. Spero Davias sent this in as he thought this was great to show the world how active Ithacans in Newcastle are. Seems half the people in the photo are either on their way or coming over very soon. |
| | |
| | Left - The traditional northern village of Platrithia is looking very colourful. |
| | |
| | Left - Locals, Maki (our northern Ithaki resident accordian player), Stathi, one of northern Ithakis fisherman, and Makis daughter Maria, here for a week to enjoy June, relax in Frikes over a few drinks and some home-made conversation. |
| | Some brilliant news from the north is that Symposium Restaurant in Frikes, run by the Vasilopoulos sisters, Merope and Olympia, is now supplementing their usual Greek 'ala specials with a modern twist' fare with a special limited Thai menu. One of last nights' dishes - Green curry. When Asian food was first presented to Ithaki through Chez Manu, it revealed itself to be very popular with the locals and visitors to Ithaca. |
| | |
| --- | --- |
| | |
| | Wednesday 24th - Left - Any view point to Afales is beautiful. Afales bay can be calm as the olive oil you pour over your Greek Salad or as rough as any sea surrounded by a rugged coastline. |
| | Above - Look up dammit! From tree branch to tree branch you can come across these blighters. Once more people walk the walks around the island, the spiders begin to disappear. |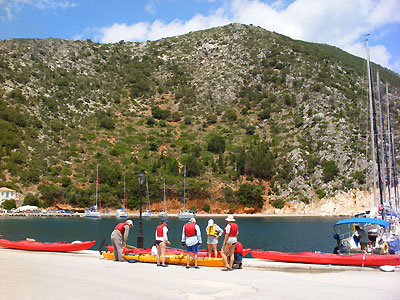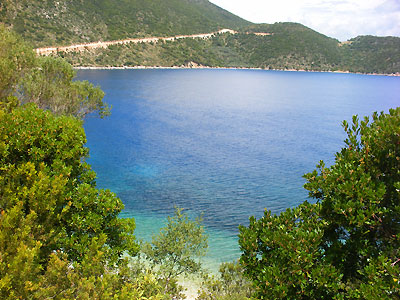 Above Left - Canoe holidays are back this year. The crew organize themselves from Frikes Bay. Above Right & Below Left - The First Kravoulia Beach just north of Frikes. Below right - The Second Kravoulia Beach. A little further north toward Kioni than the First.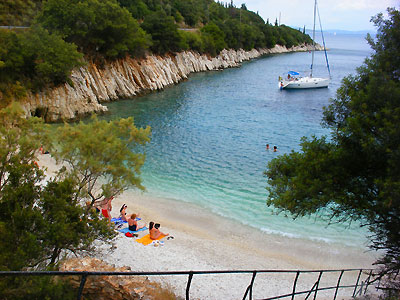 After witnessing a couple of visitors and locals alike, flick their ciggie buts without proper extinguishing, It may be time to mention that in Summer the fire danger on Ithaca is very high. As we don't have 'Fire Danger' signs placed around the island, it's up to us all to make sure we don't inadvertantly light one due to carelessness. If you see someone toss a cig but, put it out first and then chase them down. Olive trees are fuel and as we all know, Ithaca has thousands of them. Let's all take car please.
Yesterday afternoon, after a warm and blue sky morning, the sky opened up with a surprising downpour. Good for the plants and the water sternas. Clean rain is always good. Clean rain? you ask. Yes, clean rain. In Summer when there's a hot south air blowing, the rain can be muddy.
| | |
| --- | --- |
| | |
| Above - Lucky from Polis beach with Maria, his personal interpreter, do a little clowning around in Frikes on a coolish night. | |
| Below - Before 1874, the village of Lahos' population lived in huts. The first house to be built was the house below, belonging then and now to the Vlassopoulos family | |
| | |
| | |

| | |
| --- | --- |
| | Thursday 25th - On Tuesday night, no one expected the skies to open and rain all day on Wednesday. Maybe a little shower, but not showers almost for the entire day. It's very unusual. The stop-start was driving people crazy, especially the restauranteurs. |
| | |
| | Yesterday, half of Stavors was also without electricity while there were works done in the village. The notice said 10am - 3pm, but the reality was a couple of hours more than that. Rain and no electricity? For holidayers it made little difference, but for those working, it was quite a disturbance. |
| | |
| | |
| | Above - Makis from Margarita Cafe in Stavros has got a brand new hairstyle. He looks great! He looks even better posing along side those decadent cakes. |
| | Left - The new place in (Frikes) town, dodonis, is making quite a rname for itself. Steve is just one of the friendly faces you'll see. |
| | Friday 26th - FRIKES FESTIVAL IS ON!!!!!!!!!!!!!!!!!!!!!!!! TUESDAY 30TH OF JUNE, FRIKES IS STEPPING UP TO SUMMER WITH ITS' ANNUAL FESTIVAL IN THE STREETS OF FRIKES. DON'T MISS IT BECAUSE IF YOU'RE LOOKING FOR ANY ADS AROUND THE PLACE, THERE AREN'T ANY. DON'T LET THE SOUVLAKIA GO COLD. SEE YOU THERE! |
| | The lights went out in Stavros again today, not everywhere, but definitely my street. The 4 lines of electrical wires have been replaced by 1. One very thick black ugly one unfortunately. Would it be so hard to put them underground? |
| | |
| --- | --- |
| | Left - Frikes bay infront of Fiorendino Bar outdoor area, looking very beautiful from this aspect. Below Left - View to the mainland from Stavros via Frikes bay. Below Right - Poita (also known as Peter) doing his thing in the feverish streets of Frikes. Watch out for his 70's moves on Tuesday night for the Panighiri. He'll be doing his impression of John Travolting, white suit and all. Only thing missing will be a dancing partner. |
| | |
| | | |
| --- | --- | --- |
| | | |
| | Left - DAY-TRIPPER FRENZY - It's unusual to see so many people flood into Frikes during early afternoon, but they did today, eager to find food, drink and ice-cream before heading to a beach for their hour and a half stay on Ithaki. Everyone took their ready stations to cope, doing their dance, their Spiel, their casual stances or their eager dances. CLICK HERE OR PHOTO LEFT FOR MORE | |
| | | |