| | | |
| --- | --- | --- |
| | | |
| | Friday 1st May - Click Here or on photo left for more pics of May Day Picnic at Vigla. | |
| | Weather wise it hasn't been a great start to May. We had some winter-like temperatures today. No rain, but a wind chill factor of - put your coats on again. | |
| | | |
| | Saturday 2nd - There's a new kid in Frikes this Season with a new Cafe Bar and Accommodation opening right on the (opposite) bayside. | |
| | | |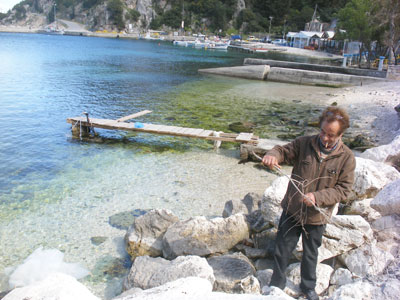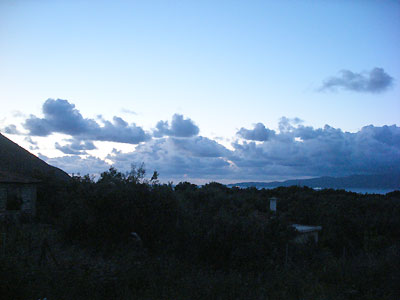 It was a little chilly yesterday for the first of May, but the night clouds over Afales bay were heading away from us to expose a sunny and warm (again) day today.
News on the Kitty front is that the Vet is coming next week - Monday, Tuesday and Wednesday, so take your pussy cat along for a check up or neutering. The prices are reasonable so take advantage of this Argos opportunity. I believe the Vet will also make time for dogs, but in this case please contact Argos Foundation for information and/or booking your dog in.
| | |
| --- | --- |
| | |
| Thursday 7th - Ithacans of all nationalaties are getting into the spirit of it. | |

| | |
| --- | --- |
| | Sunday 3rd - Things are really beginning to look like the Summer season. People eating along the bayside and the bay full of yachts. The weather is fantastic by the way. Where are you?? Shouldn't you be here? :) |
| | |
| | |
| --- | --- |
| | Visitors coming to the island at this time of year enjoy cycling and walking. Every road you drive or walk down, you will come across a visitor enjoying Ithakis natural landscape. If they're not out walking or cycling, then you'll find them at one of the traditional cafes or restaurants, meeting the locals and enjoying some good old Greek hospitality. Some visitors are also braving the still quite chilly waters of our beaches too. That makes us look twice, as we're not quite ready to strip off all the winter gear just yet, at least not early in the morning or late in the afternoon. I guess the biggest and most dominant sign of the 2009 Season thus far are the Flotillas coming in. They liven up the bars at night and give the mini markets plenty of business. |
| | Friday 8th - Perfect Spring weather today with the sunshine throughout the entire day and blue skies wherever you set your eyes. In Vathy, Workers are busily tarring the roadsides which were dug up for the new water pipes recently put in around Ithaki Capital. Looks like they'll have the roads ready again just before the hectic season begins. |
| | |
| --- | --- |
| | Left - Vathy bayside. In the north, things are quietly progressing. The Marmaka road is now completed, but not sealed, so care should be taken if you decide you want to travel this way to Marmaka instead of the old traditional way of either hiking along the path or taking a boat. Below - Mid afternoon Frikes looks peaceful and a little sleepy. |
| | |
| | Everyone coming to the island at this time seems amazed just how green everything is. Well, it should be considering the record rainfall we had over the winter. Ithaca is looking quite beautiful, lush and green with wild flowers wherever you look. It's a little paradise, what I can say. |
| | Friday 15th - Hi everyone, sorry for the week long break, but ithacagreece.com took a quick trip up north to Brussels. Had fun, but back now to an increasingly busy island with great warm weather and a flurry of activity. Mid May and there are no signs of winter left. Everything is pointing directly to Summer now with holiday companies in full swing, Flotillas in and out of our picturesque ports and all restaurants and businesses with their doors wide open, ready to welcome the many varied visitors to our shores. Below Left - Piso Aetos port. Below Right - On the way to Belgium |
Sunday 17th - Very warm day around the island today. At first it appeared that the day would be overcast and dreary, but the skies soon cleared to reveal plenty of warm sunshine which had those on the island, out and about. Below - Fiorendino Bar football is like a magnet to the locals and to visitors alike.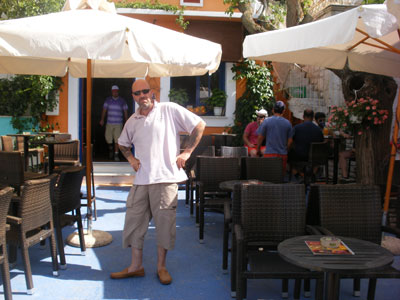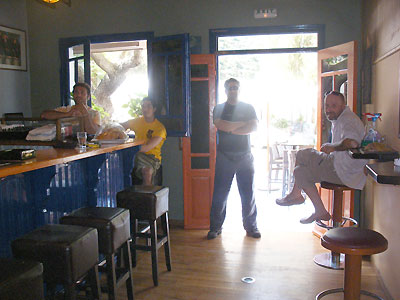 Below Left - Nikos and Maria enjoy a little relaxation at Penelope Restaurant in Frikes. Below right - Dominic and Nektarios enjoy the same relaxation across the way at Rementzo Restaurant.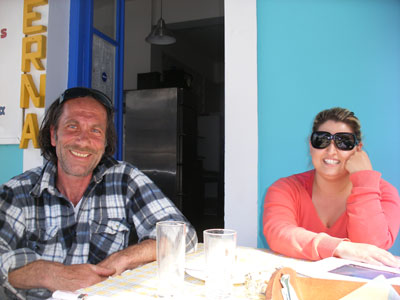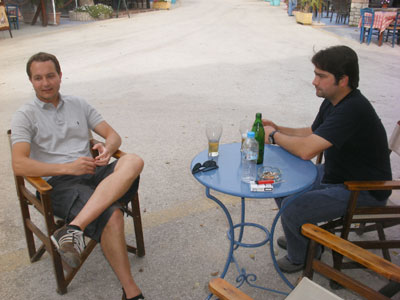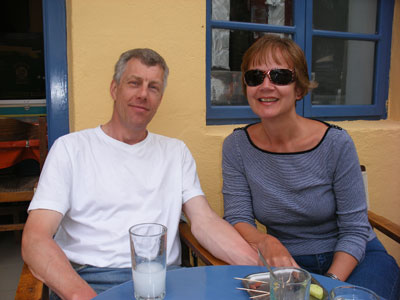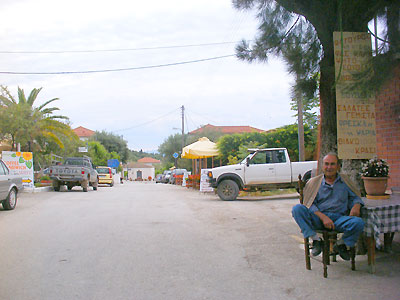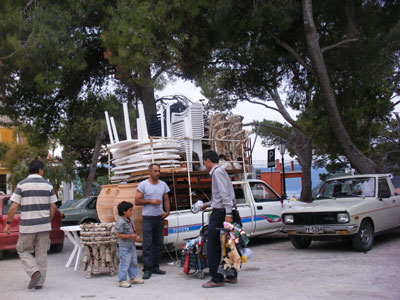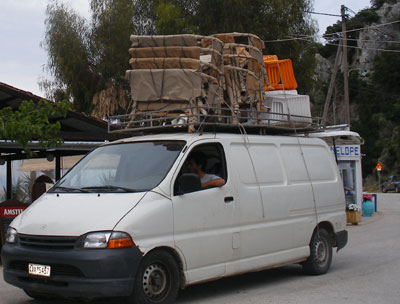 Above - On Ithaca we're lucky enought to have the shopping come to us... or are we.
Tuesday 19th - Below Left - The ferry coming in from Lefkada into Frikes. Ithaca temp reached 30C today. A bit of a surprise for this time of year. Looks like we may have a hot summer this year.
| | |
| --- | --- |
| | Wednesday 20th - Above Right - It's good to know that in Raxi, no matter what time of year, you can still experience a view such as this. Traditions still run deep in many parts of Ithaki. |
| | If it wasn't for the fact that the island population is still building to the August zenith, you would think we are right in the middle of Summer. It's hot, the horizon is a little misty and there are people swimming wherever you look. |
| | |
| | Above Left - Krouvoulia 3 beach. Above - Krouvoulia 2 beach. Left - Taxiarchis church in Platrithia is sparkling with a brand new coat of paint and looking wonderful again. |
| | Dimitris Danis is proud to announce that artist Sevgi Urum will be exhibiting her work at Ores Gallery in Vathy from 3 - 13 June. Opening night there will be the usual drinks and meze, always a special time, so if you are interested, then go along, not only to enjoy the exhibition, but to support Ores Gallery. Doors open at 20hrs. Some of you will remember the wonderfully presented Cavafy Exhibition, well seems New York had the same great idea when Cavafy was presented at the Great Hall. |
Thursday 21st - Left - The Fiorendino gang rally behind the Petition to get rid of the floating quay in frikes. Pete, seen here with father, Maki, is doing his bit to have this blip on Frikes' reputation removed and replaced by the traditional stone pier as that on the shop side of Frikes bay. The Frikes community have already collected over 200 signatures from locals, concerned visitors and yachties who regularly moor in Frikes. The Cephalonian Gov rep for Ithaki had promised this to be the first issue to be dealt

with if elected, but Frikes has yet to see any papers shuffled in its direction. Frikes, like most bayside villages, depends on the trade that comes in on Flotillas and yachts, and thus a port that is less than adequate, if not dangerous, is a big deterrent to the yachting companies that sail around the Ionian.