Sunday 1st - Left - Frikes Bay. Yesterday there was a sudden chill in the air once the sun dropped behind Cephalonia. Could it be we will finally have the winter weather expected at this time year? So here we are on the first day of November with nothing extraordinary to report other than being quite happy to be on the island at this time of year. It's a time for walking, getting together with the friends you lost touch with over the summer and for sitting back, watching some tele, reading a book or listening to music (or making it). In between, there's work, but those duties are done at very relaxed pace now.

Monday 2nd - Barely a cloud in the sky yesterday. Cold in the shade, very pleasant in the sun.

Locals have taken to recycling with great enthusiasm, now if only someone would pick up the bins. They're all full. Grapevine has it that it will happen soon. In Frikes the petitions to get a new jetty have been on going, but now the floating jetty has recently broken in two, there shouldn't be any excuses not to replace it with a safe mooring before next Season.
| | |
| --- | --- |
| | |
| Vathy is noticably people free, even for a Monday morning. | |
| | |
| | |

Tuesday 3rd - The winter chill arrived exactly with the 1st of November and there seems to be no turning back now. It's the season for heating and coats. The streets are quiet and many of the businesses have closed their doors, even in Vathy. Ithaki is now on its' skeleton shift. A time you either love or hate. Personally I love the easy going nature of life right now, but there are many for whom the peace and quiet feels too restrictive, so they head off to where life throbs, regardless of the season..

Farmers and locals are all busy in their olive groves, picking the harvest. It's the primary occupation of nearly all the families on the island at this time of year. In many areas, the harvest seems to be very good, so we'll all be able to look forward to another year of our favourite olive oil.

Wednesday 4th - A huge storm front rolled over Greece yesterday spanning over 24 hours. Bucket loads of rain, high wind speeds and roaring thunder and lightning. Yes, the power did go out, but just for a few minutes. No great damage here on the island, but the horizontal rain did manage to find its way into even the most watertight of houses. On the Mainland and in the Peleponnese, there was damage from some major flooding and fallen trees etc. So, just when you think it's time to batton down the hatches, the next day rises with full sunshine. See pics below to compare my front door view of both days.

(The patchy looking fog is actually rain blowing across the island)
| | |
| --- | --- |
| | |
| Storms last night had the electricity going on and off, but luckily for us, not too long... just long enough to confuse the appliances however. Right - The wet lanes of Vathy. | |

| | |
| --- | --- |
| | Friday 6th - No need for anyone to feel envious about Ithaca so far this winter, the weather has been wild and wet almost daily. Looks like we have another very wet & windy season ahead of us. |
| | |
| | |
| --- | --- |
| | Sunday 8th - With so much rain over the past weeks, the days begin to blur into eachother. The rains are impeding the olive harvest a little, but there are still plenty of locals out picking regardless of the weather. There's a job to be done. All the water cisterns on the island should also be full again. Today isn't quite as foreboding as yesterday (photo left), but it does feel like the sky is falling with low cloud covering everything in the mist... and there will no doubt be more rain ahead. |
| | |
Monday 9th - Just south of Lefki I had to stop the car to take some pics this morning. Looking south toward Sami (pic top top right) - looking west and watching the rain pass over the Strait (pic top left) - looking down to Ag. Ioannis beach where the sun always shines (pic top right) and looking back toward Lefki way through a double rainbow which seemed to begin, almost at my feet. (Pic Right).

Everything looks like winter, and Zeus knows we've had alot of rain so far, but the temperatures have been extremely mild for this time of year. Most days it hovers around 22C. If the sun was out, people would still be swimming. On rainy days you understand just how underpopulated the island is at this time. Not an unatural sound to be heard.

_____________________________________________________________

Wednesday 11th - Not much else to talk about other than rain, and boy has it been raining, sometimes so hard and so much that you think the entire sky is emptying out over our little island. The roads are drenched, olive harvesting is halted and builders are on standby for the next sunny day. November is usually a bit early to suffer from cabin fever, but with continuous rain and storms passing over the island, we are mostly homebound.
| | |
| --- | --- |
| | |
| Right - You really have to admire people who braved the downpours, thunder and lightning over the past week to continue with their olive harvest. Very brave. Lightning, trees and umbrellas. | |
| The island is very sleepy right now. Not much happening anywhere. In Vathy life goes on as usual, but Kioni has all but closed down with only the mini market and Spavento Bar opening winter hours now. | |

| | |
| --- | --- |
| | Left - The sea churns in Afales bay in the north of the island. |
| | Thursday 12th - Finally we have some good news on our weather horizon. The long term forecast tells us that rains will be clearing over the next couple of days and that next week, we'll be covered in mostly sunshine and blue skies again. |
| | |
| | |
| --- | --- |
| | |
| Above - Peter from Fiorendino Bar kicks back in the Vathy sunshine | |
| | |
| Right - Lakis, one of the well known Frikes locals, gets busy picking his olives. | |
| Sunday 15th - Already midway through November. Yesterday morning the skies were bluer than blue, but by the afternoon cloud began to cover the skies over Ithaki again. The temperatures however, are quite mild and very pleasant for this time of year. | |

| | |
| --- | --- |
| | Saturday 14th - The sun is back, but the streets are still empty. At this time of year it seems the majority have escaped the solitude of the island, the rest are mostly in the olive groves. |
| | Below - Frikes is having a little maintenance. Each time it rains, the rain collects in huge puddles right outside Symposium Restaurant, flooding into Fiorendino Bar. It's probably about time a drainage system was put in place so that the rain flows under the road and into the sea. It was a surprise to see the main road closed for this work to be done. |
| | |
| | |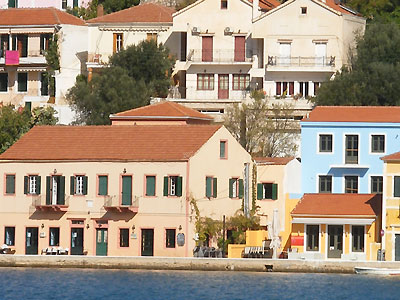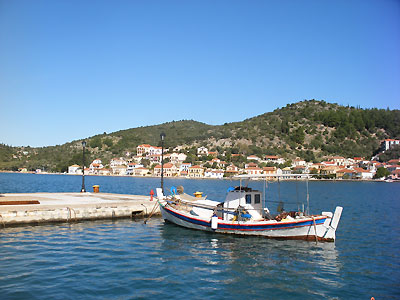 Above - Vathy bayside looking very colourful under our winter blue sky.