| | |
| --- | --- |
| | Friday 22nd cont - With yesterdays clearing skies, the colours of the island showed themselves again. Everything looked vibrant and inviting. Left - Stavros crossroad. Both ways end in Frikes, one is the longer scenic route and the other is more direct. Below - Platrithias with a dim Lefkada in the background. |
| | |
| | |
| | |
| --- | --- |
| | |
| | |
| | |
| Right - Fatouros Taverna in Stavros still open for lunch and dinner for the time being. Below - Margarita Cafe & Bar in Stavros | |
| | |
| Looks like we'll have more rain this weekend. Although yesterday, the skies were mainly blue, today they are grey from here to the horizon. If October is any sign as to how the winter will go, we can bet that it will be a long and wet one this year. We don't usually expect this weather until November and then, not so many endless rainy days. Oh Well! | |

| | |
| --- | --- |
| | |
| | Stavros views all around. This northern village is sleeping again after a very busy summer season. |
| | |
| | |
| | Saturday 23rd - October means work work work. The summer is definitely over so now it's back to the 'every day' schedule. The kids are back at school, which means the tutors of the island are busy again. |
| | |
| | |
| --- | --- |
| | |
| | Left - More Stavros views. Many in Stavros have a view down to Frikes Bayside. |
| | Sunday 24th - After a very grey start to yesterday, the day actually brightened up by midday and we had a warm, blue sky and sunny day. In Kioni at the old school, the Spavento twins celebrated their 6th birthday. Kids from all over the island came to the party. Jenny and George put on a feast of course and as is usual, the party was great for the kids but the adults also. |
| | |
| | |
| | A BIG Happy Birthday to Niko & Theofilos Karantzis who turned 6 yesterday |
| | |
| | Above Left - Kioni view looking toward the island of Attakos. Left - Stavros view looking toward Polis Bay and Kefalonia. Below - some more pics of the twins birthday bash in Kioni yesterday. |
| | |
| --- | --- |
| | |
| | |
| Right - So much for thinking that swimming weather was over. As soon as the sun came out, so did the swim suits. | |
| | |
| | |

| | |
| --- | --- |
| | The day turned out so beautiful yesterday it was no wonder to see people out and about, taking advantage of the sunshine. Left - Nikos and Zaharate from Lahos. Below - Sue and Mike from Kioni. |
| | |
| | |
| | |
| | |
Above Right - Avra Restaurant in Kioni has packed up for the Season. They'll be back next year and maybe here and there over winter if the urge gets them.

Monday 25th - Settle in and get cosy today for it will rain from morning to night...tomorrow too...for 4 days or so. It's a little windy, chilly and wintery outside. Yesterday however, we had sunshine and a big brunch at Yefuri in Platrithia.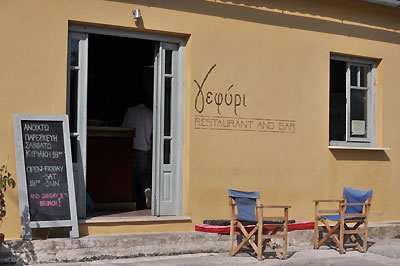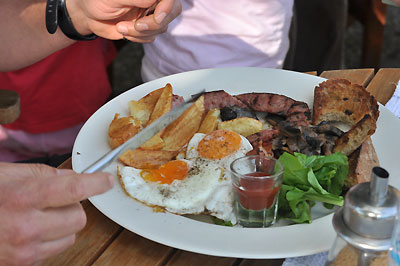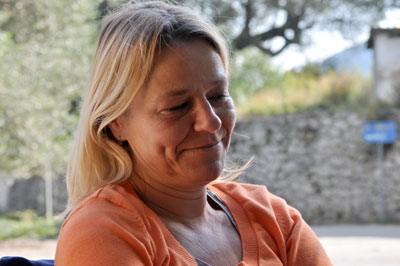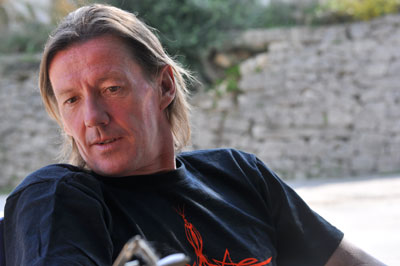 Above - Uli and Werner are on the island from Austria for a few weeks with friends to pick their olives, but with the rain forecast for this week, it will be a wait to get out the hessian. Looks like a couple of days infront of a crackling fire may need to be endured.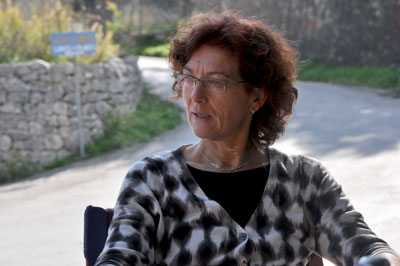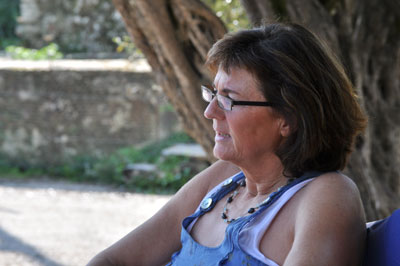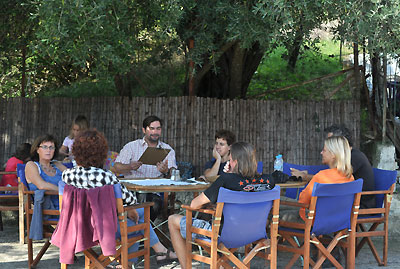 | | |
| --- | --- |
| | Only in Greece. After the law passed in September thisd year to prohibit smoking in public places, we have now been told it's ok again. Smoke inside if you like...at least until December (at which time the elections will be over) |
| | |
| | |
| | |
| | |
| | Like I said, rain today. It's very grey outside, no horizon to be seen, just heavy rain cloud hanging low over Ithaki. It feels nice though. The patter of rain can be a comforting and cosy sound. |
Tuesday 26th - Heavy storms and rain all day yesterday, but today the skies don't look too bad. There is some rain coming down from the north, but that doesn't mean that it will definitely hit Ithaca, although at this time of year, anything could happen. We seem to have all seasons in one day at times. Now what to wear?