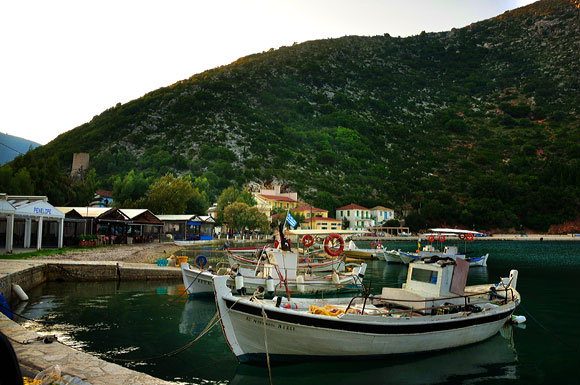 Above - Frikes Bay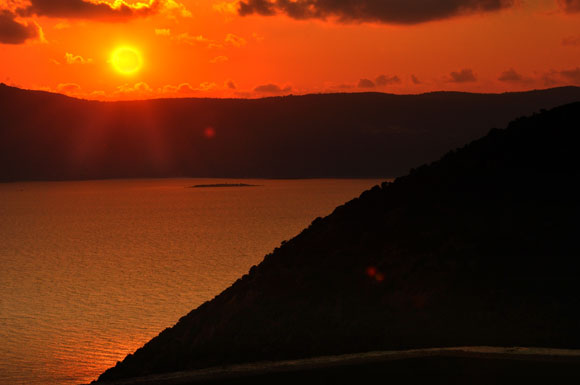 Above - Sunset over Polis and the Kefalonia Strait | Below - The sun disappears behind Kefalonia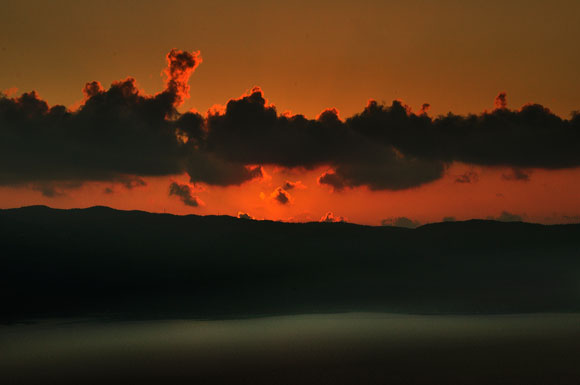 Below - Dionysios Solomos Ferry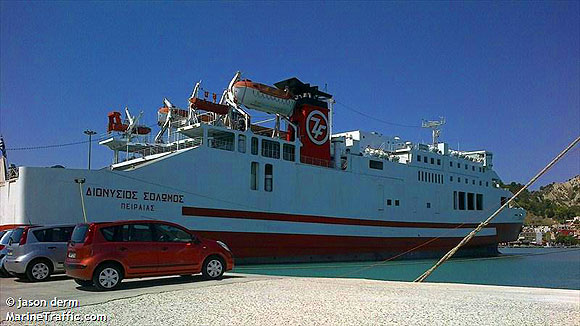 Below - Enjoying the morning sunshine at Dodonis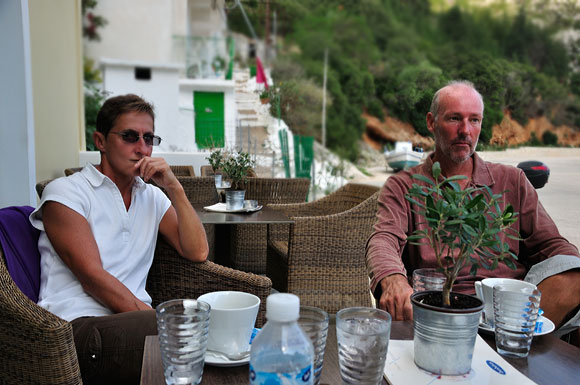 Below - Visitors take advantage of the good weather to go for hikes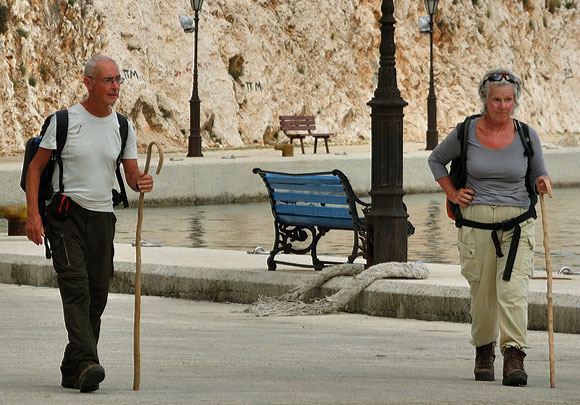 Below - Frikes is just a shadow of itself at this time of year.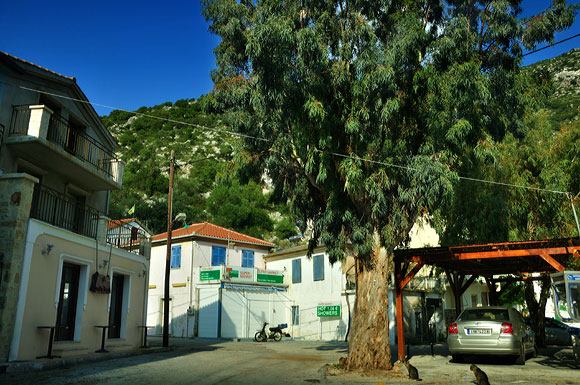 Below - Driving into the sun, down to Aetos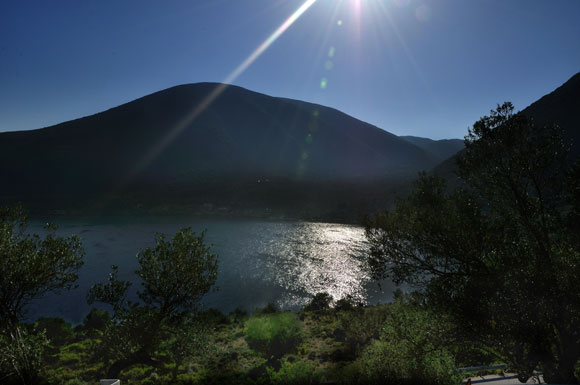 Below - Vathy Bay near the Square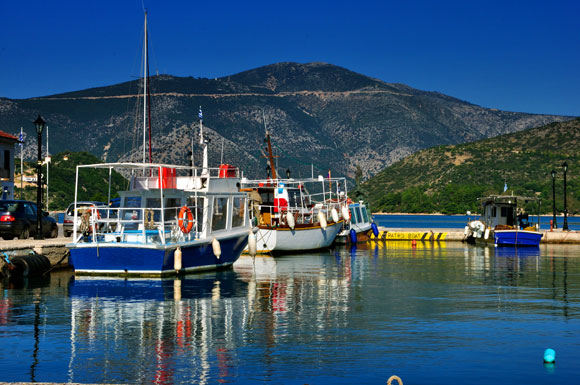 Below - Vathy Bay side from Mazarata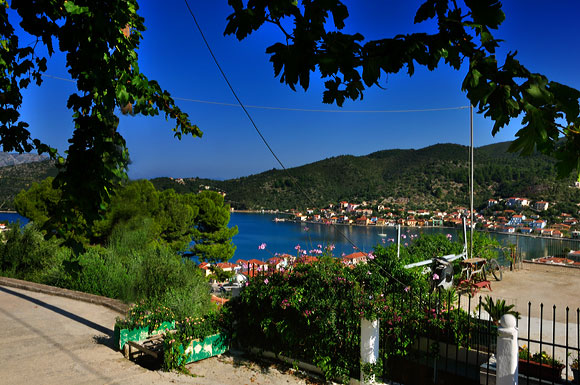 Below - Local fisherman in Frikes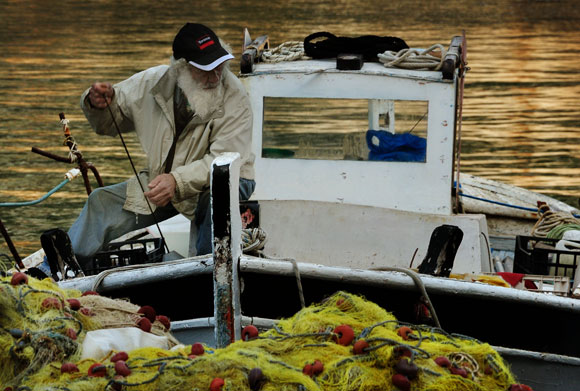 Below - Captain Aristides could use a little work and care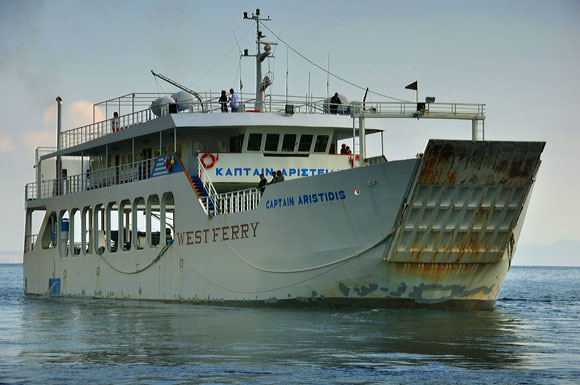 Below - Fiorendino packs up the bay side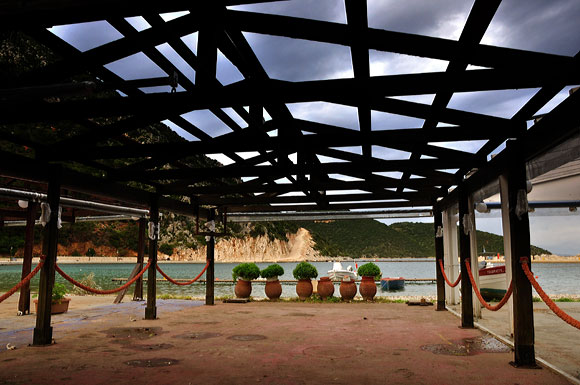 Below - View to Polis from Pilikata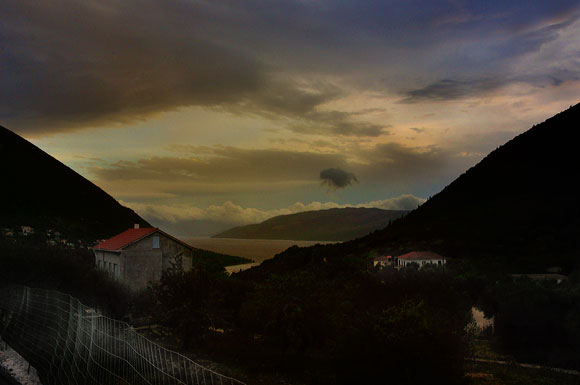 Below - view to Kefalonia from Stavros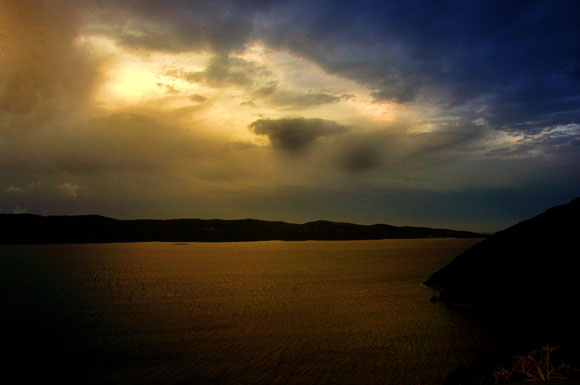 Below - View to Kefalonia from Lefki|Ag.Ioannis road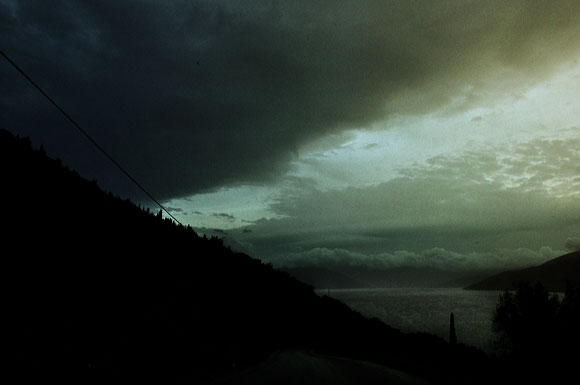 Below - The Kefalonia Strait roughing up from the wind.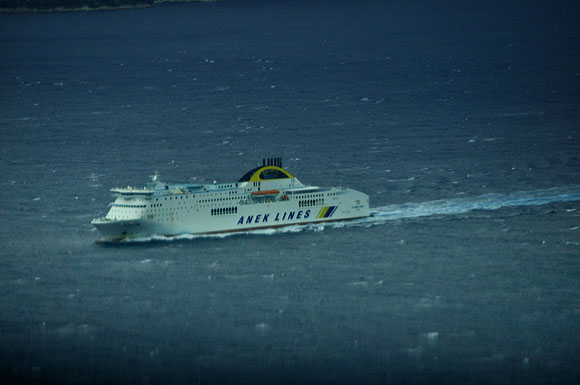 Below - Cloudy skies for Oxi Day, but no rain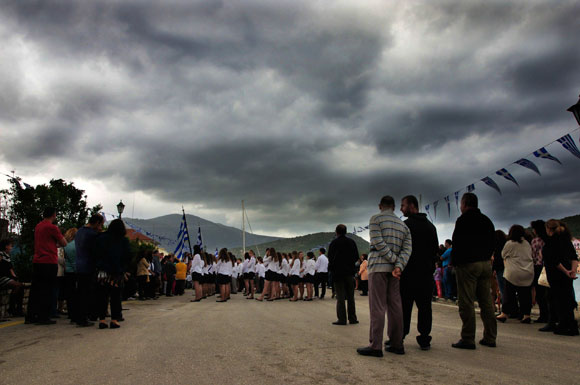 Below - Rainy day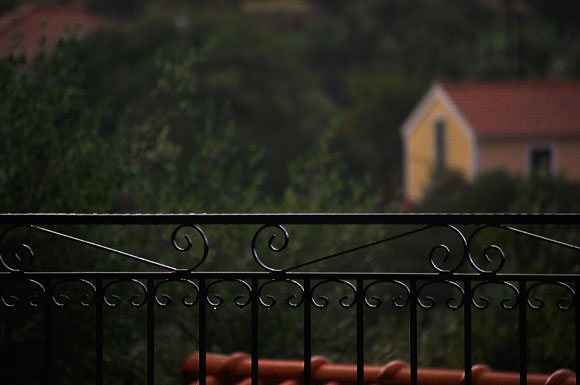 Below - Taken from my foggy window into rainy Stavros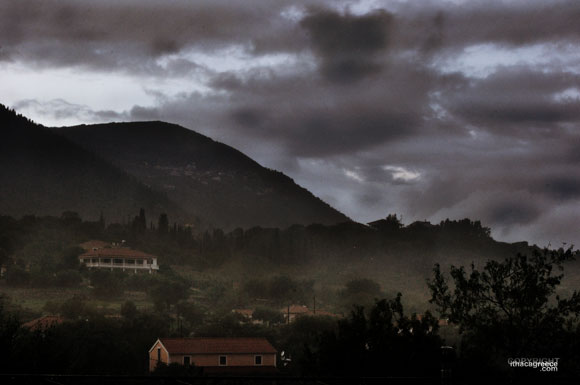 Below - View across Stavros toward Exoghi in the distance.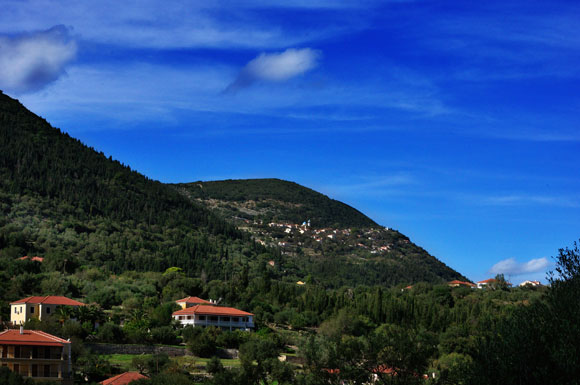 Below - View to Platrithia and Lefkada in the distance from Stavros.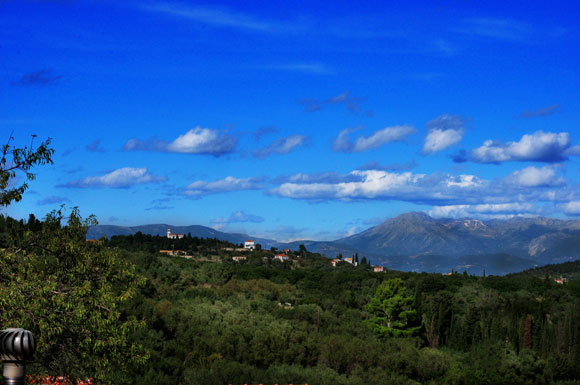 Below - Taxiarchis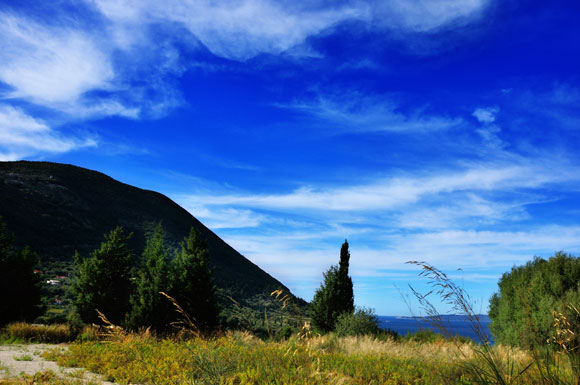 Below - View to the mainland from Stavros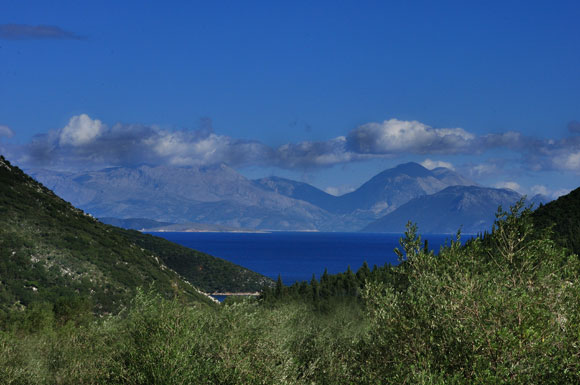 Below - Frikes Bay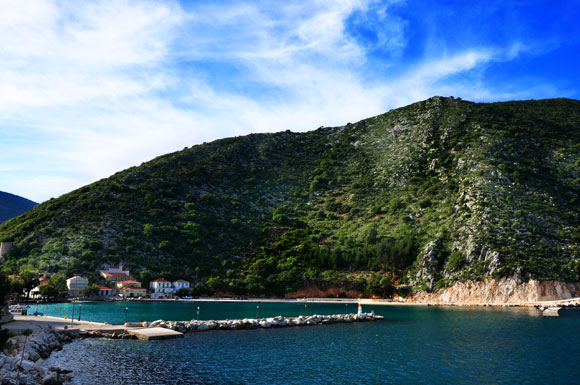 Below - Kolieri from Taxiarchis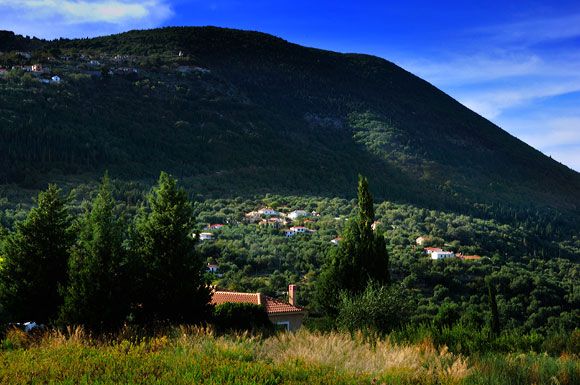 Below - Raxi


Below - Apostolata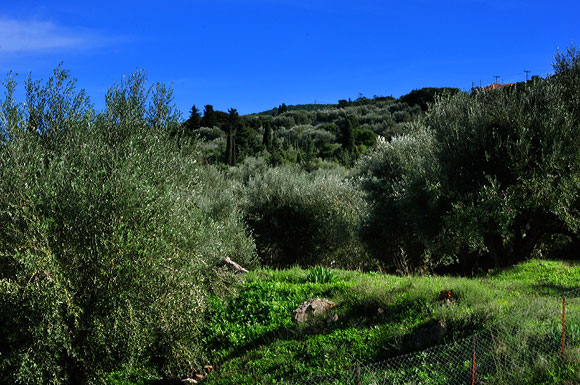 October 2012 - Monday 22nd - The continues to be warm and sunny, good weather heading deeper into winter than anyone had expected.
Before this month finishes off, we still have the Oxi Day parade on the 28th, so if you are still on the island, head down to Vathy and join in the parade celebrations for this National Holiday. Usually starts around 11am. I'm not sure, but there may also be a children's parade in Stavros around 10 - 10.30 am.
The below pic is a sign of the (modern) times. A shepherd herds his flock by car along the road. If I was a shepherd, you'd bet that's how I would do it. Take a little lunch, the radio on, maybe even pull my guitar from the back seat...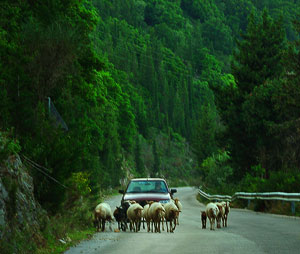 Below - 3 yachts in Frikes Harbour.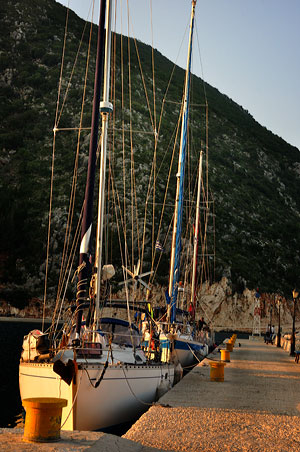 There is another meeting tonight to discuss the fate of Ithaca and it's ferry dilemma now that Strintzis is shutting up shop at the end of October. These are dire circumstances that everyone on the island is concerned about and a subject that unites all the various political factions. Let's hope that Ionian Ferries will take on the route with it's ferry Andreas Kalvos which on the photos appears to a little more than half the size of The Eptanisos. As long as it works, it doesn't smell of oil and doesn't take longer than our usual 3.5 hours to get to Patras, I'd be happy.
We are living in fragile times, and island life can be so easily threatened with extinction if we're not careful. Let's be really careful. We have something very special here.
Tuesday 23rd - News has it that the Dionysios Solomos ferry (Ionian Ferries) will take over the Ithaca - Sami - Patra route. Doesn't look like a comfortable or fast ride, but beggars can't be choosers. On Thursday, a delegation from Ithaca will meet with the Maritime Transport Ministry, which will need to approve the route and ferry. (Ferry Details: Ship Type: ro - RO / Passenger Ship , Year: 1990, Length x Breadth: 116 m X 21 m, Gross Tonnage (GRT): 4309, Capacity (DWT): 2560 t, Speed ​​recorded (Max / Average): 17.5 / 16.3 knots).
Thanks to ithacanews.gr for the update.
Wednesday 24th - Things are pretty quiet around the island. Usually by this time, many are out in their groves tending to the olive harvest, preparing for it at least, but this year I haven't seen many around at all. Late start with all this good weather.

This morning I headed to a sunny spot in Frikes, which at this time of the year, doesn't see the sun until after midday, unless you go to the far side where Dodonis Cafe is. Dodonis will be closing up for the season on the 4th of November, so enjoy it while you can. Peter (Below), owner of Dodonis in Frikes, had a close call during the past storms when a mini tornado, not only lifted his outdoor furniture into the middle of the bay, but also ripped up beams, and of course the canopy from his pergola. The tornado honed in mainly on his premises, although Odysseas Restaurant, a little further into the main strip of Frikes, also had a little upheaval. Peter said it lasted about 6 minutes through which he closed his doors and just hoped for the best. There was nothing he could do except be thankful there were no other people around that could have been injured by his flying furniture and wooden beams.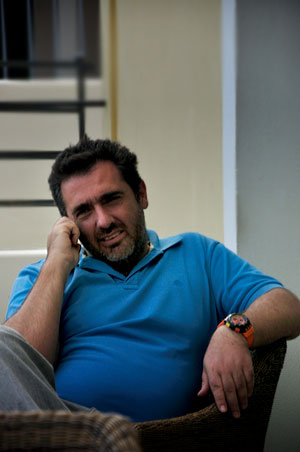 Over the next week, the sailing companies will be finishing up for the season. GIC has already finished and Ionian Holiday will finish up this week. All the reps are going home and we get to have the island to ourselves again. There are still a few visitors around, mostly nature lovers and walkers who have been blessed with this great weather. We are looking for a weather change on the weekend with rain forecast, but there's a few days left before that comes our way, so let's get out and enjoy it.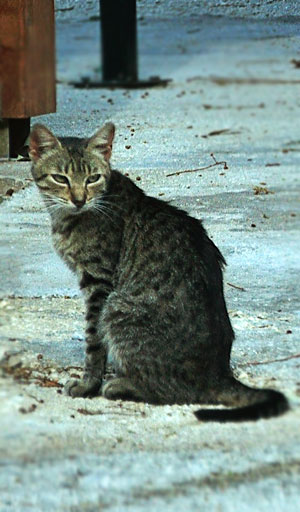 Thursday 25th - I keep saying this, but another fine day today. A little crisp in the morning and crisp at night, but everything inbetween has been warm and sunny. Very, very nice.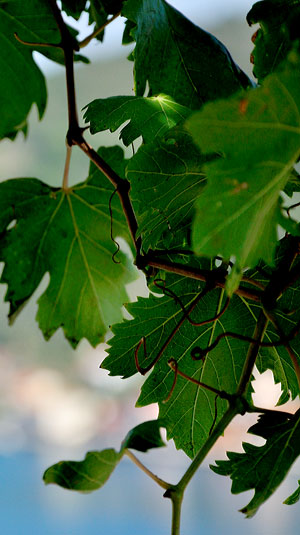 Another change in our ferry story: Today the meeting at the Maritime Ministry accepted Ionian ferry option to service Ithaca - Sami-Patras route. The ferry now on is the Andreas Kalvos. ANDREAS KALVOS (Ship Type: Ro-ro/passenger ship, Year: 1985, Length x Breadth: 99 m X 16 m, Gross Tonnage (GRT): 3786, Capacity (DWT): 1734 t, Speed recorded (Max / Average ): 17 / 15.6 knots)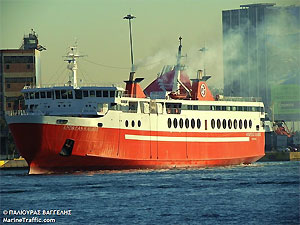 There have been so many boats put forward to take over the line, who knows if this selection won't change, but for now, this has been the decision made. Another slow boat to...
Friday 26th - The weather forecast tells us that it's going to be stormy, rainy and windy, probably up to Wednesday next week, with a possible calm day (or part there of) inbetween. Better get out in the sunshine will it's still there. Temperatures will also be dropping.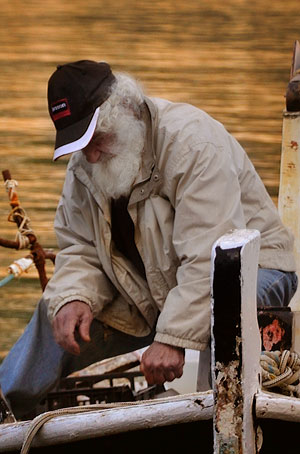 Ferry Tales - Left - Captain Aristides ferry will also be stopping it's Ithaki Service between Frikes and Lefkada at the end of October, at least for November and December. Lefkada is probably our closest link to the mainland with only 1.5 to 2 hours on the ferry, but this service is on and off all during the year. We never know any details and there are no timetables. Ithaca doesn't get serviced efficiently because no one can make any money from it. Time the government stepped in. Ferries are like our local buses. It's our public transport system on the islands. We depend on them for produce, fuel and of course nearly everything, as nearly everything comes from somewhere other than Ithaca. We'll be needing them alot more in the future too with so many offices closing down and merging with offices in our neighbouring island Kefalonia, or closing down altogether. Transport should be our right, not an afterthought. It's actually quite frightening that a company can give little to no notice and have no consequences with leaving the island without transport. From all reports, Andreas Kalvos from Ionian Ferries will take over the Patras route, but it's significantly slower than The Eptanisos. It's been difficult enough to travel to and from ithaca, but a significantly longer ferry ride, will really test the patience of the visitors who choose Ithaca for their holidays.
Saturday 27th - The baysides are changing. The seaside tables and chairs are disappearing off the bayside landscape. With some high winds expected later today, some have decided to pack up the decks. Below - Rementzo gets ready for the wind.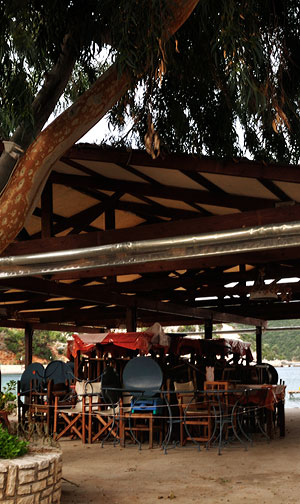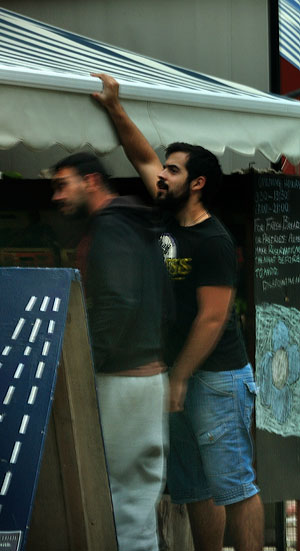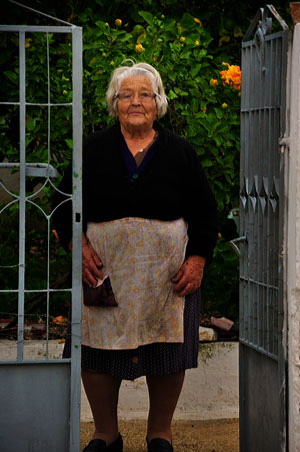 We had some rain today and a few bouts of wind, but it all seemed to dissipate rather quickly. The temperature is balmy so when the cold front collides with our warm air, we can expect an explosion of some sort I'm sure.
Tomorrow morning we have the Oxi Day parade in Vathy. Let's hope the rain holds off long enough for the parade, if not for the speeches.
Sunday night may also be Rementzo Restaurants (Frikes) last night open, so you may want to get along to say goodbye for another season.
Yefuri in Platrithia would also like people to know that it is in fact staying open for business until the end of November, so there will be a place to eat that has a large enough indoor space to enjoy and a fire place if it gets cold.
Sunday 28th - OXI DAY Everyone expected it to rain today for the Oxi Day celebrations, but the weather behaved itself long enough for the parade and speeches. For more on OXI Day CLICK HERE or on photograph below.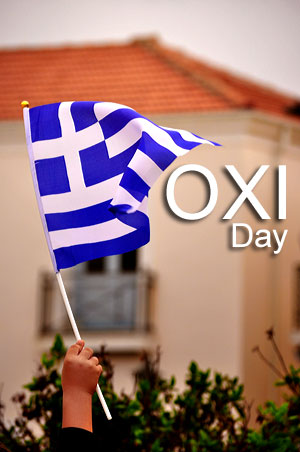 About an hour after the parade, it started to rain periodically. The temperature however, feels tropical. Humid and warm. In Frikes to Platrithia it was calm. In Vathy and Stavros the wind did pick up every now and again. It's now 7.30pm and there are very strong gusts of wind passing over.
Monday 29th - The day started off with so much promise, sunshine, blue skies and then, before midday, it started to cloud over and before long, rain again.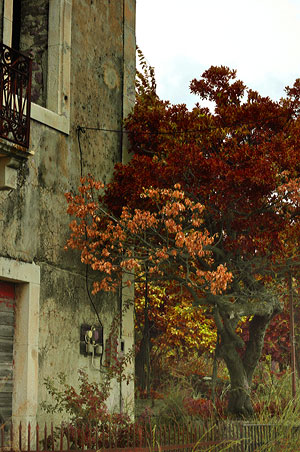 Tomorrow we will hopefully get a timetable from Ionian Ferries, the company replacing Strintzis for ithaca to Patras route. It appears that Andreas Kalvos may not be the ferry to take on this route. Guess we'll have to wait and see. Hopefully it's a reliable, newish, clean and speedy boat.
Tuesday 30th - It was chilly today, but who would have expected to have skies as blue as this after the week of rain and storms.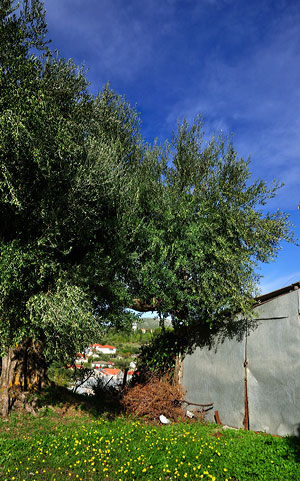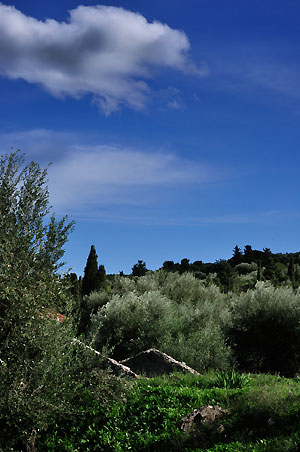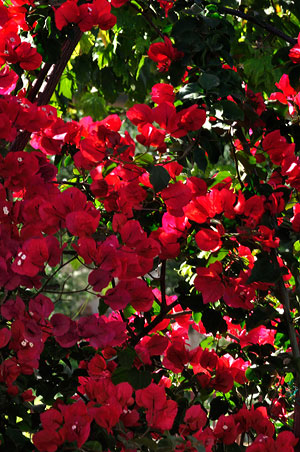 Still no sign of a ferry timetable. No ithacan travel agent has posted it yet, nor is there any sign on the Ionian Ferries website. You'd think with 1 day to go, someone would have some information to post...
Last day of October and there's rain forecast again with a chilly 19C temp to go along with it.
Wednesday 31st - Last day of the month started off sunny with blue skies, but soon after midday when the planes started to leave streaks in the sky again, it became overcast. Tomorrow, high winds are forecast, although who knows, the weather forecast for today was for rain, but none so far.
The Ionian Ferry will start it's service to Patras on Friday. You can check for up to date details on How To Get There by clicking here.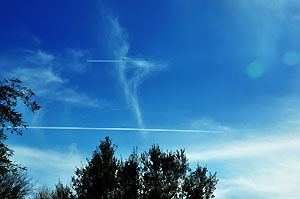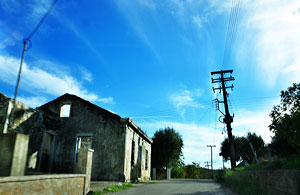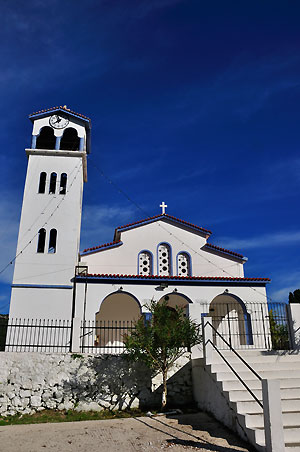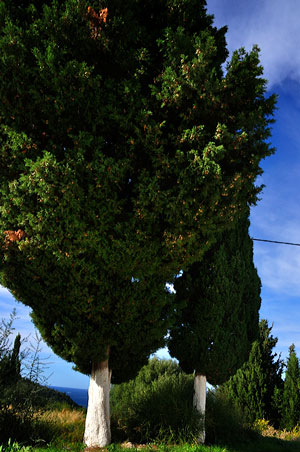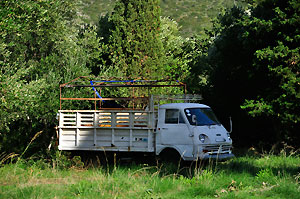 So it's the end of another month as we near the end of 2012. Let's hope November will give us all some stability here on Ithaca, and in Greece generally. It's been too many years already that we have no idea what's ahead of us. Everyone speculating on the future of Greece, seemingly knowing more than the people of Greece themselves. It's all way off balance. A journalist gets arrested for trying to tell the truth, people being punished for the sins of others. Banks being artificially propped up to show a profit without really having one, and all that seems to be ok.
Just another little quirk that gets my goat. When I pay my tax bill, I first have to deposit it into my account and then withdraw it again to pay the tax bill. With everyone doing that, the balance sheet at the Nat Bank of G will be looking ok, when it actual fact...

Send an e-Thiaki Postcard
A Collection of ithacagreece.com photographs
made into virtual postcards for you to send
to your friends and loved ones.
Nothing can replace a real postcard
but this is a good second place when you
want the card to arrive before you do.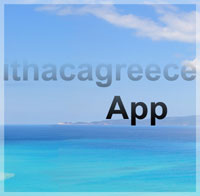 ithacagreece.com Mobile/Cell phone App
ithacagreece.com now has an app for your
mobile/cell phone. Covering many
platforms. To download through your
Mob/Cell Click on Icon Above.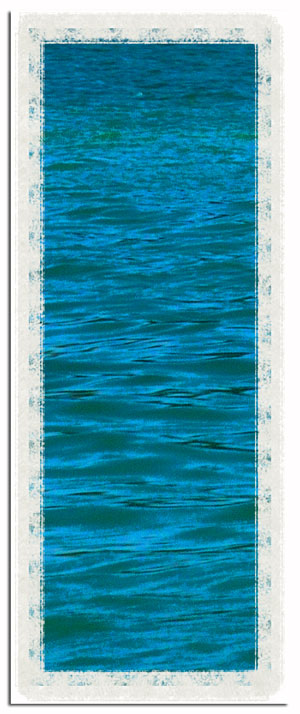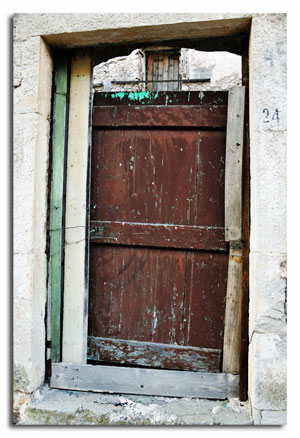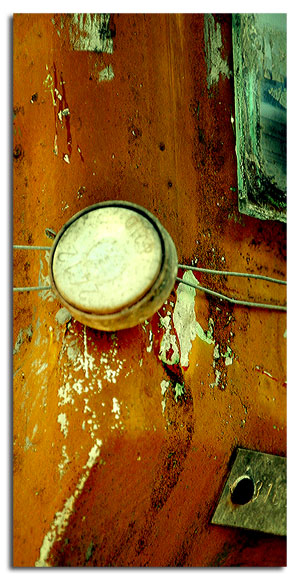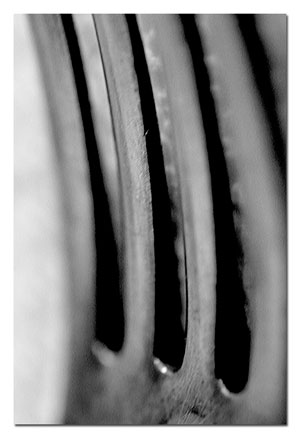 Send an e-Thiaki Postcard
A Collection of ithacagreece.com photographs
made into virtual postcards for you to send
to your friends and loved ones.
Nothing can replace a real postcard
but this is a good second place when you
want the card to arrive before you do.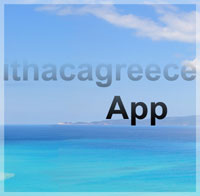 ithacagreece.com Mobile/Cell phone App
ithacagreece.com now has an app for your
mobile/cell phone. Covering many
platforms. To download through your
Mob/Cell Click on Icon Above.