August 2013 - Thursday 15th - A full season of entertainment this year. So much going on, it's a wonder we are all still standing.
Anoghi Panighiri
Wednesday 14th 2013
Last night the festival in Anoghi was again, a huge occasion for locals and visitors to Ithaki alike. Lots of fun, energetic and traditional. For more pics click on photograph Left or Click Here
Mnistires played an awesome night of music and at the end of the night, a new generation of musicians took to the stage with some more modern Greek music that quickly filled up the dance floor again, taking the fun into the very early hours of the morning.
Tonight, Platrithia Panighiri will echo through the north of the island, signally the last of the big festivals of the season. See you there.
Friday 16th - One hot day after another. The early predictions of rain during August never came to pass. It's been a great weather month. No excruciating heatwaves or radical weather. Just great.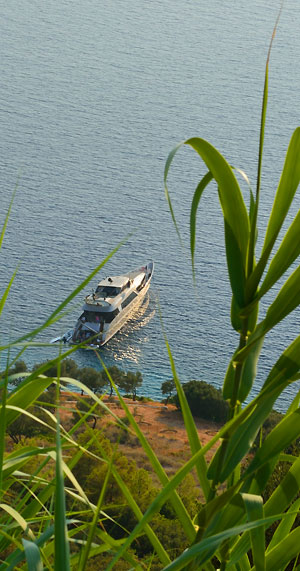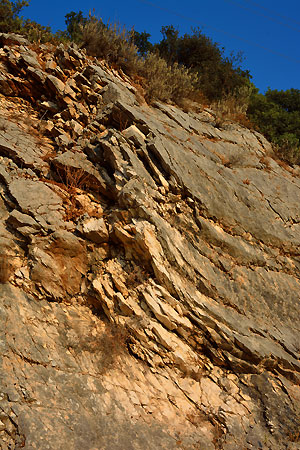 For all the celebrity watchers, Sarah Jessica Parker was in Kioni yesterday, gift shopping after motoring in on her yacht. Looks like Ithaca is a little like San Tropez was many, many years ago. A place the rich and famous can boast to have discovered.
Local girl, Sophia, said Sarah Jessica Parker was very friendly and accommodating, happily posing for a photo with her.
Left - When it's 35 degrees outside, you can bet it's around 50 degrees over the grill. Luckily there are some who can stand the heat in the kitchen.
Platrithia Panighiri
15th August 2013
The last big festival of the summer season, the Platrithia Panighiri, was a great success. In the 10 years of covering the festivals, I can honestly say, each pangihiri has been a great success. Each offers something a little different in atmosphere and kefi. Even with my eyes blurred by a massive headache, I could see it was a festival with fun for all. Luckily the camera has a fail safe focus.
For more photos of the Platrithia Panighiri - Feast of the Virgin Mary, CLICK HERE

Tuesday 27th - Spent the last 9 days on the road travelling through Bulgaria and northern Greece so I'm a little tired, but excited to share some of my photographs with you all once I've transferred them onto my pc.
Arrived back on ithaki this afternoon with the last trip of the Meganissi ferry from Nidri to Frikes. There won't be another route between lefkada and Ithaki until September when the Captain Aristides starts up again.
Still lots of people around for late August, and the weather is hotter than it was mid month. I think we're in for a week of very hot temps as the thermometer climbs into the high 30's mid week.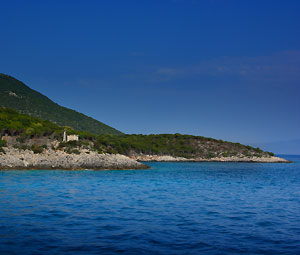 Tuesday 28th - The end of another month, but if you think summer is ending, better think again. Very warm temps these past days with more heat coming our way as the week progresses.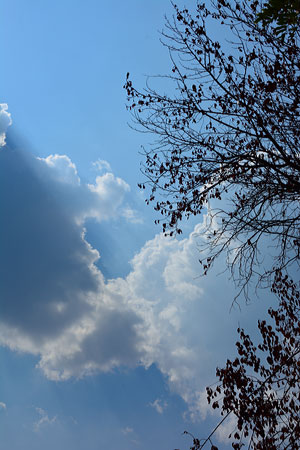 The ferry timetable has changed again, but I haven't had a chance to update. Will do that asap. For now best contact Delas tours in Vathy for ferry information.
Thursday 29th - Strange skies the past couple of days. Sometimes it looks like a storm is imminent, only to wake up to another scorching hot day. No rain on the weather horizon, but the clouds do make for a little relief, especially when there's a breeze to accompany them. Very hot night last night. Still and breathless.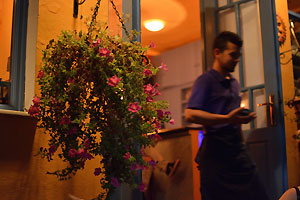 Left - Spavento Bar in Kioni brings on the cocktails for a humid and still night.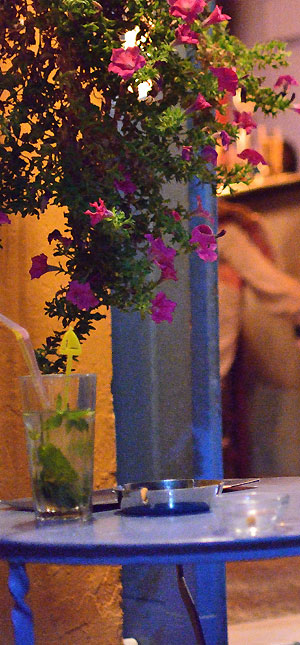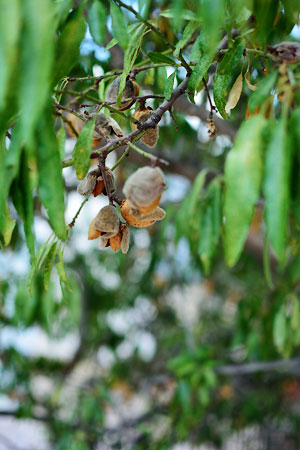 Above - Almond trees are shedding their fruit at this time of year. A healthy harvest for Ithaca.
Left - Cloudy, but mostly blue skies roll across the island as we head toward the last couple of days of August.
Friday 30th - Another fine day ahead. The heatwave seems to have been broken with yesterdays fresher breeze passing through. A nice relief for a good night's sleep.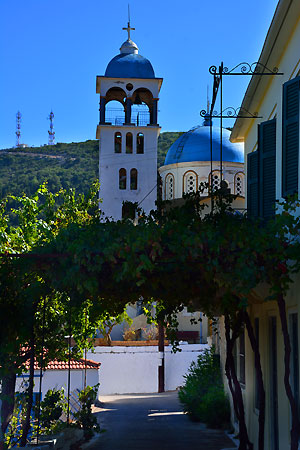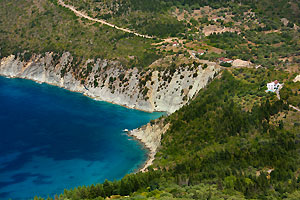 As most finish off their holidays, Ithaca is slowly becoming quiet again. There are still lots of folks coming in on yachts and day trippers, but the visitors on the ground are becoming a little thin again.
Left - Exoghi. The fresher breeze yesterday, did alot to clear up the summer mist, leaving a brilliant blue sky to cover the island.
The ferry timetables have changed again, so keep a check on 'How To Get There' in the ithacagreece.com menu. We only have 1 route to Patras and return again, instead of the 2 we had over the month of August. A smaller ferry also.
On the Lefkada route, the Meganissi II has stopped and will be replaced by Captain Aristides in the first couple of days of September.
Saturday 31st - The end of August and the high season have ended again for another year. Yesterday's wind did much to clear the atmosphere, leaving a clear blue sky and a clear view back to the mainland, which in summer, disappears behind the heat mist.
Today, the wind has died down again, but there is a change of season in the air. Autumn is on the way, however, Auturmn on Ithaca pretty much resembles summer. Still lots of blue skies and warm days ahead of us, even when the rest of Europe is getting ready for colder, wilder weather.
Left - Stavros, looking down to Frikes Bay and Mainland Greece in the distance.
Below - Mylos Creperie in Vathy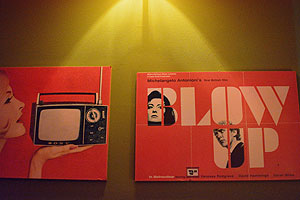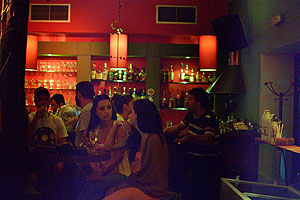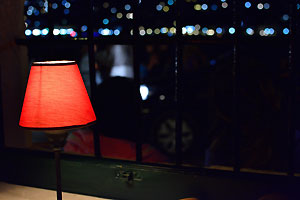 Left - Soulatso Cafe and Music Bar and Mylos Creperie on the Vathy bayside.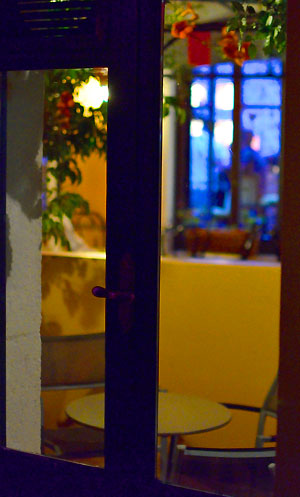 If you like having an entire beach to yourself, then head out to any beaches in the morning to experience what that's like. Although Ithaca still has quite busy hours, the masses have left, leaving Ithaca for those who love it a little less crowded.

Send an e-Thiaki Postcard
A Collection of ithacagreece.com photographs
made into virtual postcards for you to send
to your friends and loved ones.
Nothing can replace a real postcard
but this is a good second place when you
want the card to arrive before you do.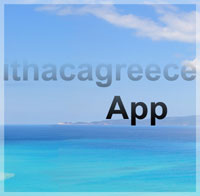 ithacagreece.com Mobile/Cellphone App
ithacagreece.com now has an app for your
mobile/cell phone. Covering many
platforms. To download through your
Mob/Cell Click on Icon Above.