Ithaki
by Toni Tsalikis

Ithaki an island of surprises.
Tall cypress trees, protection from the Ionian sun.
Scent of sage follows you at every path.
Coastline by your side as a true companion.

Sea of blue, sea of green.
Crystal clear waters, an open invitation.
Pebbles, the entrance to the ocean.
Refreshing, calming, soothing.

As you walk amongst the paths of our forefathers,
Do remember what nature has gifted us.
The lush, fruitful olive trees.
Grapes decorating vines.

Ithaki, an island that touches you,
An island so mesmerizing.
It beckons you, it torments you.
Once you have arrived, you will be drawn to return.
MY GRANDMOTHER'S LIFE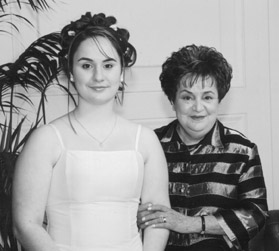 Have you ever stopped to think about your grandparents? Where they came from, the hardships they've endured, how hard they've worked to reach their goals? Take my grandmother, Freda Razos, for example. Freda has had a remarkable life although she has been through a lot of heartache and pain along the way. She's had both disappointing and fulfilling memories, but, (Quote: "It was all worth it, I look at my children and my grandchildren and realize that I must be the luckiest woman".)
My grandmother was born on a gorgeous island west of Greece called Ithaca . She lived there with her sister Fotoula and brother Arthur and her parents for one year until her father decided to migrate to Australia . It was an extremely hard time for everyone; my grandmother, at the age of one had to live with her grandmother and aunty, as her mother found it difficult to cope with the raising of three children. She was brought up in an all-female household for 13 years, growing to dislike her father as she felt he had abandoned them. After 13 long years her father returned to his family in Ithaca . He had found them a house to live in, a stable job and the foundations of the beginning of a new life. My grandmother recalls meeting her father as a terrible experience as she felt he didn't love her. She didn't understand that by him leaving them to settle in Australia , he was creating a new and better life for them. As the days crept up to their big move to Australia , my grandmother was able to spend a lot of time with her father. She grew to love and adore him and their relationship always stayed that way.
Arriving in Melbourne , Australia was a very distressing time. My grandmother couldn't speak a word of English, she felt as though everyone was watching her. My grandmother received her first job in the city, sewing garments. She slowly began to grasp the English language and adapted to the different culture in Australia . At the age of 21 she met my grandfather Louis. They instantly fell in love and got married. Their first house was in Caulfield where they lived with my maternal great-grandparents and my mother's brother Arthur. After a few years they moved to Doncaster where they brought up their 3 children. My grandmother during that time worked at Coles Cafeteria in Doncaster Shoppingtown. There she made many friends and thoroughly enjoyed her work. Working there opened the doors to her social mobility. After a few years in Doncaster they moved to North Balwyn where they continue to reside. Throughout their years my grandparents have owned a number of fruit shops, but are now retired and living a happy, healthy life together.
As for my grandmother, she has returned to her beloved Ithaca a number of times. She often says to me that she couldn't live there again as she enjoys the Australian life too much. She often tells me that she will take me to Ithaca to see her homeland, where she was brought up, her favourite places. I feel that it is important for people to know where their family roots have come from and how hard people have worked to achieve their goals.
Written by Anna Tsalikis as an informative piece of writing for her English class, year 10. Anna is the daughter of Jim & Toni Tsalikis and granddaughter of Louis and Freda Razos
© 2011 - 2017 Anna Louise Tsalikis