What's New On Ithaca Greece
It's the HIGH Season on Ithaca!
Summer in Greece are what dreams are made of. Sunshine, crystal clear waters and friendship rekindled or made anew.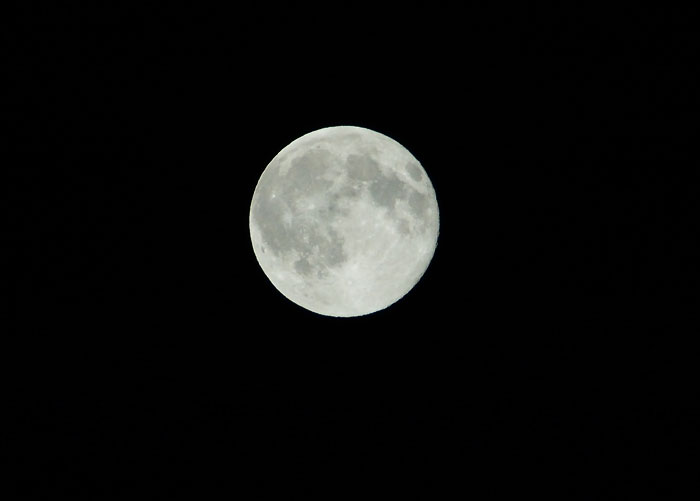 August 2015
Saturday 1st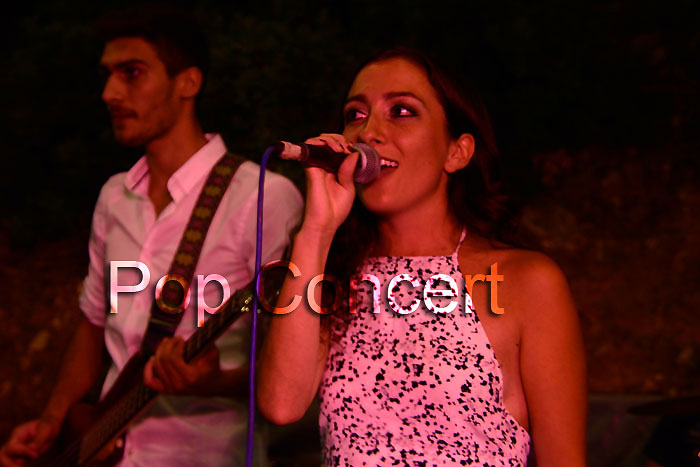 Sunday 2nd
I don't think I'm alone when I say that it would be nice to have a little coolish change. Nothing drastic, but some northerly freshness would be wonderful after a month long heatwave with very high humidity, making it feel even hotter.
Below - Kioni views.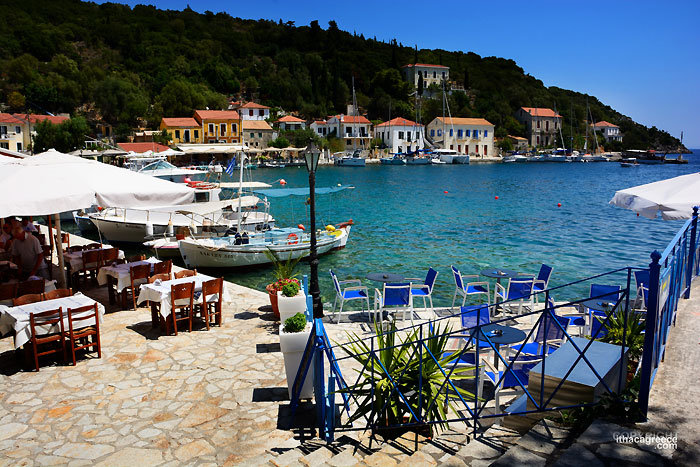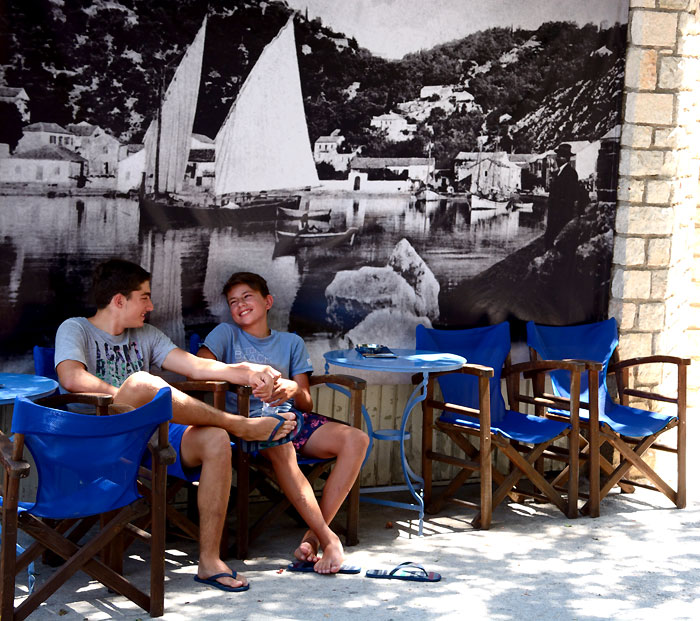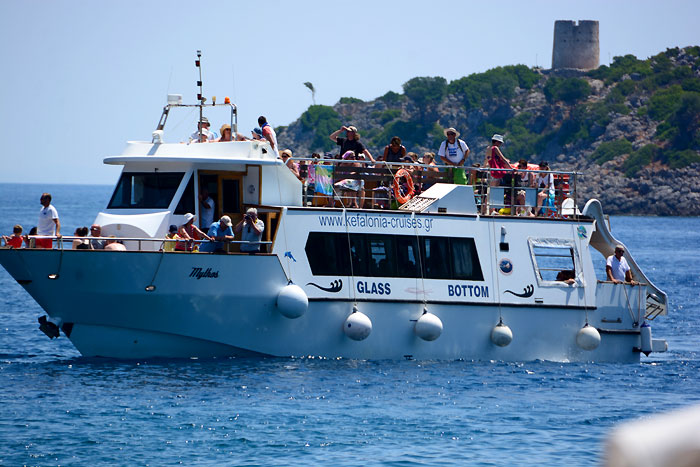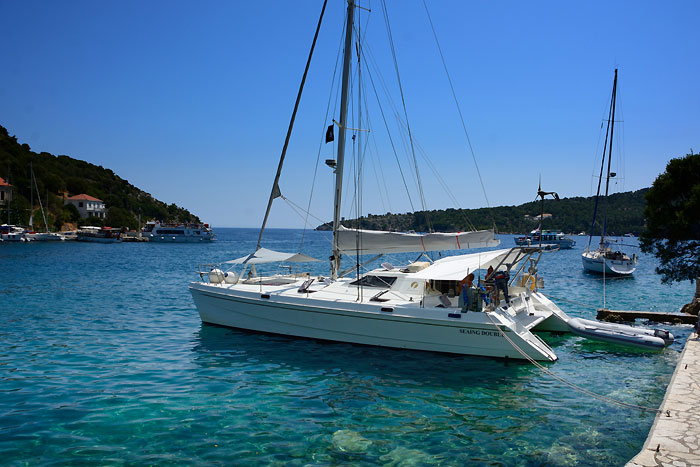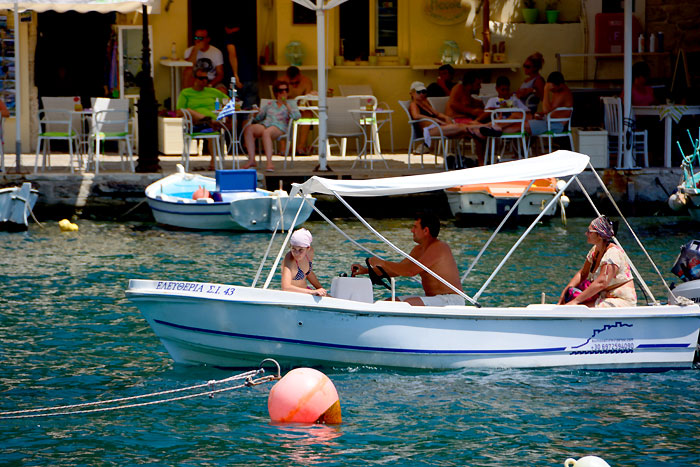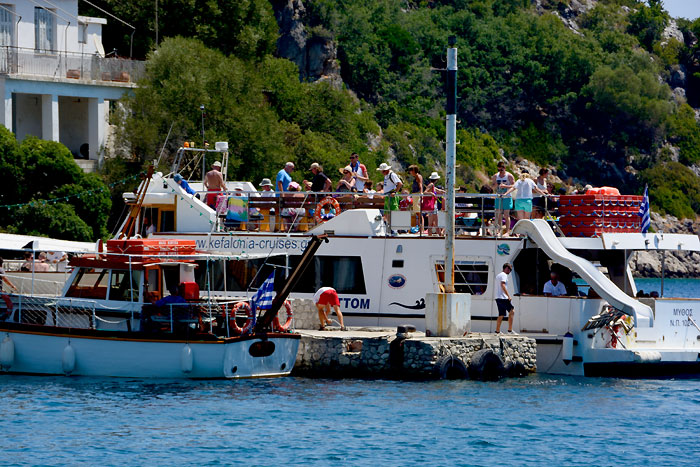 Only a few days to go before Sortiros Festival (Stavros Panighiri). There was some talk about cutting it back to one night instead of two, but tradition won over crisis thinking and so the Stavros Panghiri will continue this year as it has every year.
Below - Ag. Ioannis.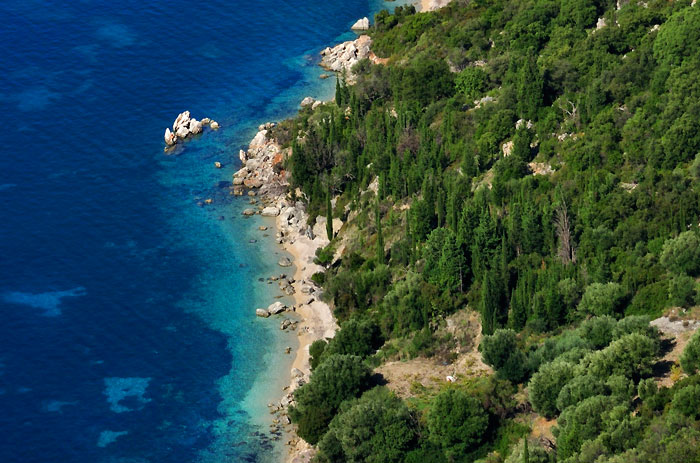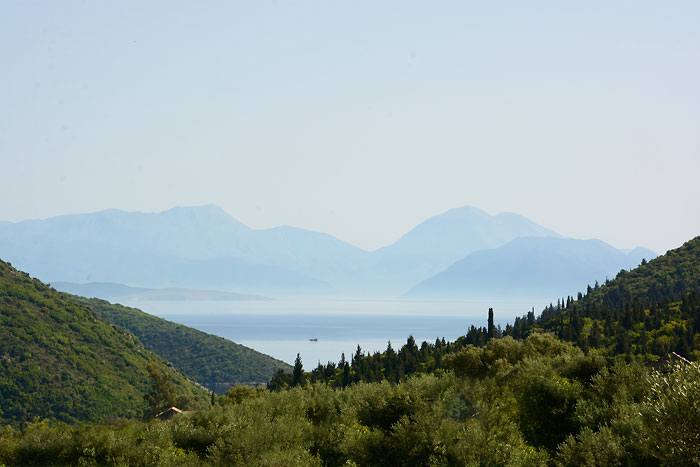 Above - View to Frikes Bay from Apostolata, Stavros.
Monday 3rd - Below - Last night opera at Limnes in Platrithia.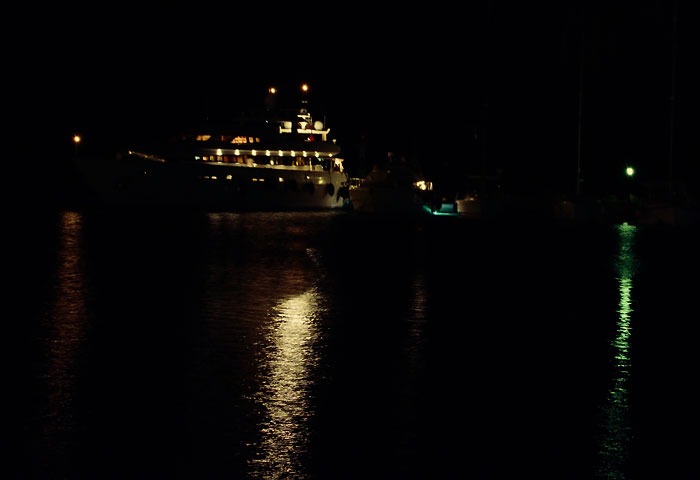 Below - A red moon rising over Frikes.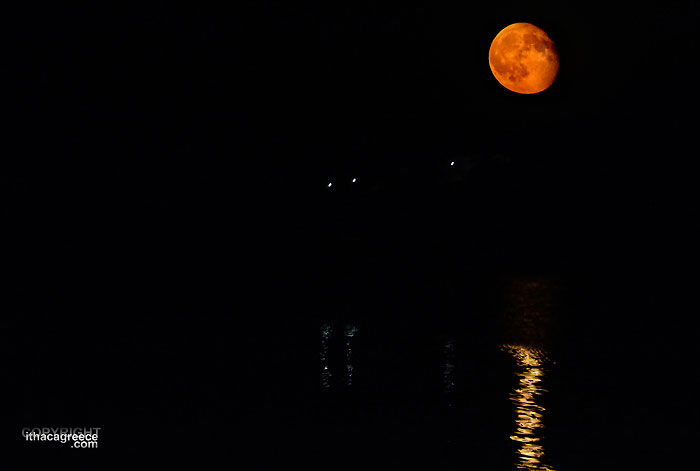 Above - Some big yachts docked in Frikes last night. Yachts such as these are usually anchored in Kioni or Vathy.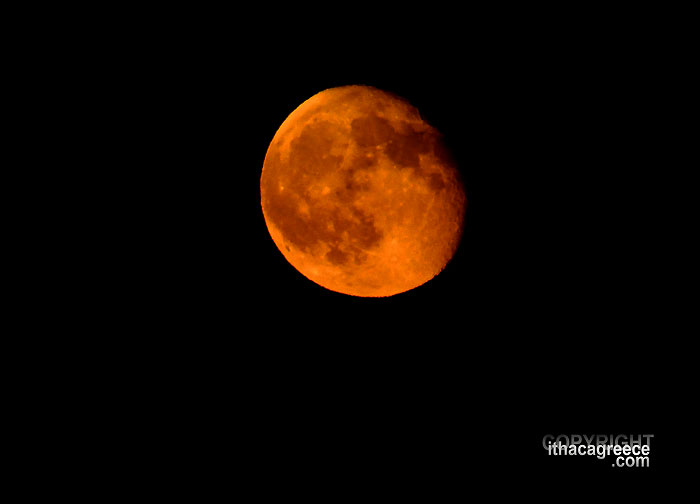 Below - A day at Polis beach is like a party. Click Here or on photograph below for lots of beach pics.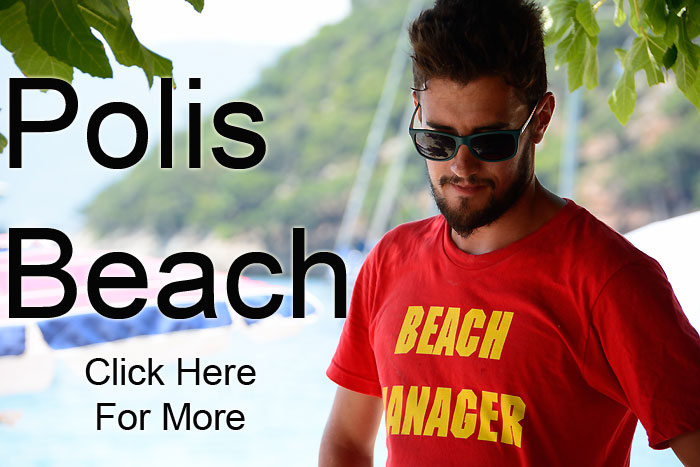 Tuesday 4th - Wintertage auf Ithaka, chronicals from 1901 - 1905 by Archduke Ludwig Salvator were donated to Ithaca at a ceremony at Romantsa in Stavros last night. Click Here or on photograph below for more.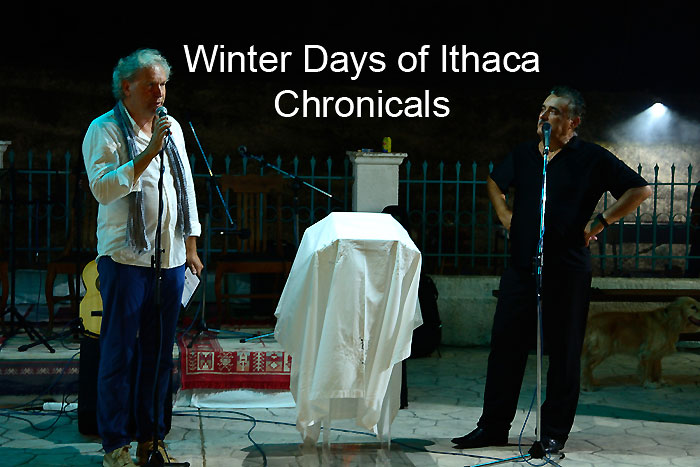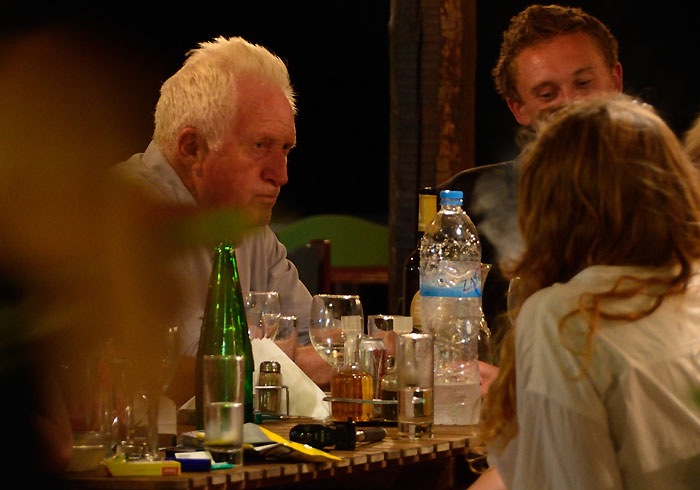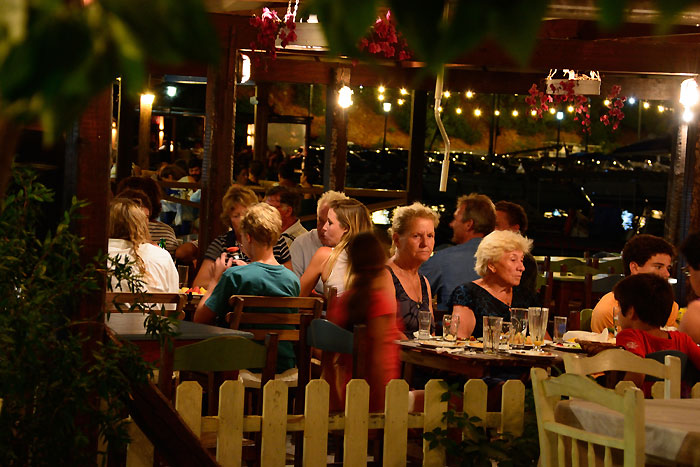 Wednesday 5th - Rather a dramatic looking change yesterday, but on Ithaca, little if any rain fell, but the change did give us all a little break from the month long heatwave.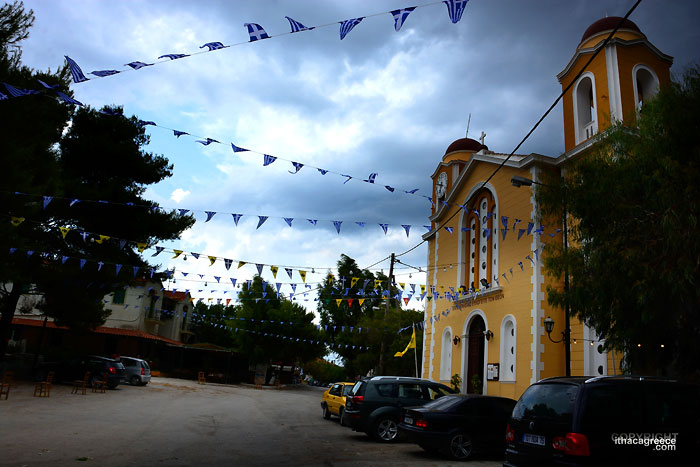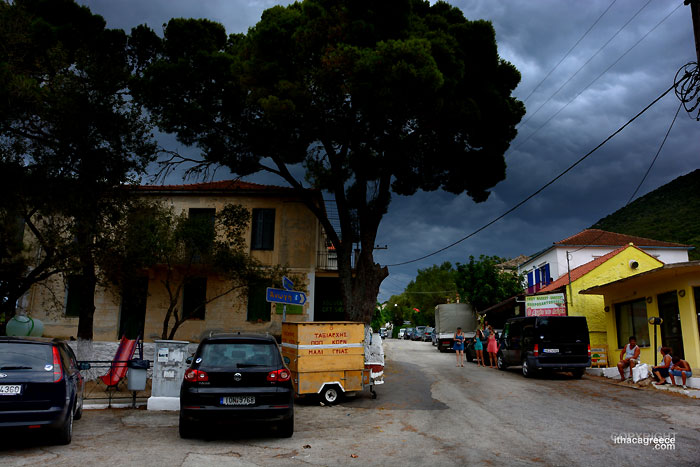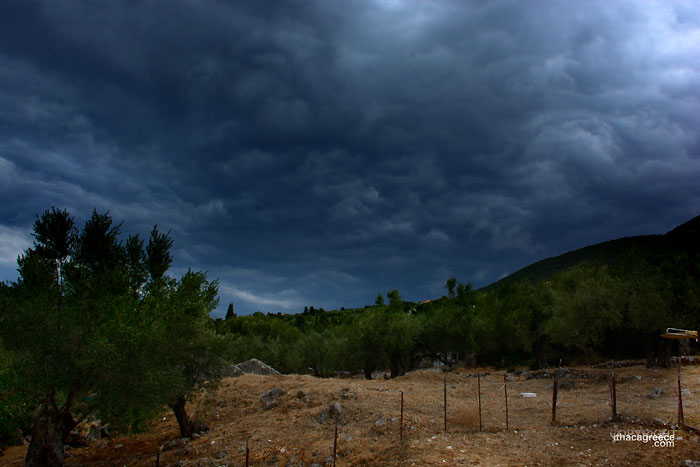 Thursday 6th - Sunset at Ag. Ioannis. It didn't look like rain, but a few hours later one massive downpour nearly drowned the panighiri.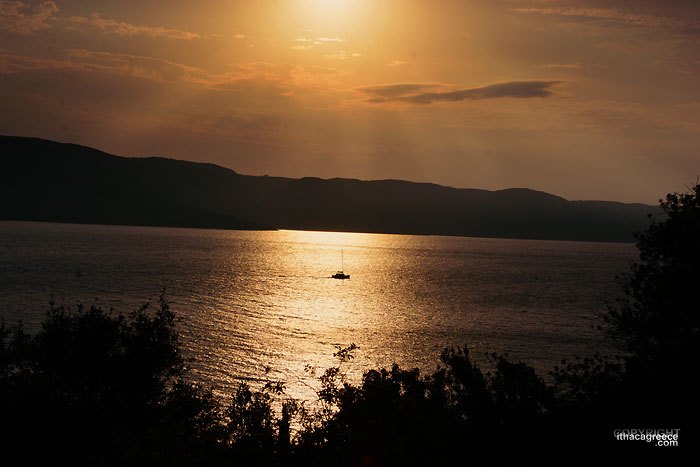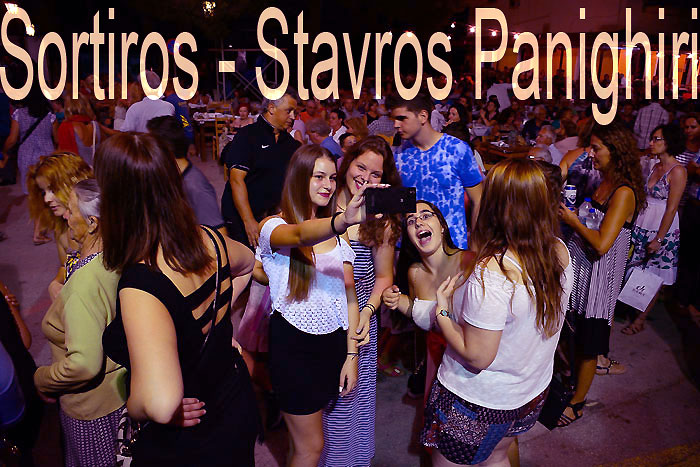 Above - Sortiros - Stavros Panighiri went off like a bomb despite some unexpected rain and the crisis. Life has more than a bank balance to celebrate and that's what happened last night in the north of Ithaca. Celebration in the face of all odds. CLICK HERE or on photo above for more.
Friday 7th - The weather continues to be very hot despite some ominous skies, nothing has changed. It's Summer on Ithaca Greece!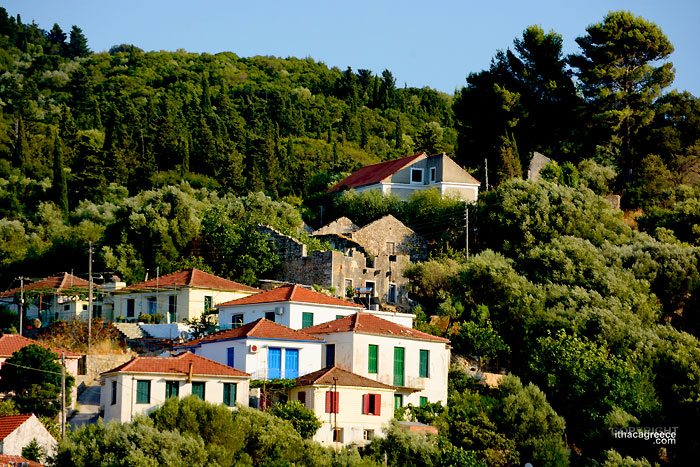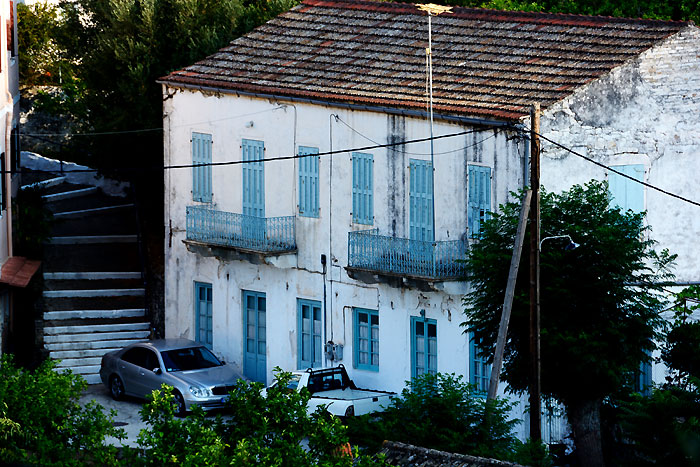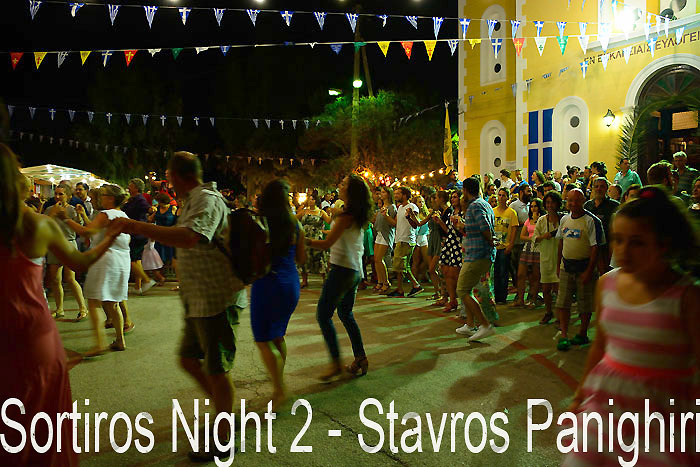 Above - Last night was the 2nd night of Sortiros, and although many commented on low numbers, it was actually pretty busy by about 1am. Another great night in Stavros Ithaca Greece. CLICK HERE or on photo above for more pics and faces.
Below - Seems this has been the month of moons. Another moon pic as clouds begin to drape over it as the bell tower strikes 3am.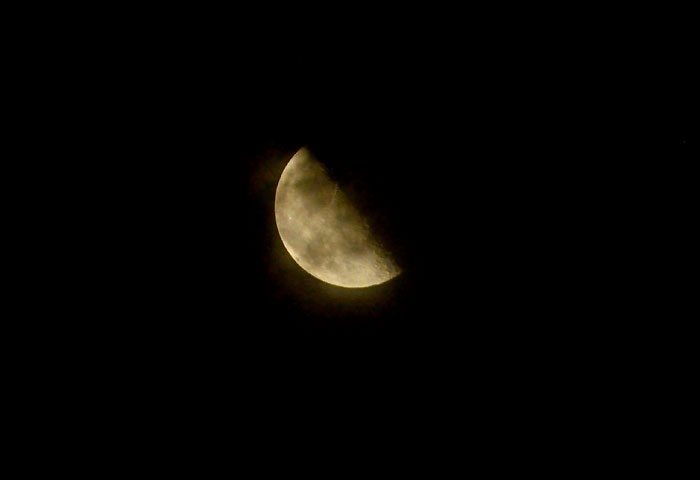 ---
August 2015
Food, wine and good company for the Summer of 2015 on Ithaca Greece.
Saturday 1st
It's blue moon time. We have confirmation from the Port Police that the route to Patras from Ithaca has been reinstated, but unfortunately specific information is not forthcoming. Delas ticketing agents have no information when called this morning, Port Police have no information and Ionian Ferries (Dionisios Solomos ferry) have not posted the timetable and are not answering their phones, well they are, keeping us on hold for 10 minutes before cutting off. Here are the times posted by Ithaca News. Please don't email me for specific details, I do NOT have any, but will post as soon as I do.
06.40 Ithaca
07 10 Sami
08.00 Sami
12:30 Patra
16 00 Sami
20 00 Patra
23:15 Ithaca
23.45 Sami
Frikes carpark was alive with music last night with a Pop concert by some talented US and SA kids who have their roots solidly planted on ithaki. Click Here or on photo left for more pics.


Sunday 2nd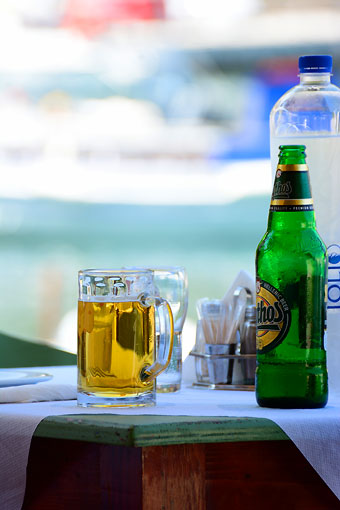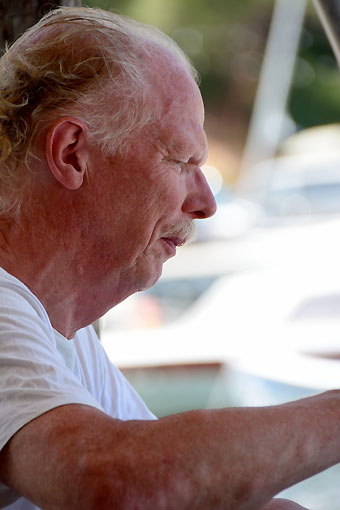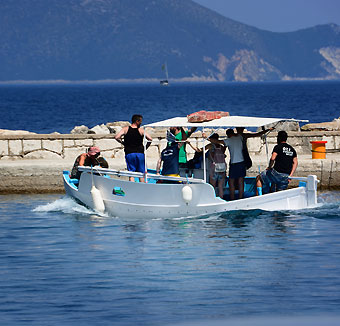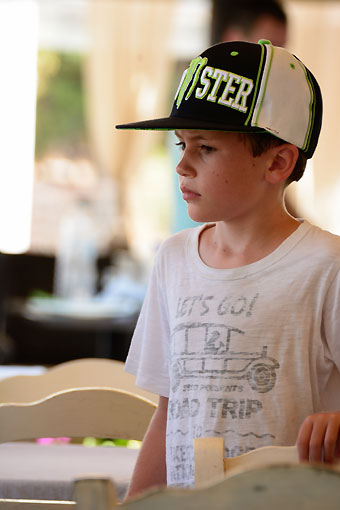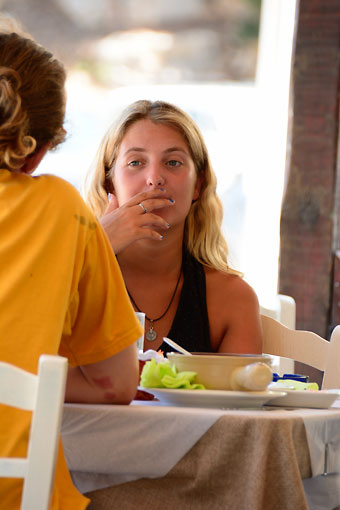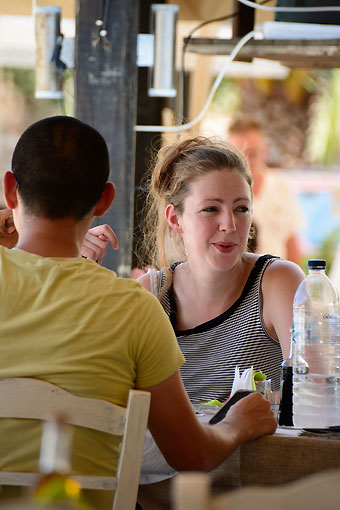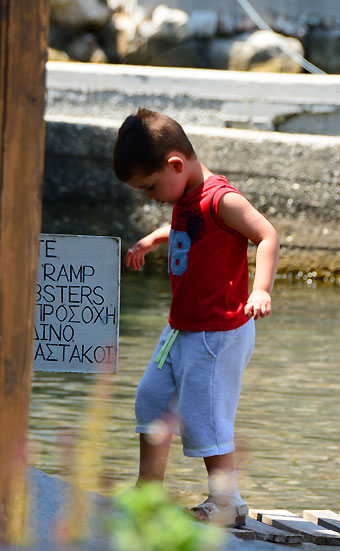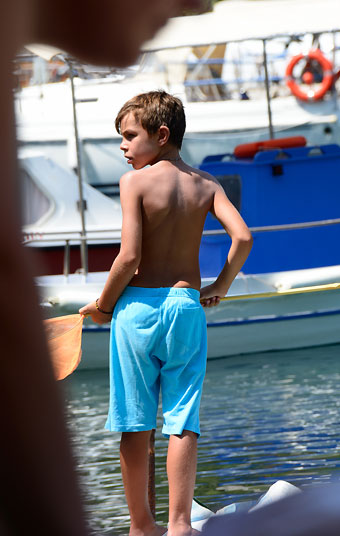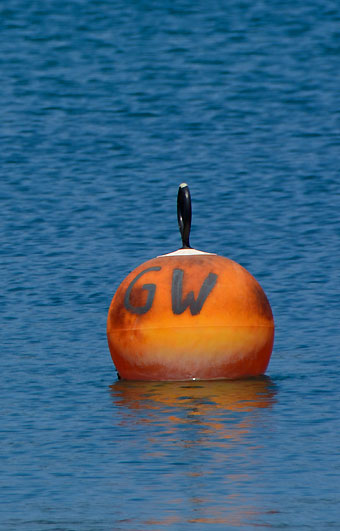 Monday 3rd - Limnes was alive with the sound of music again last night. An intimate crowd, but appreciate crowd, enjoyed some opera.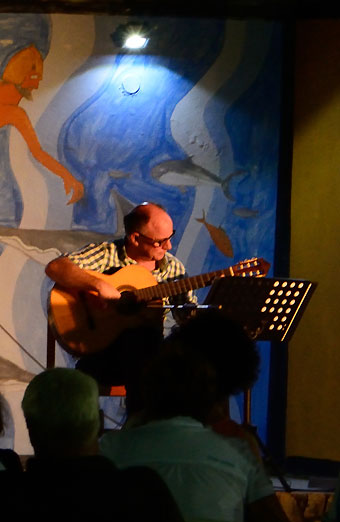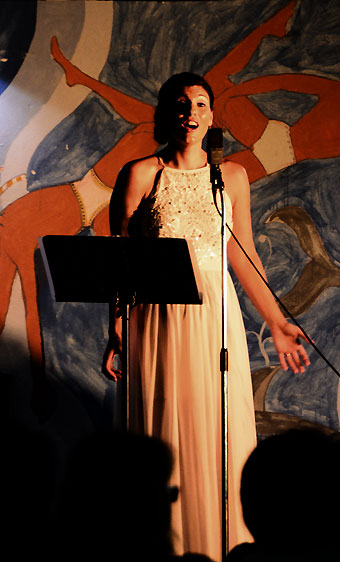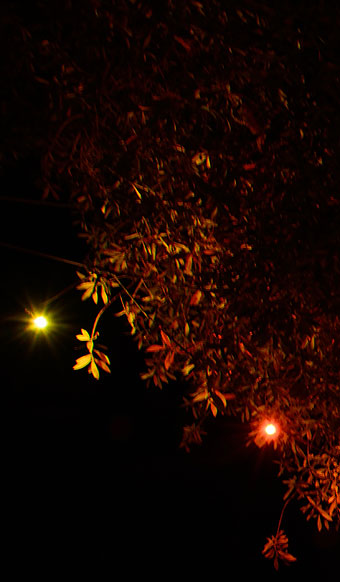 Tuesday 4th - So guess who came to dinner in Frikes? David Dimbleby BBC. He was there on one of the busiest nights and I'm sure Greek crisis was not the picture painted for him.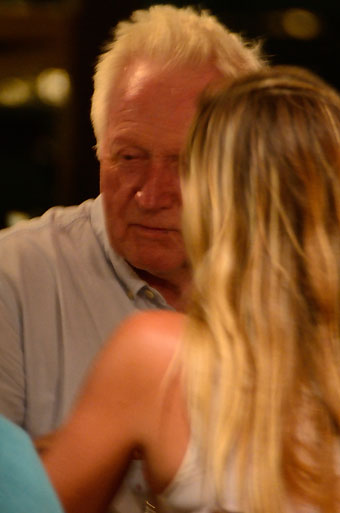 So as you're probably all aware now, the Ithaca to Patras route has been re-instated for the summer. Timetable and details on How To Get There
Unfortunately for Ithaca, we only get 1 route per day, while Kefalonia gets 2. Unfortunately for Ithaca also is that the arrival time for visitors is still after midnight. For Kefalonia it's definitely a win, especially seeing that Sami was almost left out over the past few years, but for Ithaca, in my opinion, it's a sad state of affairs that we are again just tagged on to someone else's agenda, having to be thankful they have not left us out completely.
The accommodations have not only been suffering from the crisis, but also the late arrival time of the ferry. We should also note that this route is only definite until November, at which time they (whoever they are) will look at it again. My guess is if it continues, we will again only see it a few times per week. Makes people with business on the mainland and people with doctors and hospital appointments on the mainland, still very nervous.
I know there are many who have fought for this route and their efforts are appreciated, but Ithaca deserves equal to Kefalonia, and I for one am not happy with the scraps that trickle down, but expect the same treatment and opportunity given to Kefalonia, under whose prefecture and legal umbrella we are.
Wednesday 5th - First night of Sortiros tonight. The Stavros Panighiri is the biggest celebration of the Summer. Head along and have a great time. Lots of food, drink and music all night.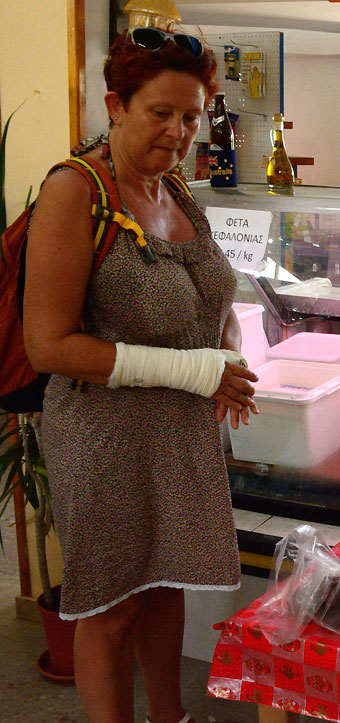 Above - Odysseas Supermarket in Stavros has been supplying north Ithaca since 1995.
Thursday 6th - On the 5th and 6th of August each year, Stavros village is transformed from the northern center into a big party location for Sortiros - Stavros Panoghiri.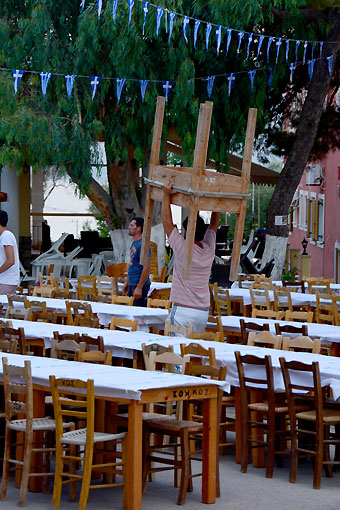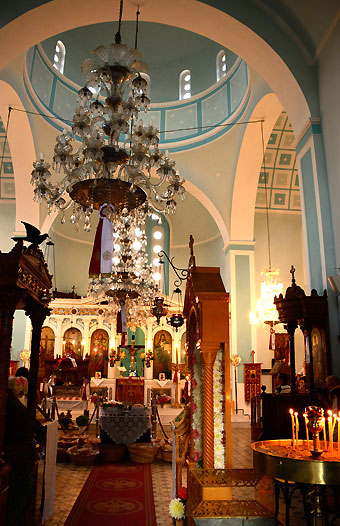 Friday 7th - We're deep into the festival season on Ithaca Greece and there's more to come. On the 10th Frikes will have it's postponed street festival to coincide with Ag. Andreas at Marmaka so there'll be food and music in the parking area of Frikes Village, then we have the 2 day music festival in Kioni on the 12th. A Greek fave, Lolek will be headlining on the first night. Yes, there's still more. On the 14th it's the Anoghi Panighiri and then the Platrithia Panighiri on the 15th. And while everyone marks this as the period things begin to slow down again, over the past few years they've continued quite strong, extending the season well into October.
Below - Early signs of this year's grape harvest. More local wine to come!