What's New On Ithaca Greece
Holidays on Ithaca Greece.
One of the safest places on earth!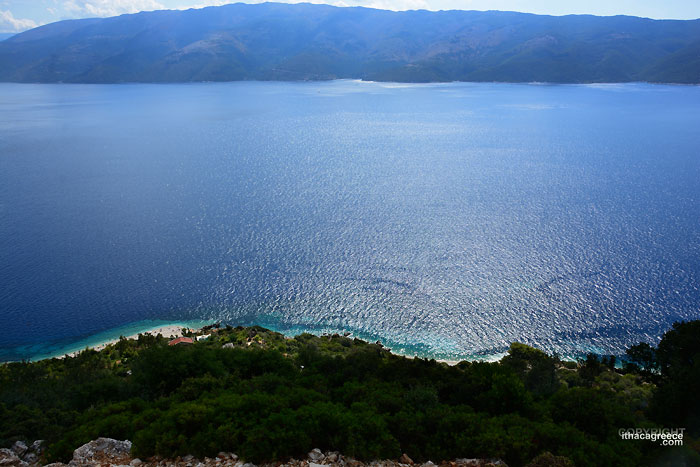 August 2015
Friday 21st - With cooler sea breezes, the weather is just perfect now. All that heat and sizzle has gone for now, leaving us with wonderfully warm, summer days that are comfortable and enjoyable.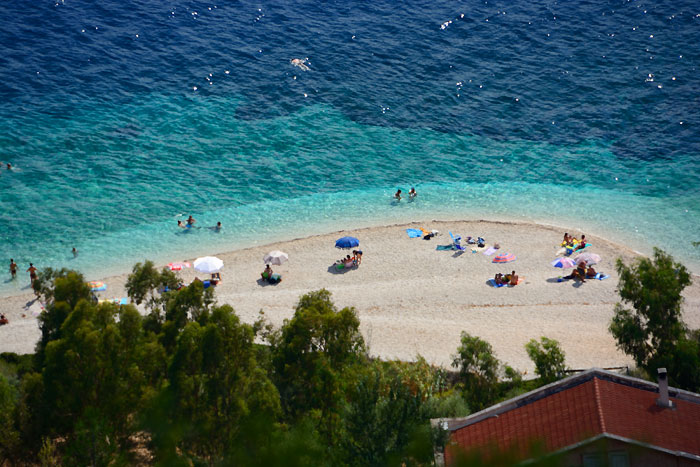 Above - Ag. Ioannis Beach. A summer favourite between Lefki and Xani. A wide expanse of beach with Kefalonia views across the way.
Below - Polis Beach is really going strong this year. It seems the Patras connection is bringing us Italians and Mainlanders again, something that's been missing over the past couple of years due to the Killini connection being more difficult for people coming from Italy.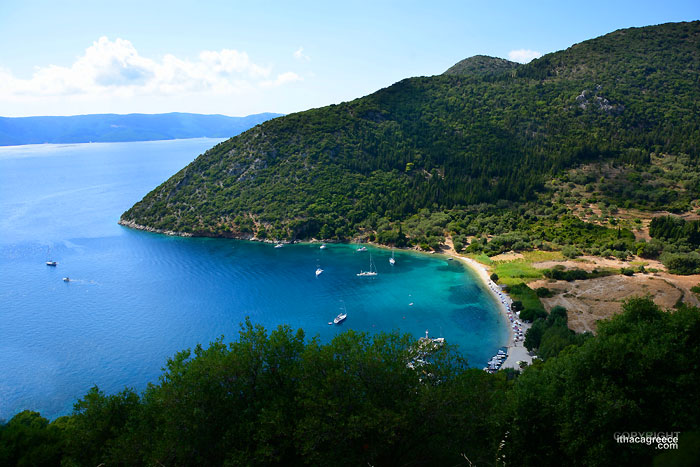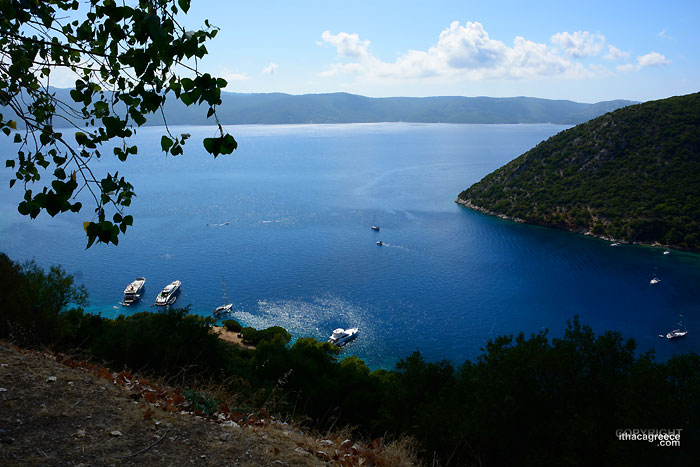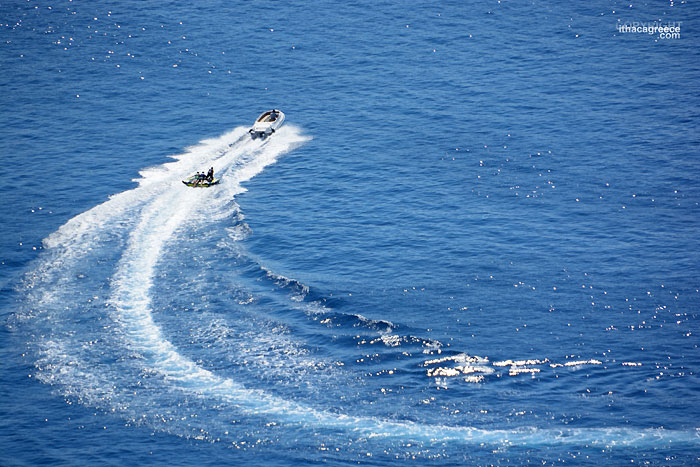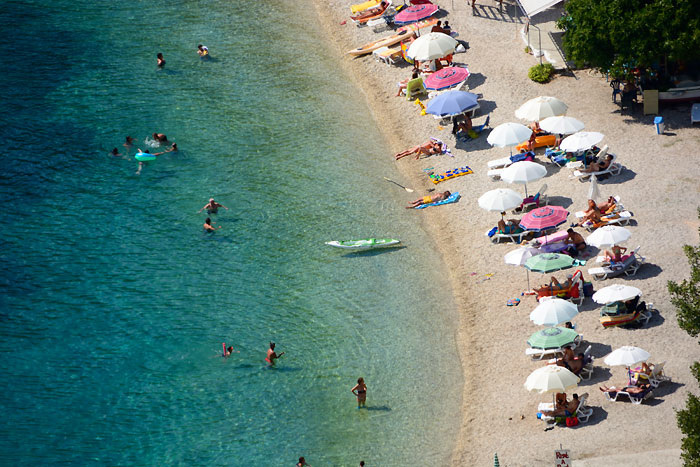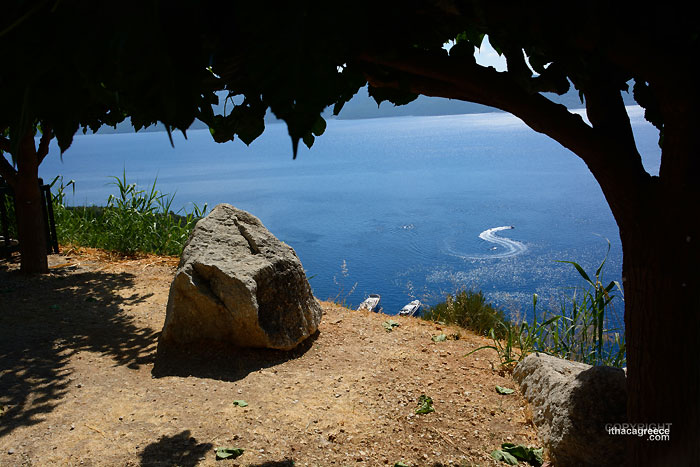 Below - Frikes Bayside has definitely had a big injection of people this past month. Every restaurant seems to be full and with festivals and music performances in the village, people have had many reasons to flock to this small port town.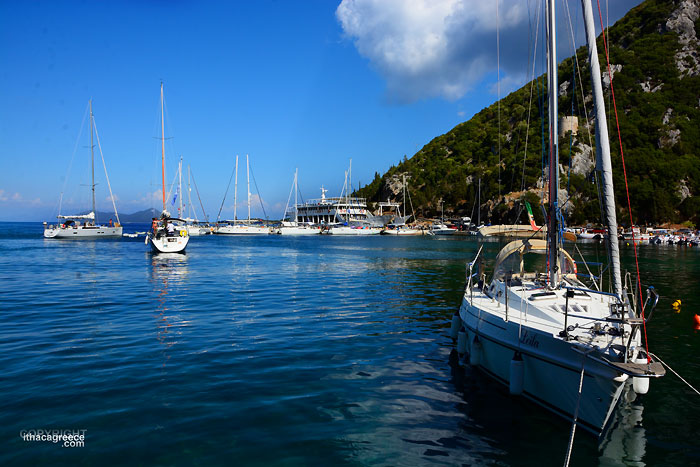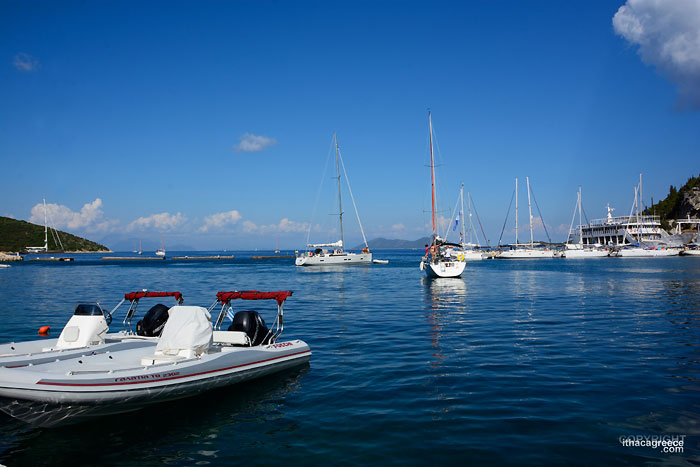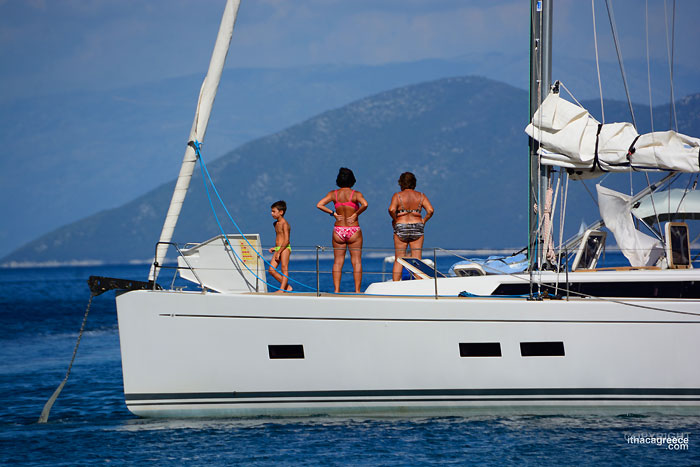 Summertime is being on, in or near the water.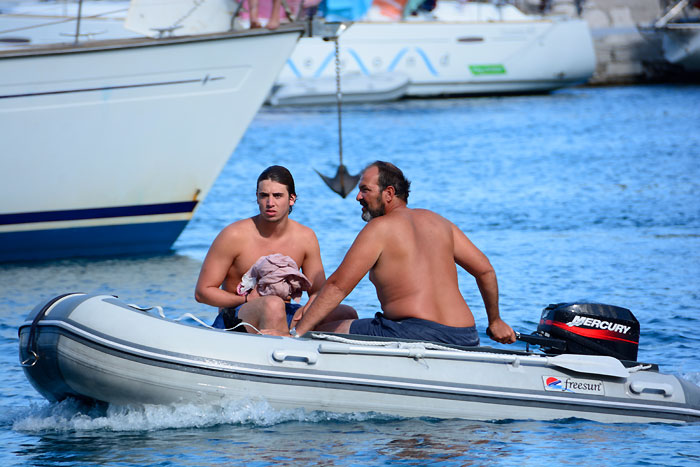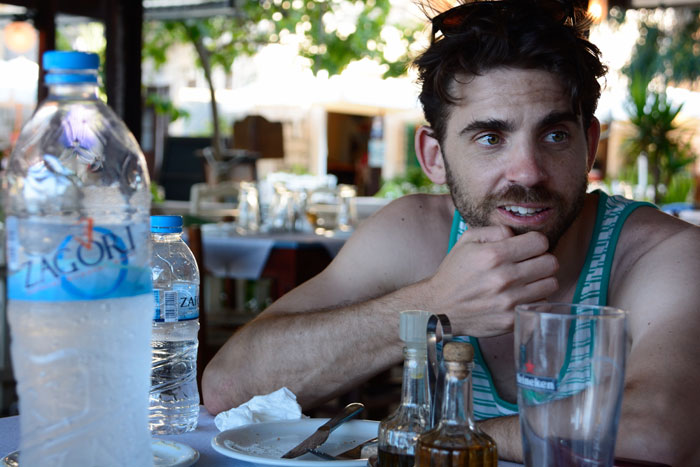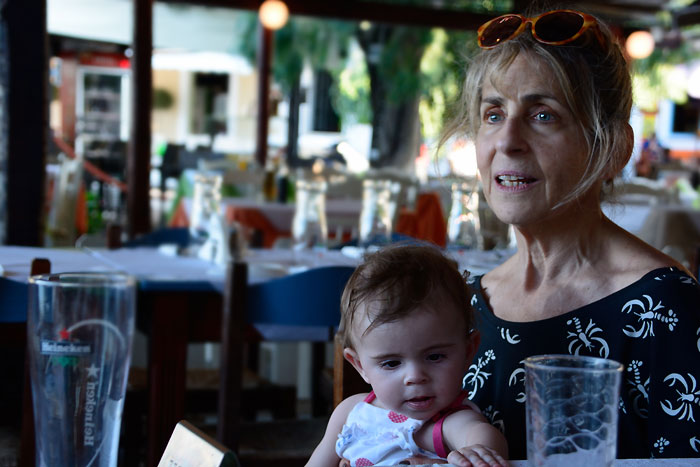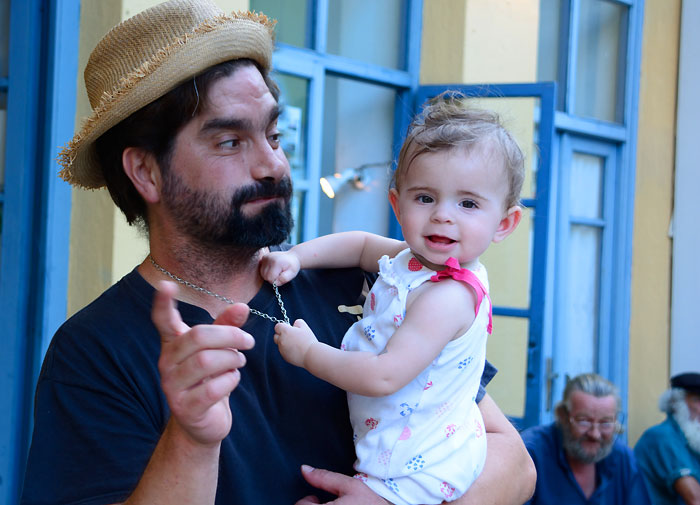 Above - This little cutie will be getting baptized on Ithaki next week. She's looking pretty pleased about the attention, especially that from Nektarios of Rementzo. In the background, local poet and lyricist, George Daglas, looks on.
Witnessed something quite funny yesterday afternoon. A couple of girls, made up faces, summer attire, walked up and down Frikes main street taking sexy selfies in various spots along the road. After each selfie they would stop, inspect, smile and upload, probably to instagram or facebook or erase and do a retake. The 21st century good times on holidays.
Saturday 22nd - A cool change over the past few days has made it for brilliantly clear days with views right across to the mainland.
Below - Views from around Kathara and the road to Anoghi.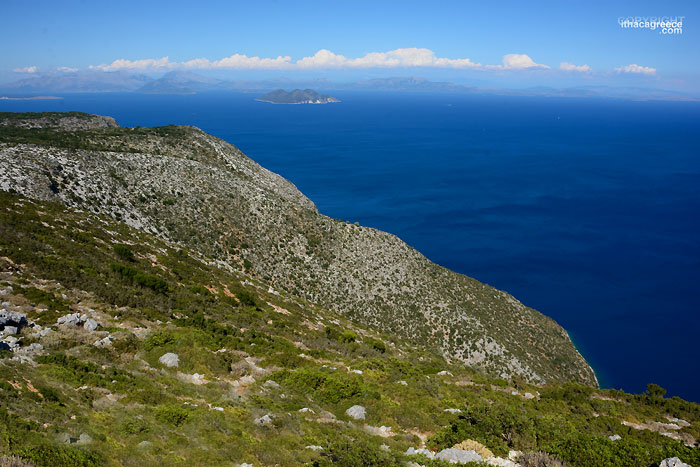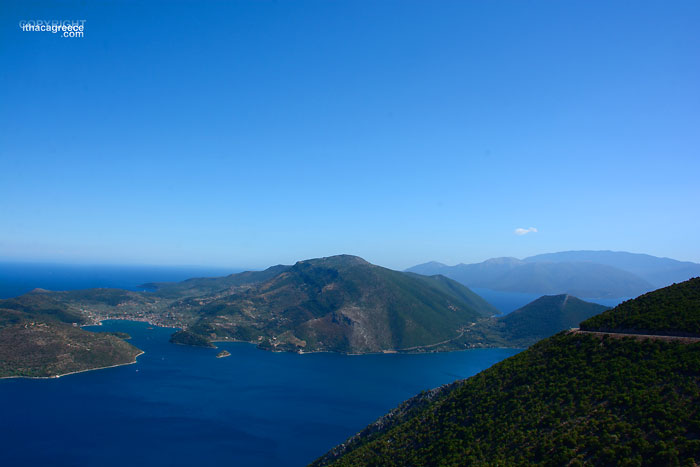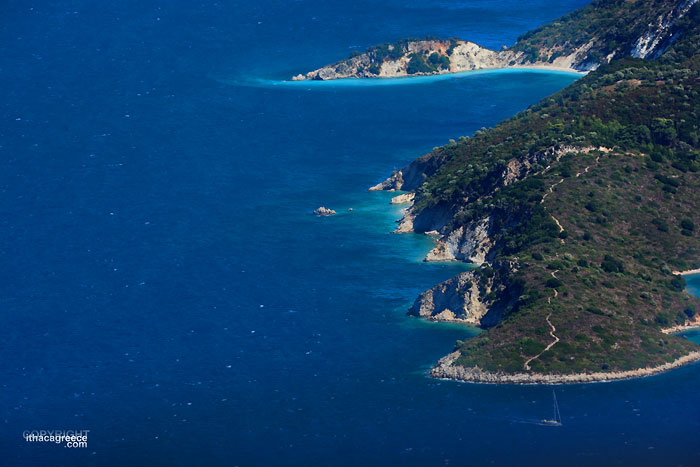 Above - Gidaki Beach. Although there is a path that runs from Skinos, the fave way to travel to Gidaki is by boat. Below - Skinos. Some famous people have rested their heads here. I wonder if they bring their own pillows.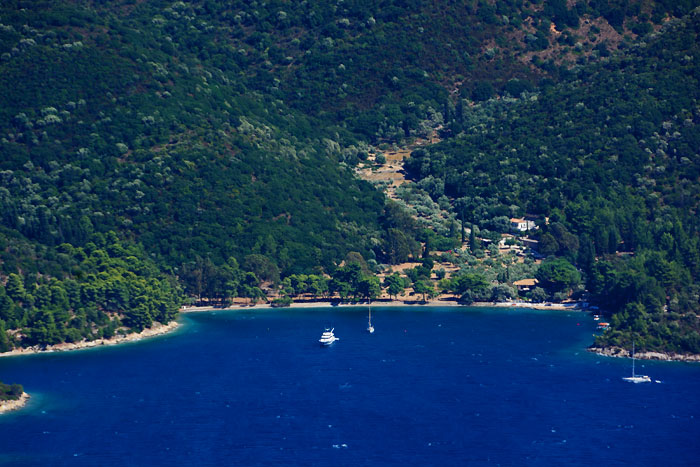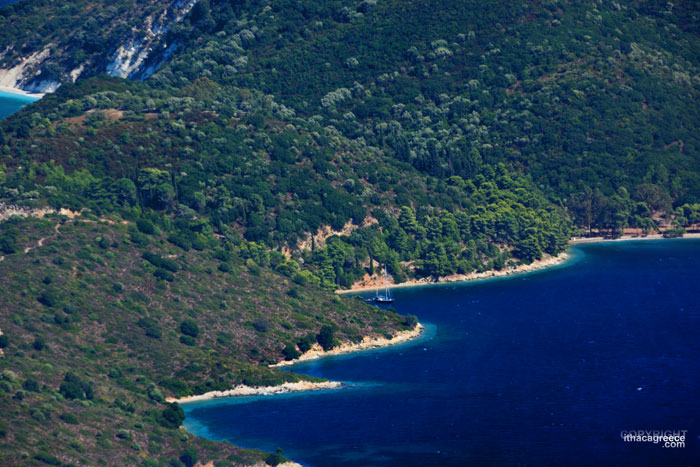 Above - Vathy Bay as seen from the road to Anoghi.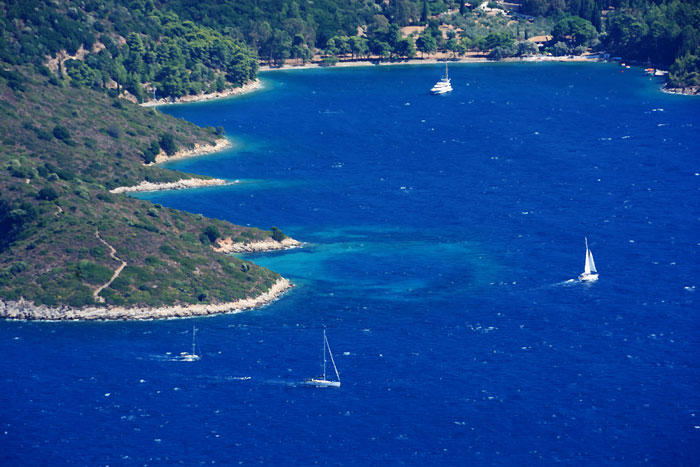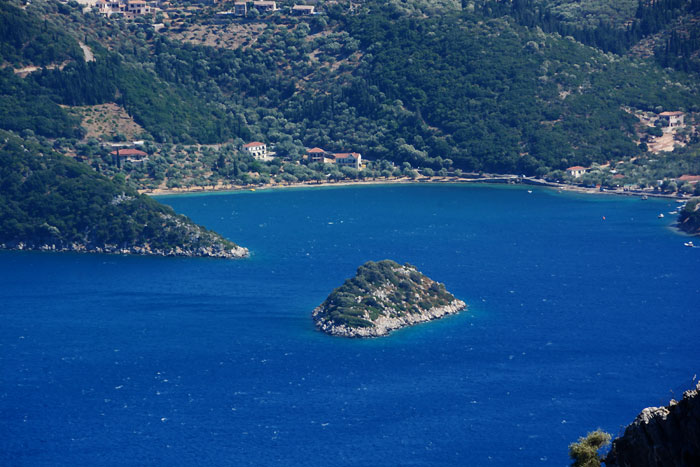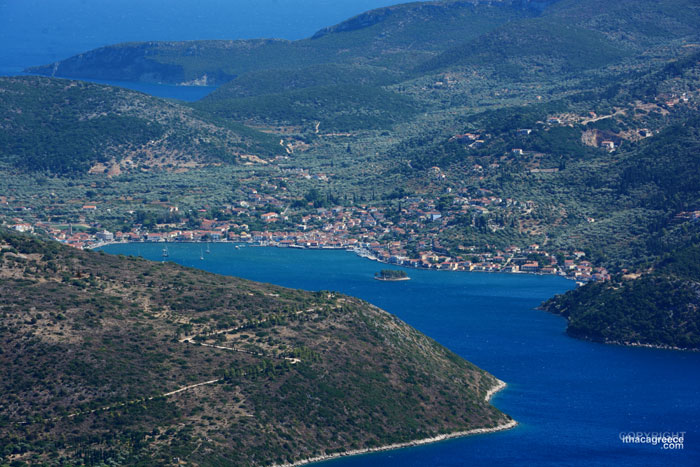 Below - Northern Ithaca with Frikes Bay to the right and Afales bay to the left.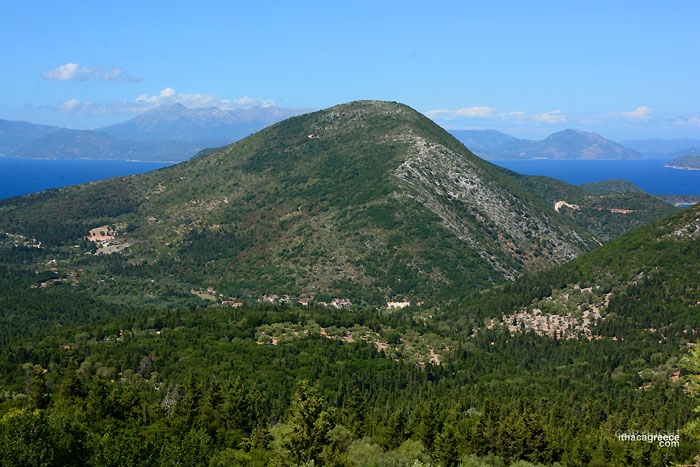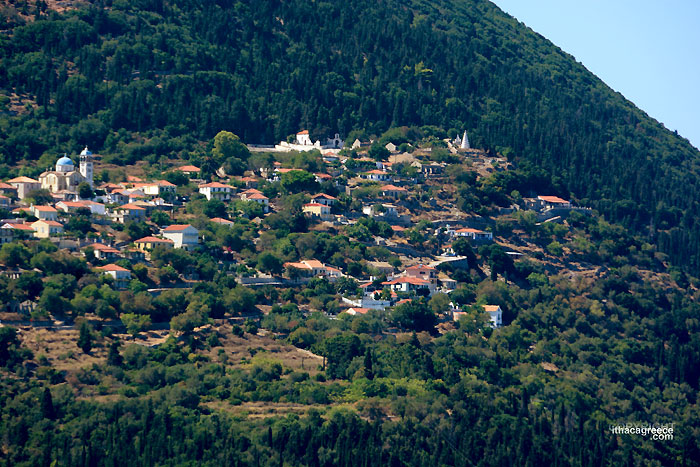 Above - Exoghi. Below - Northern villages and bays.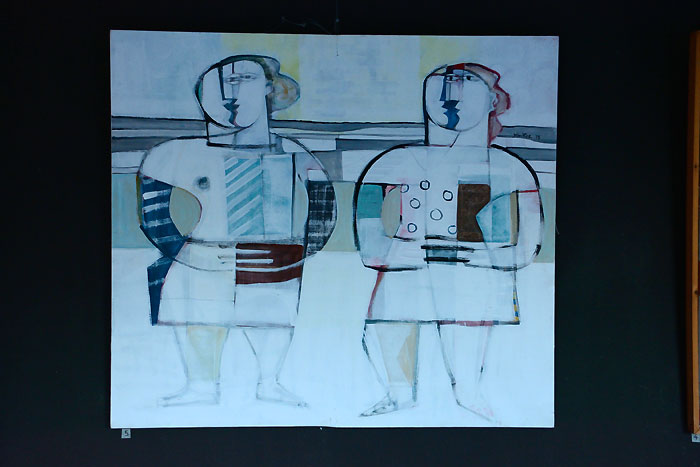 We all know things are hotting up in Greece politically, but also in the kitchens around Ithaca, with dinner options thrilling the visitors to the island. Below - Yefuri.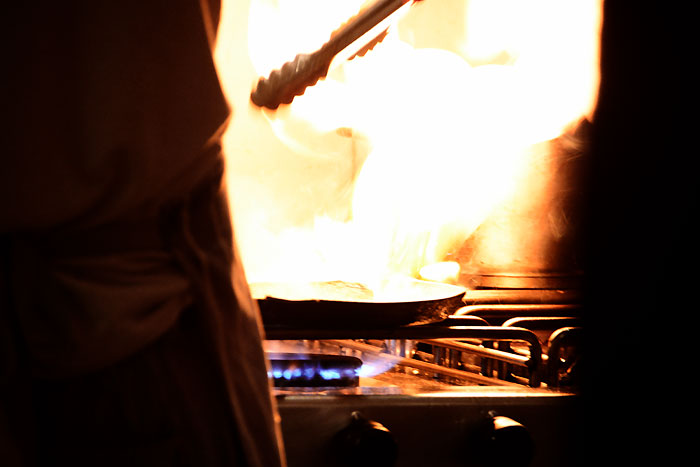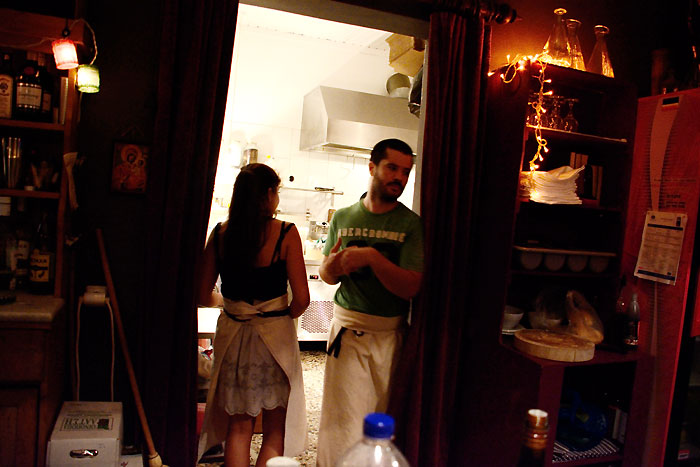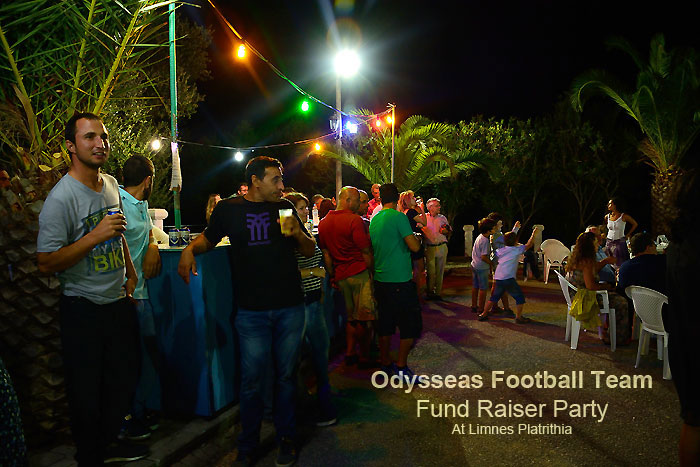 Above - Last night the Odysseas Football Club held its fund raiser party at Limnes. Great night from which I hope lots of money was raised to dress and trasport the team. CLICK HERE or on photograph above for more pics.
Sunday 23rd - Only one week away from September and things haven't calmed down yet.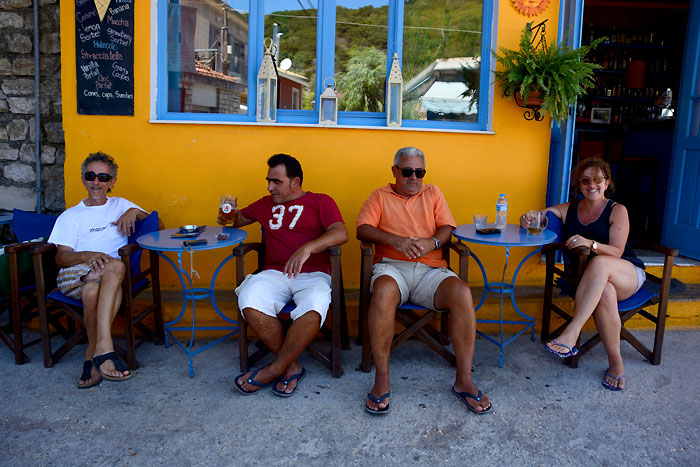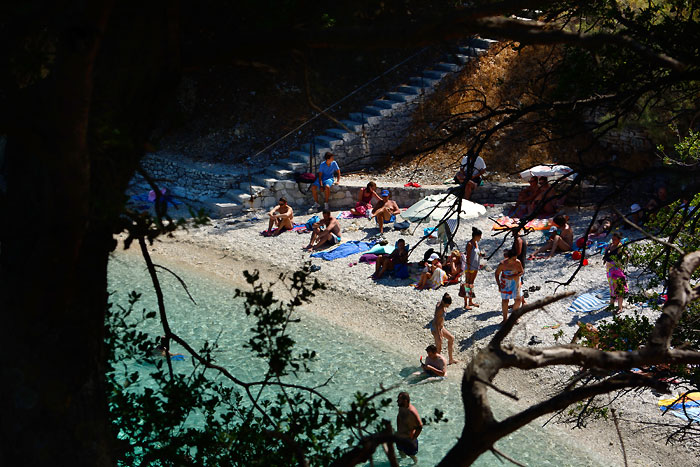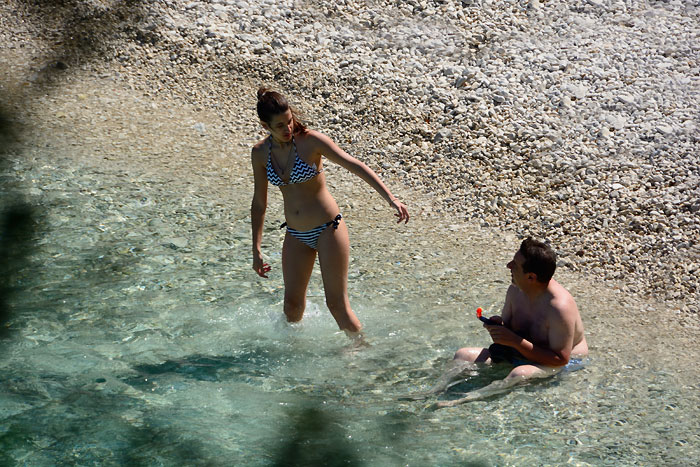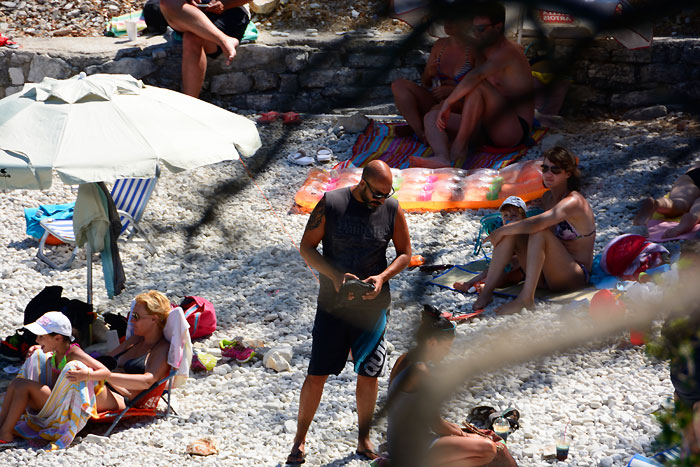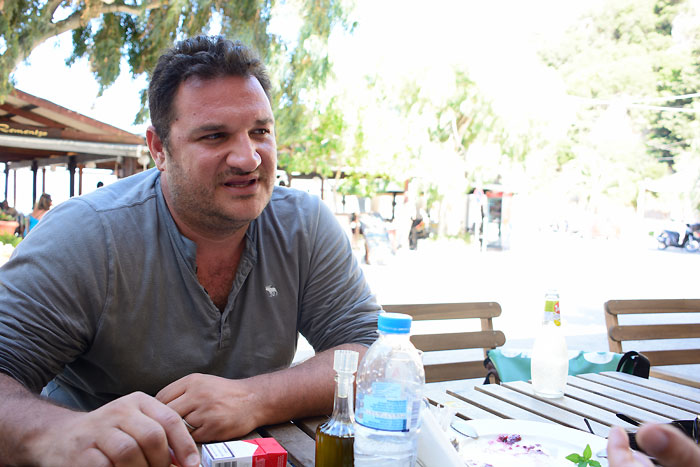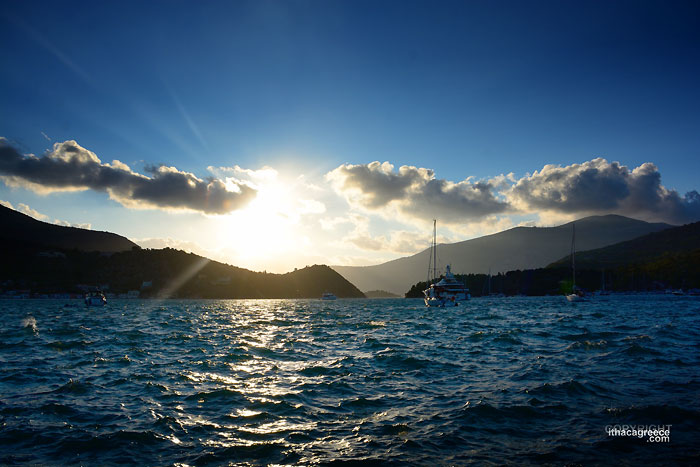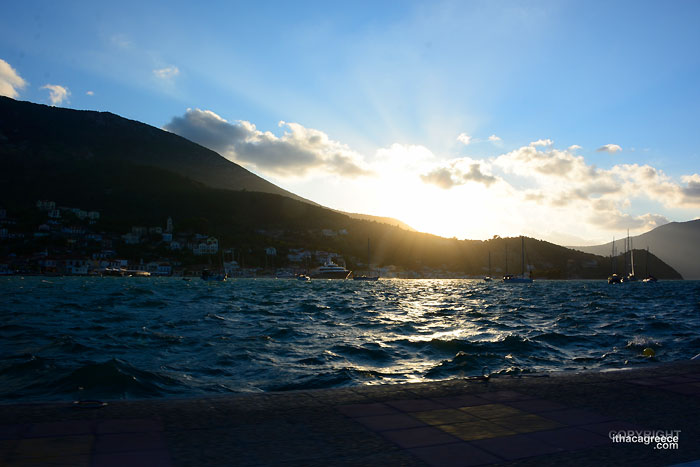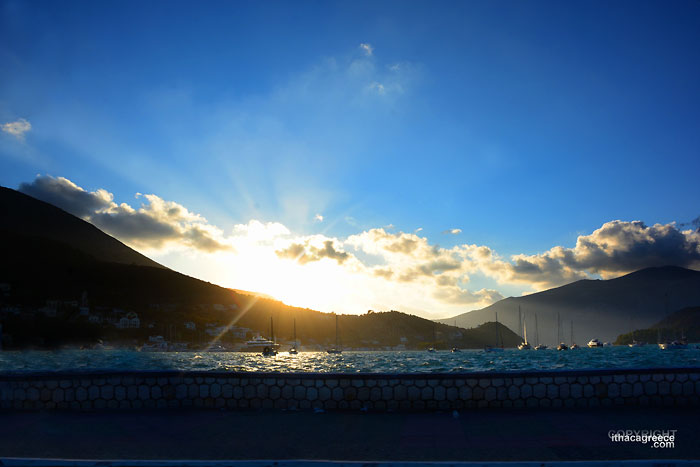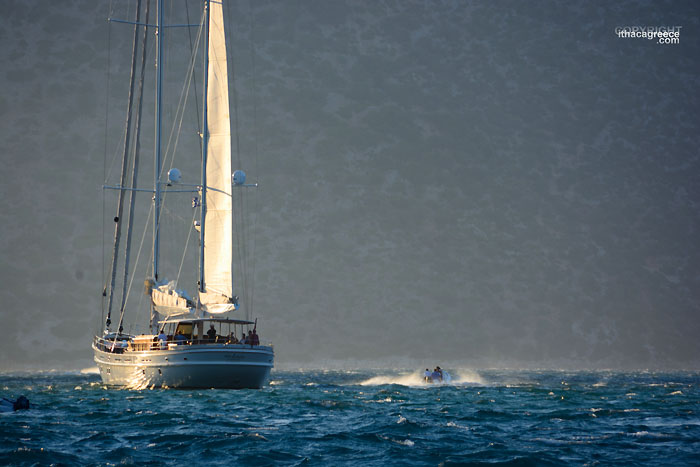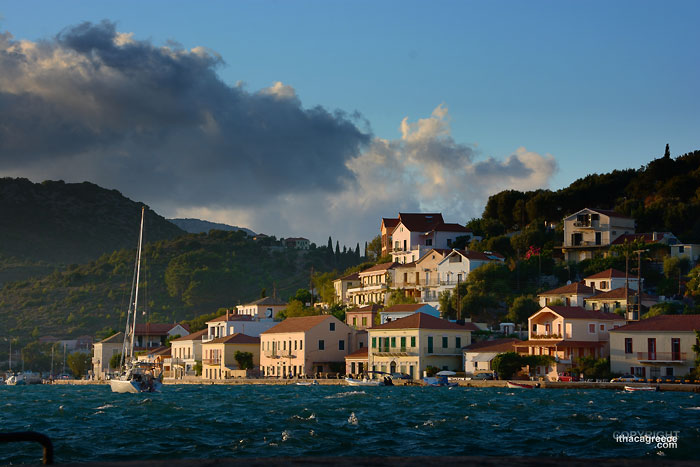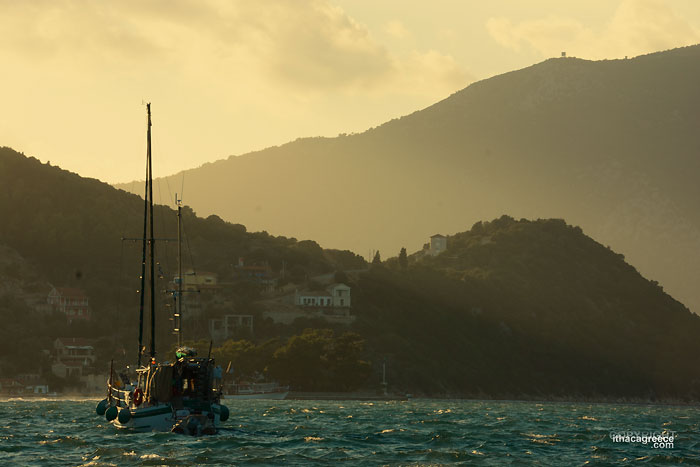 Wednesday 26th - Summer continues. Still lots of people coming to the island. Restaurants are doing particularly well this year as are the flotilla companies and tour companies.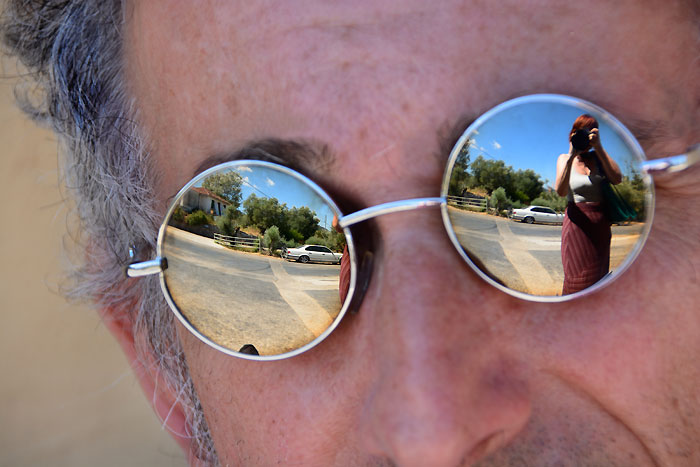 Below - Mopeds still a popular and cheap way to get around the island.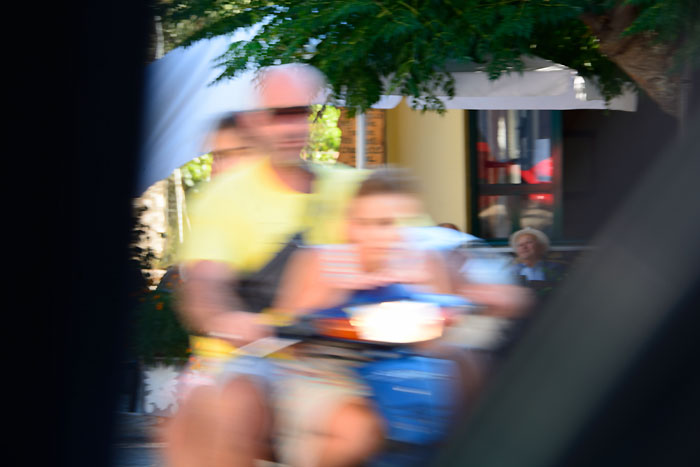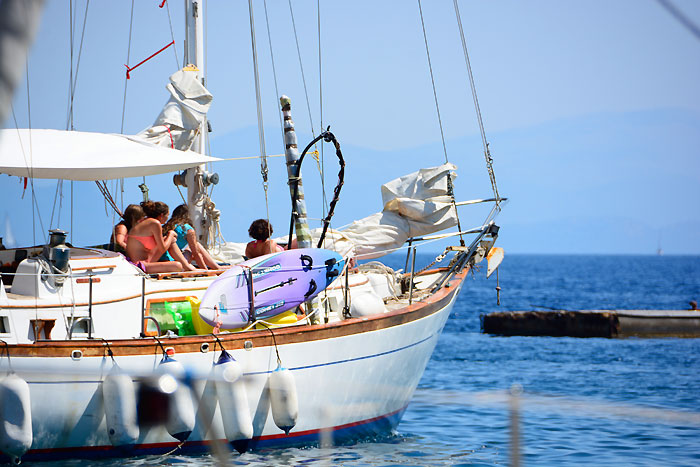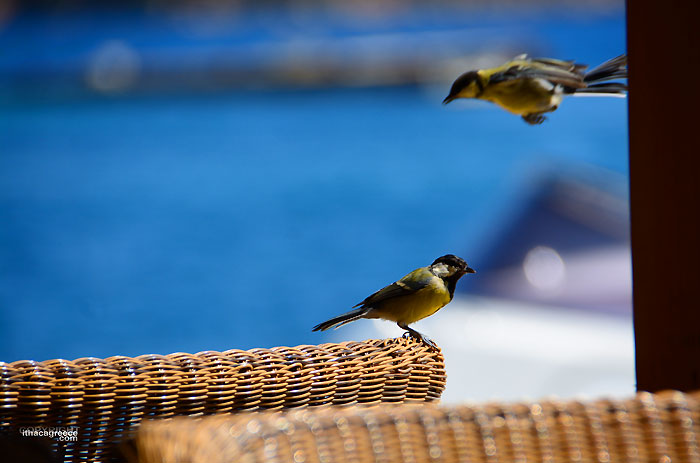 Below - The vegie market that still comes to you. Mohamed should have lived here. Mountains are always moving.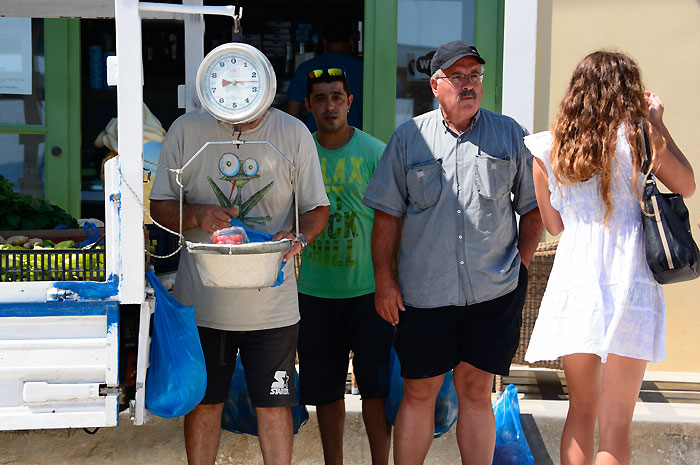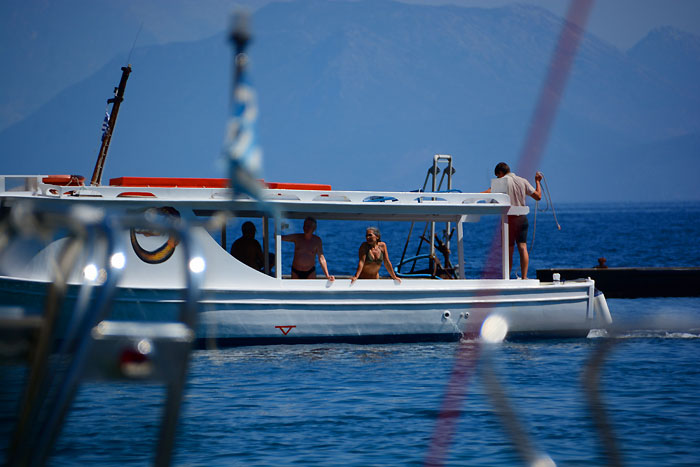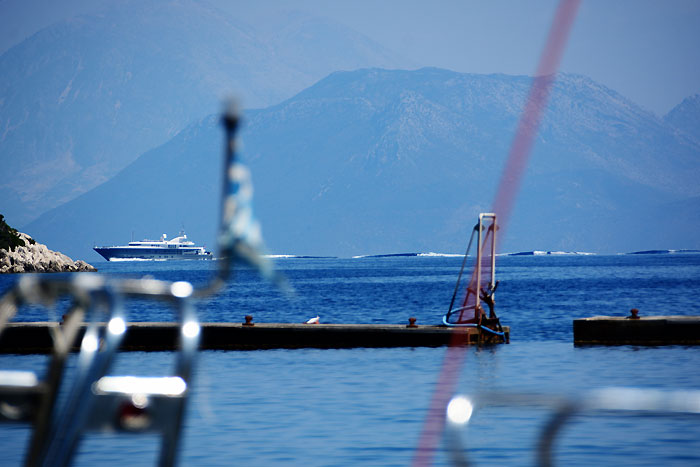 Above - A luxury yacht leaving a tail in its wake.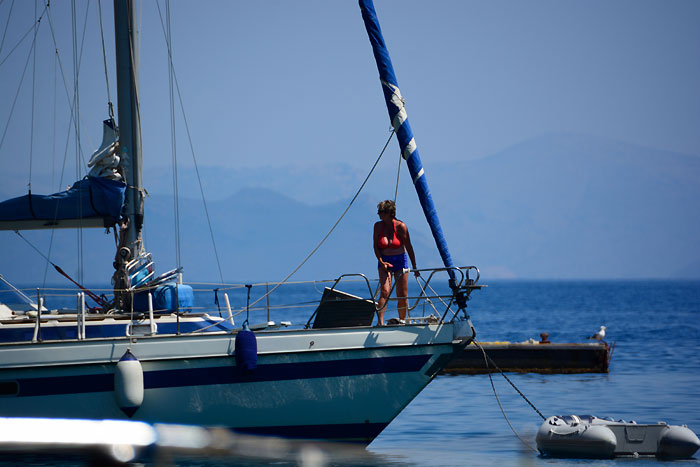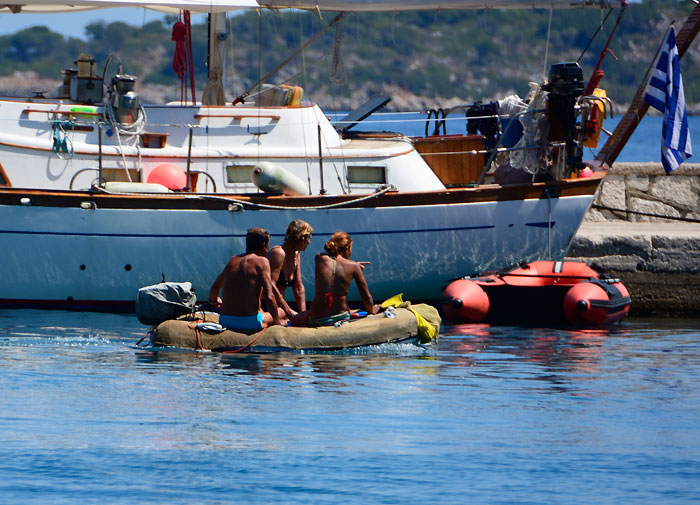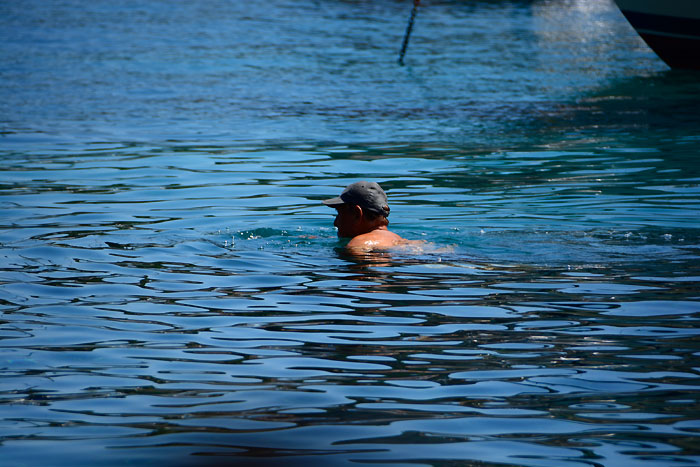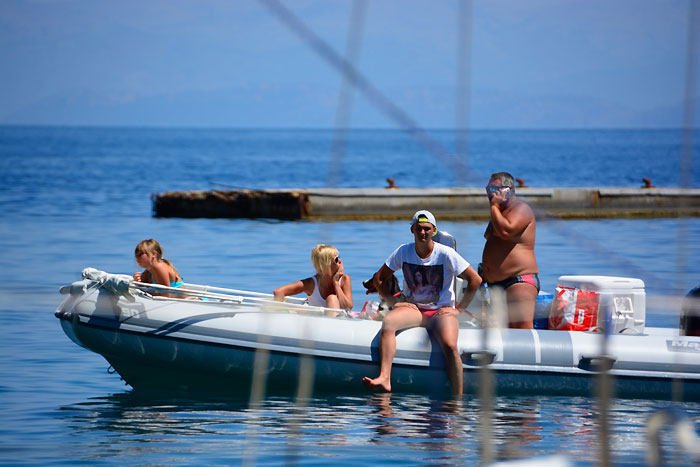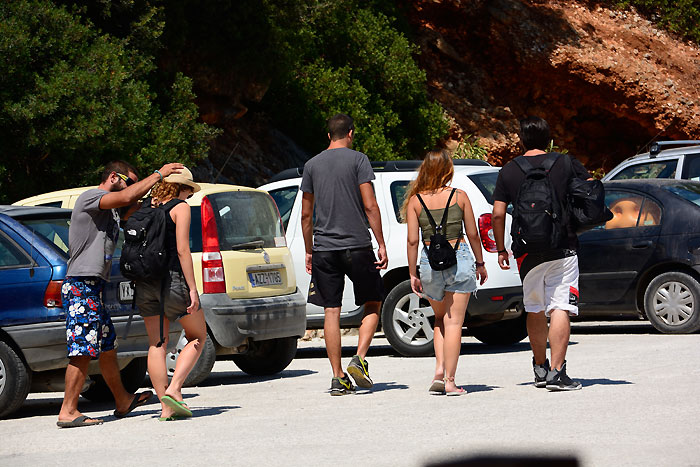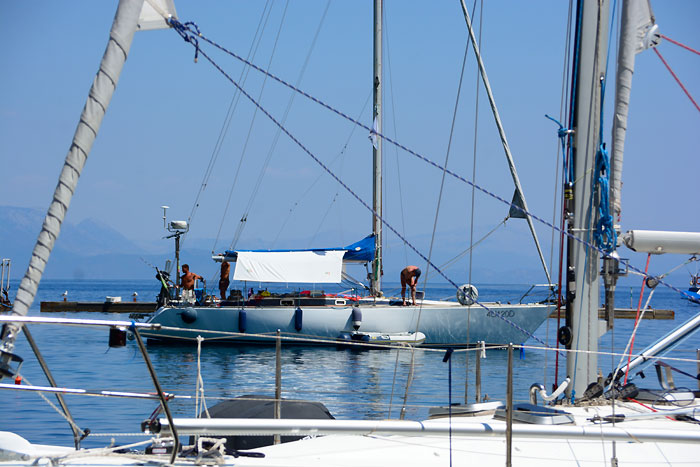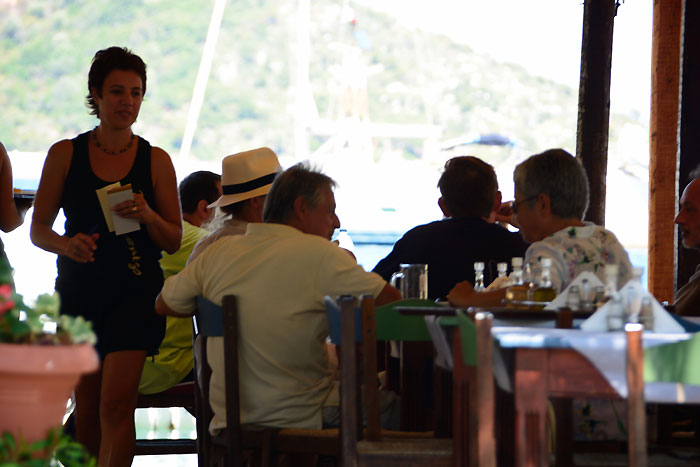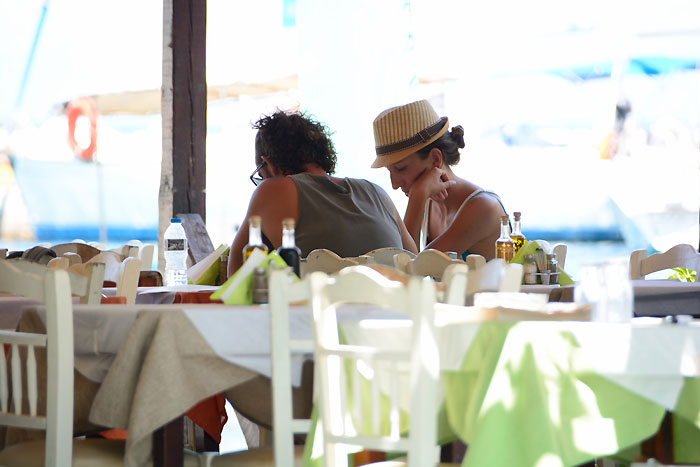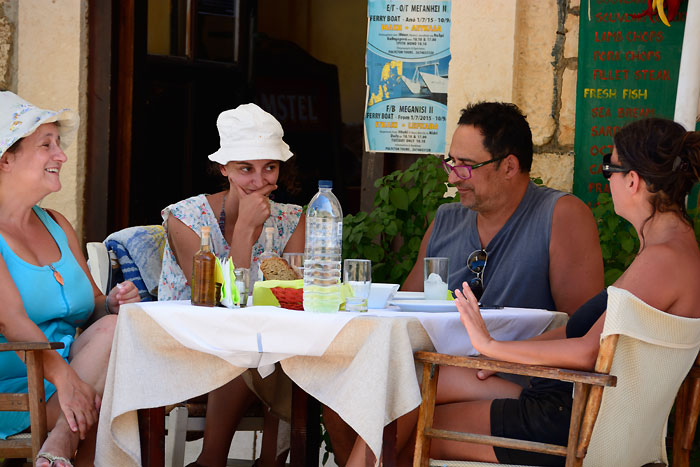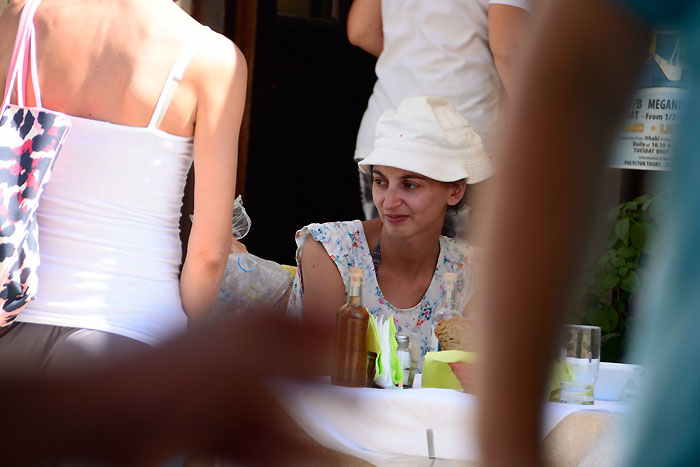 Above - Polis Bay. Below - Lefki rockface.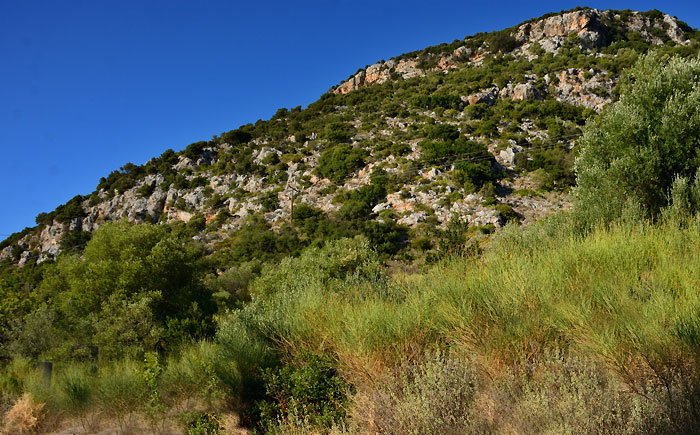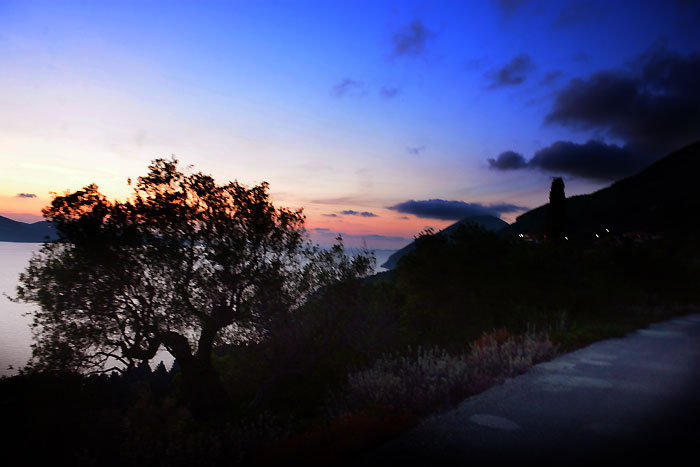 Above - Lefki sunsets are something to behold.
Thursday 27th - An evening at Poli.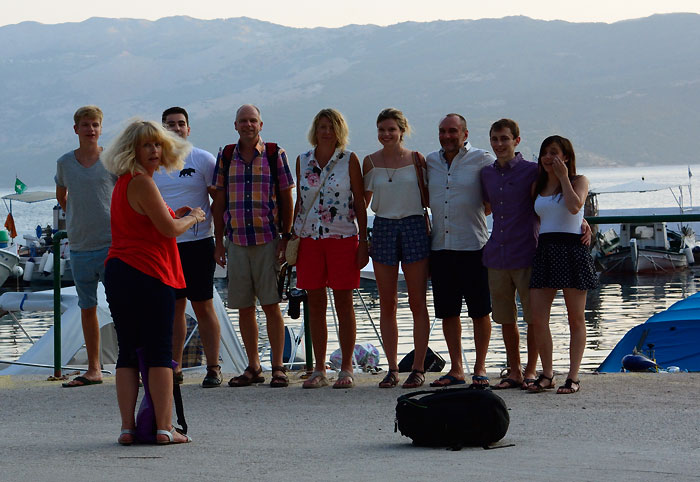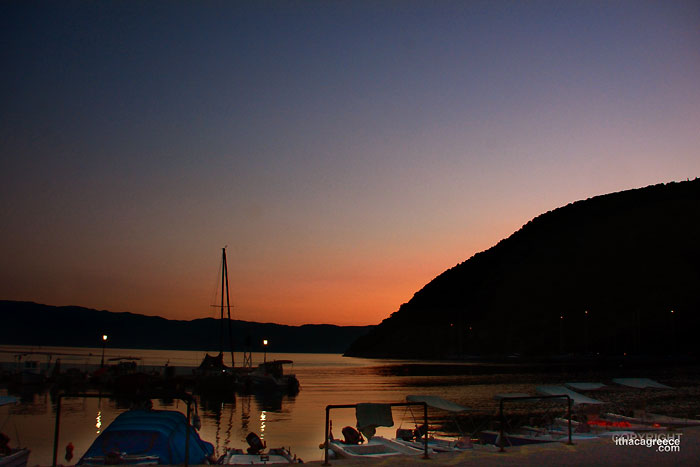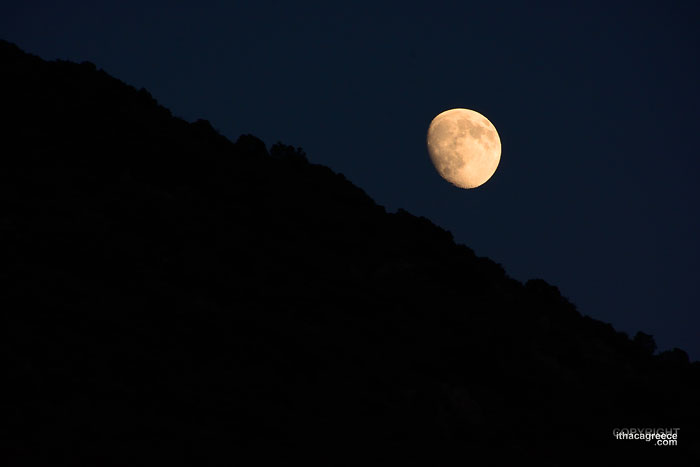 ---
August 2015
Summer fun on the Greek Island of Ithaca, known locally as Ithaki.
Friday 21st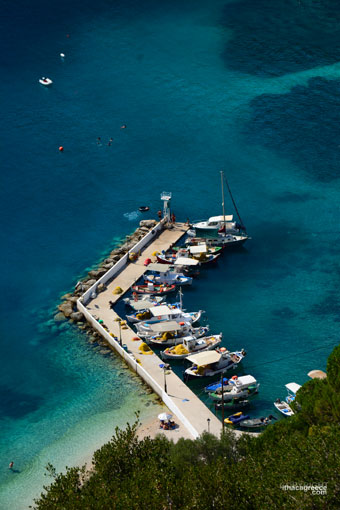 Polis Bay Magic!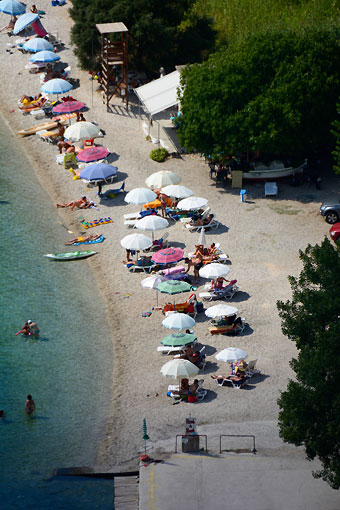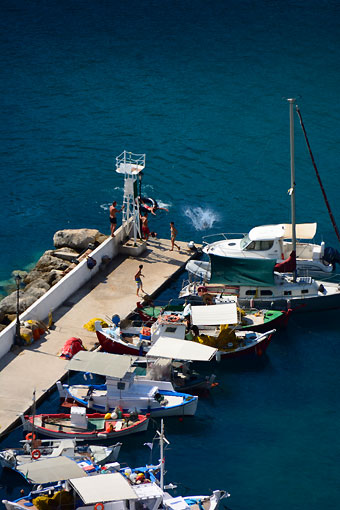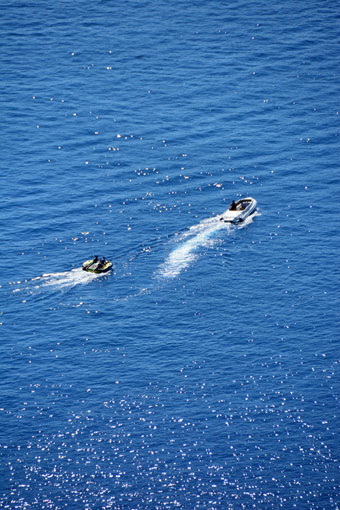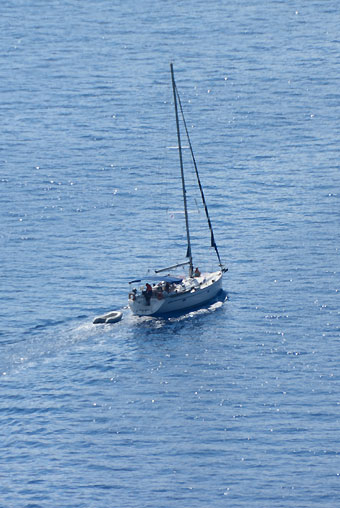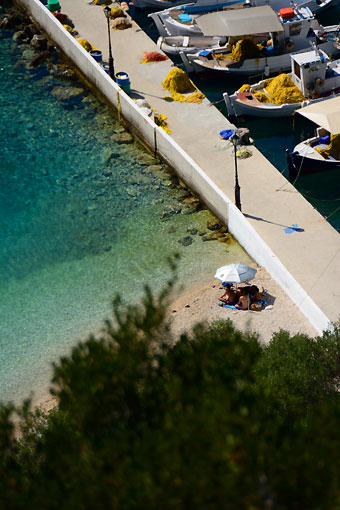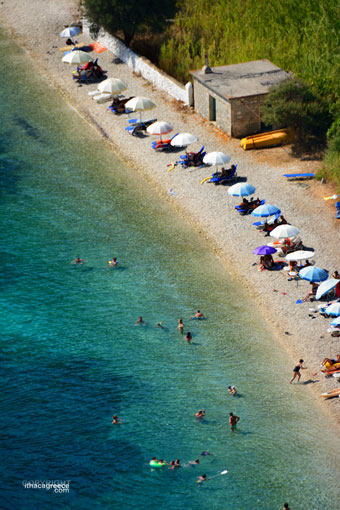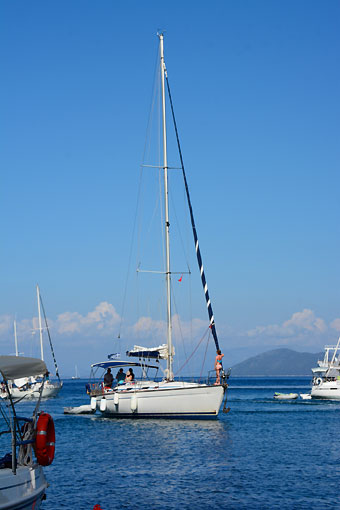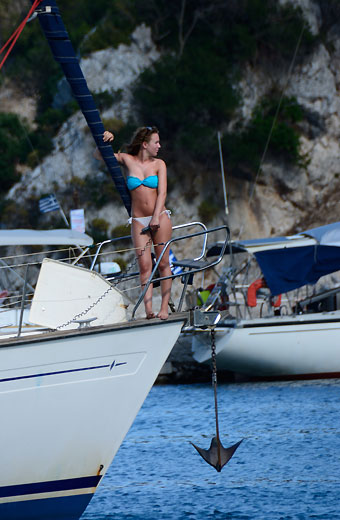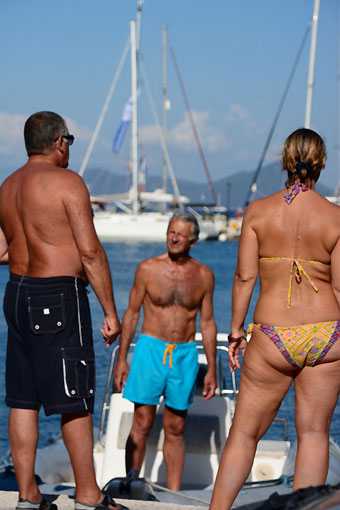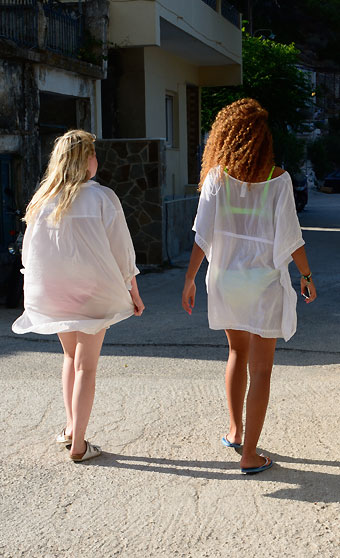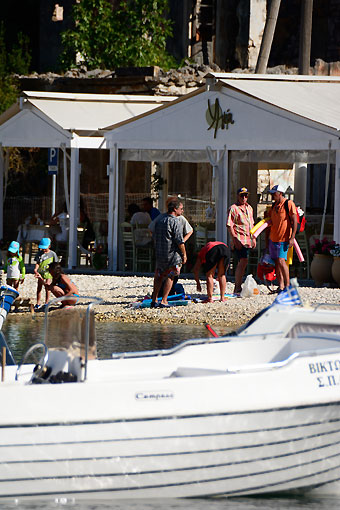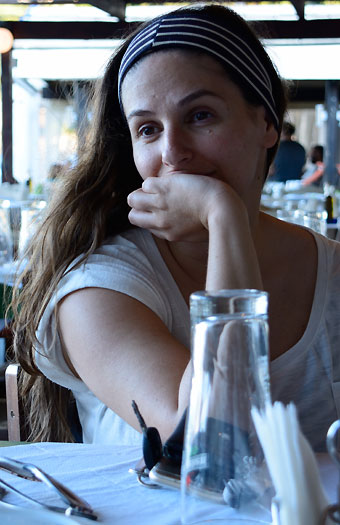 Saturday 22nd - It's been a windy couple of days around the Ionian, but the freshness has some benefits.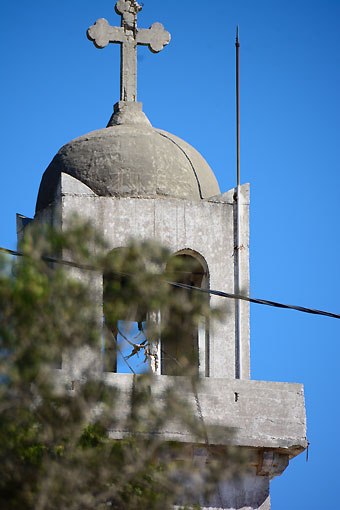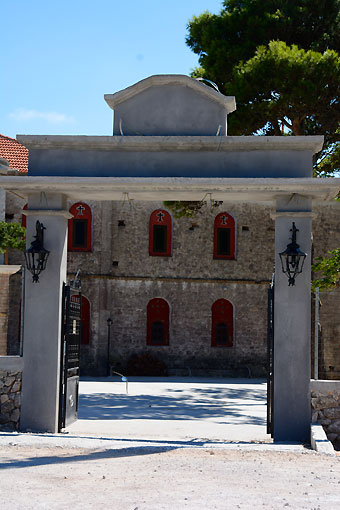 The new entry gate at Kathara Monastery. Personally, I loved the old one. Kathara Monastery had always been full of charm and history. The new look (and this is my personal opinion) for me, has left it without that old charm character I so loved.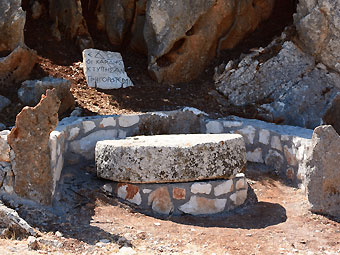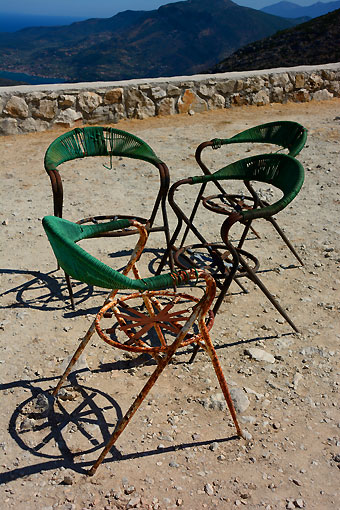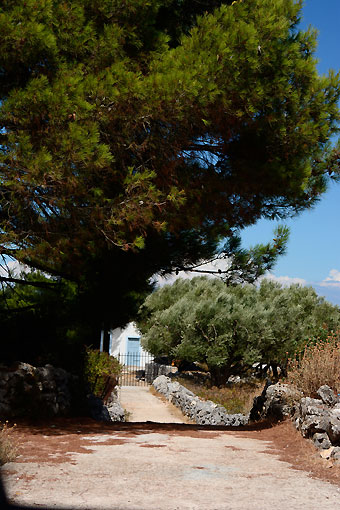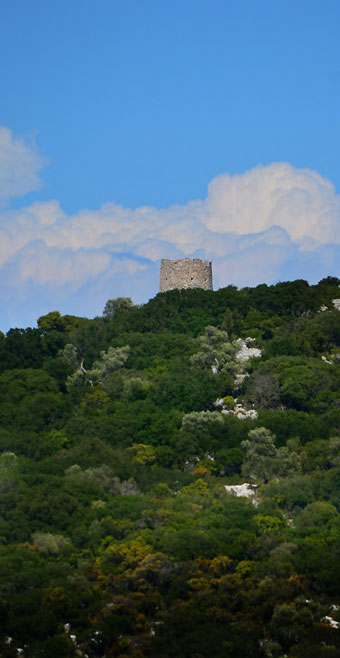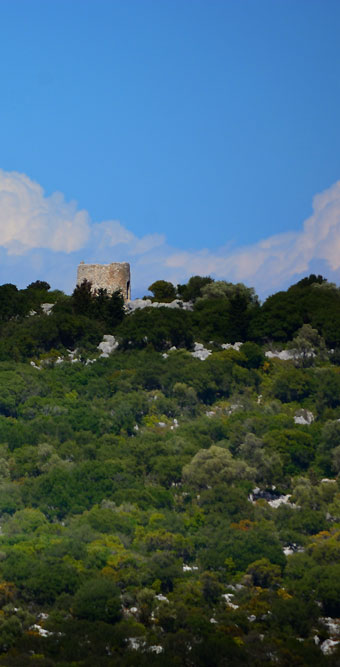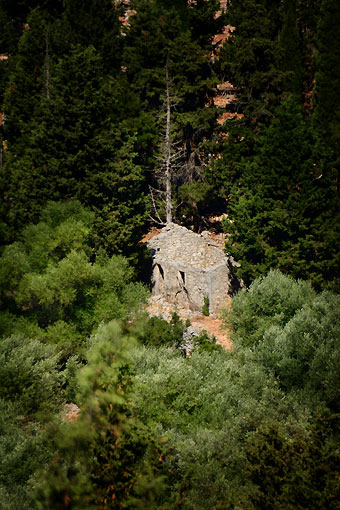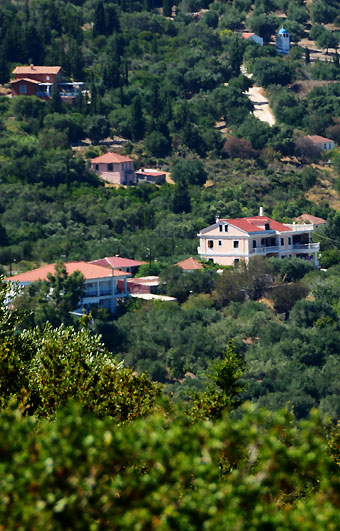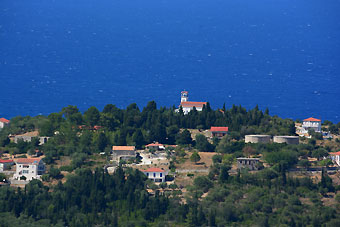 Below - Cocktails at Yefuri.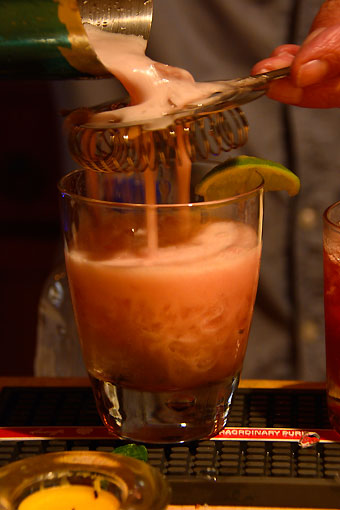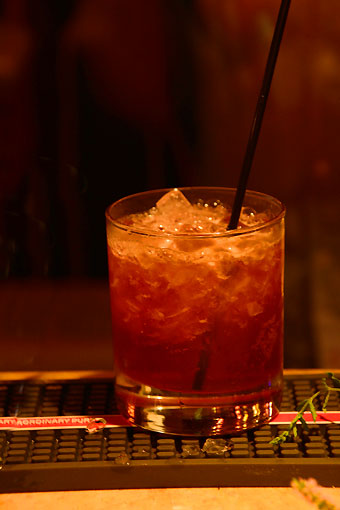 Klara Koitler, German artist living on Ithaca, has been exhibiting her works in Vathy, but is also now viewable at Yefuri Restaurant in Platrithia. Klara is a talented artist whose work is well worth checking out. I can't really do it justice as the light was fading when I took these photos, but I can guarantee you'll be impressed.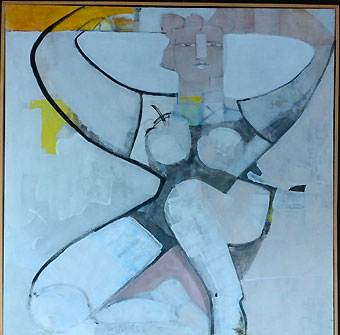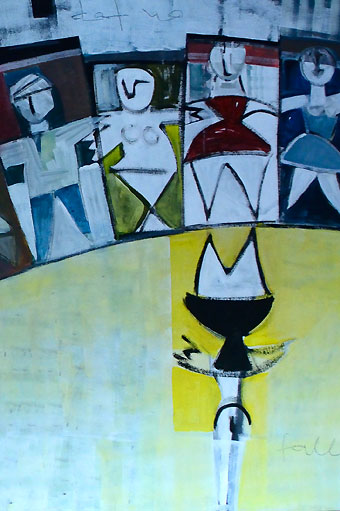 Sunday 23rd - We may be heading to the end of August, but there are still plenty of cars coming off the ferries, both from Patras, Killini and Lefkada.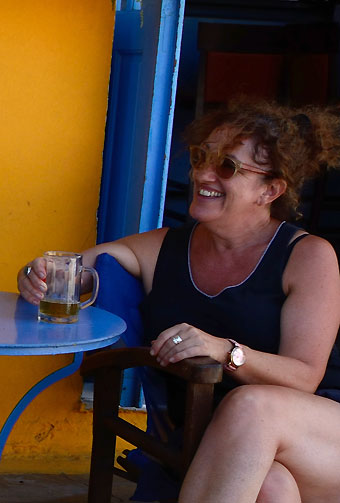 Below - Krouvoulia 2 Beach just outside of Frikes.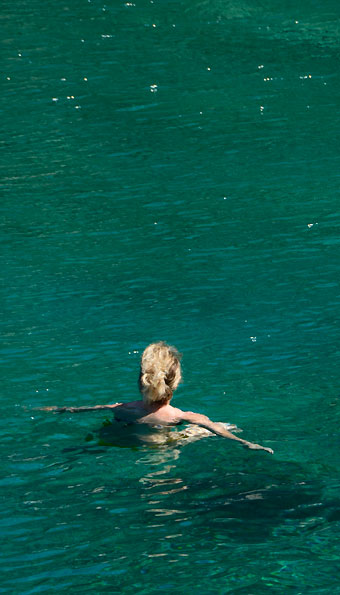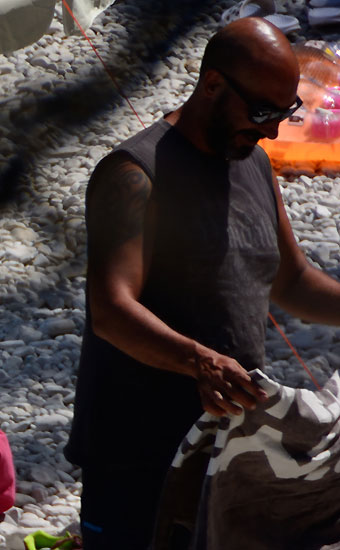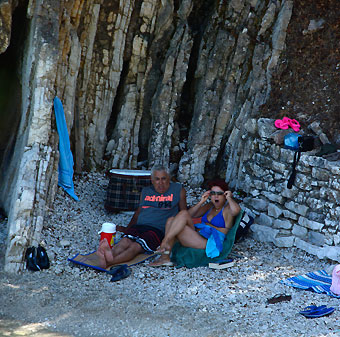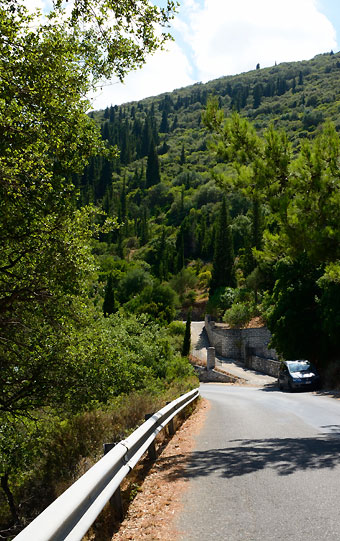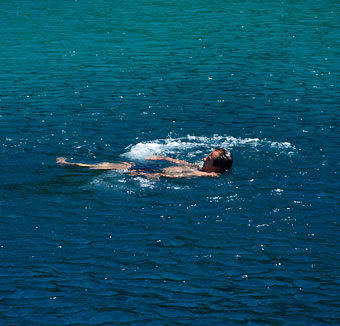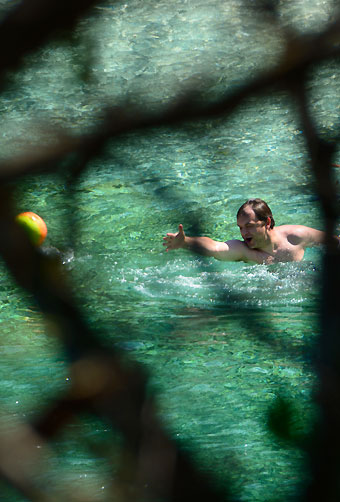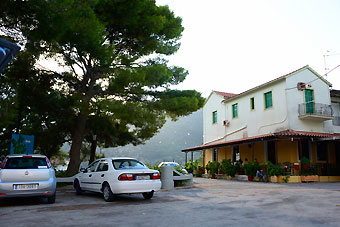 Very windy day and evening yesterday. Vathy bay was being churned up by the wind.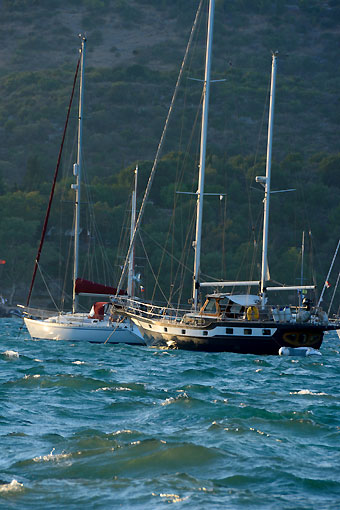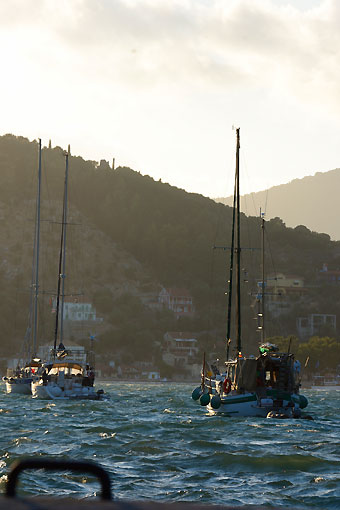 Getting tourism on Ithaca is so important for the islands' well being and growth, but there are always negatives too, fortunately not very many, but there are always concerns with such a pristine environment being exposed to a big deluge of people and yachts. Around the edges of Vathy bay, signs of litter in the water can be a little disturbing. I know most people won't complain about it because they don't want to rock the boat so to speak, and scare tourism away, but I'm pretty sure that when people are made aware of just how sensitive our little microcosm in the Ionian is, they are usually more than willing to respect the island and not toss their rubbish into the sea or empty their refuse into the bay.
Wednesday 26th - It seems that since the Patras route has been reinstated, many, many more mainlanders and Italians are coming to Ithaca. Many are reminded of the good old days of tourism with this year's influx of visitors.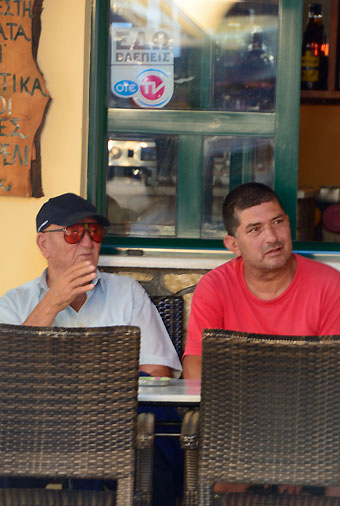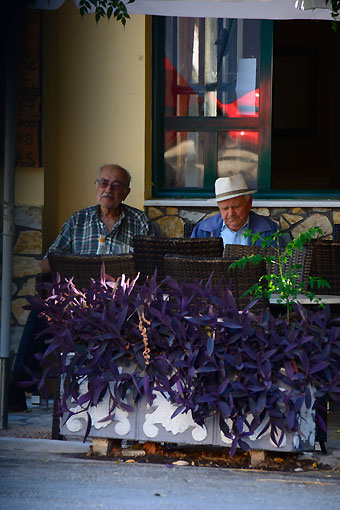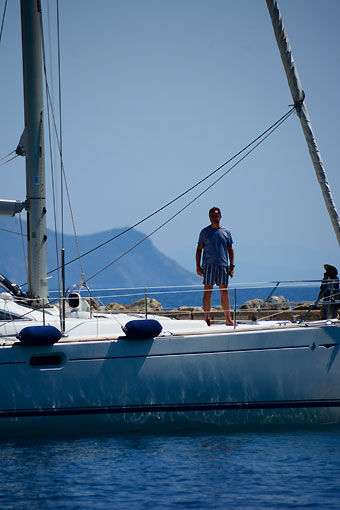 Below - I really wanted to push this person into the water after he poured 2 containers of petrol into it's boat tank right infront of the cafe, choking us with petrol fumes. He was asked nicely to move away from the cafe and fill up a little further along, but he refused in a very entitled and arrogant way. Afterall he's on holiday and we're just irritating extras in his movie.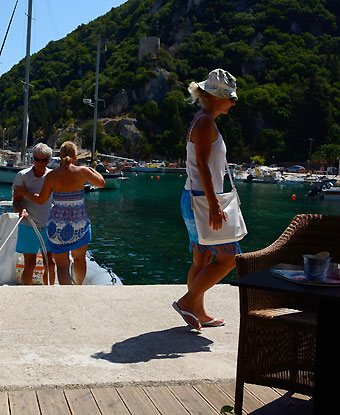 It's quite easy to get a little riled at this time of year. So many people, that the few rude ones seem to take us all to our limits. There are some huge cars driving very fast along our narrow roads, sometimes close to running us off the road, between them and the bus tours, everyone should be driving very defensively, especially through the villages. We've been very lucky until now to not have had any major accidents, but I think with growing tourism, we may need to rethink our road rules in order to make travel for everyone, safe, not just those with bulldozer sized vehicles.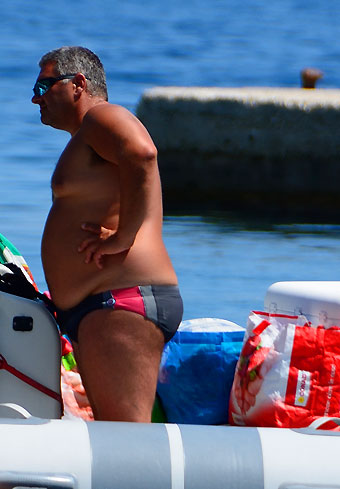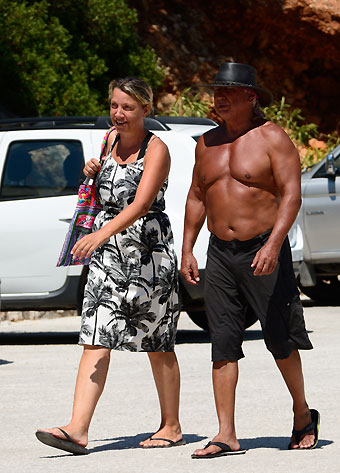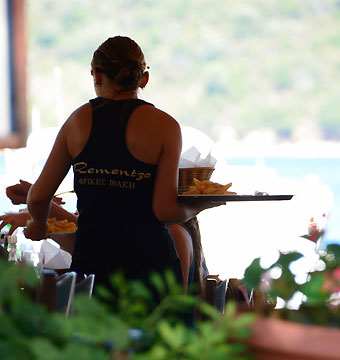 Sun, sea and food. That's Summer on Ithaca.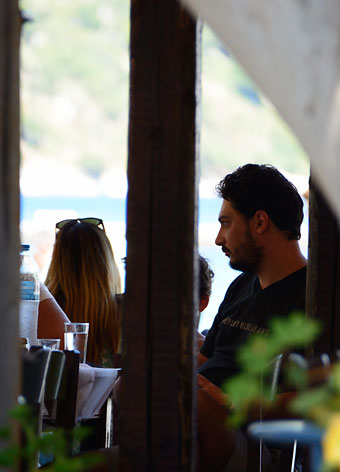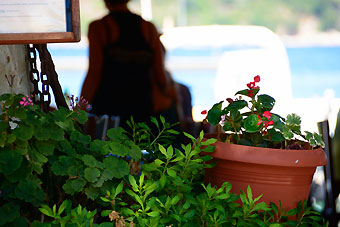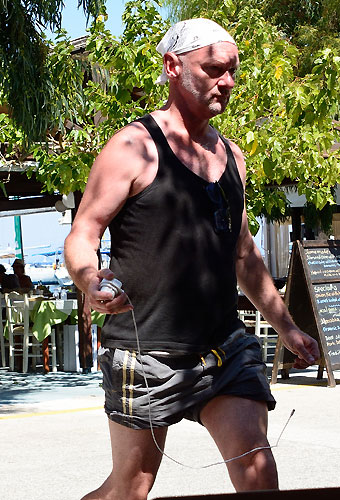 CHARGE!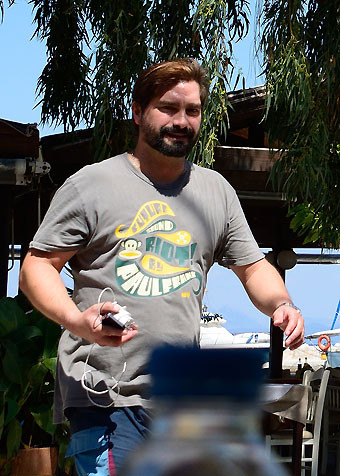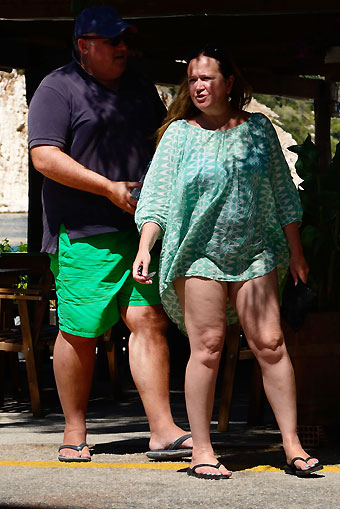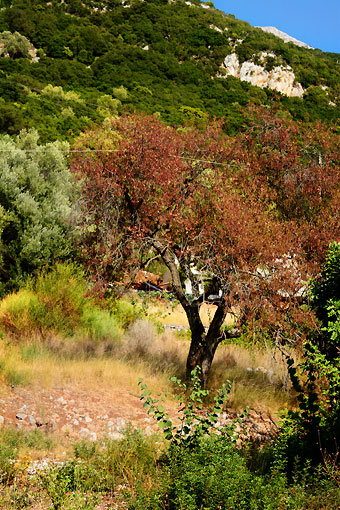 After a very long hot summer, Ithaca is beginning to dry up and brown. It will only take a couple of days of rain to green everything up again, but for now our green hillsides are shrivelling under the hot August sun.
Ithaca, throughout the year, is a very easy going, relaxed island with relaxed attitudes and only 3500 inhabitants over winter. In Summer the dynamics of the island change quite dramatically, mostly it brings life and excitement to the sleepy isle, but sometimes also unwanted agro and bad attention.
Last week a violent incident in one of the villages, brought about by an employee of a Flotilla company, drunk and cocky, disrespectful of certain foreign patrons at a bar, getting beaten and injured. The young Skipper left his port to go to a celebration elsewhere, something not allowed by its company, being well fueled up for the ensuing confrontation.
The Flotilla company doesn't have a good reputation around the Ionian with skippers that are too young, underpaid and inexperienced to run without incident. Getting drunk and laid being a priority. The company is blaming the bar for getting its skippers drunk and have now boycotted the village. The skippers are usually well tanked well before they even reach a bar. Anyway, what a shame! I'm sure we'll miss the drunken brawls and the reputation that comes along with it. Flotillas have no docking fees here, the least we can expect is some respect for our healthy environment.
I would also question that letting these young guys be responsible for the lives of families and other young people while on the yachts, wouldn't be the best practice i would think. Drunken and hungover skippers sailing? How about a rule of No Drinking if you're a skipper. Other sailing companies do this and have good, solid reputations.
What do you do with a drunken sailor? Sack him and hire someone else.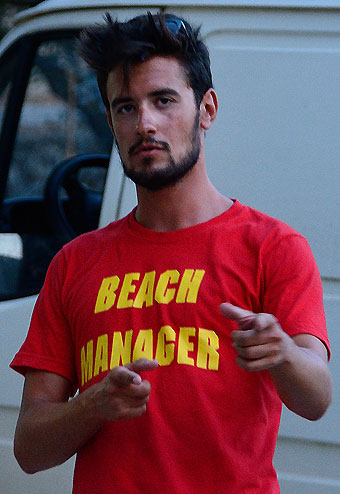 Above - Taki from Polis Beach, servicing beach goers from morning to evening (with umbrellas and sun lounges), keeping everyone entertained and happy in the process. I don't think you can be any other way when in his company. Taki is a big wonderful character. He is just one of many young Ithacans giving their all in their endeavour to be productive and occupied despite the situation in which Greece finds itself.