What's New On Ithaca
Hello, Ithaki Lovers!
We're now heading into summer with gusto. The weather's heating up and the 'Kefi' (good cheer) is rolling out across the island. If you can't be here, join us on ithacagreece.com to keep up with what's happening on Ithaki.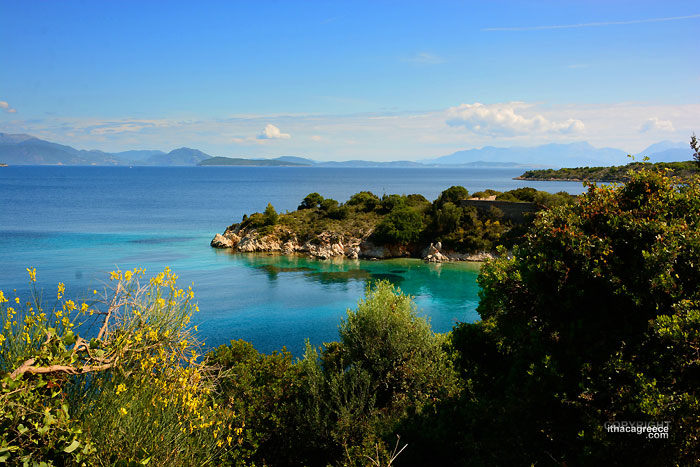 Sunday 10th - Above - Mavrona Bay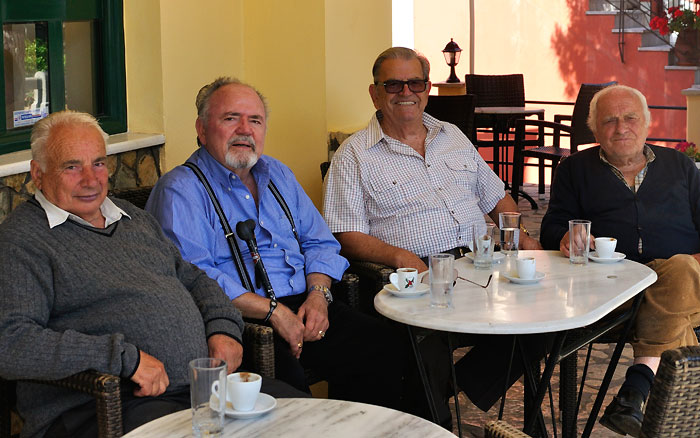 Above - Some of my favourite northerns.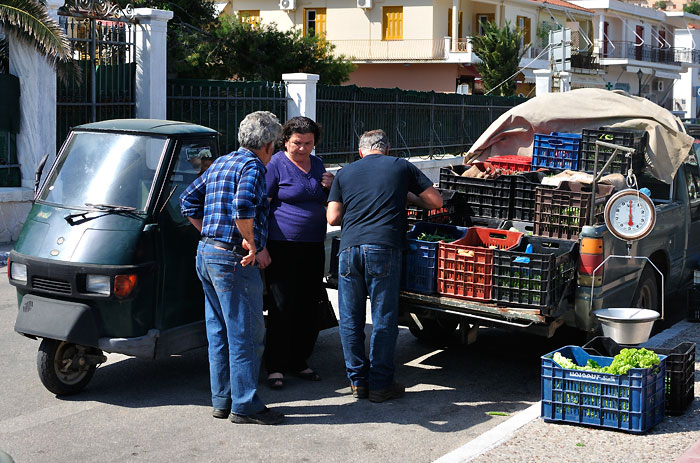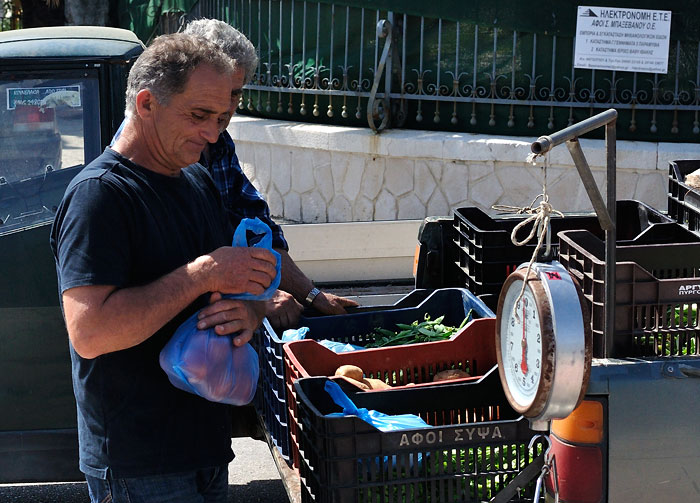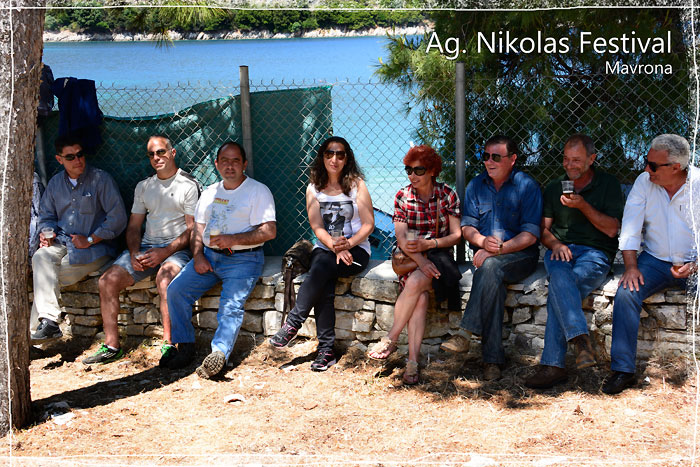 Above - Ag. Nikolas festival. A great way to spend the morning. Lots of sunshine, fresh food and good company! For more pics Click Here or on photo above.
Tuesday 12th - More thunderstorms yesterday and a sea that was really heaving, heaving so much that some yachts in Frikes harbour (on the new jetty side) needed help so they wouldn't be lifted onto the payment by the force of the water rush.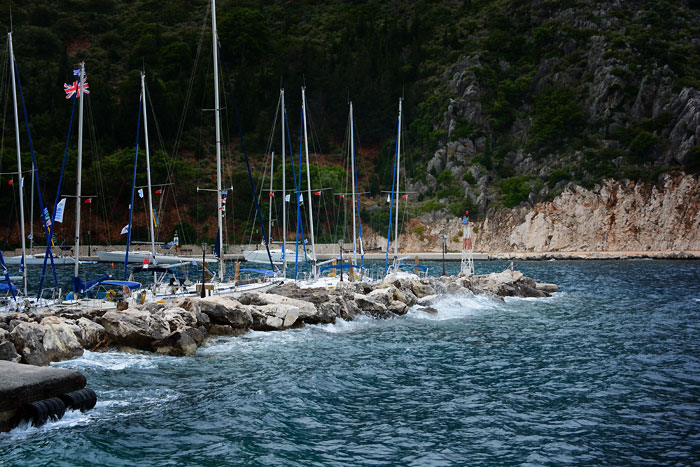 Above - On the old jetty, the yachts were safe as houses, comfortable in the warm embrace of the breakwater. Below - I felt a little sorry for this yacht that didn't make it into a harbour in time. I get sea sick from someone blowing a bubble in the bathtub. This would not have been my favourite place. Still, it looks like they knew what they were doing. The sails were up.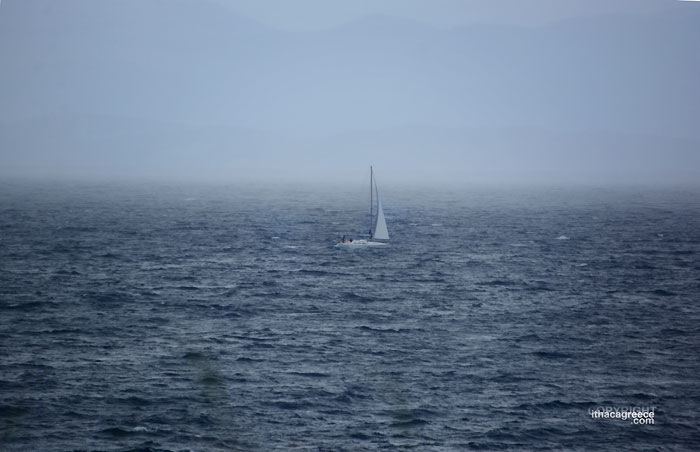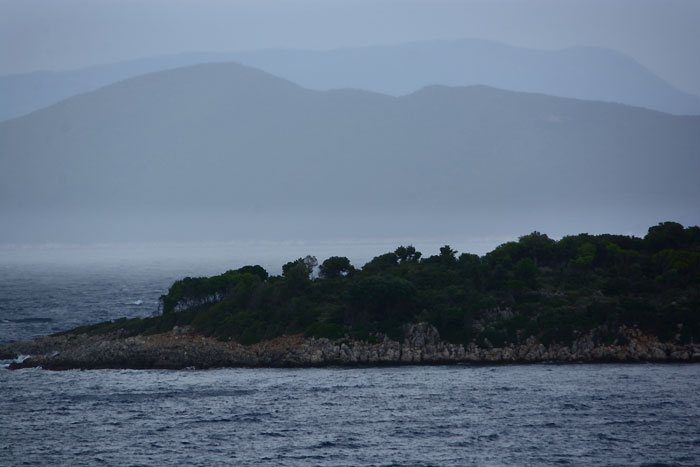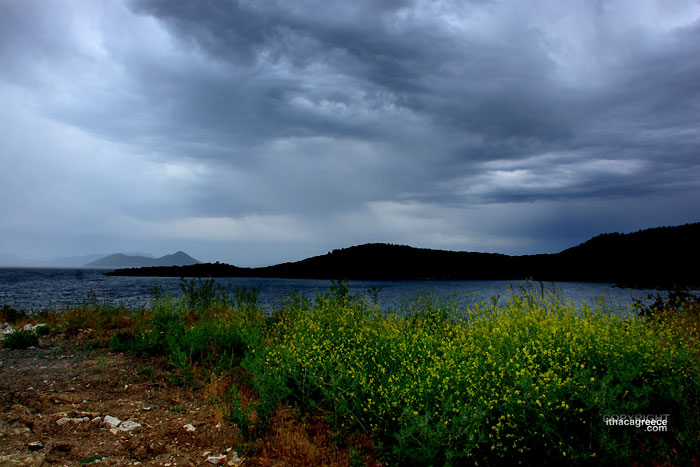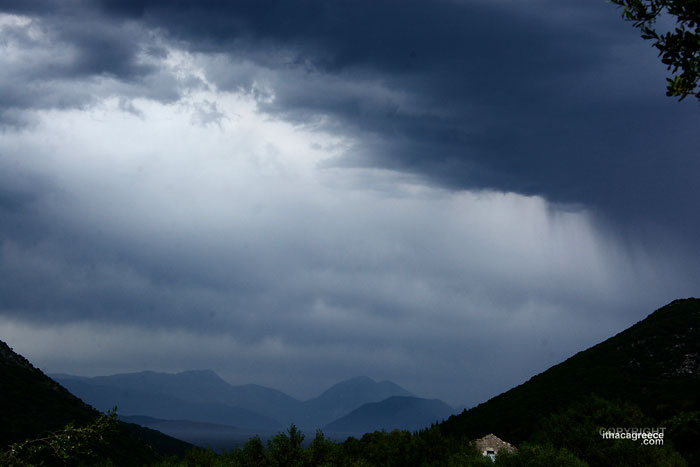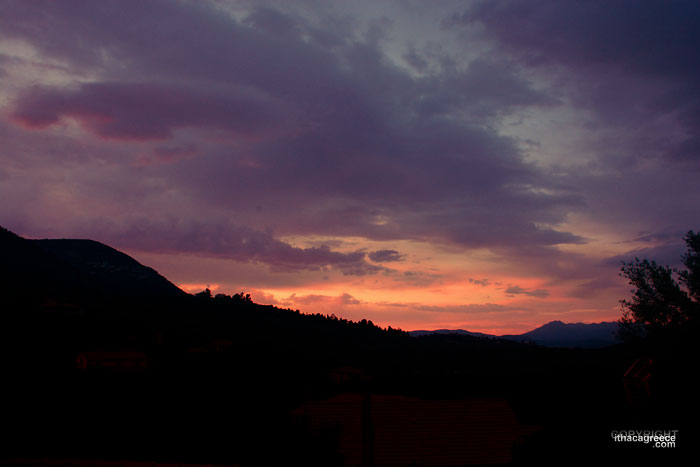 Above - It may have stormed most of the day, but the day ends with another stunning skyline through the setting sun.
I was also surprised to discover that there is no school bus for the north of the island and that parents are transporting 6 kids at a time from home to school. What concerns me is that this isn't a bigger concern for all who live on Ithaca, not just the northerners. Education is king of all in my book and therefore transport to get the education is equally as important. Let's not forget about the northern children here. Please!
Wednesday 13th - The rainy weather didn't last long. It's all sunshine and blue skies again with lovely mid 20's temps to get us all out and about.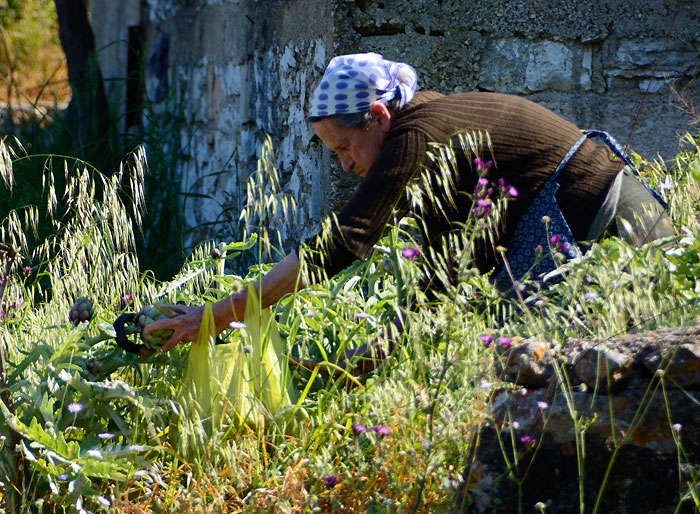 Above - An Exoghi local picking wild artichokes.
Below - The Afales cliffside edging close each year to the houses.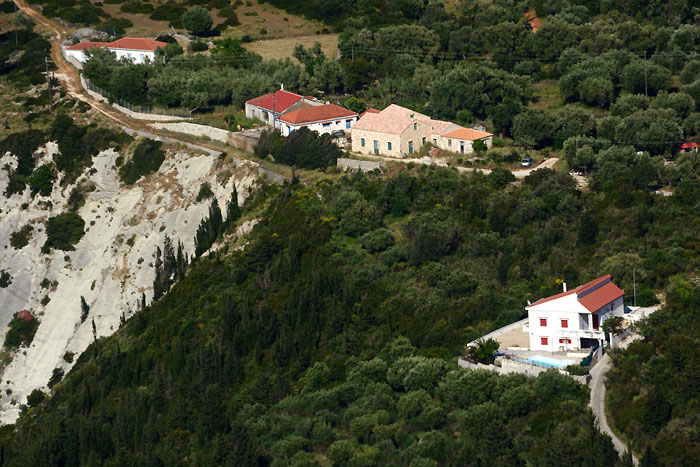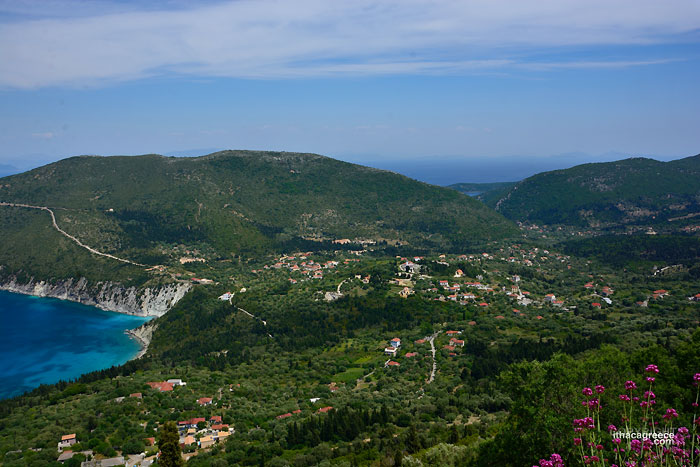 Above - Overlooking northern Ithaca from Afales down to Frikes with Platrithia inbetween. It won't be long now before all this green becomes sunburnt from the Ithaki Summer which is now rapidly approaching.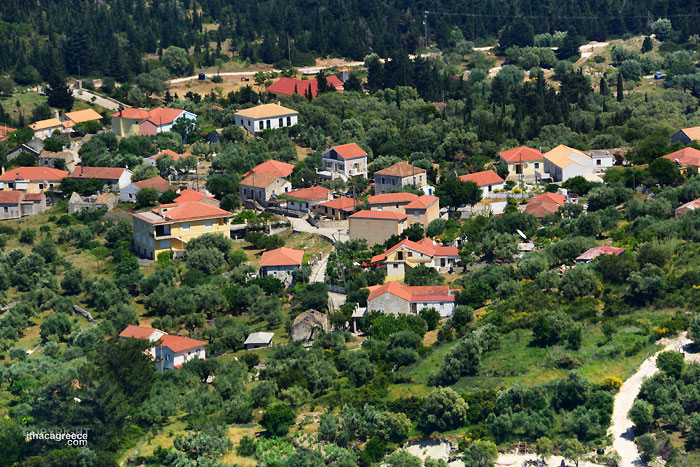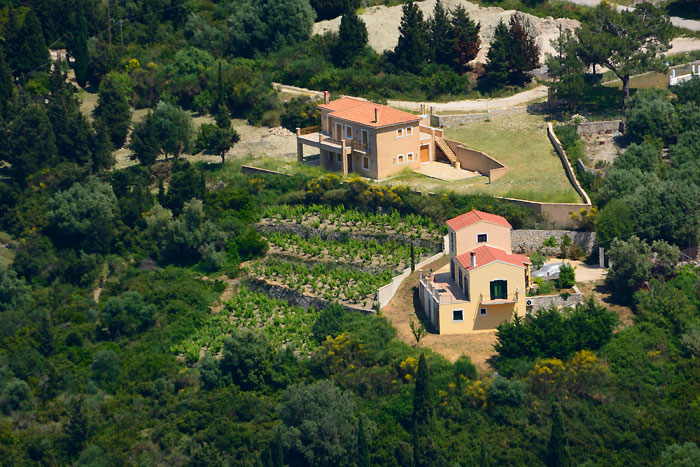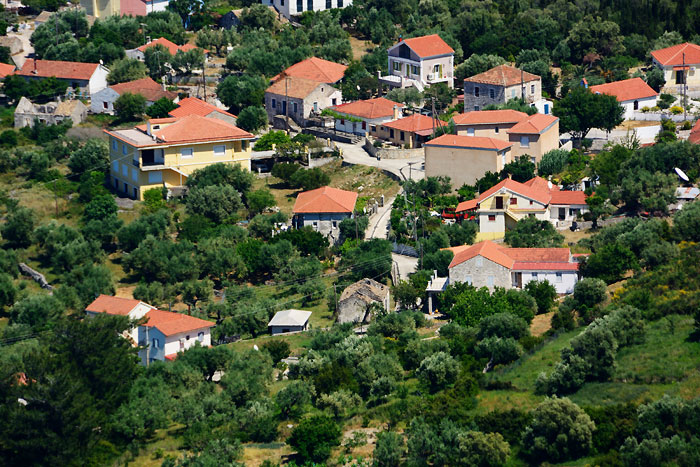 Above - Ag. Sarantas is a traditional little village in the north of Ithaca Greece.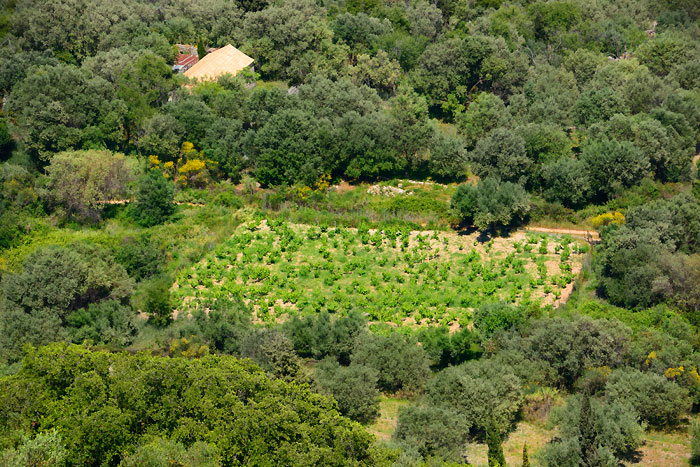 Above - Hidden gardens around Kolieri.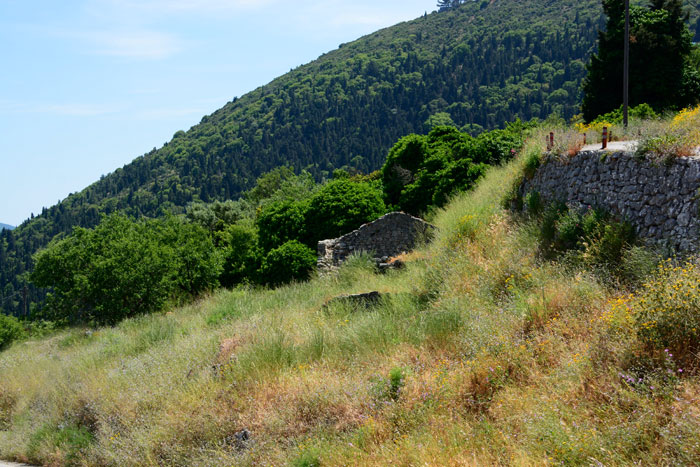 Above - The wildflowers have turned to thistle grass. Soon it will be time to give it the chop.
Below - The perfect blue of Frikes Bayside. There aren't alot of tourist roaming around our streets yet, but it won't be long before all the business owners will be overrun by summer activity, leaving little to no time for a private life.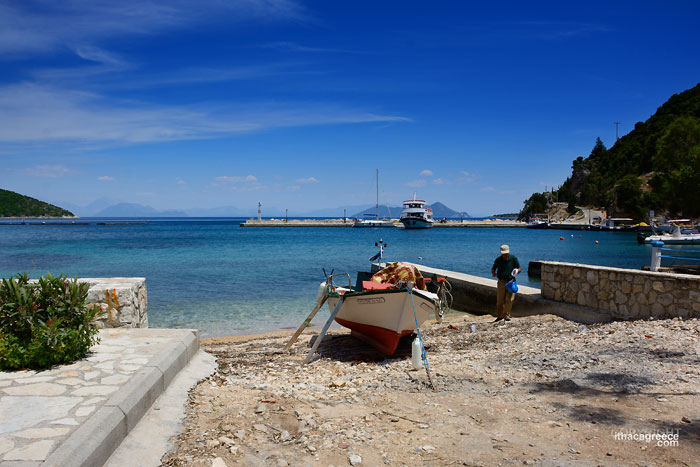 ---
May 2015
Now it's heating up, there'll be lots more to share with you.
Sunday 10th
Looks like the locals who predicted rain, despite the high temperatures, were right. Today, such a lovely blue-sky day, ended with a thunderbolt, lightning and a big down pour. Slightly dirty rain with winds from the south blowing up desert dust.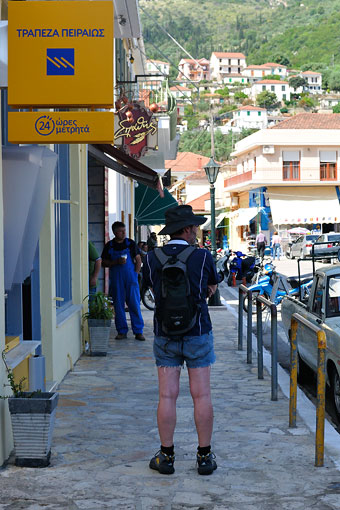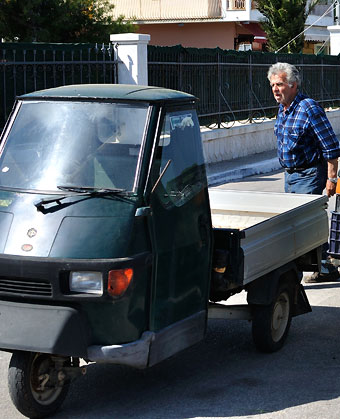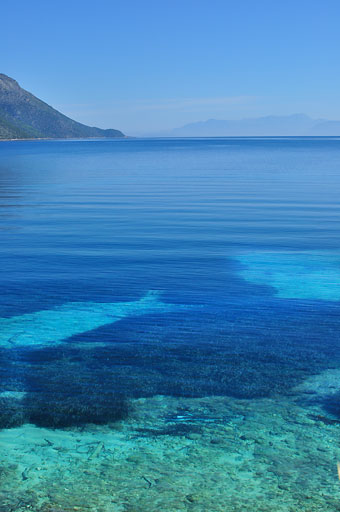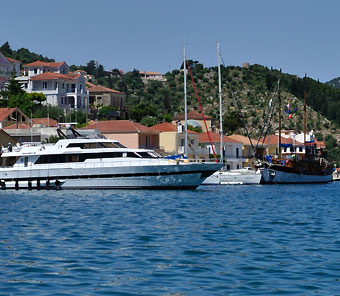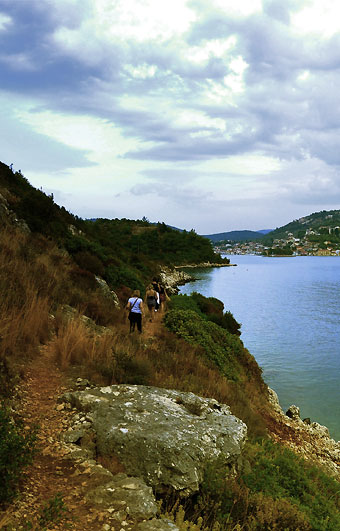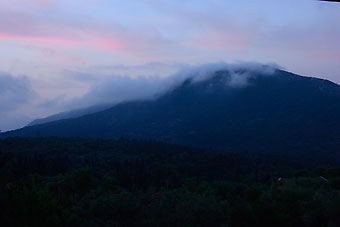 Tuesday 12th - It was quite a bit cooler with the stormy front that rolled in yesterday.
Below - The pontoon in Frikes really needs to go. How many more years will Frikes be threatened by it breaking completely free and heading for the shoreline. This really is a disaster waiting to happen. With weather like yesterday's, it's not hard to imagine the damage that could be done.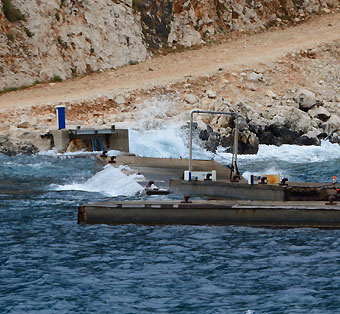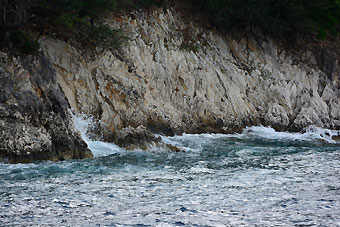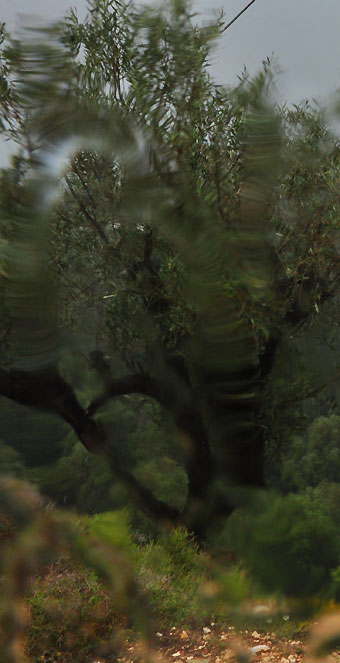 Part of the Greek Sailing Federation will be the 2015 Ionian Regatta. It starts on May 30th from Missologhi and will end on ithaki. The distance is about 35 nautical miles.
Good news for Ithaki is that Lonely Planet has listed our island in the top 10 hiking destinations in Greece. Good news for the walking guides.
Looks like the Ionian, including Ithaca will have some media visitors. Exact times unknown, but it will be around mid June. Journalists and media outlets looking to give us all a little publicity.
So, I'm a little confused. The Frikes playground has been dismantled. No more playground for the locals of the area. If it was unsafe (I've not heard of a single accident in this ground, but I may be wrong) then by all means build a safe playground, but my fear is that it will be used to put more sea-side seating for the businesses which surround the boundary. If that's the case. I hope the locals start screaming a little louder. Apparently, the one in Kioni was also on the chopping block, but the locals dissented and it remains.
Wednesday 13th - The bumble bees are buzzing around us again. They don't usually sting, but they are like miniature helicopters crashing into us occasionally.