What's New On Ithaca Greece
September on Ithaca Greece is Great!
Things may begin to slow down, but summer is far from over.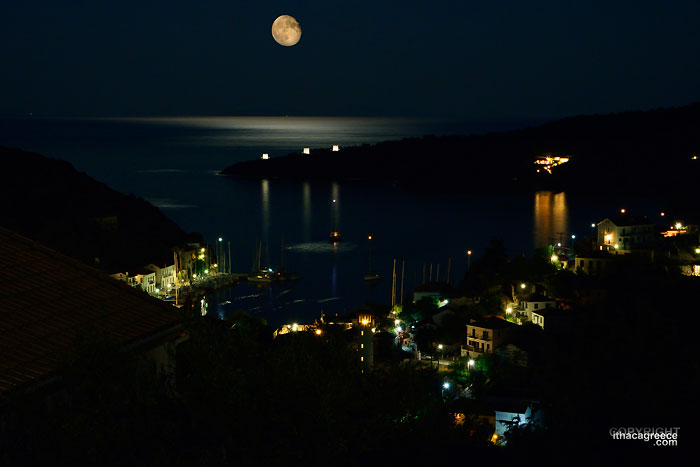 September 2015
Tuesday 1st - There's been quite a drop in tourism as we start off September, but for those here, that's not necessarily a bad thing.
Above - A Kioni moon glowing bright over the Ionian.
Below - Juan (Left) and Niko (Right) tell stories of their past escapades over a glass of wine. Juan first came to Ithaki in 1992 and has been bringing people from Spain to the island by yacht ever since.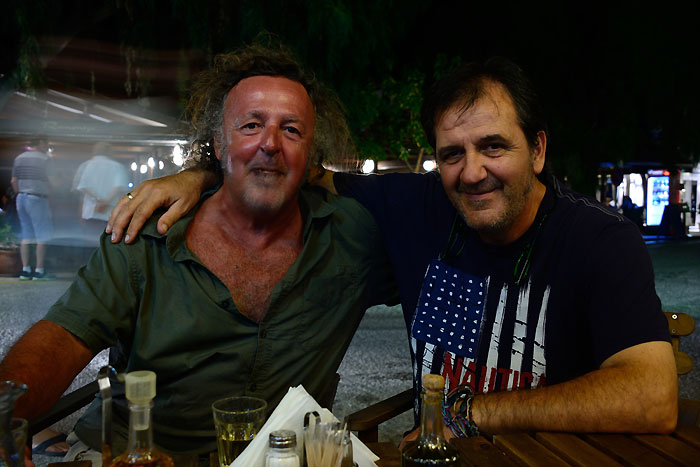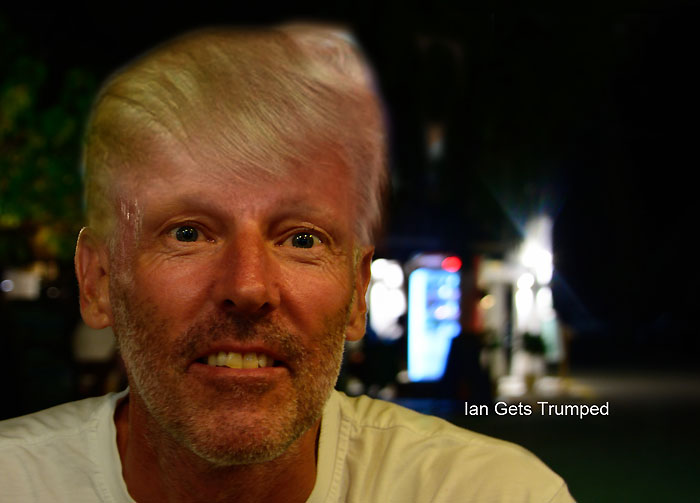 Above - Now Ian will never have to wonder again, what it looks like to be rich, have hair and be running for election. Getting Trumped is easy.
Don't forget tomorrow night at Spavento Cafe Bar in Kioni, 20 Years of Rockn' Roll celebrates the 20th Wedding Anniversary of George and Jennie (bar owners). DJing will be Dimos. Get along. It's bound to be a wild and crazy night. I'll be dancing for sure!
Wednesday 2nd - Tavli is a favourite board game in Greece, not only for locals, but also for visitors to the island.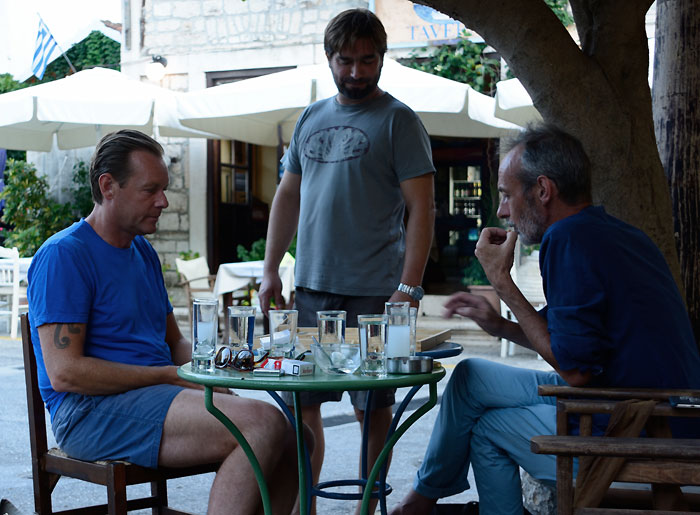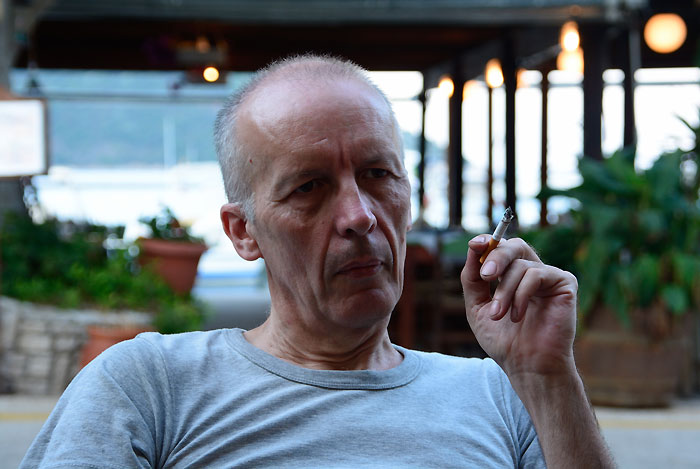 Above - Rien who grills his fingers down to the bone each season, gets to take a breather now that it's September on Ithaca Greece.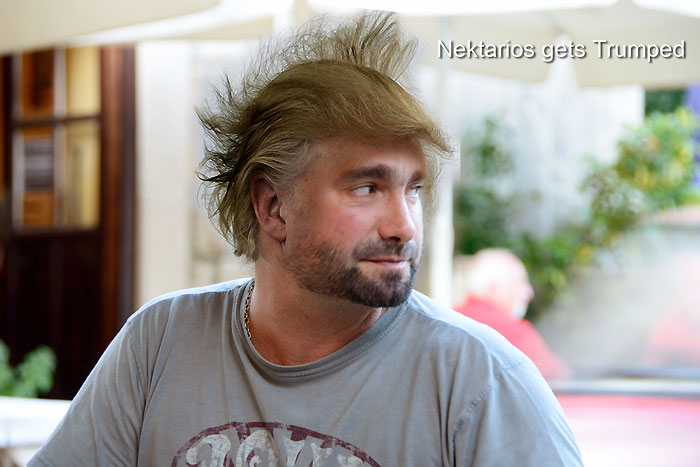 Above - Ok, this is just for fun. Below - Vathy Bay under the sunset glow.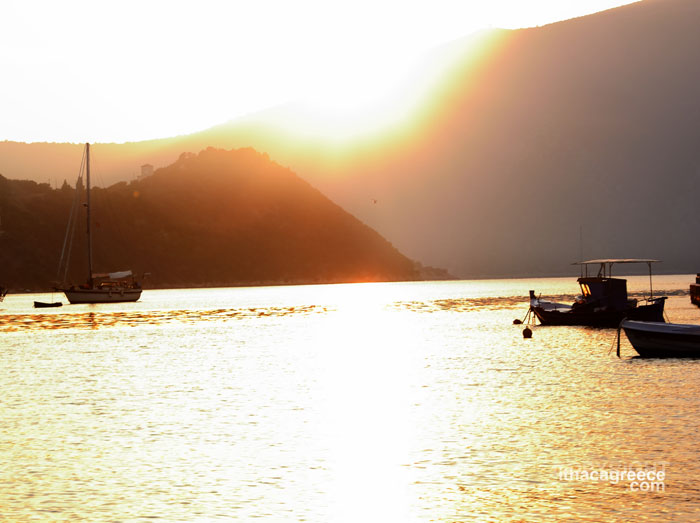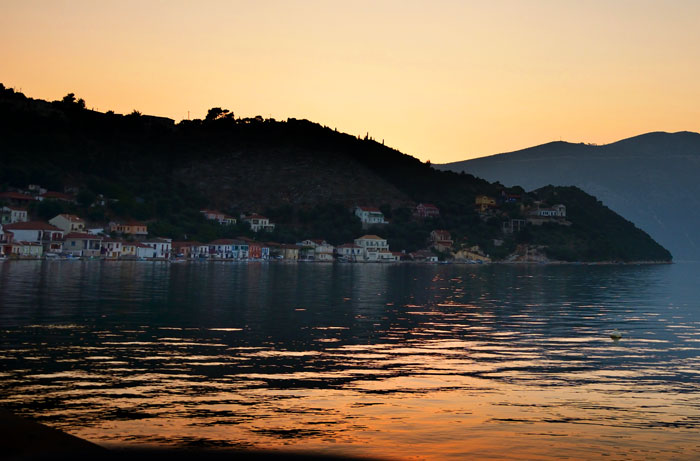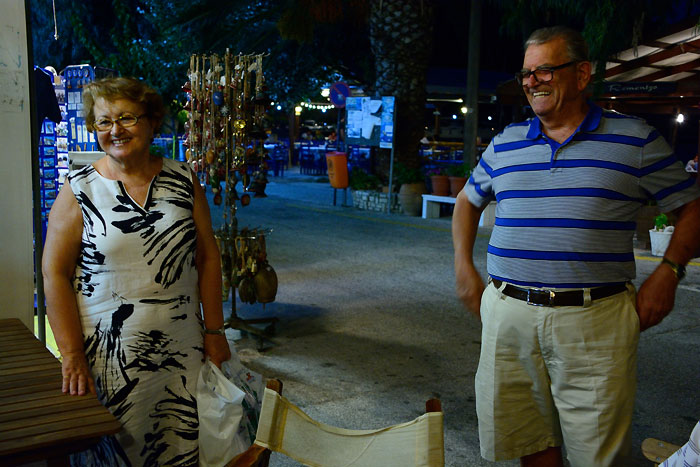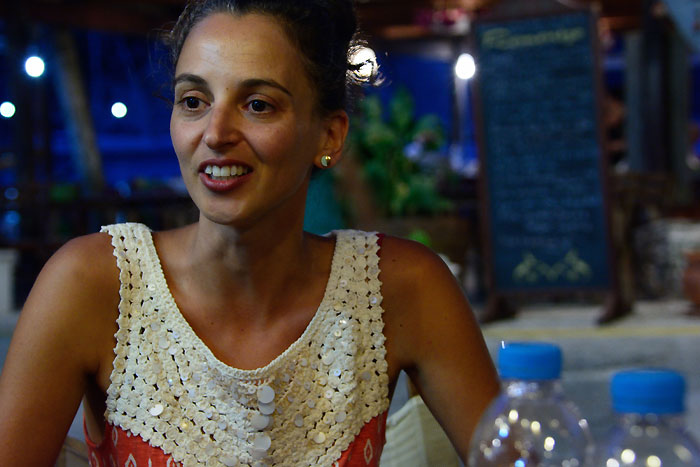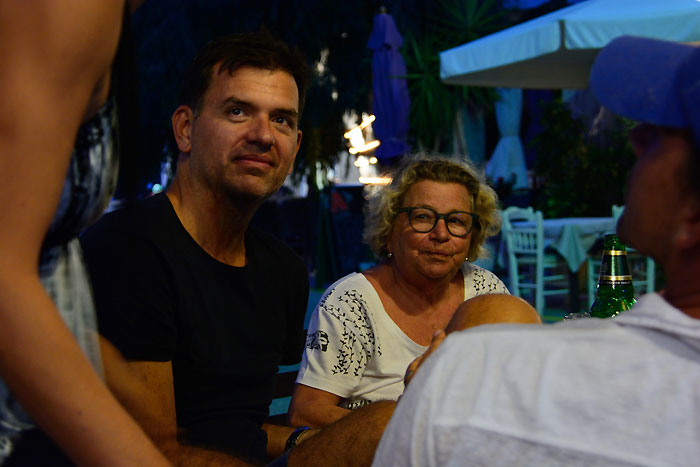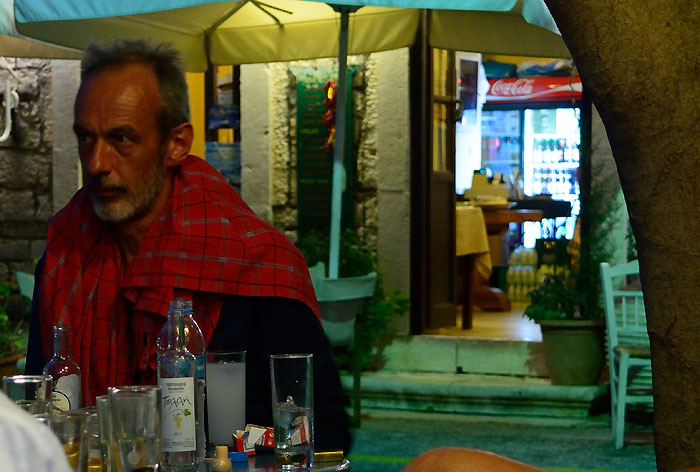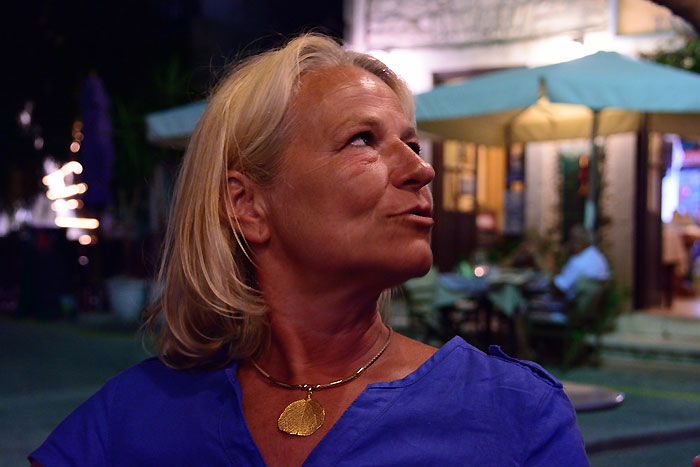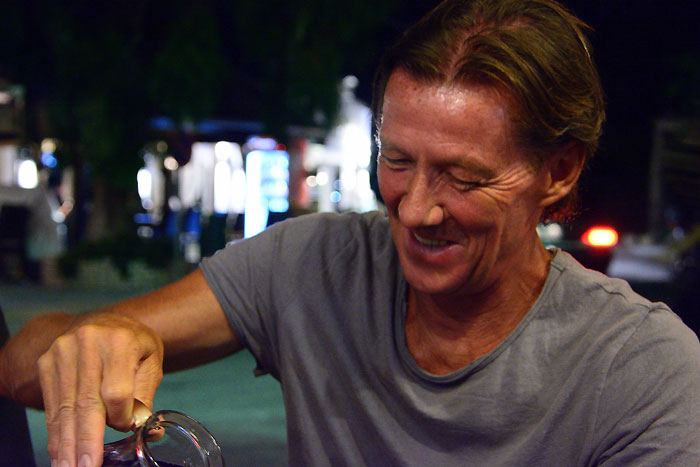 Below - The new pizza place in Frikes is getting some great reviews from patrons. I have to say it looks really lovely. Well done out interior and the food looks pretty good as it comes out.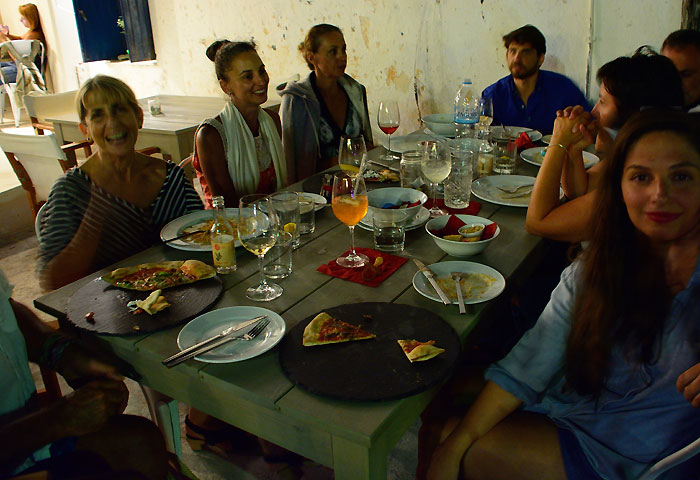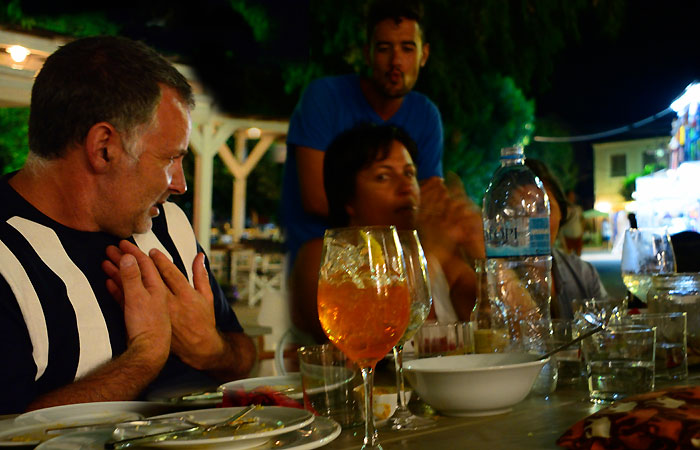 Above - Taki (beach manager) from Poli with Poli royalty.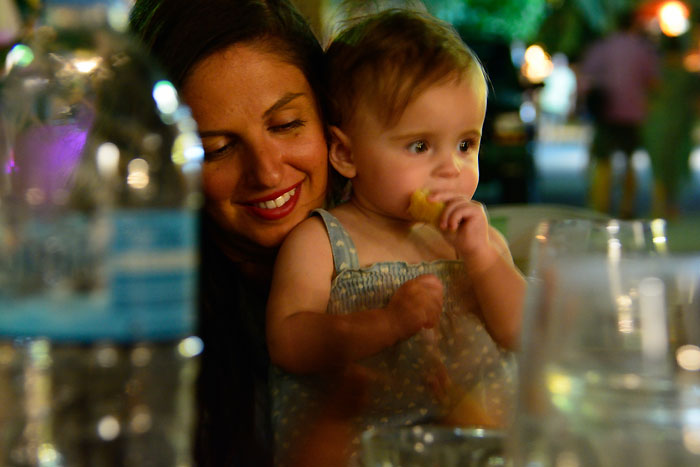 Above - Little Eva from Melbourne with mum Julia. Eva was recently baptized in Ag. Sarantas.
Thursday 3rd - The familiar faces of Yvonne and Les, back in Kioni for another Ithaki holiday. We caught up with them just in time, before they head back to the UK.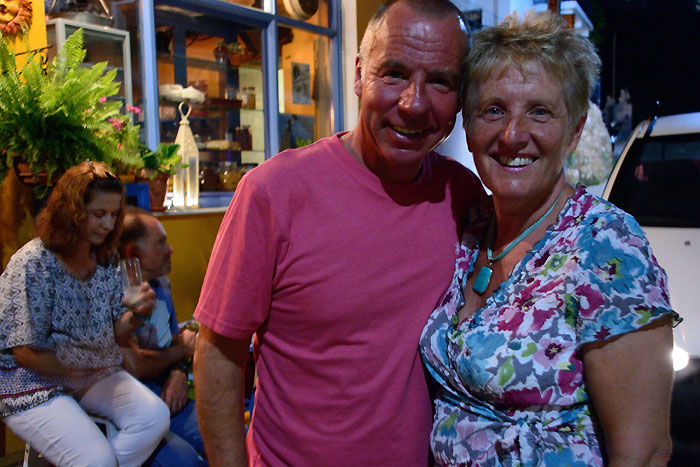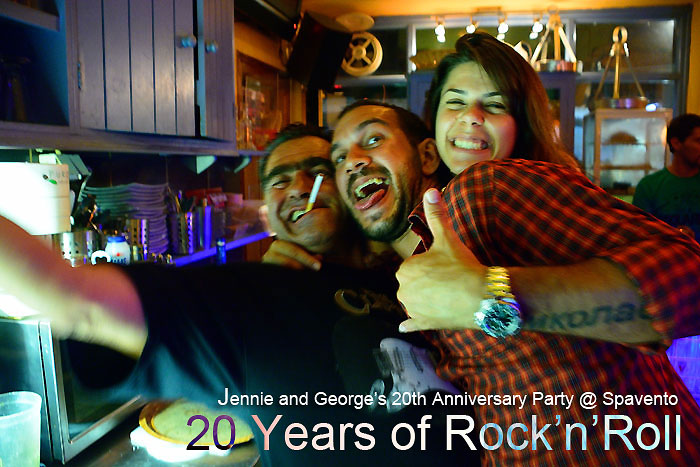 A party thrown by George and Jennie from Spavento is always an important occasion in the north of the island. The 20 Years of Rocknroll party was to celebrate their 20 years of marriage. CLICK HERE or on photo above for a few more pics. I would have taken more photos, but I was too busy dancing in the street!
Friday 4th - What do I love about Ithaki? Um, let me think....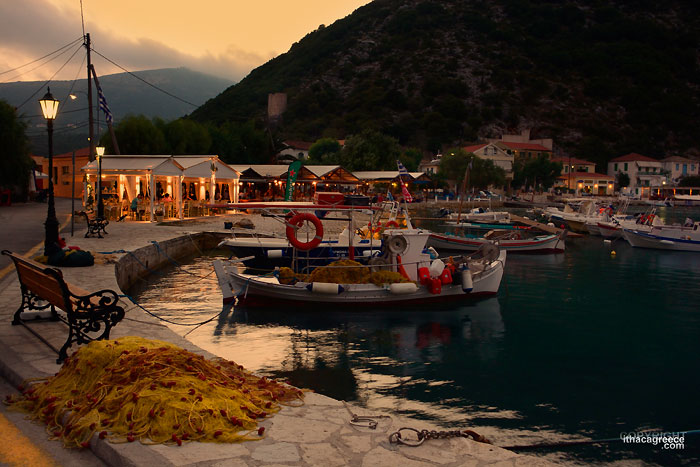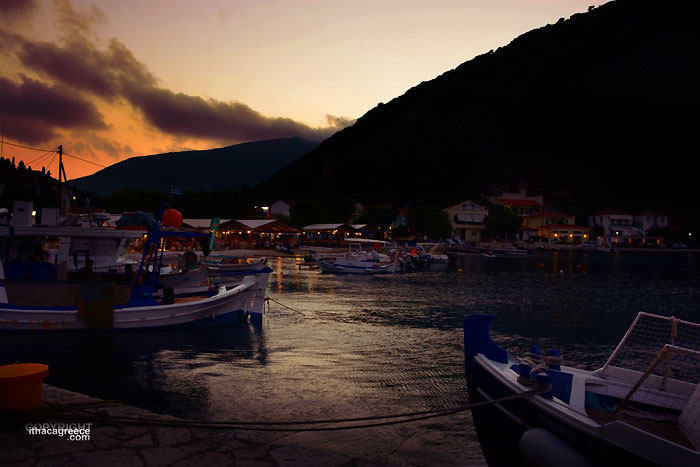 Sunday 6th - Summer on Ithaca continues. There's little to no clues that Greece is again coming up to elections or that there's actually a crisis.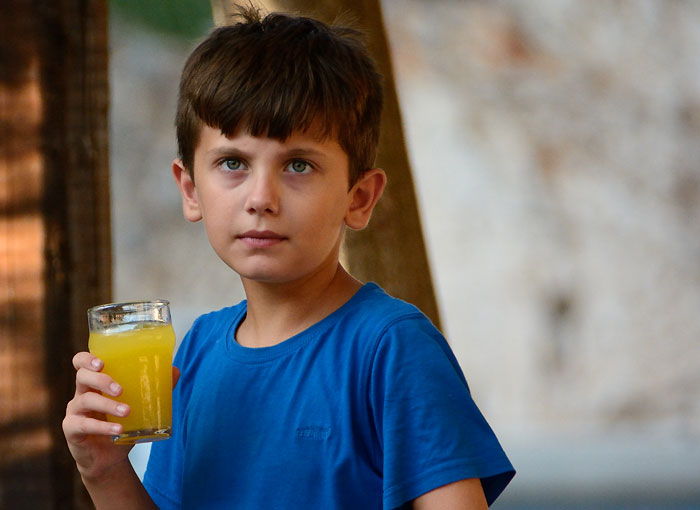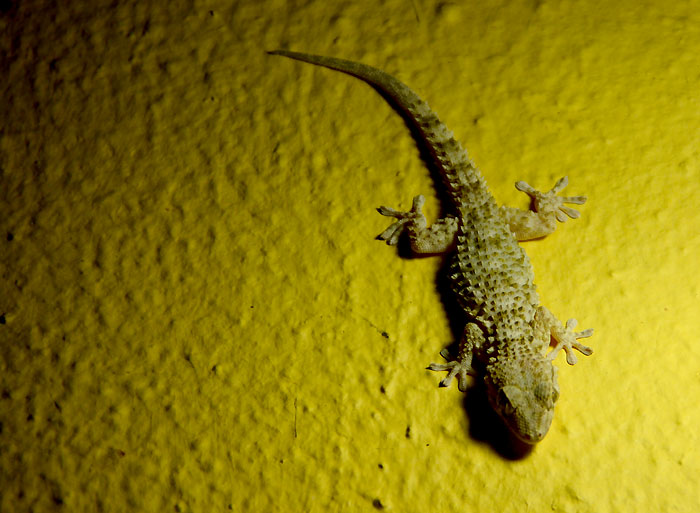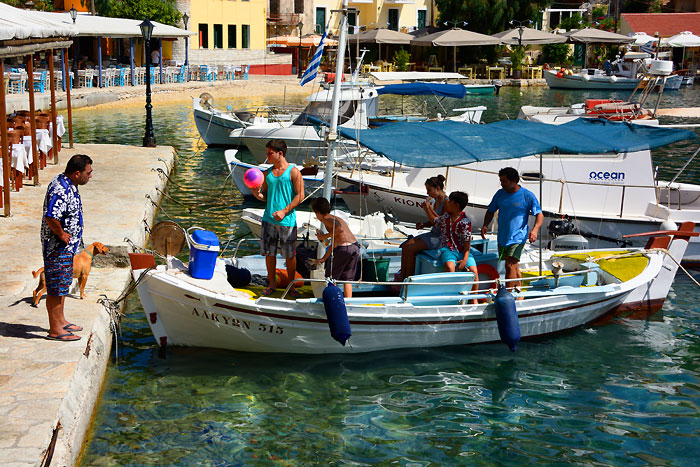 Above - Local families packing up and heading to Atakos for an overnight camping trip.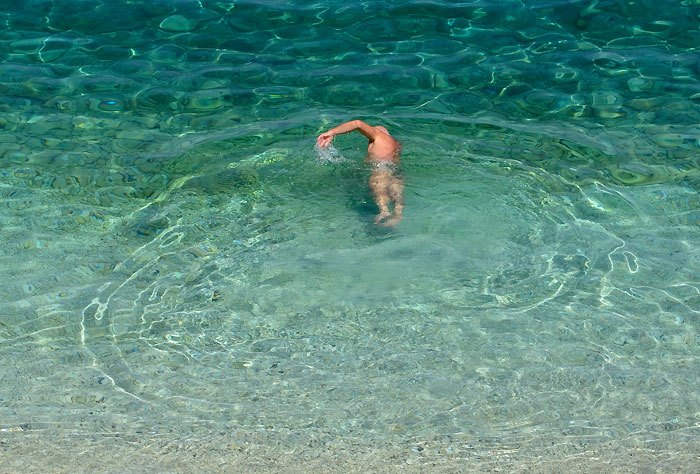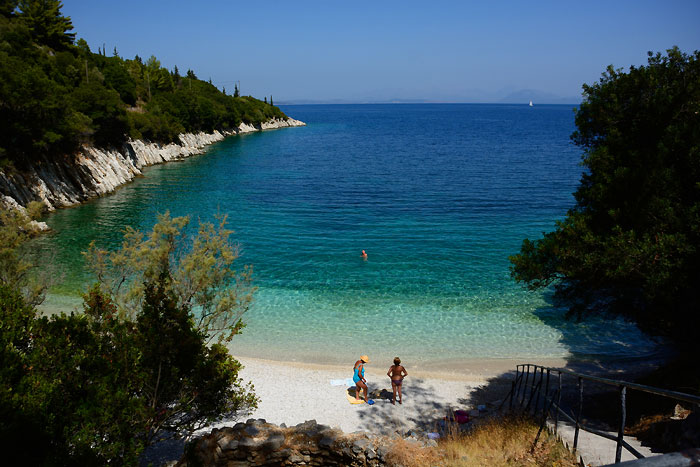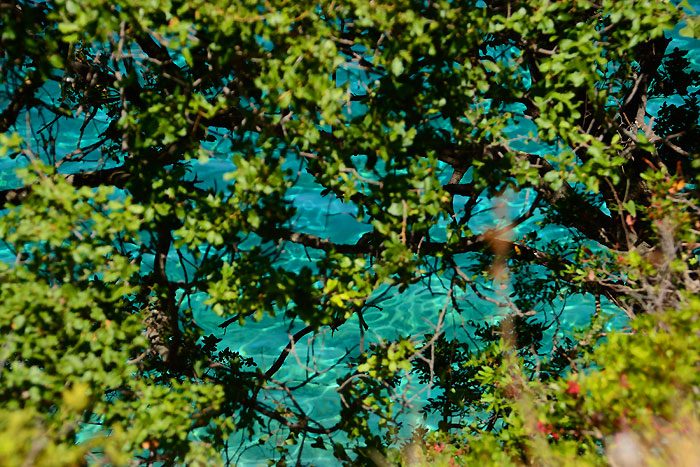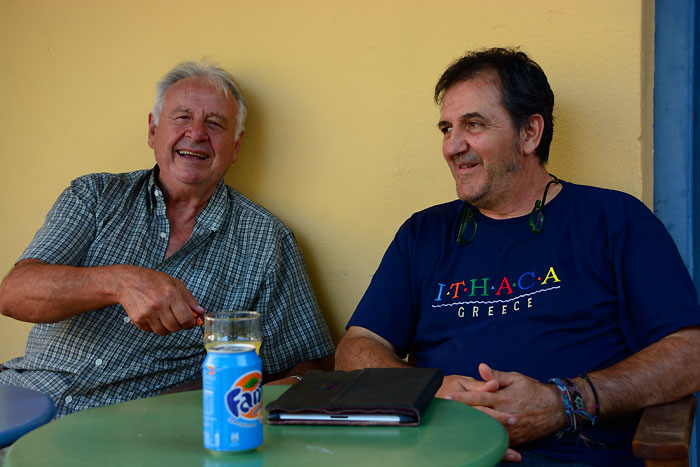 Above - Leo and Niko in Frikes.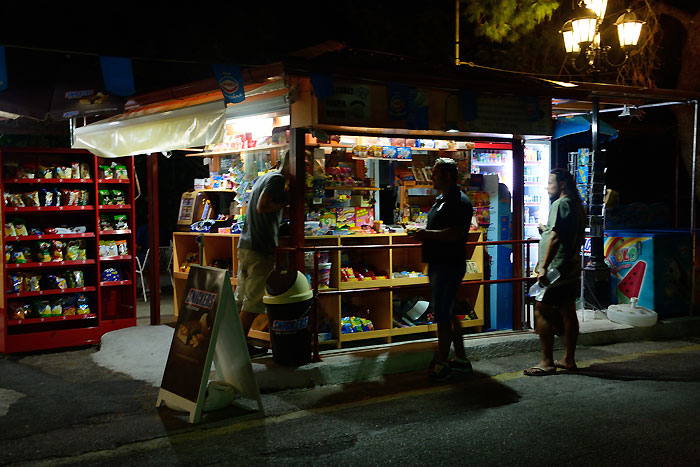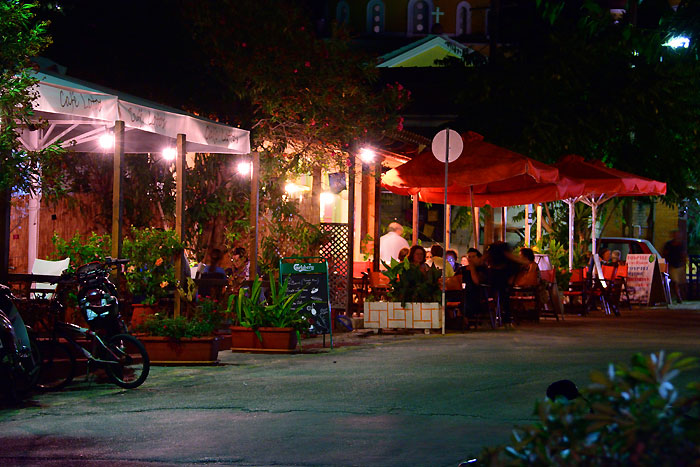 Above and Below - The ZAC (Margarita Cafe) a Stavros icon and institution.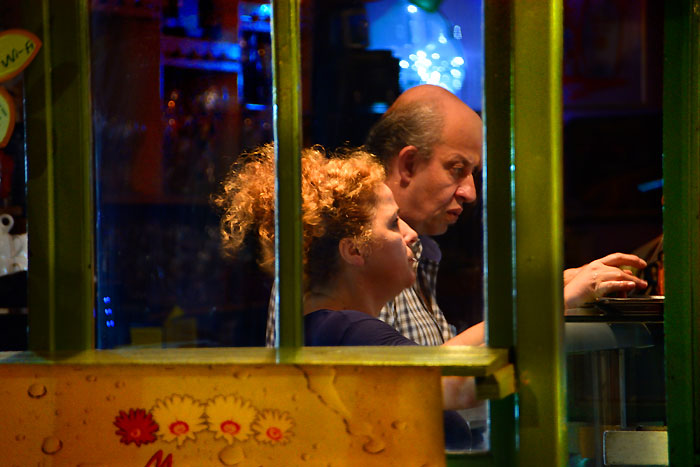 Below - Ithaki Restaurant in Stavros.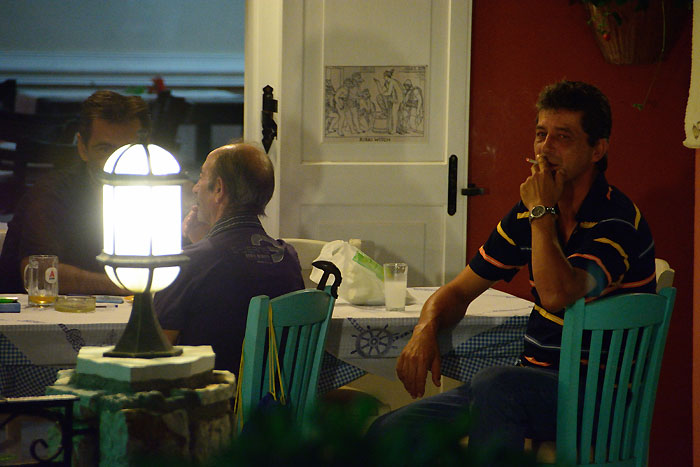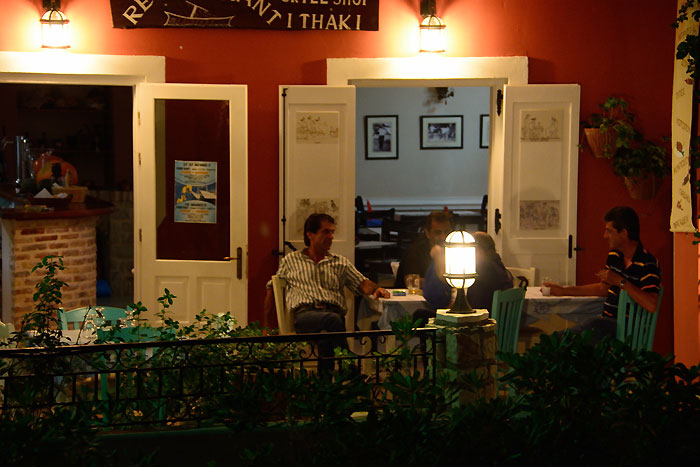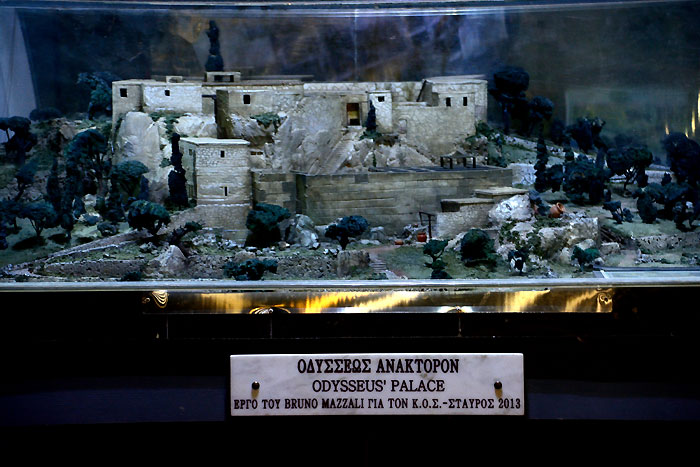 Above - The plaque tells it all.
Monday 7th - A couple of days a fire on Kefalonia island, directly across from Lefki village, reminded us all how vigilant we must be during these periods of extreme heat.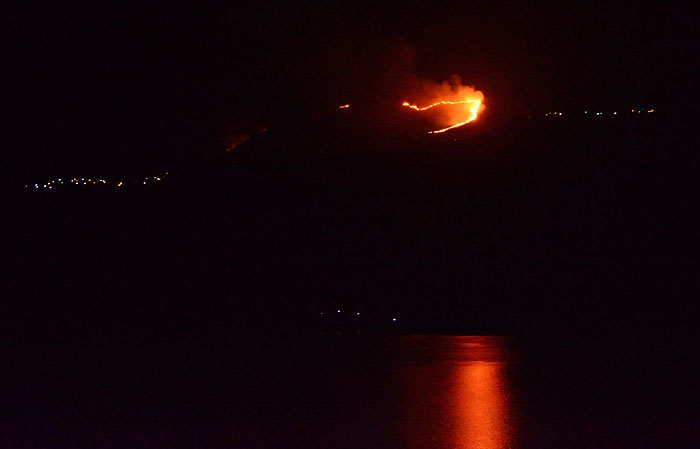 Tuesday 8th - Just a little rain yesterday and a slightly cooler aspect to the day. By evening however, the temps seemed to go up again for another very warm sleep.
Below - The Venetian Bell tower in the back street of Vathy town.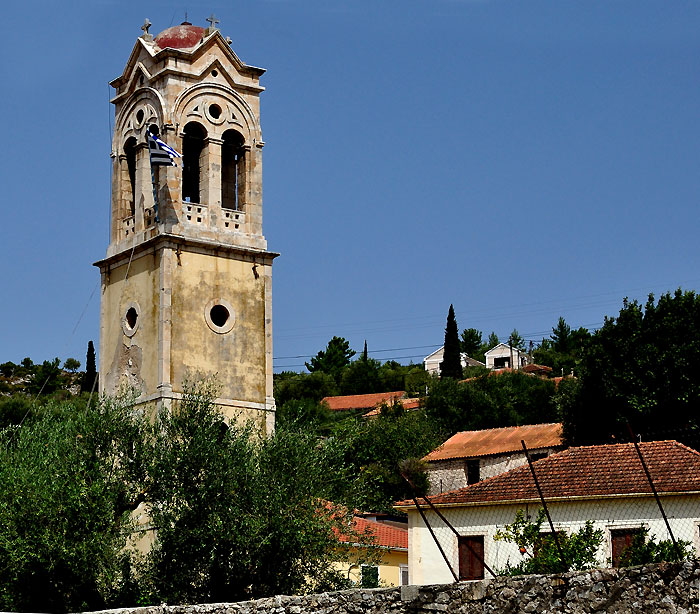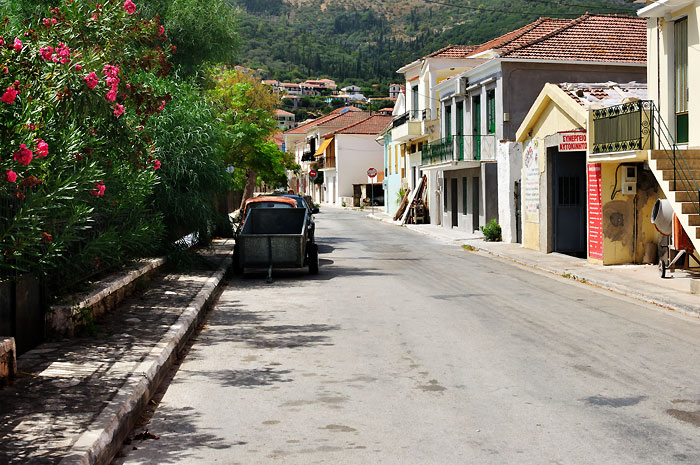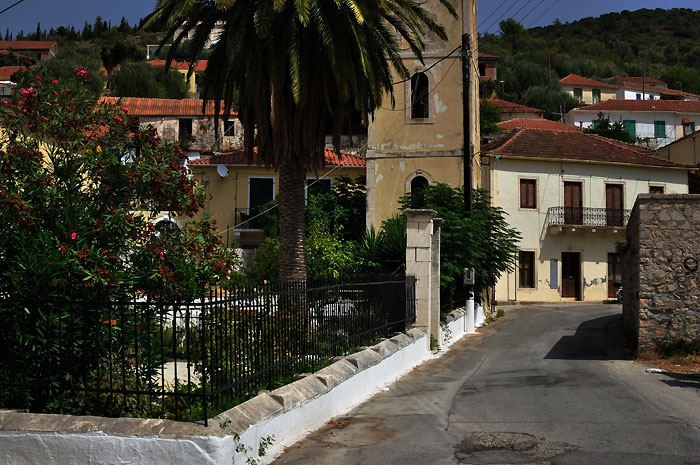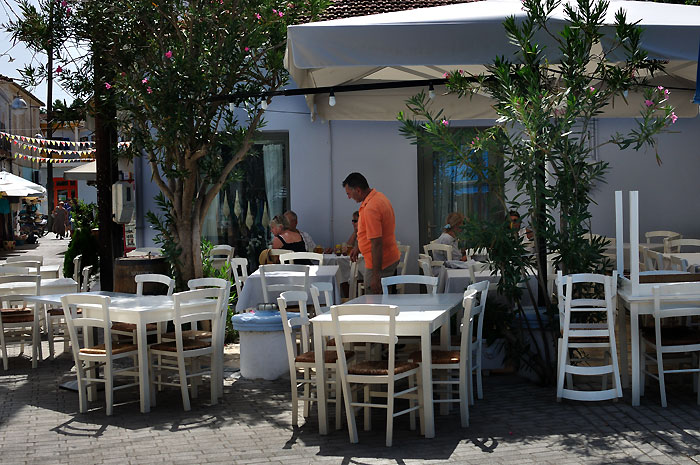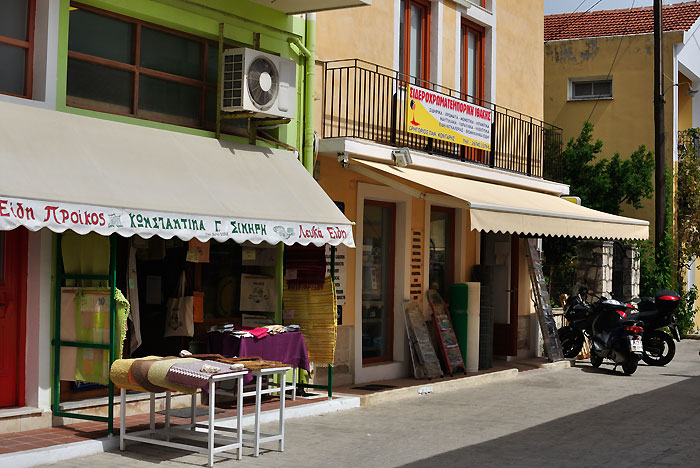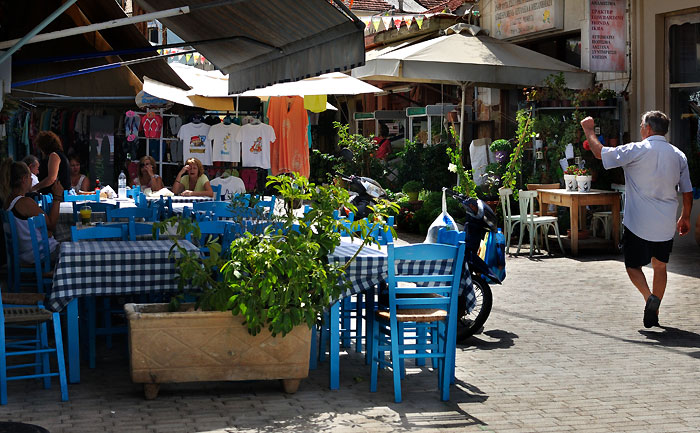 ---
September 2015
The days are getting shorter now and the views clearer.
Tuesday 1st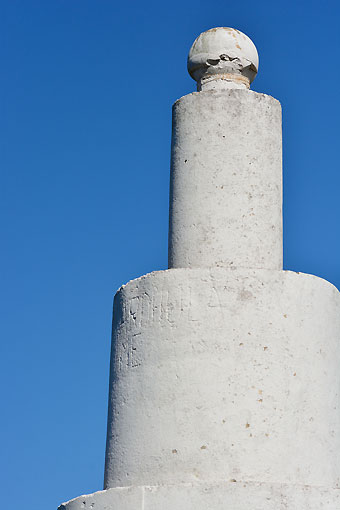 Above - Pyramid in Exoghi.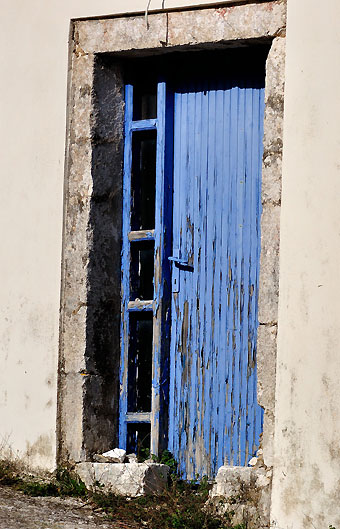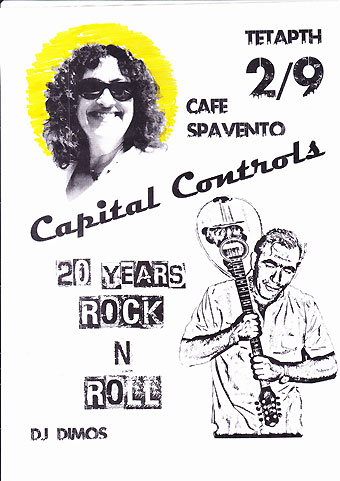 Wednesday 2nd - In the height of summer everyone's rushing around, barely taking a moment (or given an opportunity) to take a deep breath to inhale the wonder of this island. Visitors get to soak it all up and locals work hard to facilitate the Ithaki experience, but at this time of the year, locals get to experience summer on Ithaca along with the visitors. It's a really good time to be on the island.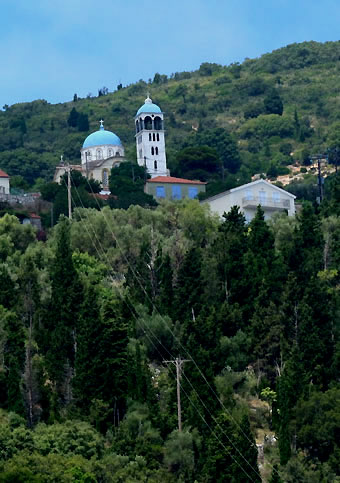 Above - Ag. Marina church in Exoghi.
Above - On the edges of Vathy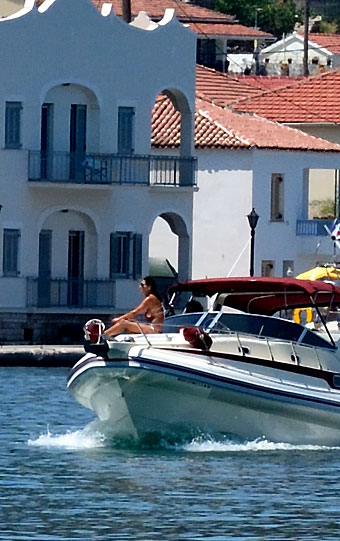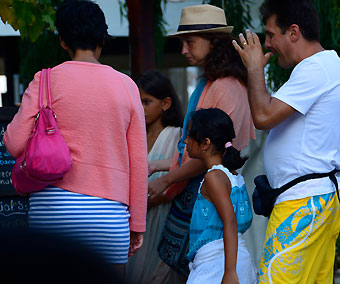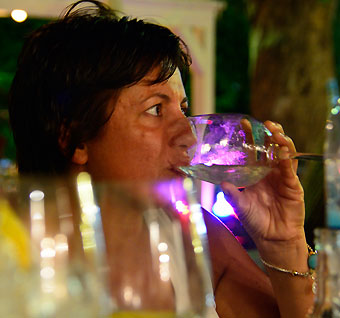 Visitors to Frikes give the new Pizza Place a big thumbs up.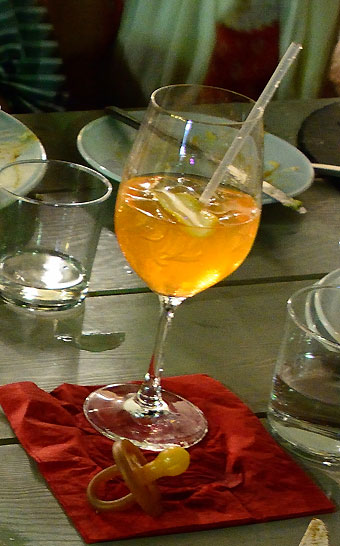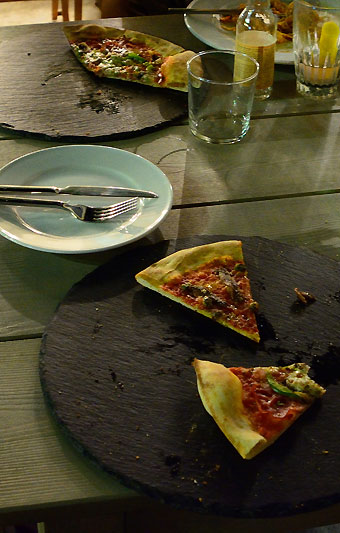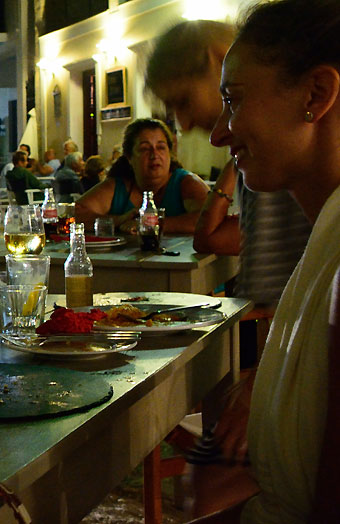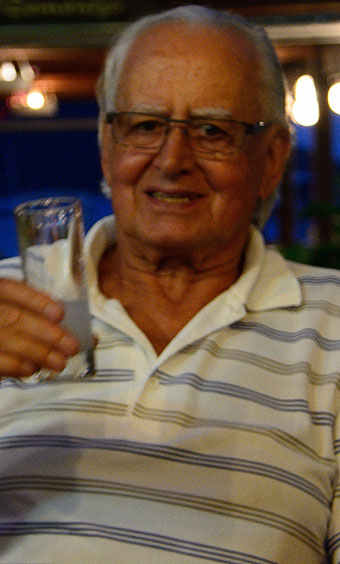 The drop in the summer population on Ithaca has been quite dramatic this week, and by next week, it will have dropped even more. Mainlanders and Ex-pats returning home after their summer on the island. There are still visitors who come with the tour companies and of course flotillas at least til end of October, so no one's closing up and heading to the beach just yet.
Don't forget tonight is the 20 Years of Rockn' Roll party at Spavento to celebrate Jennie and George's 20th wedding anniversary. See you there. I'll be the one dancing and getting RSI in my focus wrist.
Thursday 3rd - Warm, sunny days continue. Greek summers seem to last forever.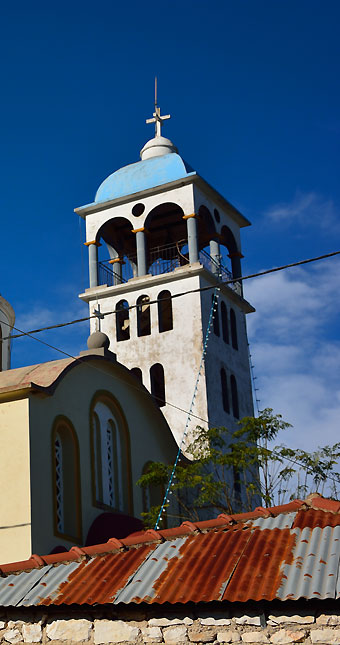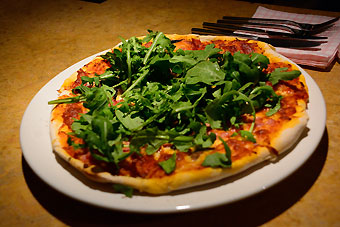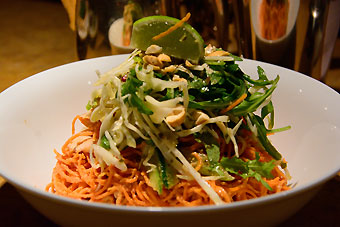 Above - Ithaki has a great range of dining available whether you're taste is for traditional, modern Greek, Italian, Chef inspired or a menu which is sensitive to allergies and other considerations. Over the years that I have been on Ithaca, I've watched restaurants bring a quality of food and of service to match those in the Aegean. ithacan dining is really coming into its own. No great hype, just good, fresh produce from the kitchen to your plate.
As I've said earlier, the drop in tourism has been quite dramatic and sudden, but it's given the locals a chance to get to know eachother again, take a breather, enjoy their Ithaki.
Friday 4th - The skies seem to be intensifying as we head toward the super moon.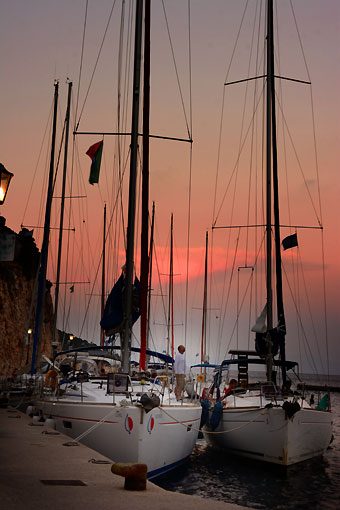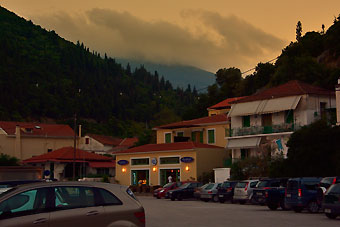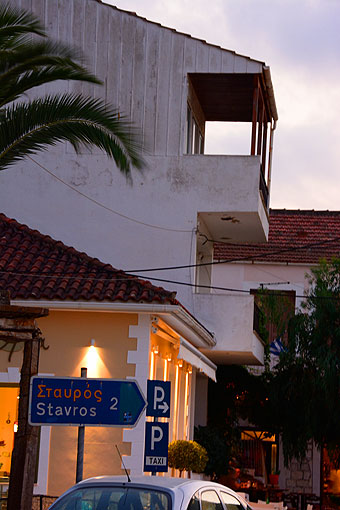 Sunday 6th - The temps are certainly going up again over the past couple of days with more heatwave numbers around 37C. Best place to be is in the sea. Young and old dip their toes into the Ionian.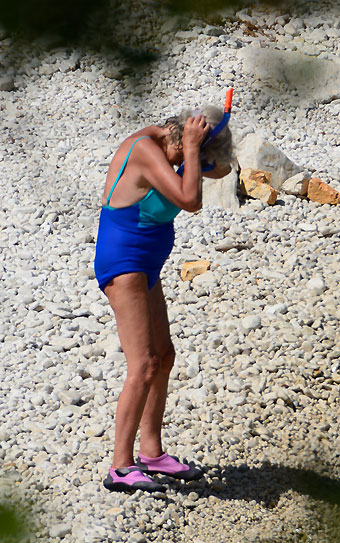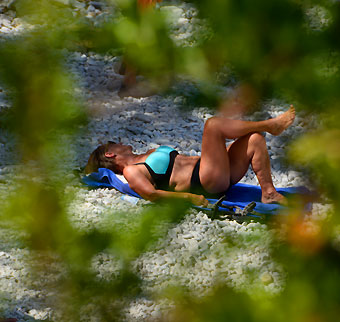 Below - Stavros has been a little quieter this year compared to other years. A clear sign that the crisis is effecting the local community more and more, with less people heading out at night, despite the fact that Ithaca is still one of the rare places you can nurse one drink for several hours without fear of getting ousted by the management.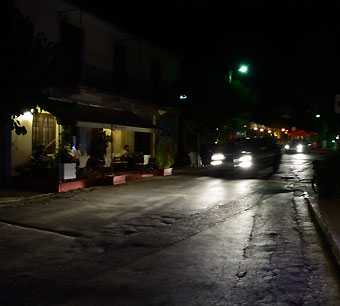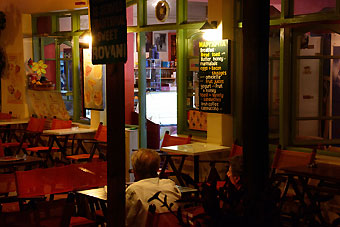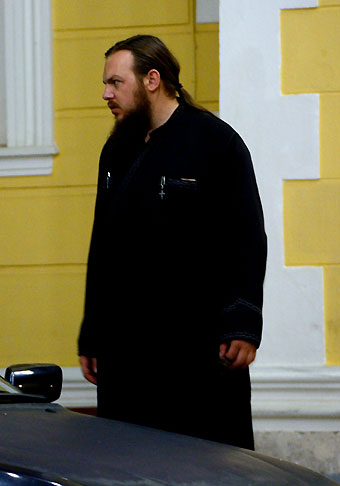 Above - Stavros resident Papas.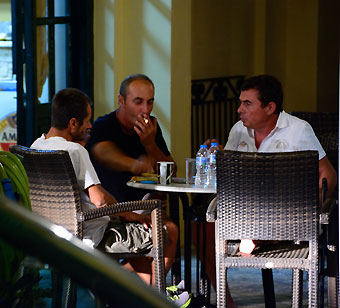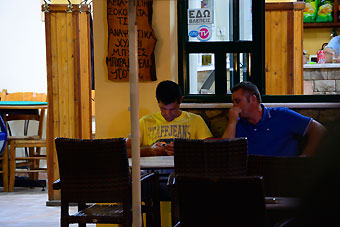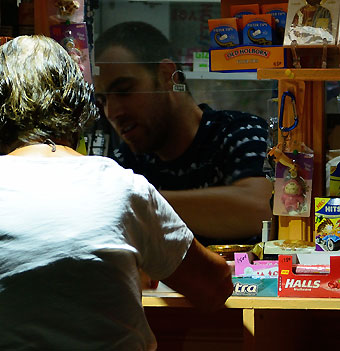 Above - Stavros is lucky to have a kiosk at it's center again. It really does give the northern center a lift of activity and a reason for locals to take a stroll up the street.
When I first came to live on Ithaca, the favourite past time for locals was to promenade up and down the village streets. No one does that anymore... except for me. I'm thinking of bring back the tradition and making it fashionable again. Come on, get out of the rental car, off the moped and take your love by the hand for a walk along the bayside or main street for no particular reason. It's actually very relaxing on a sultry night in summer.
Monday 7th - Kioni has one, Vathy has one, Stavros has one, Exoghi has one and now, Lefki and Ag. Ioannis also have one. A community group that will be able to raise funds for the villages through various projects they undertake. Maria Argyri, president, asked me to include the below information.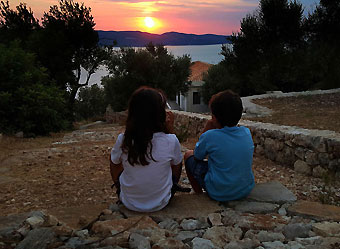 Lefki and Ag. Ioannis Community Group

On August 9th 2015 elections were held in order to select the Executive committee of the newly formed Group.

Elected for the E C:
President: ARGYRI MARIA
Vice president: PAXINOS PANAGIOTIS
Cashier: MARKANTONIS IOANNIS
Secretary: MARTATOU AIKATERINI
Members: KANDILIOTIS DIONISIOS
PAXINOU MARGARITA
PAPADOPOULOU ELENA

E E
MARKANTONI EYMORFIA
KOSTARA MARIA

The Group would like to give special thanks to all the residents of Lefki and Ag. Ioannis and friends who participated in the elections and the group hopes to be worthy of their expectations .

The Executive committee also wants to give special thanks to Arthur Comninos and Aristidis Panagioti Paxinos for their kind financial assistant to the committee.
Tuesday 8th - Still very warm days ahead. The calendar might call this period Autumn, but it still feels like Summer.
Below - Through the back streets of Vathy town.