What's New On Ithaca Greece
April on Ithaca
Blue skies, blue seas and wild flowers across the island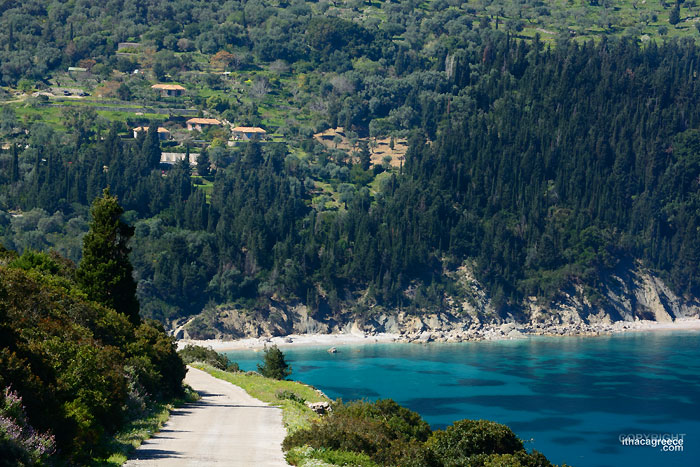 April 2016
Friday 1st - What absolutely amazing weather we've had this past week. Warm sunshine throughout the day and blue skies to the horizon.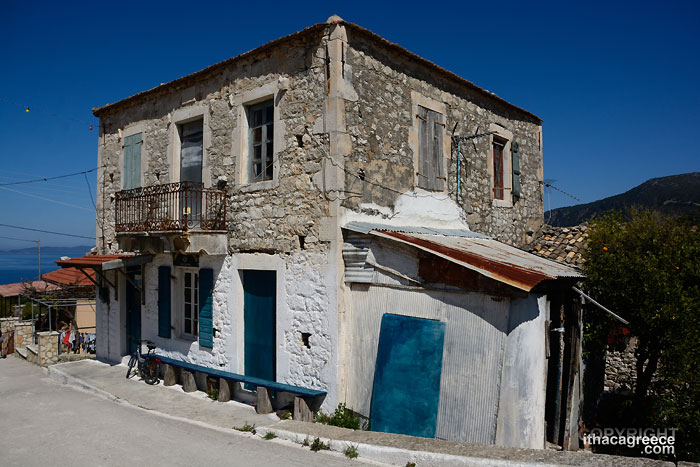 Above - The old corner store in Ag. Sarantas.
It will soon be a sad day for northern Ithaca, and in particular, the village of Ag. Sarantas, when Xanthi and Nikos (also at The Gods in Frikes), will no longer be running this traditional corner store.
The store is part of Ithaki's history, open for business for over 20 years, and a real icon for the village. When Nikos called me to tell me he would no longer be running the shop, I tried all in my power to convince him to stay, but Nikos and Xanthi have other horizons to explore and new things to try. I'm sure I am not alone in saying that they, and the corner store, will be much missed.
I must also say that again, I am left speechless at the gossip that is generated over this departure. Let me just assure everyone that hears otherwise that Niko is leaving the shop, as he and his wife Xanthi, have planned to do for at least 2 years, HE HAS NOT been evicted, nor would he ever be. Can we please leave them to depart on their own terms without sullying the history of this corner store or the history of Xanthi's father who ran the shop before her. I'm pretty sure it will have a big impact on the community when it is no longer there. They deserve our respect, not cruel gossip. (please pass that around the Kafenion.)
We wish them all the best in their new endeavours. THEY WILL BE MISSED!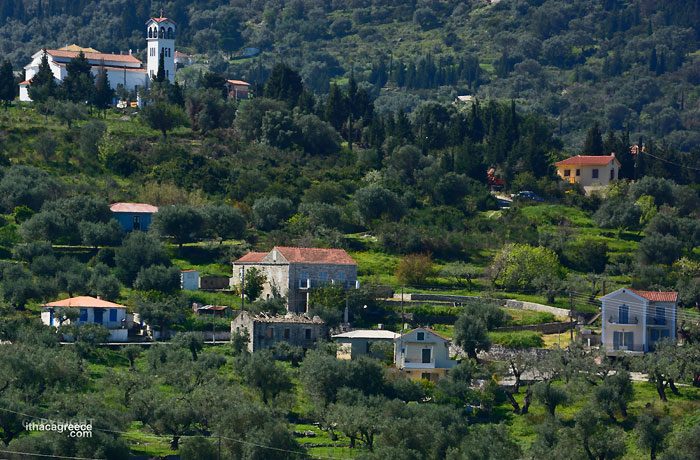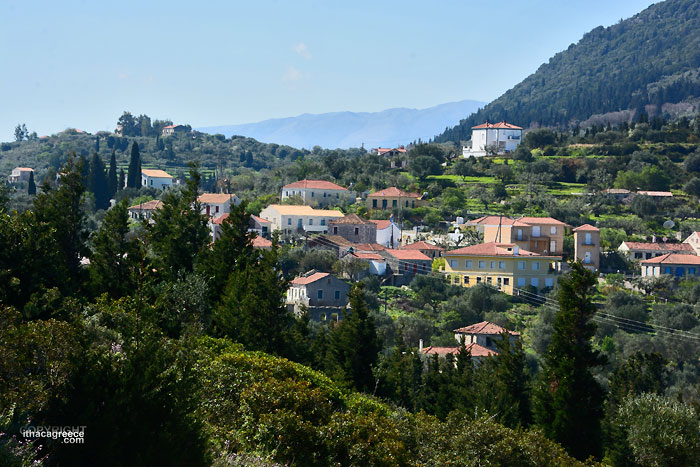 Above - Ag. Sarantas village in the north of Ithaca. A traditional and friendly neighbourhood.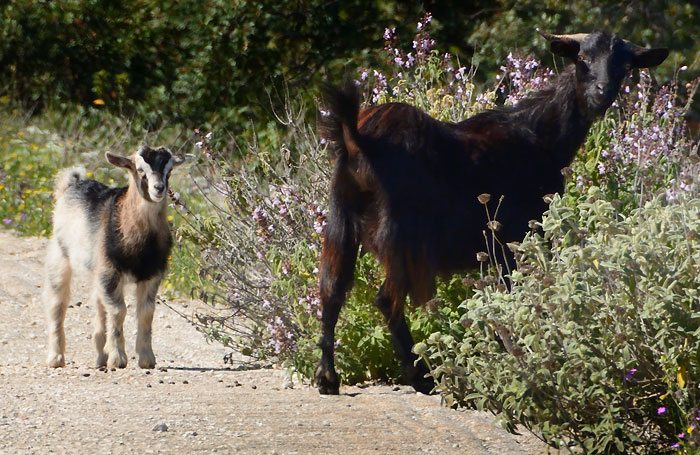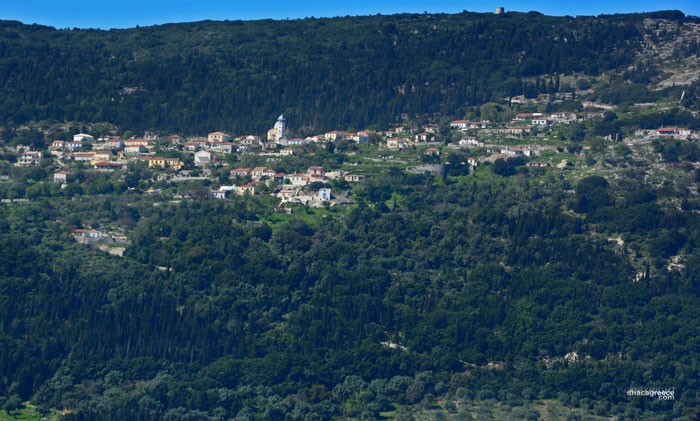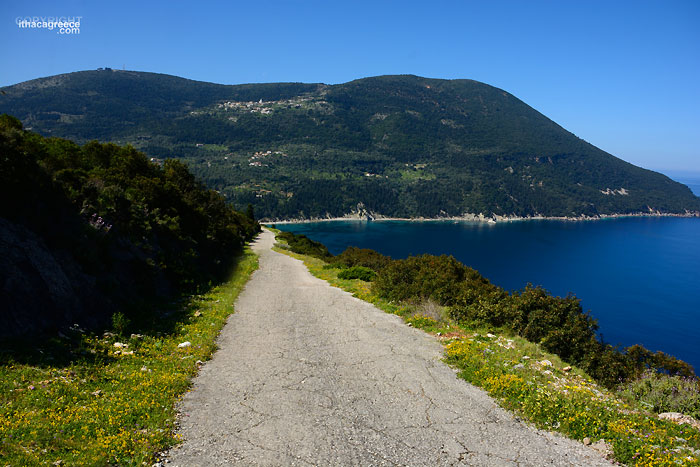 Our daily views around the island are nothing short of spectacular and we're very lucky to live amidst such beauty. The road from Afales to Marmaka ascends along the Afales bay cliff side. It's been a couple of years since I walked up this road and had quite forgotten how relentlessly steep the climb up is. A good half hour of walking up hill. The photograph above makes it look like the road is on even ground, when in actuality it's quite steep.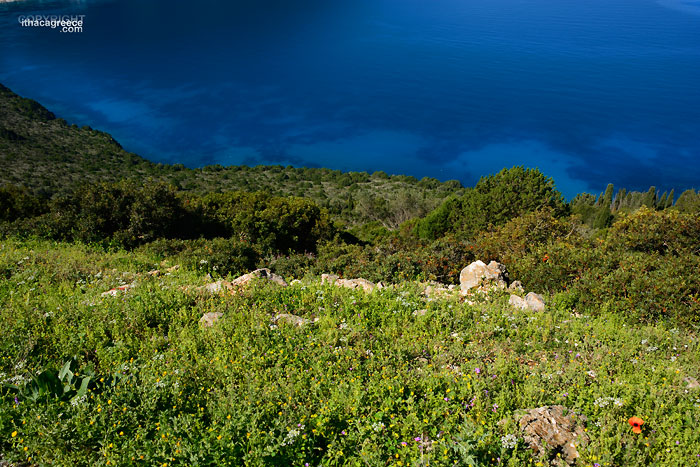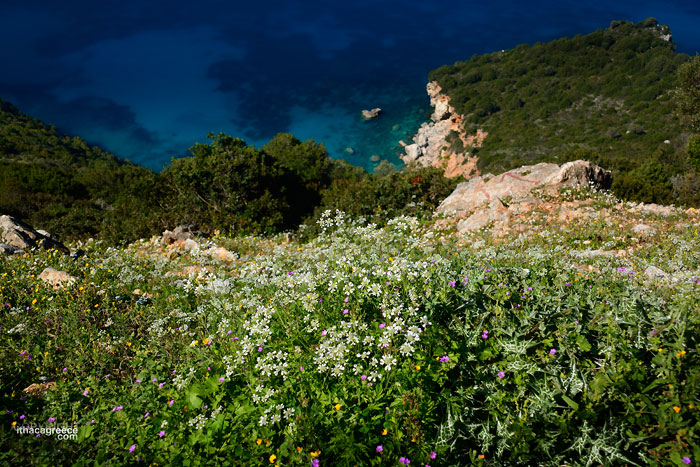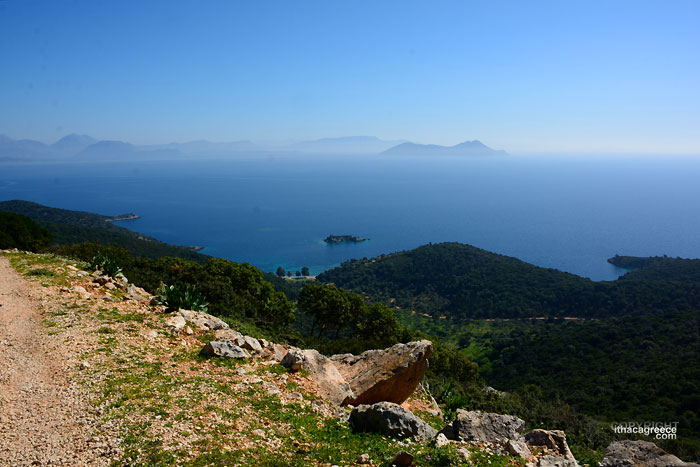 Above - Once you reach the apex of the road from Afales to Marmaka, the road descends again to Marmaka beach (seen below in this photo). It's a wonderful walk, but be prepared for some uphill and downhill activity.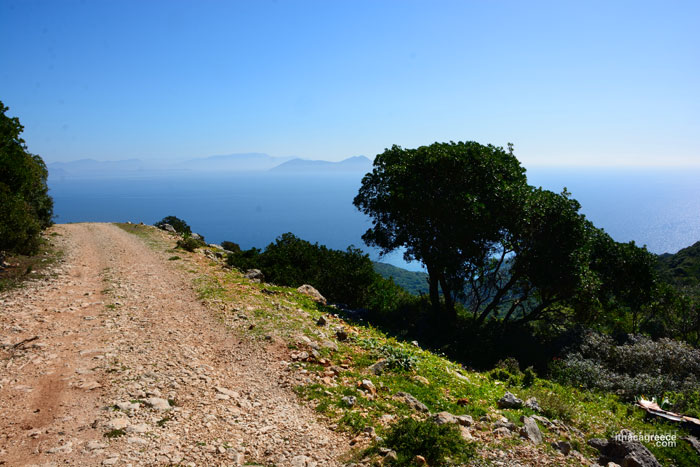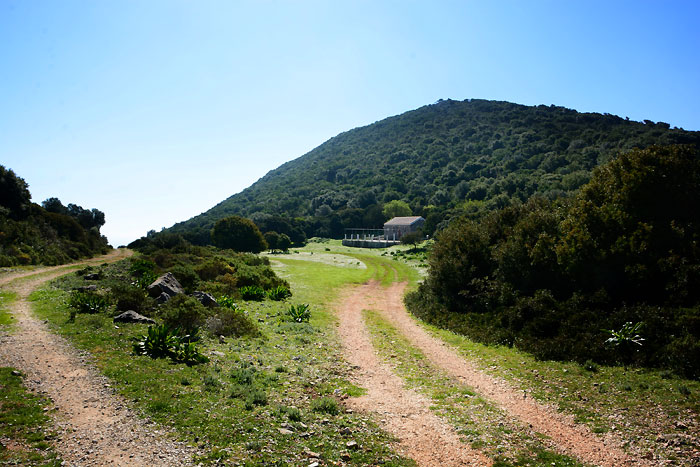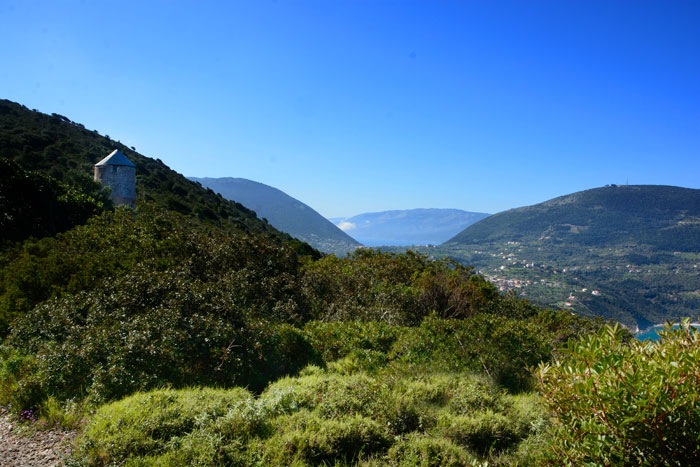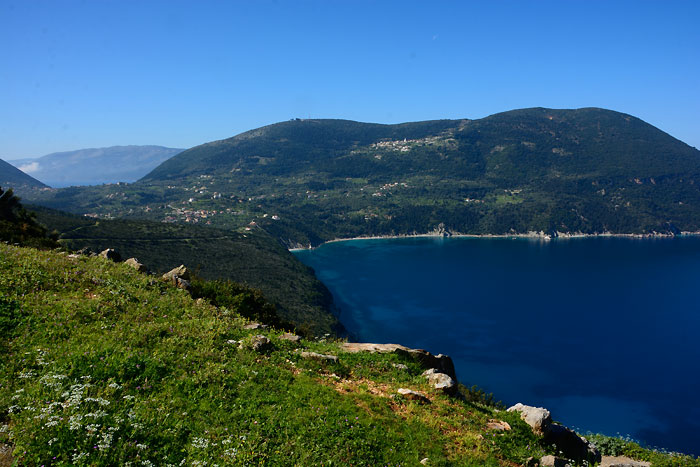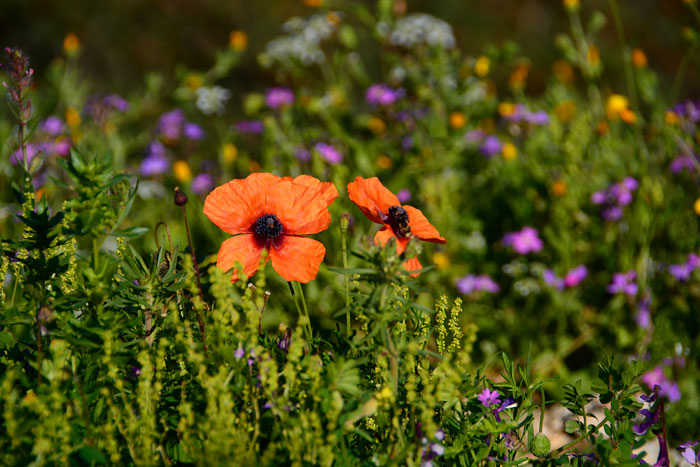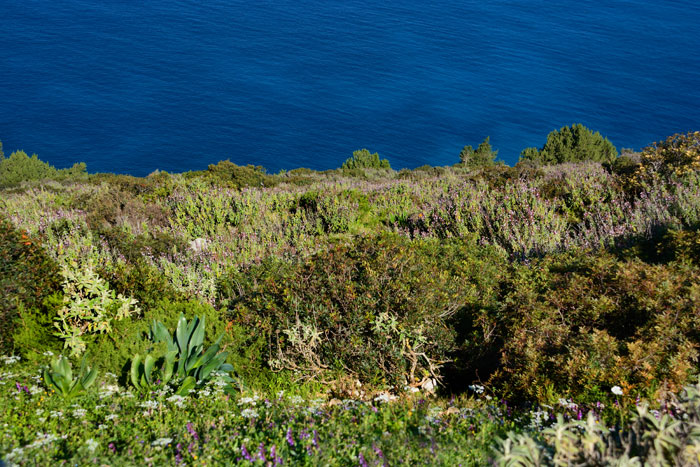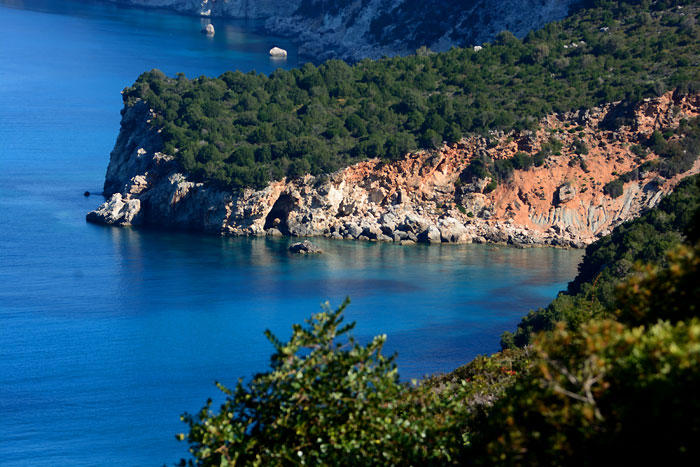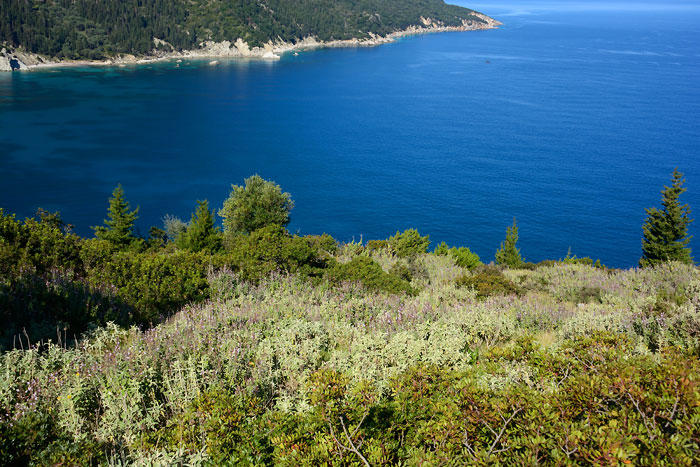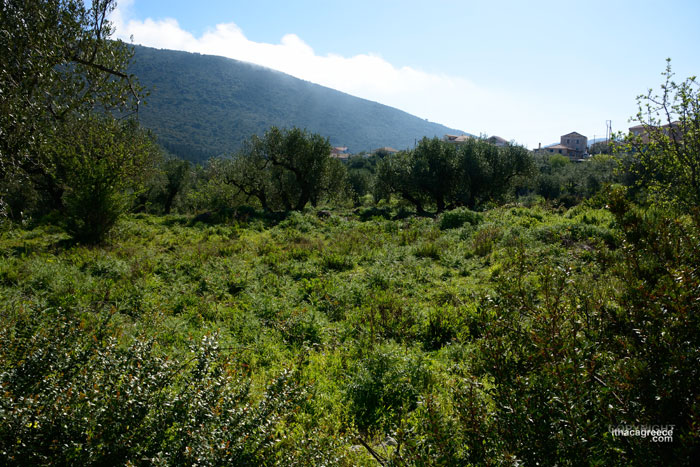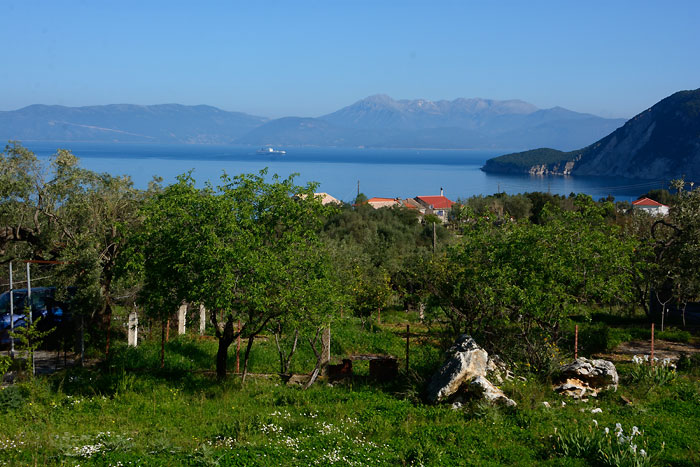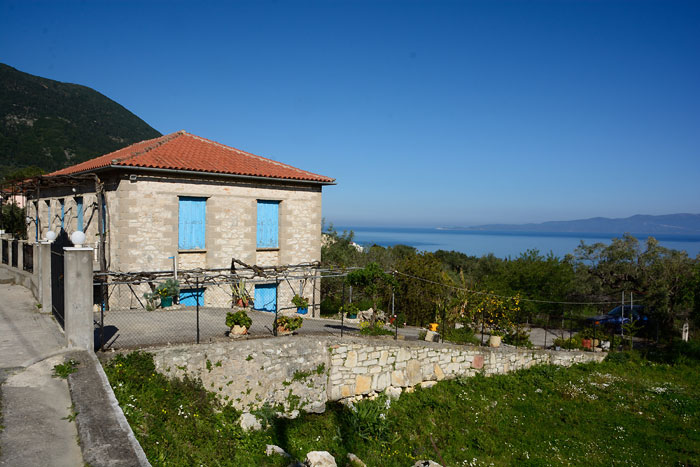 On Saturday, Frikes will be well and truly waking up with a party at Fiorendino Bar. The night's theme is Black and White, so dress yourselves up and head along for another wild night. They're always a little naughty and nice.
Forky's Theatre Group, Ithaki's own, celebrate 20 years with various performances coming up to commemorate this wonderful achievement.
Sunday 3rd -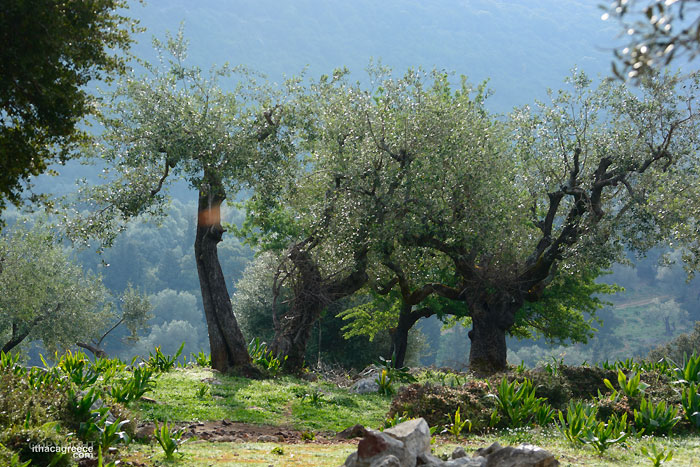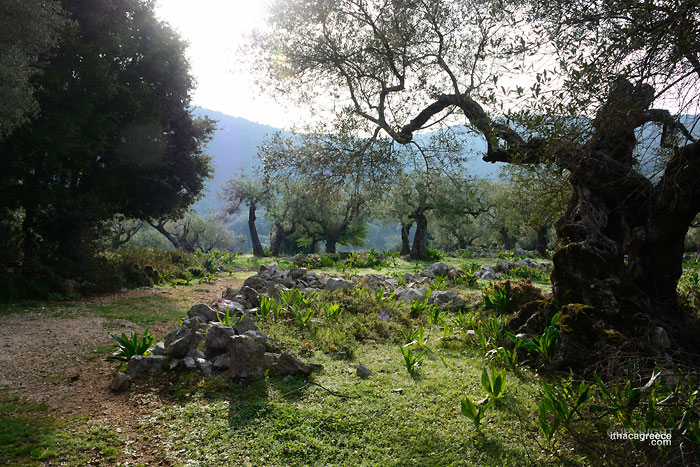 Above - On the outer edges of Stavros past Apostolata area.
Below - Stavros is starting to pick up a bit now that winter is over, but as with other parts of the island, things are generally quiet.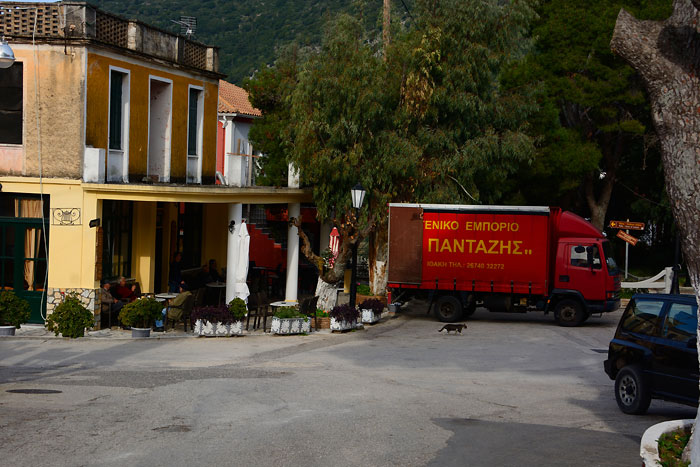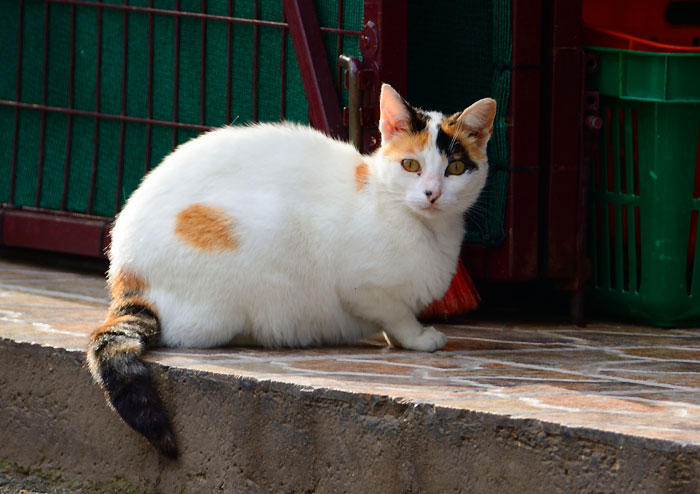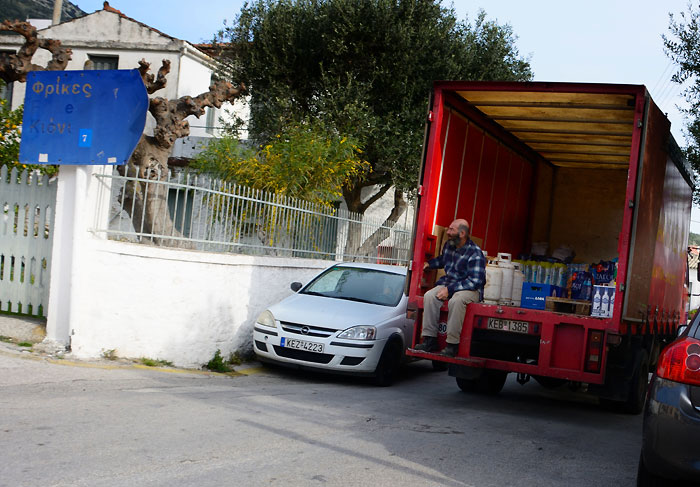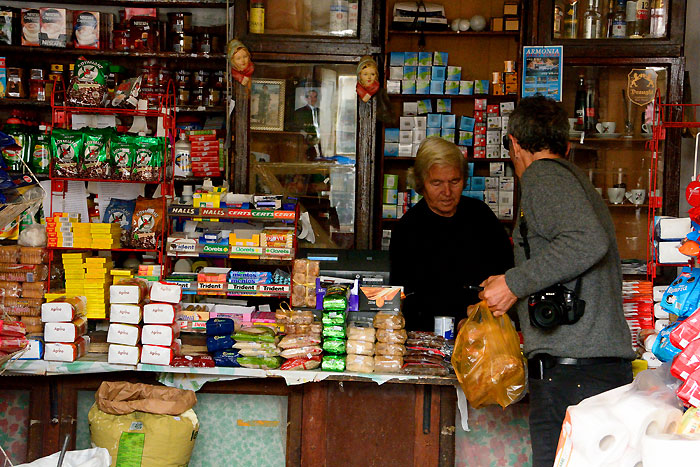 Above - Another Ithacan (Stavros) icon, Kosmas mini market. This little shop has much of what the community needs in terms of groceries and remains as traditional as one can be in such modern times.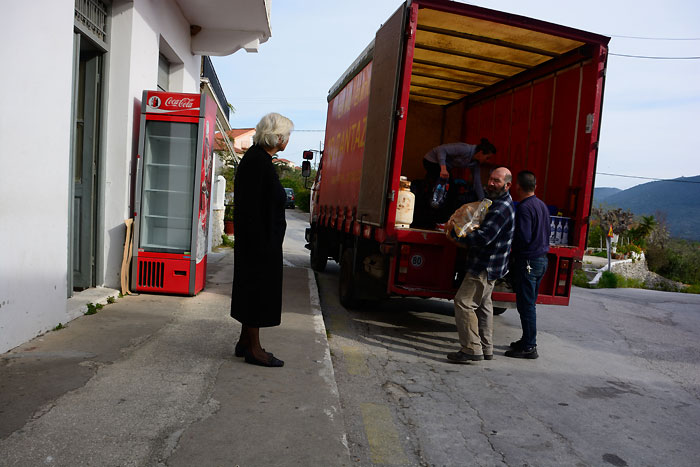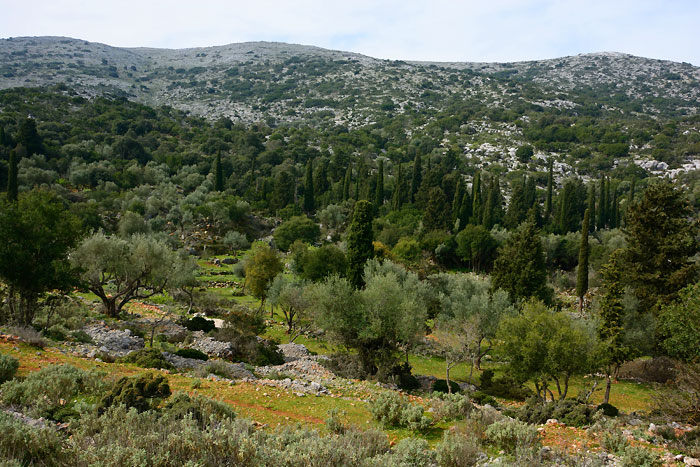 Above - The barren hills of Anoghi. It's hard to imagin that back in the days of the pirates, this was so heavily inhabited, with quite a substantial community. High in the hills away from the water.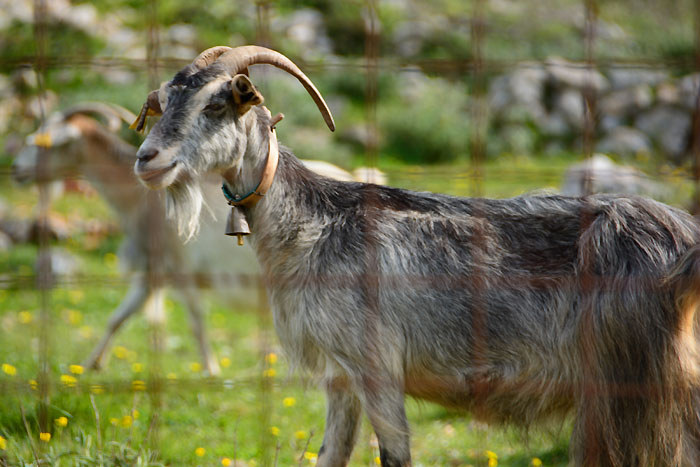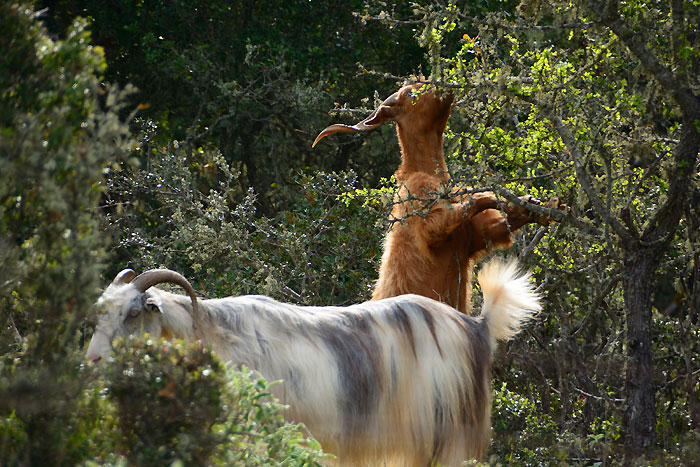 Tuesday 5th - The Vathy square is beginning to see some life again.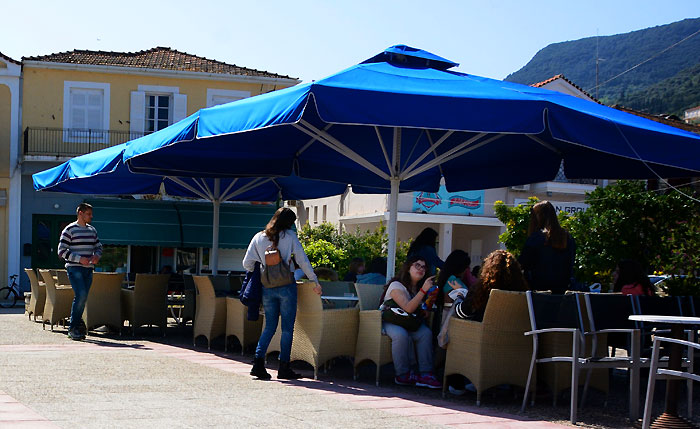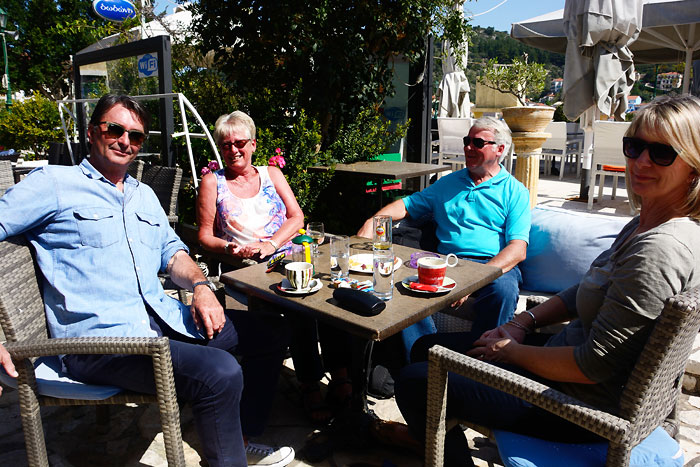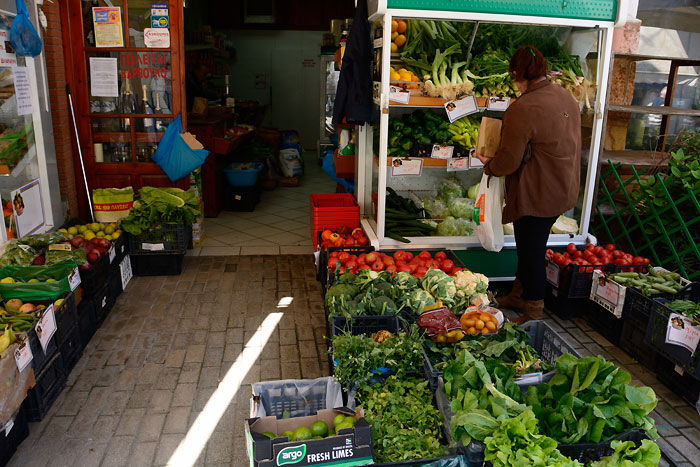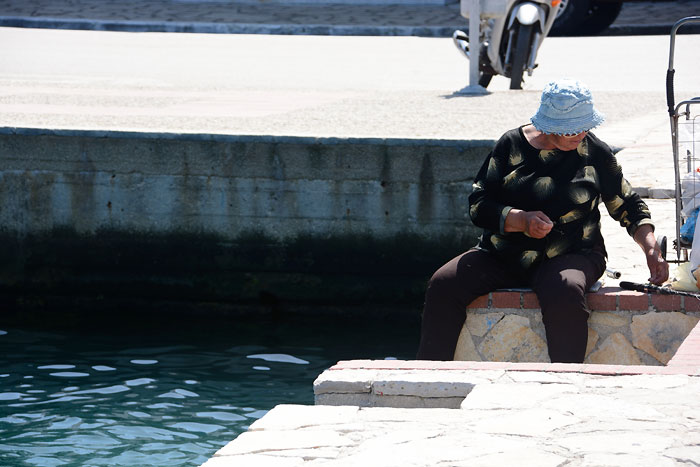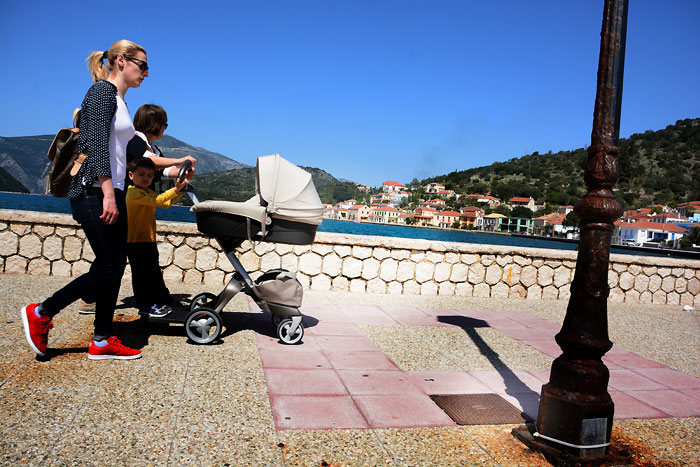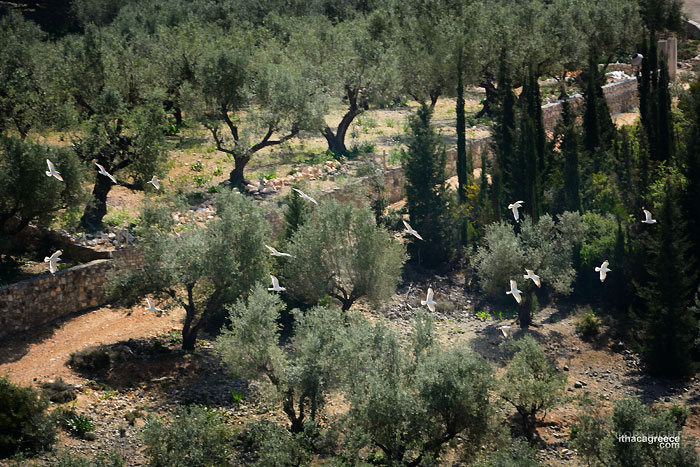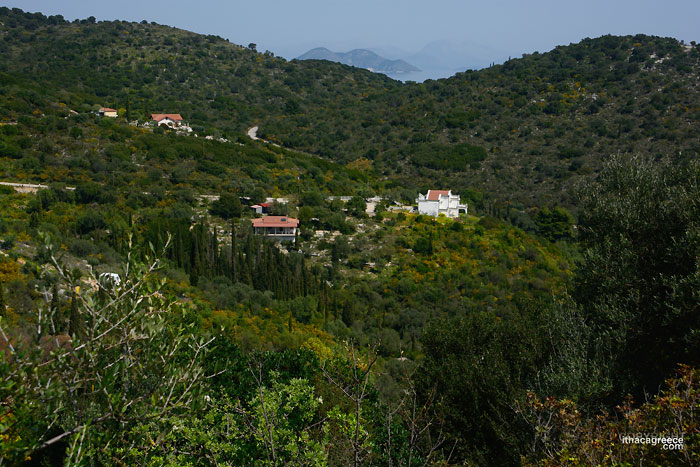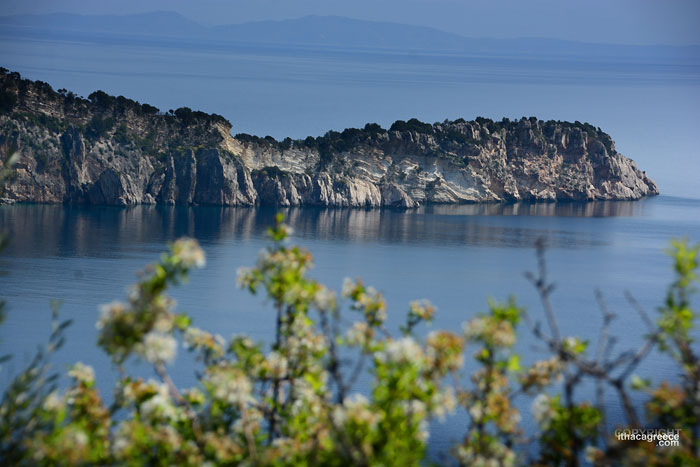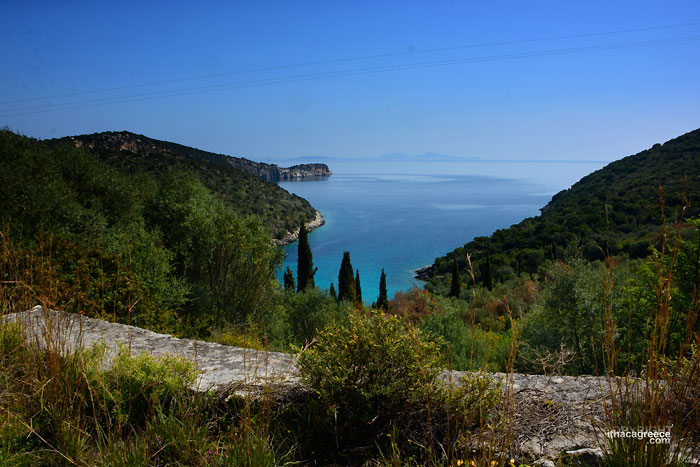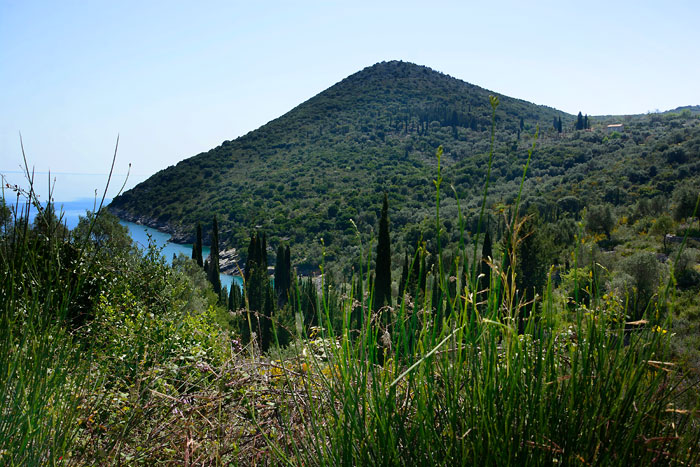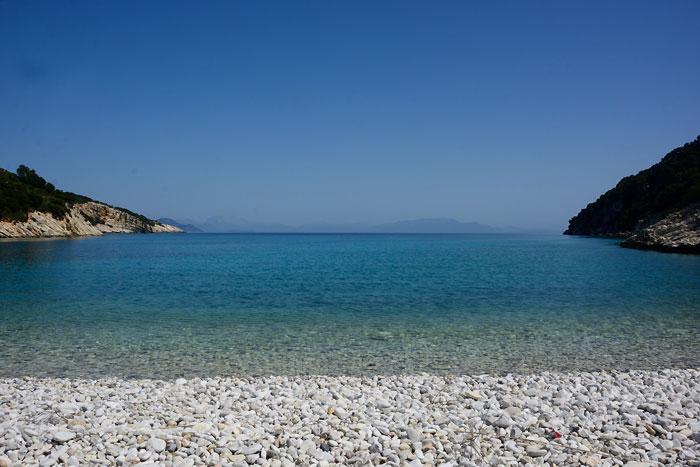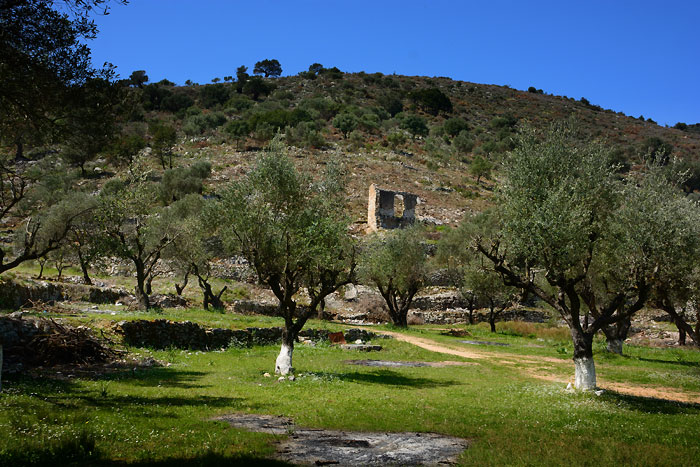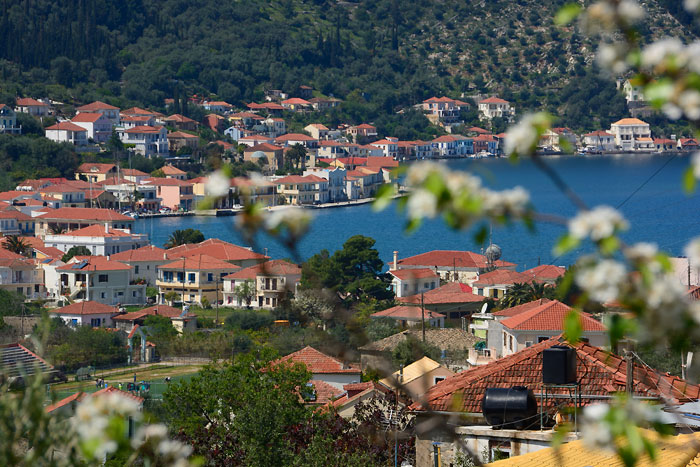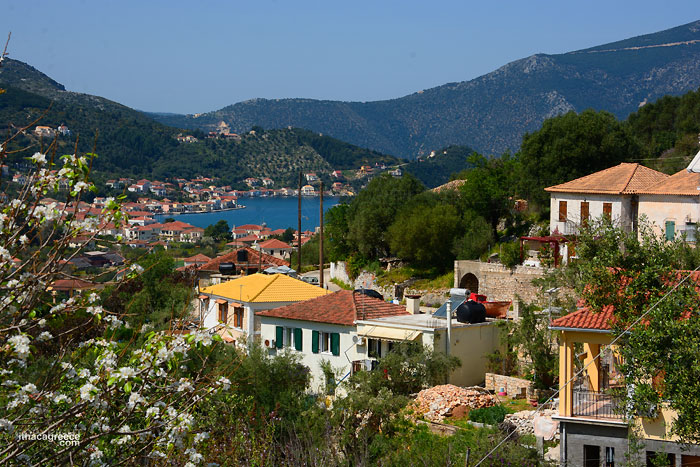 Tuesday 12th - We've had a little rain over the past couple of days, but today the sun is shining that brilliant Spring light all over us. Absolutely stunning day. Way too good to be inside.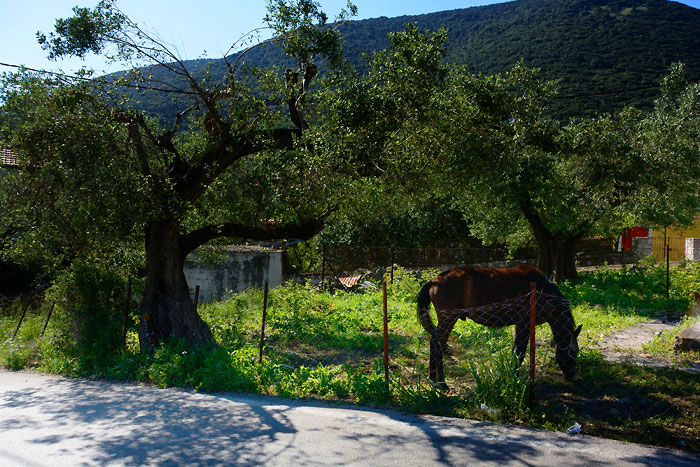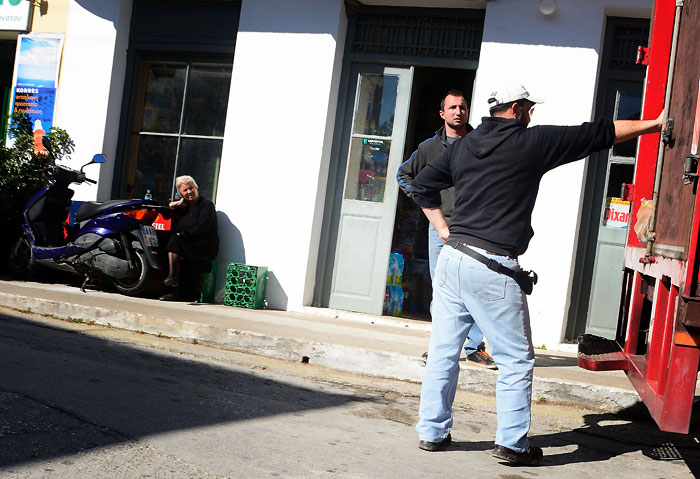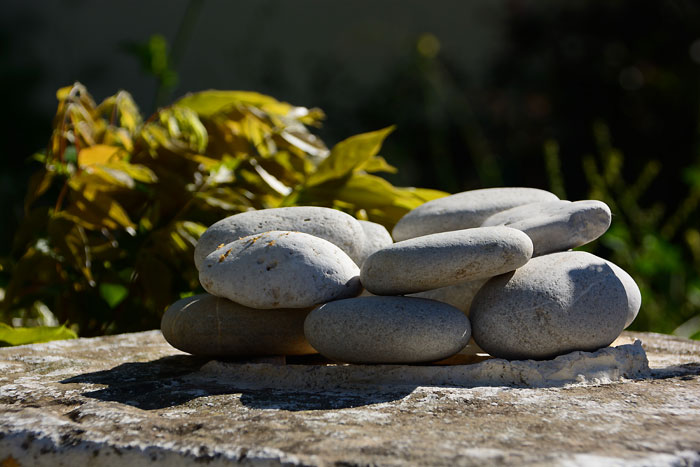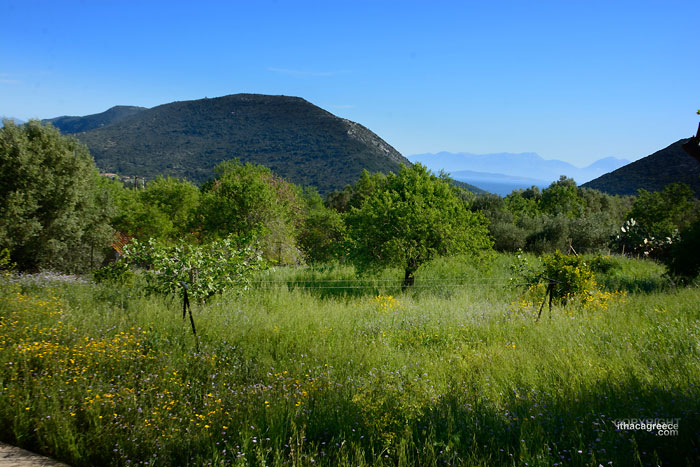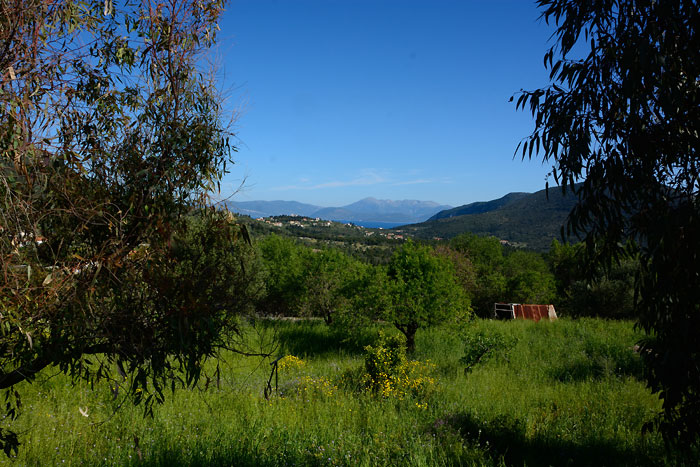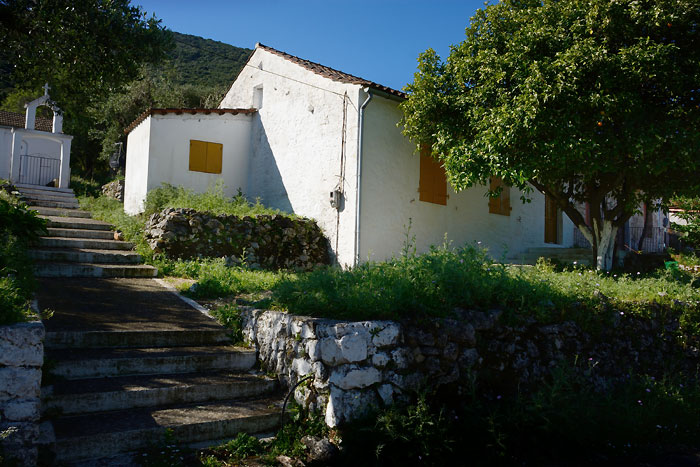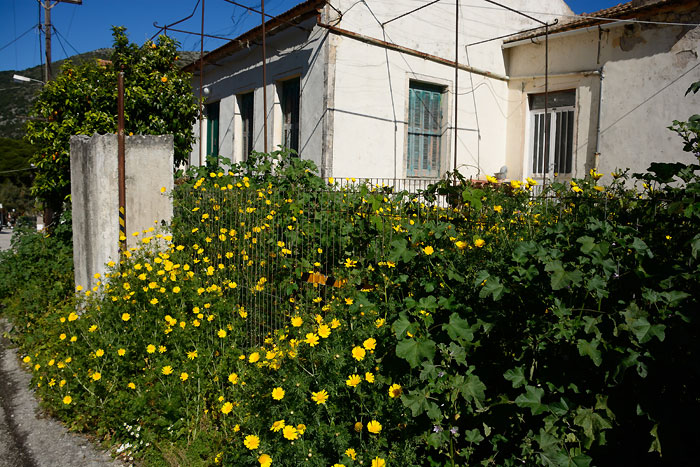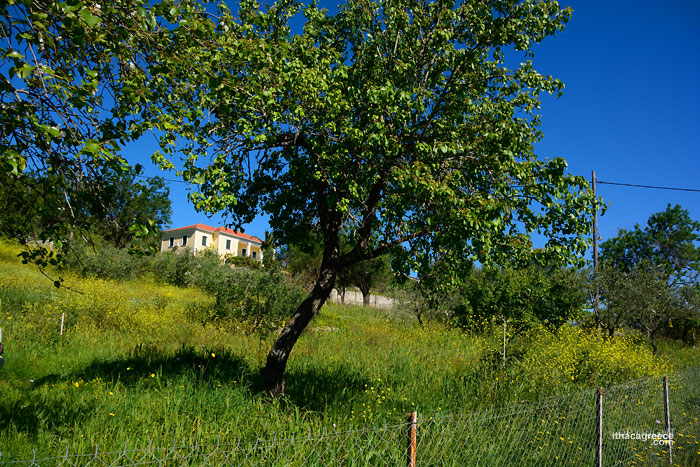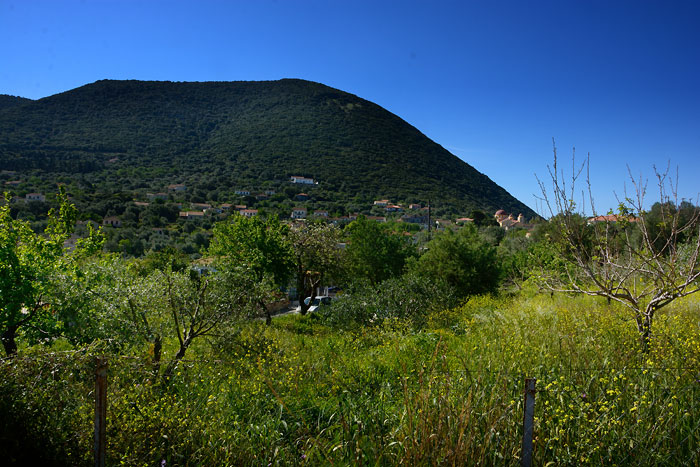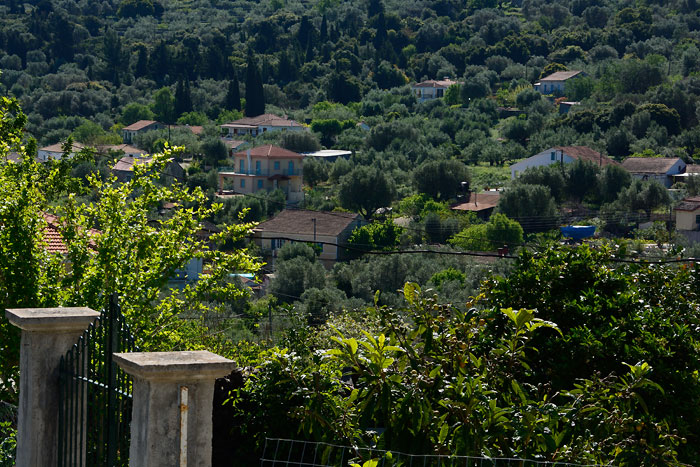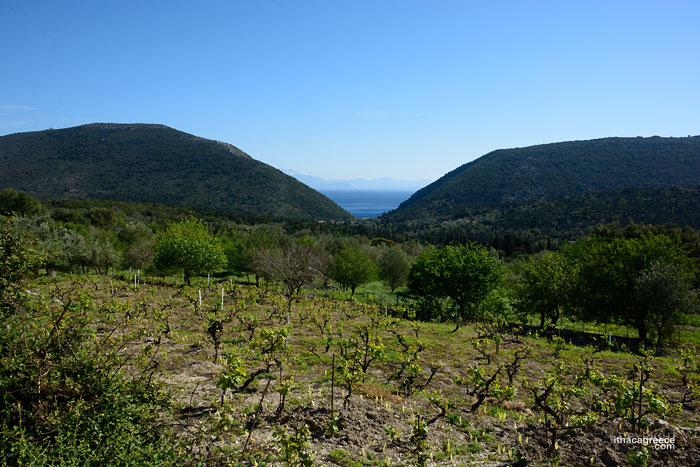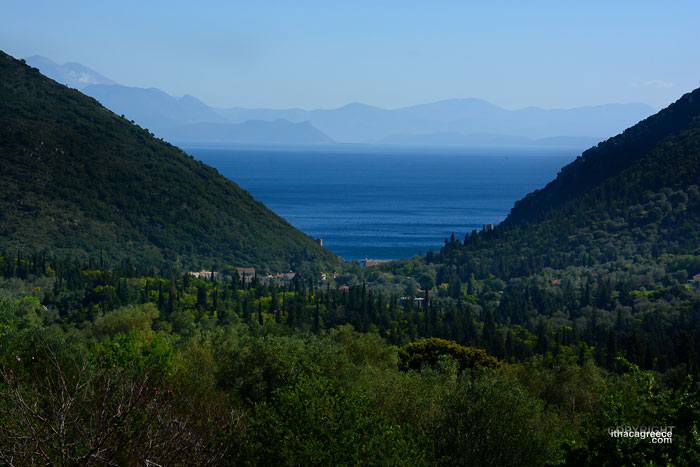 Don't forget to catch The Women of Ithaca at the Cultural Center in Vathy on Friday night. Opening night. This Forkis theatre presentation will be much enjoyed. I'm going to try to get along to the dress rehearsal for some photos.
It appears the old Lefki School has been restored. There will be the re-opening as a commmunity center on the 15th May. I'll be there to see cutting the ribbon.
Also, after the earthquakes late last year, the damage to the Stavros museum was such that all the artefacts have been removed and taken down to Vathy. There is no museum in Stavros until further notice.
Have been lucky enough to see a couple of episodes of the Durrells as shown on ITV in the UK. Idyllic Greece, set in Corfu during the 1930's. Corfu is beautiful of course, but those days of old where tourism hasn't devoured every bit of tradition and charm, can really only still be found right here on Ithaca. Same side of Greece, just a little further south.

---
April 2016
The hills are alive with Spring flowers
Friday 1st
Ithaca is exploding with beauty this month.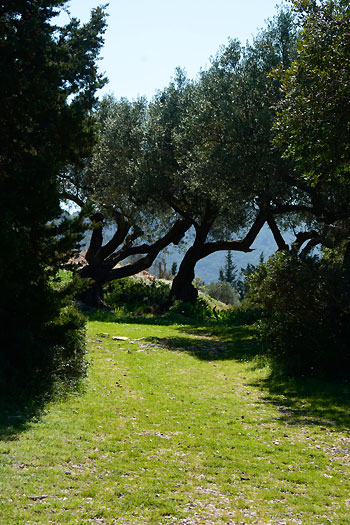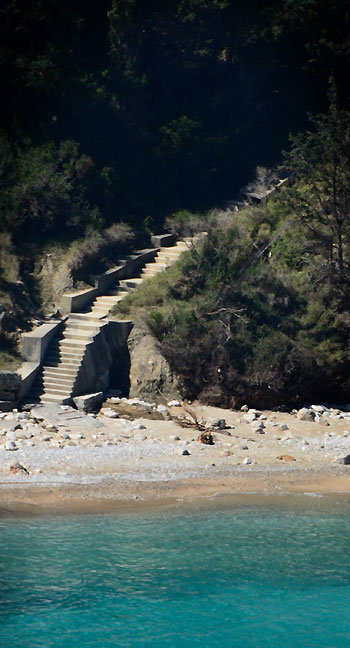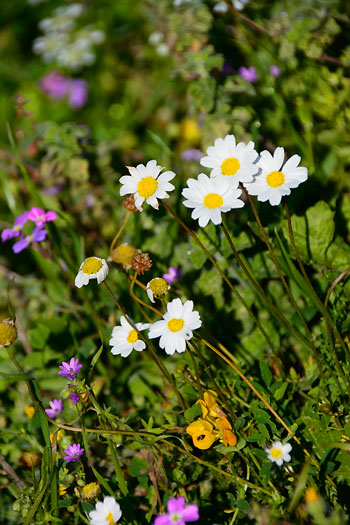 Wild flowers wherever you look now. So pretty and colourful.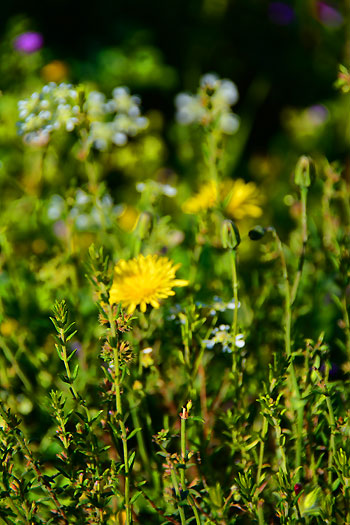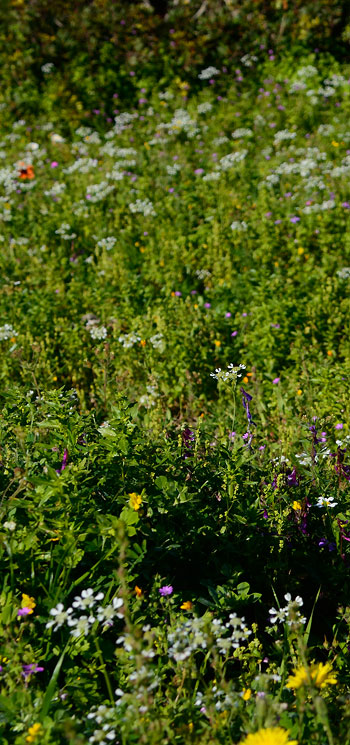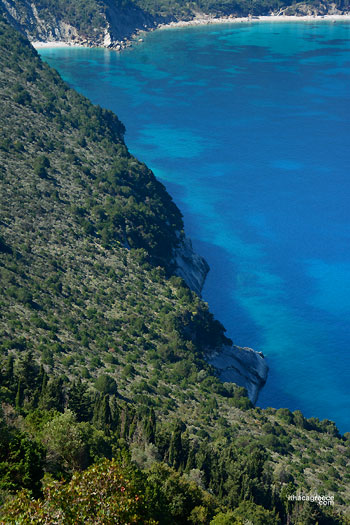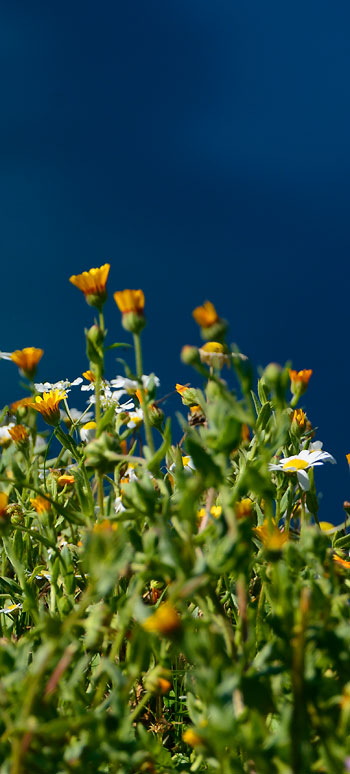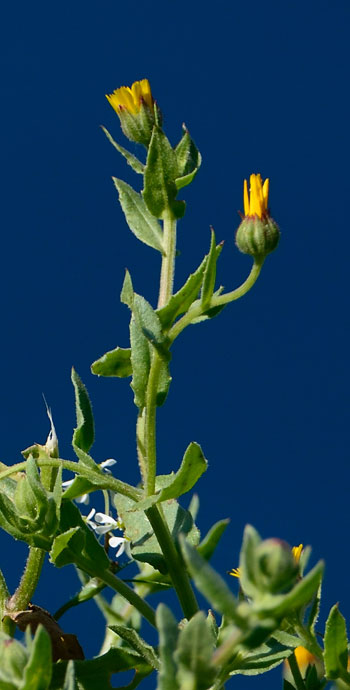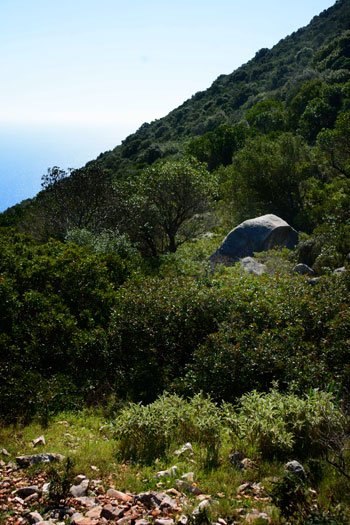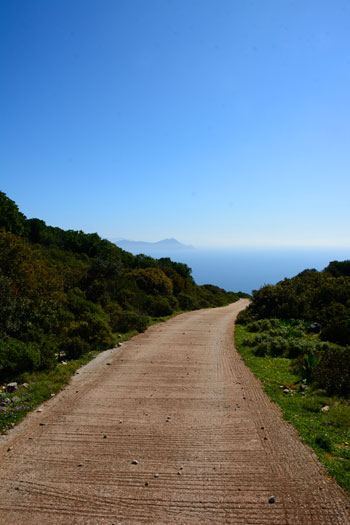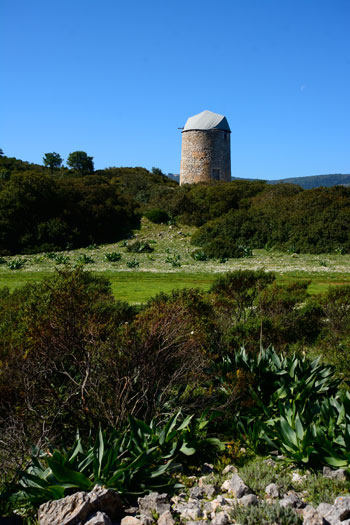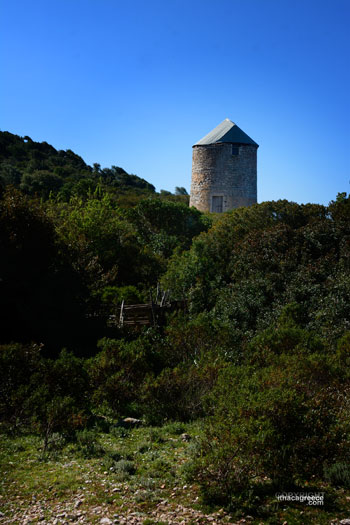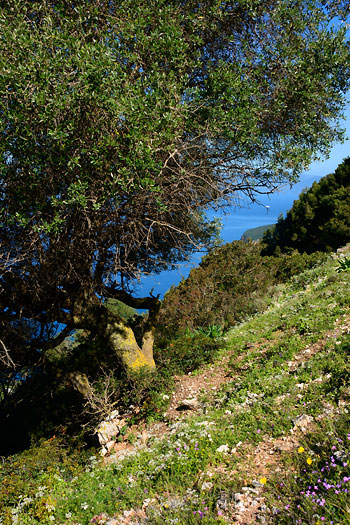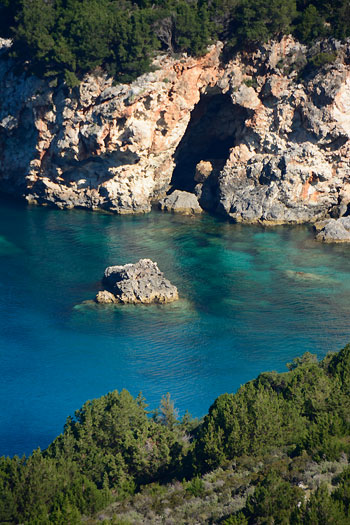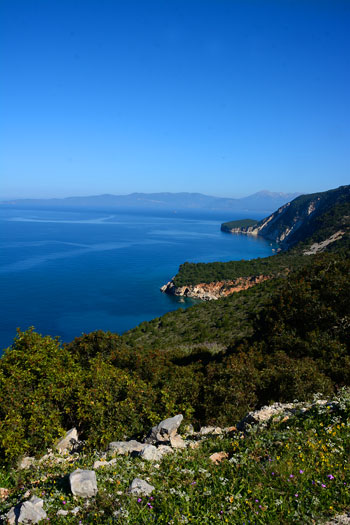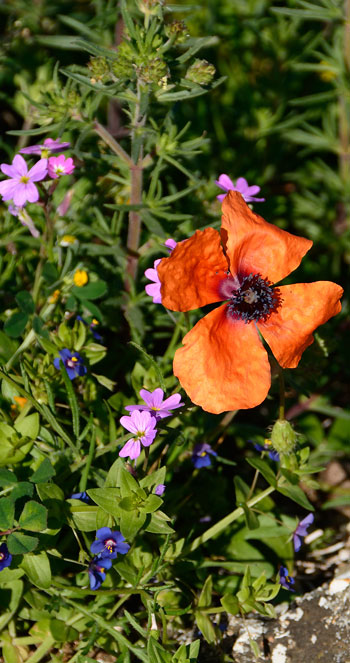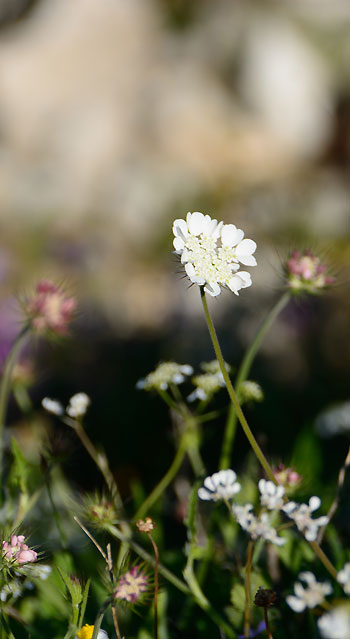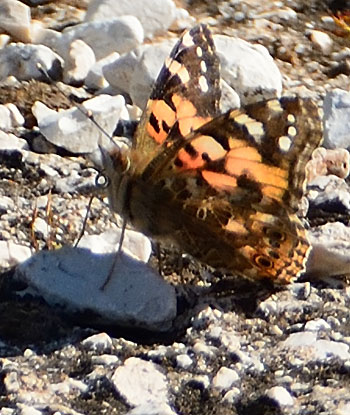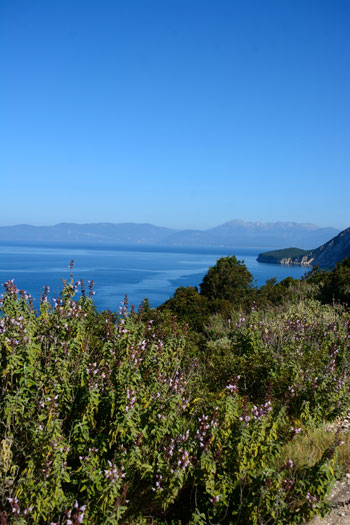 Sunday 3rd - The weather is really beginning to warm up now. It may still be a bit cool early morning and evening, but through the days, the sunshine is telling us to put our winter woollies away.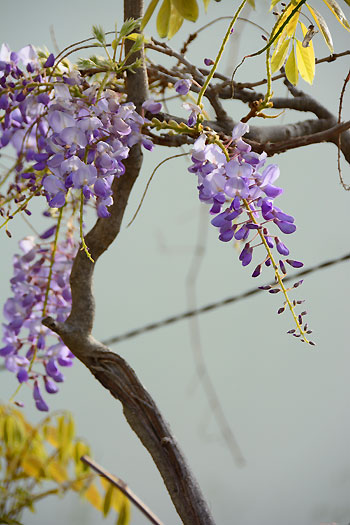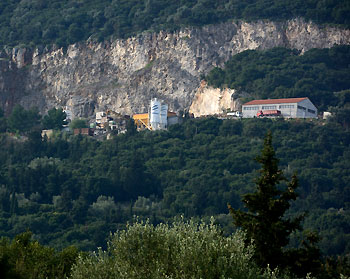 Above - Not everything is beautiful, some things are becoming quite an eye sore. Stavros is growing up to the quarry as it's boundaries expand beyond the town center, leaving some hill areas very dusty and dirty at times.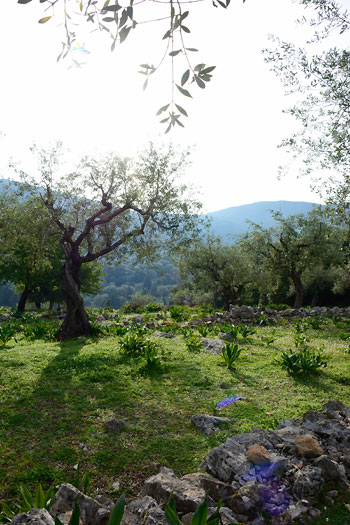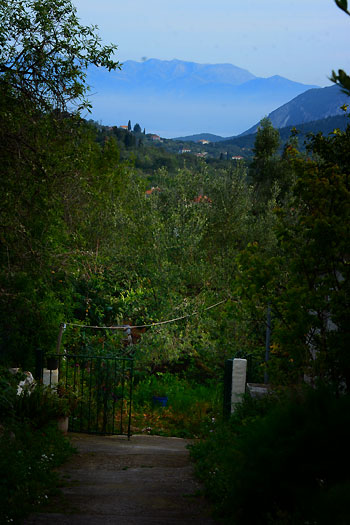 Below - For as long as I can remember, these road signs have been blank, having had whatever information was printed on them, washed off by rain along time ago.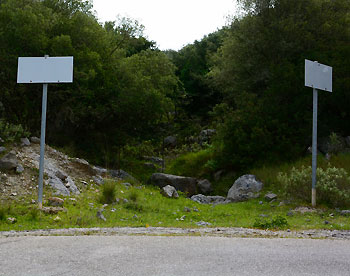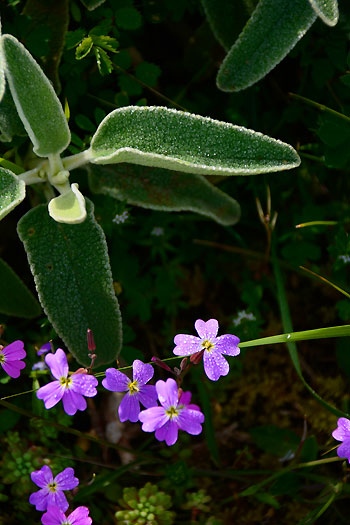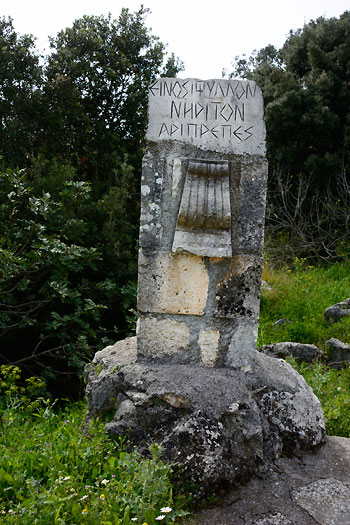 Tuesday 5th - Yesterday the temperature gauge reached 24C. Absolutely beautiful day. Looking out my windown now, the sky is blue to the horizon, the sun is shining and the birds are singing. The weather is too good to be inside.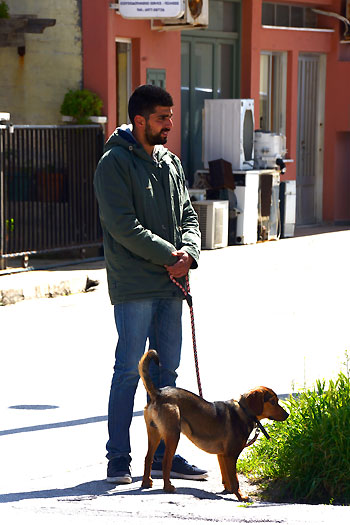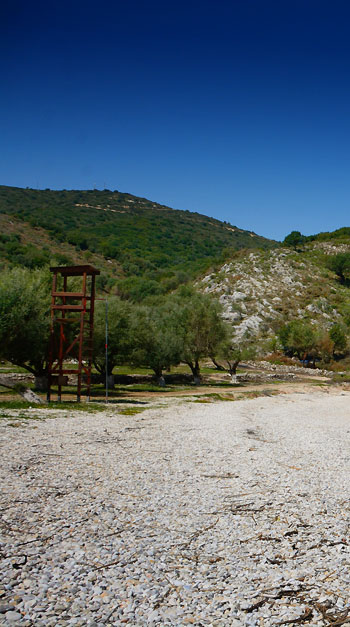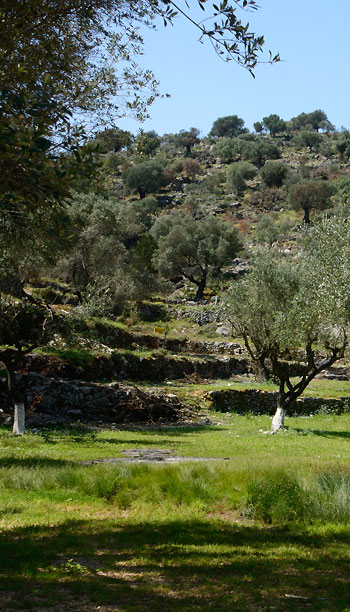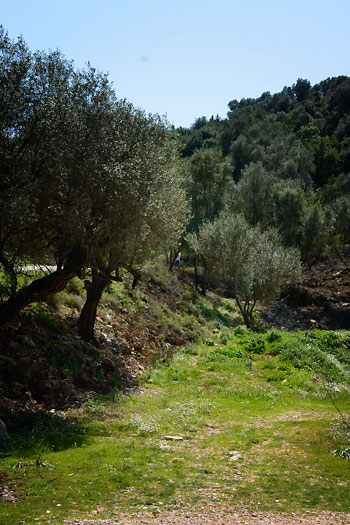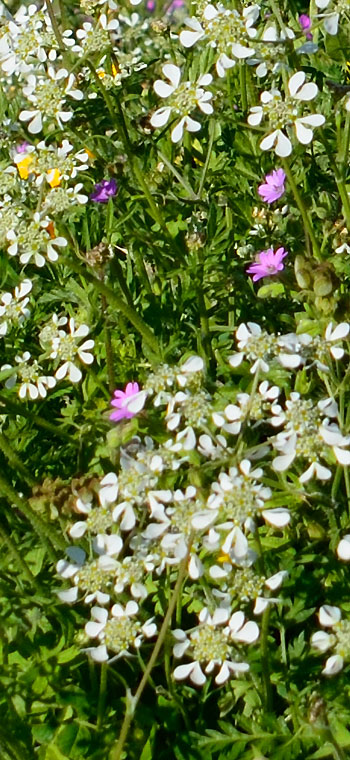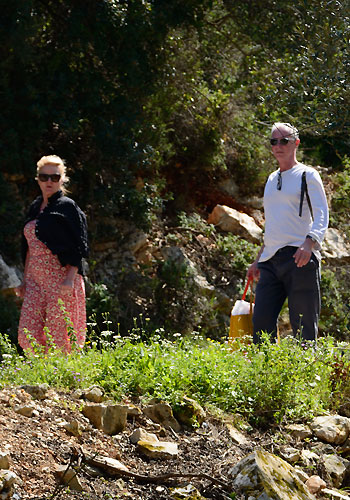 Nice to see visitors already coming to Ithaca and taking advantage of the great weather. Locals too, are beginning to emerge after staying put through the winter.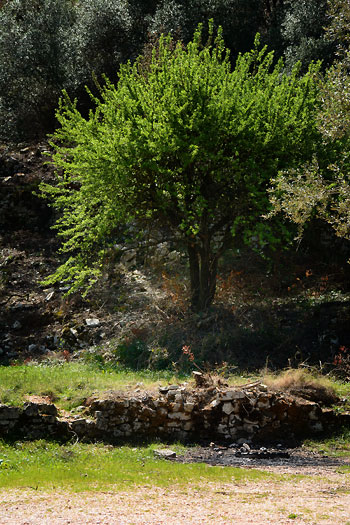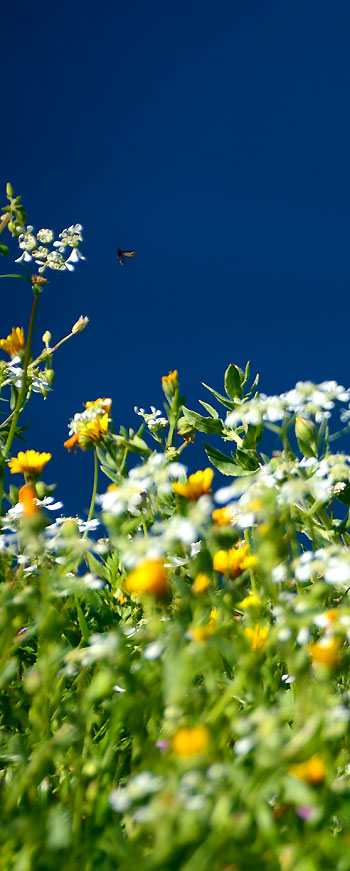 Forkis Theatre group is putting on another performance this month called 'The Women of Ithaca'. I think it's going to be really wonderful. Dates are all on the Ithaki Calendar, 15,16,17 April and 3rd of May at the Cultural Center in Vathy. Starts at 9pm.
I don't know the entire premise of the performance, but I did have the pleasure of recording some of the letters that will be featured, so I know it will mean alot to the community.

I love Springtime on Ithaca!!
Tuesday 12th - Beautiful days ahead.