What's New On Ithaca Greece
April on Ithaca
Blue skies, blue seas and wild flowers across the island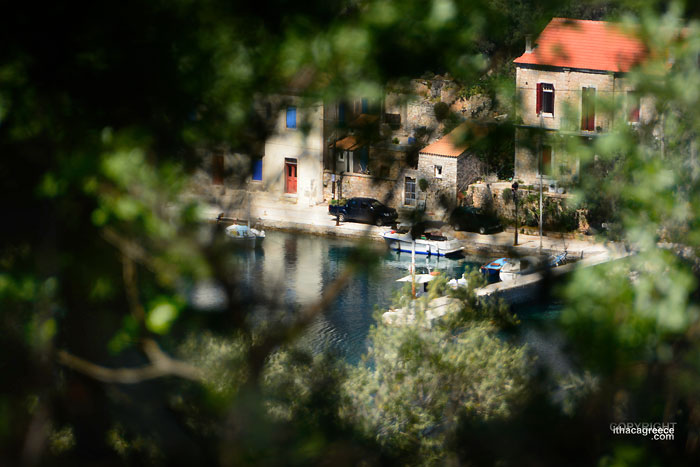 April 2016
Monday 18th - Beautiful sunny days with lots of sunshine and that great feeling of Spring in the air. Below - Some pics from around Kioni and Raxi.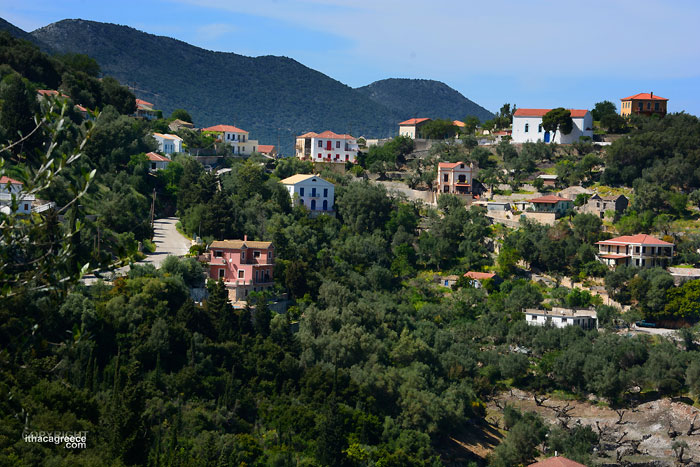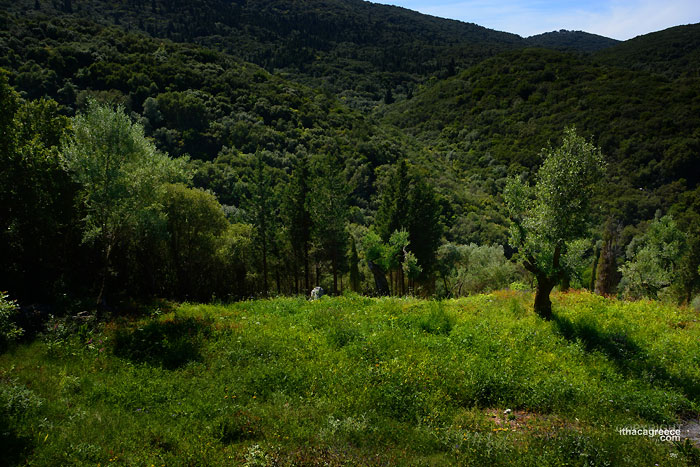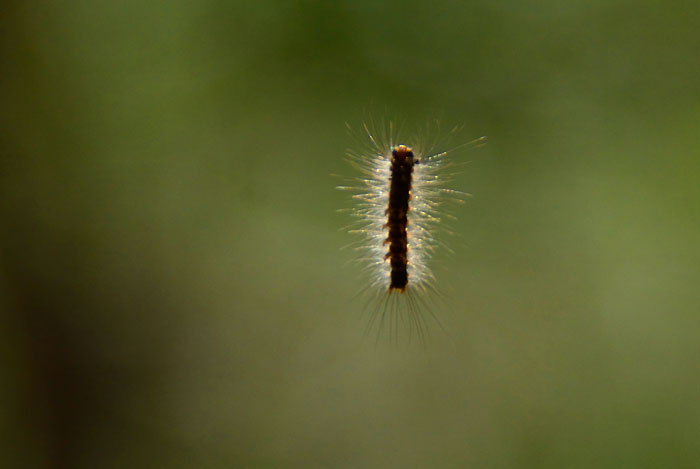 Above - Caterpillars floating in the air between Kioni and Vigla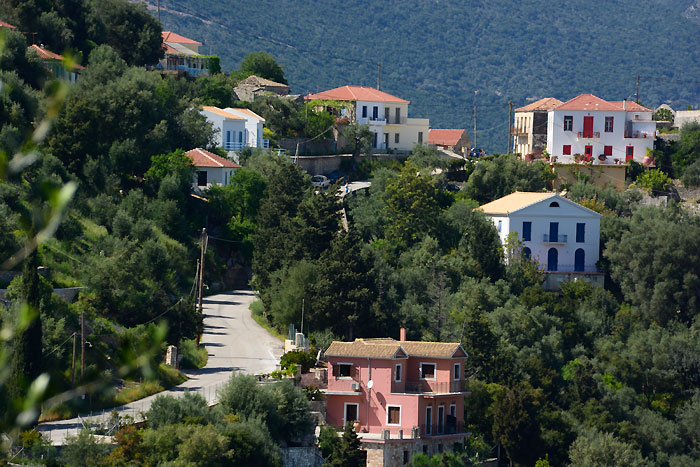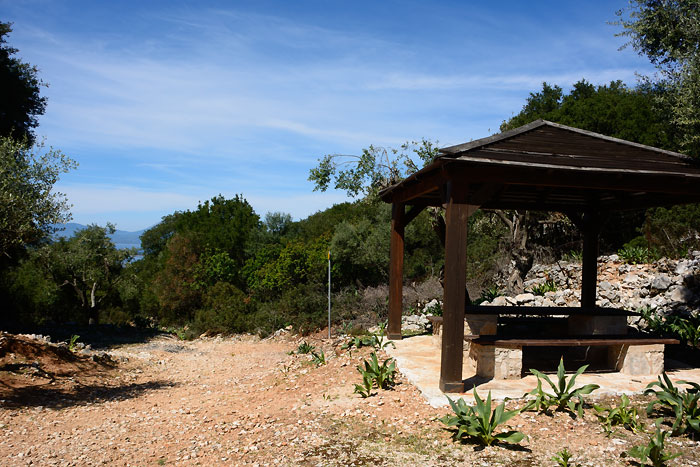 The uphill walk from Kioni to Anoghi has been made a little easier with this resting/picnic spot on the way.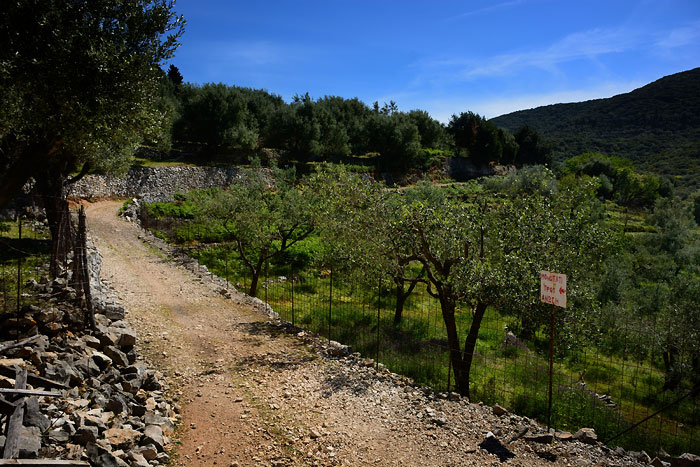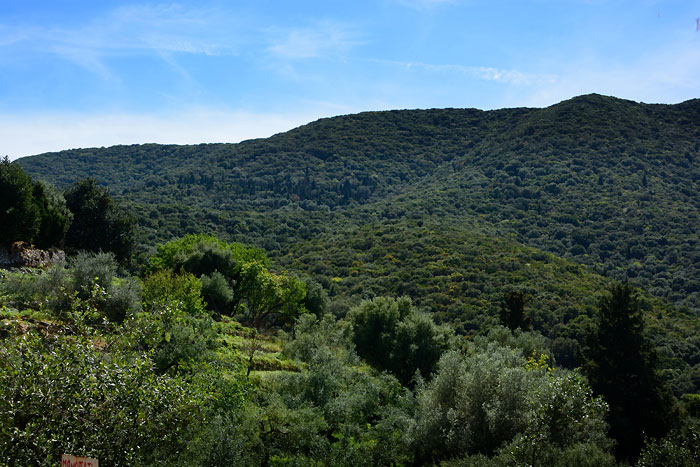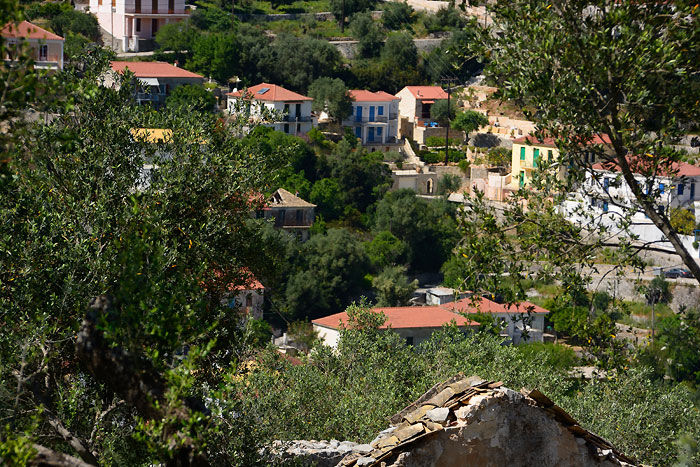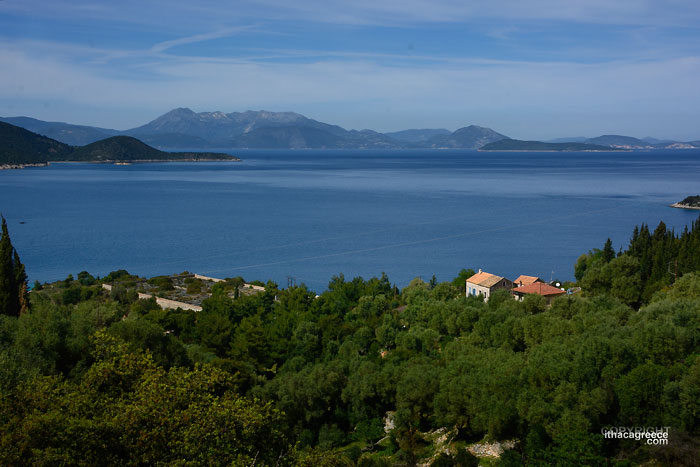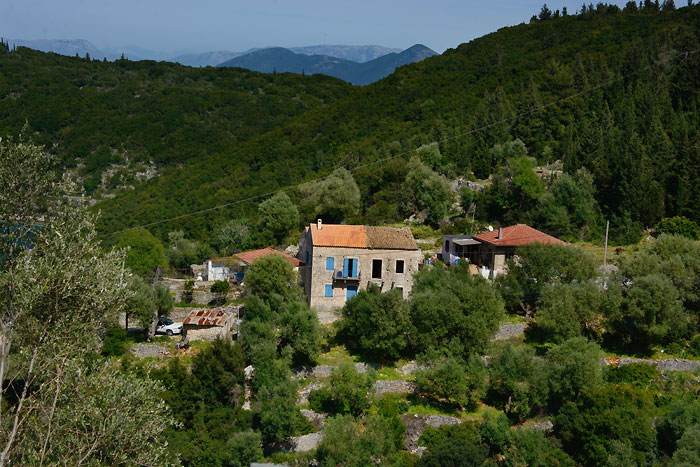 Tuesday 19th - We took a little walk around Kioni toward cemetary beach. See pics below.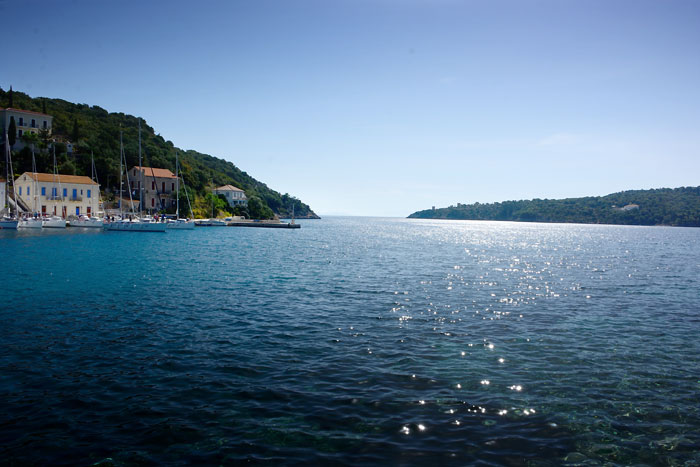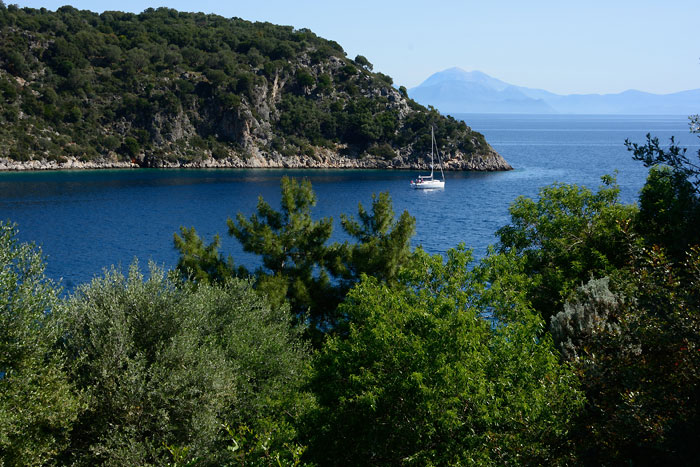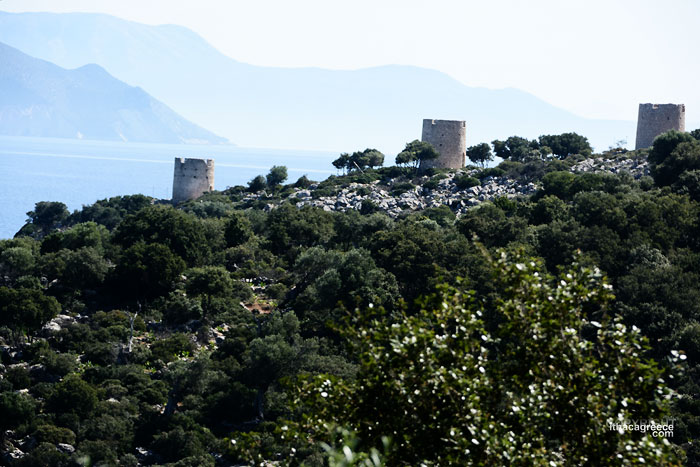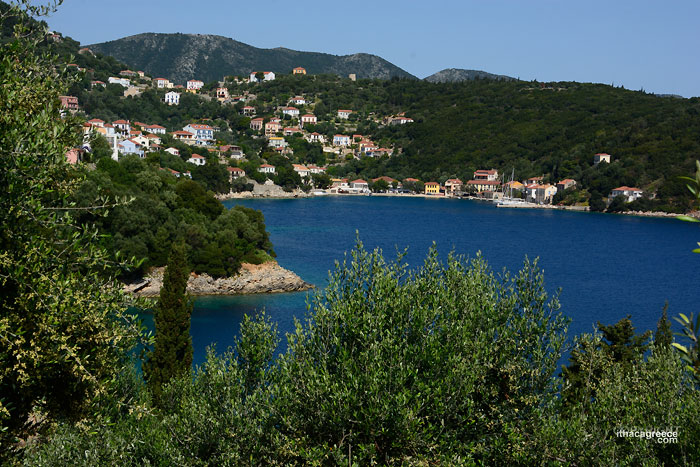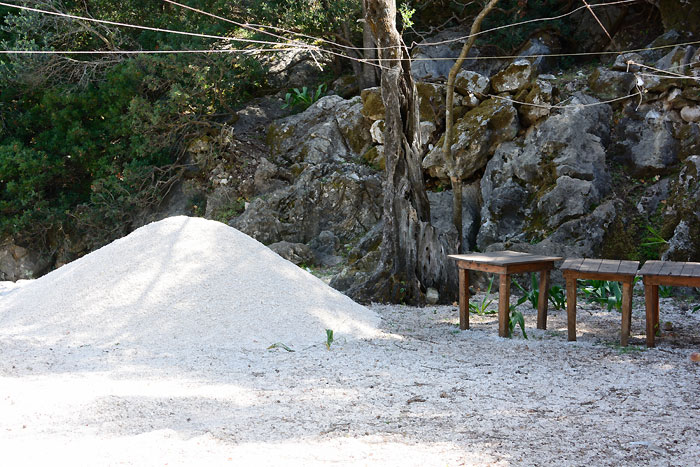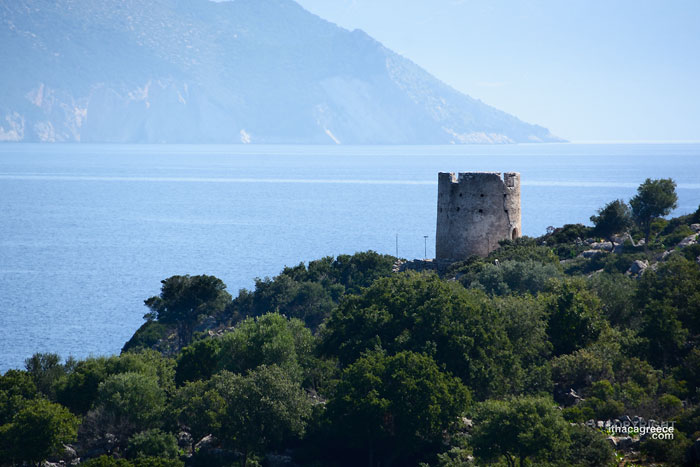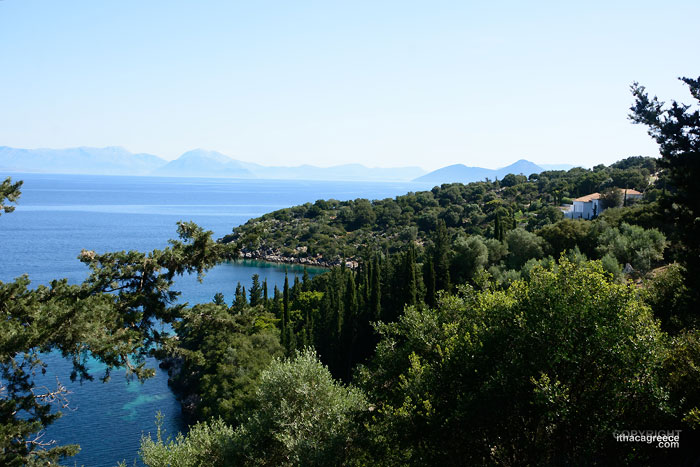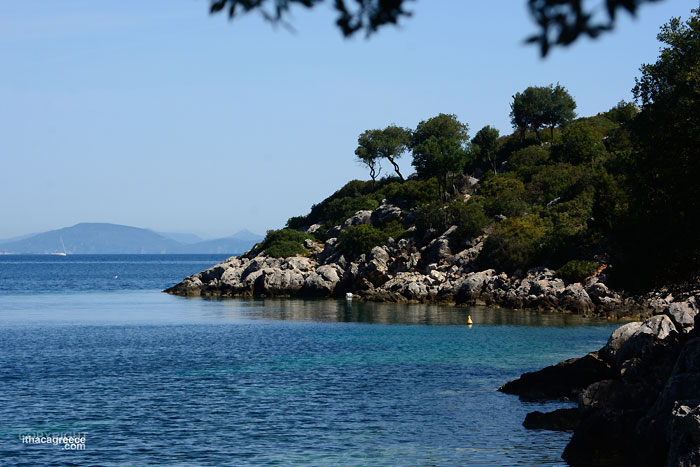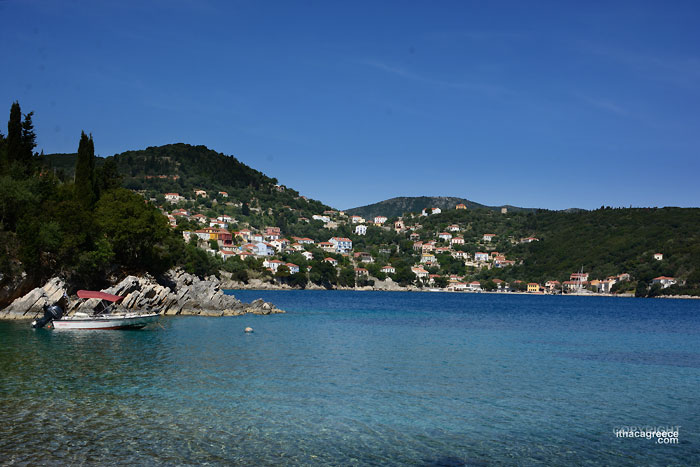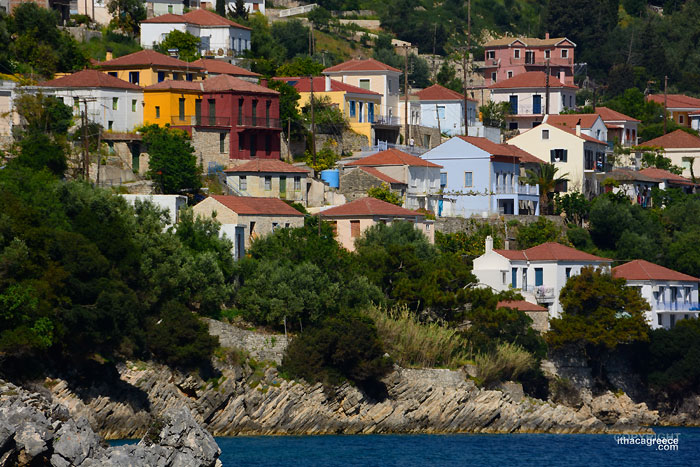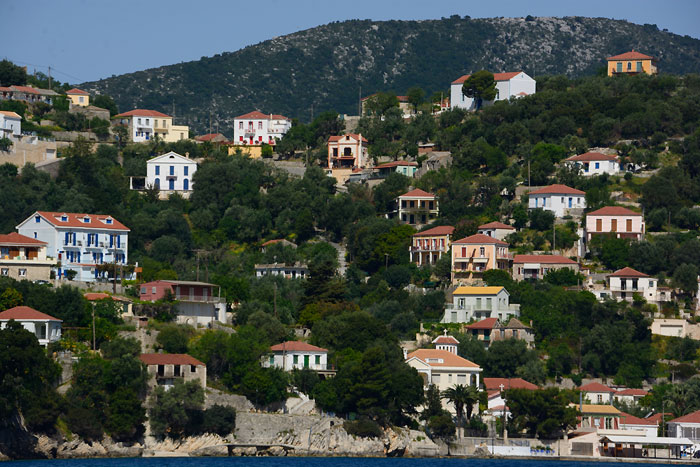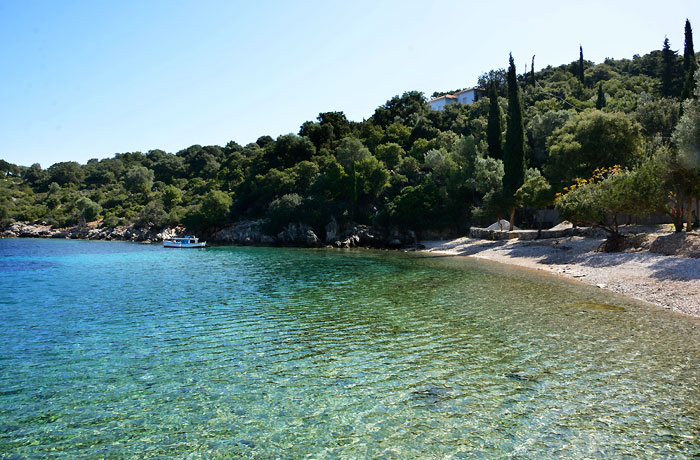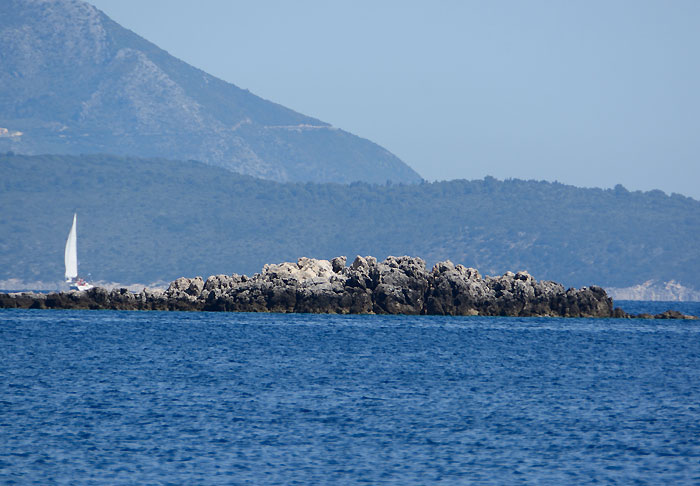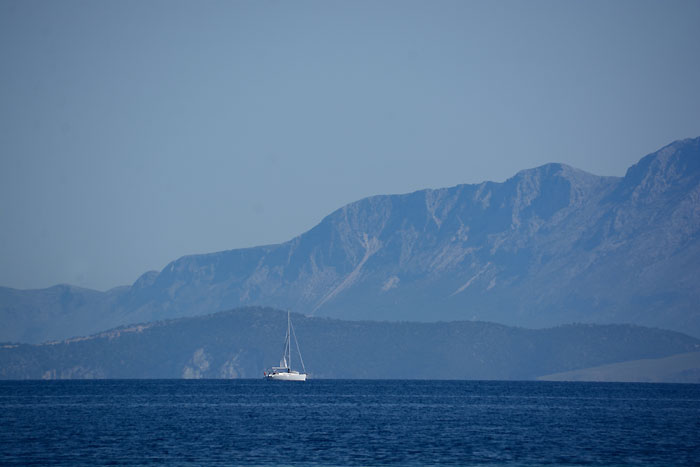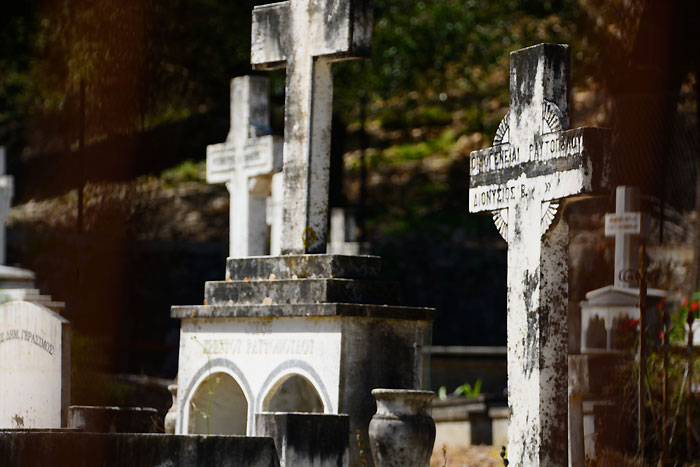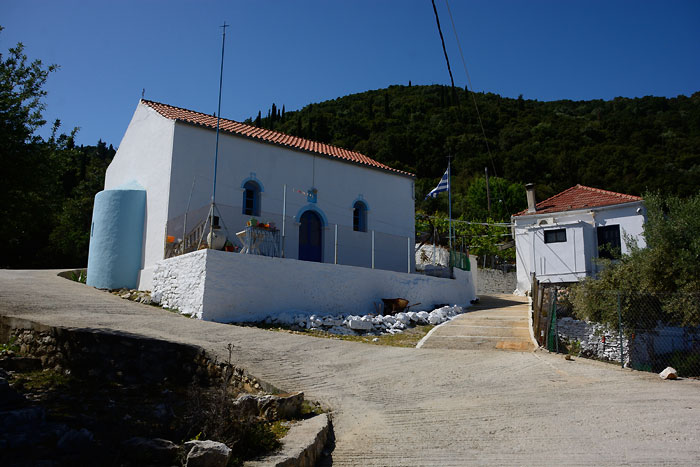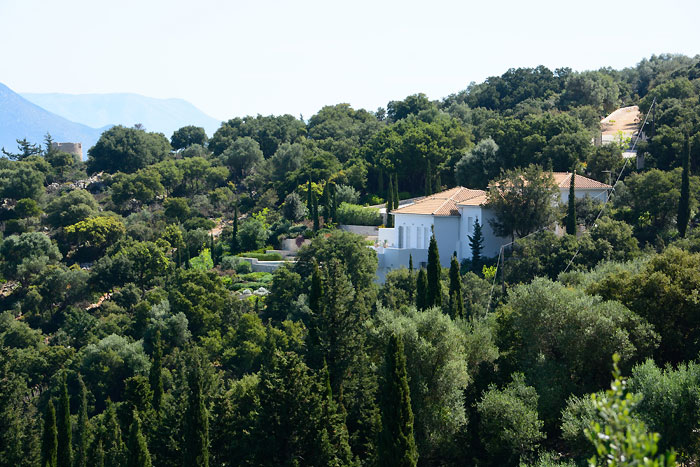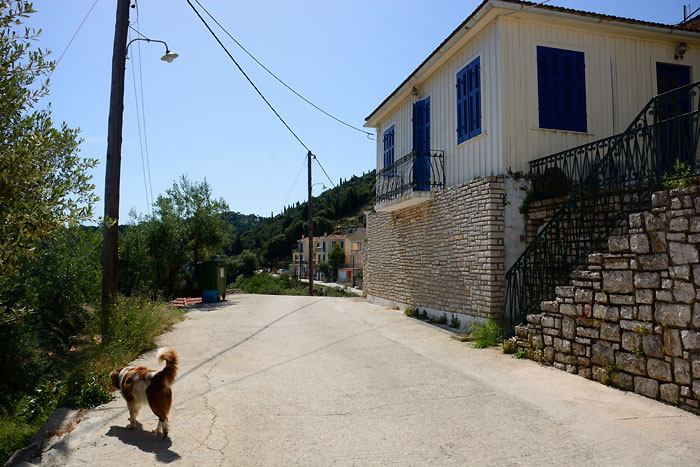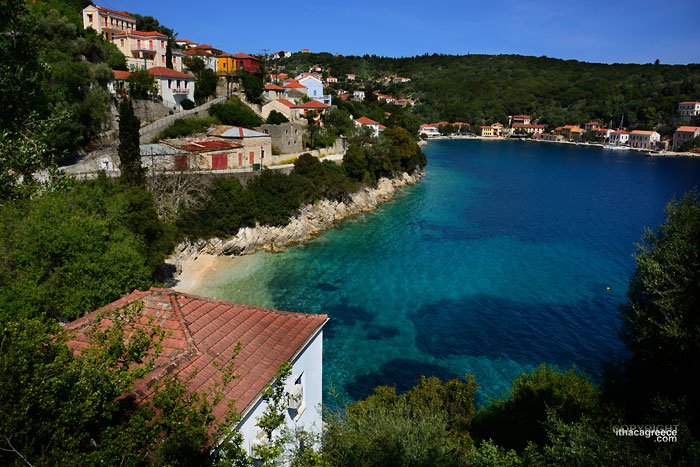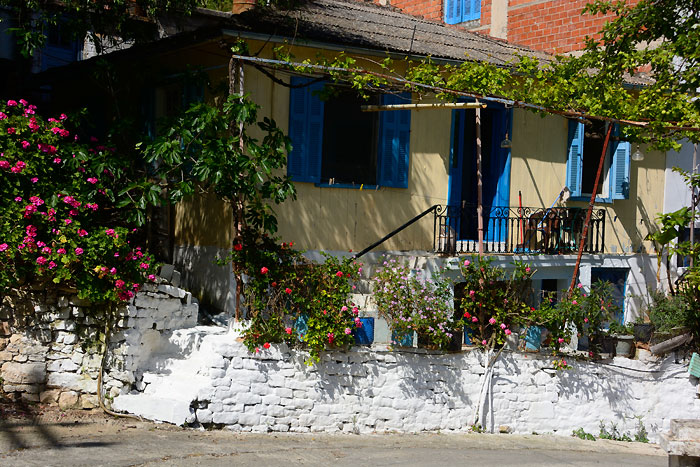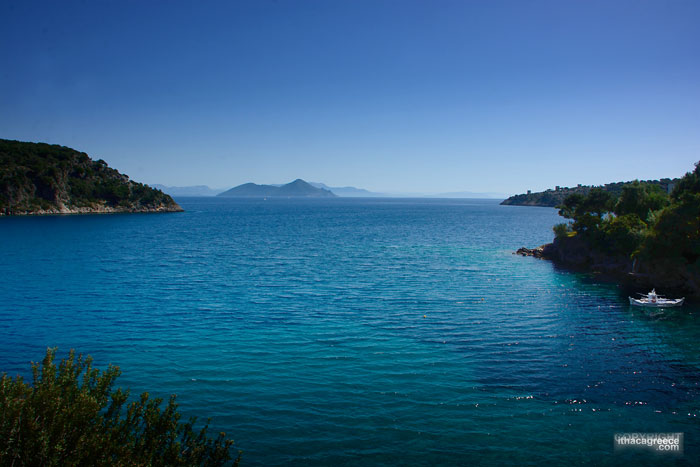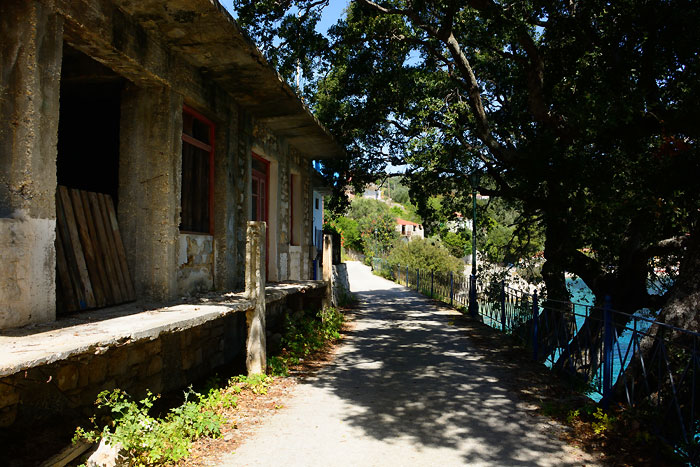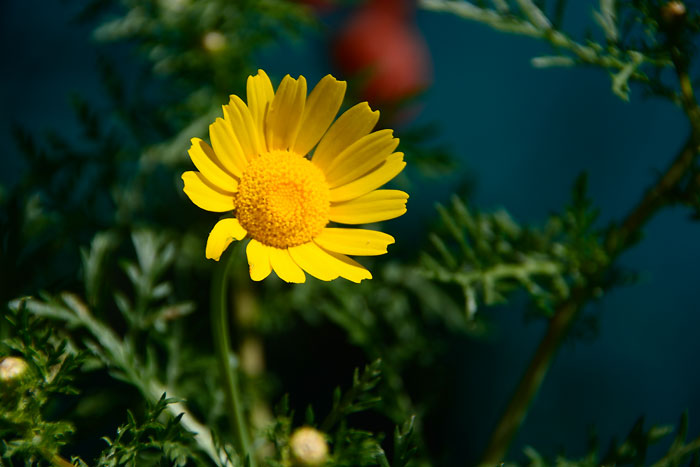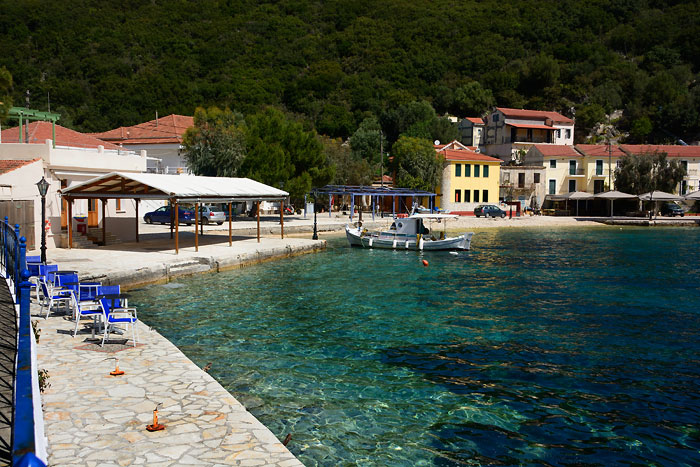 Wednesday 20th -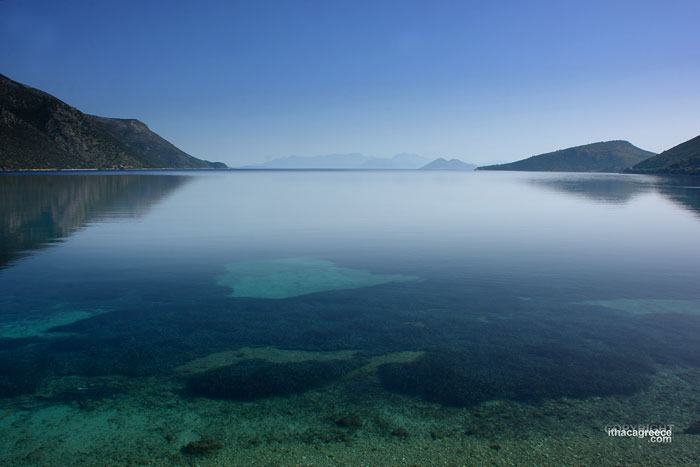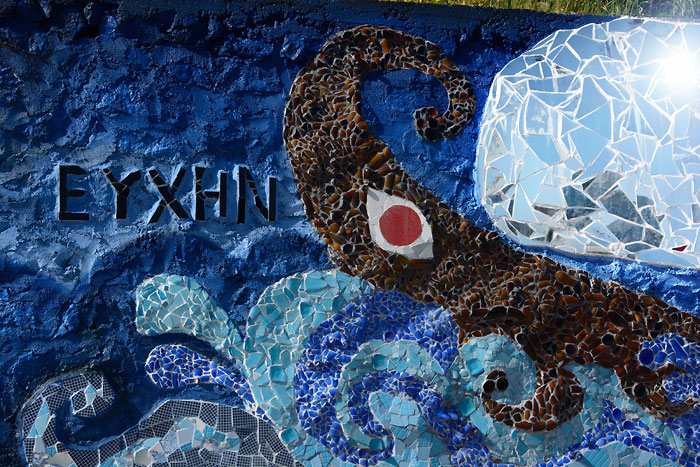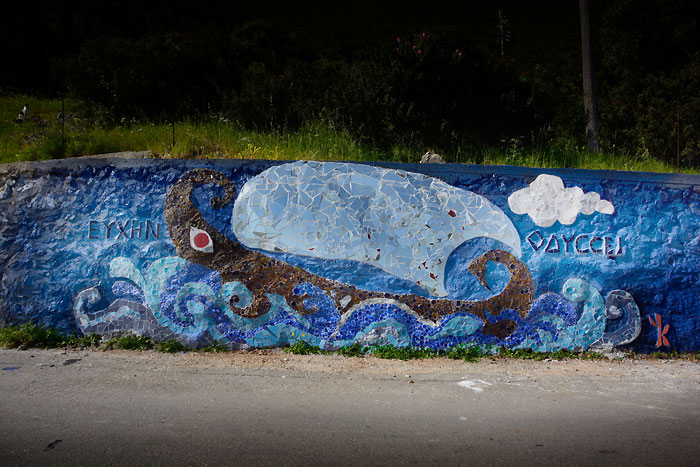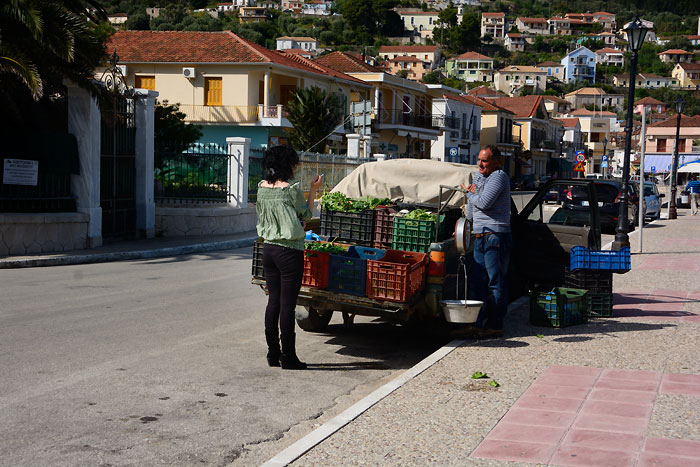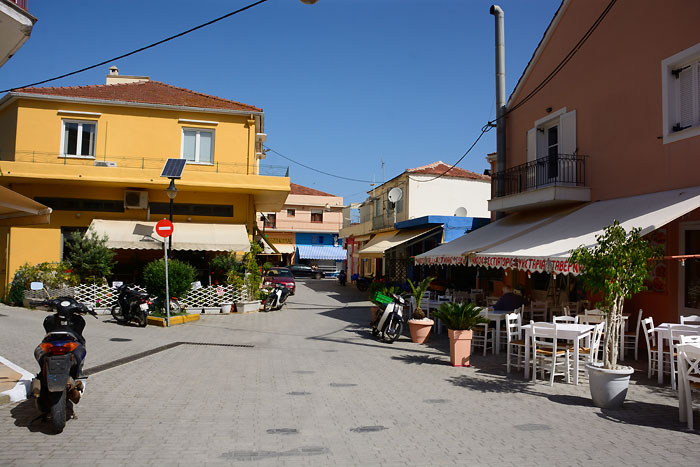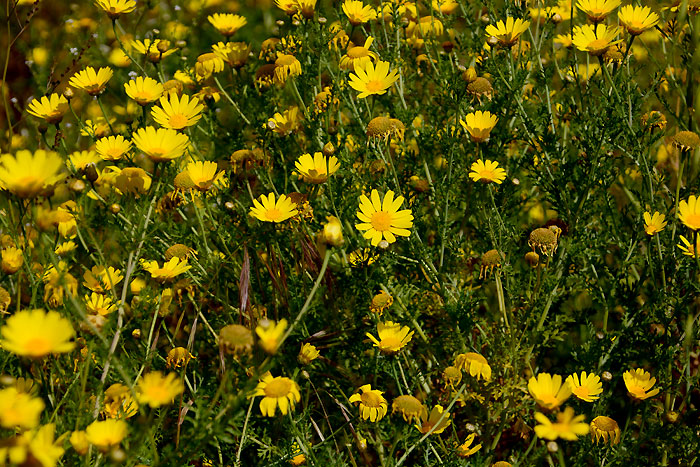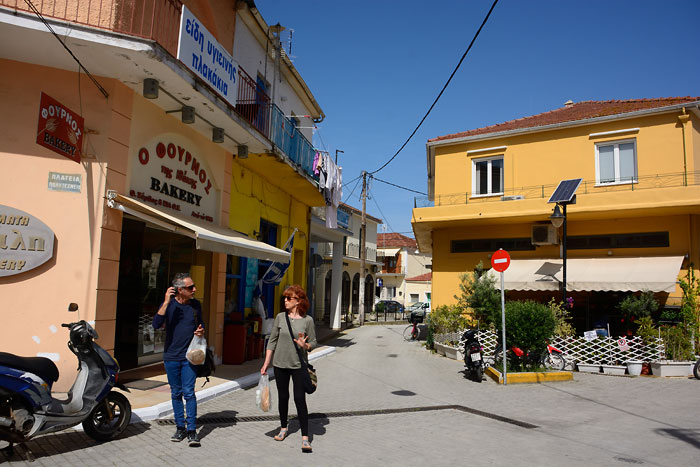 Above - Just look at the brilliant days we're having. No wonder it's difficult for Greeks, despite the economic crisis, to feel bad and depressed. Nature heals our wounds on a daily basis on ithaki.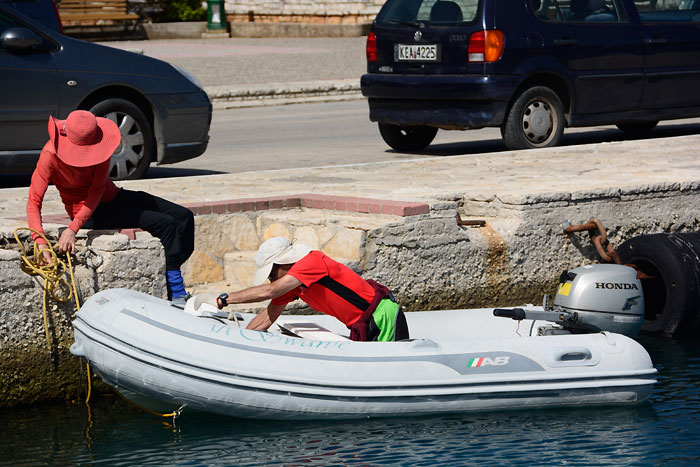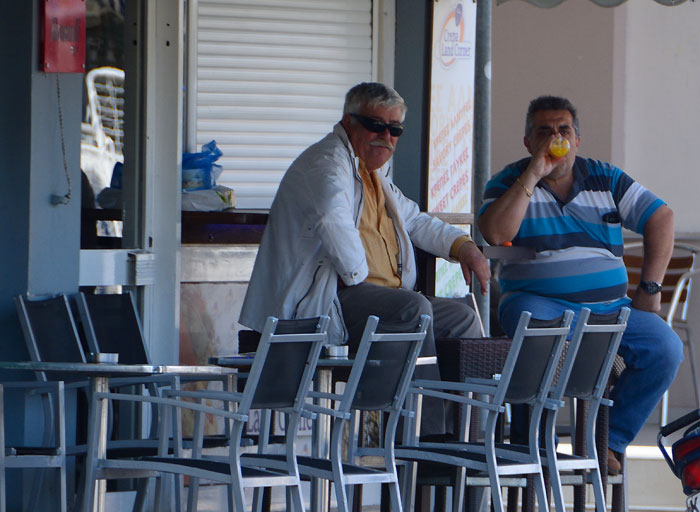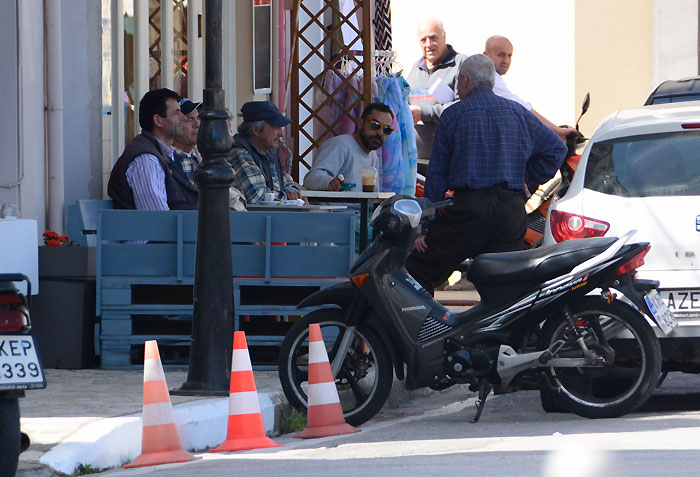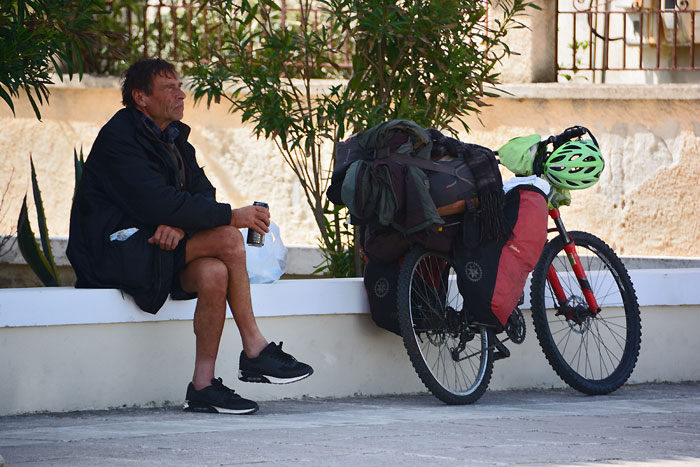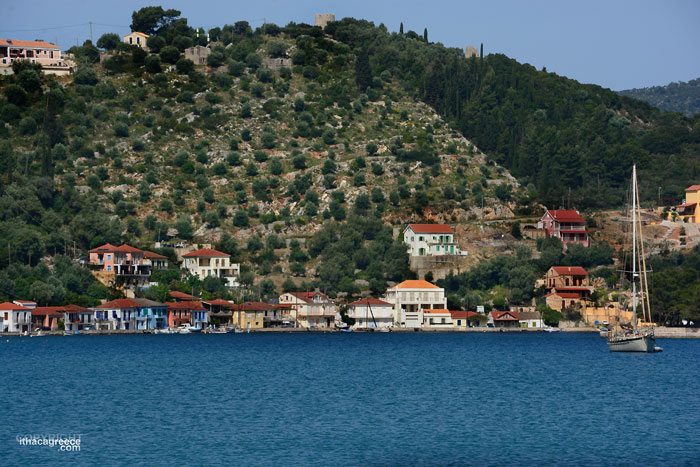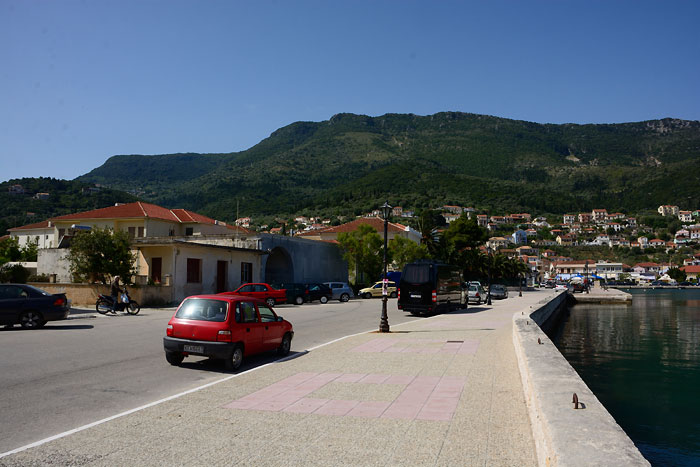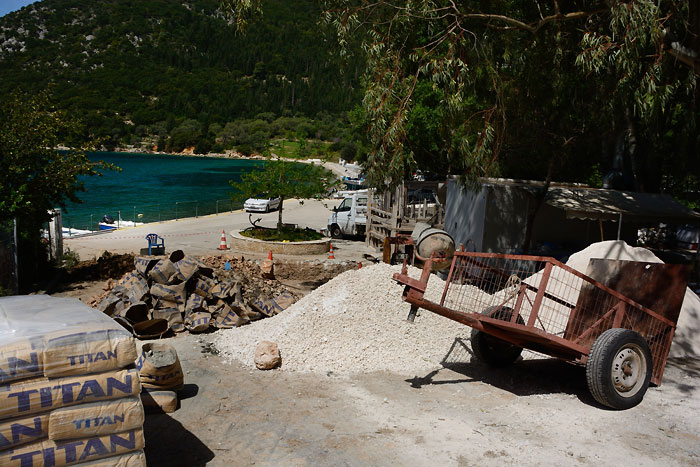 Above - Yes, it's Polis Bay road at the Cantina with a great big hole.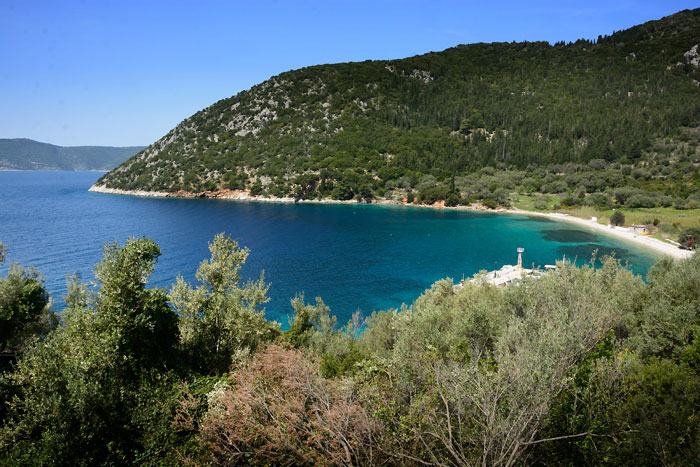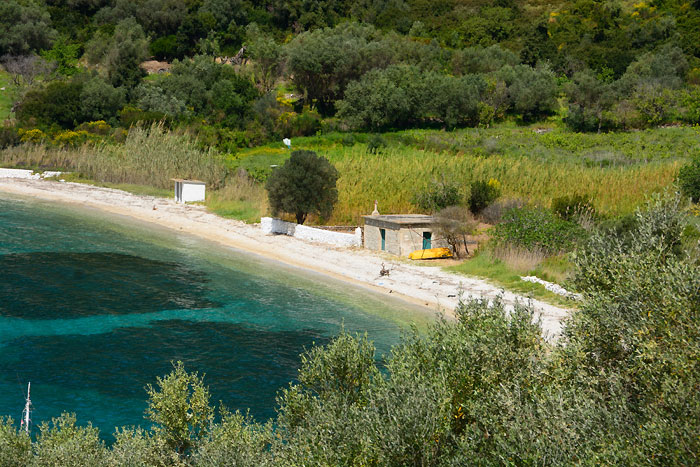 Thursday 21st - Fine weather continues, although it's a little cooler due to some wind over the past couple of days.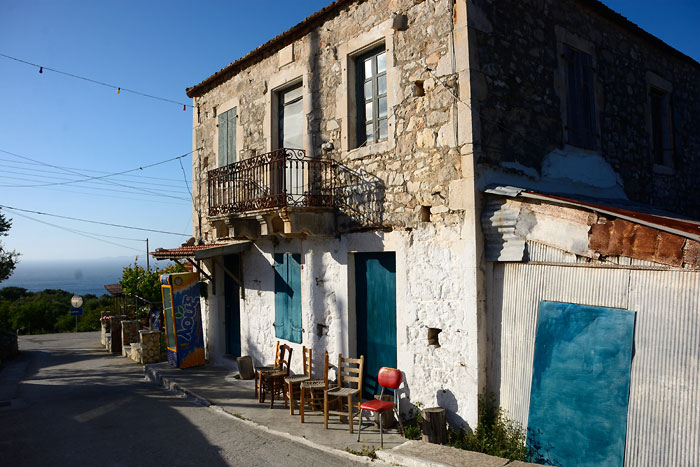 Above - A big part of Ag. Sarantas history, the corner store, closed it's doors officially yesterday. I'm sure it will have a great impact on the community, even if it's not realized yet.
Nikos and Xanthi are continuing with their venture in Frikes, The Gods gift shop and looking after their two young boys. We wish them well. They would like to thank the local community for their kind support over the many years.
If there's anyone who would like to continue the tradition of the Ag. Sarantas corner store, working and serving the community for well over 20 years, you can contact me through the website.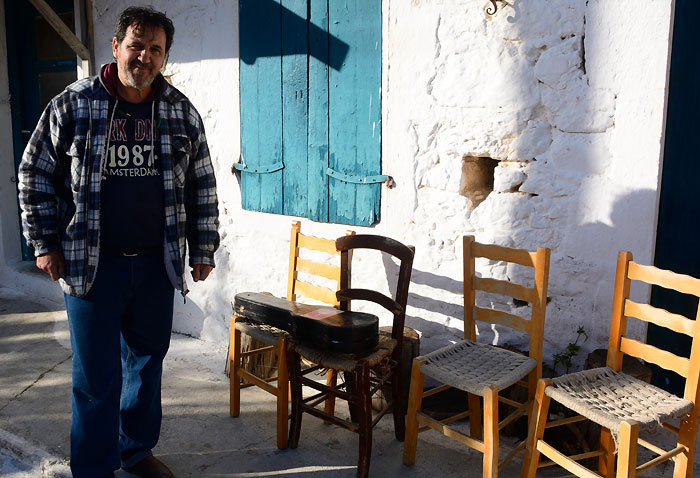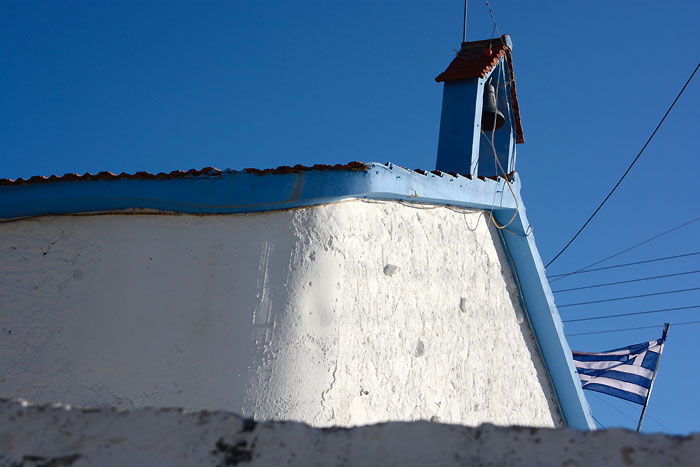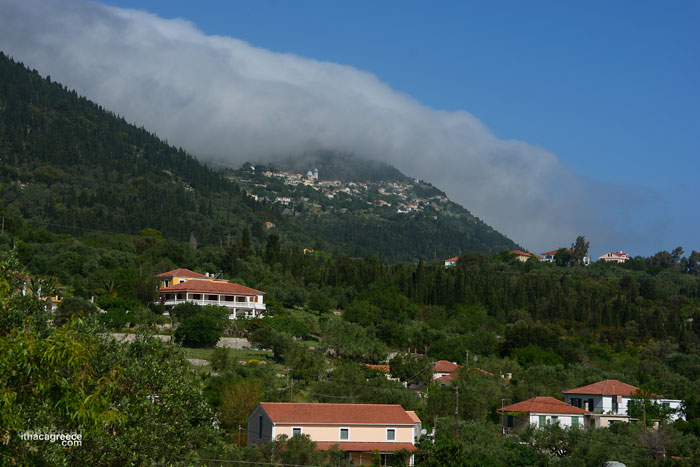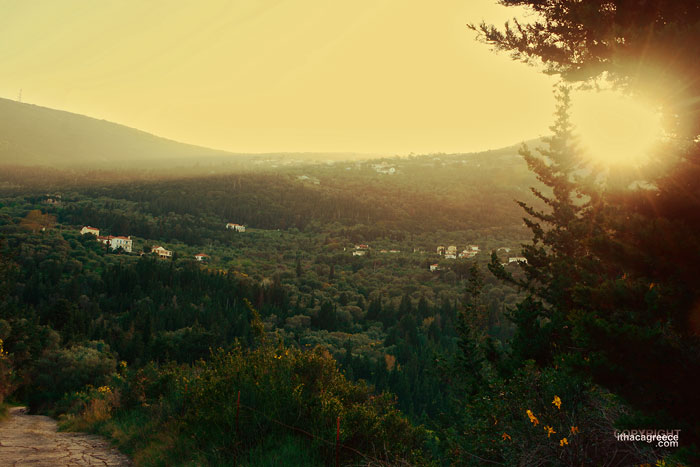 Above - The last rays of sun shining down onto Afales and and Kolieri on the mountain side.
Saturday 23rd - Such great weather, it's a wonder our roads aren't strewn with walkers enjoying the great Spring scenery.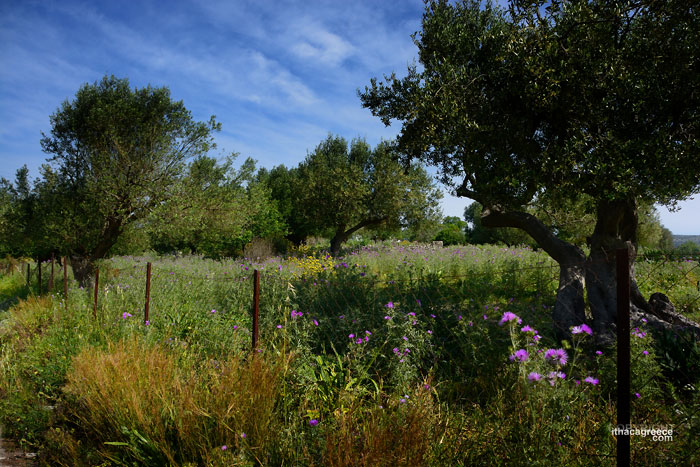 Below - Sometimes you do come across someone else who has a walk in mind. Makis and his dog (bear size) from Margarita Cafe.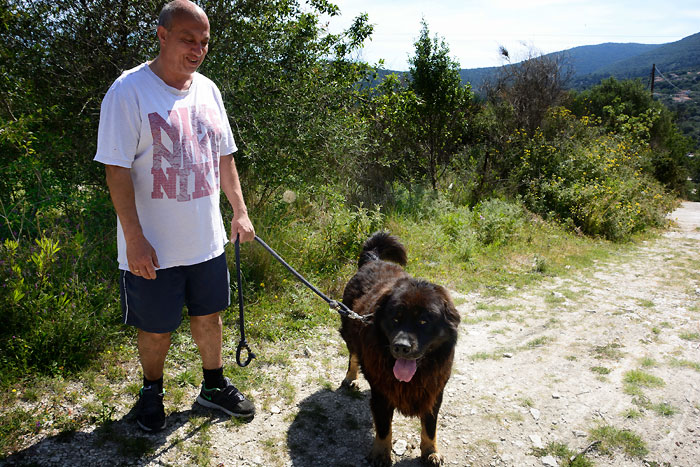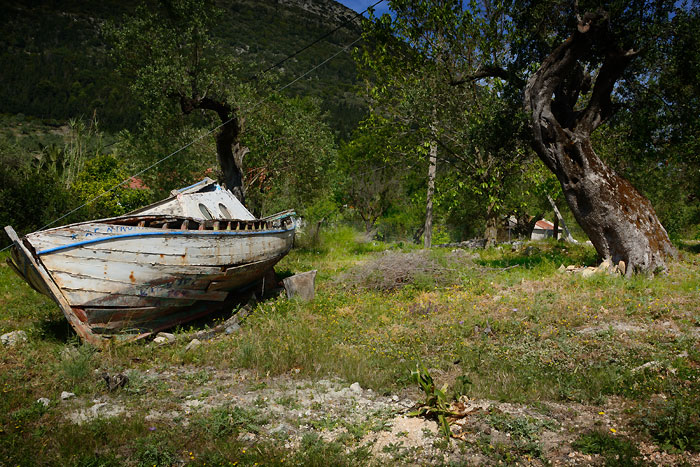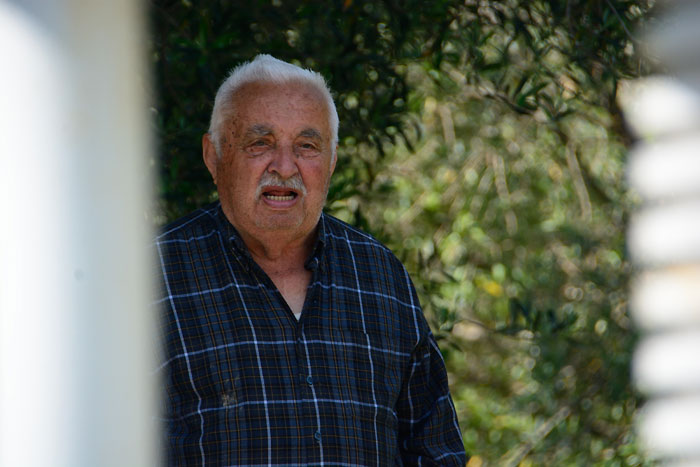 Above - Kimi, Stavros's retired butcher.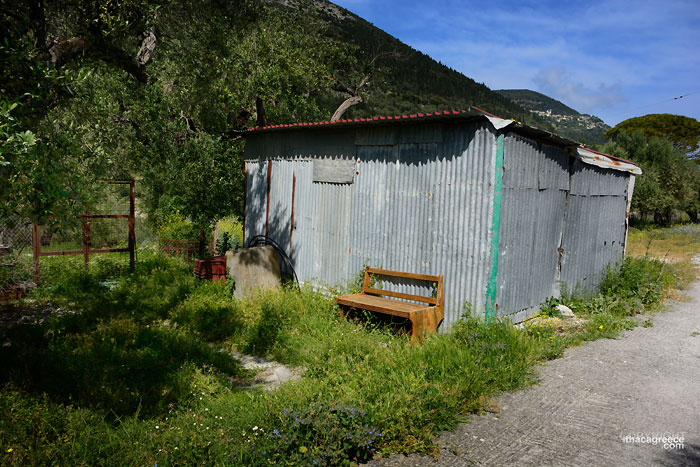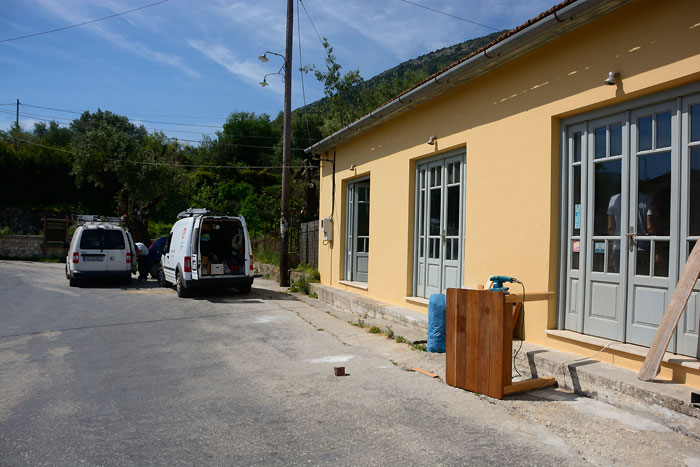 Above - Some reburbishing going on at Yefuri Restaurant in Platrithia. A whole new look for 2016. I believe opening night is 6th May.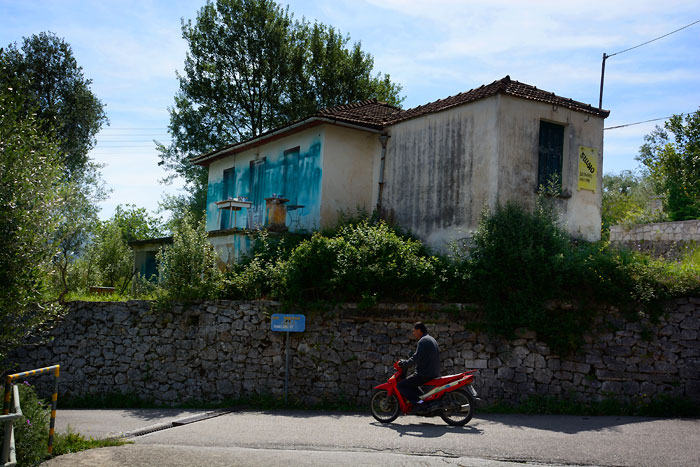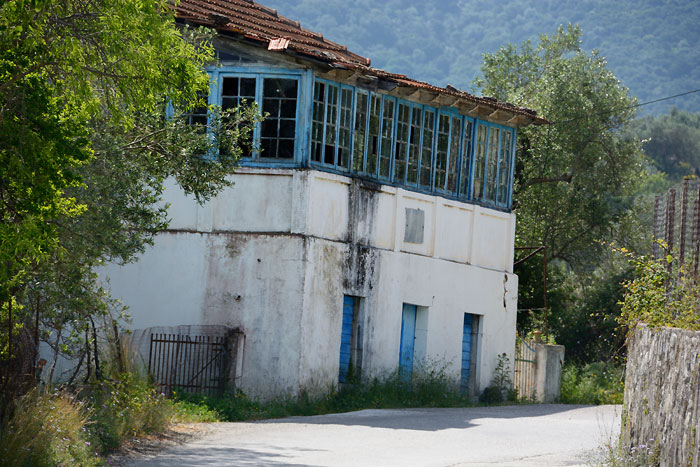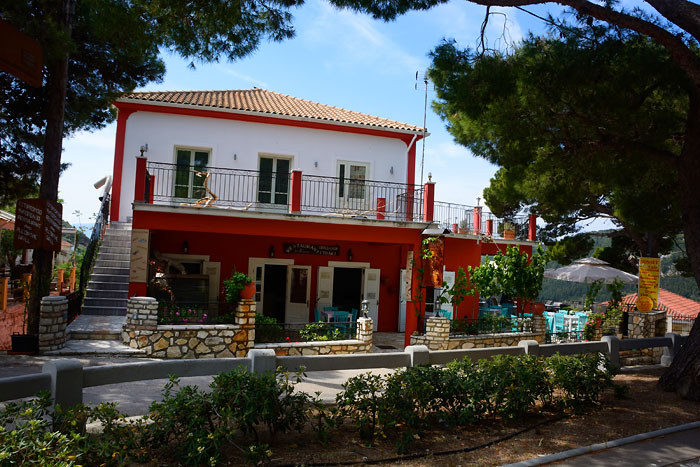 Above - The top floor of Ithaki Restaurant in Stavros will soon be a Gift Shop, run by Olga, daughter of Nikos and Dina from Ithaki Restaurant. It's going to be a busy corner here with Meropi from Frikes, also joining in the family business. Below - You might think this is just a house, but this is the hub of North Ithaca's internet.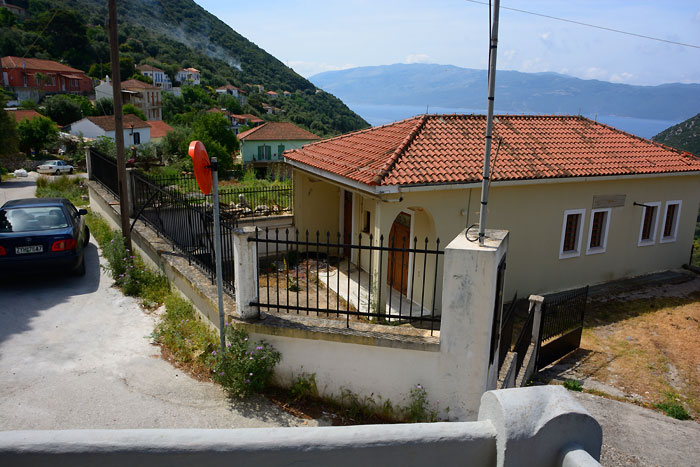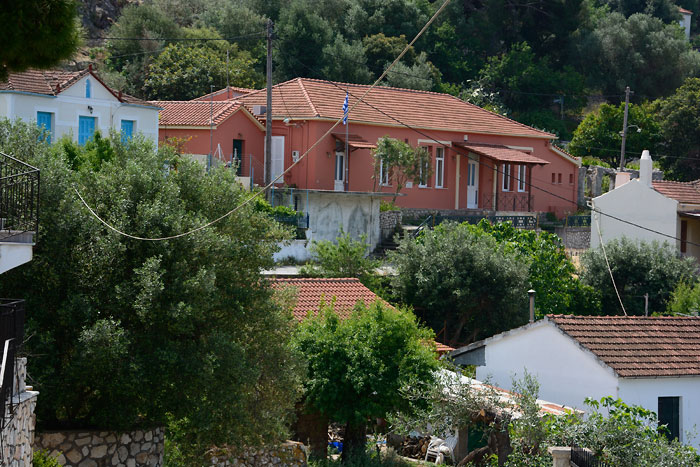 Above - Stavros Community Hall.

---
April 2016
Blue skies and sunshine for April
Monday 18th
Some pretty heavy work going on at Polis Bay. A great big hole where we should be sitting in the summer. It's an Ote (telephone company) thing. Will find out more soon.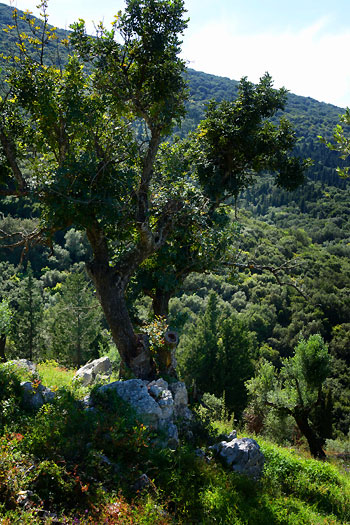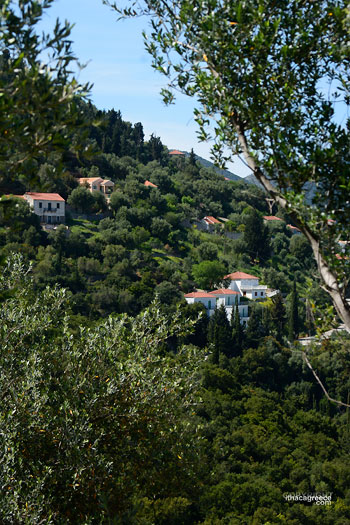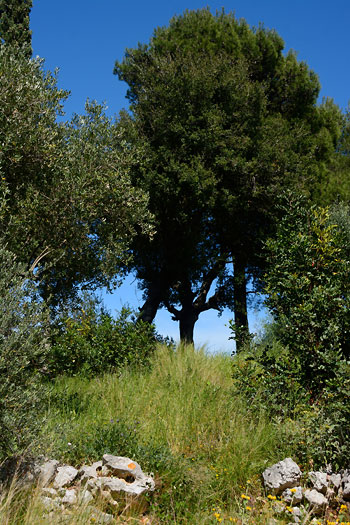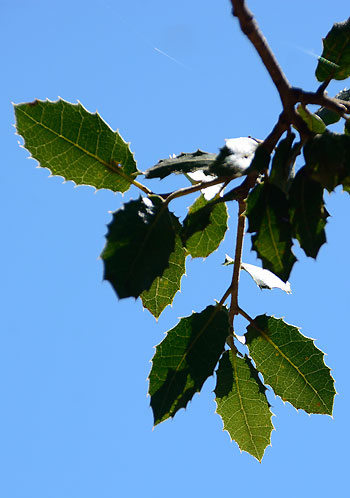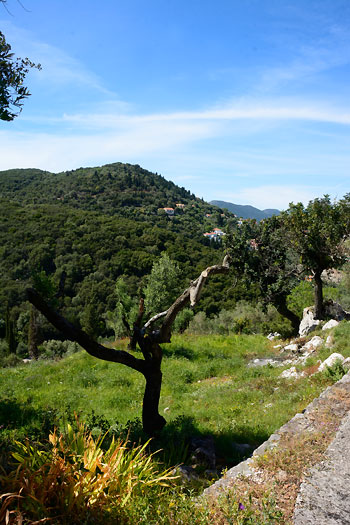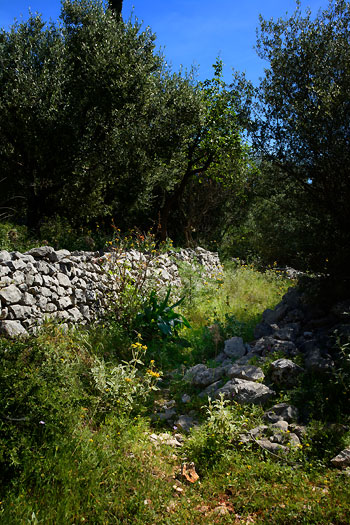 Ithaca is still waiting for the Patras connection again this year. Everyone seems to be talking about it and assuring us that it will happen, but there's no formal noting of it on any of the ferry websites. Keeping our fingers crossed Patras will be on route again.
Tuesday 19th - Brilliant weather we're having. Shame you can't all be here to enjoy it.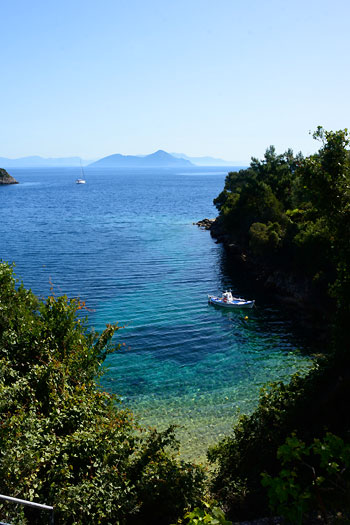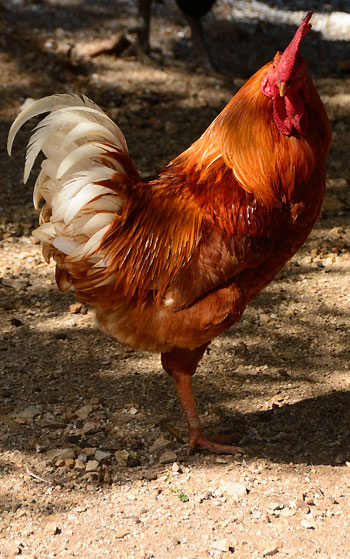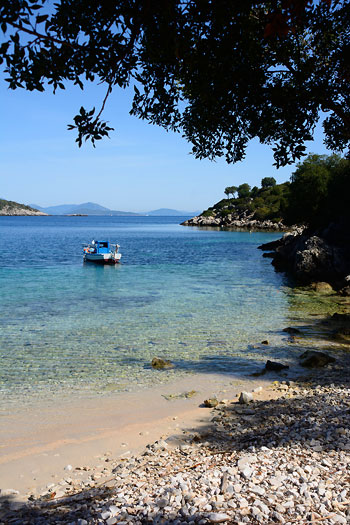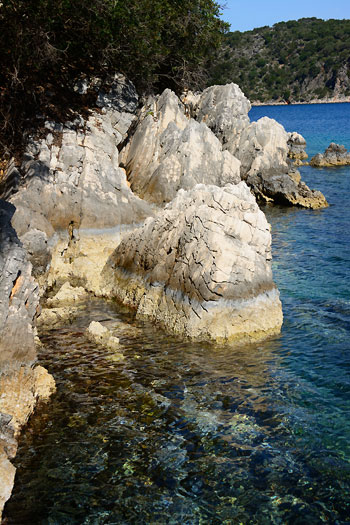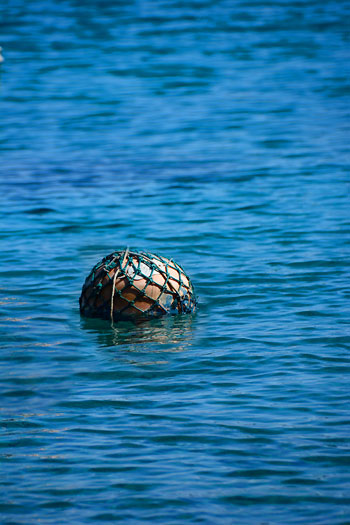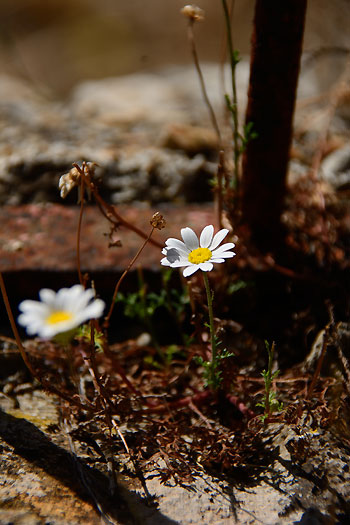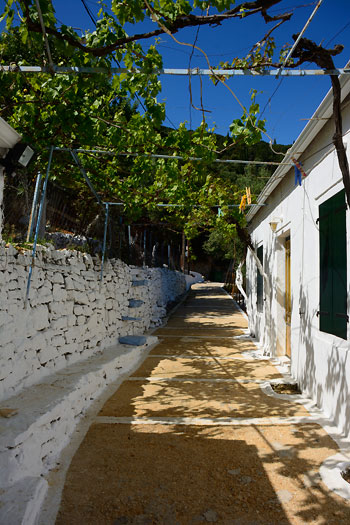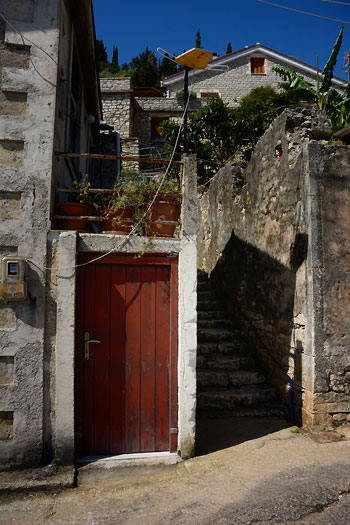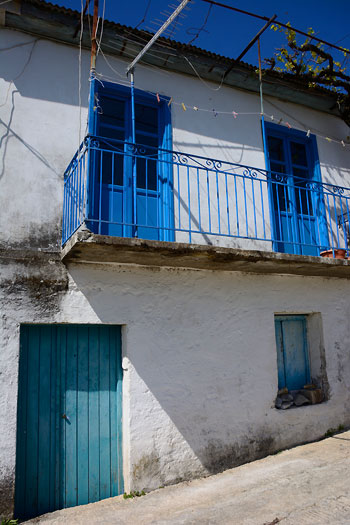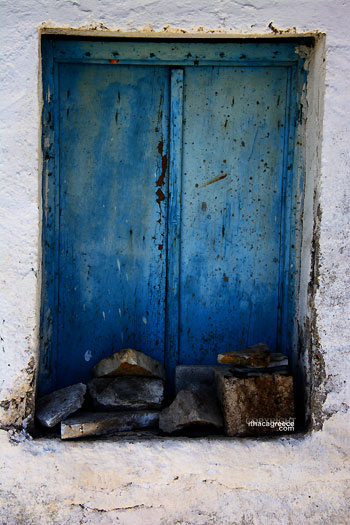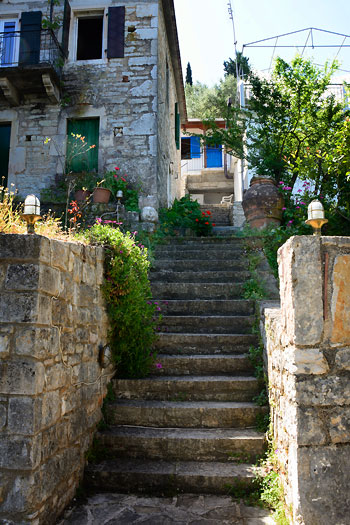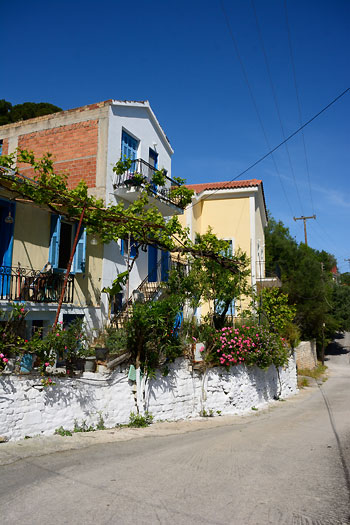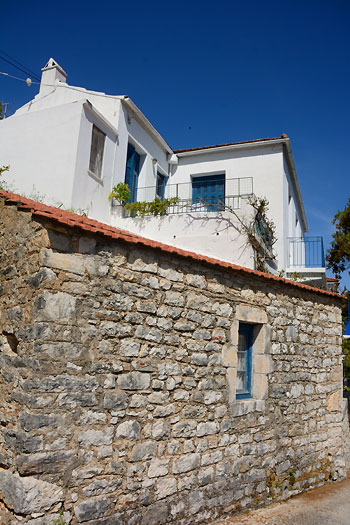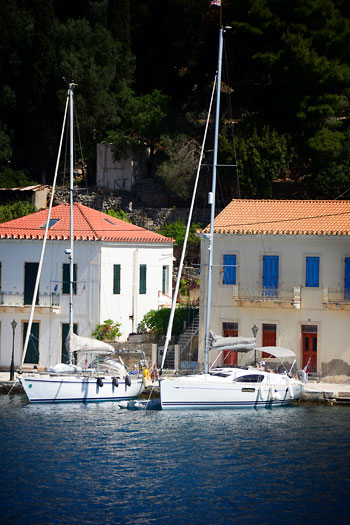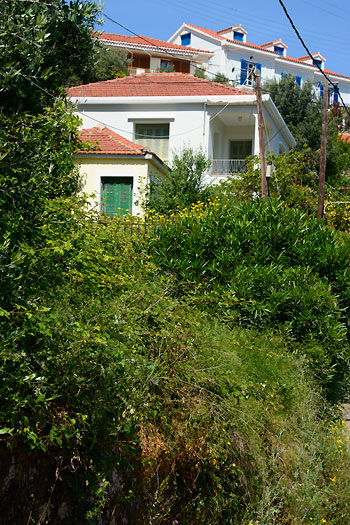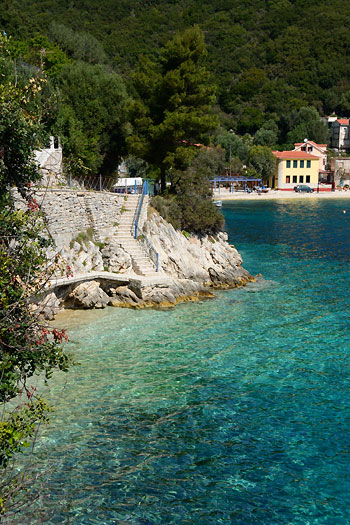 Below - The Women of Ithaca have only just finished their April performances, but if you missed it there is still one more chance on the 3rd of May at the Cultural Center. Everyone that has seen this beautiful show has been more than impressed and are raving about it. It's a subject close to the hearts of Ithacans.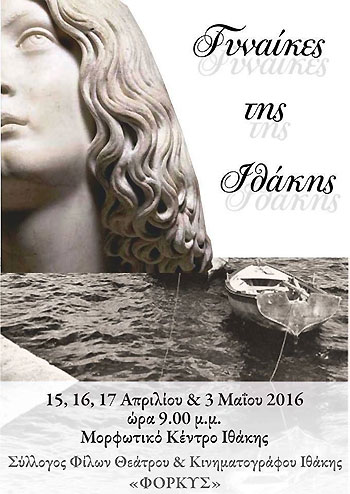 With temperatures climbing into the high 20's, it's easy to feel like Summer is upon us, but local businesses are still in the midst of preparations. Kioni hasn't quite opened up yet. Spavento Bar has been open all winter this past year and of course the Kioni mini market is always open and has been for many decades.
Aleka, owner of the Pantopoleion mini market in Kioni has handed over the reigns to her sons, Panos and Yiorgos, (Kioni Boat Hire) for alas, Aleka has now retired. The shop is going through some minor improvements as the sons take it into the future.
Nikos (the Gods Gift Shop, Frikes) and his wife, Xanthi, have packed away the corner store in Ag. Sarantas and a big chapter of Ithaca's history, closes. I'm sure it will be dearly missed. It was a center for the local people of that area, not only to get supplies, but also to meet and socialize.
Wednesday 20th - A few yachts coming in and out of the harbours over the past week. No wonder, the weather has been so great!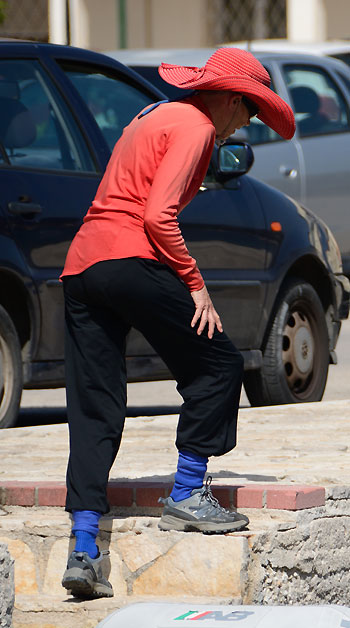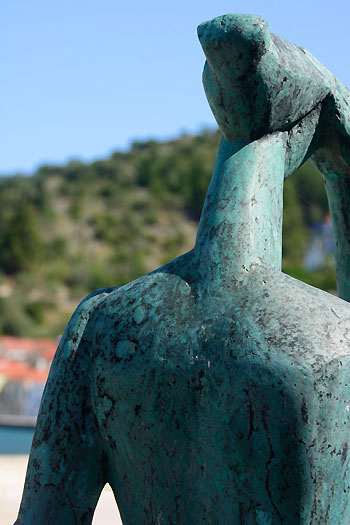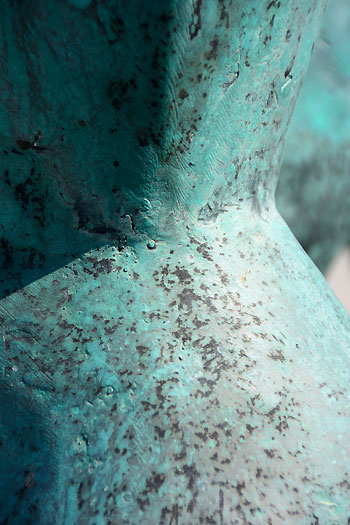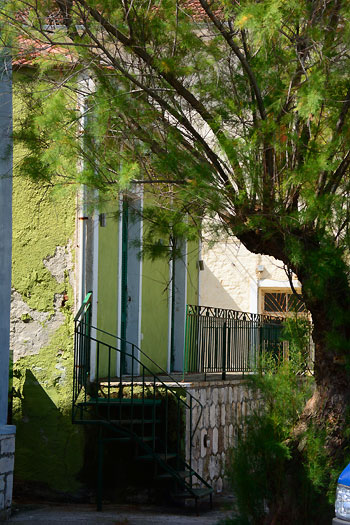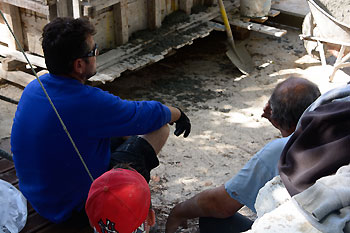 Above - So like I said a few days ago, there's work going on at Polis Beach and I'd find out what's going on. Well, it appears the island is getting fibre optic laid from Kefalonia to Ithaca which will mean high speed internet for the island. The hole that's been dug in the middle of the road right next to the cantina, is for the cable to keep it dry. There has been a hiccup with mountain water draining into the hole. With so many water cisterns in Polis, someone should have thought that water running down could be a consideration. Anyway, it's something they are dealing with now. The workers are awaiting a crane to lift the concrete structure (box) into the hole and then it's just a matter of time for the fibre optics to be delivered to the island. Once that's done, I suspect there will be laying of the cables along the road up to Stavros, so there may still be a bit of a fuss for summer, if that's when it's all happening, but for now, the workers say they will be finished with their work shortly and things should be as normal (almost) down at Polis Bay.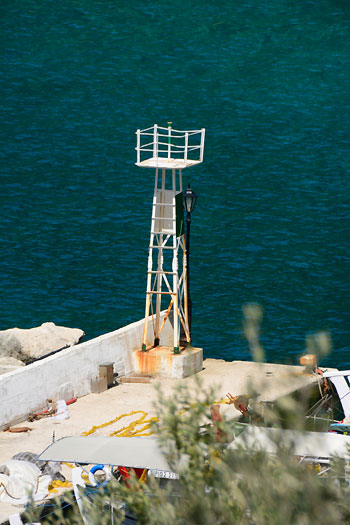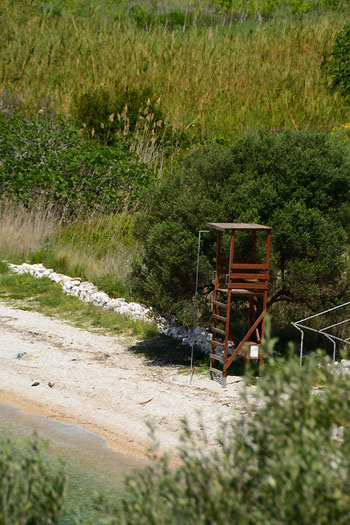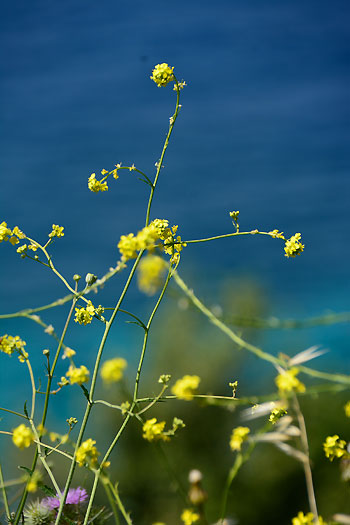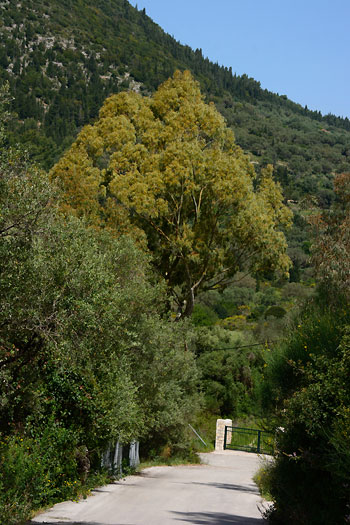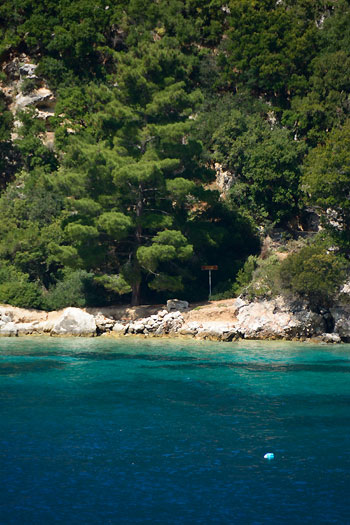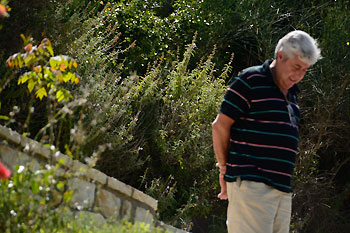 As we edge closer to Greek Easter, the weather is becoming warmer and finer each passing day.
We also have great news about the Patras to Ithaca ferry route. It's back on, starting on the 22nd of April. See How To Get There for the timetable by clicking here. Unfortunately, Ionian Ferry Group hasn't updated it's website timetable yet, but at least we do have a copy to share with you after some English translation, covering the period from 22nd April to 8th May. The ferry appears to be the 'Speed Runner III' as reported on various news blogs coming out of Kefalonia, and going from the timetable, the times are much shorter, so I suspect it's true. Great news for Ithaca, Kefalonia and Patras.
Thursday 21st - Below - Ag. Sarantas chapel. The recent works to redirect water off-flow by digging up the road and laying new pipes, has now been completed, although there is still quite an amount of dirt piled up in the parking area of the chapel. Hopefully that will be removed before the parking area needs to be used again by the priest.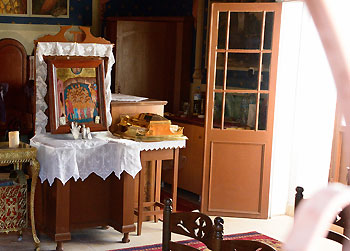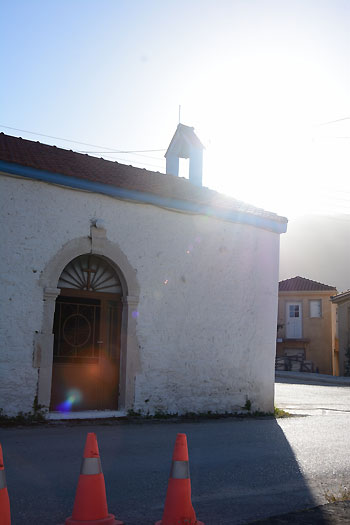 >br>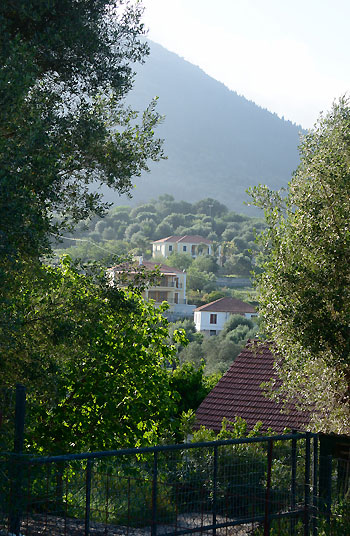 Above - Stavros from Apostolata.
So it's official, we have our Patras - ithaki route back with a faster ferry going by the name of Speedrunner III. Ithaca to Patras in under 2 hours. Everyone's very excited! Let's hope it's daily and often and we're able to leave and return without spending a week on the mainland while we wait for a ferry. Our ferry schedules have not only been difficult in terms of tourism, but also in terms of the local community. For the elderly who don't drive, the Ithaki to Killini route for medical purposes was a difficult journey to make. Direct to Patras from Ithaca will be a very welcome change.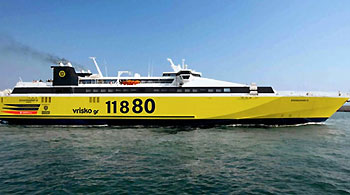 Saturday 23rd - So Ithacan, and I'm sure Kefalonians, are ecstatic to have a fast ferry service from Ithaca to Patras again. That's what you'd think, but there are some evil forces out there wanting to sabotage this wonderful addition by claiming the ferry will ruin the beaches. Give me a break! It's nothing more than sour grapes that one company gets the route and another doesn't, isn't it? Winter winds and storms ruin beaches, people ruin beaches, superast ferries from Patras to Italy ruin beaches, stop one stop all from ruining beaches if we're going to go down that road. I hope the governing body does what this nuisance claim deserves, and flushes it down the first toilet it comes across.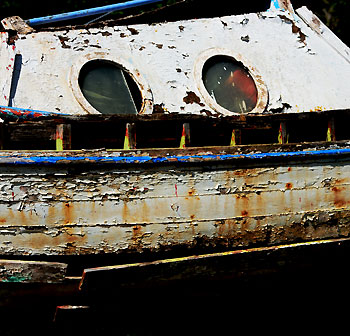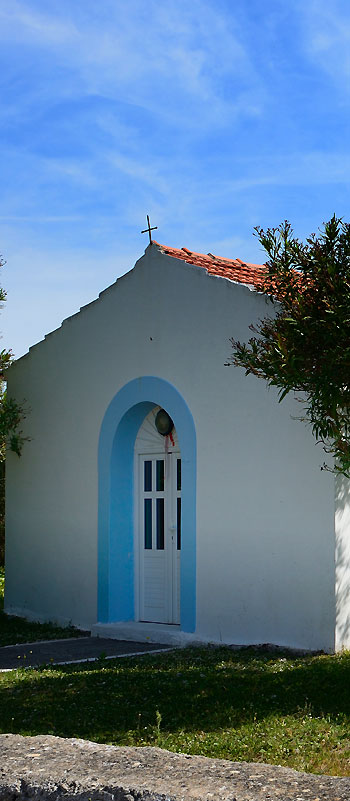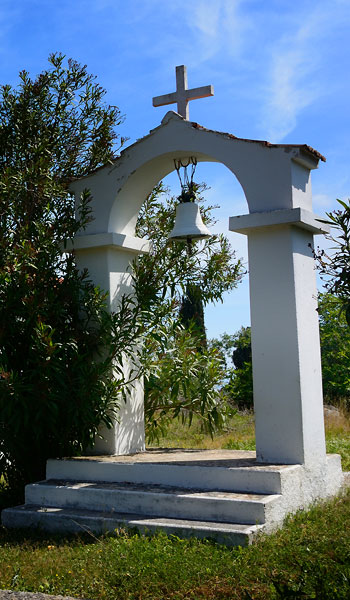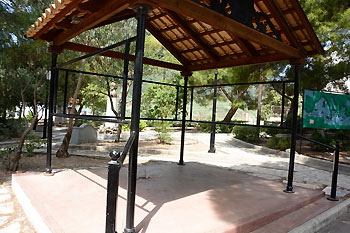 Above - Odysseas Palace hasn't disappeared, it's just taking safe refuge over the off season, somewhere dry and safe. It will be back in its housing in the Stavros park very soon.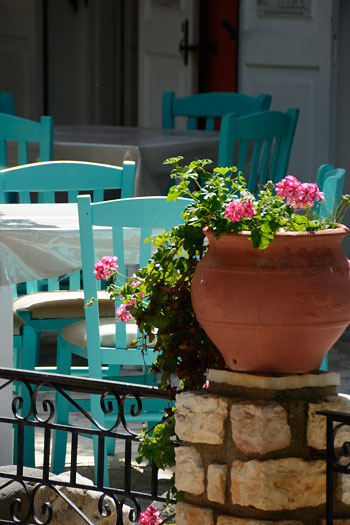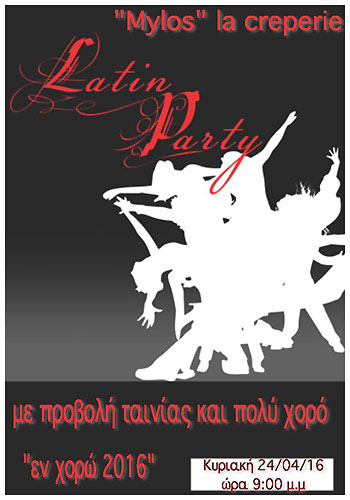 Above - Latin Party with movie and dancing at Mylos Creperie in Vathy on Sunday 24th April. Starts at 9pm. Should be alot of fun, so get along and enjoy yourselves.