What's New On Ithaca Greece
May on Ithaca
Summer Season begins on Ithaca Greece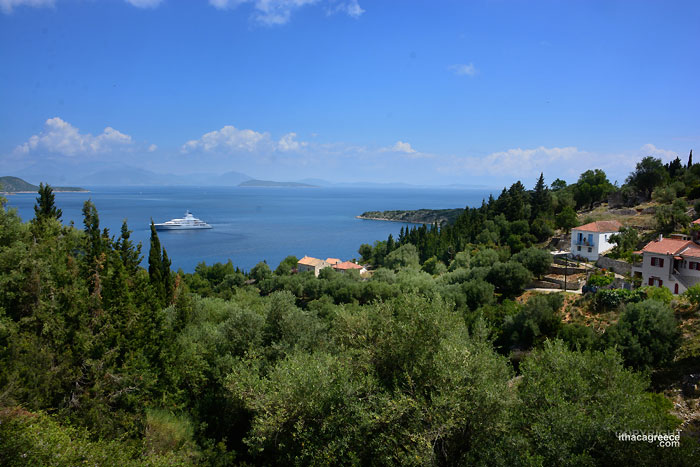 May 2016
Tuesday 17th - Although it's still a bit chilly at night, the days are beginning to warm up quite nicely during this month of May.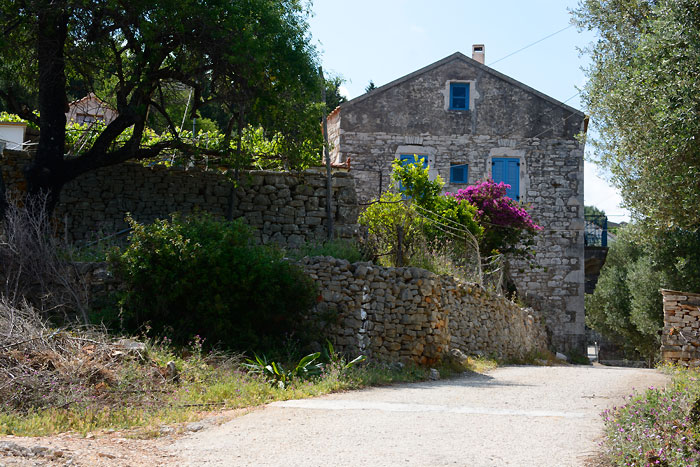 Below - Raxi Views.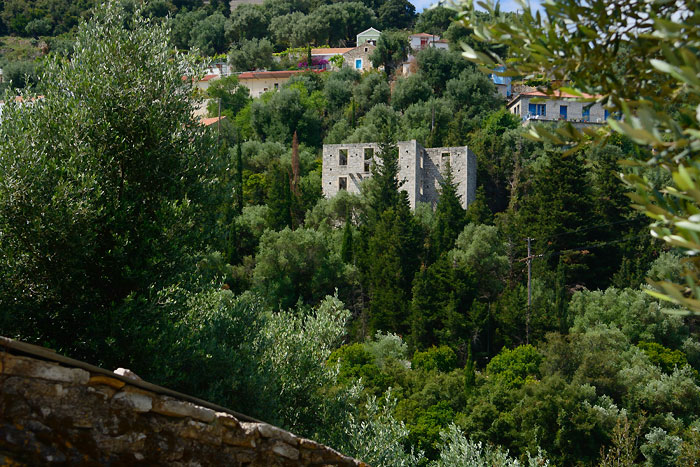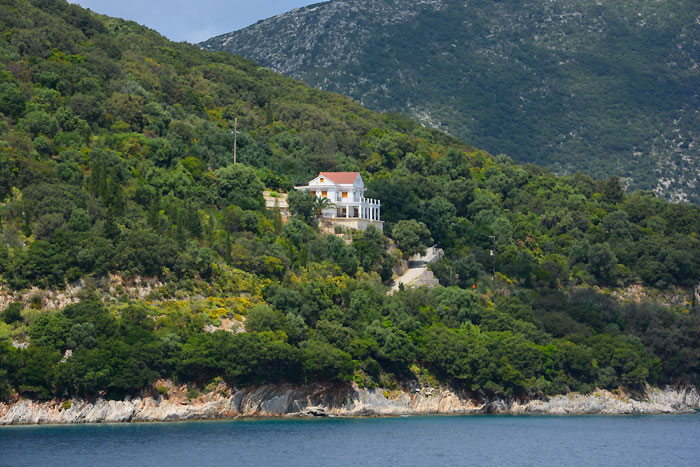 Above - Panorama Apartments just outside Kioni on the Mavrona side.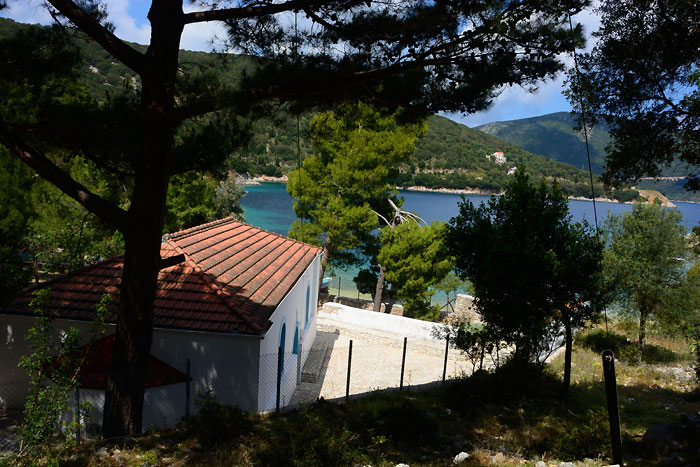 Above - Ag. Nikola chapel at Mavrona bay.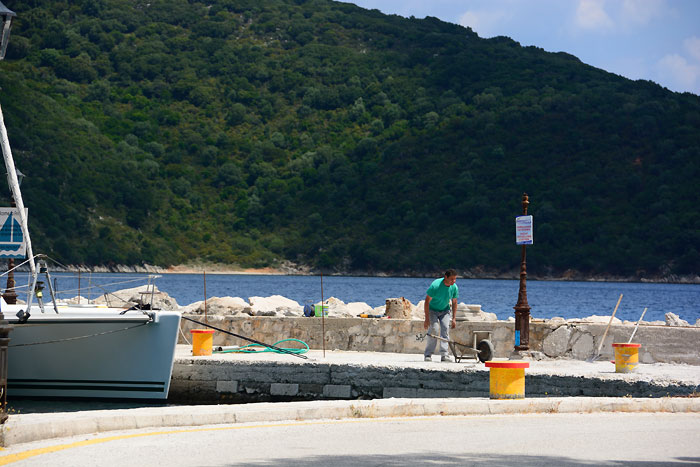 Above - Frikes pier is getting a paving job. Any thoughts as to why you'd dig up the pier in the month the yachts are coming in? Someone forgot to put their thinking cap on. A suggestion - Let's not do things to deter tourism ourselves when there is already so much going against us. April would have been a better time to do this kind of work.
Thursday 19th - Can't believe we're already past the half way mark of May. it's been a little windy and a little cooler due to the wind chill this week. Storms expected for the weekend, but it's still early and weather forecast could easily change.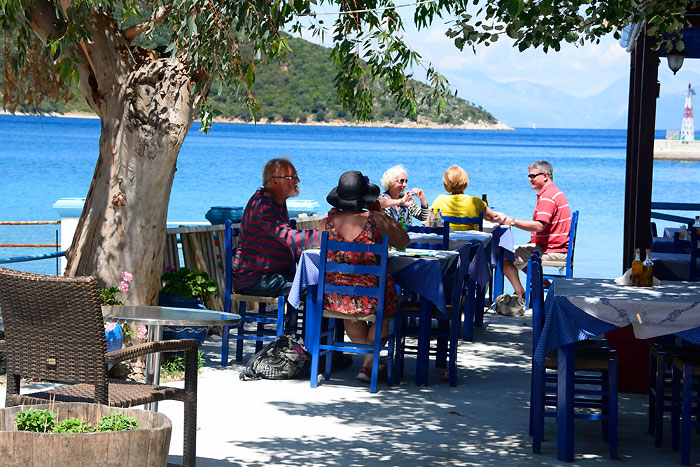 Above - Odysseus Taverna in Frikes.
Don't forget that on Saturday 21st the Byzantine Choir of Patras will be performing at Sotiros church in Stavros. Starts at 8pm. Should be a lovely evening.
On Sunday 22nd at 6pm, of course we have the annual parade of saint Papoulaki's bones from Ag. Barbara church down into the center of Stavros to Sotiros church.
Sunday 22nd - Papoulaki today, looking forward to that. It's always a great afternoon and parade when the bones of Saint Papoulaki come down from Ag. Barbara chapel to Sortiros church in Stavros. It's on at 6pm this afternoon.
Below - A bad time to be restricting yachts coming in by doing work on the pier, but we've got a disfunctioning thinking cap on, so it's to be expected. The last couple of days has seen alot of rain fall and massive storms. All a bit of a downer for tourists coming or already on the island. It's all better today though. The sun is out and skies are blue, and my bet is this is the start of the 'heating up' for Summer.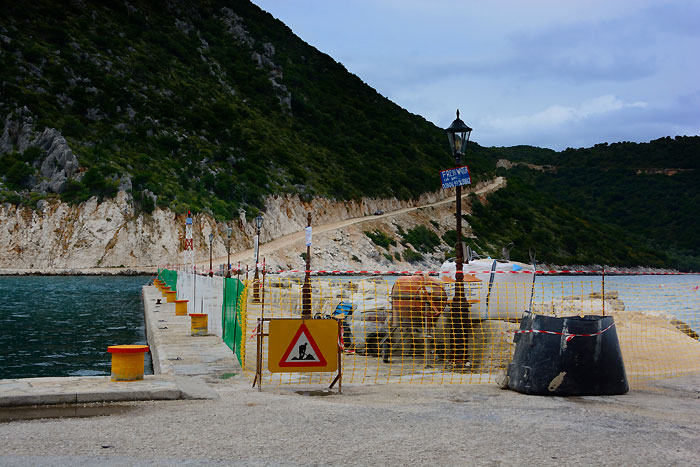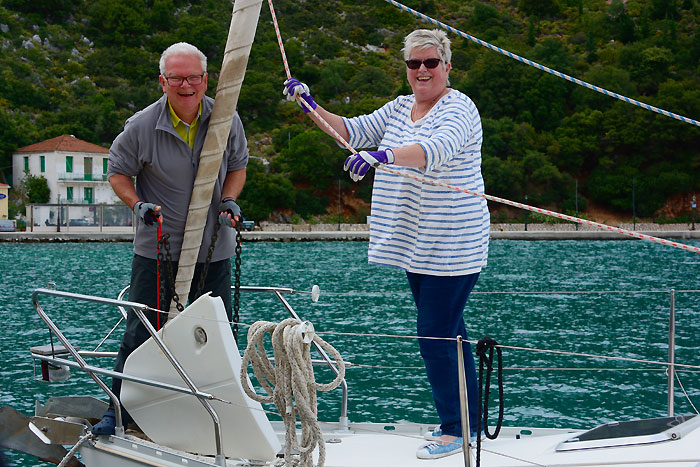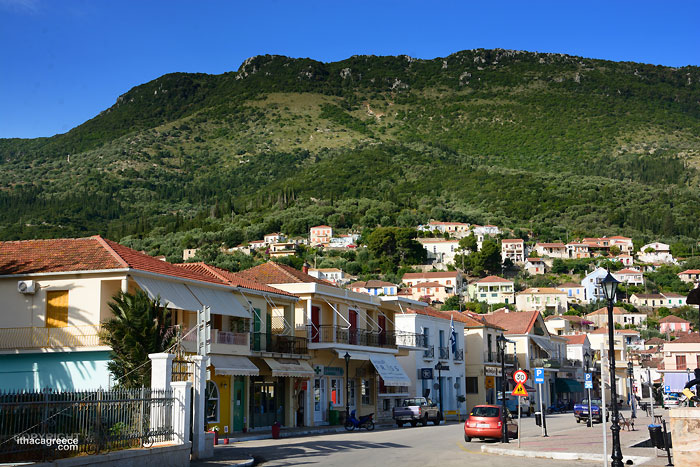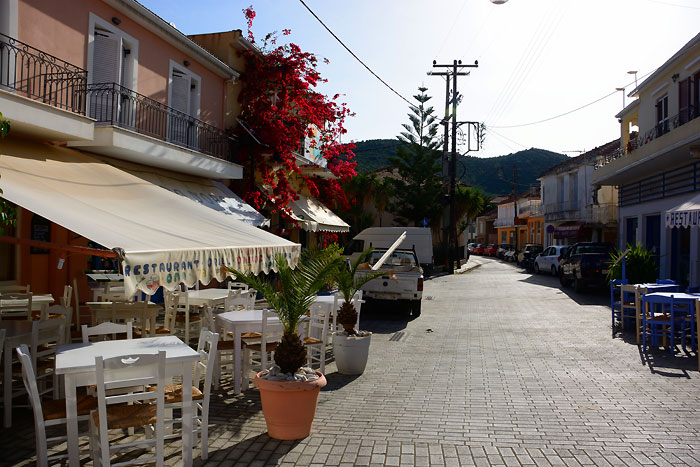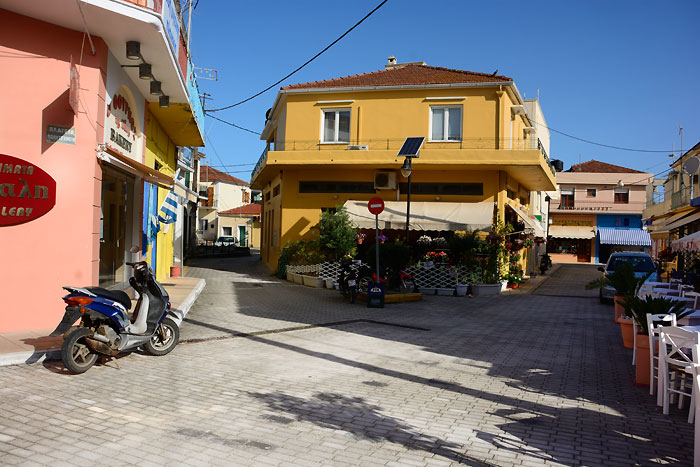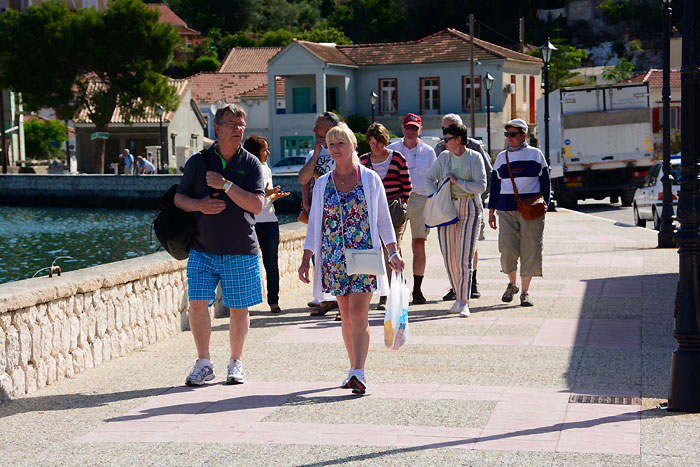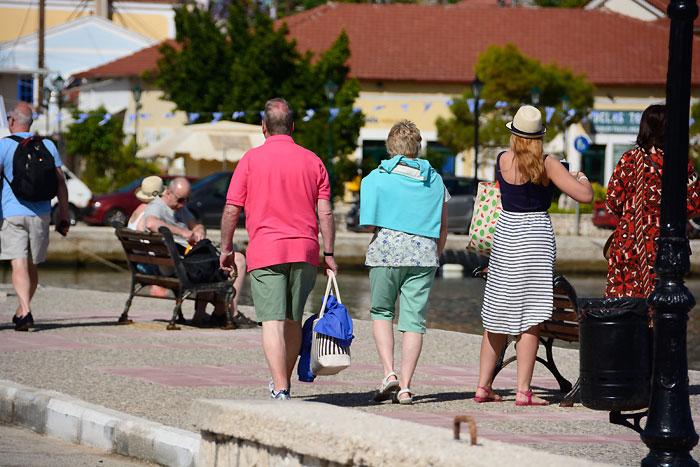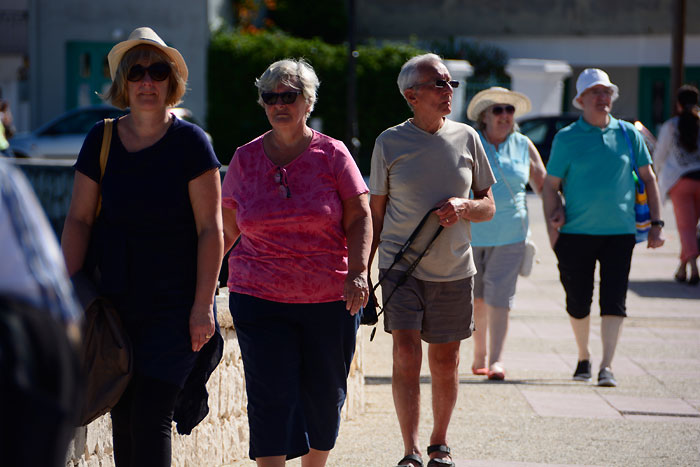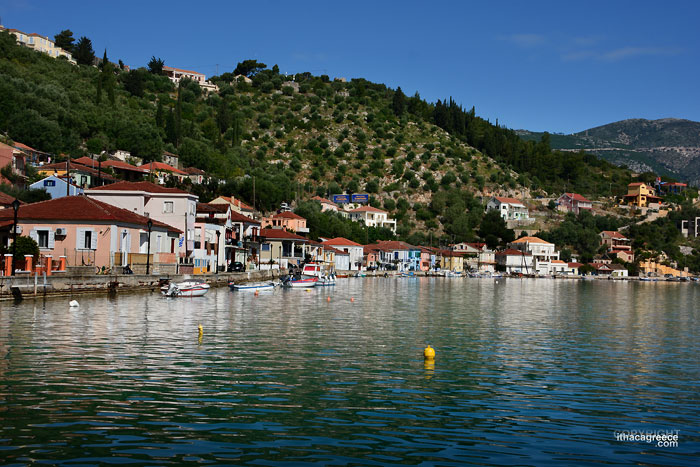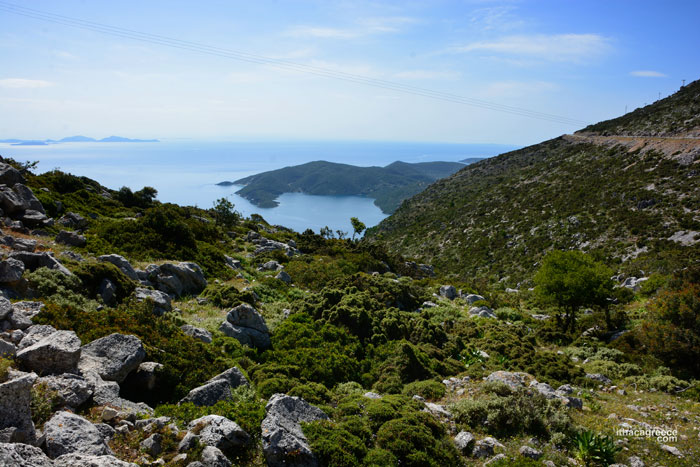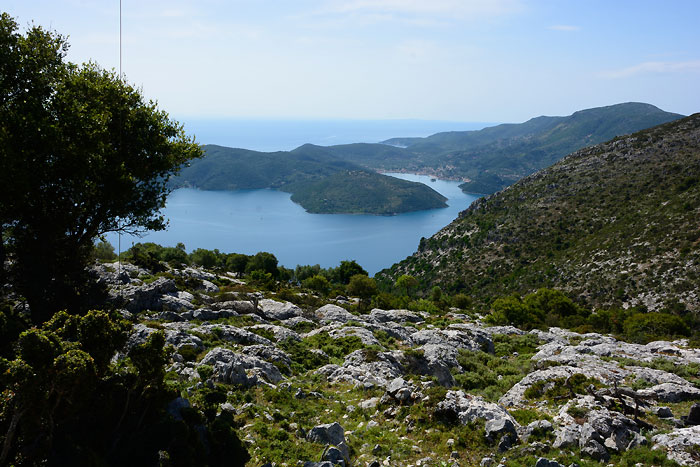 Monday 23rd - Yesterday Ithaki celebrated ithaca's own Saint, Papoulaki. His bones were carried down from Ag. Barbara chapel to Sotiros church in Stavros. This is an annual event. CLICK HERE or on photo below for more pics.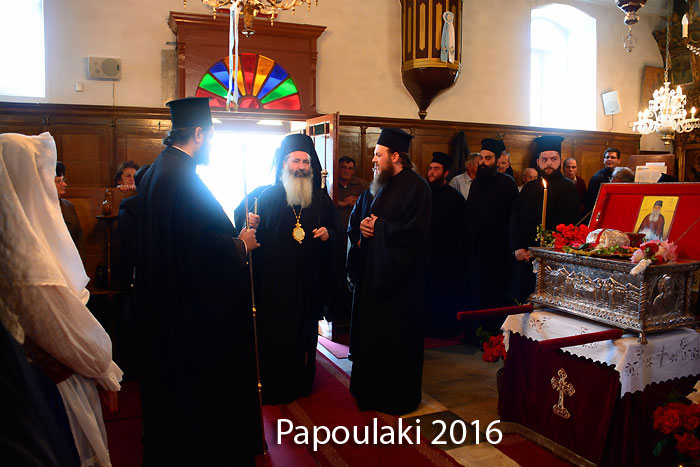 Tuesday 24th - Such a mild temperature day yesterday, it really felt like summer was here. Even the evening was warm and fine, waters were still and the lights refelcting in the bay as they should. Below - Stavros as seen from Ag. Barbara church.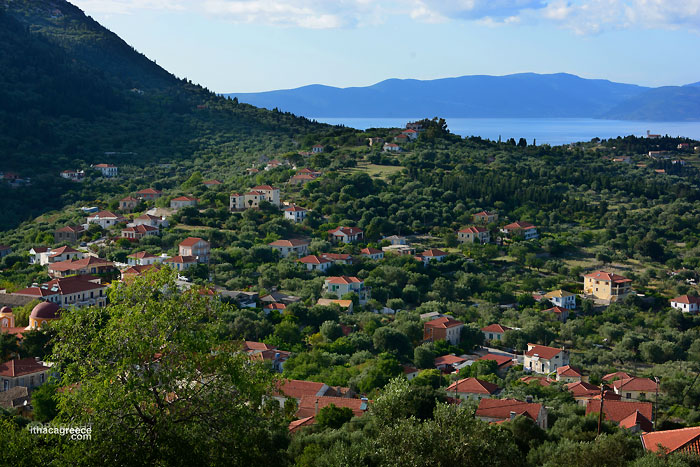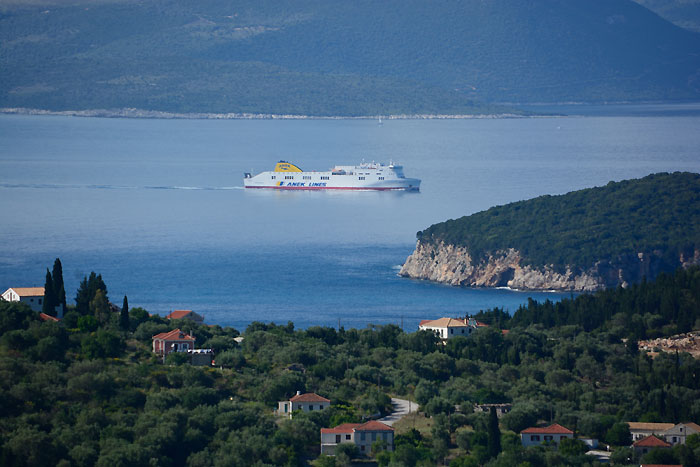 Below - Dusk over Vathy Bay/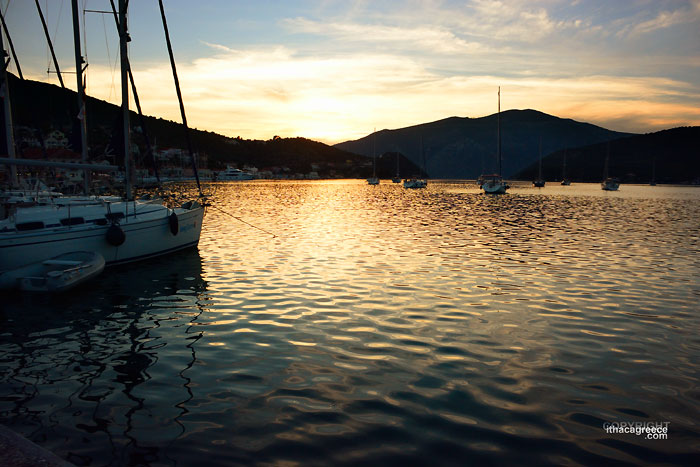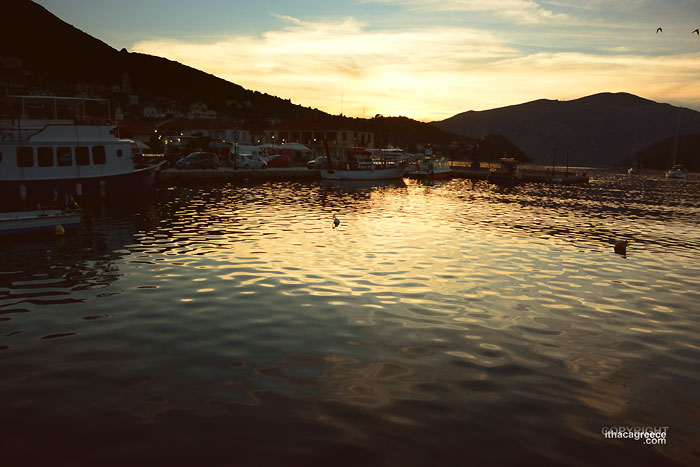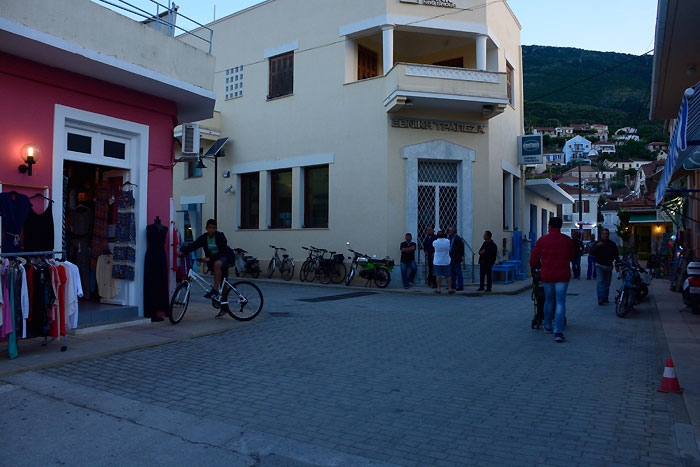 Below - Some of ithacagreece.com Sponsors. O Nikos Taverna just behind the bayside.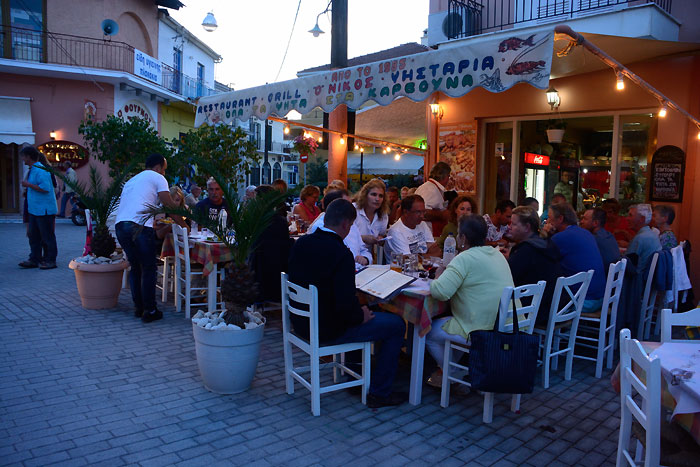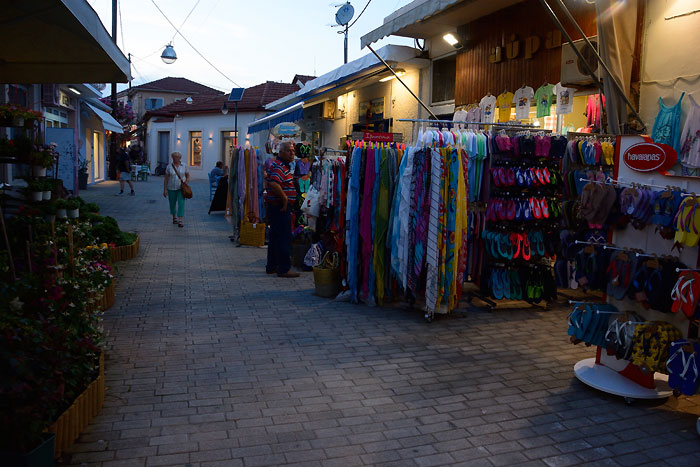 Below - Sirines Restaurant, located just behind the village square.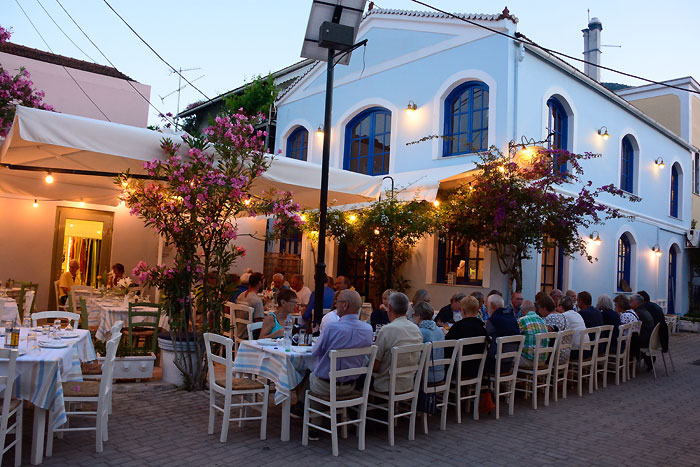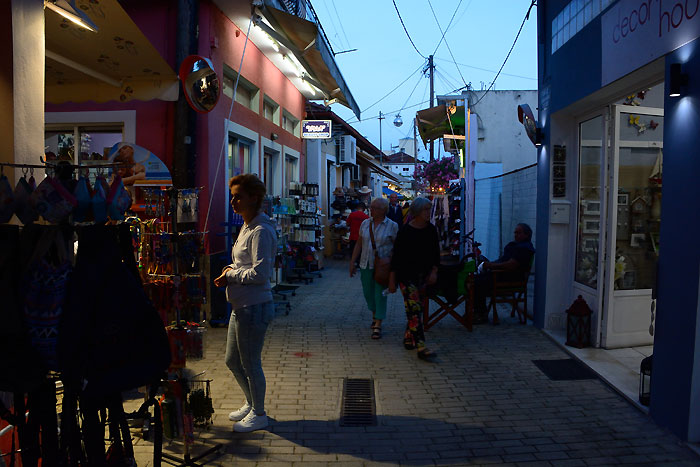 Below - Kohili Restaurant on the bayside, but also with a courtyard area back from the bay.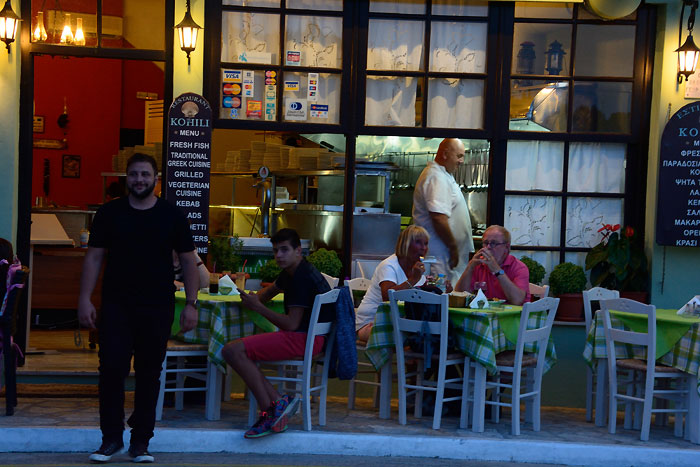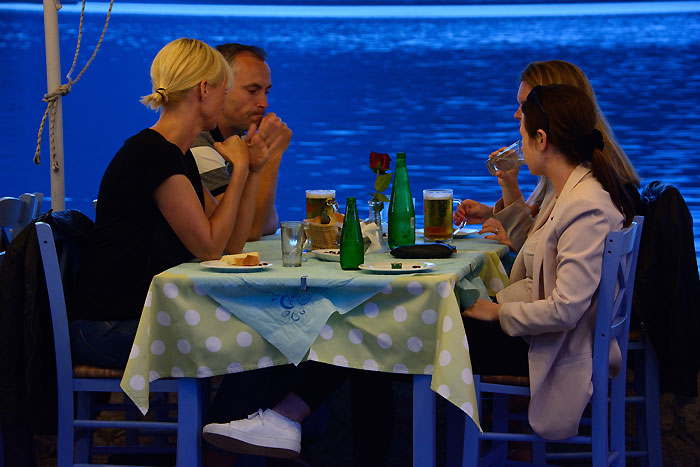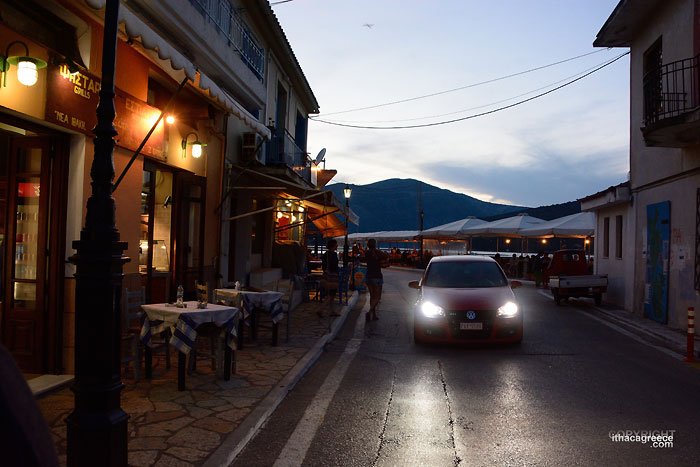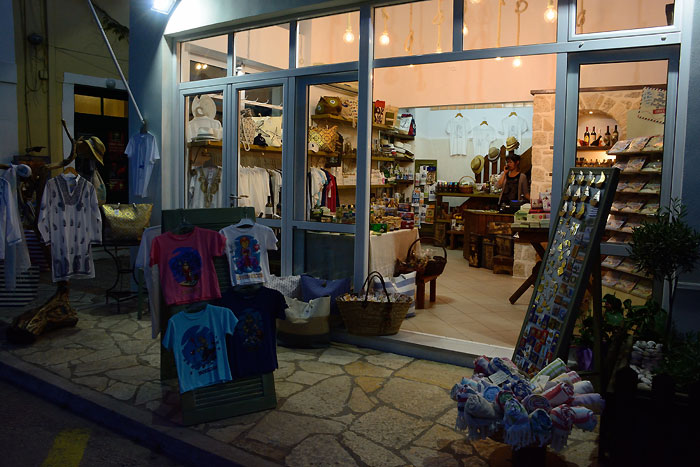 Above - Some new gift shops have also opened up in Ithaki's main village of Vathy.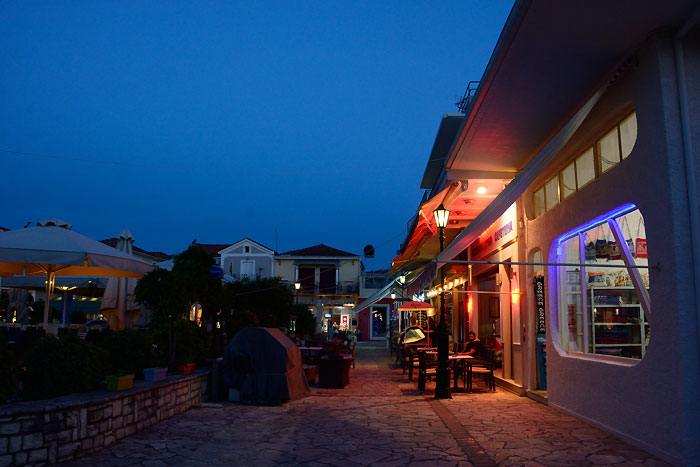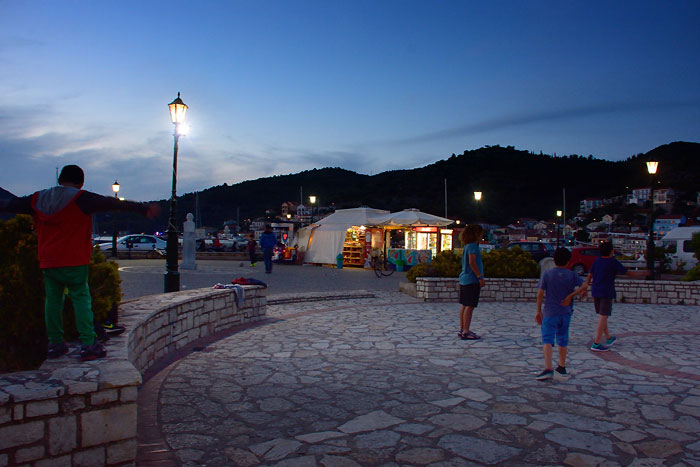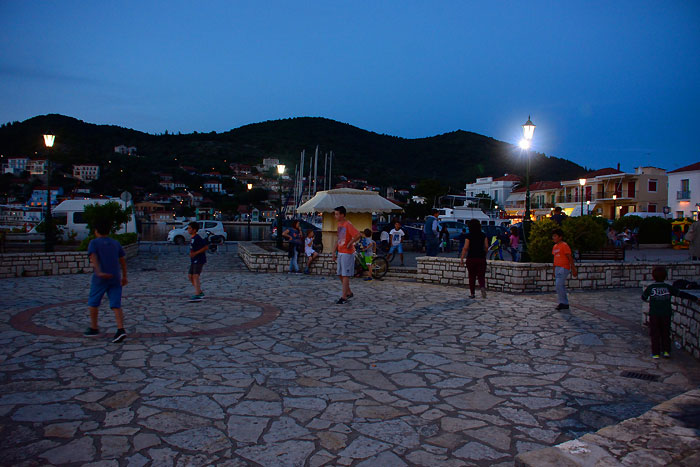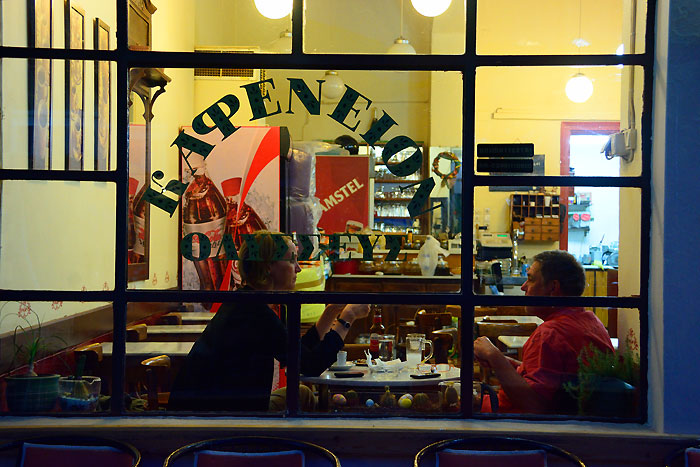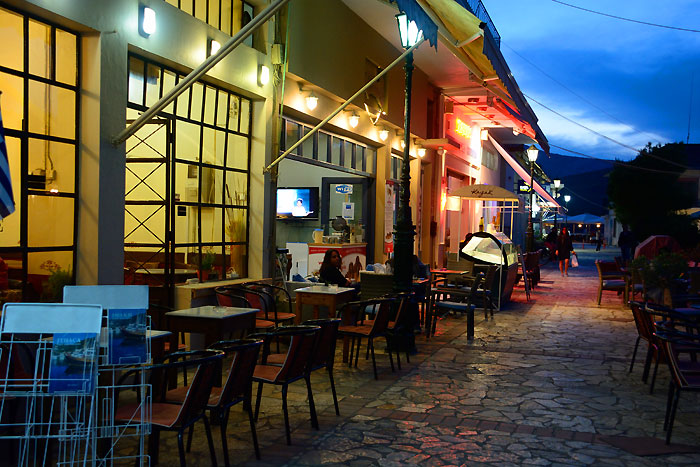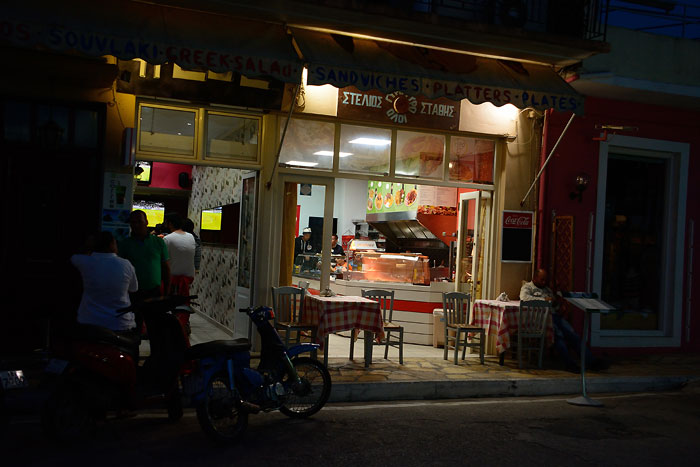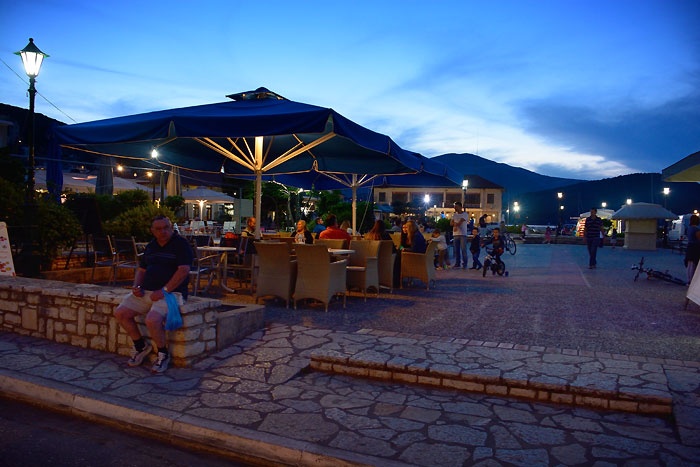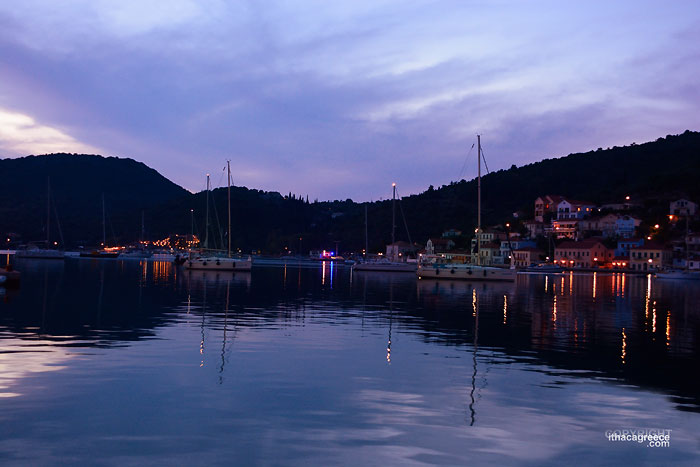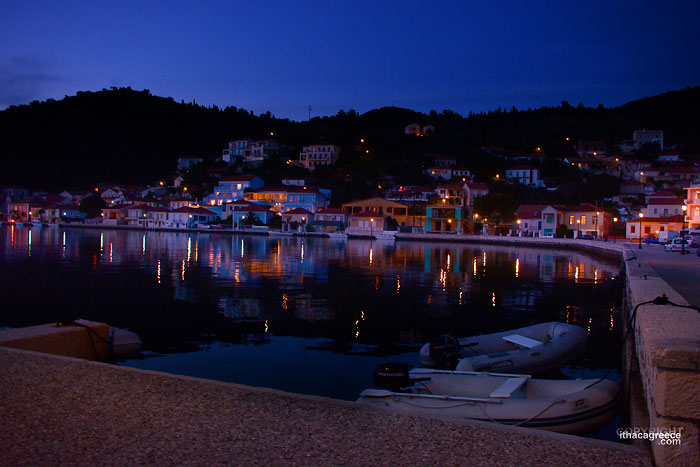 Below - Cafe Del Sol opened its doors just last year and has been going strong ever since. It's right on the bayside, so enjoy a snack and a drink with a view to die for.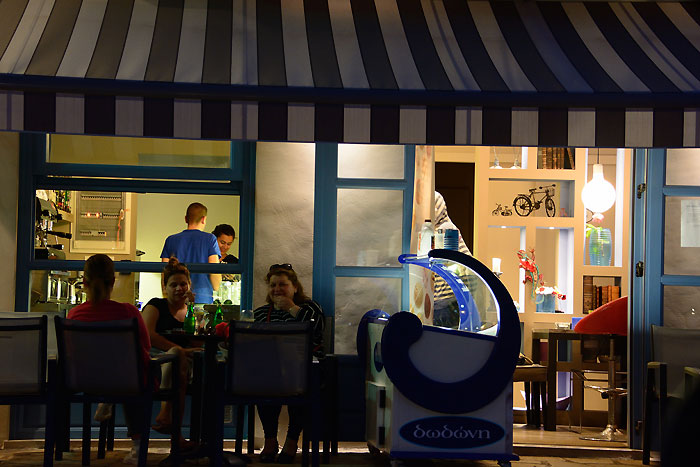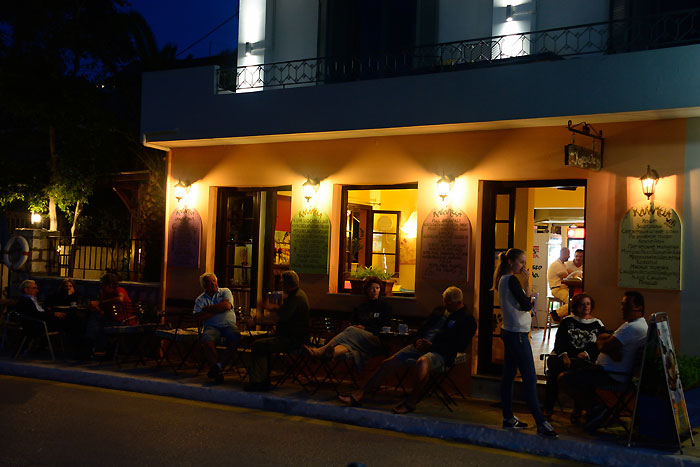 Above - Karamela Cafe right at the port on the bay, has been a popular Steki, not just for locals, but for everyone who spends any time in Vathy.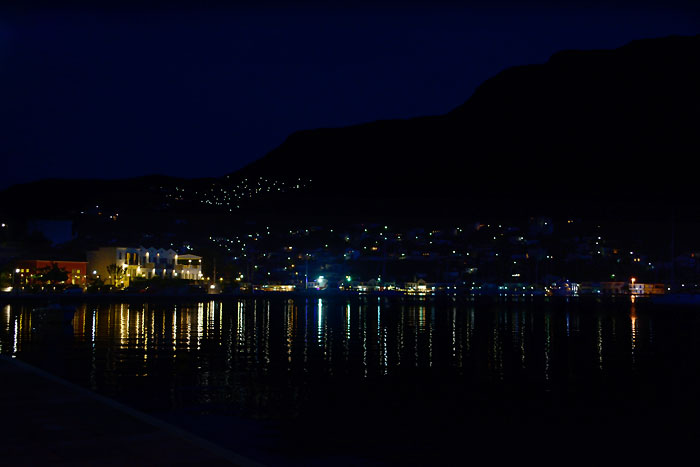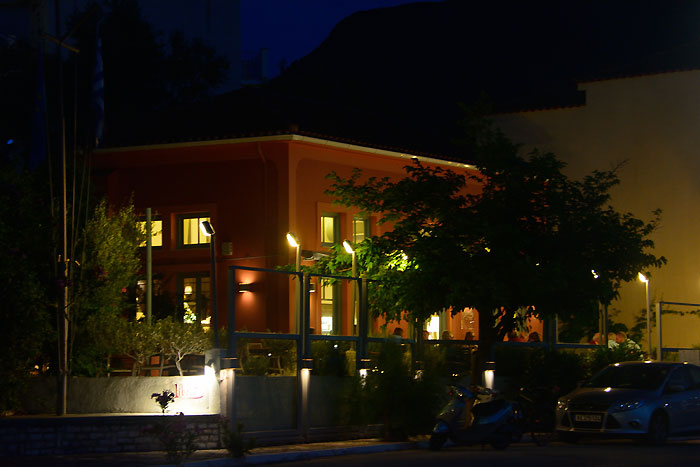 Above - Libretto has some of the finest dining on the far side of the bay. Some delicious Italian influences as well as Greek.
Saturday 28th - I have a very crappy phone camera, but there's a charm in it too. Below are a couple of charming pics from my crappy phone.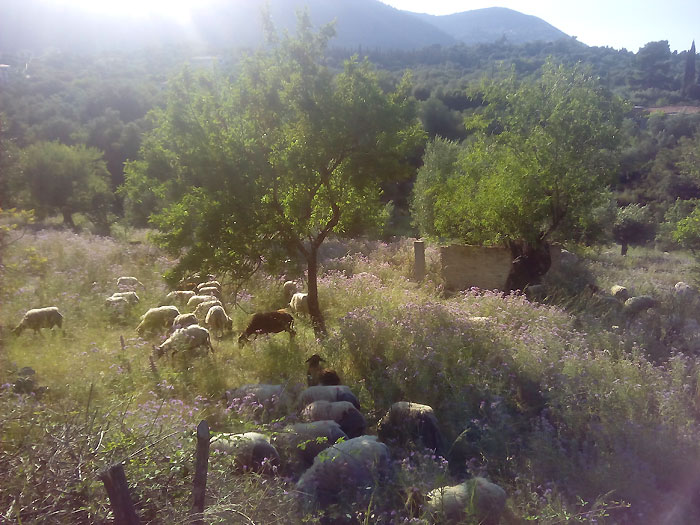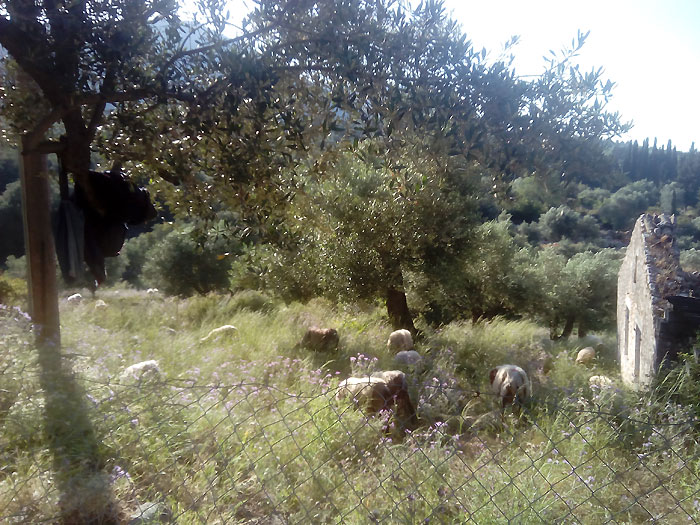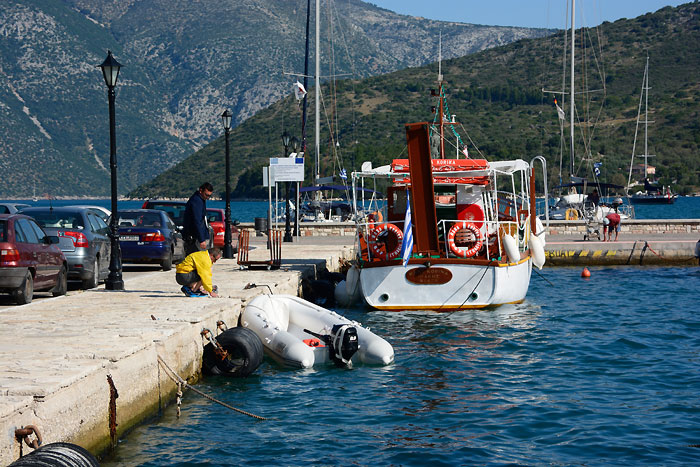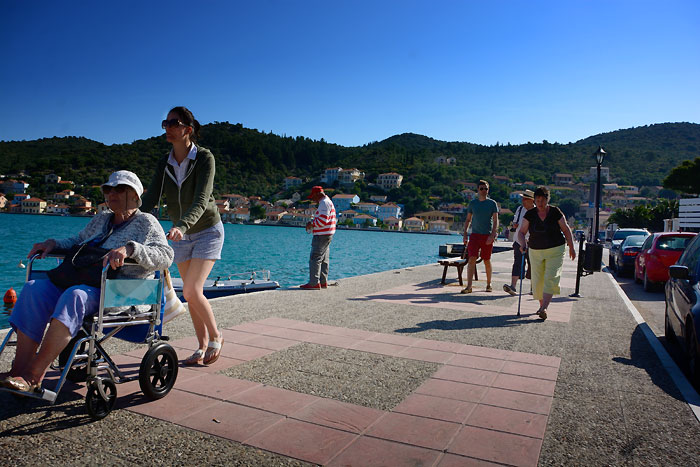 Sunday 29th - Really does feel like we're heading into Summer. Temperatures are much warmer now and the night's become milder.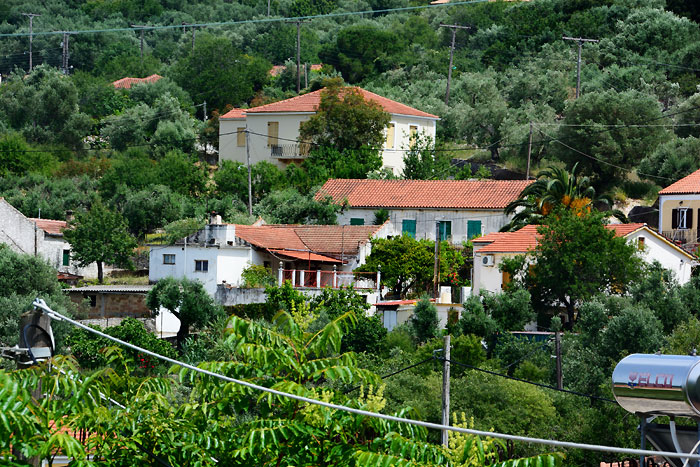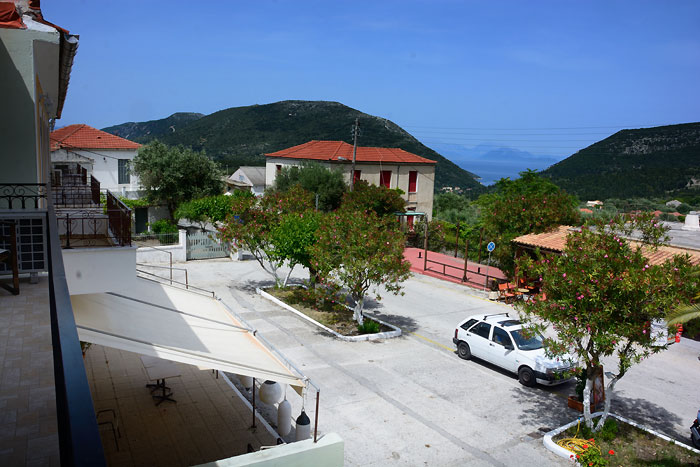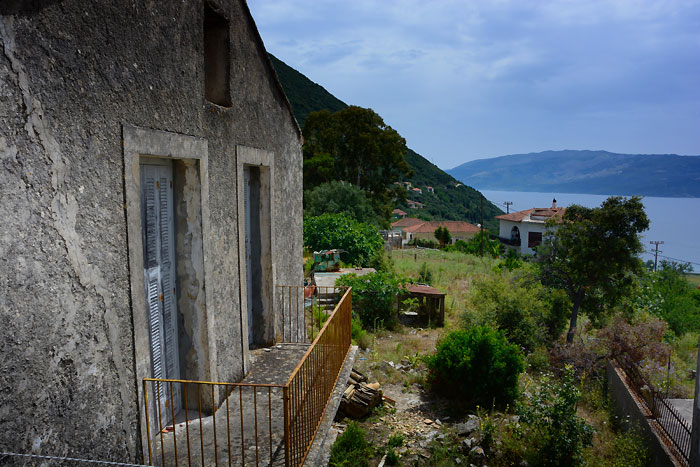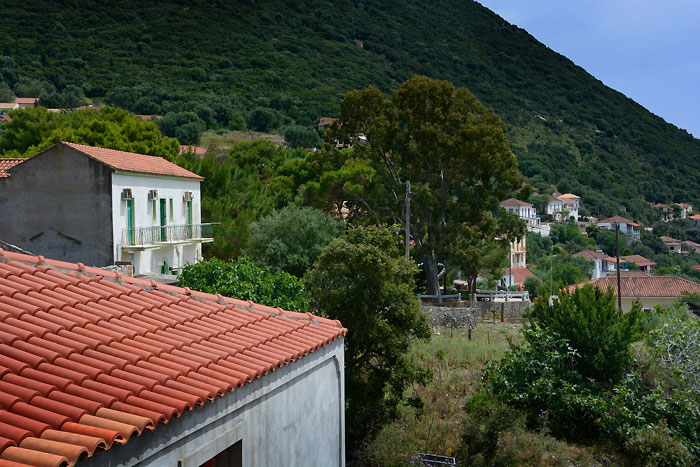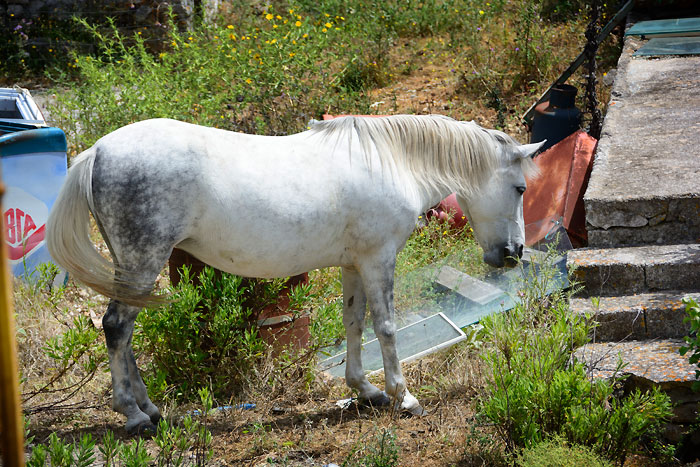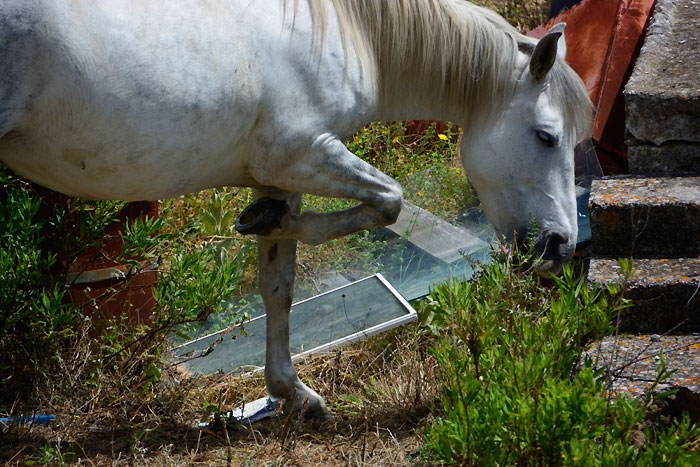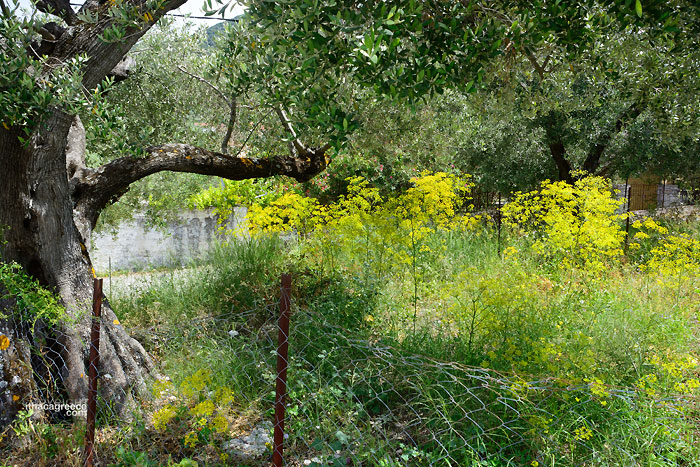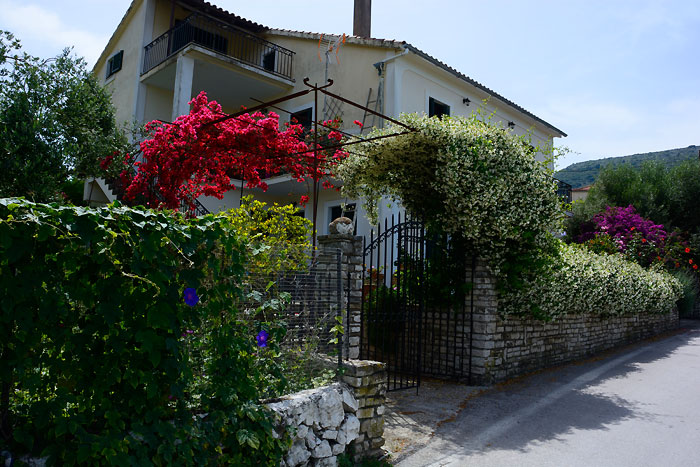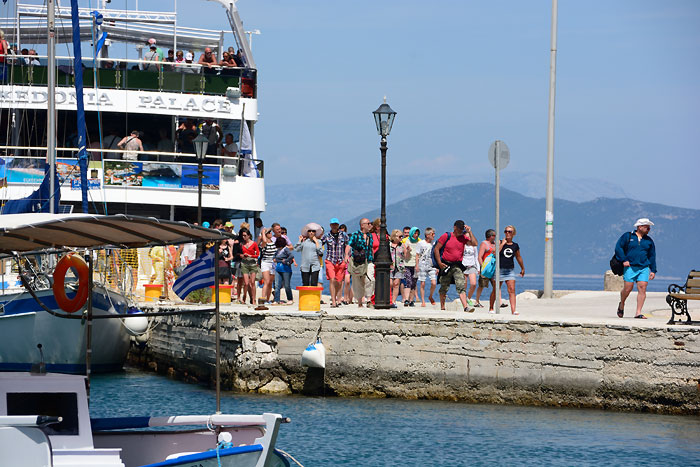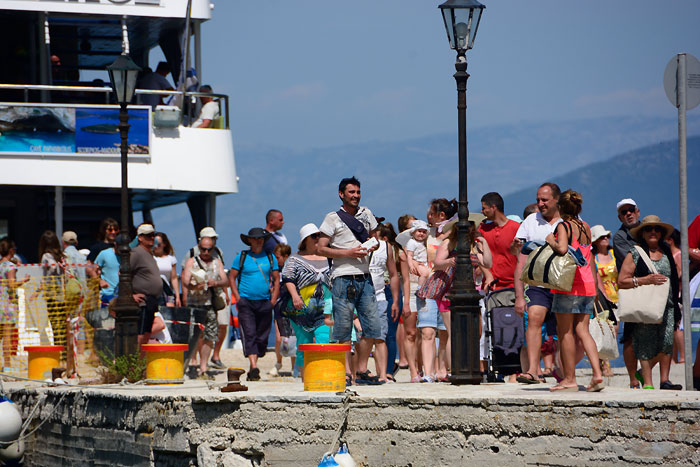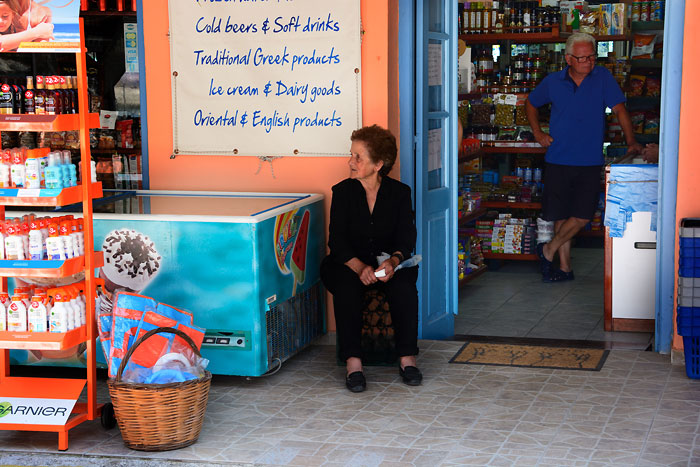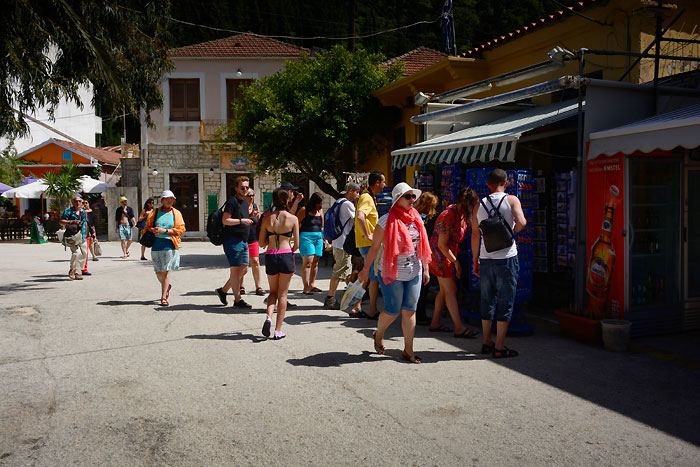 Below is a video shot by George Florence who was on Ithaki in 1981. Super 8 footage transferred to digital. Take a look.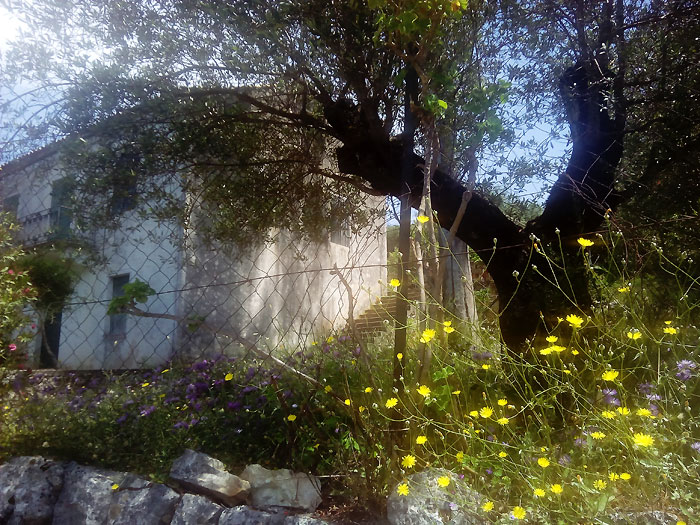 ---
May 2016
It's all blue skies from here!
Tuesday 17th
The brilliant weather continues on Ithaca Greece.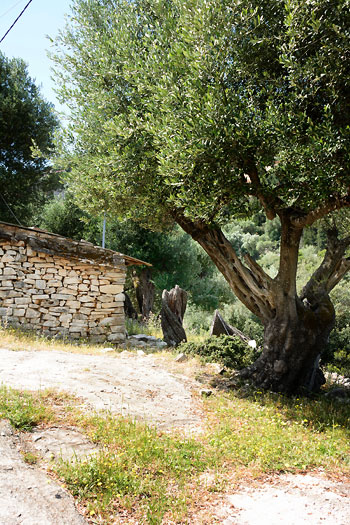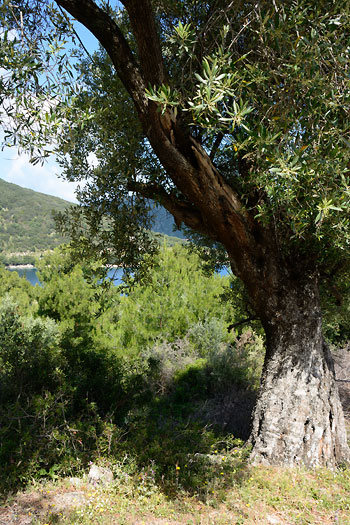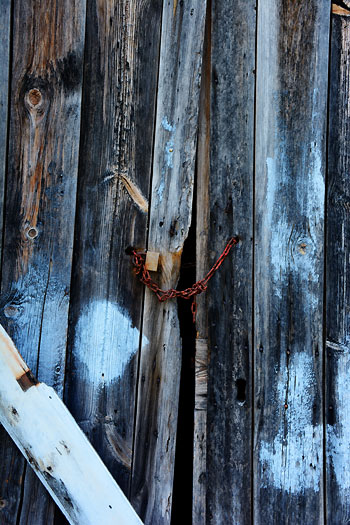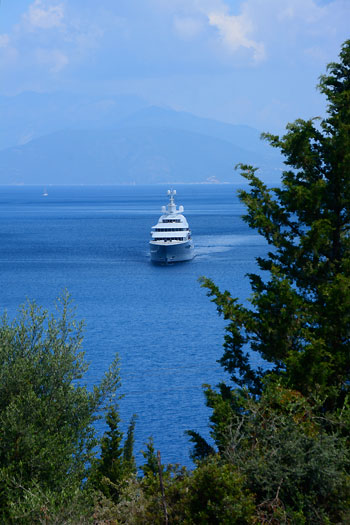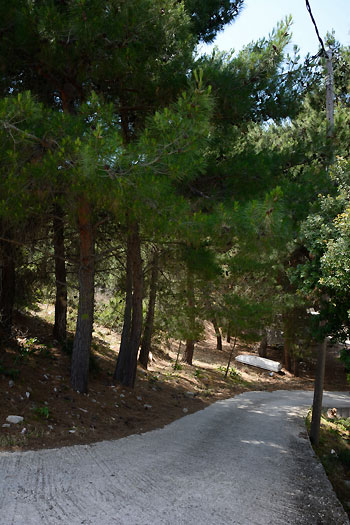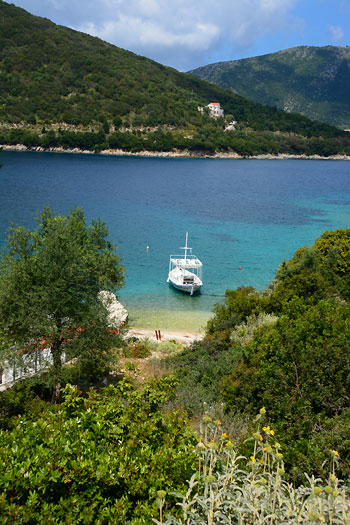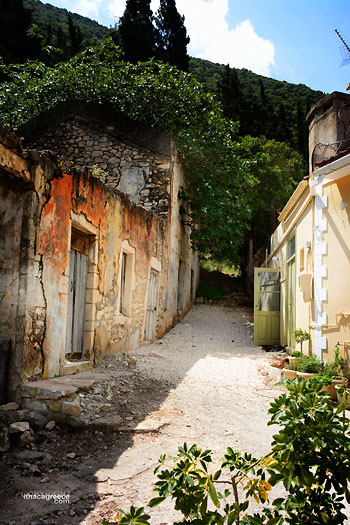 Sunday 22nd - Lots of people around with bus tours and yachts, especially in Vathy today.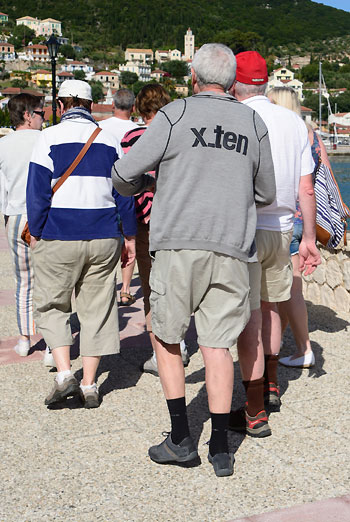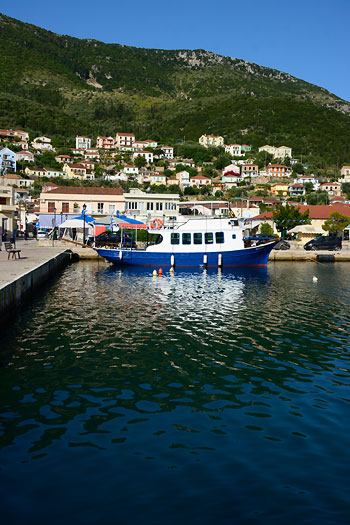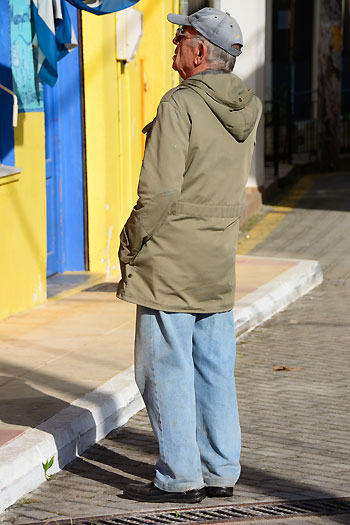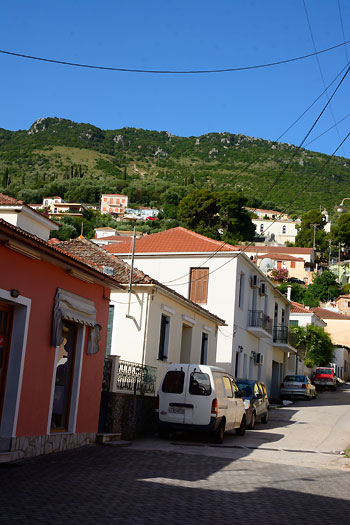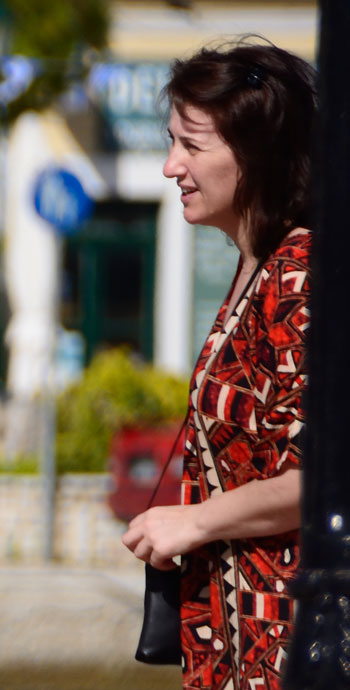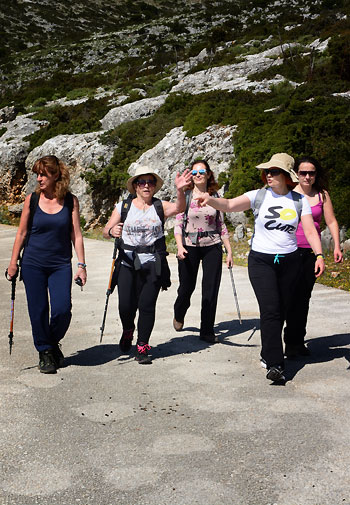 Monday 23rd - The tourist buses and boats are back. A big influx of people can be seen in the streets at various times through the day when they are off loaded to take a look around our little island.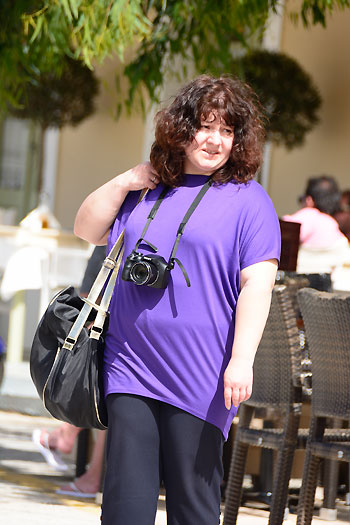 Now, I've made mention a couple of times about the works on the Frikes Pier. The word is that it must be done now due to some governmental and bureaucratic regulations. Those involved had their thinking caps on afterall, so now it's time for the law makers to do the same. The word would be "Simplify".
Tuesday 24th - From here on in, there will be lots of new faces walking around the streets and baysides of our little island. The summer season will see our numbers jump from 3.500 inhabitants during the winter to around 14,000 and more.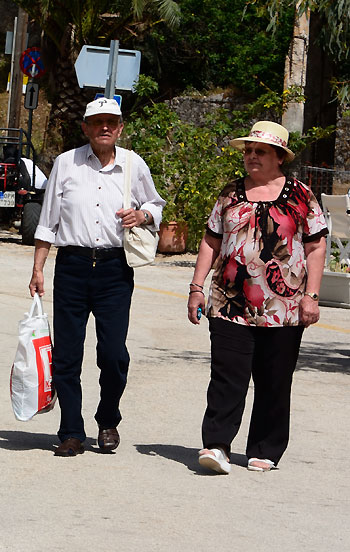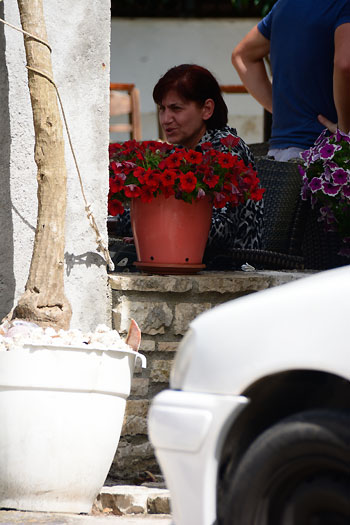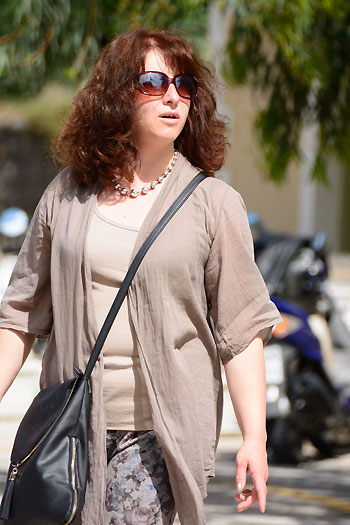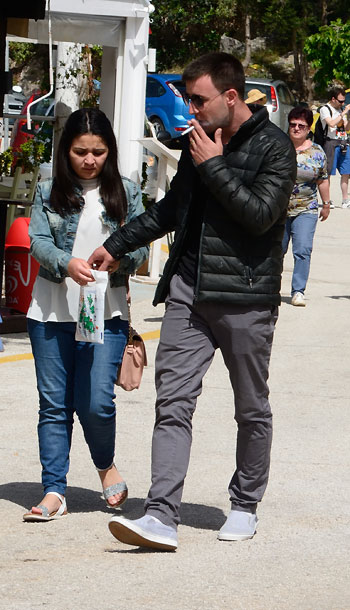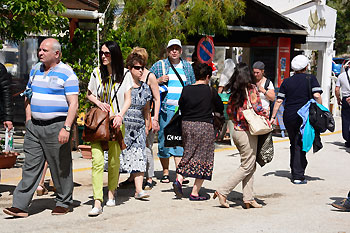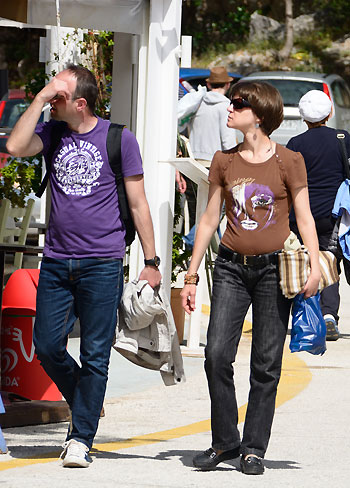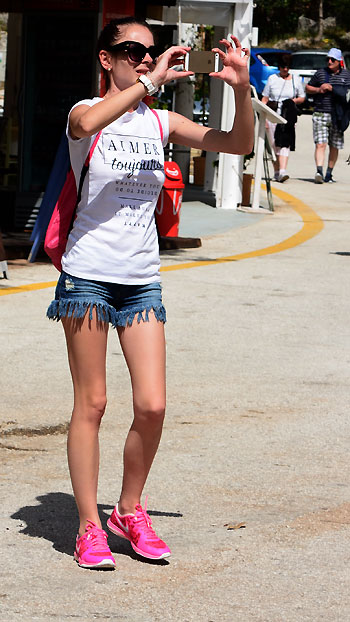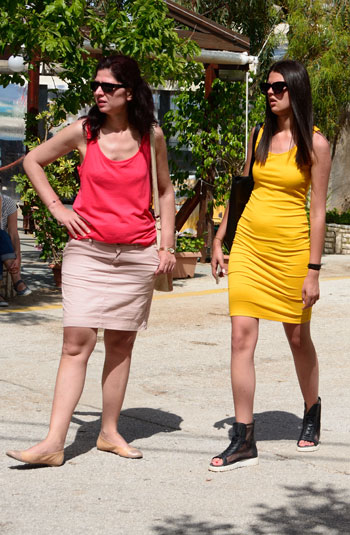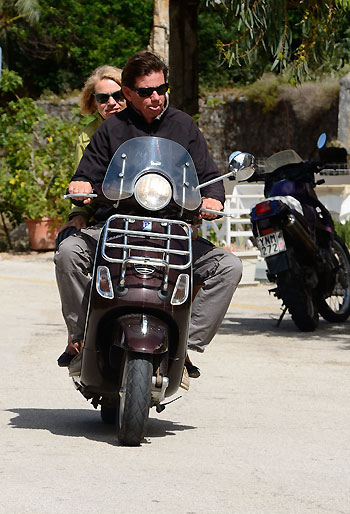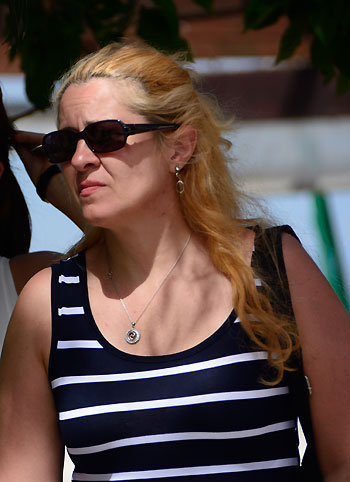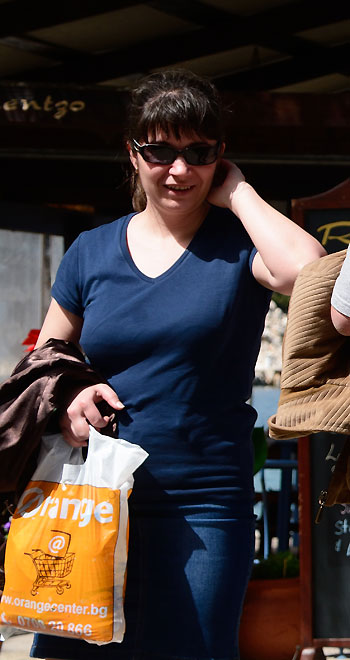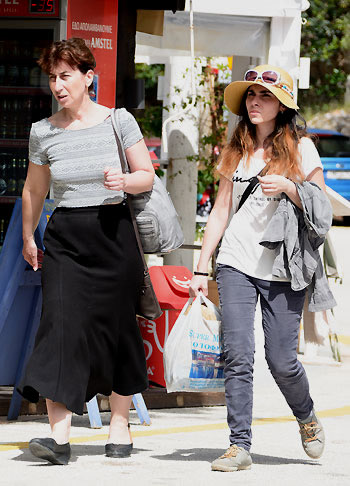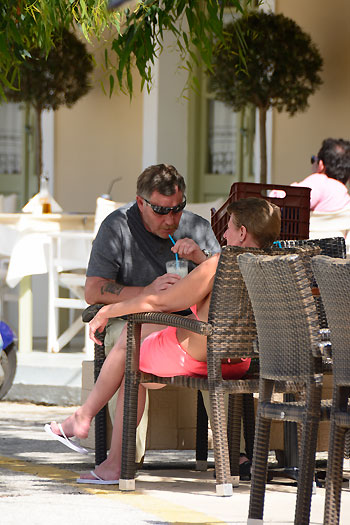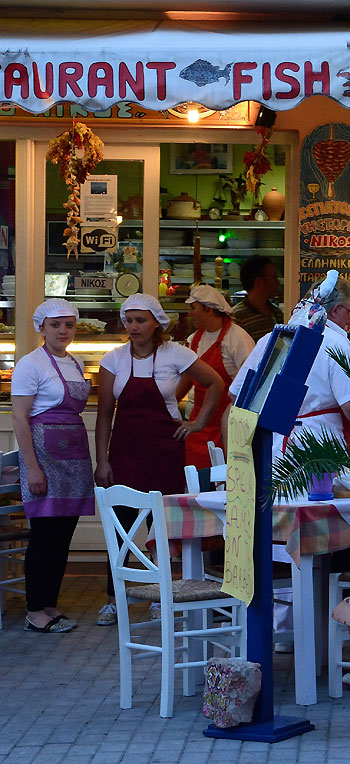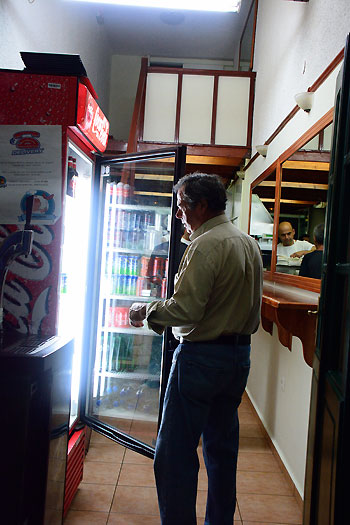 Saturday 28th - Very warm yesterday. I think we're on our way towards summer heat.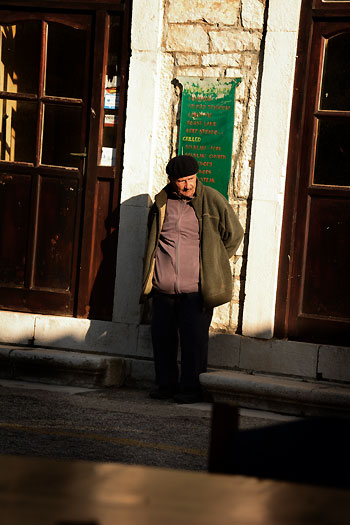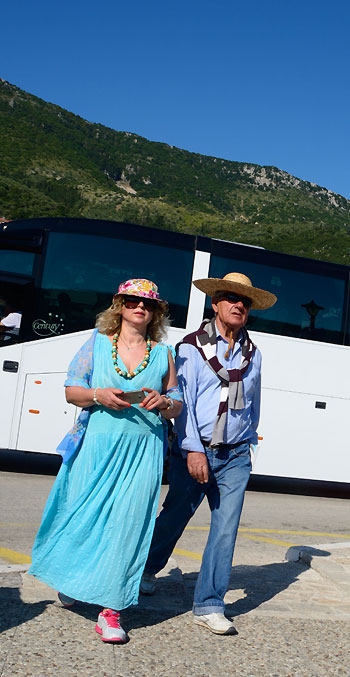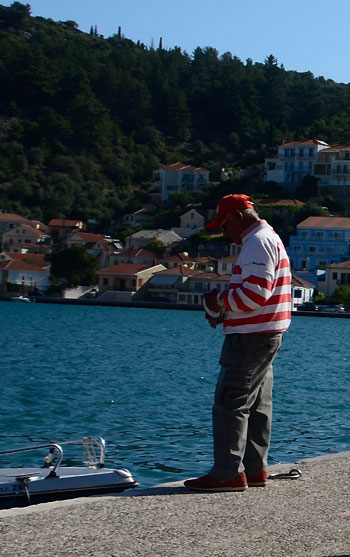 Sunday 29th - So many new faces walking our streets, especially during Day Tripping times, when hundreds disembark the ferries for a look around our villages.