<! --/headerwrap -->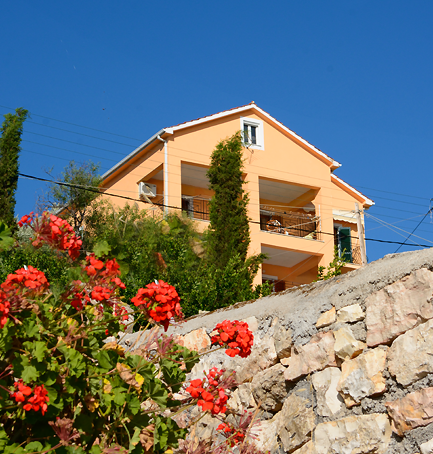 Ithaca Greece
<! --/col-lg-4-->
Holiday in Greece - Ithaca Island
Sea View Apartments "Yiorgos Grivas" are situated on the edge of Vathy town in the south of Ithaca Island in Greece with water views from town to cape and mountain views to Perahori and beyond. All our apartments have sea views of the bayside, always dotted with yachts and fishing boats. Be mesmerized by the Ionian sun glistening on the water as the sun goes down.

Our apartments are only a 5 minute walk to the center of Vathy (Vathi) with restautants, coffee shops, shopping and all necessary amenities. The nearest beach is a short drive (1km) or a 15-20 minute walk along a tree lined road which weaves along the waterside. Vathy town itself is a picturesque hub of ithaca, also known as Ithaki. There's lots to enjoy!

<! --/col-lg-8-->

<! -- ABOUT SEPARATOR --> <! -- PORTFOLIO SECTION -->
Our Apartments
<! --/container -->
Facilities
Our Apartments
6 Spacious Apartments
Sleep 2 - 3 People
Kitchenette & Eating area
Balcony or Terrace with Sea Views
Air-Conditioning/Heating
TV and WIFI Internet
Bathroom with WC and Shower
Considerations
Sea View Apartments may not be ideal for physically challenged guests, wheel chair access or elderly with walking problems.
Steps leading to the apartments.

No Pets Allowed
Rates / Service
Our rates range from 35 - 70 euro
Per Night Per Apartment for 2 People
5 euro charge for extra person



<! --/row -->
<! --/container -->
<! --/Portfoliowrap --> <! -- PORTFOLIO SEPARATOR --> <! -- SERVICE SECTION -->
You will be amazed at the stunning views from all apartments
Sea View Apartments "Yiorgos Grivas" are available for rent all year around.
Come spend your holiday at Sea View Apartments on the Greek Island of Ithaca.
<! --/row -->
<! --/row -->
<! --/container -->
<! --/servicewrap -->
<! --/testimonials --> <! -- SERVICE SECTION --> <! -- CONTACT SEPARATOR -->