| | |
| --- | --- |
| | |
| Ithaca is keeping up with the rest of the world with its own Environmental Center in Vathy, looking ahead to the future and hopefully giving the children of the island and other parts of Greece, an insight into the importance of respecting our very precious environment. | |
| Wednesday 27th - It's so cold I haven't wanted to take my hands out of my pockets to take pics. Rain again today and 7 force winds. | |

| | |
| --- | --- |
| | Tuesday 26th - Left - Dimitris Danis has been making some big changes over the past year. Ores Gallery is no longer, but Oresart continues on. His current projects are Nostospassword, a soul journey of nostalgia, plans for making a hostel for artists in Istanbul and here on Ithaki, he will be joining the council of Fimios which is responsible for the cultural events of the island. News is also that he's finished up at Manus in Vathy, so keep your eyes out for where he'll pop up next. |
| | |
| | |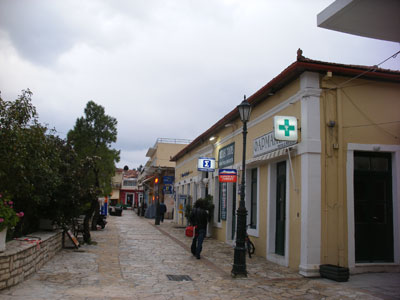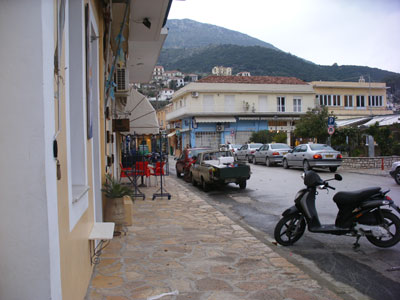 It's no wonder the streets from Kioni to Vathy are empty. Grey and miserable, even for Ithaki. Let's hope the power stays on, so that we're not left totally in the cold during our 8C and below days.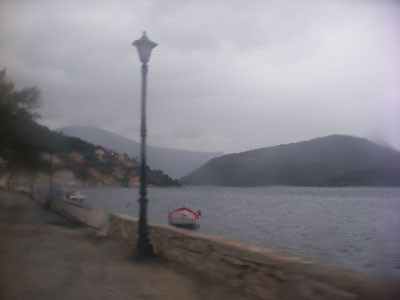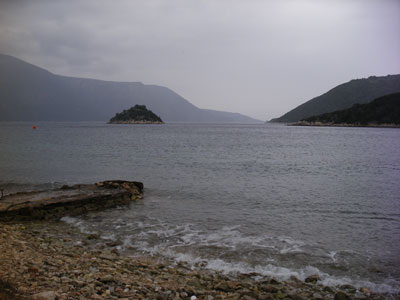 | | |
| --- | --- |
| | Dark days forecast for the rest of the week with an even colder front sweeping through from today. |
| | On Friday, the parents from the north of the island are gathering at the Community Hall to discuss further tactics on how to get a Pediatrician to the island. Similar meeting will probably also be taking place in the south. |
| | More pages have been updated on ithacagreece.com - Beaches, Museums & Sites, Facts, History & Myth, Helpful Links, Municipal Numbers, Culture & Festivals. New looks for the new year. We are also building up Trades & Services to make it a worthwhile Directory that you can all use when you are in need. |
| | Friday 29th - Already counting down the last hours of January. Time really is zooming by. Not as cold yesterday or today, making it a little more comfortable to be outside. News on the Stavros grapevine is that the new building overlooking Polis from across the park, may give Ithacans and visitors somewhere new to gather when the Season starts. Dina Vasilopoulos, who you may know as one of Stavros' hairdressers, may give northern Ithaki a real traditional treat. Below - Odyssea football team played Cephalonia yesterday. |
| | |
| --- | --- |
| | |
| ithacagreece.com is now updated and ready for the New Year. Lots more photographs added to all the Site pages. I hope it will make a difference to your surfing experience. | |
| Saturday 30th - Last night at the Stavros Community Hall in the north of Ithaca, School Committe and Community got together to discuss further tactics to force the powers that be to make a pediatrician available for the island. It was interesting to note that 98% of the attendees were in fact male. Good to see dad battling for the cause while mum was at home battling for bedtime. | |
| | |

It was actually quite surprising to see so many people turn out for this School Committee meeting, although I imagine they will need quite a few more parents getting on board to achieve the outcome of a permanent pediatrician on the island.

Feels like it's been raining for months. Very few sunny days this winter so far. The forecast is for further rain over the next week with temperatures dropping again also. With 85% humidity, no wonder we're all feeling the cold to the bone. The depth of winter is still to come, with February usually being the coldest of the winter months.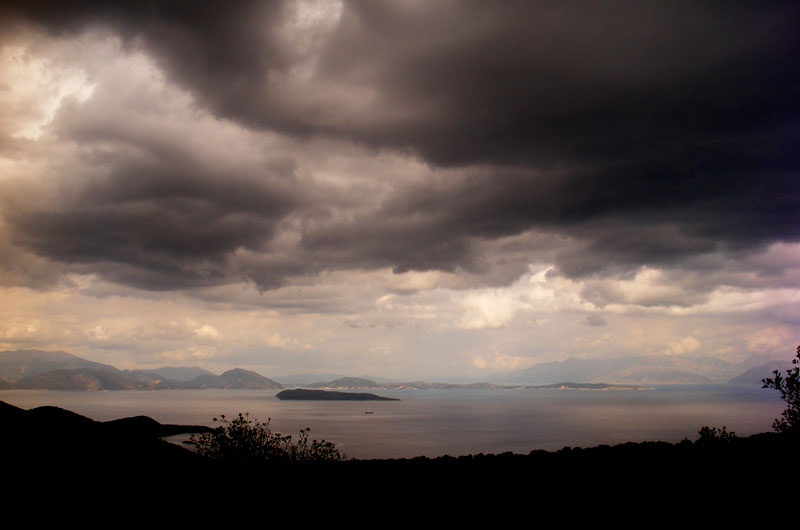 Sunday 31st - January is over, but the bad weather is just getting fired up...so they say. Next week, high winds of 9 force and storms are forecast. We'll definitely be battoning down the hatches and keeping our fingers crossed that the electricity stays on. Still, you never know, the forecast could be completely off in regard to Ithaki. Sometimes we are spared the fury of winter. After weeks and weeks of rain, I'm certain many are beginning to curse the skies, but when winter weather makes the view as beautiful as this (pic above), it's not easy to be angry at such dramatic beauty.
At 6pm on Wednesday evening at the Kapi in Vathy, the Parent School Committee will have another meeting to rally support for their bid to secure a pediatrician for the island.
On Thursday, 4th February, Ithaki, along with the rest of Greece, will celebrate Burnt Thursday. On this day Orthodox Greeks fill themselves on meat before Lent and the Fasts begin. Traditionally, local cafe and restaurant owners fire up the grill late morning to charcoal souvlaki for anyone who's interested. If the weather is conducive, it's a nice way to spend a winter hour. In Stavros at the Community Hall, there will also be a dance for the kid, parents and anyone else who has polished up their dancing shoes. It's usually a good time with lots of food, music and a noisy family atmosphere.
If you haven't noticed yet, check out the hOME ithaca greece menu links for new look pages on ithacagreece.com. Just click your way down the menu. I'm very happy with the new look, hope you like it too :) Only 3 main pages to go. Having just loaded up the Poetry & Writing page with a new look, it got me thinking that it's been quite some time since we've had any submissions. Guess Facebook comments are a little easier to write, but it would be nice to receive some more poems or stories inspired by Ithaki. Surely there are still some of you willing and able to write whole sentences instead of chat shortcuts.