| | |
| --- | --- |
| Friday 12th - More rain, wind and storms yesterday, probably today too by the look of the sky and the rain that's been falling since last night, but the good news is - we still have electricity. Hooray hooray!! Apart from a little split second blip last night, we are still connected to the grid. (Let's hope I'm not speaking too soon) | |
| | |
| Winter sounds of Ithaca are church and sheep bells ringing, the crackle of fires burning in the olive groves, roosters (who seem to have no idea of dawn) crowing all day long, the laughter of school children playing at recess and the mumble of gossip at the Kafenion. | |
| | |

| | |
| --- | --- |
| | |
| | As we head into Christmas, more and more people seem to have left the island. Many have city homes which they escape to, some go on holiday looking for sea, sun or snow, others go back to their countries of birth to catch up with family and friends. The few (well not too few, about 3000+) that remain here over the winter period, work, play and make the most of the time they have. The days are short and the chores are many. Not for all mind you, some spend their days at the local Cafe playing cards and watching tv, passing through the hours and days of loneliness, something also prevalent at this time of year, seeking companionship. There are flus, chills and other winter ailments to overcome, but on the whole, it's a very intimate time, a time you really get to know the people and Ithaca, and more importantly, yourself. |
| | |
| | Monday 15th - Another Sunday without electricity yesterday. This time the notice was posted on the community bulletin boards around the island, but if like me, you didn't go to the village square, you woke up to another unwanted suprise. It was not suprising however, that it was cold and absolutely $%*&# down with rain. So where do you go to get warm, go to the loo etc. (without power there is no water and without water you can't flush or shower, unless you have a gravity friendly cistern)? Well, a Cafe with a generator and or fireplace isn't a bad start. For those of us with fully electric homes, home is not where the heart is a when there is a 'power out'. The like minded and equally cold and uncomfortable got out their umbrellas and headed to their local Cafe to pass the hours without electricity amongst friends. Sunset Cafe, a recent addition to ithacagreece.com, had the fire warming the cockles. |
| | |
| --- | --- |
| | There's more rain and cold predicted over the next week. Excellent rainfall. |
| | |
Work on the road from Frikes to Marmaka seems to have halted again. Cafe gossip is that the money has run out, but more likely it's the very wet weather we've had. Regardless of the rain, the work crew working on putting the ADSL lines around the island seem to know no weather boundary. They are work rain or shine, day and night.
Thursday 18th - Christmas is just around the corner, and although many have already escaped the island, there are still some left working hard. Below - the work crew putting in the lines for ADSL. They have reached Stavros and are heading into the center.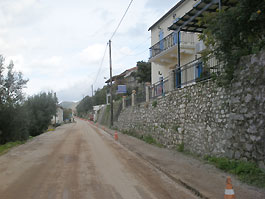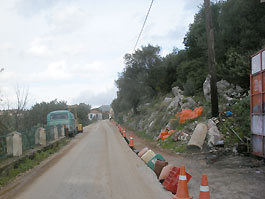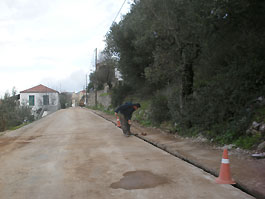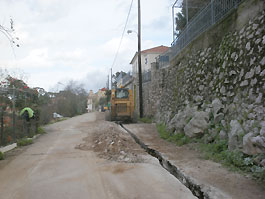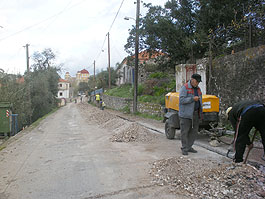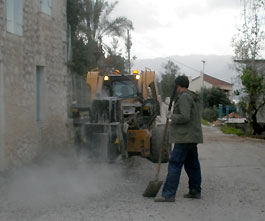 Needless to say that the roads around the island are a little dangerous, so it's wise to remember that on many sections of the main road, there is only room for 1 car at a time.
| | |
| --- | --- |
| | |
| Ithaca seems very relaxed at this time. Everyone has time to stop and chat, there's no mad rushing from Government building to Government building, to banks to Engineers to Ote, to DEH, to the post office, yes, it's a relaxed pre-Christmas time. In Vathy, Christmas tunes echo through the Square, allbeit a little weird to hear Bings dulcet tones coming from the PA system. Traditionally, as I've mentioned before, Christmas is not the most important holiday on the Greek calendar. Traditionally it's New Year that Greeks give presents to eachother and regard as 'The' day. but year after year, Greece too joins the commercial bandwagon of Christmas, and now Bing in Vathy. | |

| | |
| --- | --- |
| | Saturday 20th - A beautifully sunny and mild day greeted us on Ithaki this morning. It stayed fine all day, perfect for walking, gardening or just sitting, soaking up the sun. Pics above are from the Apostolata hutch of Stavros, where goat paths and paths that lead to olive groves, wind their way through a lush landscape. Left - The Exoghi Christmas pyramid has been up for about 1 week now. It's so huge they can see it from the mainland. |
| | Monday 22nd - Looks like winter has finally reached Ithaki. It's cold folks...but the skies are blue. |
| | |
Left - A snippet of the Folk Museum window in Vathy, which has been decorated in a very simple and lovely way.

| | | |
| --- | --- | --- |
| | | |
| | MERRY CHRISTMAS TO YOU ALL (THOSE WHO CELEBRATE IT OF COURSE) AND HAPPY HOLIDAYS TO THE REST. THANK YOU ALL FOR THE FANTASTIC SUPPORT YOU HAVE GIVEN ITHACAGREECE.COM OVER THE YEARS & ESPECIALLY THIS YEAR. I APPRECIATE IT MORE THAN I CAN EXPRESS IN WORDS. AS THE SUNSETS OVER ITHACA, AFTER A SUNNY BLUE SKY DAY, I HOPE YOU GET A LITTLE SUNSHINE WHEREVER YOU ARE OVER THIS HOLIDAY PERIOD TOO. | |
| | | |
| | |
| --- | --- |
| | Sunday 28th - It's been pretty cold the past few days, but this morning the proof of it covered the mountain tops on the Mainland. Snowcaps all around. Wouldn't be surprised if snow has also fallen around or above Anoghi here on Ithaca. Yesterday, it rained all day, with clouds sweeping low over the island (as you can see by the pic of Exoghi below left.) We have definitely had a wetter than usual winter so far, and it may be that we may also experience a colder one this year too. I just hope the power stays on. Again there was a power cut or two, 2 days ago and blip yesterday. |
| | |