Sunday 28th July 2013
Sunday isn't much different from other days during Summer on Ithaca. It's filled with plenty to do, even when the sun goes down. So after a day at the beach, a little nap and a shower, head to the old school in Kioni for a little culture and enlightenment, where Danai Kouvara is having her painting exhibtion until August 15th, then look on the bulletin boards, as there may be some live music coming from around the island, sometimes at short notice. If not, then there's plenty of lights, action, camera, going on around the baysides and the village squares.
Danai Kouvaras Exhibition in Kioni
After last year's successful exhibition by Danai Kouvara, Danai is back again this year with her new collection of paintings. This time at the old school building in Kioni. It's open every day from the 27th July until the 15th August. Hours are 7pm to 11pm.
Danai paints for around 4 hours every day, completely committed to her art. Her tools are spatula, oil paint and canvas and her inspiration is mostly political, but also from the small details that our lives are abundant with. At first look, you will be impressed with her use of colour and texture, before it becomes clear that she is sweetening a rather dark perception of reality.
Danai Kouvara painting will be for sale after the exhibition, she will also be there each day if you wish to speak to her about her paintings.
Danai Kouvara Exhibition
Filiatro Music Festival
A hot weekend for the two day music festival at Filiatro beach, sponsored by vlepo.org, featuring 4 bands and 20 musicians. Lots of young bands and dj sets, dancing, or simply enjoying the variety of music. To get to Filiatro, you first see the view of Sarakiniko, By the time I got to Filiatro, the sun had completely gone down. There were shadow siholettes scrattered around the beach, highlighted by the stage lights. Unfortunately I didn't have the time to spend all day and night, but I did get to see one of the bands. They played a mix of heavy metal to The Cure and had a few feet dancing. In winter, Filiatro beach is a pristine, quiet spot to contemplate your thoughts. In Summer it's buzzing with campers and good times, always something happening around the cantina.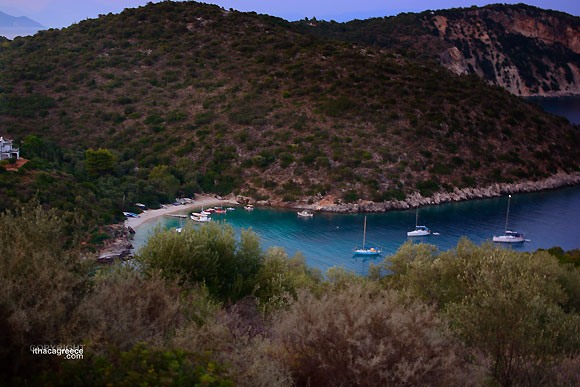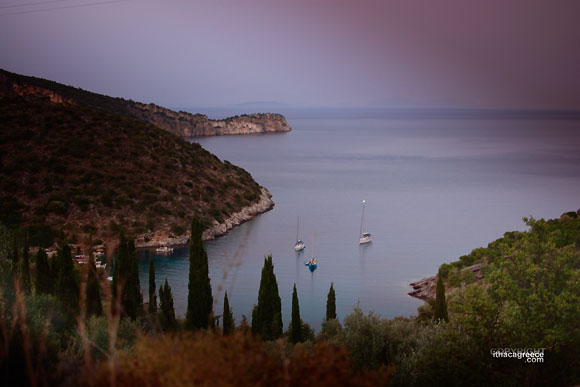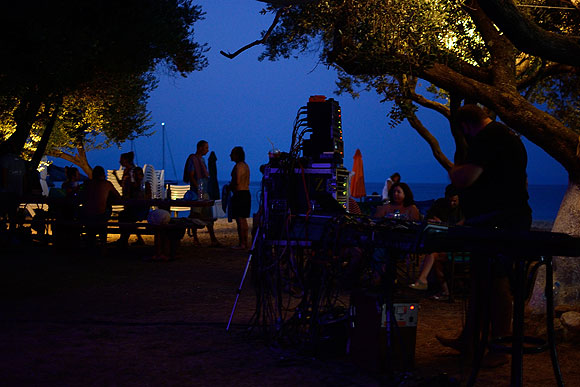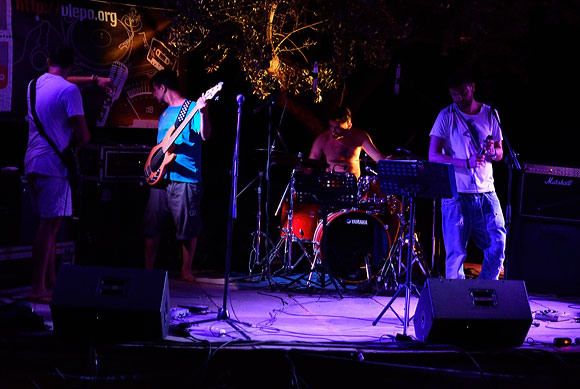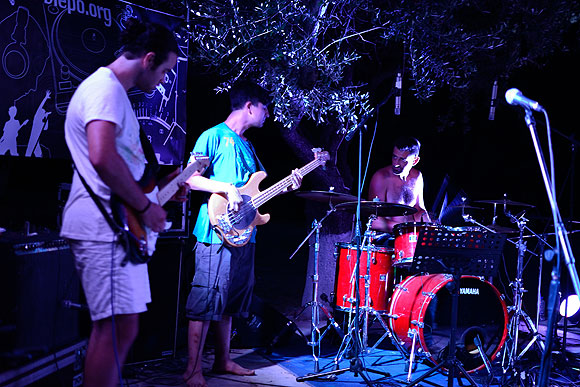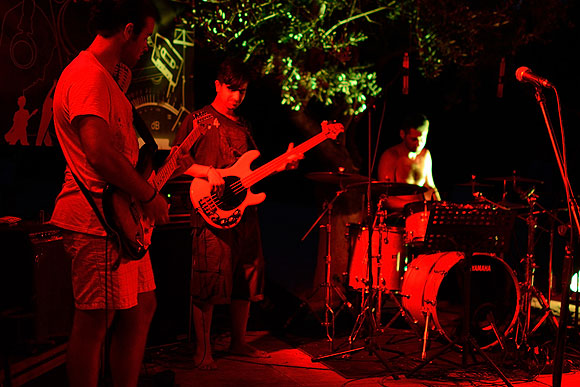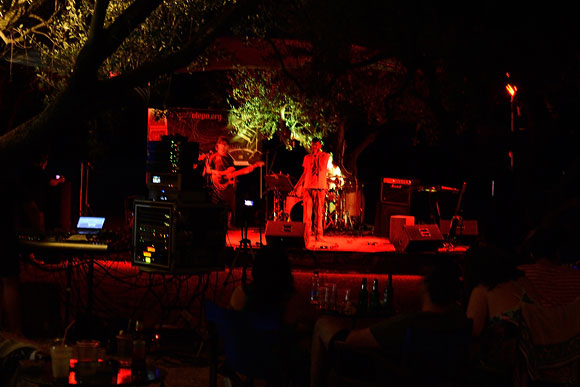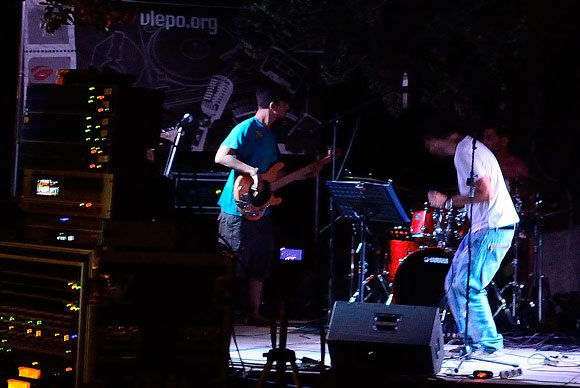 Around Vathy
As we drive into the Square, there's a heave of activity around a makeshift stage. Flags flying, fists pounding. The Communist Party had a little rally in reponse the increasing taxes and measures undertaken by the Greek government and the EU. The sky looked nice, so I took a couple of pics before continuing on around Vathy. The restaurants were all filled. Waiters rushing in and out of their restaurants, across roads sometimes, playing russian roulette with passing traffic. The mild night glistening over the bayside. Colourful lights skirting the edges of it. Not even the back street restaurants are overlooked. Kalkanis, O Nikos, where grill and that extra friendliness lure in locals and visitors alike. Lots of people to see, to talk to. As I headed out, Spiros and Christina from Alpha cars called me over, and after some jokes and a few laughs, they thankfully enlightened me to the fact that Karamela Cafe had music this night too. We were hungry and thought Libretto would be a great stop for a quiet meal in their courtyard, but instead, we rushed to see the band, ignoring our rumbling stomachs.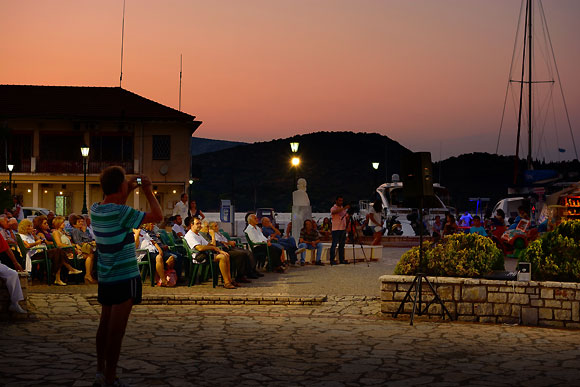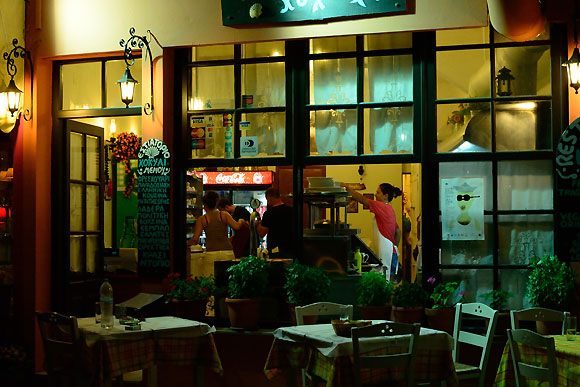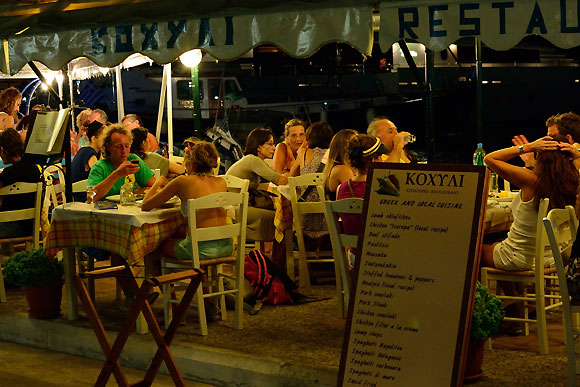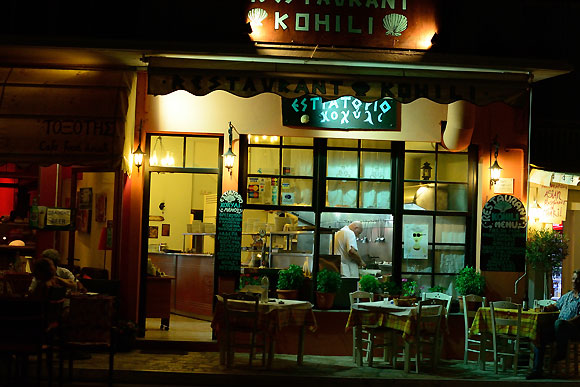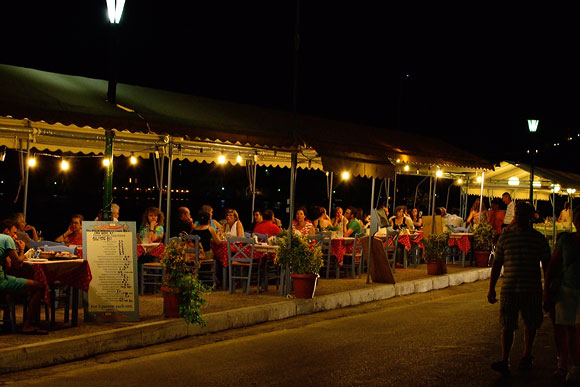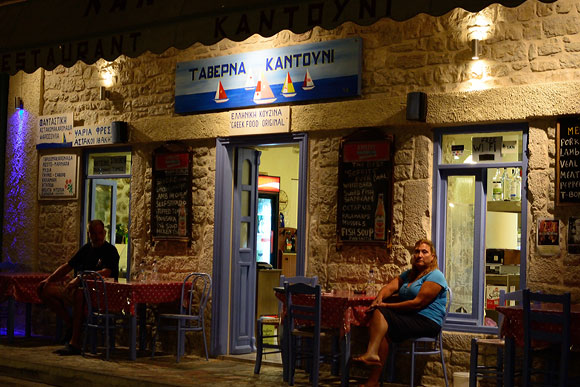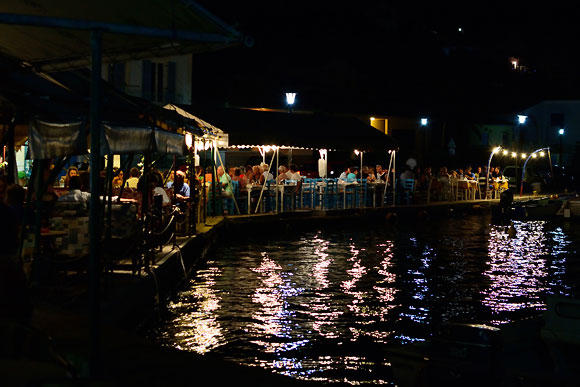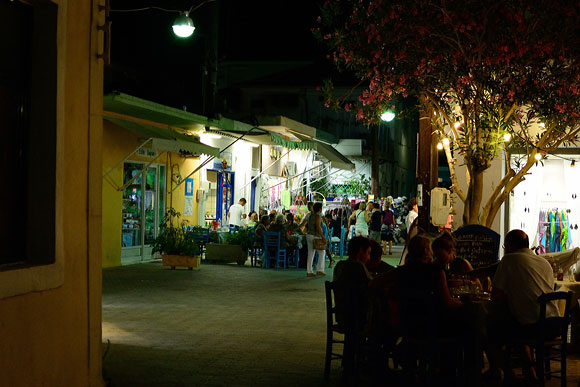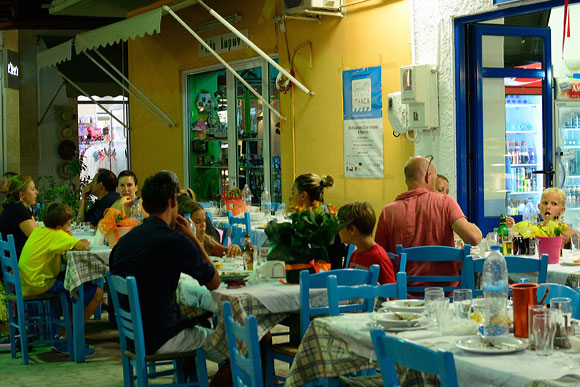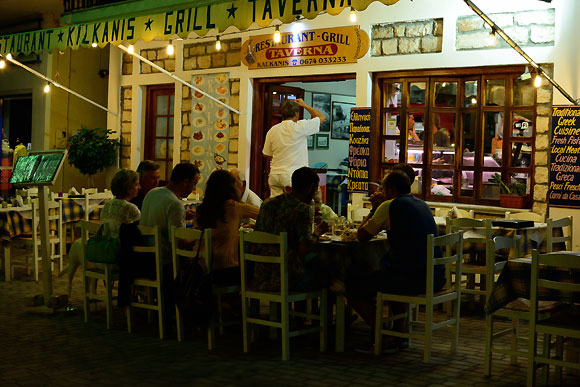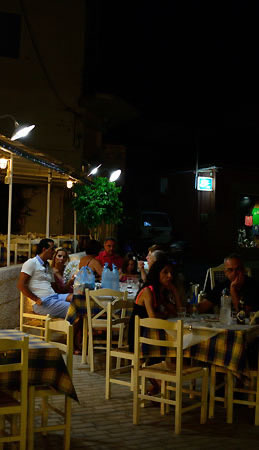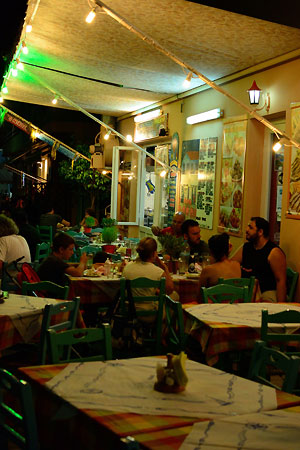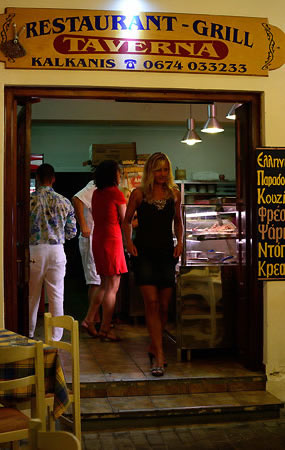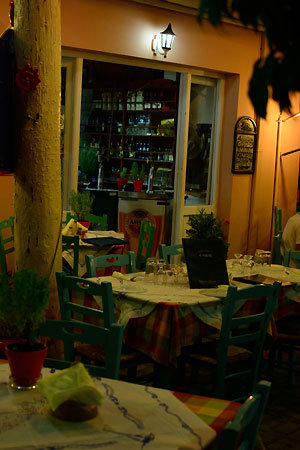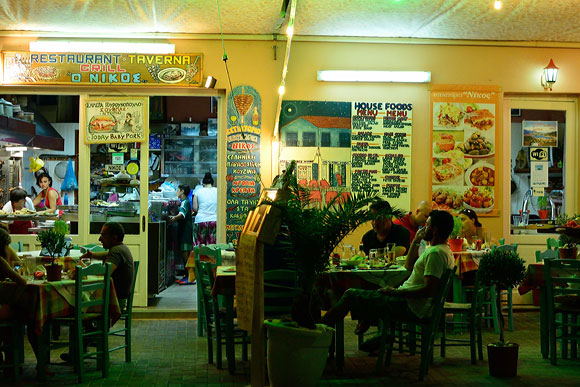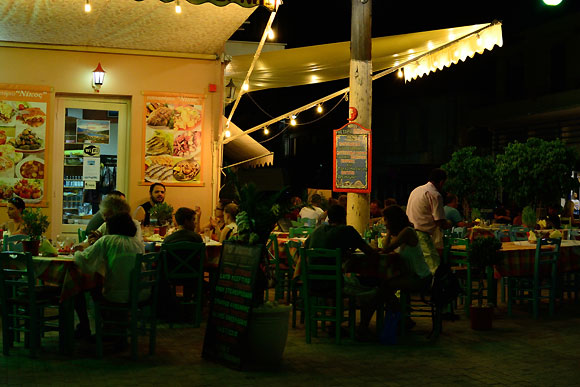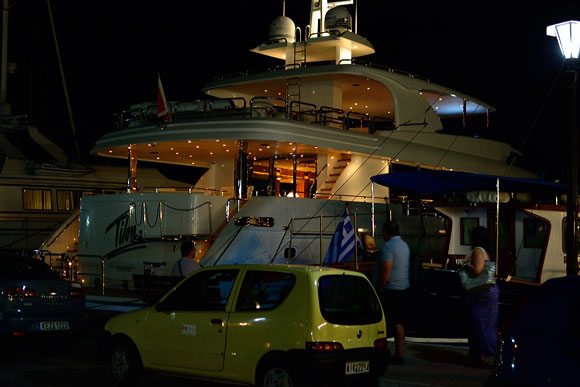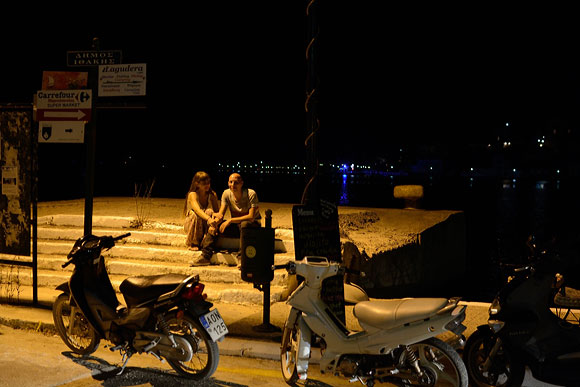 Jazz at Karamela Cafe
As it happened, we didn't need to rush. The band started about an hour after we arrived, but it was well worth the wait. This 3 piece modern jazz band really knew their chops, each excelling at their instrument. Although I'm not a great fan of jazz, I personally do love the double bass, and modern jazz is better (for me) than trad jazz. I also loved the intimate atmosphere of the Karamela courtyard. Ideal for this kind of music.
Spiros, the owner of Karamela, informed me that with the big ferry docking in Vathy, the yachting traffic has decreased a little, as a major part of the docking area, is needed for the ferry from the Patra - Ithaca line. The area directly opposite Karamela, was usually end to end with the big yachts, that are now being directed elsewhere by the port police.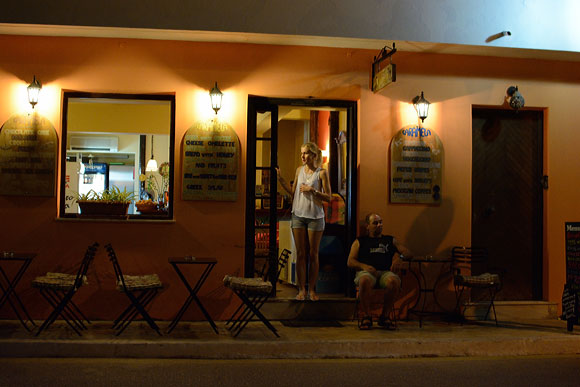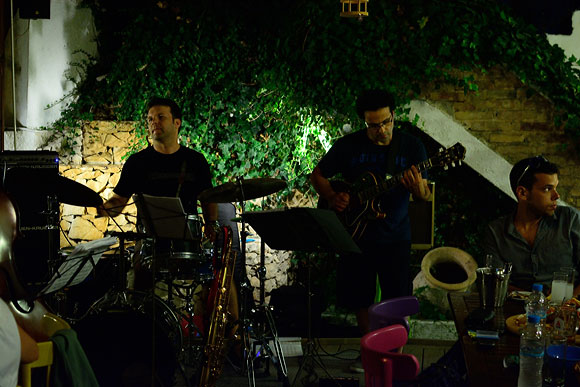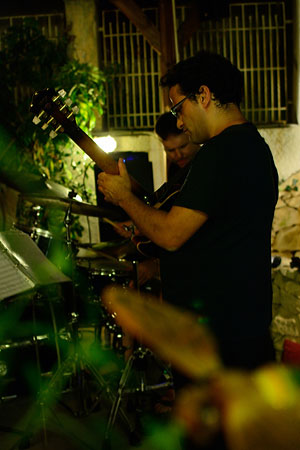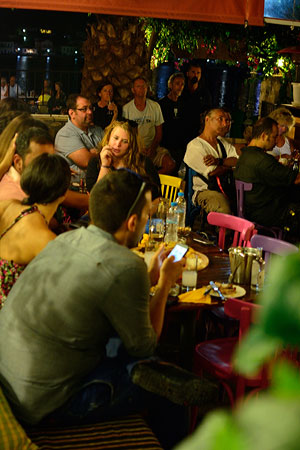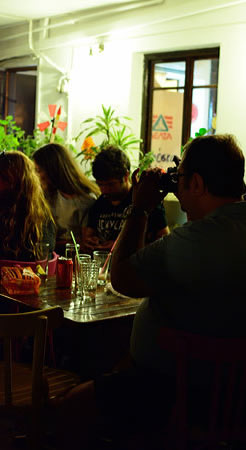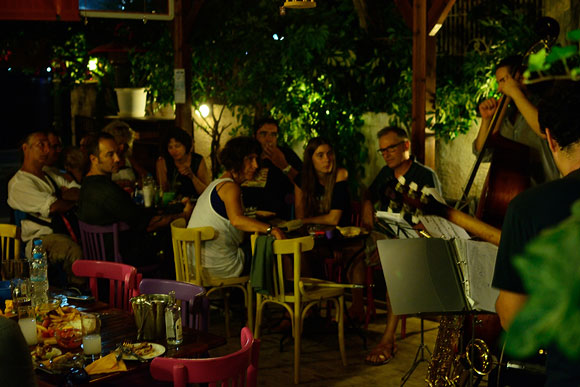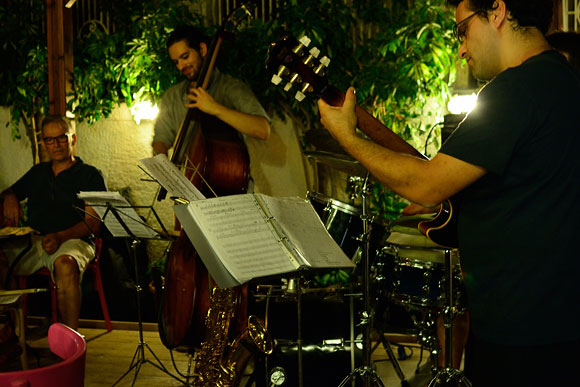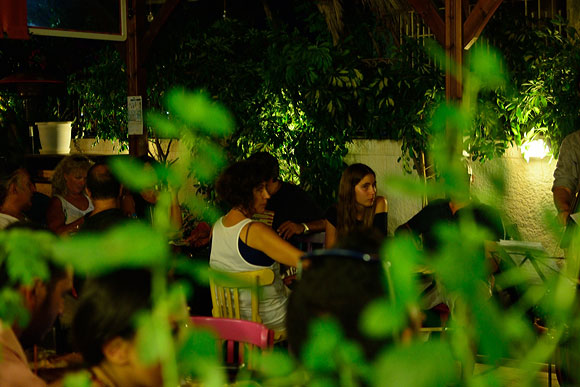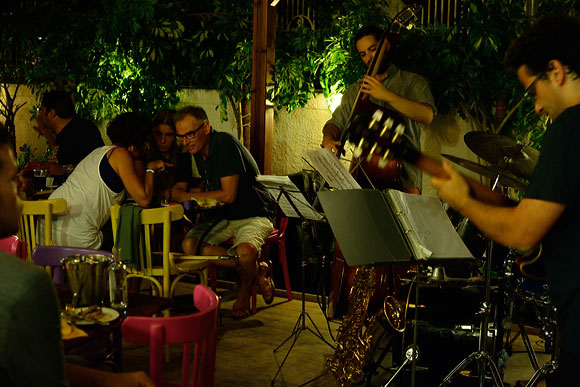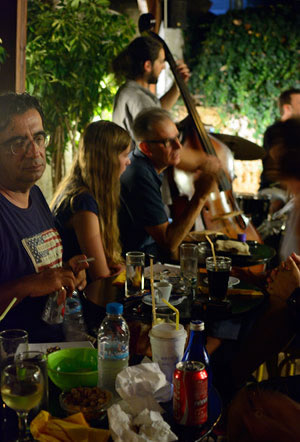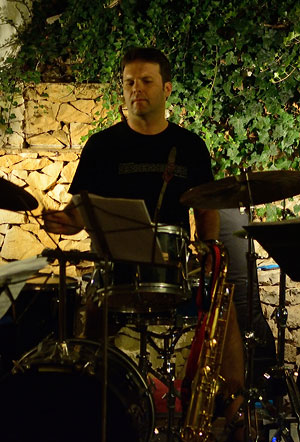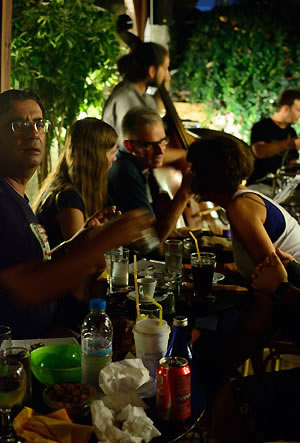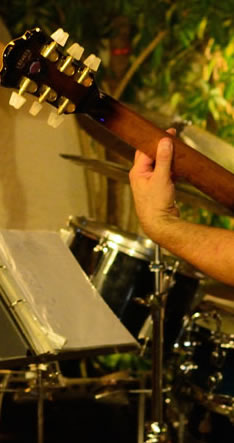 After a full week and especially full weekend, all I wanted was to go home, eat and sleep, but I'm glad I ignored my instincts and headed out to share my Sunday with all of you. If I had a good time, tired and hungry, you will have a GREAT time here on Ithaca for your holiday, whether you're a beach lover or seeking tradition and culture, Ithaca is a great island with great people. What more could you want?