May 2013 - Wednesday 1st - The first cruise ship was in Vathy a few days ago, heralding the start to the summer season on Ithaca. Now with Orthodox Easter on our doorstep, many, many more people are coming to the island for the occasion. Tour groups from the UK and elsewhere have also begun to ferry their customers to our shores, turning the grey Ithaca we had this past winter, into a rainbow of colourful activity again. Yachts dotted across the Ionian, day trippers from Lefkada and Kefalonia and holidayers who have counted down the days to this summer experience on Ithaki, all make up what we love so much about the summer season on this island.
In May 2003 when I loaded up my first pages of ithacagreece.com (then on a free-server called ithaca.ionichost.com) I said to myself, I'd be really happy if I could make it a 10 year archive of the island.
Well now in 2013, I have reached that goal.
On May 2nd ithacagreece.com celebrates it's 10th birthday online, bringing updates, news and photographs to all the Ithaca lovers around the world and giving small business an opportunity to be seen online internationally.
When I first started, only a handful of people on Ithaca even owned a computer, let alone knew what the internet was. The site was welcomed by some with excitement and others by suspicion. Over the years there have been struggles trying to keep the site going, as you know 90% of the site is free, but it's time and effort I've enjoyed giving for Ithaca. I love this island. It's my home now for 12 years. I couldn't have done it or continue to do it without the hearty support of all the businesses who have advertised through ithacagreece.com all these years, and the kind donations made by some of you, who have supported me and the site through good and bad.
I never imagined that ithacagreece.com could have taken such a special place in your hearts and minds. These past 10 years have truly humbled me. I have been enhanced by all of you who have contributed and corresponded with me.
I want to send all of you my heartfelt appreciation for all your very kind support, all these years. Thank you!!!!!!!!!!!!!!!!!!!!!!
Left - Ag. Ioannis, always a wonderful perspective between Ithaki and Kefalonia.
Something to get along to if you're on the island is a Piano and Viola Recital at the old Kioni School on Tuesday 7th May. The performance by Elizabeth Schaefer and Spiros Koutsouvelis, will celebrate a piece of work written by one of Ithaki's own, Nektarios Karantzis. The piece 'Niritos' envelopes the Ithaki spirit, history and mythology, and will be included with various other works. Peformance starts at 8.30pm
Friday 3rd - Happy (Orthodox) Easter to all of you who celebrate this huge occasion in Greece and around the world. Today, Good Friday, everyone heads to church, and in Kioni, church and then the ritual burning of Judas on a ruin wall opposite the church.
On Monday 6th, the planned performance of Forkinas Theatre group's Three-Penny Opera has been cancelled, but there will be a dance in Stavros for the Odysseas Football club. It's usually a great night of live Greek music.
Left - Kioni bayside looking wonderful as usual. The overcast sky cast a dark shadow over the usually pristine blue waters. Made for an interesting and very intense reflection.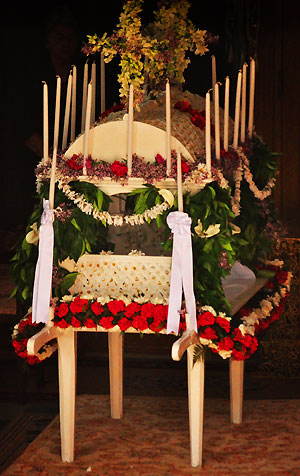 Above - Kioni's Epitafio.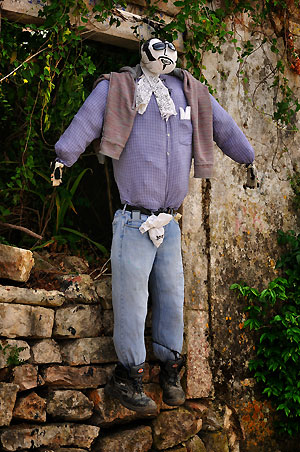 Above - Judas is in Kioni and ready for his annual grilling.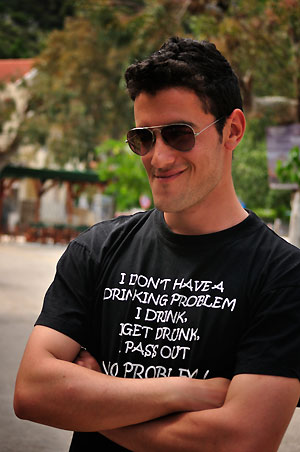 Above - Taki may open up Polis Beach soon, but it depends on the boats the fisherman have docked on shore.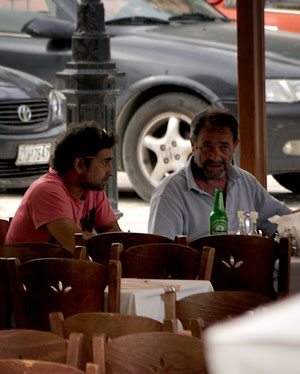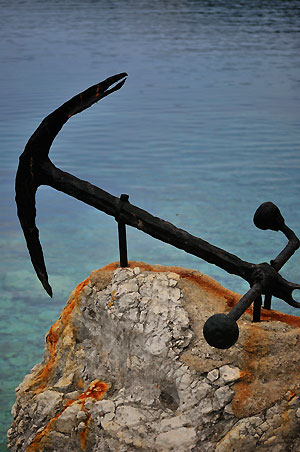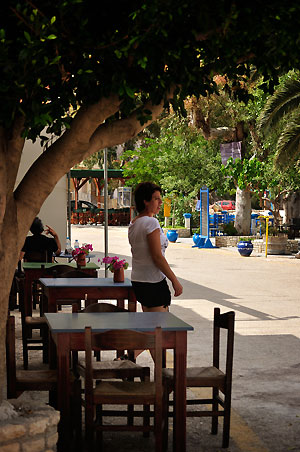 The bayside villages, as you can see, are open for business again. With this big week of Easter and huge Easter weekend, all the shops have polished off the dust, put on a new coat of paint and offer to brighten up our social calendars again. With the weather we've been having, sitting outside contemplating our lives with a cool drink and a delicious snack, is just the thing after a long cold and wet winter.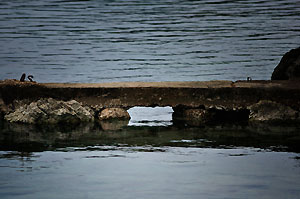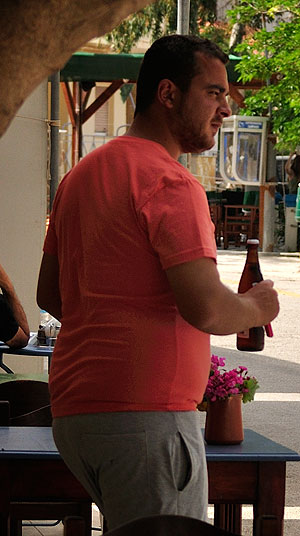 HAPPY EASTER TO ALL WHO CELEBRATE THIS ORTHODOX OCCASION.
Saturday 4th - Last night, Good Friday liturgies took place all over the island. We headed to Kioni where the Epitaph was paraded around the bayside and Judas burned, as he does every year.
I always panic a little because the parade around the bay is almost in darkness, except for a few areas where restaurants have dimly lit their outdoor spaces. Low light and movement could mean I get home without a single photo that's in focus. I hate using flash. Luckily, my hands were steady enough to capture a little of Good Friday during this Greek Easter celebration.
Click Here or on photograph left for more photos of Good Friday in Kioni.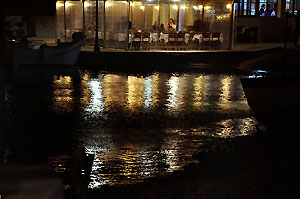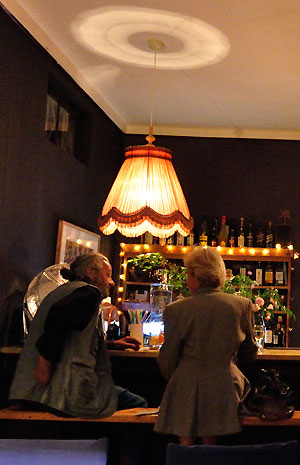 Yesterday was also the first night Yefuri restaurant in Platrithia opened it's doors for the season. This little corner of Platrithia now has the lights on again for all those who make this their summer haunt.
For all you pavlova fans, Andy has a new recipe and from all reports, it's exremely delicious.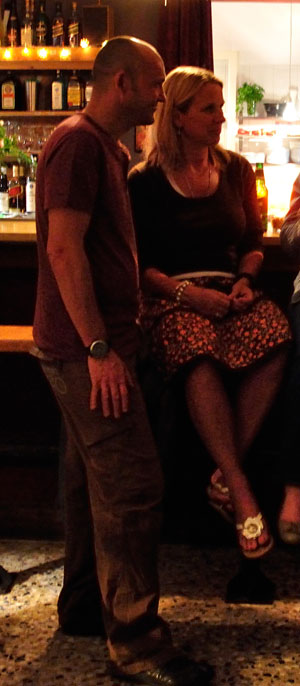 After a long winter of barely seeing the faces of locals, we are heading deep into the time of year, when every day, we will meet someone new, someone different, or meet up again with old friends who also have Ithaki at their heart.
Just another reminder that if you had plans to see Three-Penny Opera in Vathy on Monday, that it has been cancelled. It's a real shame, because whether you understand Greek or not, the performance was highly entertaining.
Monday night, head to Stavros community Hall if you're in the north, for a big dance. The night is to support the north Ithaki football team Odysseas, but it's also an opportunity to get a little 'live' greek music.
Tuesday the 7th of April, there is also a piano and viola recital at the old school in Kioni. See the Ithaki Calendar for more details of all things happening around the island this season.
Sunday 5th - Today is the BIG national feast for Easter Sunday, but last night, Greece celebrated The Resurrection with the lighting of candles at midnight. I managed to get along to Anoghi, Platrithia and Stavros.
Many visitors and locals attended the liturgies which took place all over the island. I couldn't get to Vathy, just a little too far to go between, although one year I would like to include the main town on this occasion.
My big beef with Easter is the fire crackers. Don't like them at all. Luckily the exploding of these vile things has decreased over the years, but not decreased enough for my liking. It can on occasion ruin an otherwise pleasant celebration.
Click Here or on photograph Left for more photographs of The Resurrection.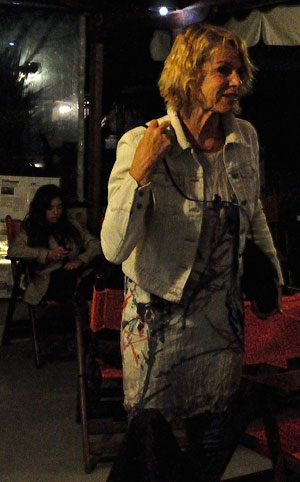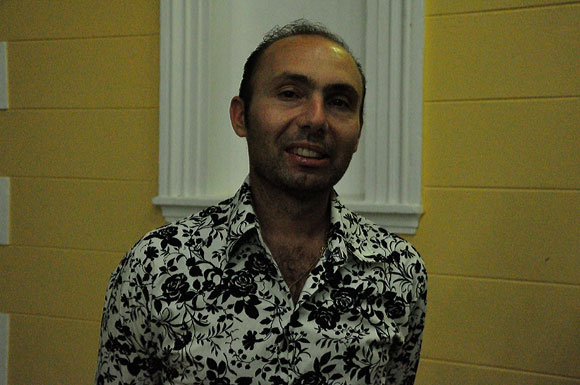 Above - Peter is back at Fiorendino in Frikes, after a winter in Australia.
Left - Margarita Cafe Bar in Stavros, open 7 days a week, all year around.
Now for Easter Sunday, the breaking of the fast with lamb on the spit roast. Weather report says the day will be fine.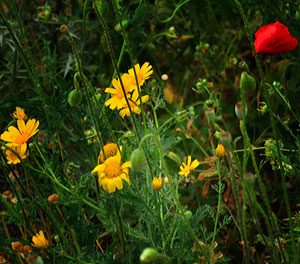 EASTER SUNDAY
An usual Easter Sunday this year. Typically there is no one on the island other than those coming to join their friends and families for Easter, but this year, there were visitors here on holiday to cater for also, leaving some a little stressed. Still it was a very enjoyable day and of course, lots and lots of food.
For more pics of Easter Sunday in the north of Ithaca, CLICK HERE or on photograph Left.

Send an e-Thiaki Postcard
A Collection of ithacagreece.com photographs
made into virtual postcards for you to send
to your friends and loved ones.
Nothing can replace a real postcard
but this is a good second place when you
want the card to arrive before you do.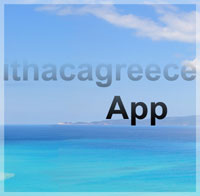 ithacagreece.com Mobile/Cellphone App
ithacagreece.com now has an app for your
mobile/cell phone. Covering many
platforms. To download through your
Mob/Cell Click on Icon Above.