What's New On Ithaca Greece
September on Ithaca
High Summer Season on Ithaca Greece Island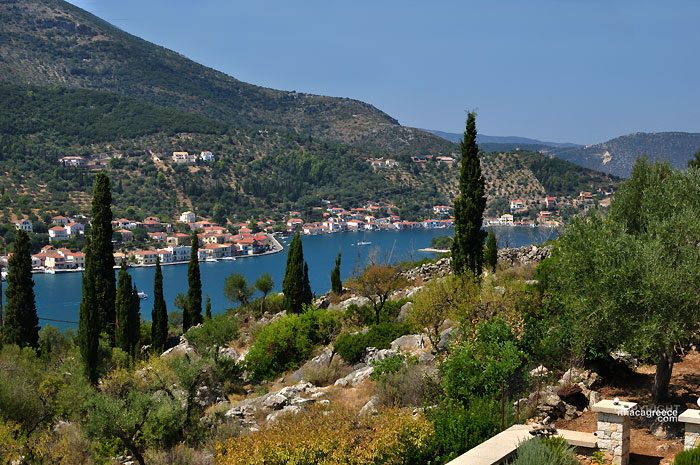 September 2016
Thursday 1st - It's making wine season again. Delicious Ithaki grapes ready to be stomped into the great local wine. Below - Lekatsas family.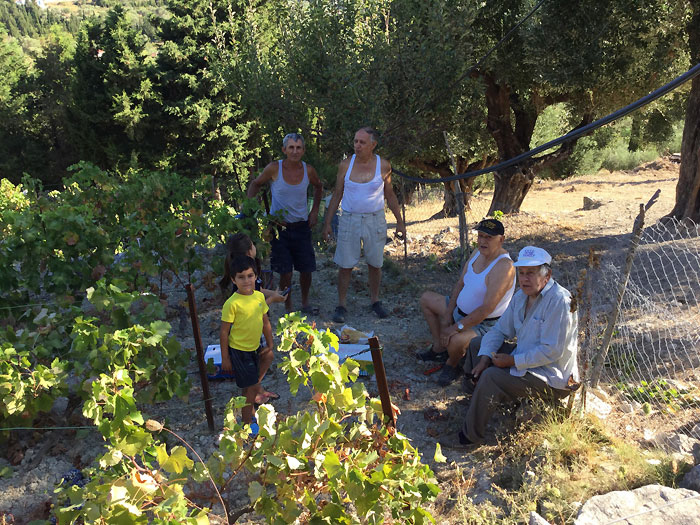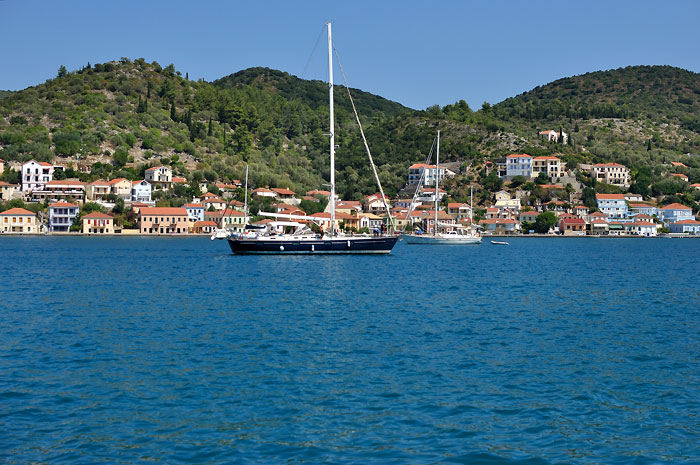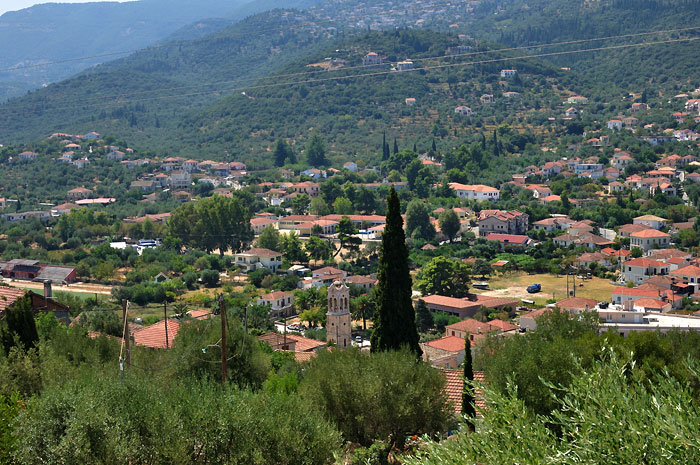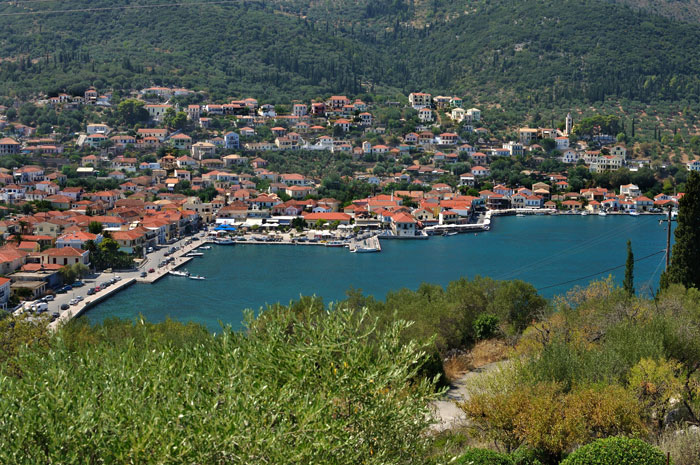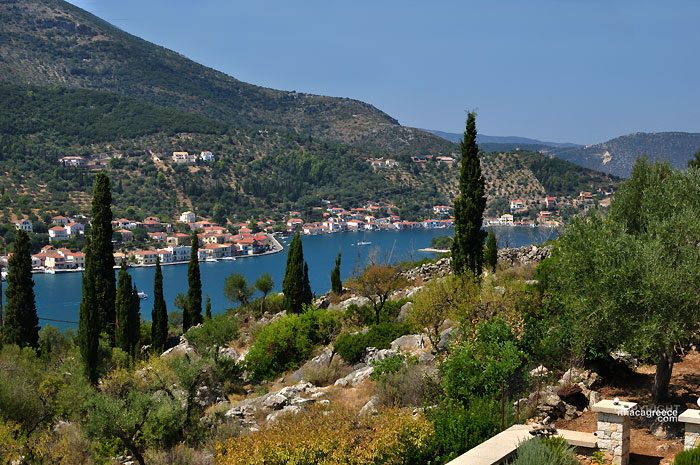 Below - As we near the end of the season, locals can go a little loco.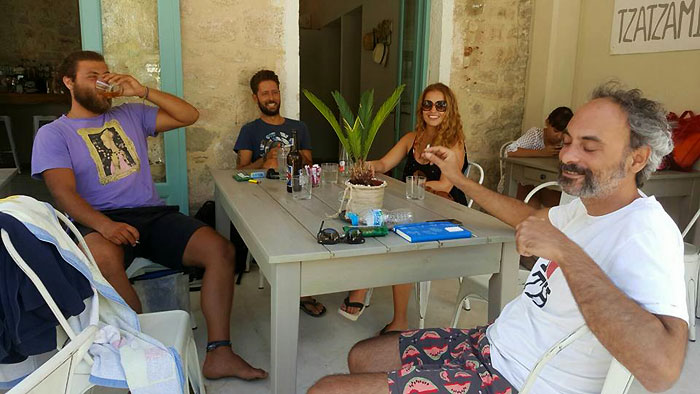 Monday 5th - The weather forecast predicts some storms heading our way, but for now the sun is still shining and the skies are pretty blue. There is a feel that the Summer is ending though, not so many people around with yesterdays big exodus, noticeable even with the amount of people getting on the ferry to Lefkada.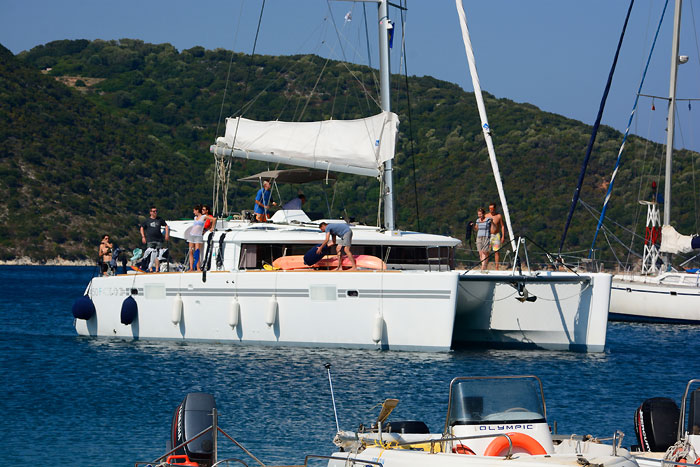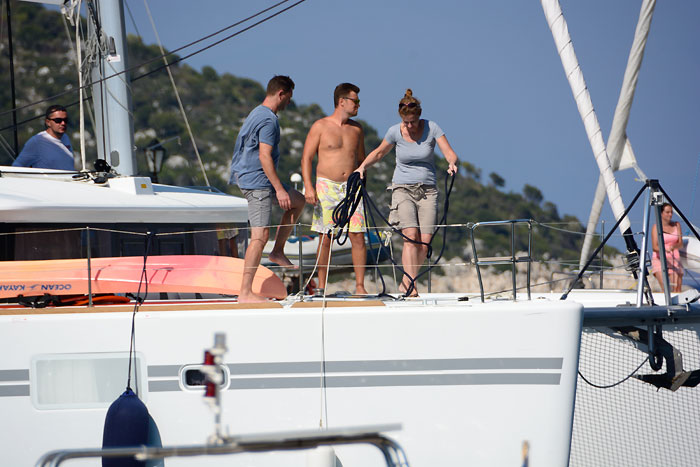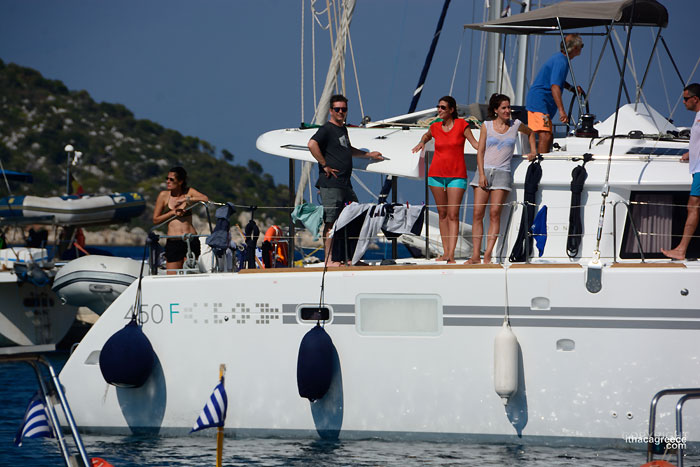 Below - Brian and Irene. Very regular visitors to Ithaki wait for the little boat to take them on an Atokos day trip.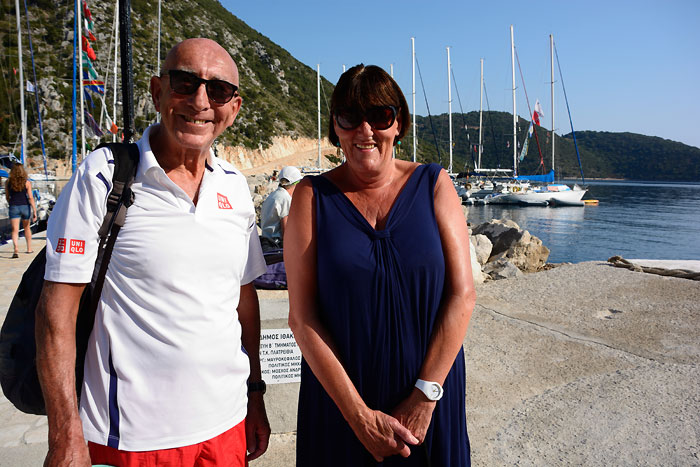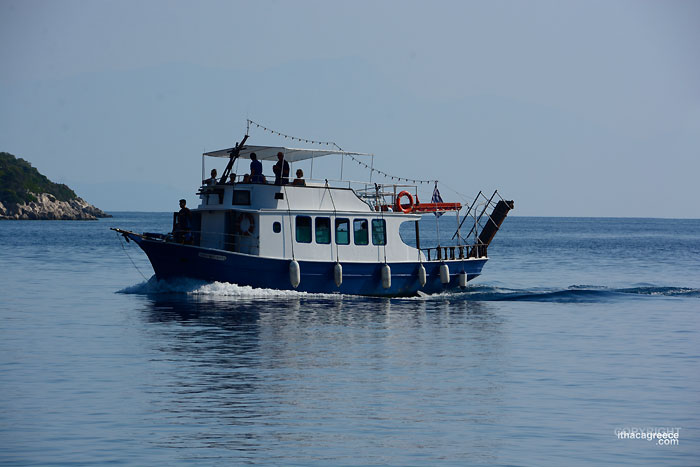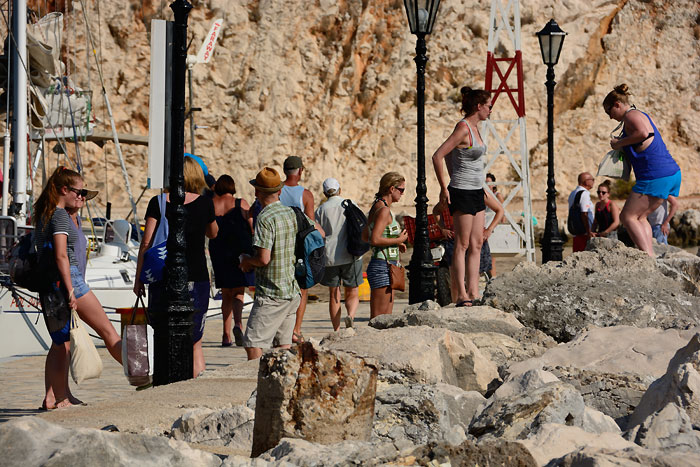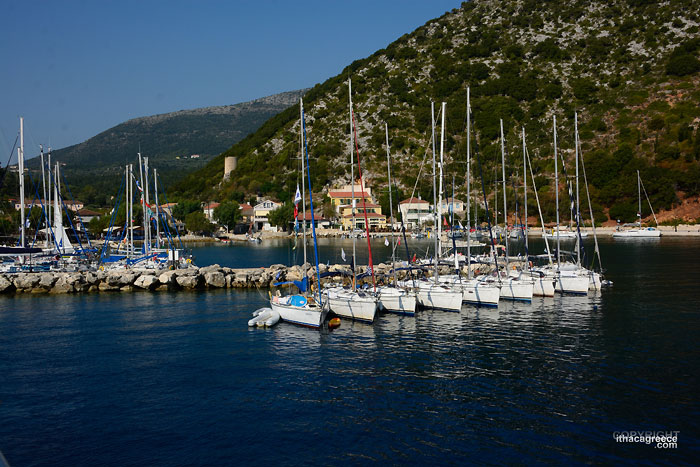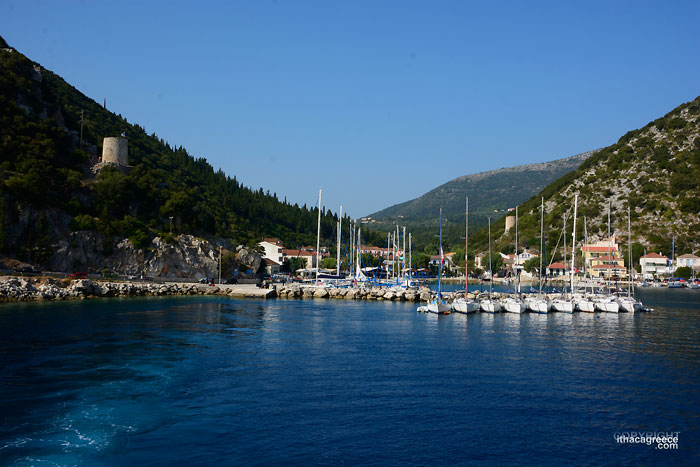 Above - The view of Frikes of the ferry.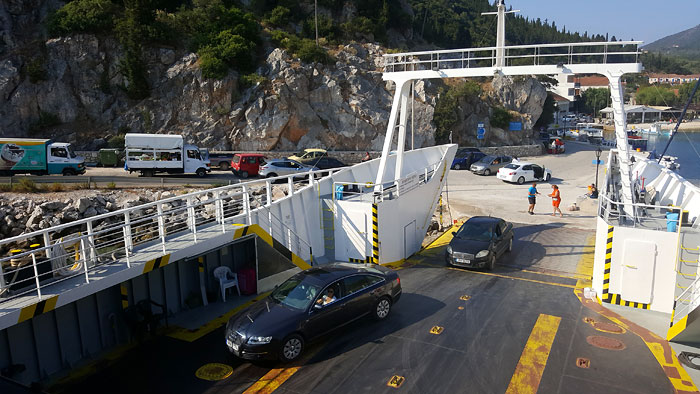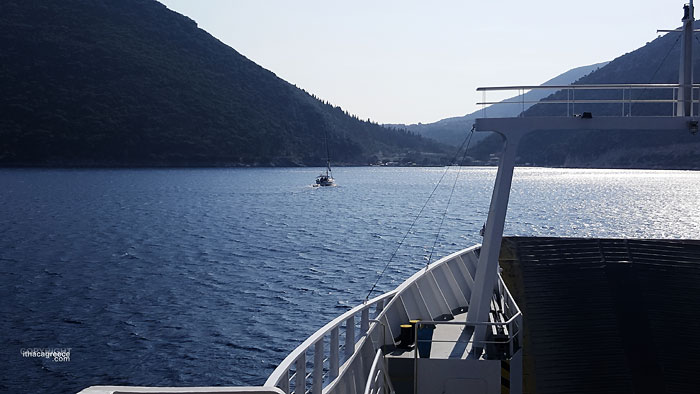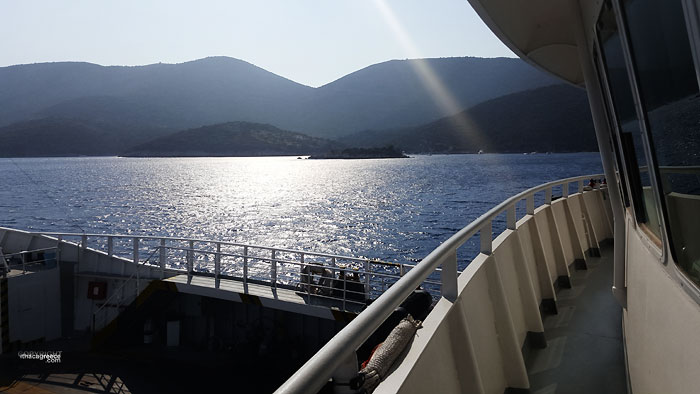 Above - View of Marmakas from the sea.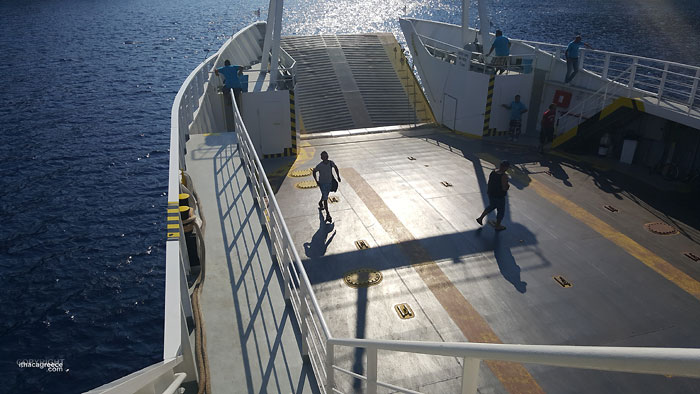 Saturday 10th - We had a few very, very stormy days with a bit of flooding in the low lying areas such as Vathy, and of course on the mainland, where tragically 4 people died due to the flooding and storms. We're very lucky here on Ithaki, that even when the weather is wild and angry, we are relatively safe and sheltered.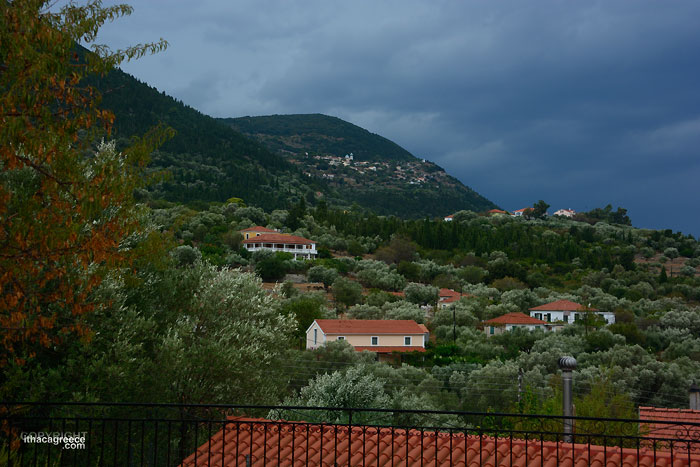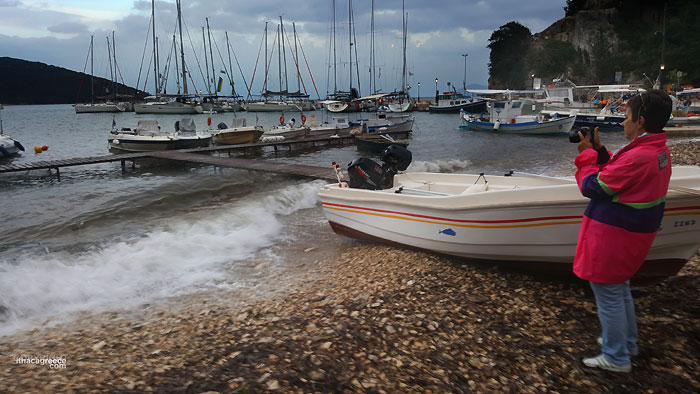 Today it was back to mostly blue skies and warm sunshine. Below - The Loutsa area of Vathy.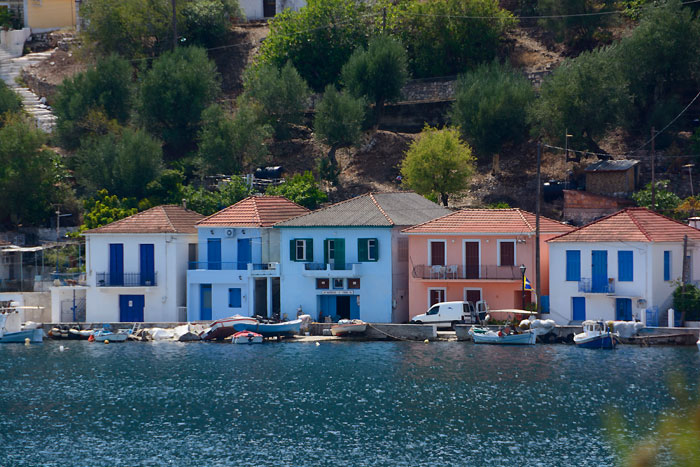 Below - Vathy across the bay.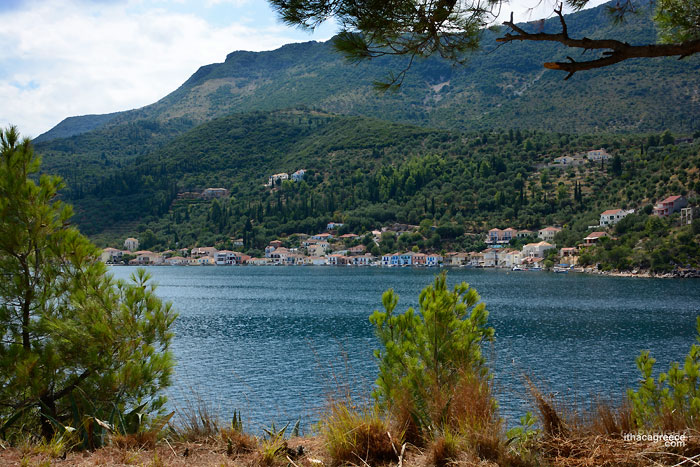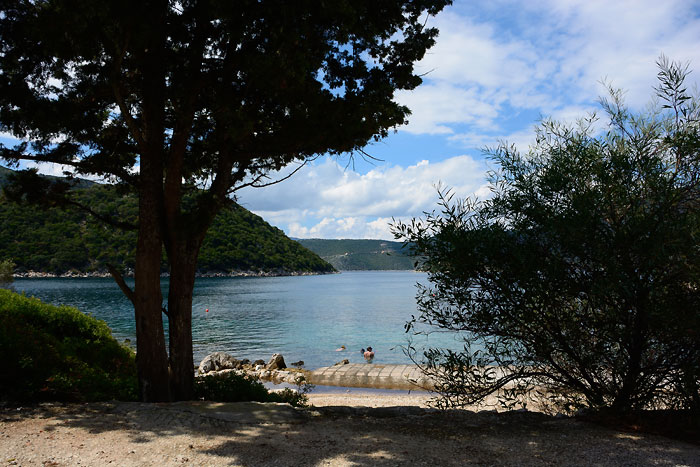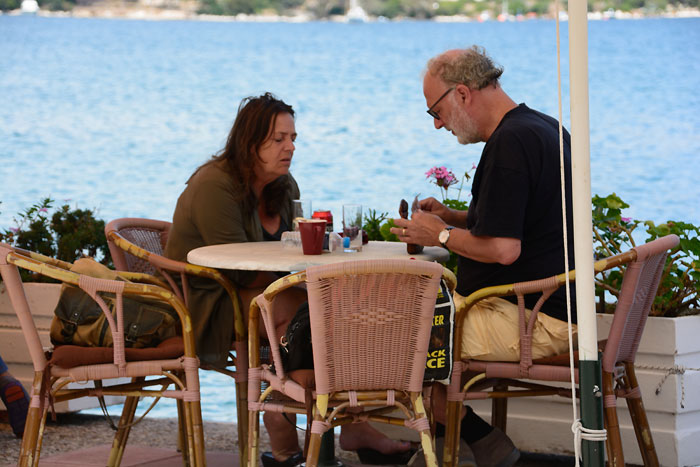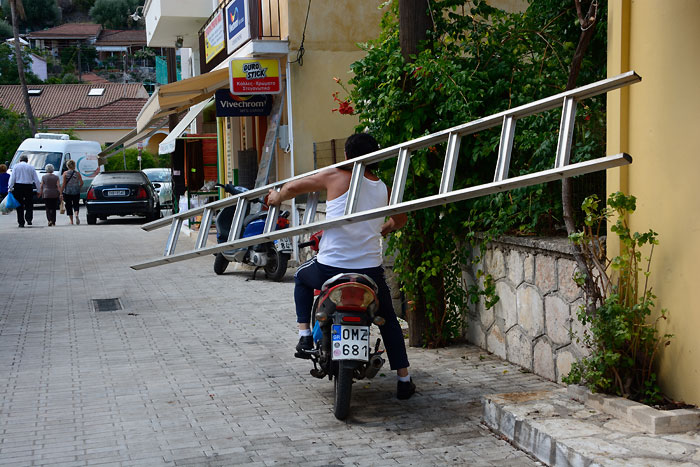 Above - Look out, that ladder has a mind of it's own once it starts swinging.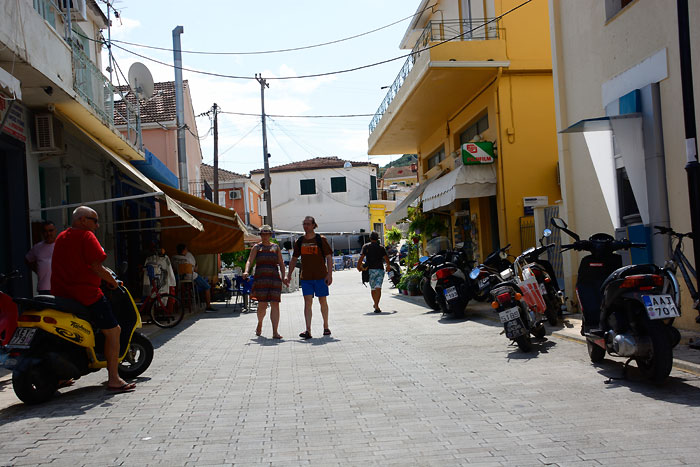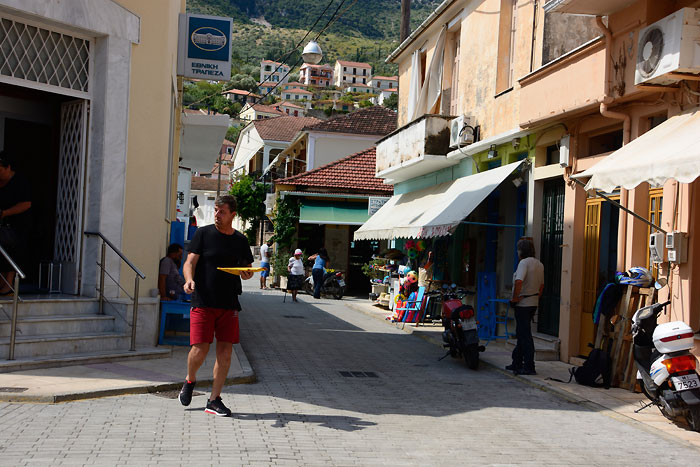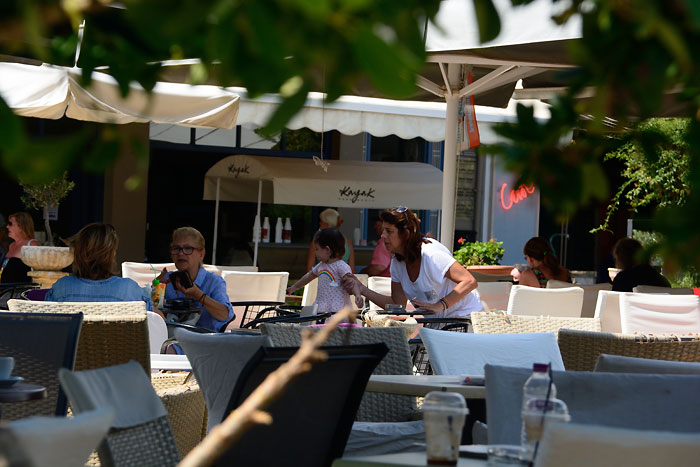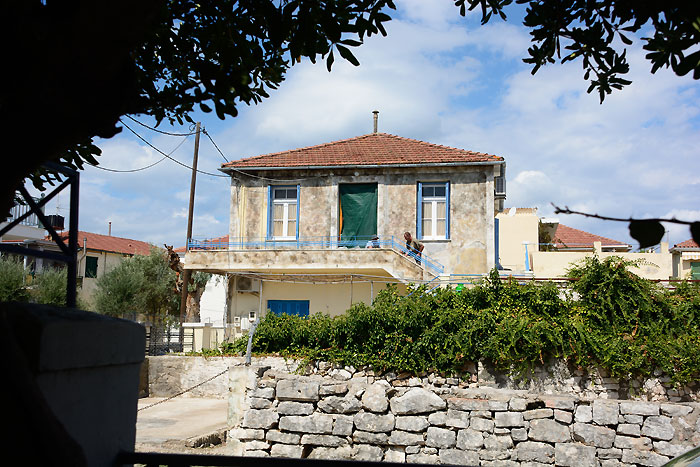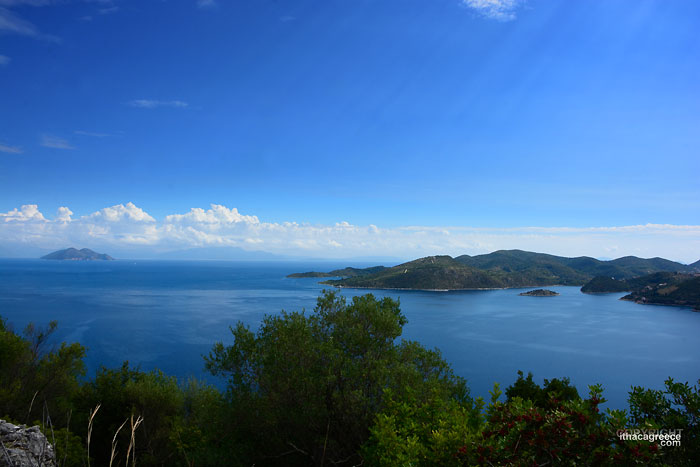 It is noticeably more quiet now around the traps. From so many people to barely any. The weather hasn't helped of course.
Good news for those of you without transport or the elderly for whom it's not so easy to get around even with transport. The Piraeus Bank informed us today that Electricity and Phone bills can now be paid at Laertes Fruit and Vegie Market in Stavros. Now that will make it a whole lot easier for many of you.
The multi award winning play 'Odyssey' was originally launched at The Edinburgh Festival in 2009, & has constantly toured the world since then. David Ayling, having seen it in the UK just wanted to bring it to its rightful stage of Ithaca.
'Odyssey' is a one-man physical theater at its very best, telling the epic story in just over one hour with humour, passion & everything the brilliant actor, George Mann, can muster.
The play is in English and is readily understood by all as it is significantly about sound & movement. Importantly, a key part of this project is to take it further by translating it into Greek.
Brilliantly, the theatre company, Ad Infinitum, have donated the script to Ithaca so it can be shown in its own language in the future.

You can see it in Vathy at the Cultural Center on Friday September 16th. Doors open 8.30pm and on Monday 19th September at the Community Hall in Stavros, again doors open at 8.30pm. Entry is free, with donations at the end if you want. Funding for this project has been via personal monies & crowdfunding by David Ayling, sponsored by Alpha Cars and brought to you in collaboration with Logo Fagoi.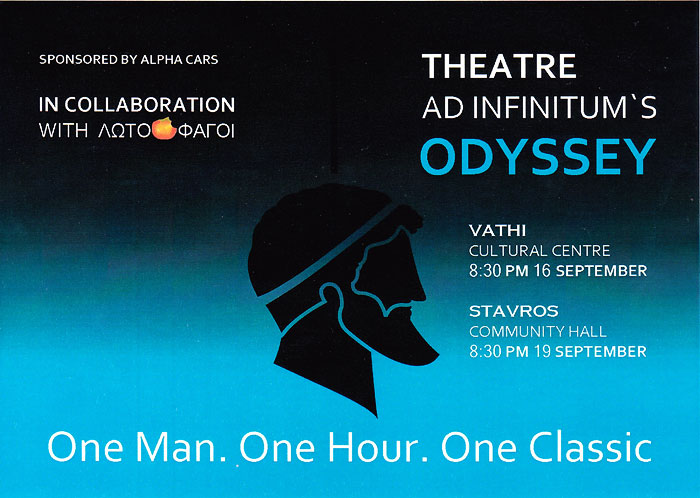 Tuesday 13th - It's back to school this week, which means all those needing to leave Ithaki to get back to the Mainland to organize for school, have left. You can really tell too, it's been very quiet these past few days. Today the weather turned wet again too, which doesn't help. The temperatures are still very mild though.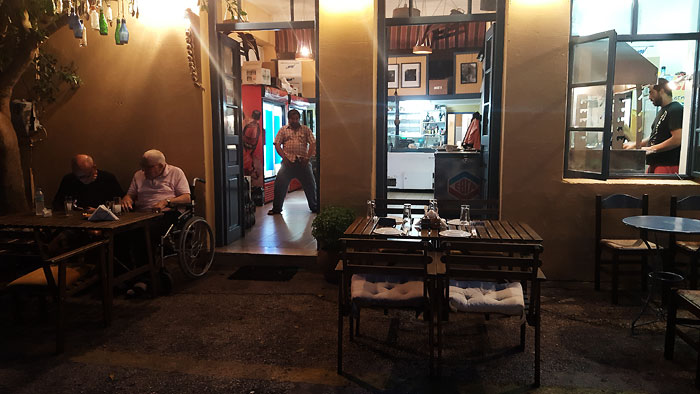 Wednesday 14th - The weather's back to being summer with more of the same continuing through the rest of September.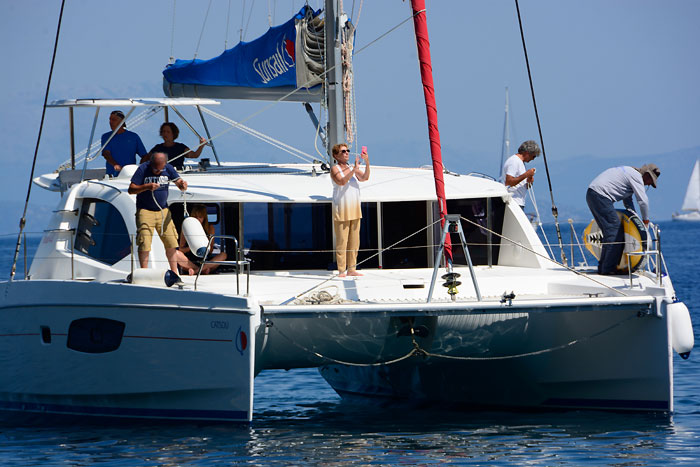 ---
September 2016
Sitting on the shoulder of Summer
Thursday 1st
Below - Stelios Parris and Poppy Pagoulatou, scheming another theatre performance for next year.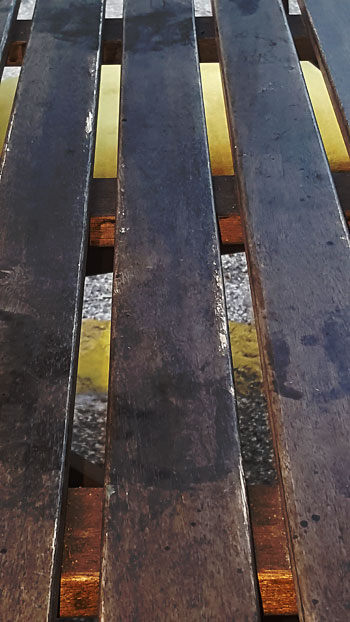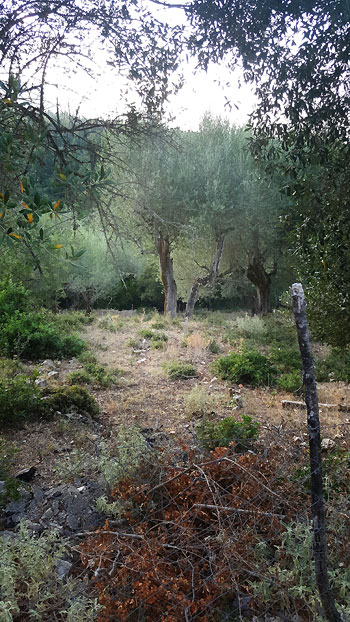 Monday 5th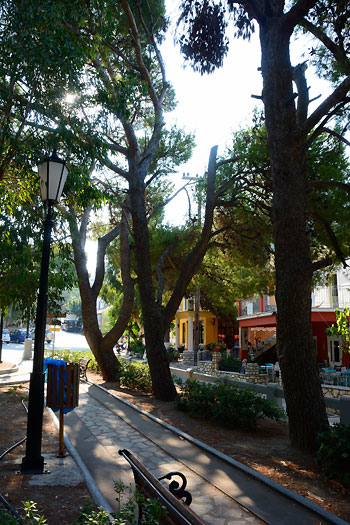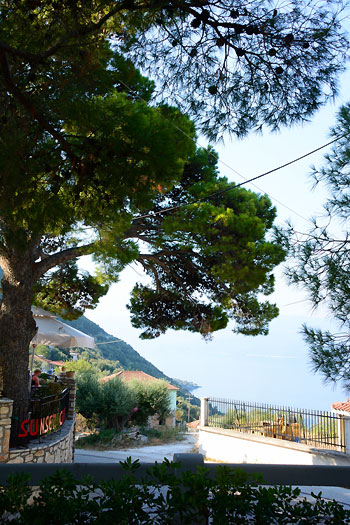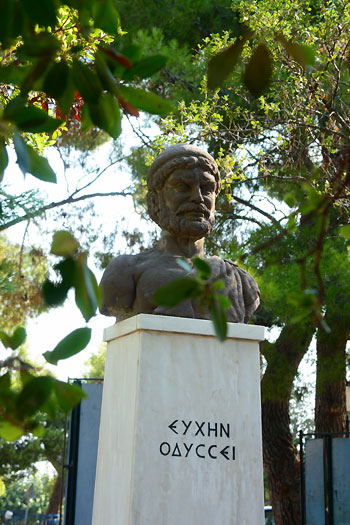 Above - Odysseus bust in the Stavros park.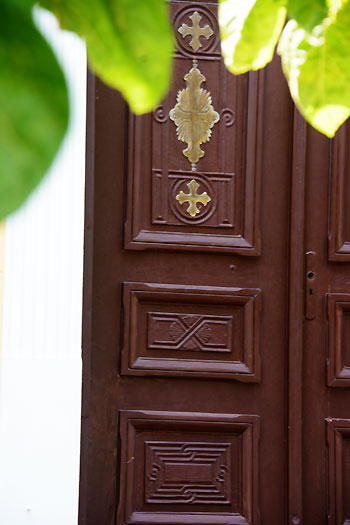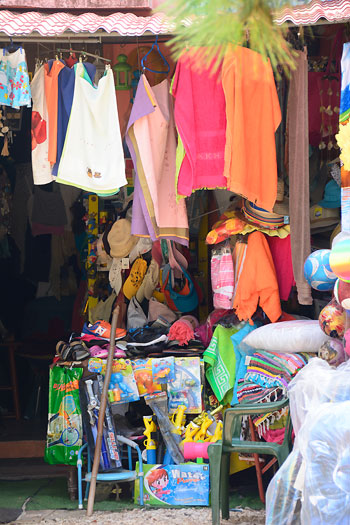 Above - Farouks shop in Stavros is still a wonder amongst the modern shopping complexes. You may have to rummage, but you usually find most things you need.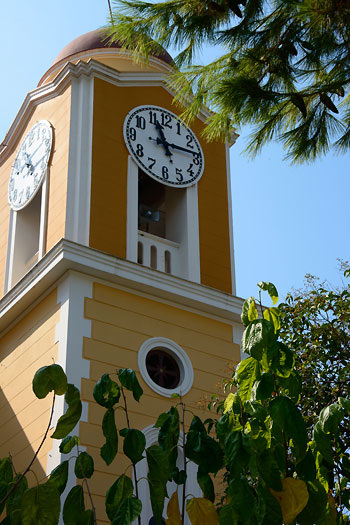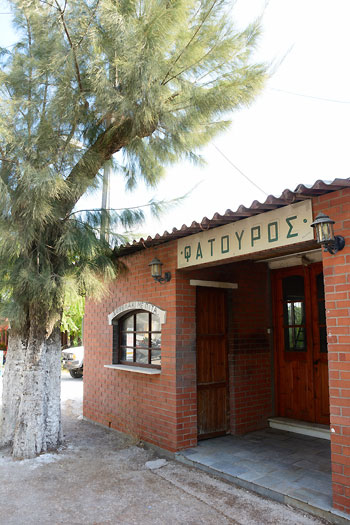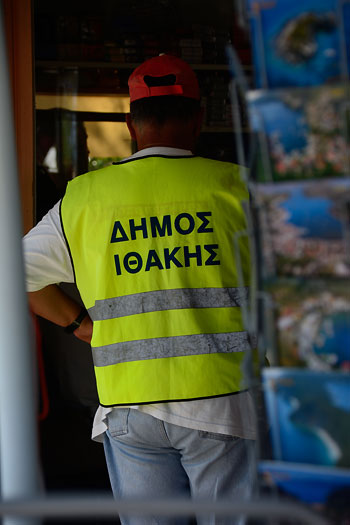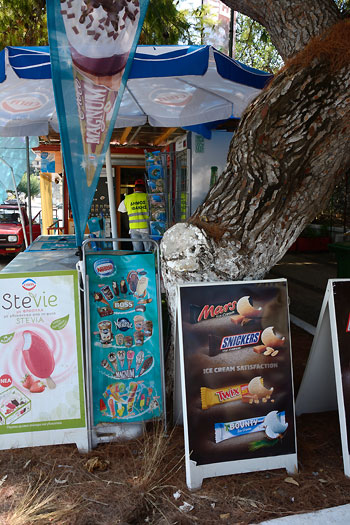 Above - The Kiosk in Stavros.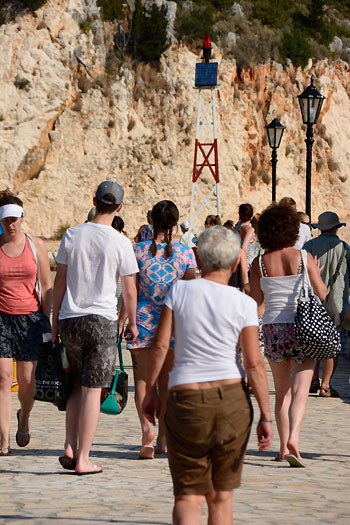 Below - On the Meganissi ferry from Frikes to Lefkada.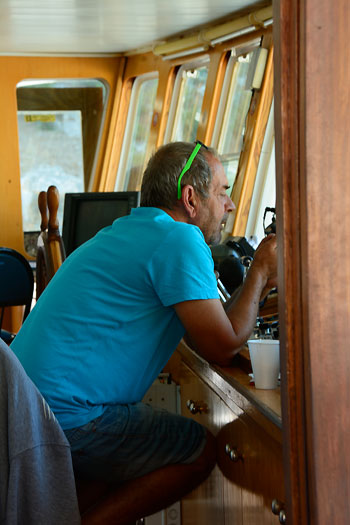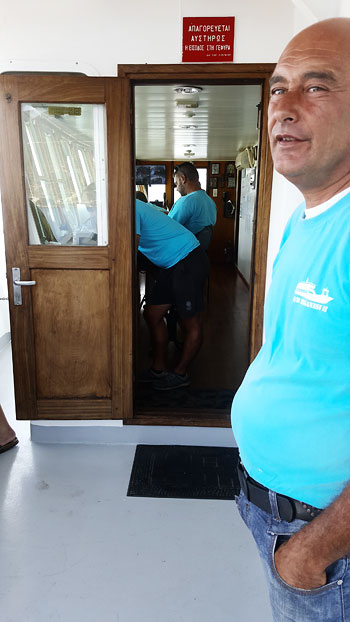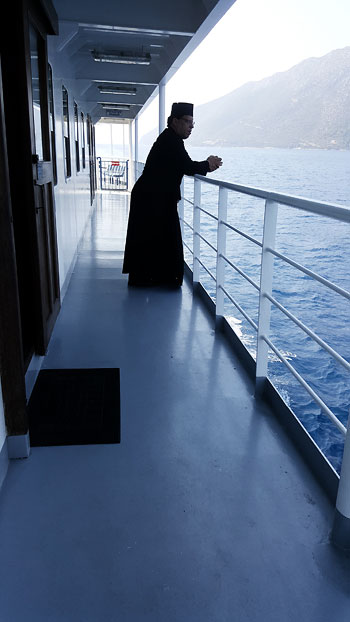 Saturday 10th -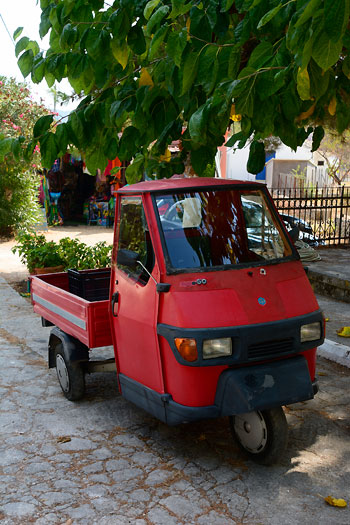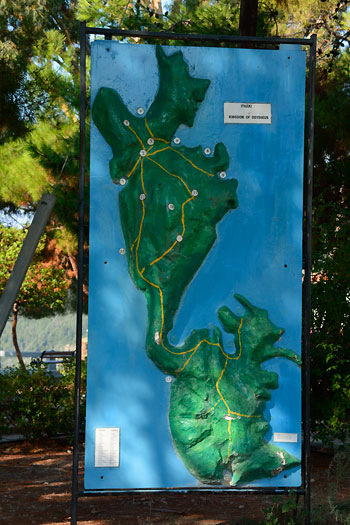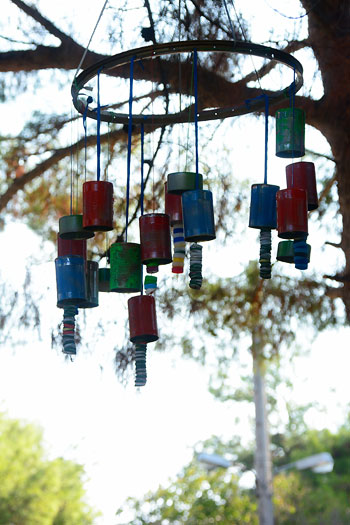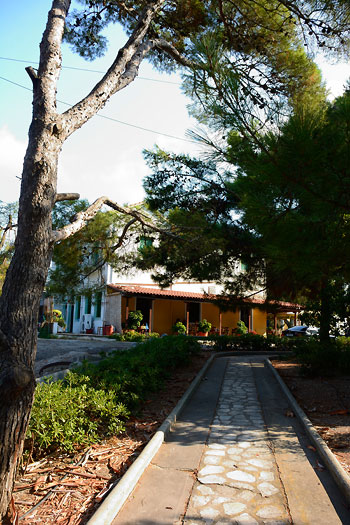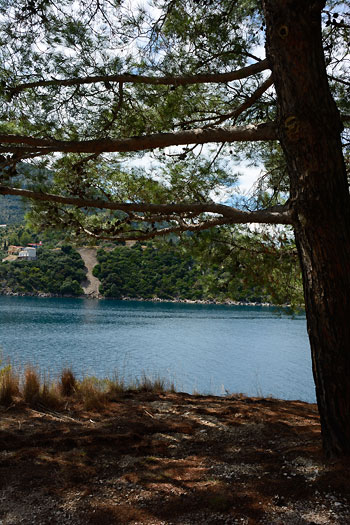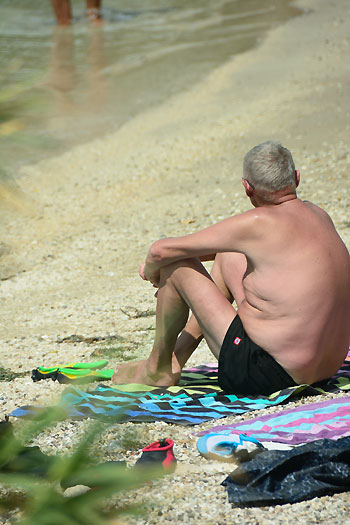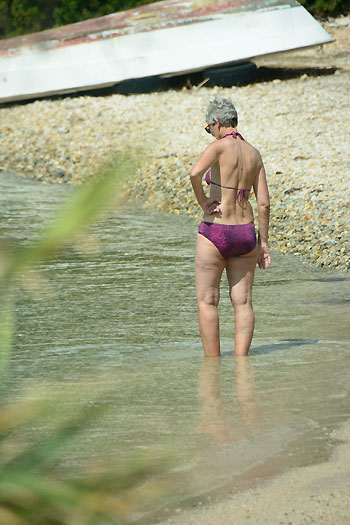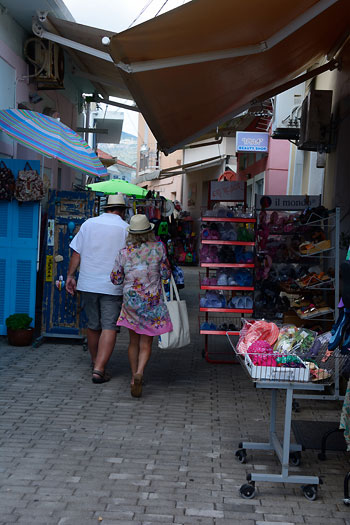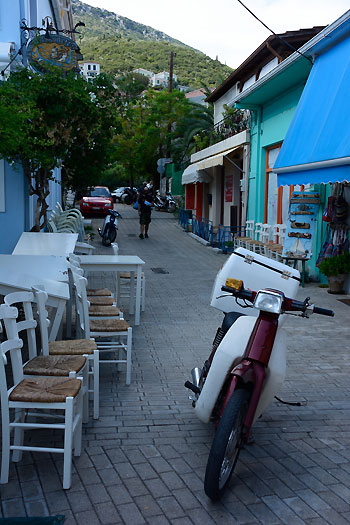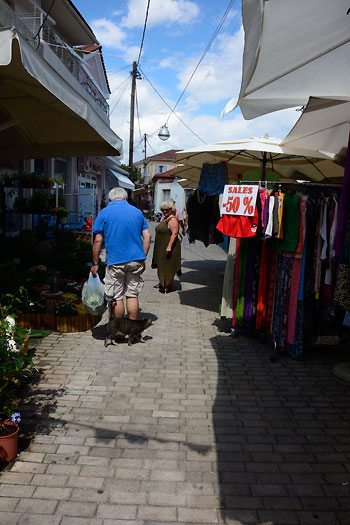 Wednesday 14th - Below - Anoghi.