| | |
| --- | --- |
| | Ithaca Summer Lodown 2008 |
| | These pages are for all the fun, activities, parties, festivals, news and visitors coming to Ithaca in Greece for the Summer of 2008. You'll still find Who's Here, Around The Villages and Ithaki General, but this year they'll all be packed into one. Enjoy the Summer, be it on the island or online. It's bound to be huge! |
Sat 21 June - It's only June and we're already onto page 6 so there must be alot going on here right? Right. This year seems to have alot more daily bus trips and ferry day trippers passing through, yet word on the street has it that the numbers of visitors staying on the island are down. Left - Lefki seems to retain its traditional aspect no matter what cycle tourism is in. Middle - Heading to Vathy bay.
Above Right - Work continues on the road from Stavros to Frikes as the Council gets Mains water to the residents living along this road. The village of Frikes, which in summer is primarily made up of restaurants and bars, has been getting water deliveries off the back of a truck so when Mains Water finally connects Frikes to the Desalinization Plant, there will be many happy faces to be seen on the main street. Below Left - Cycling around Ithaki is not only the passion of some visitors, but is increasingly become the passion and fashion of many locals too over recent weeks. Good to see Ithacans getting behind Eco friendly transport even if many are not aware they are participating. Below Right - John and Paul are visiting Ithaki from Lincoln in the UK. Their holiday relationship with Ithaki started back in 1996 when they decided to take a day trip from Fiscardo to Ithaca. They were so impressed that Ithaca has become their island of choice. Each year, John and Paula try out another corner of the island through their place of accommodation, getting to know the island inside out and making more and more friends along the way. Although this year, Vathy had the pleasure of their company, they took a trip up north to track me down to say hello. before they head back home today.
Right

- You've seen the pics, now see a video of Exoghi.

Click here

or on photograph right. No music. The sounds of nature are better.

Left - The village of Stavros is the thriving all year round center for northern Ithacans. A great community and the location of Sortiris Festival on August 5 and 6.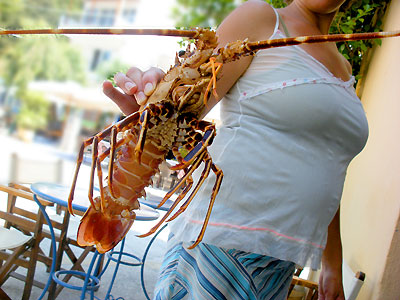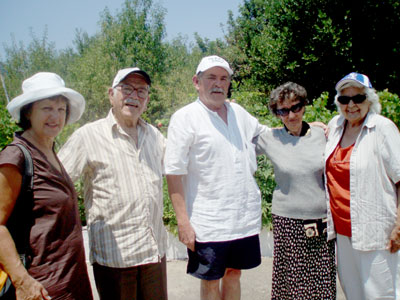 Mon 23 June - Above Left - So what's for dinner? Poppy from Rementzo restaurant in Frikes shows off her seafood. Above Right - The Australian connection. Loula (left) and Con (center) visit relatives Niko and Zaharate from Lahos (either side of center) with friend Sia (Right) who will be celebrating her 80th birthday at Nostos Hotel this Wednesday, with a dinner party for all her friends. Loula, Con and Sia are here from Melbourne, Australia and are by no means strangers to the island.
It's no secret that Yianni, Ithaki taxi driver, president of Lefki and owner of Yiannis Taverna in Stavros, is looking to retire his taxi this year, but before you "Oh No', Yianni will be continuing to finish off the Season, so don't despair, he'll still be spinning his great yarns and stories for 2008. It's always an interesting ride in the back seat of Yiannis taxi.
The weather over the past weeks has been very hot on Ithaki, and now the weather bureau is predicting a heat wave coming in from Morocco around Wednesday. So this heatwave we are currently in, isn't really a heat wave? Can it get hotter? Head for the beach and get under cover. We may be into the 40s soon. That's very unusual for this time of year, but then again, weather extremes are worldwide now, thanks to all those who have legislated in ignorance over the past decades in favour of their short-sighted agendas.
On Thursday at 6.30pm the KAPI in Vathy, the Ithaki Council will be having a Council meeting. One of the topics on the menu will be the opening of the Vathy Square to traffic during Summer. Over many years, the Square was closed in the evening each Summer, to allow for pedestrians and children playing freely, but the Council is now planning to keep it open. If you have a view on this or any other subject, don't throw your hands up in despair, but show yourself instead, to make your concerns for the community or your support for the Council known.
Tue 24 June - Above - Stavros locals share a chat and coffee at the Zac. Right - "Polly wanna cracka?" "No, but I wouldn't mind seeing a health certificate." Below right - The steeples of Sotiris church in Stavros Square.

| | | |
| --- | --- | --- |
| Right - Maria from the Zac (Margarita Cafe) in Stavros gets the coffee brewing on a Monday morning. Below - Home sweet home. It's not only locals and visitors who make themselves comfortable at the Zac, but also the black birds who have decided to nest nicely under the roof and canopy of the Cafe Bar. | | |
| | | |
Wed 25 June - Left

- Dorothea from Yiannis Taverna in Stavros gets cooking for the Sunday evening rush. To see a short video of Ithakis' northern center of Stavros village

Click Here

or on photo left.

Summer has come early this year with high 30's and temps forecast to head into the 40's. It's sweaty weather, but once the sun goes down, the cooler sea breezes do much to relieve those suffering during the day. Time for con-air without Cage.
Thu 26 June - Left

- Sia Andrews not only has her roots in Platrithia, but also some relatives and her daughter Kathy, who married an Ithacan and moved to Ithaca in the early 80s, so it's not surprising, Sia would want Ithaca to be the place to celebrate her 80th Birthday. Where better to celebrate such a momentous occasion on a sizzling day, than pool-side at the Nostos Hotel. For a few more pics

Click Here

of on photo Left.

Sat 28 June - Things to do with one finger. Infringing copyright. A reputable UK holiday company thought it was ok to copy and paste Ithaca Walks from (the copyrighted) www.ithacagreece.com, directly onto their site. No permissions asked for or granted. There's an email in their inbox. Let's see how reputable they really are. Will they ignore? Will they do a re-write? or will they do what most people would expect them to do - Send someone here to go on the walks and write from their own experience of the walks.

www.simpsontravel.com/Greece/Best.asp%3FID%3D2%26RID%3D61+

frikes+ithaca&hl=en&ct=clnk&cd=126
Well the hot temps are set to continue at least until the end of the weekend. Some locals have even opted to sleep outdoors to get some relief. Frikes seems to have the jackpot on a cool spot with refreshing sea breezes, but Stavros is still with the days heat radiating off the concrete at 2am. Right - Hani views down onto Aetos in the south of Ithaca.

Sun 29 June - Nearly the end of another month. Is time just racing by or is it just me? Yesterday we had a little relief from the heat with a refreshing breeze blowing for most of the day, but today it's as still as can be with the heat steaming up the sky. Crickets are clicking in thunderous unison day and night and ant trails etch another landscape into Ithakis earth.

Dimitris Danis (ex-spavento, ex-chez manu, ex-piccolo) currently working at Porto in Vathy, has a little surprise planned for the culturally minded of Ithaca. He has begun work on his art gallery with performance space in Vathy. It will be a non profit organization that will give Ithacans and visitors a place to see or perform their art/music/theatre. The name is ORES (means - hours) If Dimitri is behind it, it will no doubt very a tasteful space that we can all enjoy. If you are interested in this project, just drop by Porto Cafe in Vathy. I'm sure Dimitri will be happy to enlighten you.
Mon 30 June - Left - Vathy Bay. Yesterday and today the heat is just steaming off the island. It's humid and still and very, very hot. Villages usually thought of as a cool retreat, such as Frikes, don't become cool until late at night. Mid summer weather in June has thrown everyone a curve ball. Best thing to do is find a shady spot under an olive tree near the beach or sleep the afternoon away. Those with air-con are no doubt the lucky ones these past weeks.

Don't forget, Frikes Panighiri is on this coming Friday, 4th July. The first street festival of the Season. Bring your dancing shoes and let's make this usually luke warm Festa as hot and sweaty as all the other Festivals over the Summer.

Tue 1 July - A more comfortable sleep last night with a very welcome breeze blowing over the sheets. It's been too hot for this time of year and it would be fair to say, everyone is waiting for a cooler change. This morning it looks pretty steamy again, so we're in for another hot day. Below Left - Back to Front, Left to Right - From Australia - Colin, Dad - Tony, Lucia, Francesca, mum - Vanessa and baby Orelia. Vanessa and Tony with 3 beautiful daughters and friend Colin in tow, take a break from doing up a family home in the north of the island. Vanessa, who has her roots in Ag. Sarantas has hooked her family on the island and Tony who has his roots in Italy, seems to fit very comfortably into the Greek way. Colin who
Wed 2 July - Below - Kioni bayside looking very colourful and lively with yachts in the harbour, so many in fact, that yachts are not only docked on the usual side of the bay, but also on Katsikouli side.

has no association with Ithaca other than being here to visit his friends, does have a surprising association with MOI. When I told him my name he asked "Were you in Bonegilla? (Migrant Camp in Australia) I replied "Yes, 1964" He replied "So was I". Seems we went to the same school and even the same class there. Wow! Now that's very freaky for Frikes.

Left - Marina Sikiotis from Newcastle Australia is back for another 3 month summer break at her family home in Apostolata. We caught up with her catching up with Frikes president, Nikos Douglas, who knows most of the northern ex pats
| | |
| --- | --- |
| | Below - Frikes is also very busy with the yacht trade, but that doesn't stop Stathi (Steve) from Penelope restaurant taking a bit of time out to chat with his friends. There's no point living on an island if you can't enjoy the best things about it. Below Left - Frikes bay becoming golden under the setting sun. The lights of the bayside restaurants are on and the village is buzzing with activity. |
| | |
| | |
| --- | --- |
| Below - When this group is in town, Dutch heads turn. Why? Well, renowned Dutch comedians Bert Visscher and Jochem Meyjer make the Dutch laugh loud and it's easy to see why. They have a humourous manner that translates | |
| | |
| | |
| --- | --- |
| well even to me who only knows a handful of Dutch, taught to me by Rementzo Grill man, Rien Post. L - R - Pien Verpaaten, Mink Visscher, Bert Visscher (Comedian), Marloes Nova (Dj and singer in Souvation), Jochem Myjer (Comedian), Pier de Koning, Hans Koppers and Willy Mulder. Sailing the lolly pop. | |
| | |
| | |
| --- | --- |
| | Above - Tracing Odysseas Steps. 2 days of cultural events on 5 and 6 July. If you're fit, why not join in the run and the fun. Left - Dinner at Steves Place. Below - Frikes Main street at night. |
| | |