| | |
| --- | --- |
| | Ithaca Summer Lodown 2008 |
| | These pages are for all the fun, activities, parties, festivals, news and visitors coming to Ithaca in Greece for the Summer of 2008. You'll still find Who's Here, Around The Villages and Ithaki General, but this year they'll all be packed into one. Enjoy the Summer, be it on the island or online. It's bound to be huge! |
Right - Alma, Ilse and Xander unite Ithaca and the Netherlands from Lefki.

Fri 18 July - Left - The Summer festival season started with a big bang yesterday for one of Ithakis favourite Panighiri, Ag. Marina in Exoghi. It was all about dancing and having a good time.

Click here

or on Photograph Left for more pics of the night.
Whilst the Exoghi Panighiri was alot of fun, for one person the night didn't end too well. An accident on the road from Exoghi to Stavros had a local injured man waiting over quite some time for medical help to arrive. Cars were backed up almost to the village because the overturned vehicle had completely blocked the road. Whilst friends kept the injured man talking and staying very still, all were concerned at the time elapsed before the first flashing lights arrived. To everyones' disbelief, those first lights were that of a Fire engine and not the car lights of the nearby doctor or the ambulance. The accident brought home that the medical issue is an important issue to be tackled more pro-actively by the community of Ithaca. Don't drink and drive... even when you're on holiday, accidents can happen.
The Kioni Panighiri had a little more umph this year than last year with many more people hovering around the village square and promenading along the Kioni bayside strip, but apart from visitors getting their feet hopping, not that many locals joined in the dance. The Ithaki Panighiri band Mystieres did another excellent job in the music department and although the dance circle may not have been pumping, around the tables in the square, many were singing along to the well known and traditional songs.

Sun 20 July - Left

- Yes, the long awaited wedding of Angelique Geitenbeek and Thanasis Skouras. Angelique, whose roots are from Exoghi chose her venue to be the wonderful church of Aghia Marina with the village square outside the church as her reception area. For more pics

click here

or on photo left.

Mon 21 July - Below - The party just doesn't end this time of year on Ithaca with the Kioni Festival. A warm night welcomed the festivities.
| | |
| --- | --- |
| Above - Kioni bayside looking very bright and festive for the Kioni Panighiri with all the lights reflecting beautifully around all the boats in the bay. There's no doubt about it, Kioni has one of the most picturesque harbours in the Ionian. Right - Jenny and Georgio taking a second to breathe out after the pre-midnight rush on Kioni and their Cafe Bar, Spavento. When the Panighiri band runs out of puff, it will be Georgios music selection that will keep Kioni up until the early dawn hours. | |
| | |
| | |
| --- | --- |
| There are age-sculpted rocks and caves, dramatic cliffs and rugged terraine, private beaches with aqua seas and views of Ithaki, rarely seen by landlovers. | Tue 22 July - Walking and driving around Ithaca is a great way to see some of the nooks and crannies of the island, meet the people and discover the great villages, but if you really want to investigate rarely seen parts, then hiring a boat and going arond the coast of the island, is the way to go. |
| | |
It's a little difficult to believe that tomorrow there are thunderstorms and rain predicted for all around Greece. Todays blue-sky day with the very warm temperature of around 36C will give way to a dramatic change, so declares the weather bureau. The weather is forecast to be unsettled until the weekend at which time, Summer temps and weather will continue.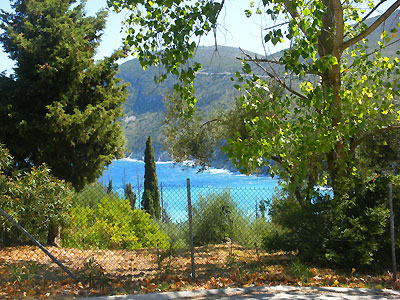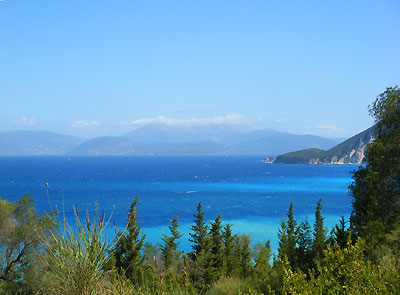 Wed 23 July - The predicted rainy change didn't effect Ithaki today. As usual our micro-climate always has something else in mind to the weather forecast. The temperatures have dropped from high thirties to 30C and below however, with a very cool wind making waves on our usually calm seas. Above - Afales churning under the wind.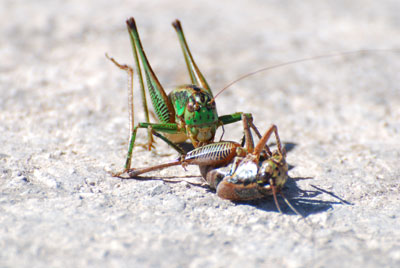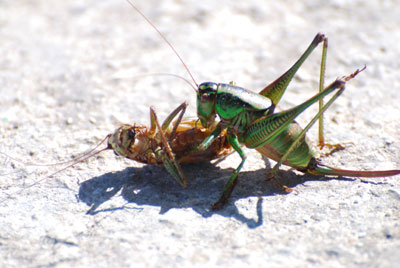 Thu 24 July - Above - New Exoghi local, David Ayling sent me these photos with the subject line 'Cannibalism is rife on Ithaca'. A new lense lets him get close and personal with the insect life in his street. Below - L - R - A Cyprus connection with Constantino, an Australian connection with Claire, Jason and Marianne, well they are siblings and come from the Raftopoulos clan. They live in Melbourne Australia, but have their roots firmly planted in Frikes on their fathers' side and in Cyprus on their mothers side.
| | |
| --- | --- |
| Sat 26 July - Below - Afales beach in the late afternoon. This beach is a little more rugged than most around the island, but on a calm sea day, it's absolute bliss with its aqua waters and big rocks. | Fri 25 July - Below - This rolled in late morning and dumped a bucket load of rain on us. It lasted around 30 mins and then moved on. Back to sunny skies at 2pm. |
| | |
| --- | --- |
| | At 7pm it seems there is no one on the island, but by 10pm all the restaurants are full and the villages around Ithaki have little resemblence to their winter selves. The weather glitch yesterday didn't last long. The rain passed over and an hour later there was nothing but sunshine overhead. This morning the sky looks a little grey now and then with quite a lot of blue mixed in. It could rain again, but then again it may not. Above and Left - Frikes Restaurants doing what they know best - serve lots of good Greek food, Greek style. |
| | |
Right - Brian has been coming to the island for his holidays for around 15 years. The view of Vathy bay, which he has made his screen saver, charmed him and has held him and his family captive for all these years.

Summer Lodown 2008

Ithaki Greece

Sun 27 July - DEH (Greeces' electriciity co) very thoughtfully disconnected power to the island this morning from 7 - 10.30am. Businesses around the island prepared the night before to be ready for a difficult breakfast shift. Not all Ithakis businesses have generators. For homes without gas bottles, making that morning coffee would have been impossible, so it's off to the cafes with generators for the early brew. Not a bad way to spend a Sunday morning anyway. Just wonder why electricity would need to be cut in the middle of Summer during tourist season.