| | |
| --- | --- |
| | Friday 16th - Quite mild temperatures the past couple of days. Ideal to be outside again, walking, gardening or whatever else takes your fancy in the outdoors. If you're on the island and looking for something to do this weekend and next, note down that Ores Gallery in Vathy has a recital from Jean Cocteau works on 17 & 18 with Tomi Dendrinou, and 24, 25 and 31 with Maria Koughianou, presented by Dimitris Danis (Ores Gallery) and Forkina |
| | |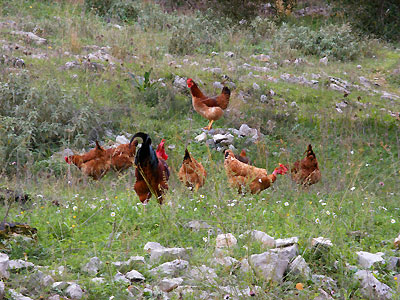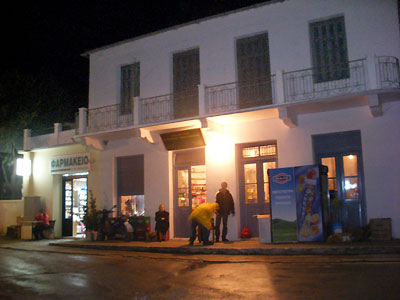 Above right - Stavros General Store, another pleasant reminder of days gone by. With some severe weather conditions, yesterdays' ferry timetable was somewhat disrupted with long delays in departure. The Eptanisos ferry (our substitute ferry while The Kefalonia is getting its annual service) arrived on Ithaki at 3.30am this morning. Some tired travelers walked out of the hull having waited quite a few hours longer in Patras before they could board and get out of the cold.
| | |
| --- | --- |
| | |
| Ores Gallery, Dimitris Danis' personal venture, premiers with its first presentation tomorrow night at 9pm. Ores Gallery is situated behind the Council Offices building in Vathy. | |

| | |
| --- | --- |
| | Saturday 17th - We had a little reminder of Spring today. Very mild temp and lots of warm sunshine. Below - Dimitris Danis (below center) takes a few minutes breather after a busy lunch at Porto Restaurant in Vathy. |
| | |
Sunday 18th - Ores Gallery in Vathy Presents Jean Cocteaus 'The Liar' with Tomi Dendrinou.

Click here

or on photo left for more pics.

Monday 19th - Right - First Almond blossoms are beginning to appear. With splendid sunshine and mild temps over the past week, nature is a little confused.

While passing Frikes, rock crushing noises could be heard coming from the opposite side of the bay. Seems work has resumed on the road being made from Frikes to Marmaka. Just goes to show, you can't believe everything they say at the Kafenion, even when it comes with a holy stamp of truth.

| | |
| --- | --- |
| When you go for a walk these days, you're likely to run into others who have the same idea. Walking seems to be a very popular past-time/fittness regime that locals are partaking in more so than usual this year. If you can't escape Winter, than Ithaca is the best place to be. | |
| | |
| --- | --- |
| | |
| Above - Petra restaurant in Stavros, where many locals hang out now and again through the day. Below - More Stavros scenes. | |

| | |
| --- | --- |
| | Tuesday 20th - Can't believe we're already heading toward the end of January. Life seems very relaxed around the island. Below - Stavros Bakery, where you can get woodoven baked bread, fresh each day (except on Sunday). This bakery also delivers around the villages which is a great service, especially for the elderly or for those without transport. |
| | |
In Vathy, there's much more to see than just the bayside. Ithakis Capital is a thriving town that is the heartbeat of the island all year around. The Vathy community is scattered up and around the hillsides that envelope the town.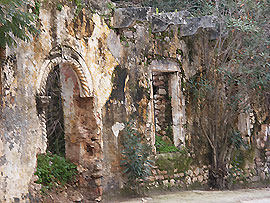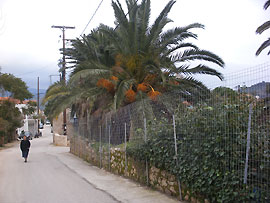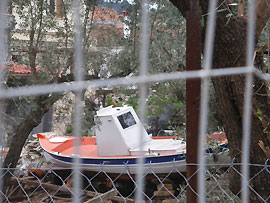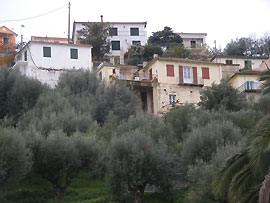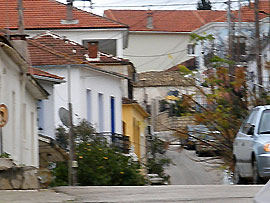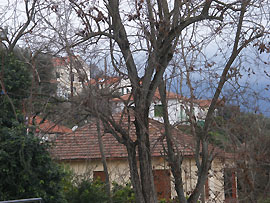 The local Ithacan Archive has published a 2009 Diary. It has photo snippets of old titles and papers indispersed through the Diarys' pages. Excellent quality paper, very nice binding and style. Really much too nice to write in. I would like to thank Petros Blaxos from the Archive for bringing it to my attention. If you would like information you can email to this address -

mail@gak-ithaki.kef.sch.gr

It makes a really lovely gift, but note that it's only in Greek.

If you're interested in what MOI (I) have been doing this winter, you can check out

www.lolademo-music.com

and

www.myspace.com/lolademo

As some of you know, music fills up my winter months and this year is no exception. I've made 2 cds. The first is called 'zero' (6 tracks - piano, vocals and a few bits and pieces of sound) It was written and recorded in 1 week. Guess I had alot to get out. The other is called 'Leave that Girl Alone' (6 tracks with me (of course), some jazz solos by hubbie and a little 60s feel for nostalgia). You can visit the website for more info should you have the desire to learn more and for a taste of the music, myspace has a couple of tracks of each.
| | |
| --- | --- |
| | Thursday 22nd - On a walk around the very traditional village of Lahos, a little of the old appears at every turn, and with the rain so far this winter, the wonderful sound of water trickling along the creek that runs through Lahos and down to Frikes. It's very peaceful everywhere, except for Frikes, where the excavation and construction of the road to Marmaka continues. There are no explosions or anything, just the grind of machinery. The sound doesn't intrude too much into the peaceful winter vibe that's so enjoyable for those who don't need city action to get excited about life. |
| | |
| | |
| --- | --- |
| Frikes bay with a few local fishing boats, is almost unrecognizable from Summer Frikes. | |
| | |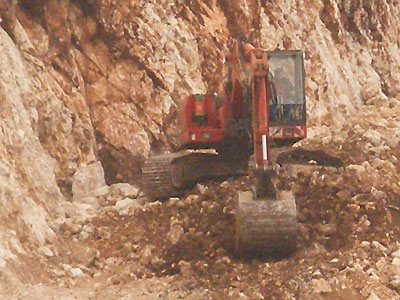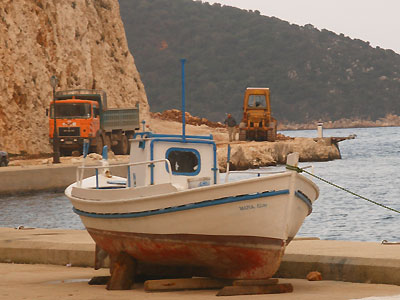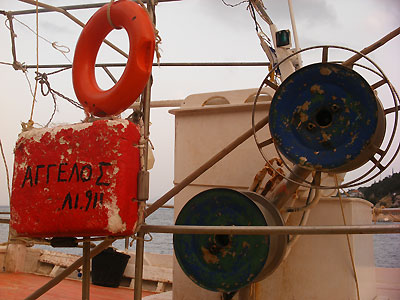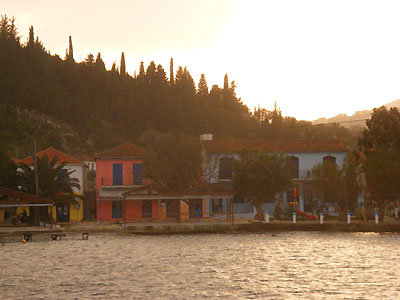 If you missed last weeks performance at Ores Gallery in Vathy, you can get along on Saturday 24, Sunday 25th or Saturday 31st January, when actress, Maria Koughiannou, does her thing to Jean Cocteau with guitar backing from Demetri Vlass.
Saturday 24th - Rain, rain and more rain yesterday, but when there was a break, I went off for a walk around Afales and then for a drive up to the mountain village of Anoghi. More cats (and sheep) than people in the streets, not just in Anoghi, but in most of the northern villages.