| | |
| --- | --- |
| | |
| Car, boat and bike hire are all great ways to see Ithaca. When it's too hot to walk, mopeds seem to be a favourite, but before you count on it, make sure your license allows you to ride a bike. | |
| | |

| | |
| --- | --- |
| | Monday 15th Cont - There's no doubt about it. If you come to Ithaca for a visit you are bound to see some or all of the people below through your discovery of Greek tastes in beverage, food and sundry. |
| | |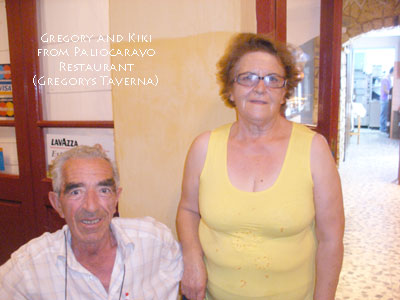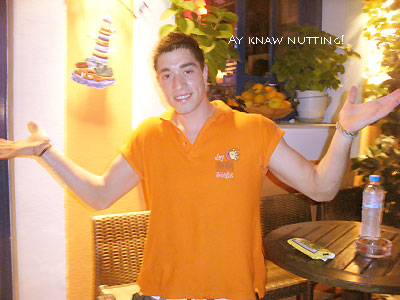 Personally, I love this time of year. The locals are still in good humour, before they get too tired to remember what humour means, and there seems to be a really great atmosphere around the island whether your choice is Vathy, Perahori, Dexa, Aetos, Anoghi, Lefki, Stavros, any of the villages in Platrithias, Frikes or Kioni. Bring in the clowns, well only one today :):)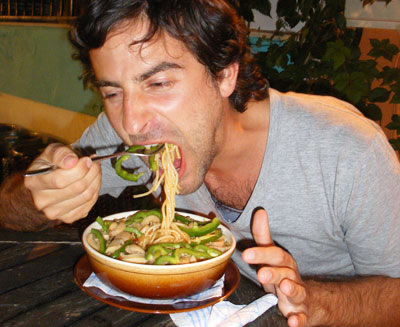 Above Left - Lupo, Peter and Costa in Frikes. Above Right - Penelope Restaurants (aka Steve's Place) heads to the end of the shift on a mild Sunday night in Frikes.
| | |
| --- | --- |
| | Wednesday 17th - So you want to build? You dig for the foundations and low and behold you uncover ruins of a house dated back to the Roman era 100BC - 300AD. So was the fortune of a Vathy landowner, in the area right next to the Vathy carpark, where he had planned to build, works have now stopped to investigate this Find further. From the ruins it is seen that the port came right to the boundary, quite a way in from the port we know today. |
| | |
| | |
| --- | --- |
| | |
| Horses are not something you expect to see while walking from Stavros to Frikes, but there they were, headdress and all, being paraded by their owners. | |
| | |
| You can't help but watch the parade of Day-Trippers as they wonder through Kioni, dying to discover what we already know. | |
| | |

| | |
| --- | --- |
| | Mild nights and colourful skies through Dusk on Ithaca. It feels like it will be a hot Summer ahead. |
| | |
| | |
| | Thursday 18th - Left and Above - Polis Beach with Lucky. It's always a good time under and around the big fig tree. Love it! |
| | |
| --- | --- |
| | |
| Personal note - I really can't imagine why a website about Ithaca would encourage such bad feelings toward the webmaster from certain aspects of the foreign community. Is no one just content with their own lives? I love Ithaca and would imagine they do too, yet.... I will continue making this site regardless of the petty schoolyard antics of a few, no matter how far their gossip spreads, now also to the internet - FB. wow!! Unbelievable! Maybe I should start up my own - 'I hate Erika' site and charge for entrance - doubt I'd make a living though, as fortunately, there are more nice people who view this site and live on this island, than there are troublemakers. This is a good time to thank all of you who visit the site and enjoy it. | |

Above and Left - What's in a Mini Market you ask? Well at Proto in Frikes, the pretty and traditional building it's located in, let's you feel the days of old, but get the fresh, clean produce of today. Good prices (they even suprised me) and a great view while you shop. Where else in the world can you shop for groceries, stock up your bar, rent a moped, shower (only 2 e) and be stunned by the view, all in one place? Very few I would imagine. A personal thank you to the girl behind the register for always being so friendly and helpful too.

Fiorendino Bar above, was brimming this morning with Flotilla meetings and welcomes. It's been awhile since I've been up this early. Wunderbar folks!

I LOVE ITHAKI
Now with Dodonis, the new Cafe and Accommodation which has opened up in Frikes, the far corner of the bay is looking alot more lively. A business opening up there has been a great boost in the arm for Frikes village. It's nice to see lights on, on the usually dark side of the bay, and people walking the now extended promenade of the village.
Friday 19th - I guess from here on in there'll be nothing but blue skies and warm temperatures. Another hot day today, but in June, as usual, there is a refreshing afternoon breeze off the baysides to make us all feel alot more comfortable. Below Left - Locals Niko, Zaharate and Zoe welcome Helen Vlass from Australia back to Ithaki. Helen vlass (2nd from Left) has been a long standing member of Australias Ithacan Philanthropic Society. Below right - Pam and Doug have been to Ithaca around 9 times. They are welcome faces in the early and late season on the island, and enjoy the simple things like strolls around Kioni and sitting admiring the views.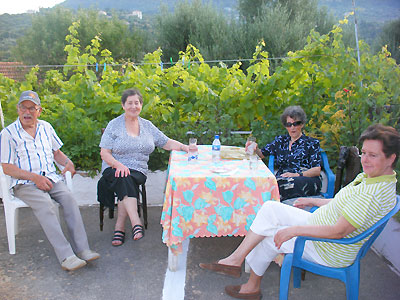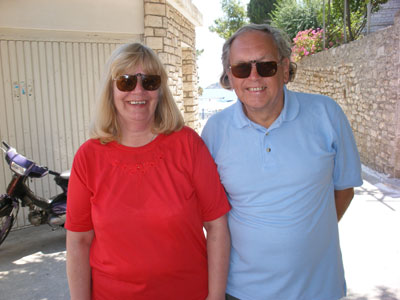 Below - There is something so very special getting up early in the morning and heading to Ithakis Big Smoke, Vathy. It's calm and quiet, colourful and serene as you walk from the bayside around the back streets and beyond. Flotillas prepare to head to their next port of call, shops begin to open, and before too long, you can hear the brewing of coffee and the din of voices in the Town Square build to a crescendo.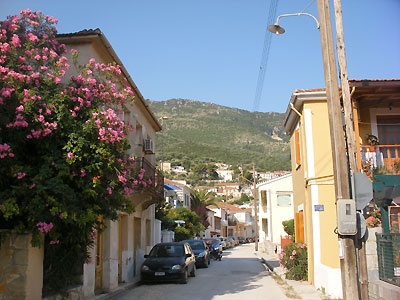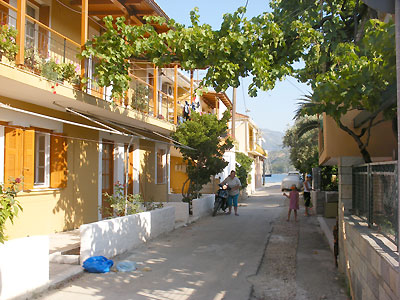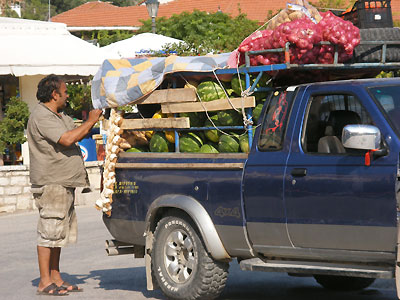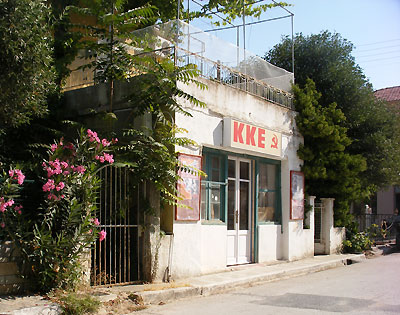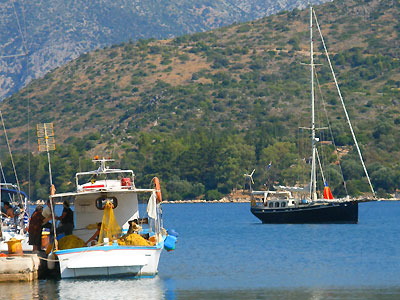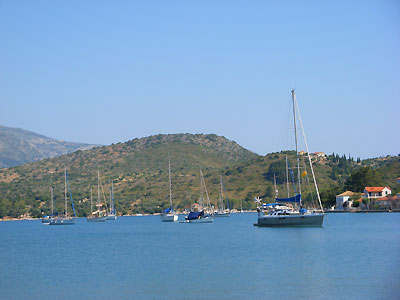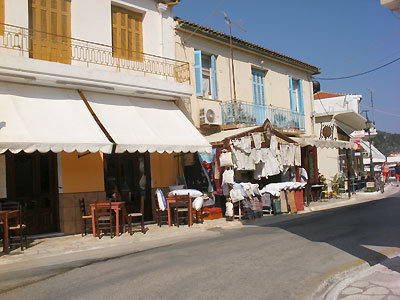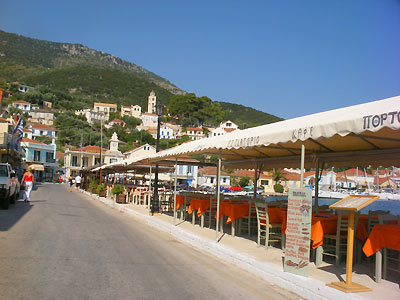 | | |
| --- | --- |
| | |
| | Living on or visiting Ithaca, you do win the lottery in the 'View' Stakes. Seems everywhere you cast your eye there's a picture telling a thousand words. Something you want to share with family and friends who are not with you to experience it. Summer is post card season too. It must be the most purchased holiday item everywhere in the world. Below - When Giorgo from Spavento Bar in Kioni brought out the watermelon, there were happy faces all around. :) |