What's New On Ithaca Greece
August on Ithaca
Summer holidays on Ithaca Greece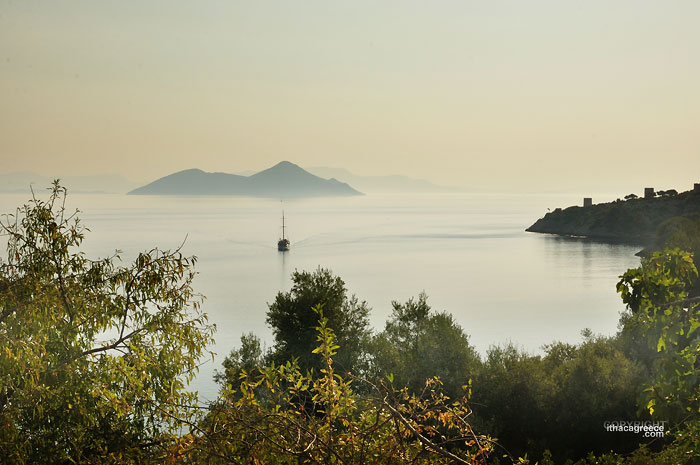 August 2017
Friday 11th - I think we're all hanging out for a cool breeze to blow over us after this long, long week of heatwave conditions. Even my balcony railing is too hot to touch as the sun begins to melt the bitumen (asphalt) under our feet.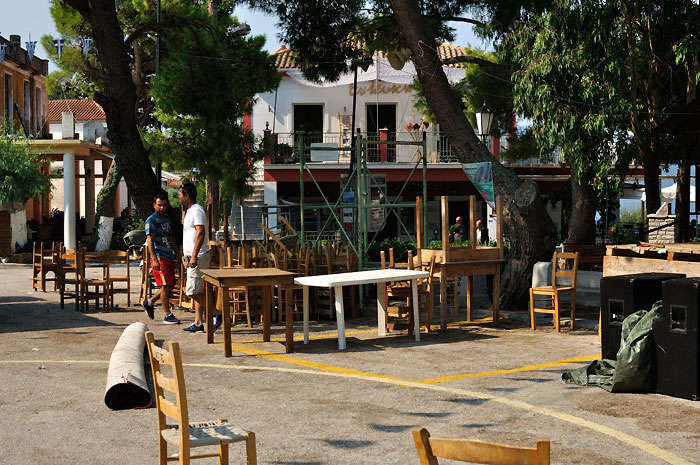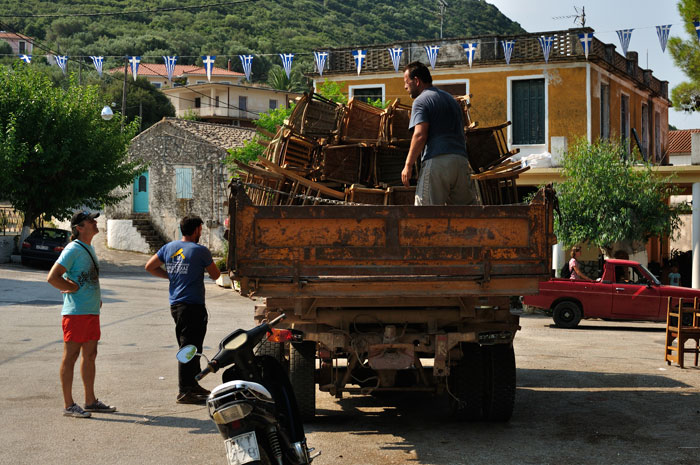 Above - Clean up after Sotiros.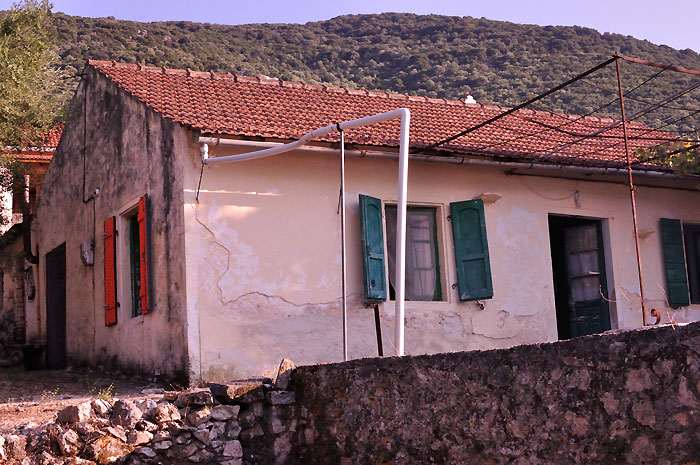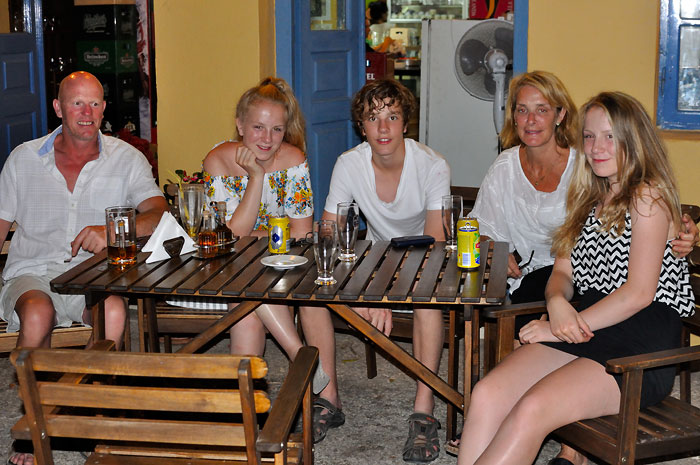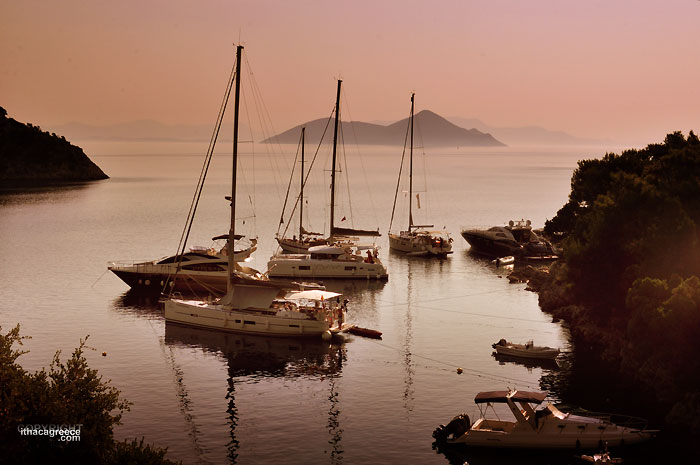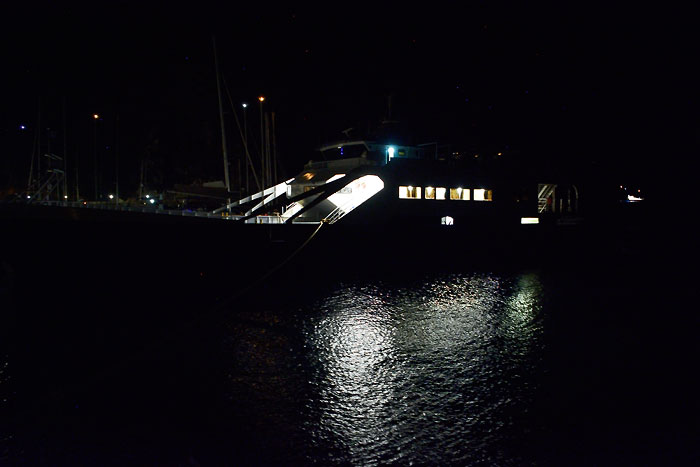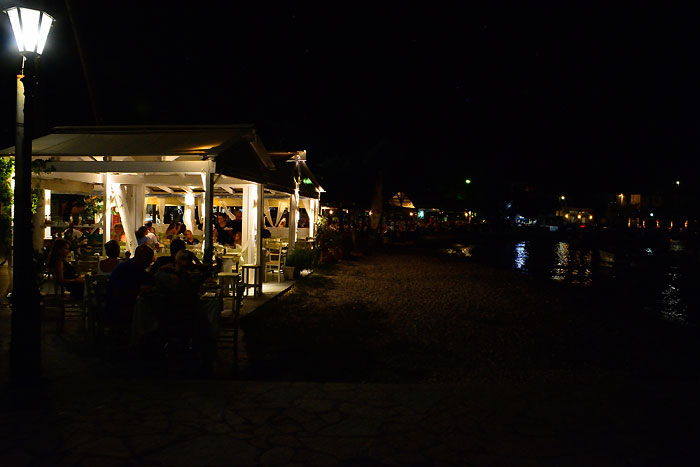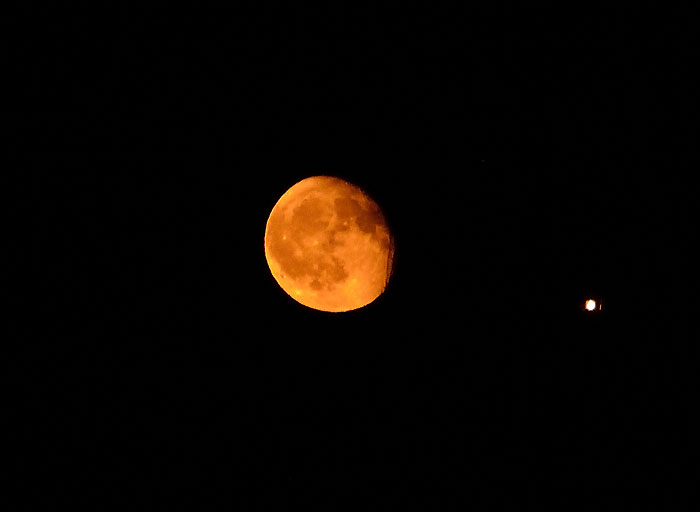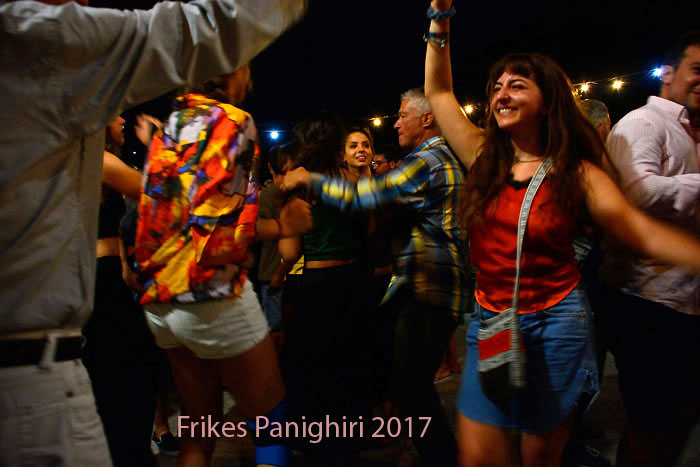 Above - Last night the Frikes Panighiri, under an 'almost' full moon, bit and orange, went off with a bang on the bayside. Click Here or on photo above for more pics.
Monday 14th - A cooler change came yesterday with a little wind and finally some cooler temps. Won't last long. Temps going up again on Tuesday.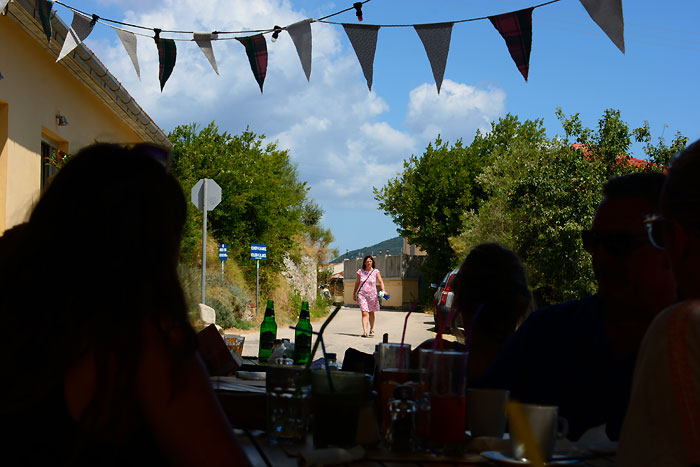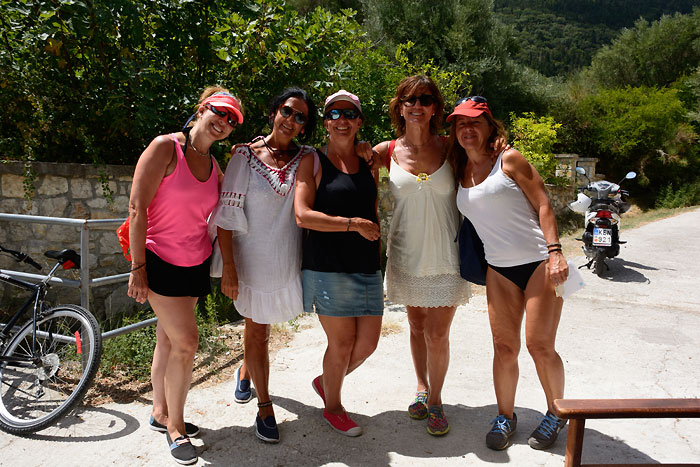 August means more visitors from across the Ionian, Italy. This lovely group was seeking out Homer's School via the path from Yefyri.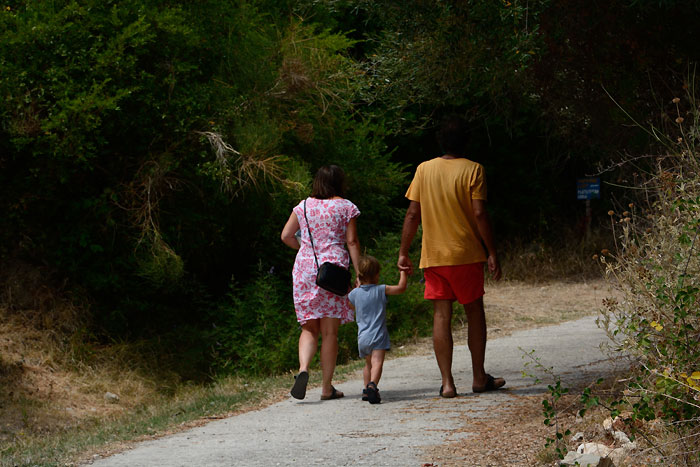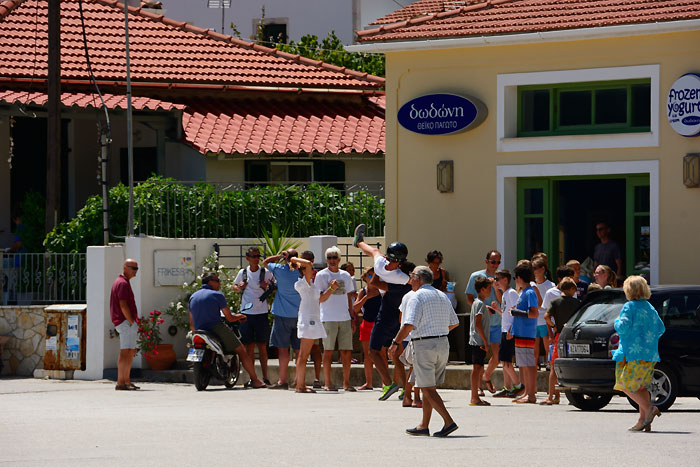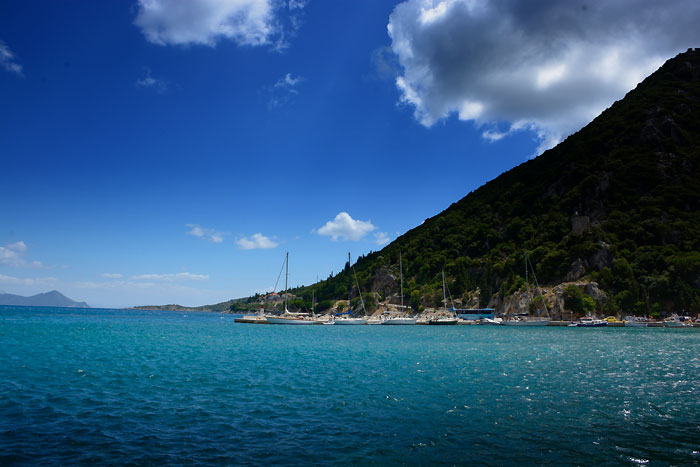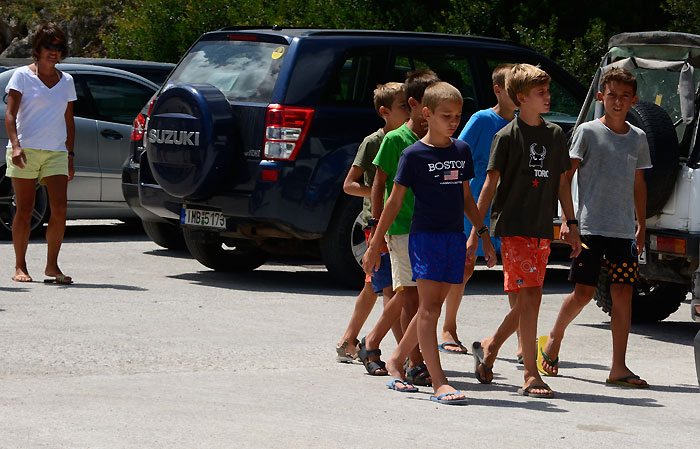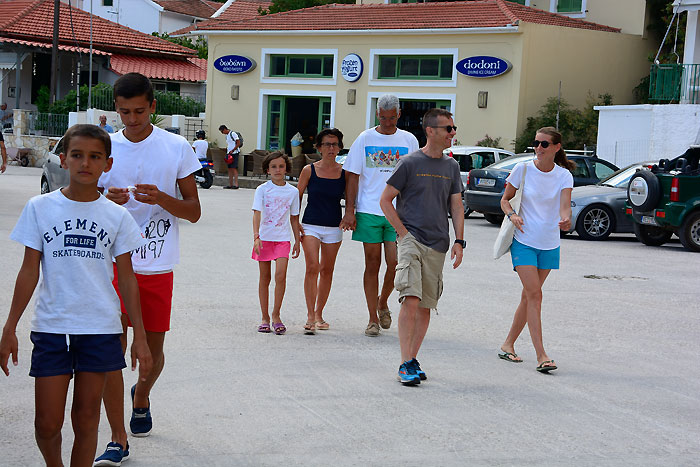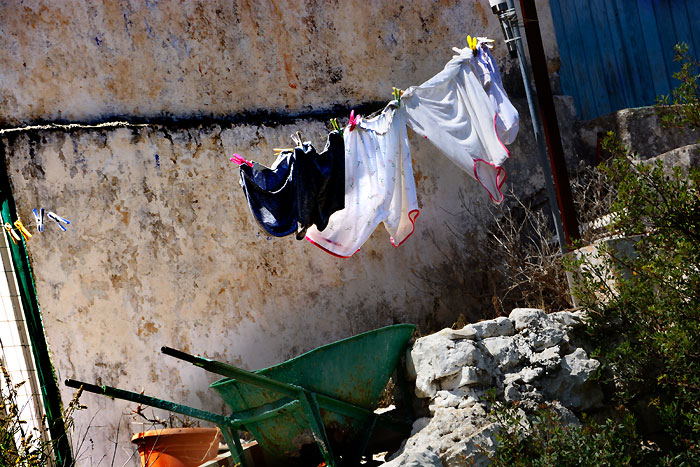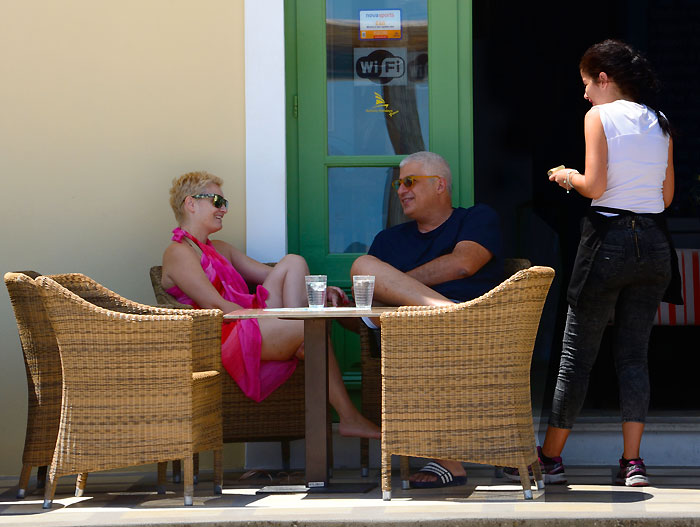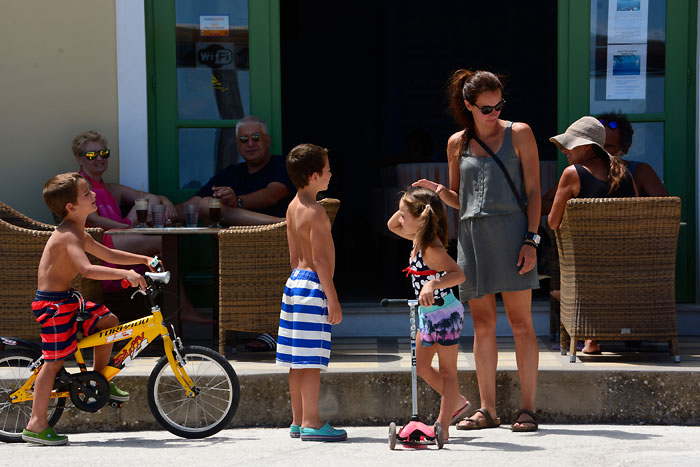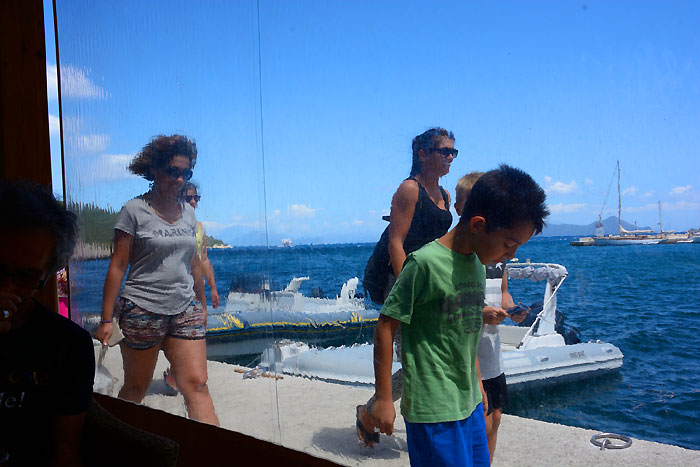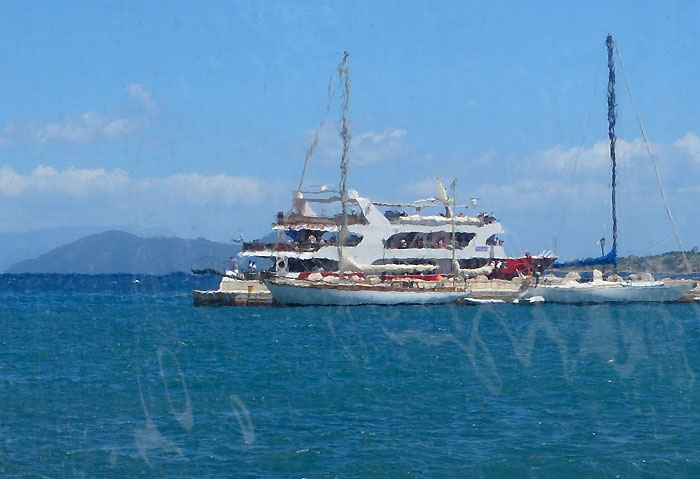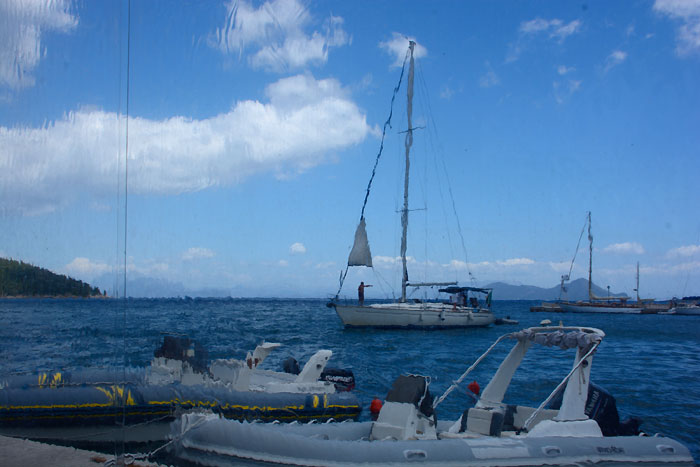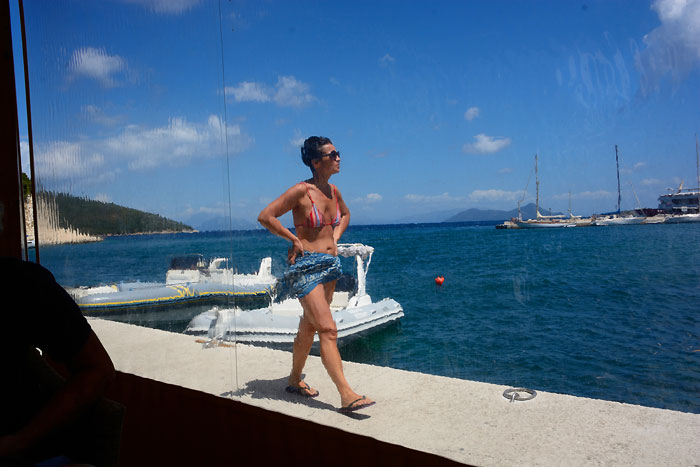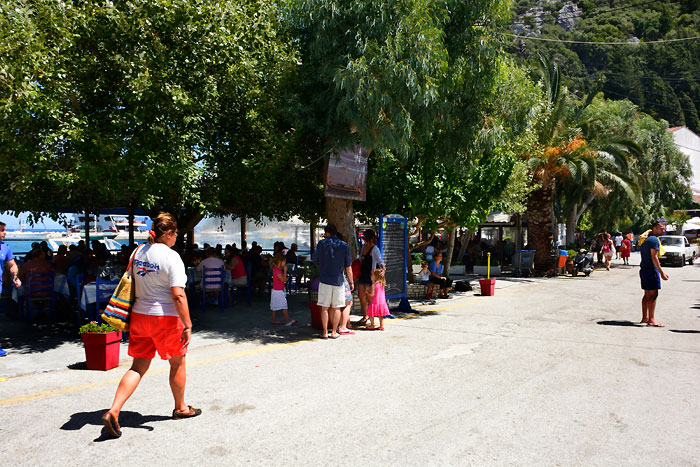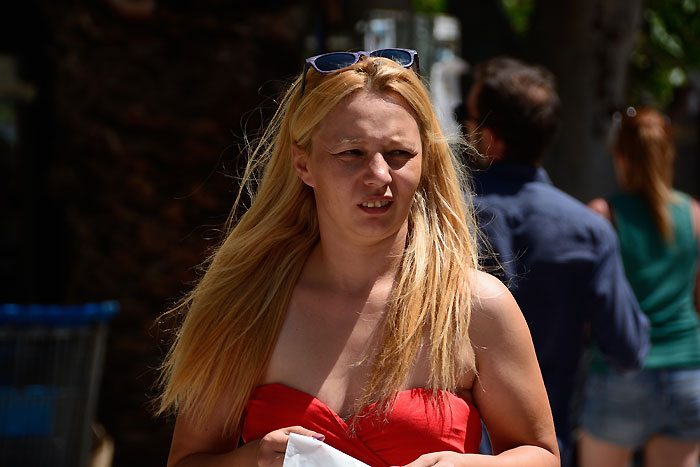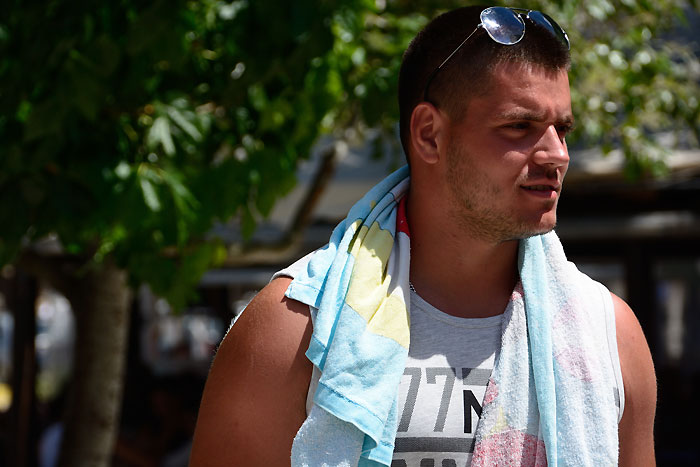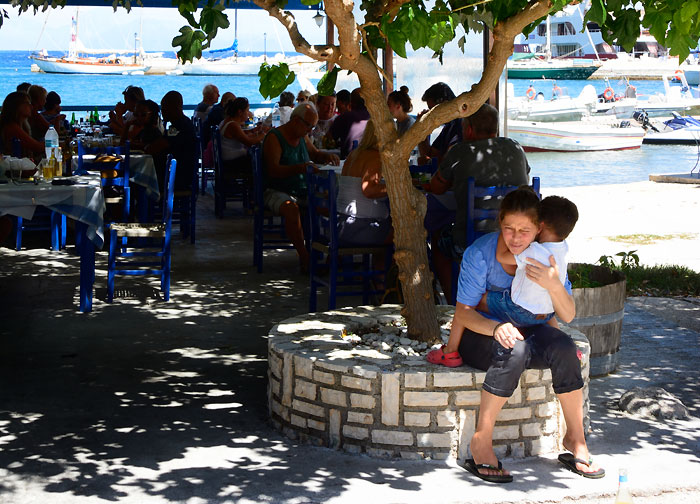 Tuesday 15th - Last night the island headed up to Mr. Niritos, to the village of Anoghi for the big annual festival, lovingly known as the Anoghi Panighiri. For some pics, Click Here or on photograph below.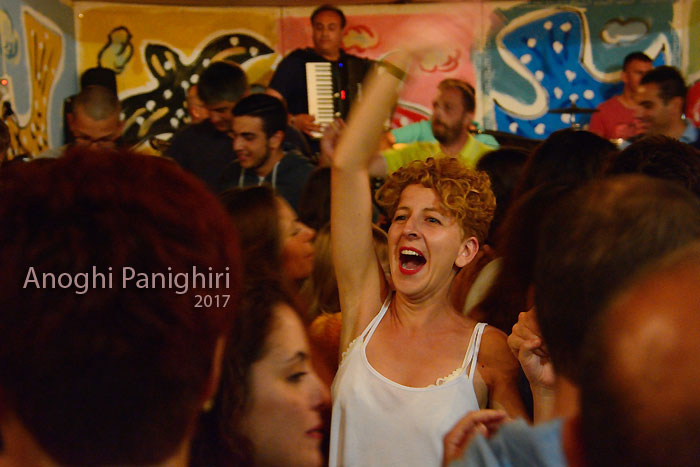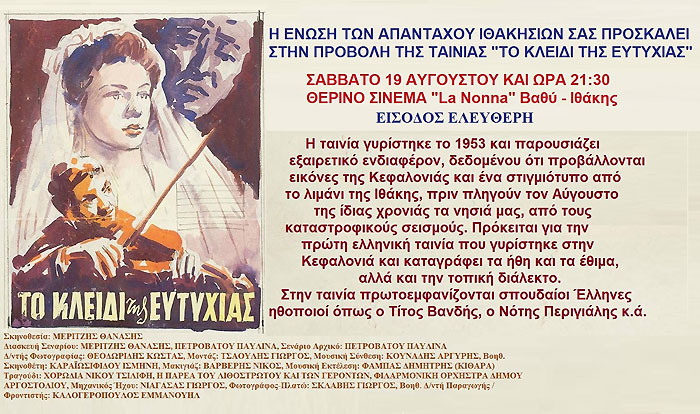 If you understand some Greek or even if you don't, this may be a very interesting film. Head along to the summer cinema "La Nonna" in Vathy for this screening of "The Key To Happiness" on the 19th August. Entry is free! The film by Pavlina Petovatou was shot and screened in the 1952-1953 season and has recorded every detail of the characters, the customs, the locals and the beauty of the pre-earthquake Kefalonia, showing pictures from Poros, Argostoli, Leivathos etc. Now that will be interesting even if you don't understand a word of Greek.
Wednesday 16th - Last night Platrithia celebrated it's panighiri at Limnes. Some people got home at dawn. A fun night. Click Here or on photo below for more pics.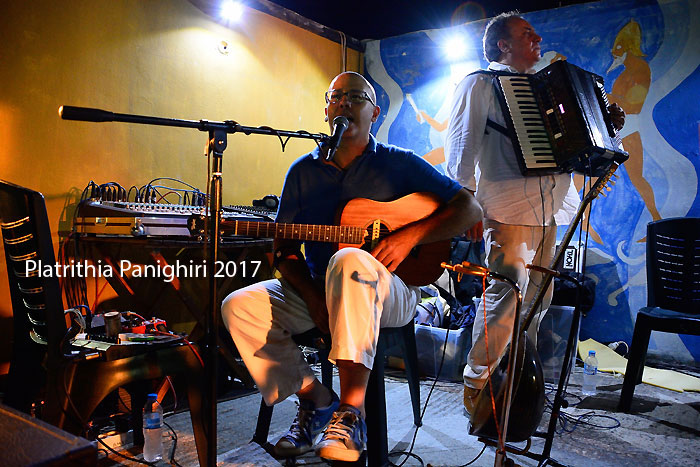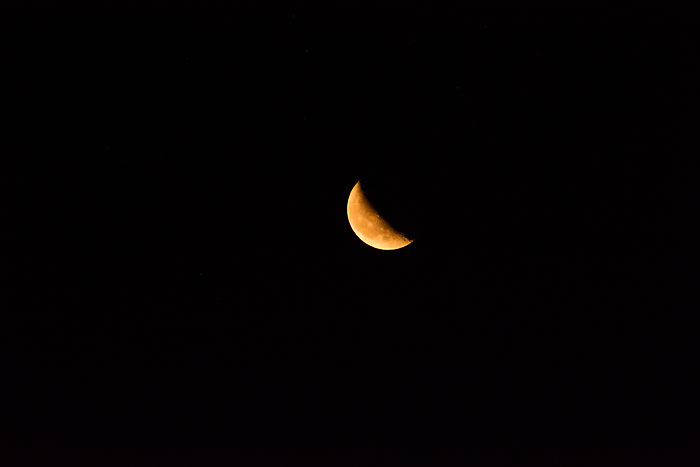 Above - A golden half moon as I left the Platrithia Panighiri.
Friday 18th - Still lots of folks on the island as we head toward the shoulder season. Below - Some Stavros views.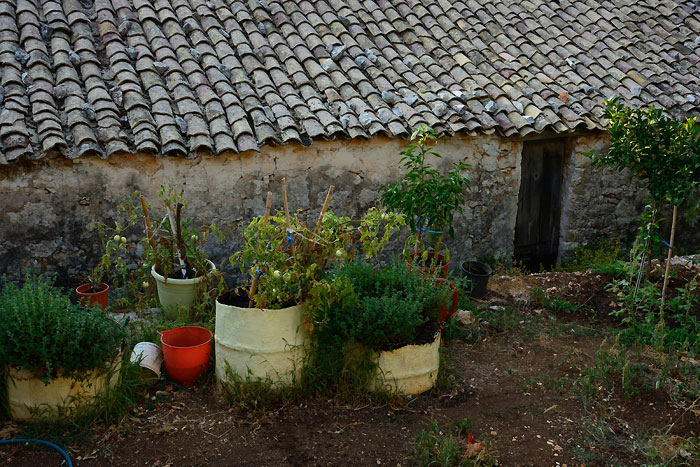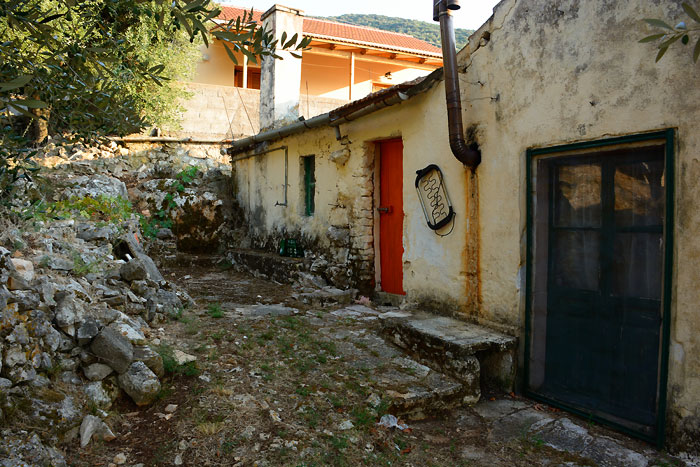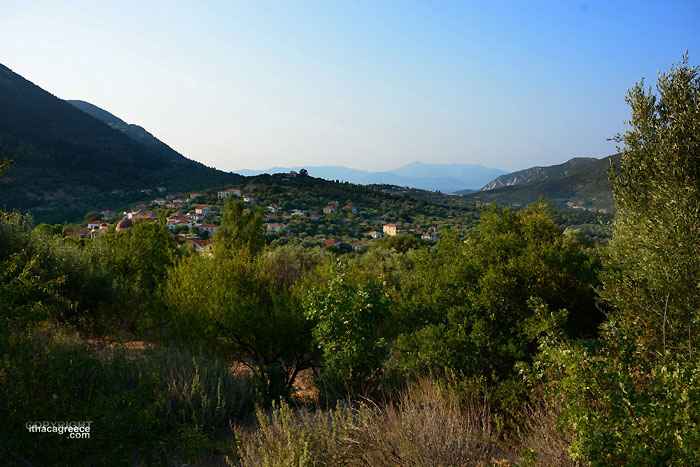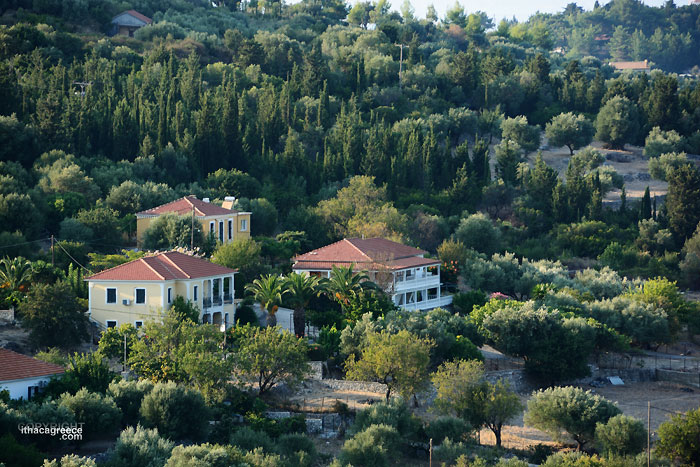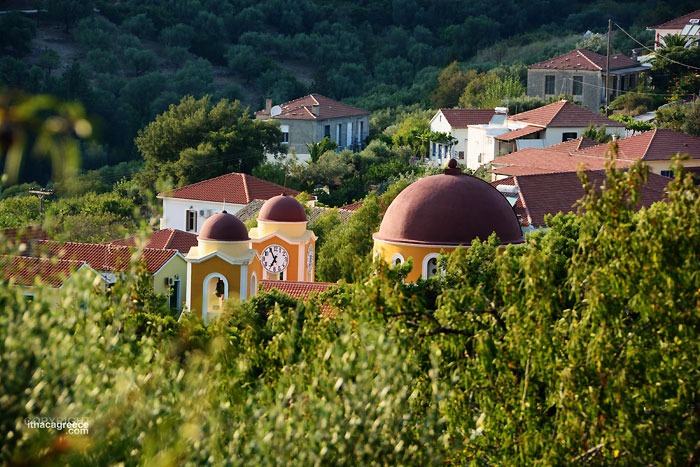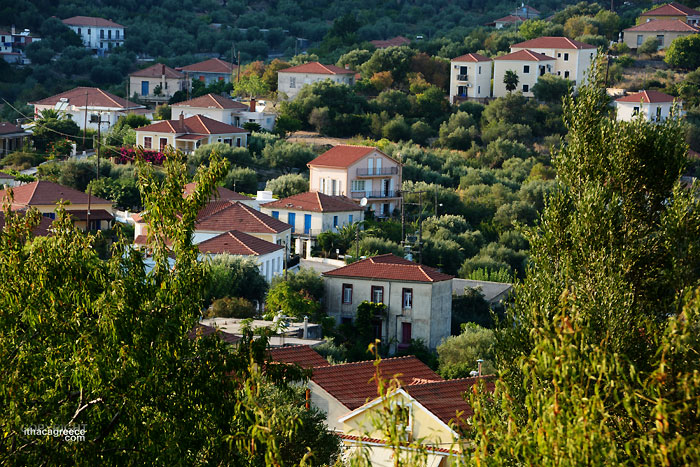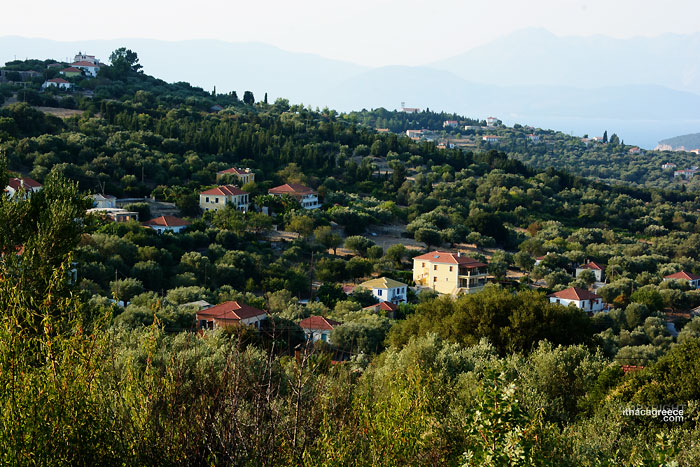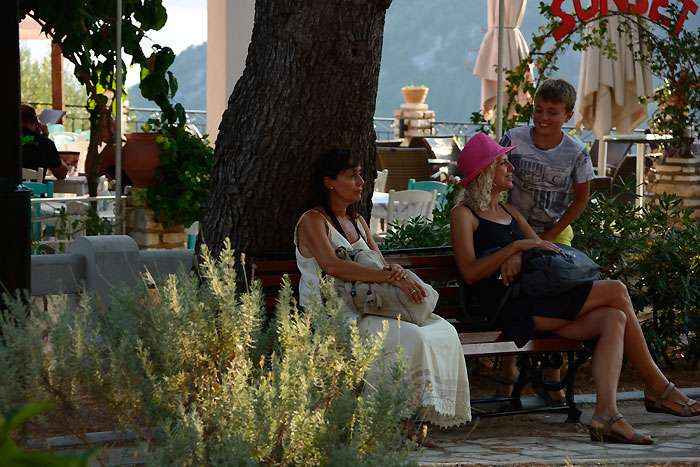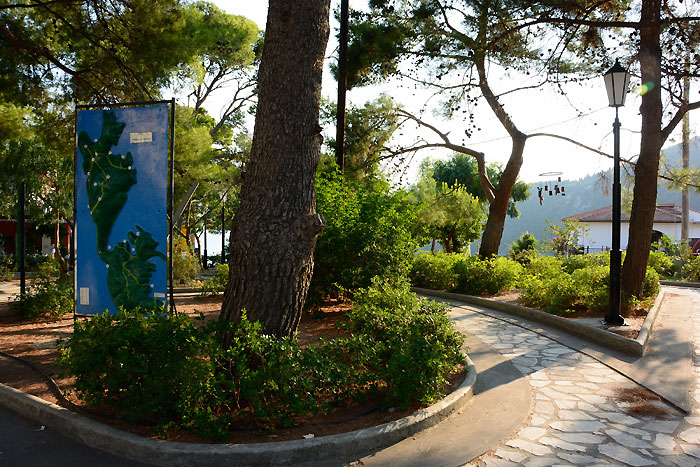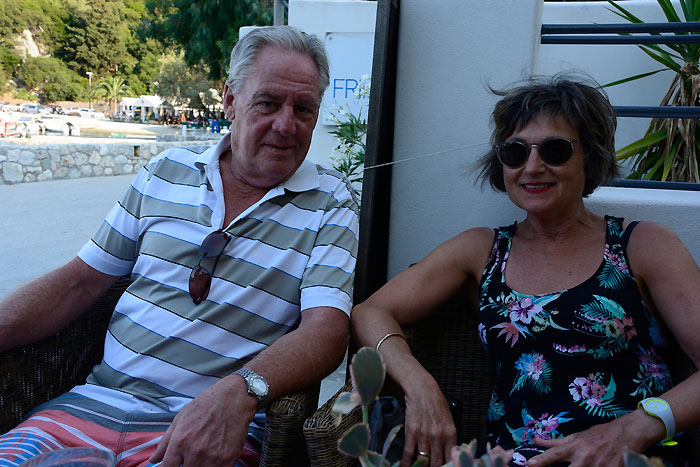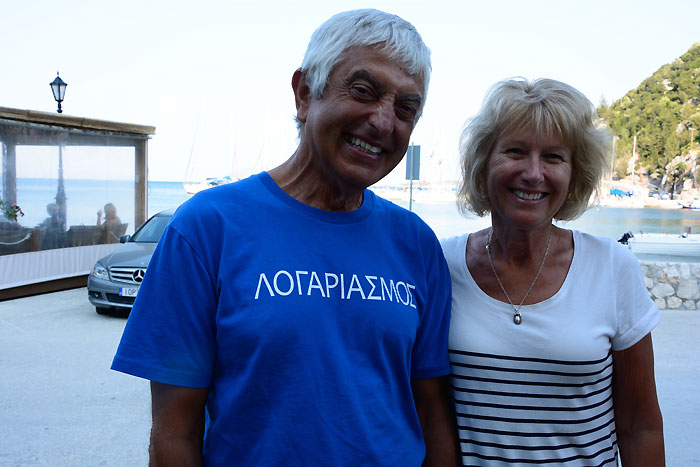 Above - Say hi to Bill! Below - The Ithaki Philharmonic Orchestra set up stage in the Frikes car park last night to entertain an intimate crowd. Yachts docked nearby got a free concert as did any passerby who stopped to enjoy the music.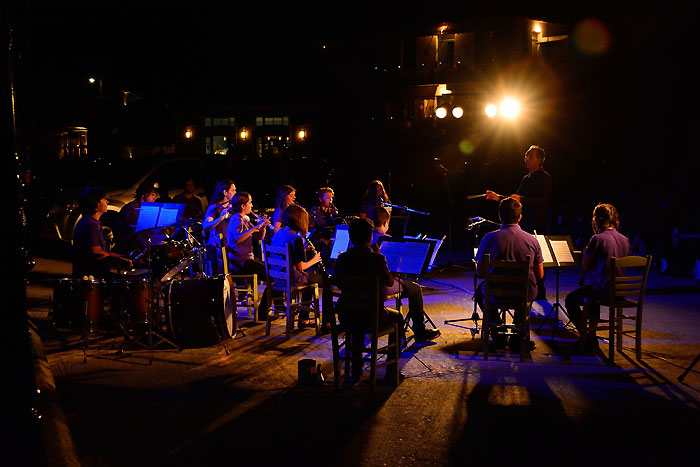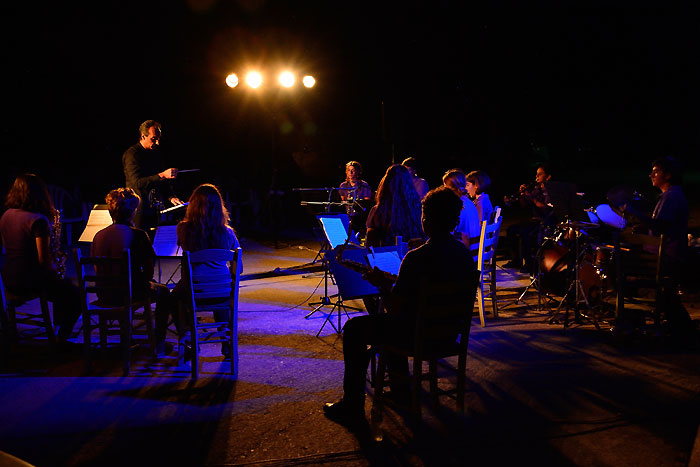 Saturday 19th - Summer on Ithaca - Beach, sun and fun!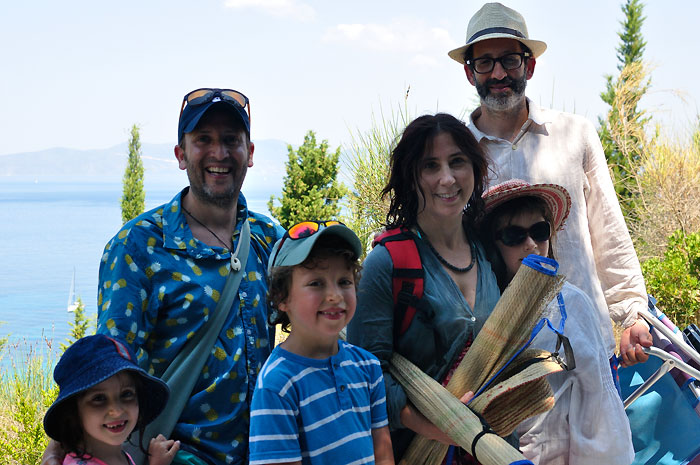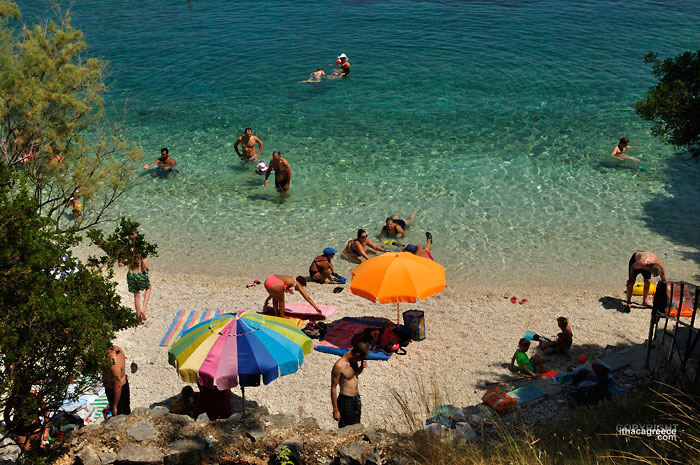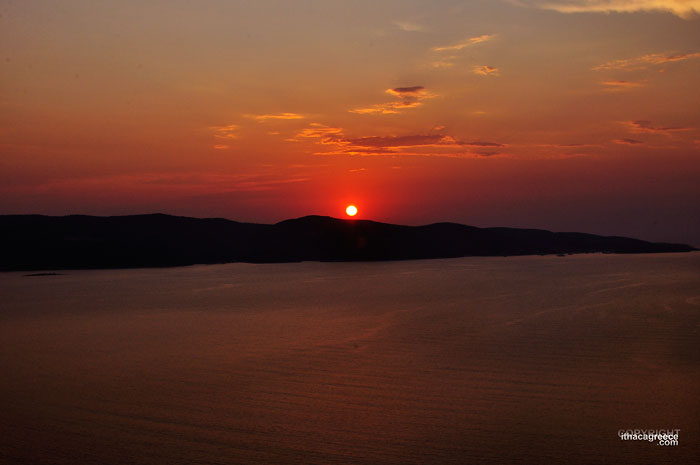 Above - The famous and now infamous sunset from Lefki. The best place to watch the sky turn red.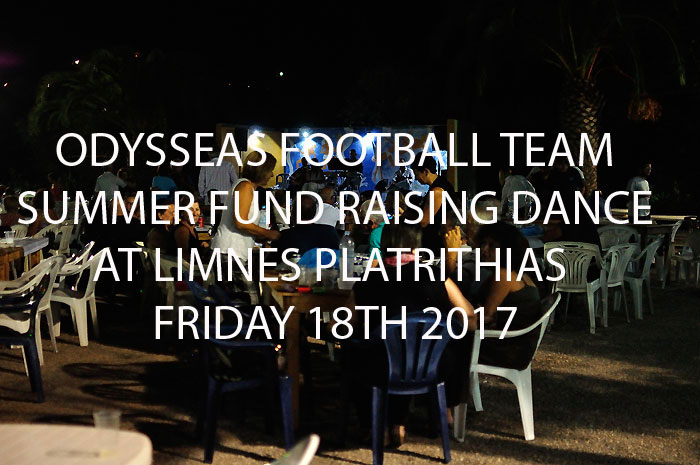 Above - Last night Odysseas Football club has it's summer fund raising dance. I didn't make it along, but Demetri did and took a few pics for you. Click Here or on photograph above.
Tuesday 22nd - We are now moving into the other side of Summer. Slowly things will begin to wind down, but not just yet. There is still more traffic on the road (people driving like maniacs) than there has been over the past years. Just a little reminder. Ithaca is a small island with narrow roads. We'll only manage well if everyone is a little more considerate. Sometimes 2 cars don't fit on the road. Someone has to give way.
Below - Vathy at night is quite magical. All the lights and the reflections.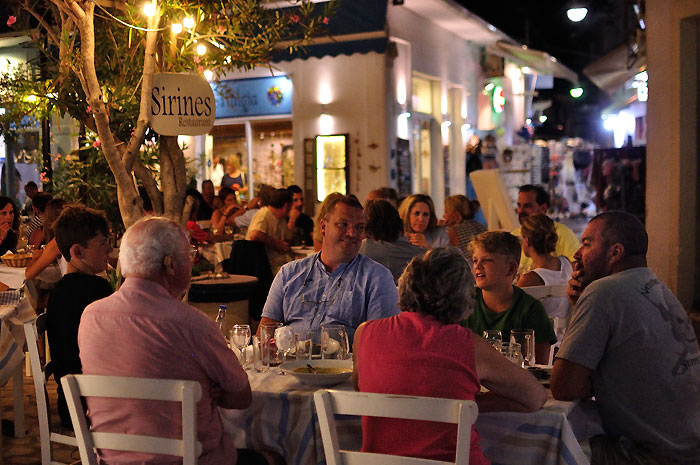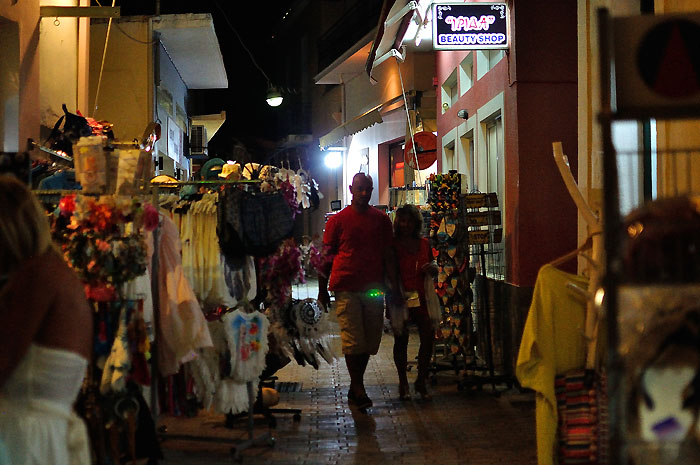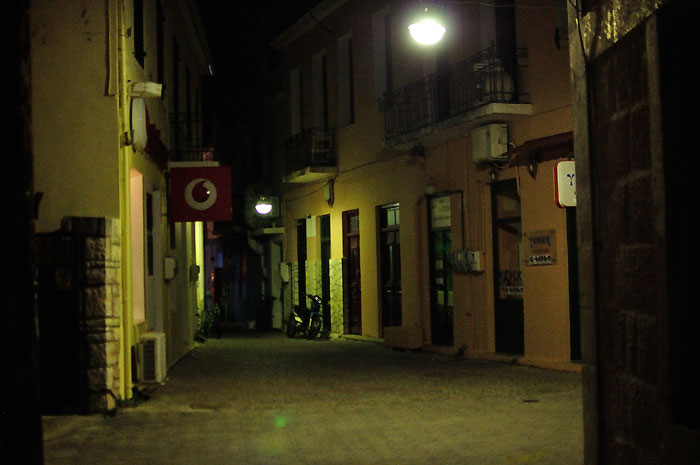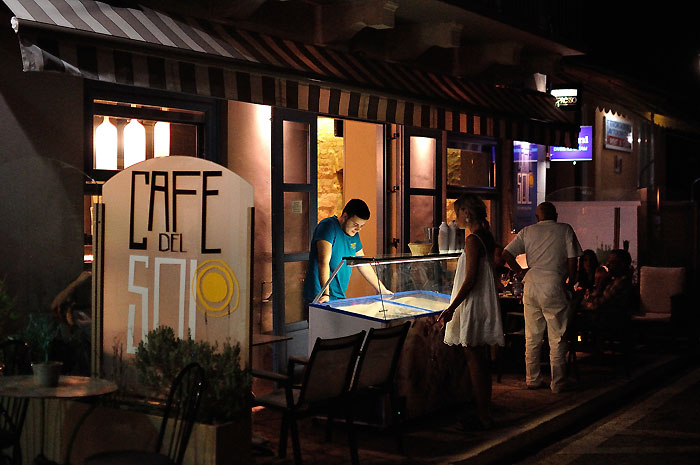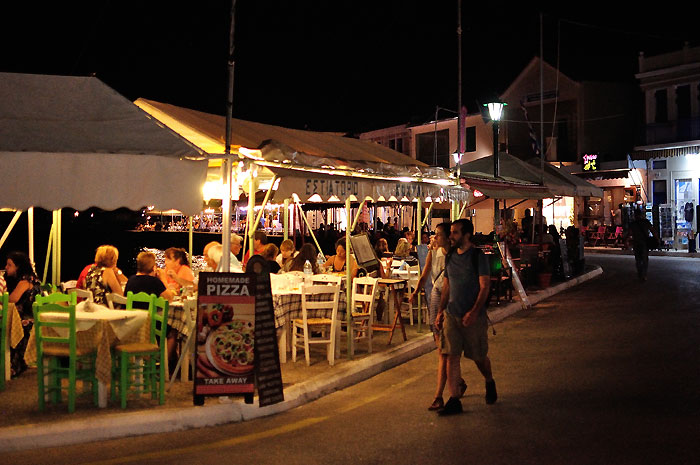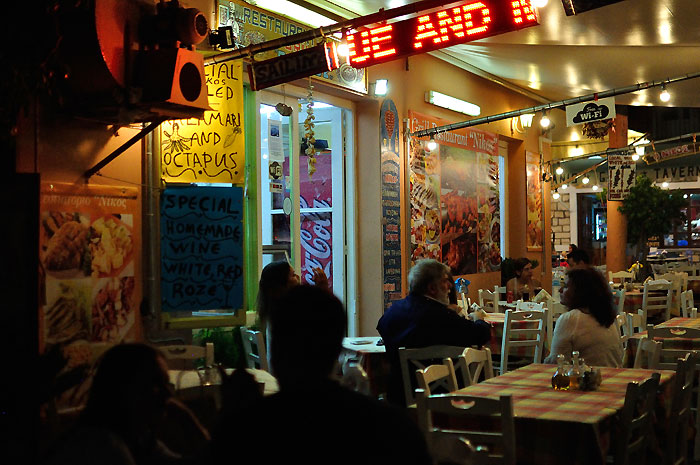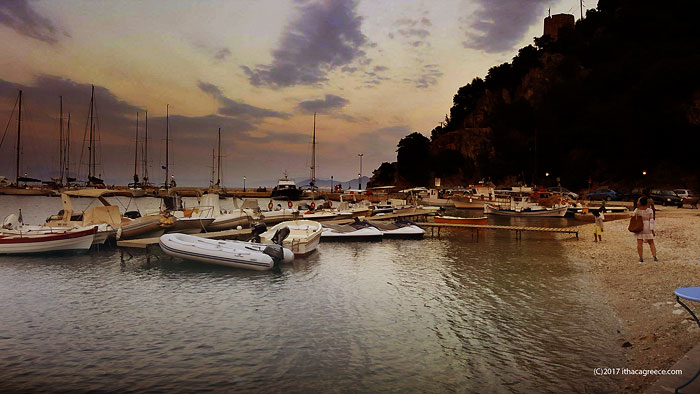 ---
August 2017
Summer holidays on Ithaca Greece
Friday 11th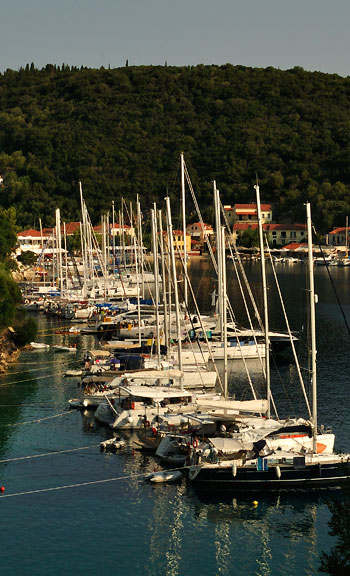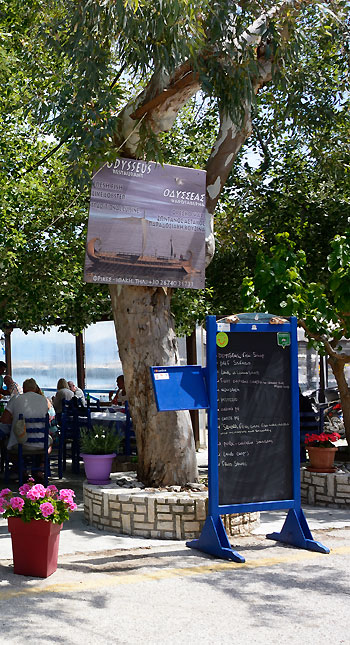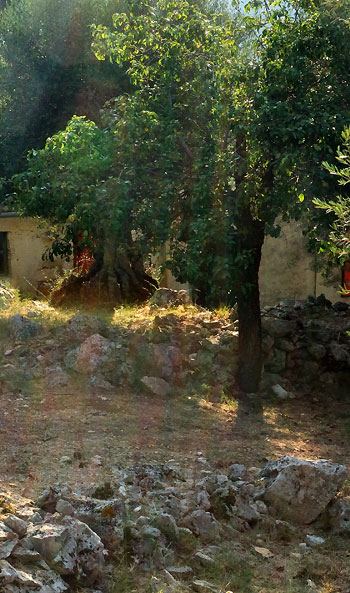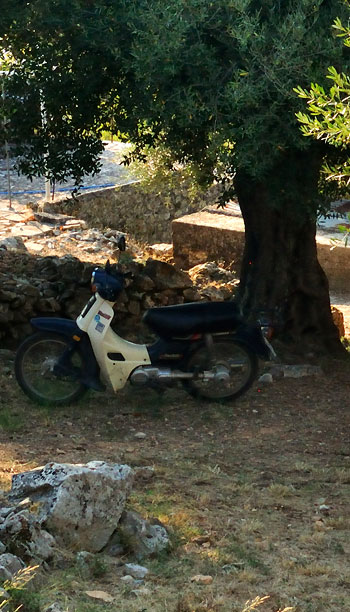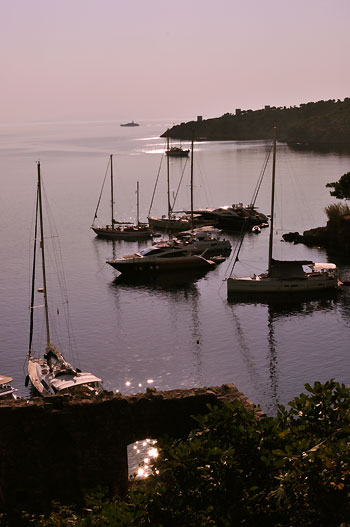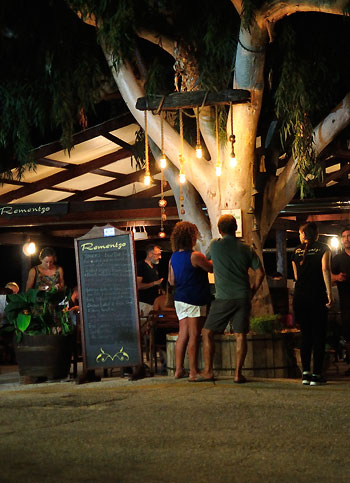 There is a record number of people on the island at the moment. Traffic jams and long lines of cars down our narrow roads feels a little weird, but it's great for all the businesses. The crisis may be taking a back seat for these 2 weeks in August.
Monday 14th - We missed the farmers market this year, but I'm sure it was a success as it is every year.
Below - Catherine Andrews Rombotis, one of Ithaki's talented artists. You can visit her studio in Platrithia, opposite Yefuri restaurant.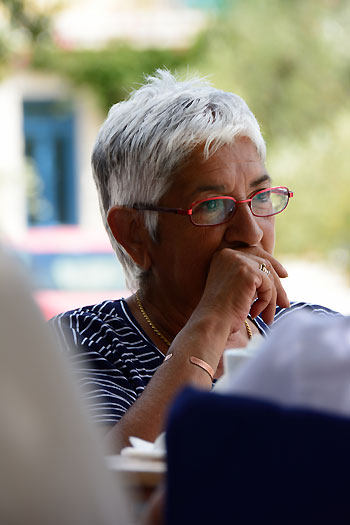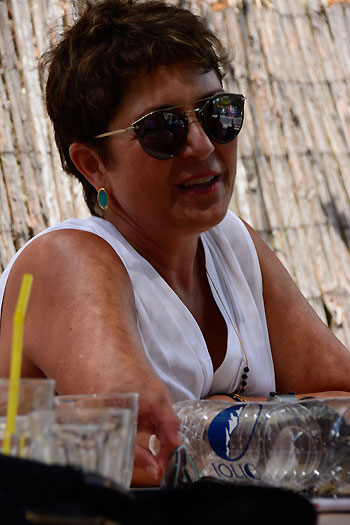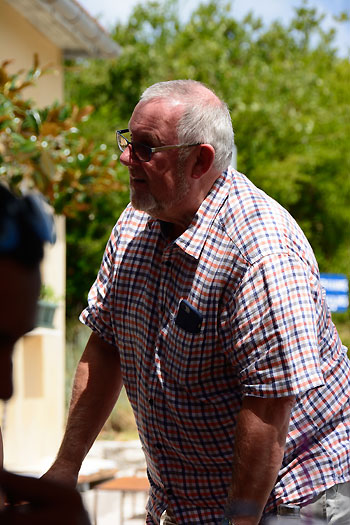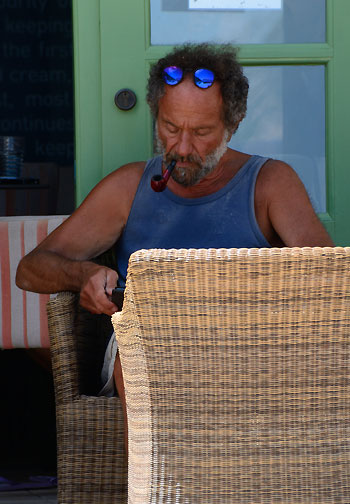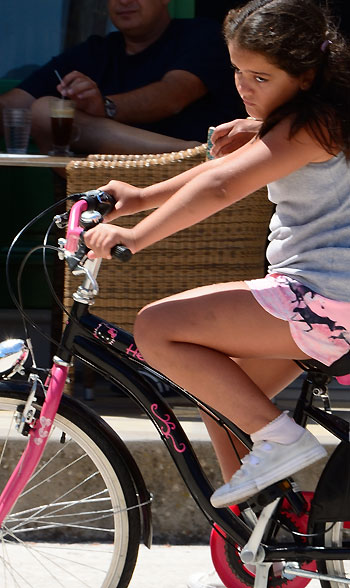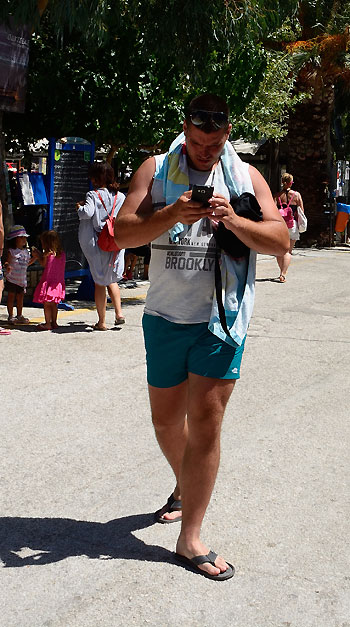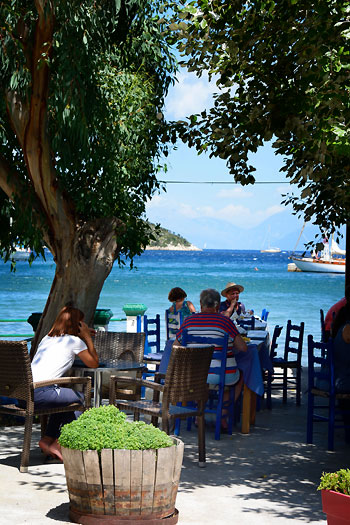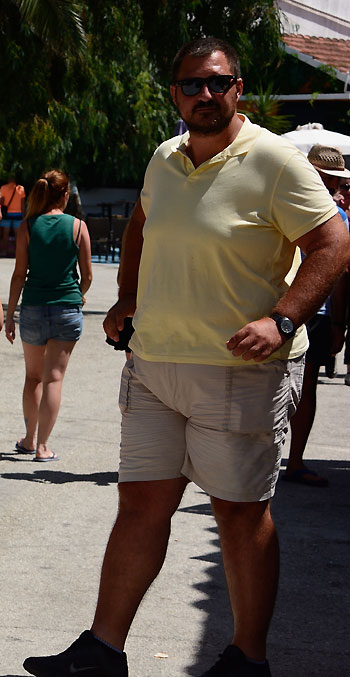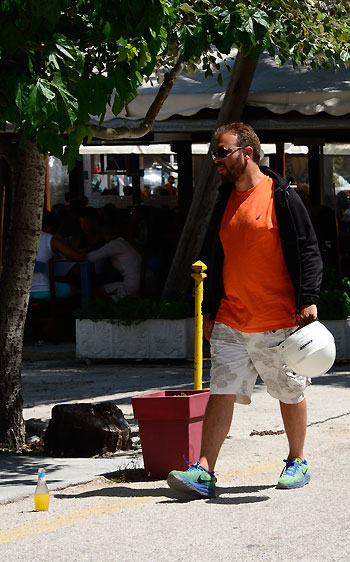 Tonight we have the Anoghi Panighiri and tomorrow, the big one at Platrithia. All the chairs and tables have been delivered to the square, ready to be set up for the big night.

Tuesday 15th - Tonight is the last of the big Panighiri, (although the Kathara festival in September has begun to grow quite significantly over the past few years). Anyway, this festival historically marks the time in the season when the numbers leaving the island become more than the numbers coming to the island (although that too has been proven wrong over the past few years). What does stay the same is the enthusiasm for the Panighiri. No matter how many you've been to, or how tired you are, especially after last night's panighiri in Anoghi, you still dress yourself up, gather up your friends and head straight to where the action is.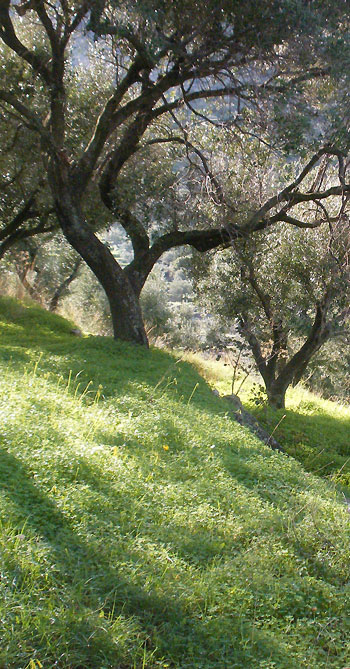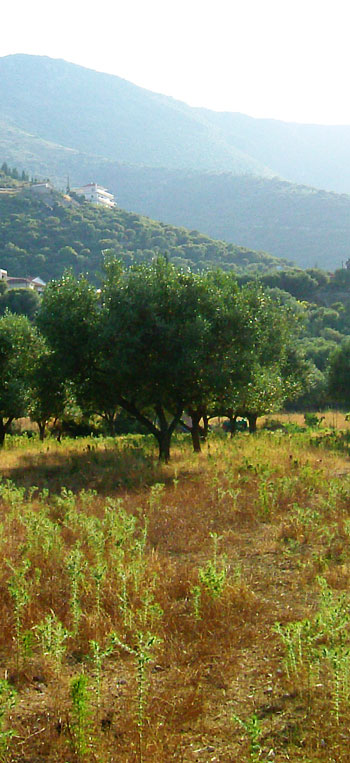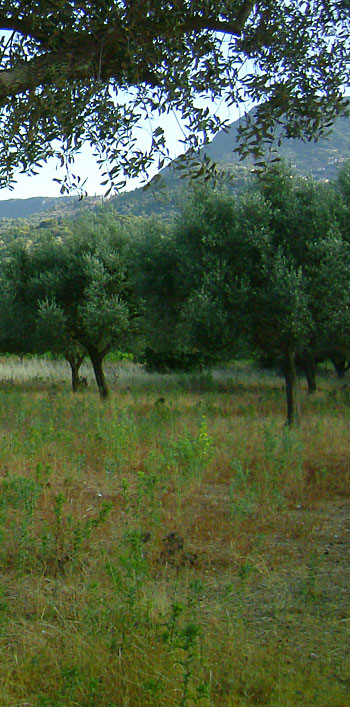 The grass is yellowing, even in the shadier parts of the island. Not only the unfortunately pale skinned or English are sunburnt under the hot Greek Summer sun.
After a couple of cooler days (If you can call low 30's cooler) the temps are going to rise again starting today. Hopefully we won't head back up to the high 30's, but it is summer so we do still want beach weather and warm evenings to enjoy.
Wednesday 16th - Ithaki's Philharmonic Orchestra will be playing a summer set at Polis Bay on Friday 18th August at 9.30pm
For all the things happening on Ithaca, keep your eye out on the Ithaki Calendar.


Now that the Summer Season is nearing it's end and Ionian Ferries did not keep their promise to reinstate the Patras route, (if you remember they were stopping the route for 2 months maintenance and then just never came back) I'm sure I'm not the only one more than a little pissed that we were again left wanting in terms of our travel options. We had the Astakos connection and I'm grateful for that, but it's never been ideal in getting to Athens. With Kefalonia getting several trips to the mainland via Poros - Killini and Zakynthos getting most of Ionian Ferries attention (check out the ticket prices and then wonder why it's so expensive to get to Ithaca) Ithaca seems to be purposely left out of the loop due to the financial implications.
Greece is still under capital controls but this year I do feel like something is changing in terms of the property market. There is an upturn and a stronger wave of interest compared to the last few years. I know we are still in the grip of a crisis, and we in Greece know that better than some, but I guess the selling off of Greece's treasured assets has been magic for those who determine when a country is in or out of an economic crisis because the word in the media is that Greece is improving. In real human terms that is probably an exaggeration. It's just that those who feel it most are not represented in the financial pages.
Friday 18th - Below - A popular stop in Stavros is the replica of Homers School in the village gardens opposite the church.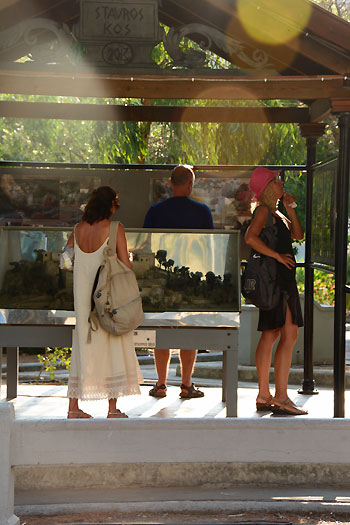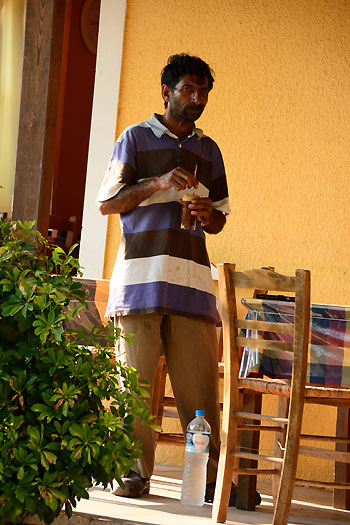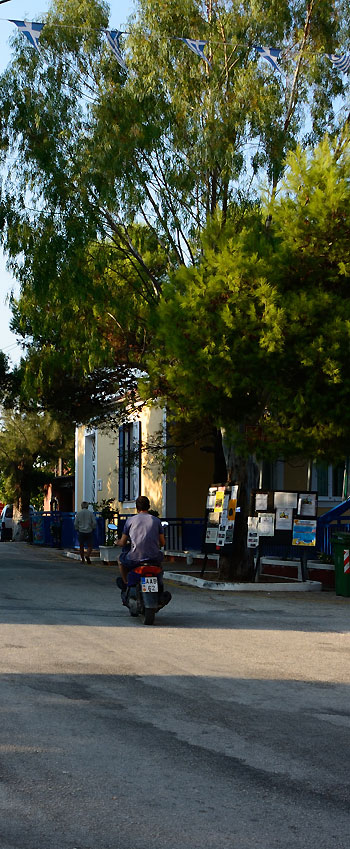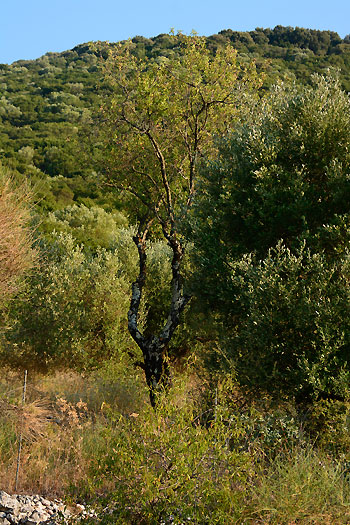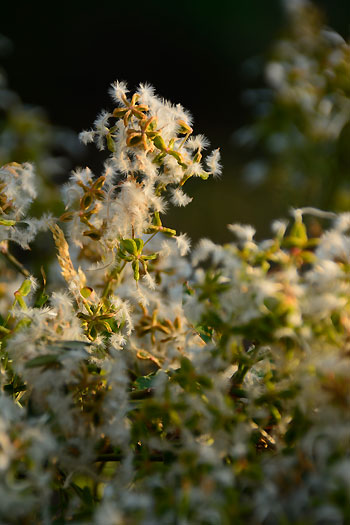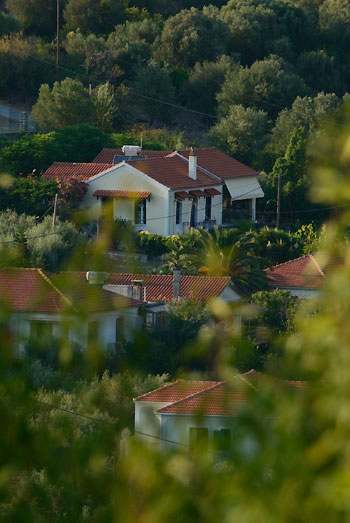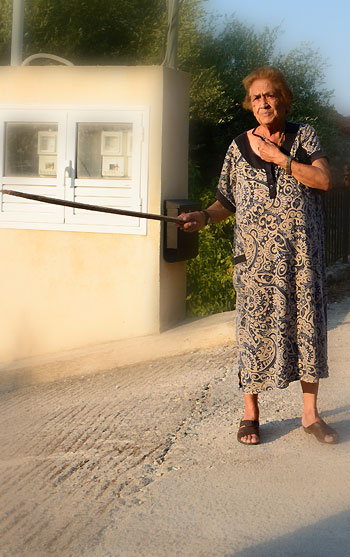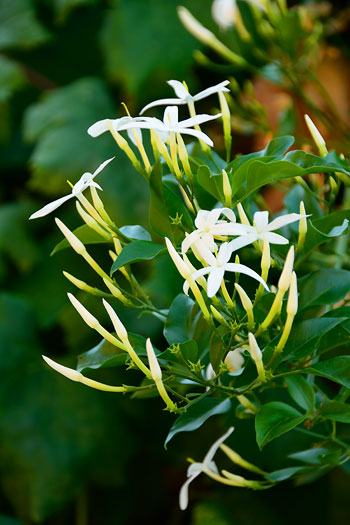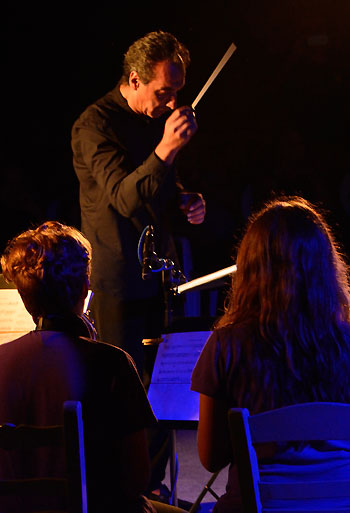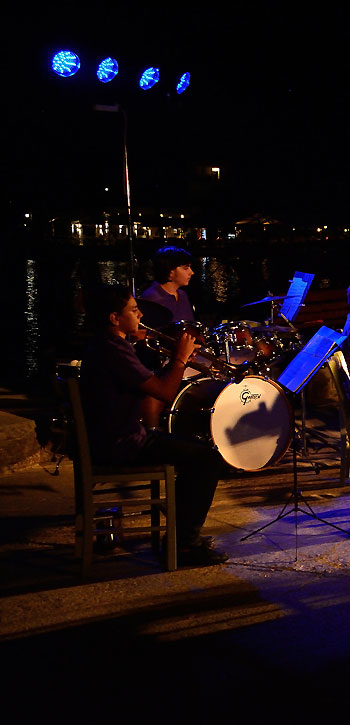 Saturday 19th - As we head into the second half of August, there's still a whole other part of summer to enjoy. It's far from over.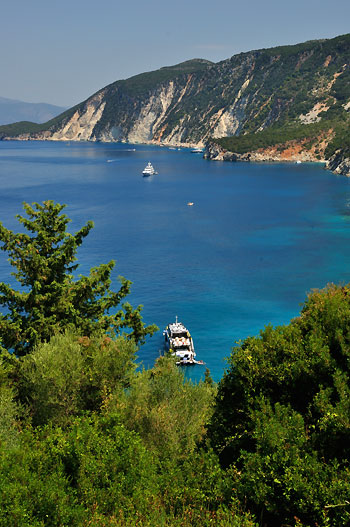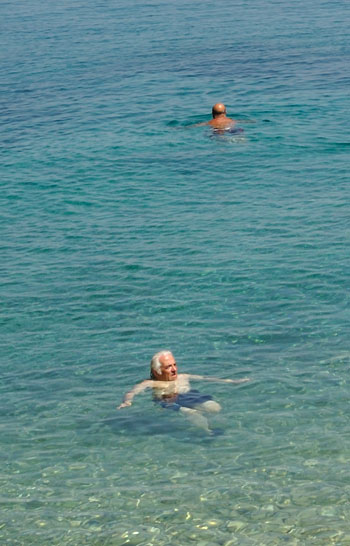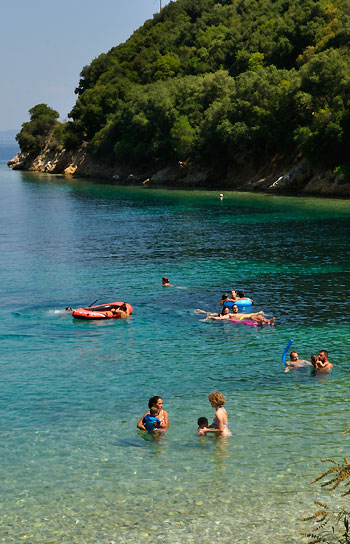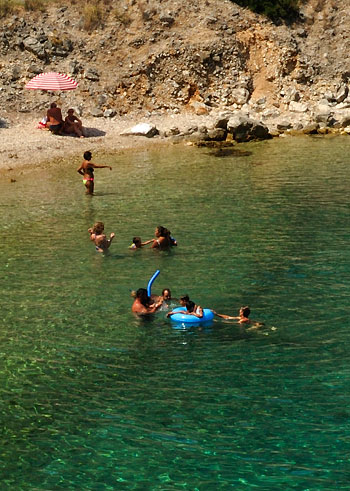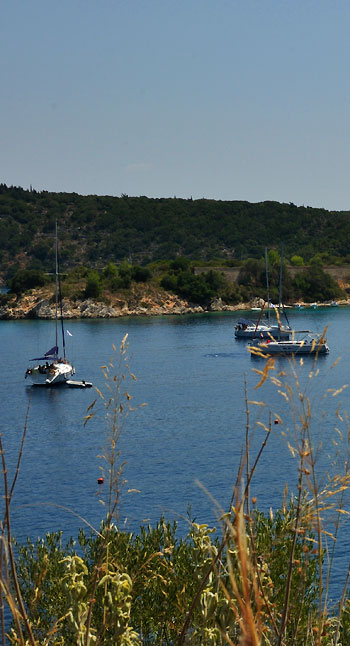 Tuesday 22nd - Vathy at night.