June - Friday 15th - It was a little windy and just a smidge cooler today, but it didn't matter, now that people have put swimming on their agenda, come hell or high water, that's what they'll be doing from now until the end of summer.
We continue with promoting Ithacan business to give everyone a helping hand during these uncertain times. It's not merely good enough for me to put up their info, but to really make it work, it would be great for you to share this info with whomever you can.
Katrine Apartments are new, fresh, spacious and modern, located in Vathy beneath a traditional house. It's a family run holiday rental accommodation with a bright perspective to get your holiday going.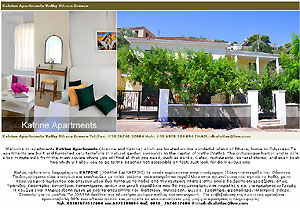 Karamela Cafe is a favourite cafe bar in Vathy, not just for the locals, but also for the visitors to Ithaca. It's located near the old port and is one of the establishments at which you are most likely to hear some live music during the summer or winter.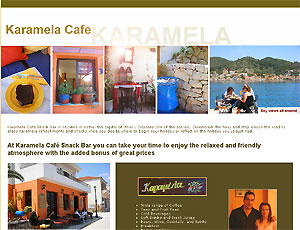 Left - It's that time of the year again where fire danger is high. Our dedicated firemen are strategically placed around the island, on the outskirts of villages, at look-out points and various danger areas, to keep their eyes out for even a small puff of smoke. Over the past few years, the fire service has been very well organized and are quick to respond whether the alert is north or south of the island.
Kosmimata Tzoulia (Julia's Jewellery) is located in Frikes opposite Piperatou Grill. Exquisite hand made pieces from the jeweler and artist Julia Andrianatou. Julia's gift shop has lots of lovely gifts from around Greece and ithaca.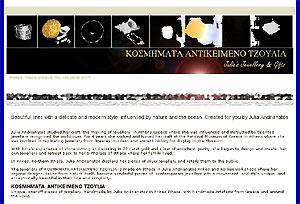 Kioni Boat Hire services the north and south of the island with its speed boats. What a great way to get to all the places ordinary transport can't take you. Kioni Boat Hire main office is located in Kioni.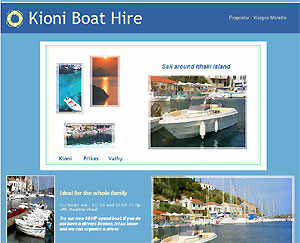 Whether you're a local or a visitor to Ithaca, yoga centers you ready for whatever your day has in store. Itha108 Yoga Classes will strengthen you center and relax your core.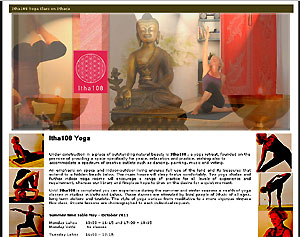 Iriana Apartments in Stavros have stunning views down to Frikes bay and across to the Cephalonia Strait. A refreshing swimming pool and lovely outdoor areas to relax in a shady spot.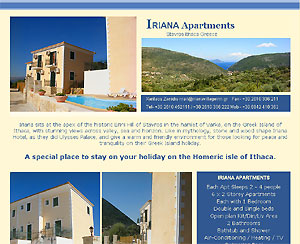 A notice from the Council informs us that there are water restrictions in Vathy. Water will now be running 6 times per week from 7am - 2pm Monday to Saturday.
In the north of the island and the mountain village of Perahori in the south, the restrictions are even more constricting with only Monday and Thursday service with various times for the different villages. Please don't waste water.
Saturday 16th - Already half way through June and visitors, except for yachters, are very thin on the ground. There are people on the island, but mostly they eat from the supermarkets, cooking in more than not. Lucky from Polis reports that the beaches aren't feeling the squeeze. There's lots of people going swimming. All the best things in life are free.
Every day we hear of more people canceling their holiday plans to Greece because the media, world-wide, is doing such a brilliant job in scaring the life out of them. If they can do that, imagine what they could do if their reporting was of a positive nature. The way they make it sound is like the whole country is in chaos. Lots of crime, lots of violence and the unruly Greeks, causing mayhem. It's not so, not so at all. There are pockets of course, but every country has that, not just Greece. People are just trying to make the most out of what they've been dealt. Greece has made big mistakes in the past, but none of them were scaring tourists away, that's been the media's job over the past couple of years. Do a close up of a riot and you'd think the world is coming to an end. Zoom out and you see people with their shopping bags, on their way home. All of a sudden it's not so threatening. We've had some bad episodes in Athens and just recently in Patras, but it's not a daily occurrence, it doesn't even happen every month and it certainly doesn't happen in all the places, people have for decades, chosen to be their holiday destination. Don't cancel your holiday out of fear. It isn't real, just look at the faces of the people that I have captured over the past month. They're a happy lot, not at all scared, Greeks still only want to kill you with good food, good wine and their friendly disposition, so pack your bags and head on over. Greece, no matter what the rest of the world is trying to tell you, is still one of the best places to holiday. Ithaca is even better. It's almost perfect!
Left - Frikes is so quiet the business owners have taken to walking around the village enjoying the views. Jimmy from Kiki's Mini Market and behind him Karen and Peter from Fiorendino Cafe Bar.
Ithaca Embroideries has a long tradition of excellence in fillet embroidery and linens on Ithaca. George Simiris always involves his customers in a chat with a photo and a memory you won't forget.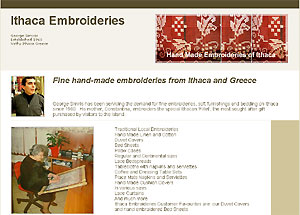 Left - Penelope Restaurant is doing very well this year. With Sofia Moraitis (from Pinakothiki Ouzerie in Vathy last year) and Tilemahos Karavias, the two are making a new way for the restaurant that the Frikonians still call Stathis (Now in Vathy).
Above - The Homeric Writers Retreat is bringing inspiration of Odysseas to writers from around the world.
Left - Karin and Peter from Fiorendino Cafe Bar looking very happily together. Fiorendino Cafe Bar has since its inception been the main hangout for yachters coming into Frikes, but for visitors and locals, they also have great snacks, a full bar and music.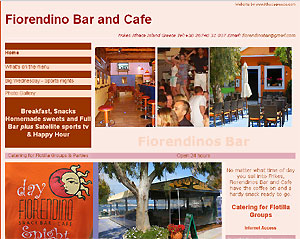 Forkis Apartments just outside of Vathy, overlook the gorgeous Dexa Beach in the south of the island. Clean and bright apartments, with stunning vistas is what they offer. Good rates too.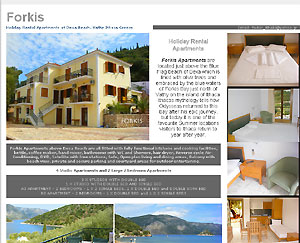 Left - Lefteris, although he doesn't live full time on Ithaca anymore, is as much as a local as anyone on the island.
Frikes Bay Suites was newly opened last year. The suites are above Dodonis in Frikes on the far side of the bay, away from all the hustle and summer bustle, but not so far as not to enjoy it if you want to. Beautiful views across the bay and bright, spacious and large apartments for your holiday.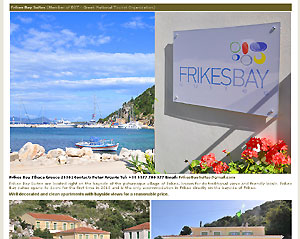 Erigonis Simiris House in Perahori is part of the eco friendly tourism Perahori village offers. A traditional house with stunning vistas.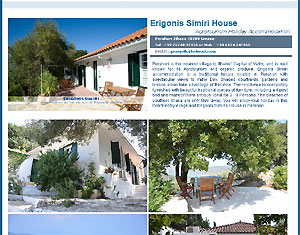 Eytikmeno Apartments in Vathy have a quality accommodation at reasonable rates on offer. They also have one of the most stunning views across Vathy Bayside that you're likely to see. Lovely garden areas and wonderful views.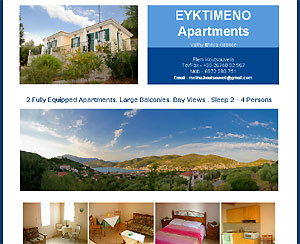 Daphnae Cottage in Exoghi has a stunning view across Afales bay and beyond. It's a little off the beaten track, but those who have stayed there, love the experience this lovely cottage offers.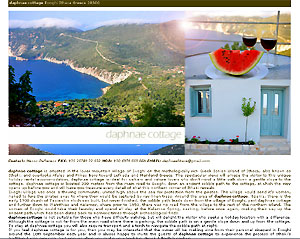 Left - Jerome is on Ithaca this weekend to drop off his mum and son, so they can begin their summer holidays in ernest before he and wife, Poppy can join them. Although he doesn't vote on Ithaca, he will be here for the duration of our political weekend.
Dexa Villa Apartments in Vathy have been a holiday favourite for many years. It has reasonable rates and the close proximity to Dexa beach on offer.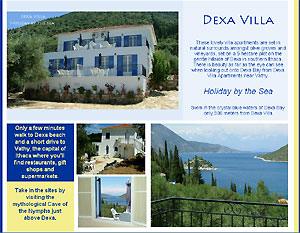 Dia Xeiros in Vathy, has special jewellery and hand made gifts on offer. Exquisite pieces that you will cherish for a lifetime, not only while Ithaca is still fresh in your mind, but for long after you leave its shores.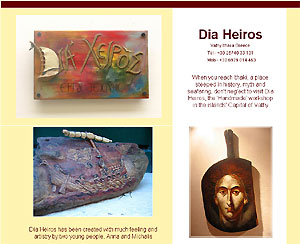 Left - Now does it look like there's anything threatening enough to cancel your holiday for here? Hardly, unless you count eating too much of a good thing, threatening.
Captain Yiannis Hotel in Vathy has it all. Reasonable rates, newly renovated apartments and hotel rooms, a swimming pool, tennis court, parking, beautiful bay views and much more. What were you waiting for again?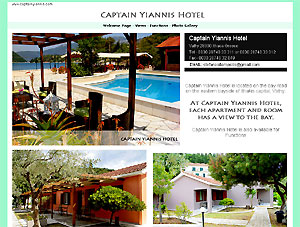 Captain Pano not only has his well known charm as your host at Captain Panos apartments, but he also offers these lovely apartments. Clean, spacious and bright.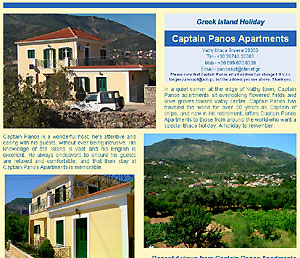 Carol Apartments in Vathy offer a quiet retreat on the edge of town. Clean apartments with reasonable rates in a garden location.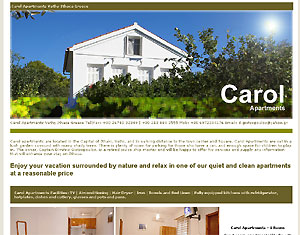 Sometimes businesses leave ithacagreece.com so this page has had to disappear. Who was it?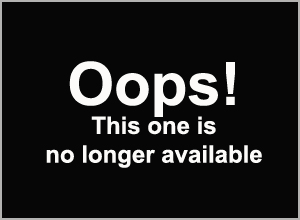 Avra Restaurant in Kioni has had a long tradition of good food, friendly service and traditional Greek kitchen.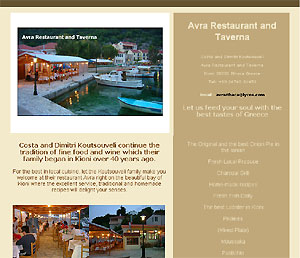 Alpha Bike and Car Hire in Vathy service all of Ithaca with pick up and delivery. Their friendly staff are always willing to take that extra step to make certain you have the best. See Ithaca by car for reasonable prices.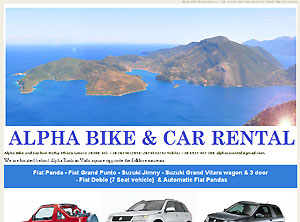 Asterida Villas in Stavros have a wonderful view down to Polis Beach. These brand new, spacious and bright apartments are located on the edge of Stavros. Swimming pool and pool bar that opens to the public.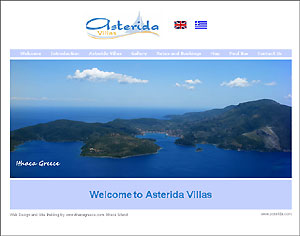 Aprilis Apartments in Kioni take advantage of the views to the windmills, the close proximity to the village and to the surrounding beaches.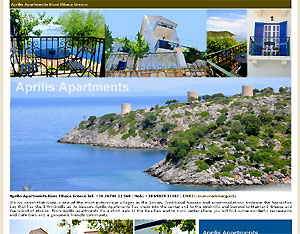 Andriana's Apartments are also in Kioni with great views over the bay to the windmills. Reasonable prices.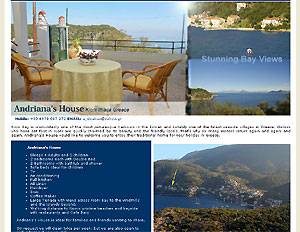 Anarmatitos Apartments in the center of Stavros have a view over Polis Bay to Cephalonia and are conveniently located for easy access to restaurants and shops.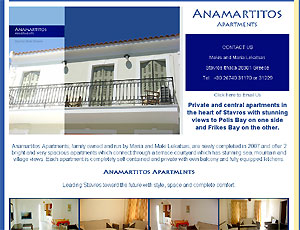 Aithon Palace in Vathy are were recently built to take advantage of the expansive views over Vathy Bayside and beyond. Well designed apartments with swimming pool.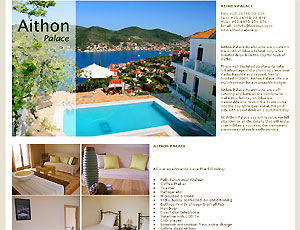 Ags Cars have had years of experience in the car rental business. Reliable and friendly, helpful and experienced. They'll get you on your way to find your Ithaca.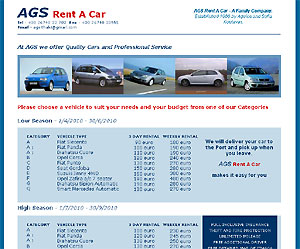 Agnandio Apartments in Kioni are located on the scenic old village road above the bayside. Clean and spacious apartments with bay views.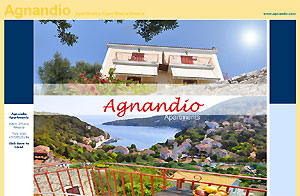 Afales Villas in Kolieri are recently built apartments with lovely views over Afales Bay. Located in a quiet hutch amongst olive trees and lovely views.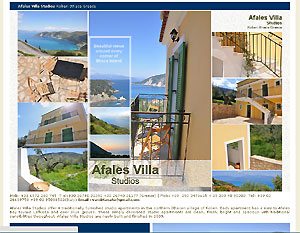 Amfitriti Gifts and Jewellery on Kioni Bayside have been making visitors and locals happy with their lovely collection of gifts from around Greece. Professional Jewelers.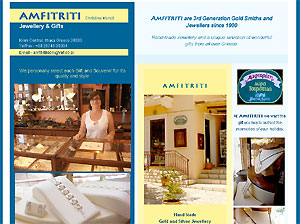 If you're a fan of football, then it's no news to you that Greece has qualified in the European Cup finals after beating Russia yesterday. Some good news for sporting fans. Alot of cheering and running down the streets yesterday as the last goal secured Greece's win.
Today voting booths are open for another round of Elections Greece 2012. An important day, not only for us, but for all those waiting to see us either fall or rise.
Monday 18th - It was a quiet day considering ithaki was at the polls. Only a few people in the streets and only a few people at the beaches. The most populated beach would have been Filiatro in Vathy, always popular with locals and visitors alike, but Krouvoulia, Left is a popular beach in the north of the island. Below - Platrithia voting station.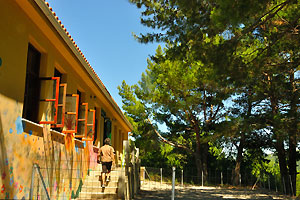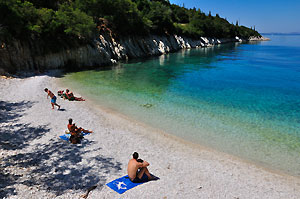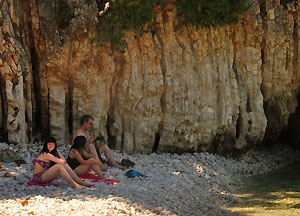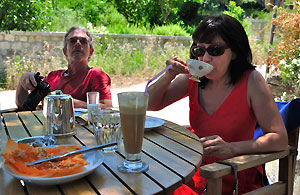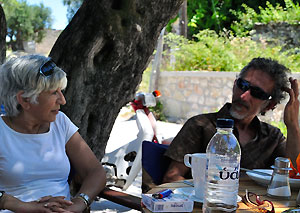 Above - Catherine Andrew Rombitis, one of Ithaki's very talented artists takes a break from her daily chores to join some friends for brunch.
Left - Visitors from South Africa do a little tour around the island taking photos of the locals and a tree with a chandelier. A perfect opportunity to take a photo of them. They were good sports.
Ok, it's midnight after the elections and we're back to where we were before the elections. no majority vote. How parties that are so opposed to eachother will form a working coalition seems out of reach in my mind. Left Below - Poll stats as at 12.20am 18th June. On Ithaca about 2000 votes have so far been counted, and I am again surprised that Greece's version of the the nazi party has 6.4 % of the vote. Incredible! Meanwhile, there's alot of shouting and talking over eachother on the news as the debate as to Greece's future continues.