What's New On Ithaca Greece
Welcome to Ithaki
ithaca Greece, the Gem of the Ionian Islands is waiting for you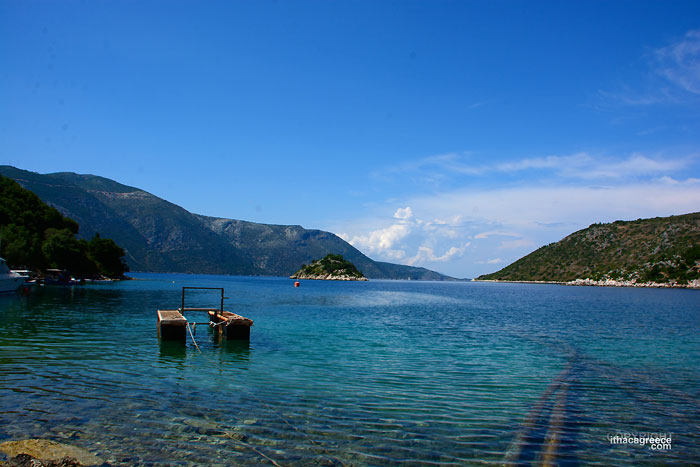 June 2015
Wednesday 10th - It started off a little overcast yesterday, but by midday, the sun was shining again and the skies were bue, blue, blue.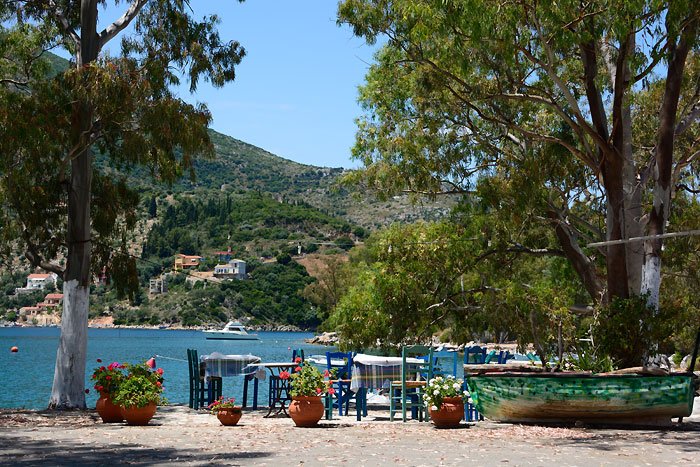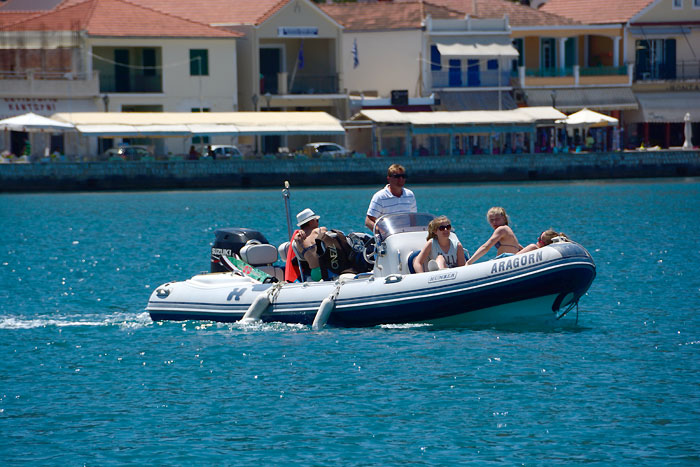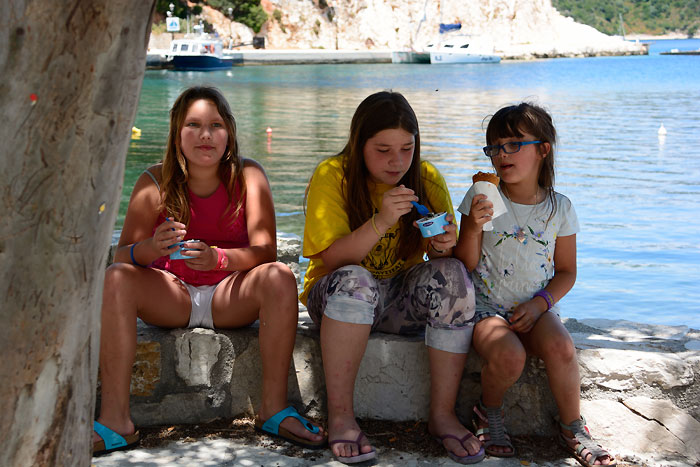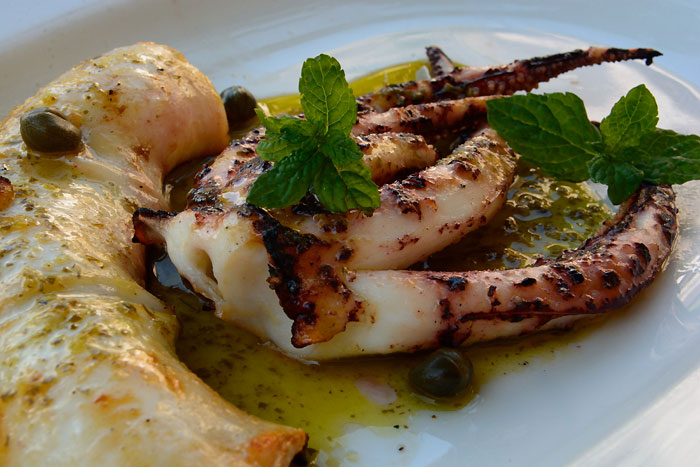 Above - Rementzo Restaurant in Frikes has some new dishes, Poppy specials, this is Grilled Calamari with herb sauce. Below - Fiorendino Bar in Frikes' motto is 'you will never drink alone'. If there is more than one person, there's always a party going on.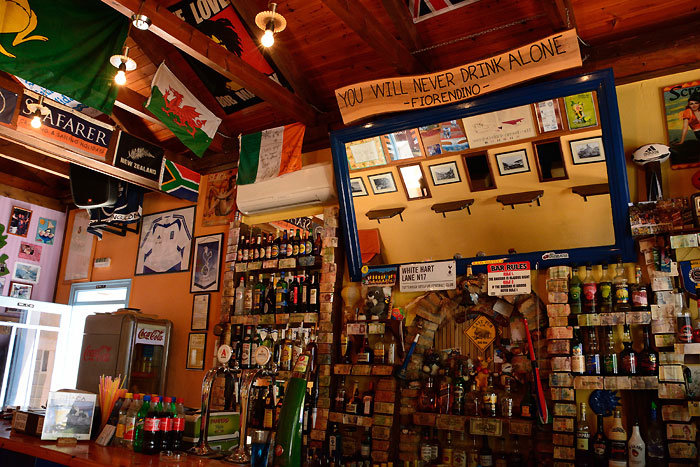 Thursday 11th - Daytrippers and people watchers.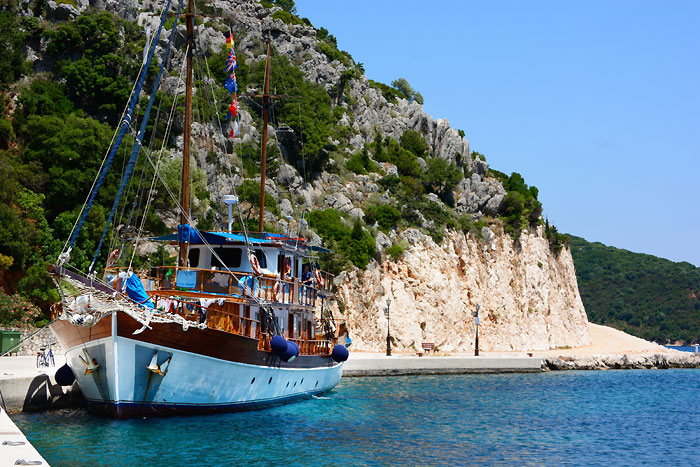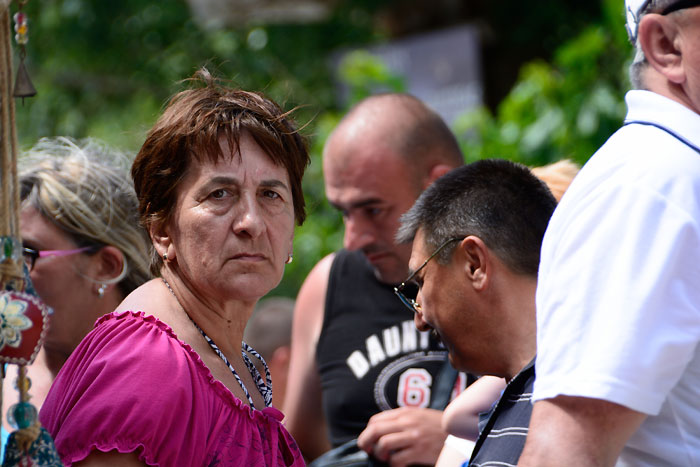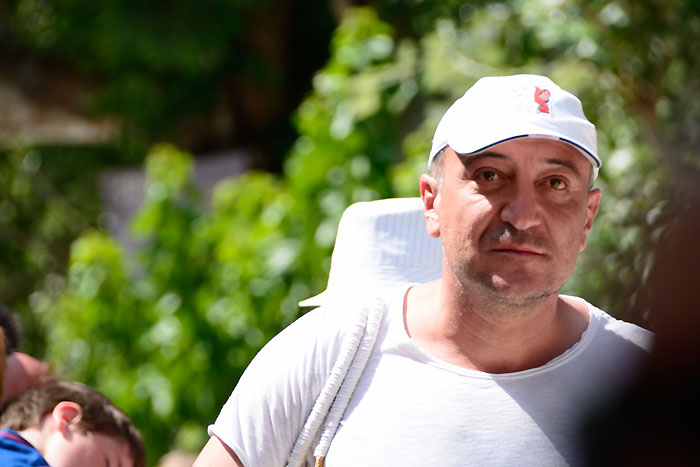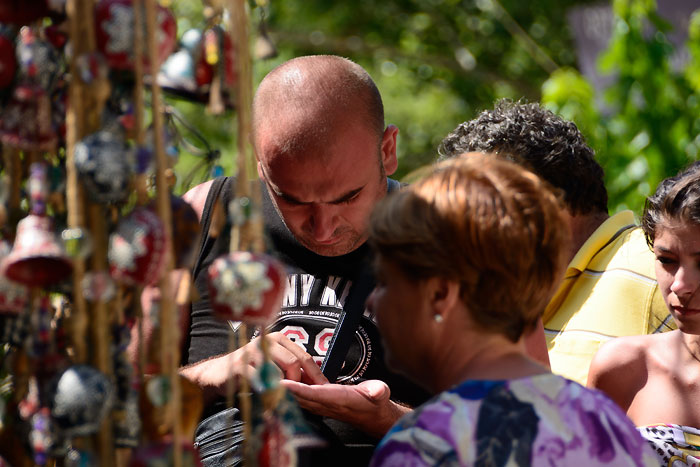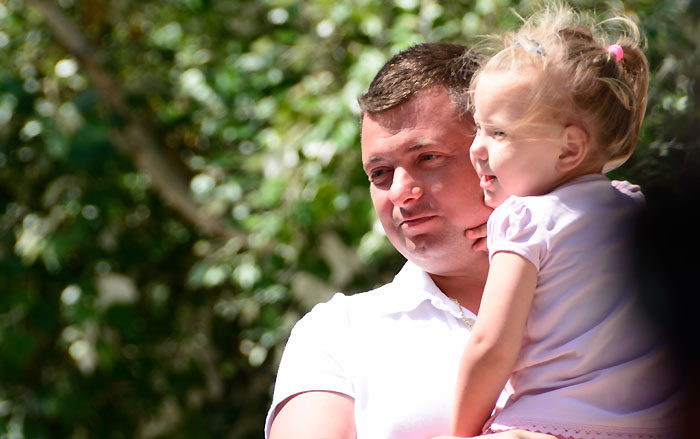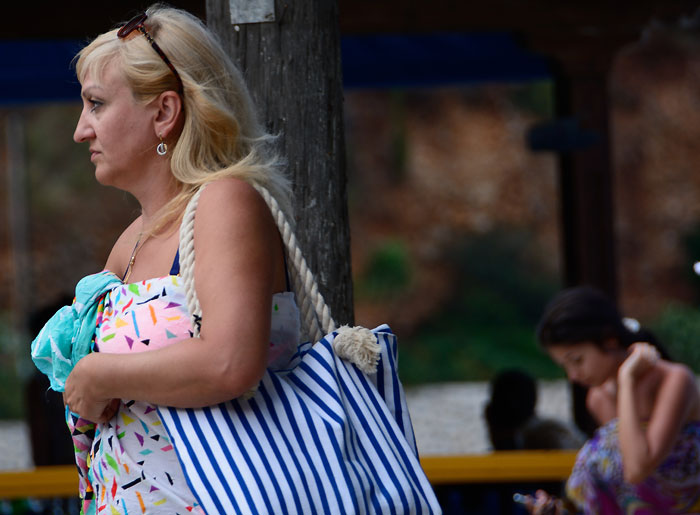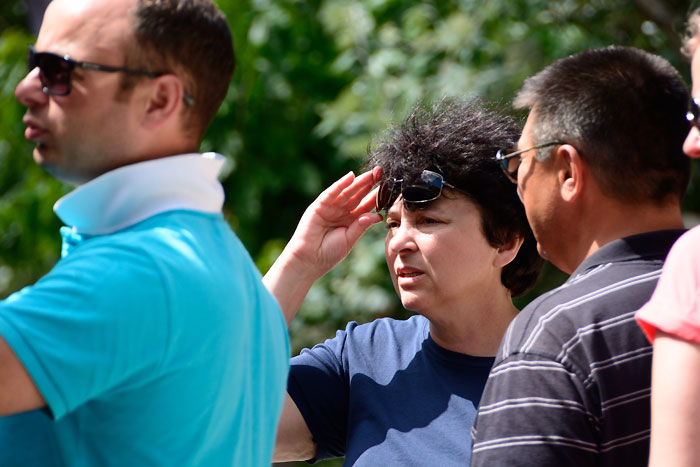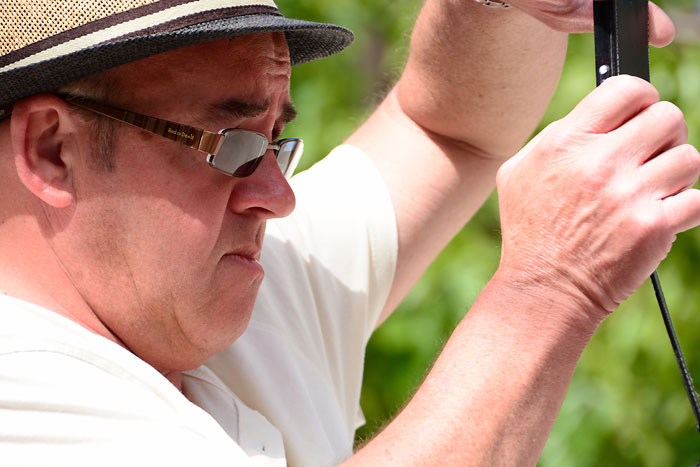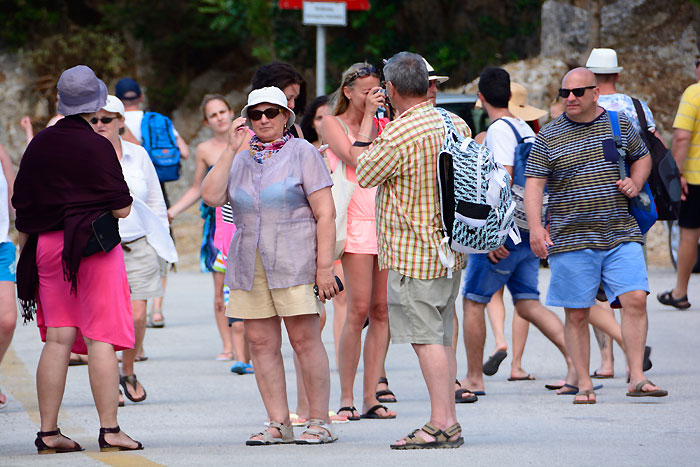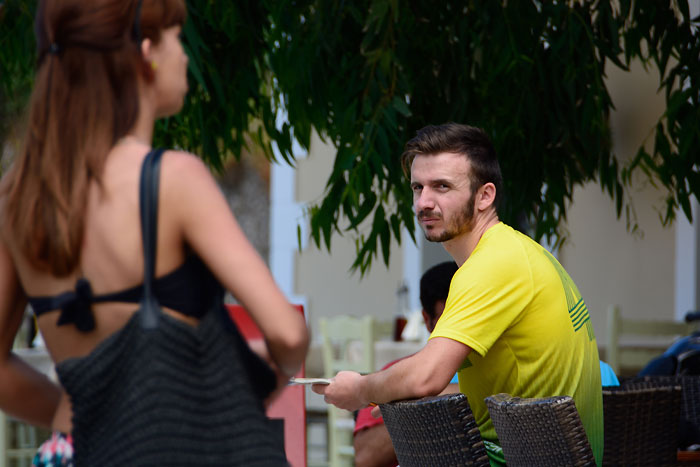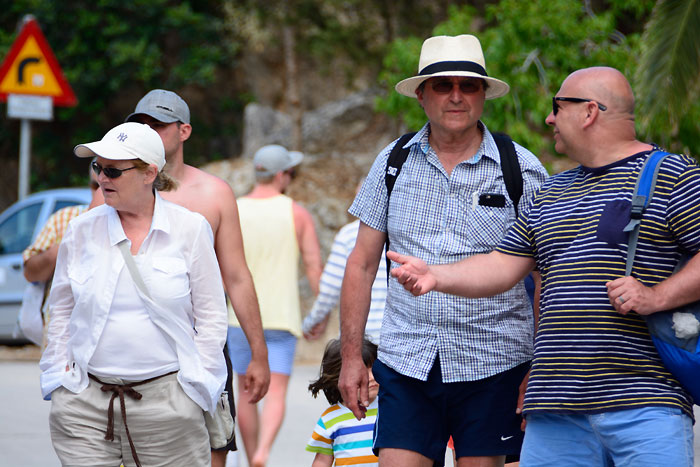 Friday 12th - It really did feel like the start of Summer yesterday, first day with quite warm temperatures that had us all seeking shade and refreshments. A warm night followed.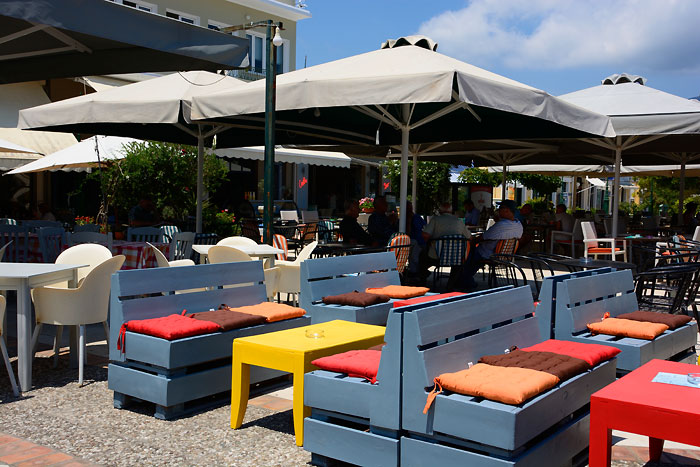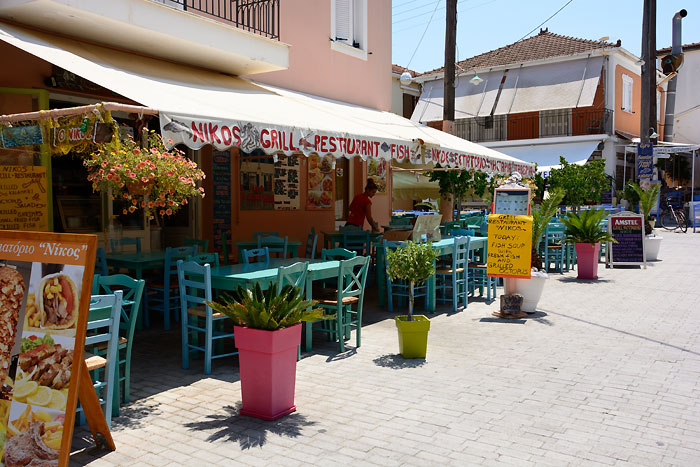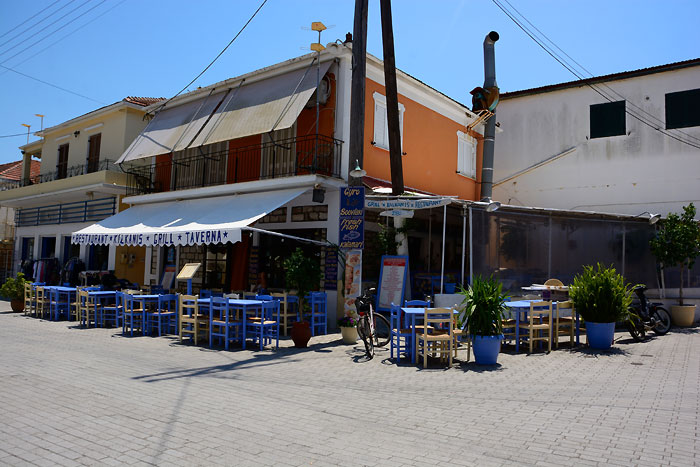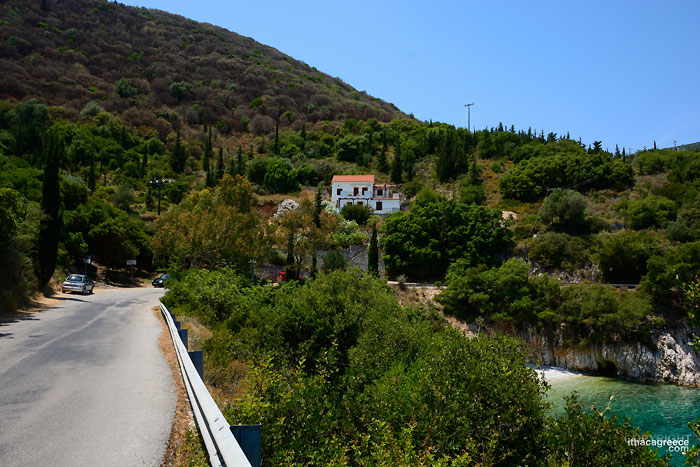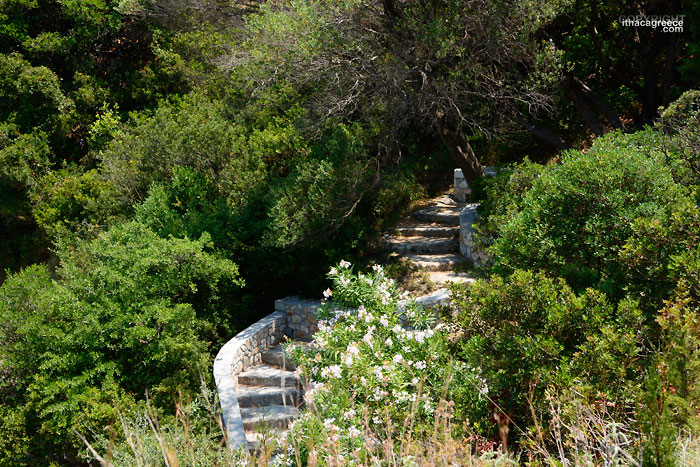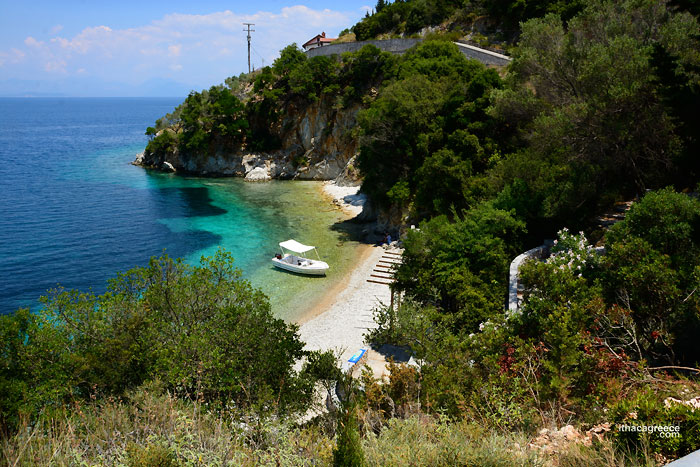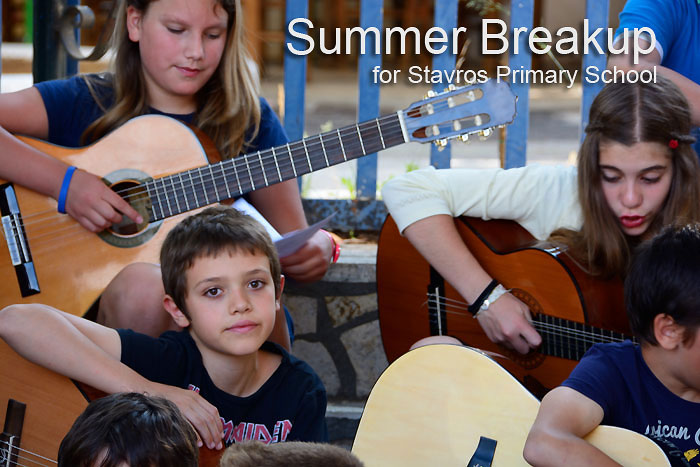 Above - Summer breakup party for the Stavros Primary school. Click Here or on photo above for more pics of yesterday afternoon's fun.

Sunday 14th - Nothing but blue skies and blue seas, green hillsides and cicadas chirping.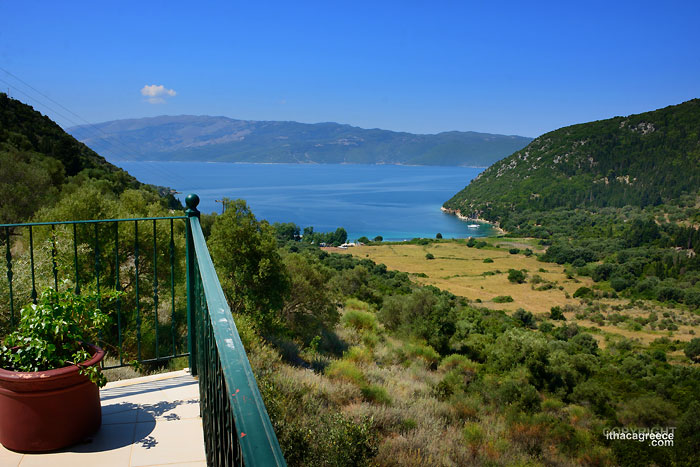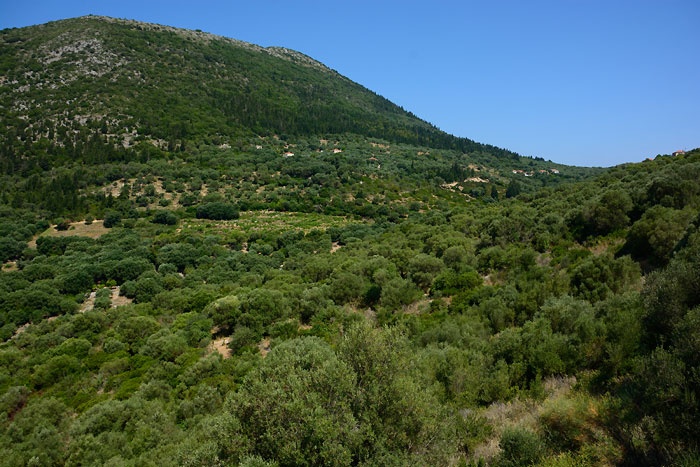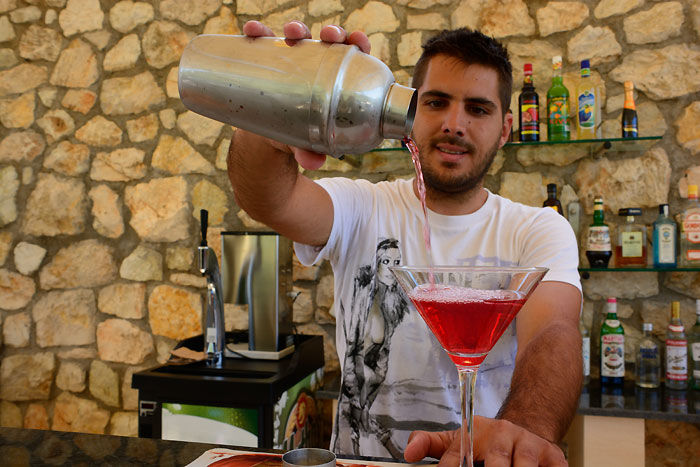 ---
June 2015
June is a great time to be on Ithaki Island in the Ionian. The weather is perfect, the water is beginning to warm and the mood of the locals is tuned in to the visitors' needs.
Wednesday 10th
I have been taking photos of Ithaca in Greece for over 12 years now, and despite the small size of the island, I can still manage to find a shot I haven't taken before (althought it is a challenge sometimes).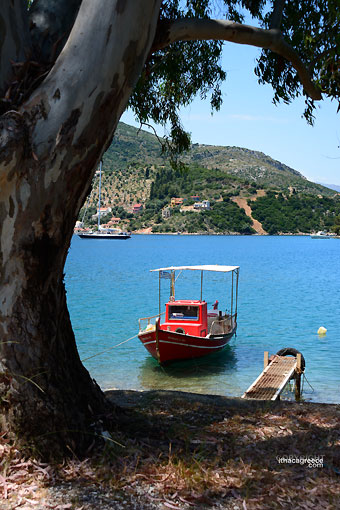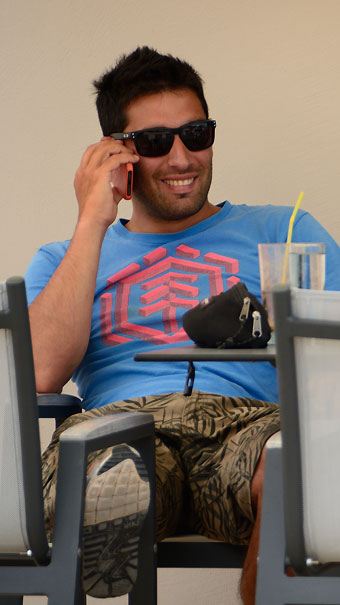 Sitting around the Cafes, whether during the day or night, is probably one of the easiest things to do on the island. Many hours can pass over a cup of coffee and a little good company, but this year there are just so many other things available to do. Boat trips such as the Atokos Boat Trip just to name one, there are many, diving and boating with Odysseas Scuba Diving and Kayaking, real treks across the mountains with Explore Ithaca. Dimitris will take you places my camera will never go or hiring a boat with Ithaca Boats or Kioni Boat Hire to explore the coastal regions of the island for yourselves.
You can also pamper yourself with beauty treatments or do your body good with yoga and reiki. Despite the recession, Ithaca is going all out to give visitors to our beautiful island, a worthwhile and memorable holiday. For holiday activities and health and fitness see our General Business Pages.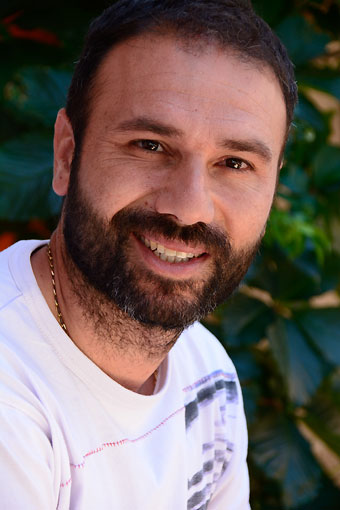 Above - Dini from Fiorendino Bar in Frikes sending out a big hello to his partner and brother, Peter in Australia.
On Sunday 14th June, Ester Van Zuylen, walking guide and artist will be exhibiting some of her works at Yefuri Restaurant in Platrithia in the north of Ithaca. Head along for the opening. Ester is always interesting to speak to her about her art and her influences.
Thursday 11th - It's people watching time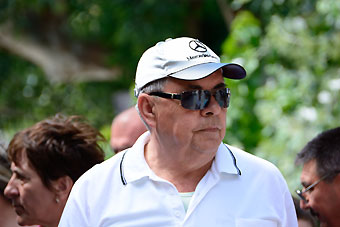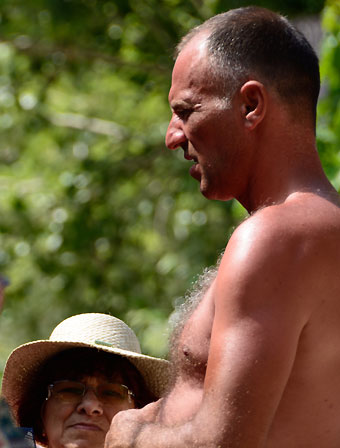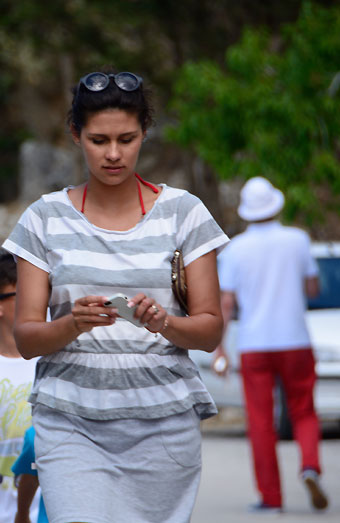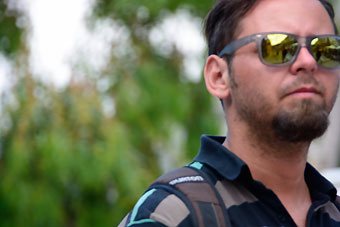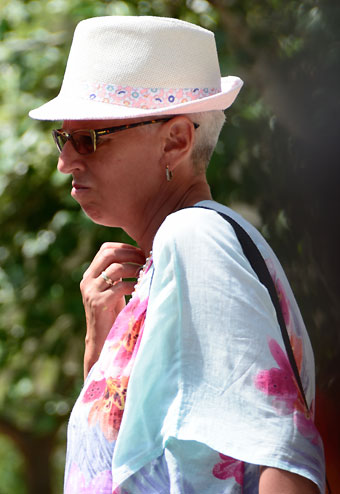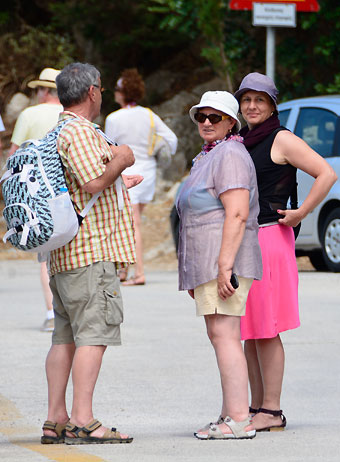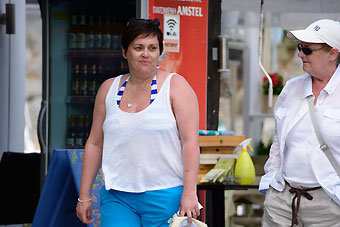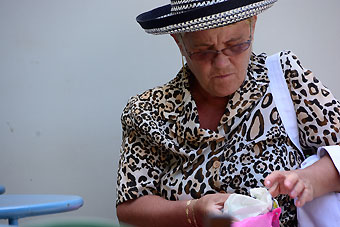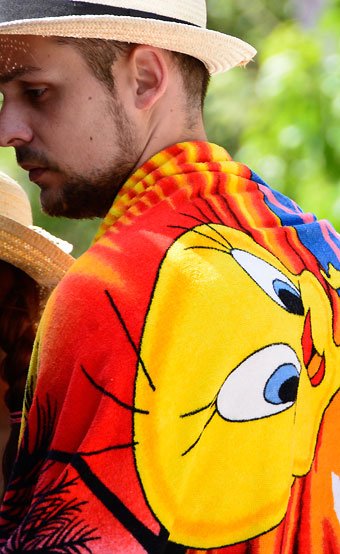 Friday 12th - It's beach weather again. The water is already warming up very nicely and those not frightened of a possible cold toe, are heading straight in for a swim.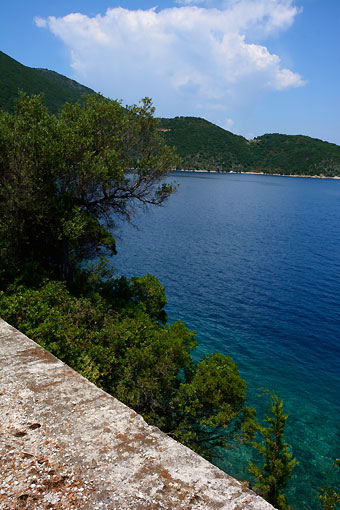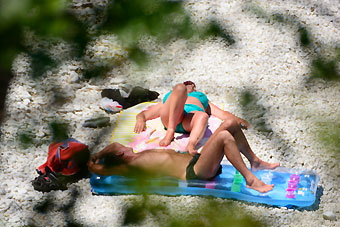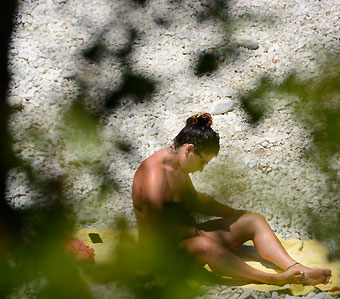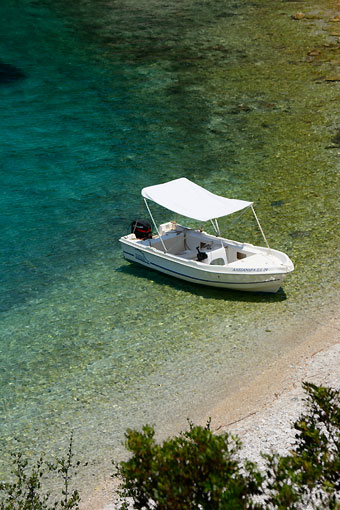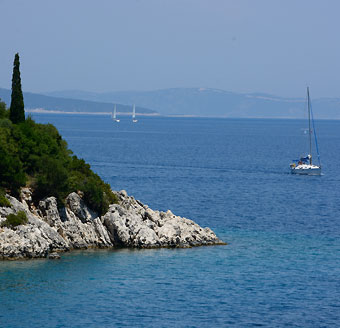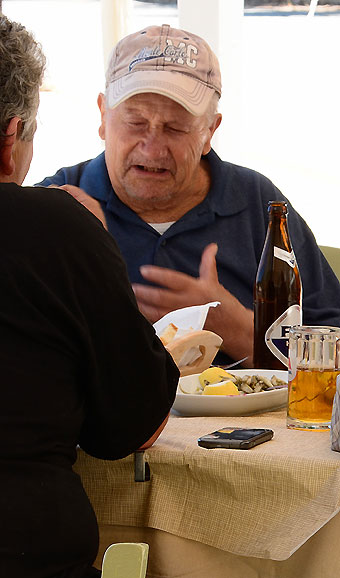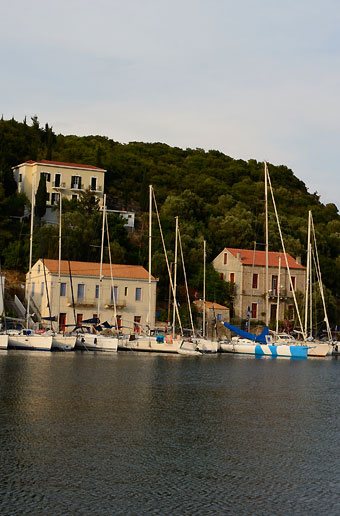 Word has it that Adrian Lunney from the UK will be playing another jazz set at Yefuri Restaurant in Platrithia on Friday night, starting around 9pm. Also at Yefuri will be Ester Van Zuylen's Art and Objects exhibition starting at 6pm on Sunday afternoon.

Sunday 14 - It's definitely hotting up here on Ithaca. Waterside is the place to be. Just for your information, Larimar Pool Bar is open again for the season. Asterida Villas has opened up the bar to the public. Open from 9am until late. Great views to Polis Bay.