What's New On Ithaca Greece
June on Ithaki!
Beautiful sun-soaked days from now until October. Don't you think you should put the newspaper down and turn the tv reports on Greece off and just get over here? If this is Armageddon, it sure looks and feel good!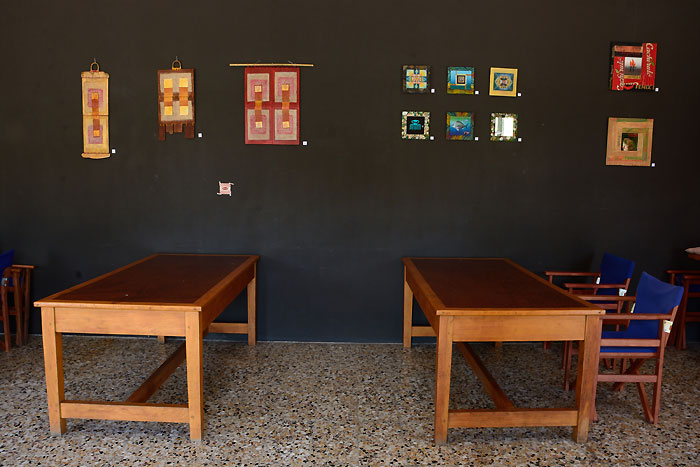 June 2015
Monday 15th - Ester van Zuylen debut her 2015 art collection at Yefuri Restaurant in Platrithia yesterday. It will be available for viewing through this month before Ester takes her art on the road to display in other villages around Ithaca Island. Ester van zuylen seen below right.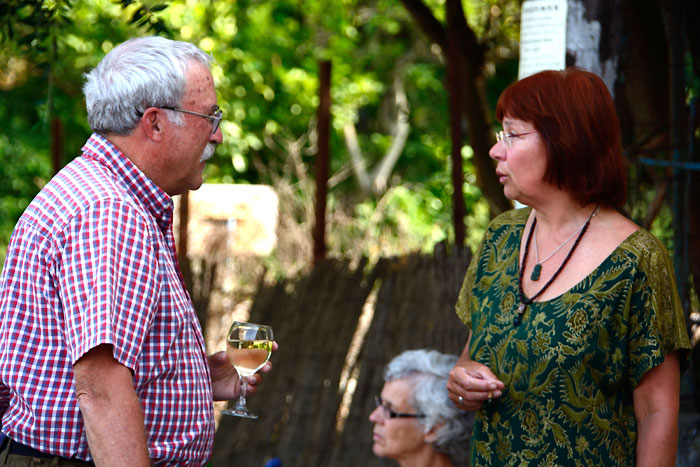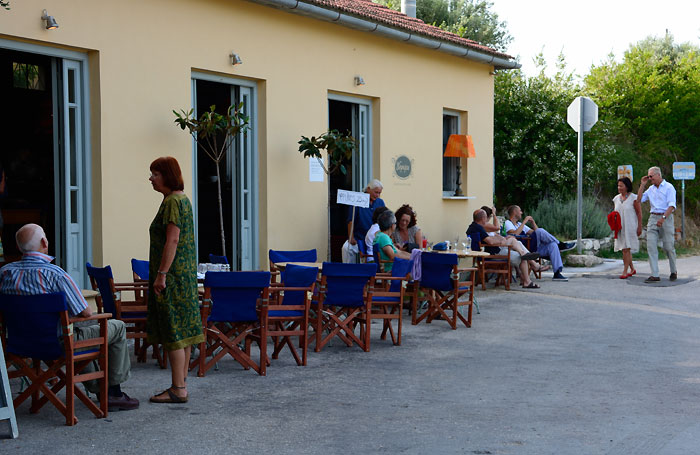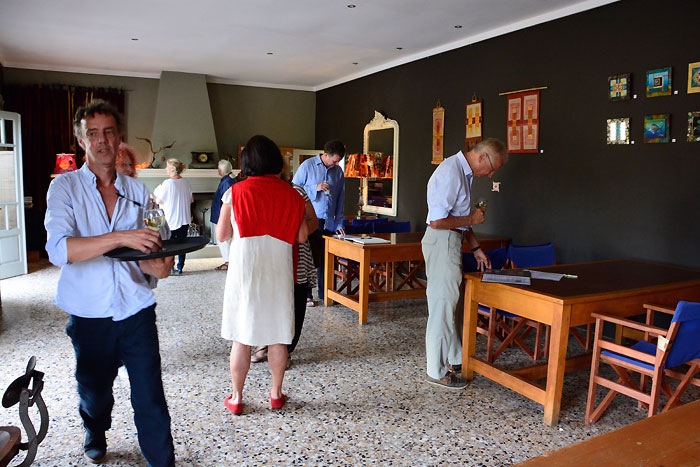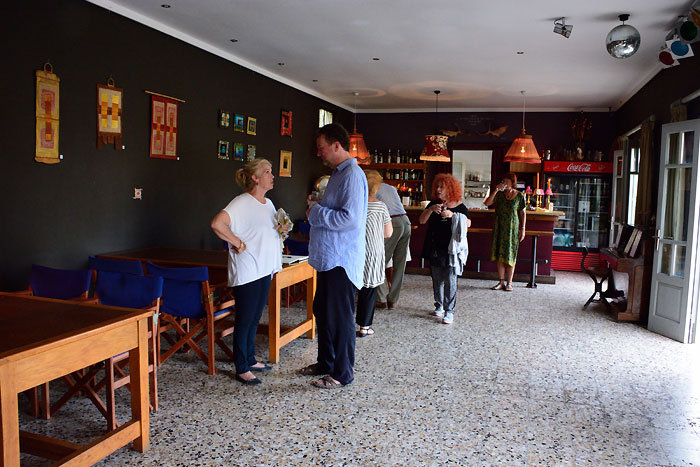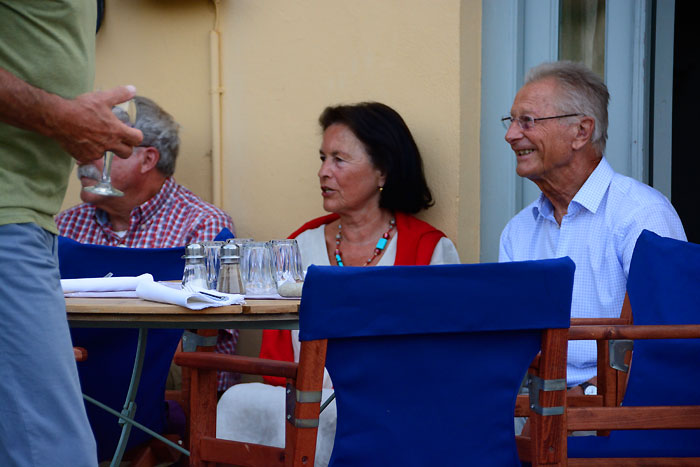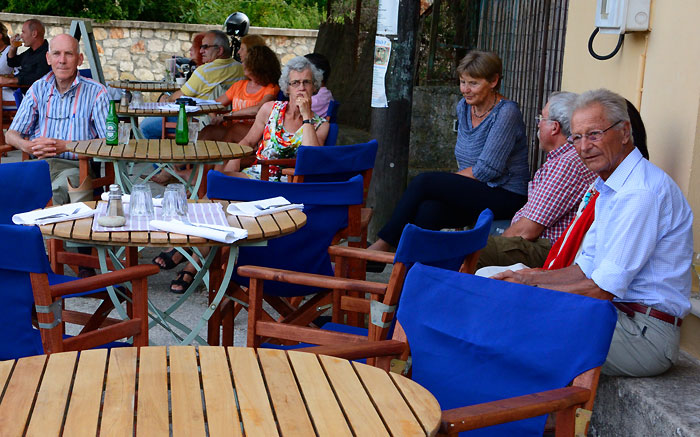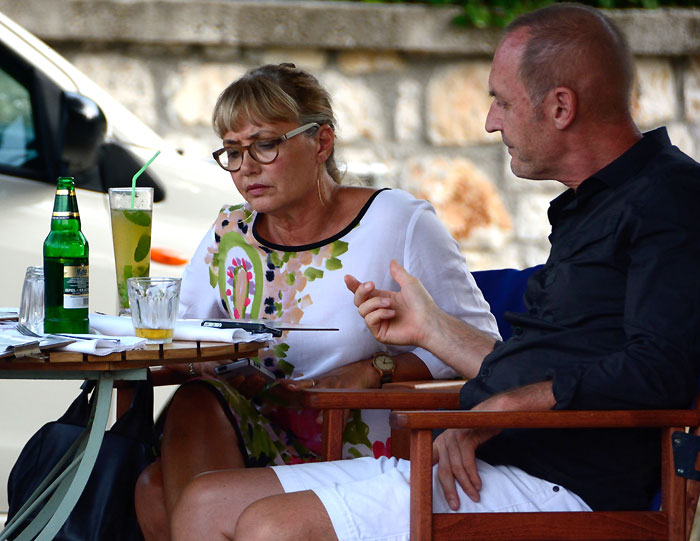 Below - The 1st Country Marathon took place yesterday in the north of Ithaca. Click Here or on the photograph below for more pics.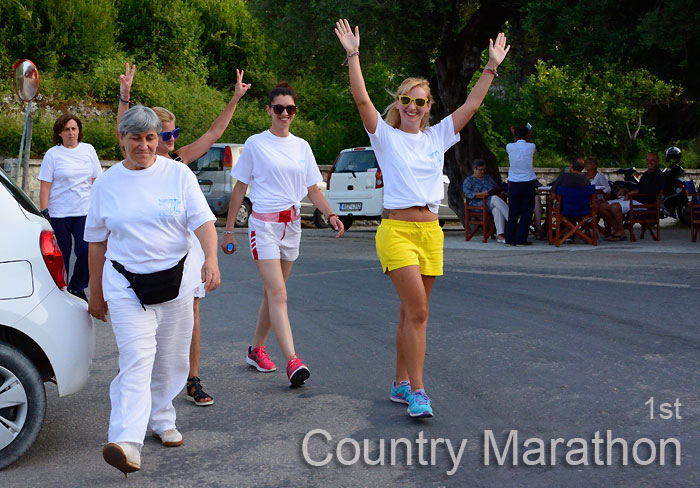 Wednesday 17th - Just had a look at the forecast and it appears we have some rain coming to us tomorrow, so you're phone app would say, bring your umbrella. It won't last long. 1 day.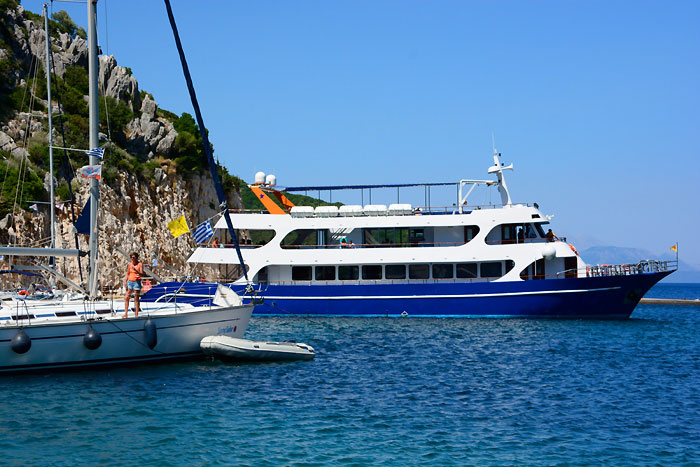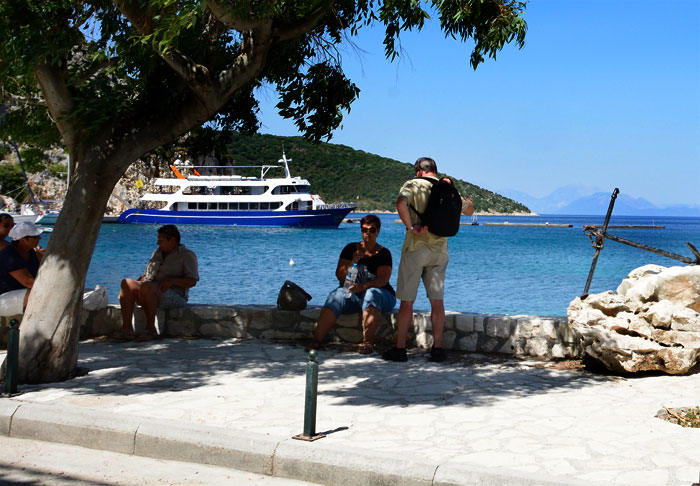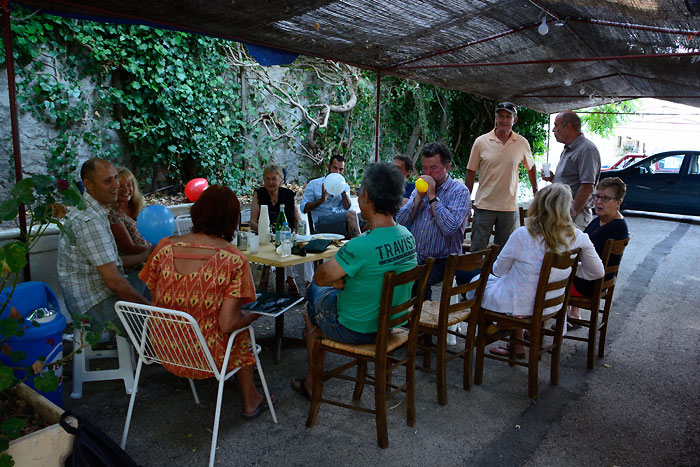 Above - The first ever Periptero (Kiosk) party in Stavros. Happy Birthday to Andy from Yefuri Restaurant.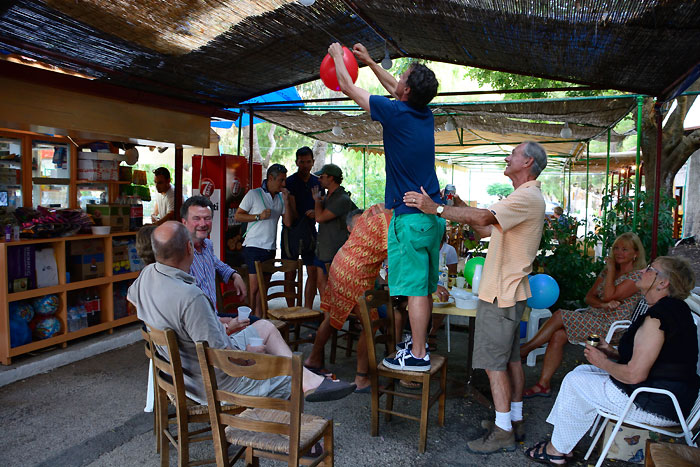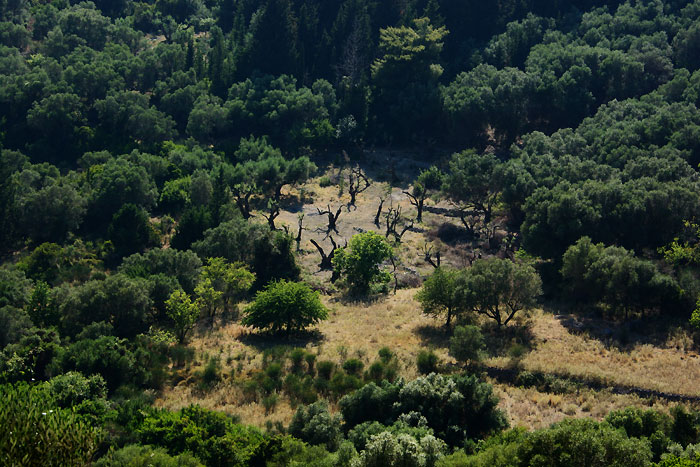 Above - It doesn't take long for the lush green pastures to turn a little brown after a few weeks of summer.
Thursday 18th - Just when you think it's safe to put away your umbrella, the weather bureau predicts some heavy rain. Take cover, it's coming sometime today.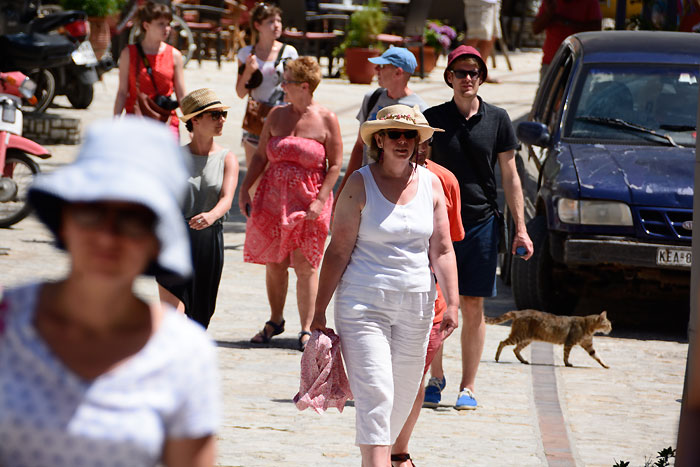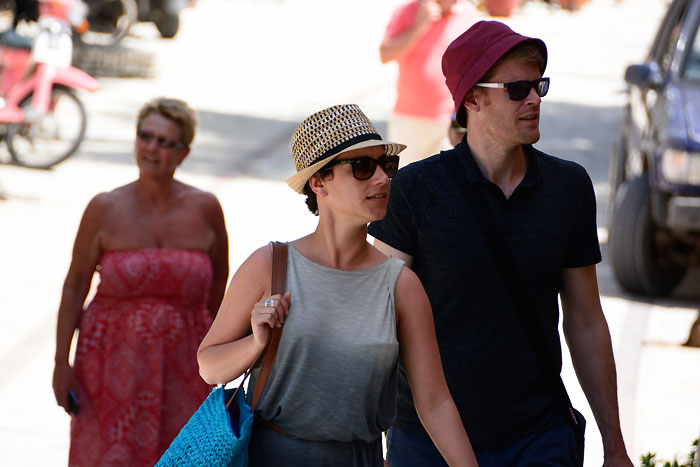 People still enjoying the simple pleasures of a Greek island holiday. Seeing a new culture unfold before them.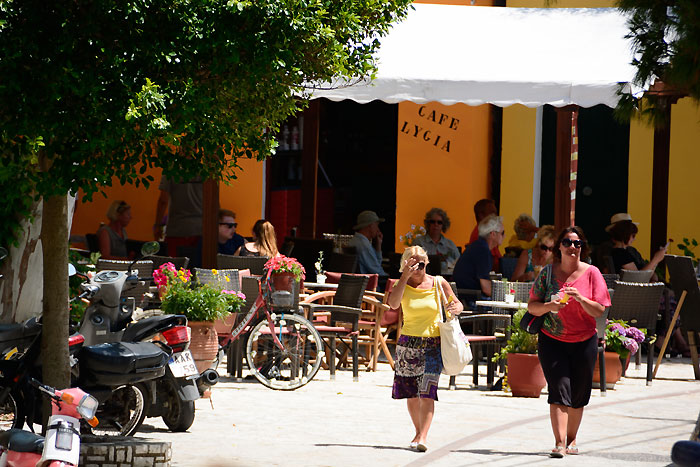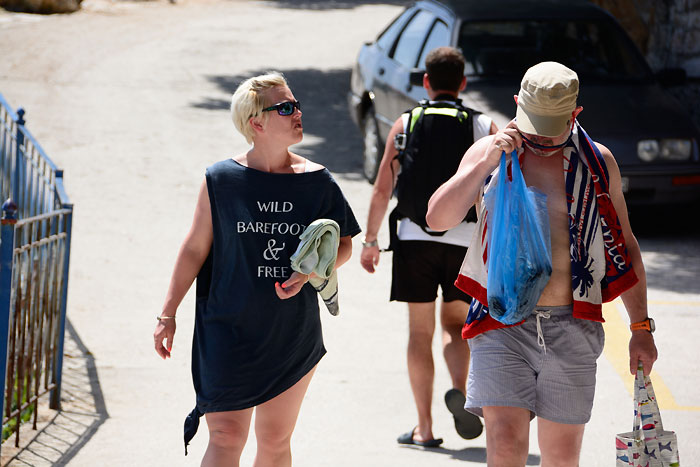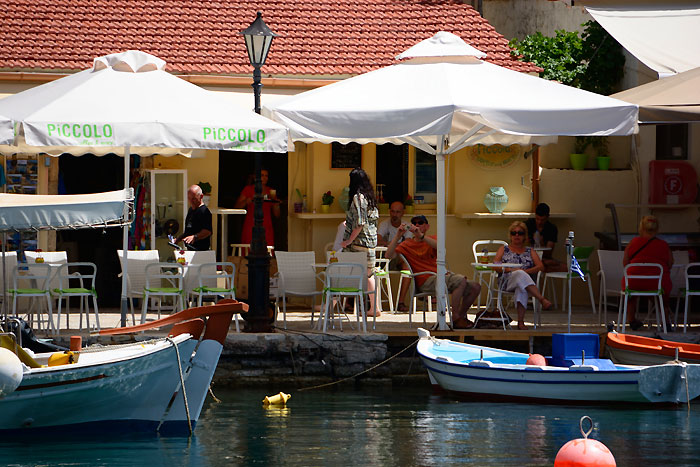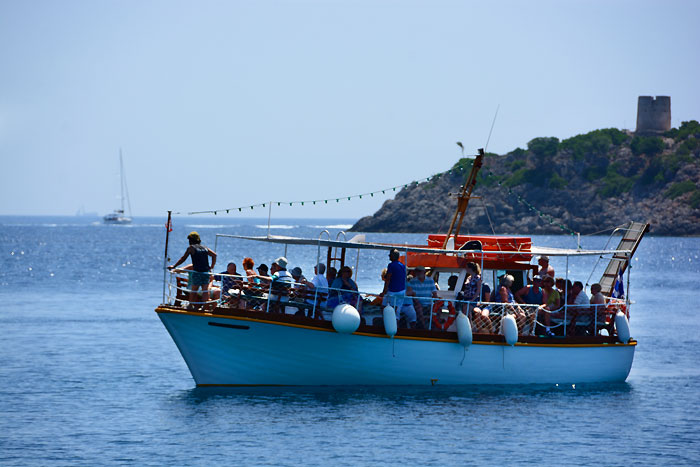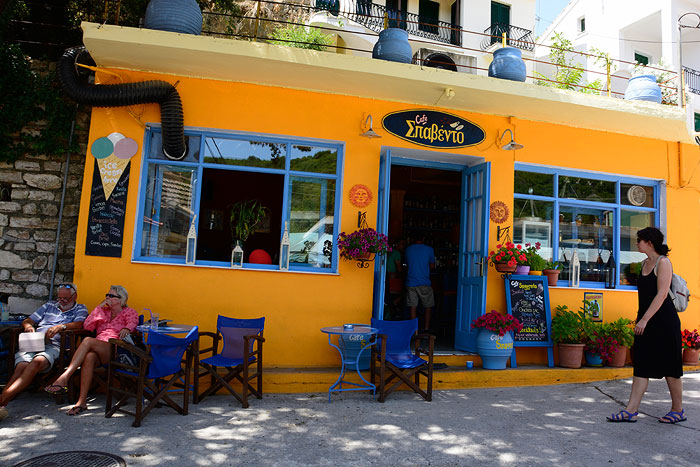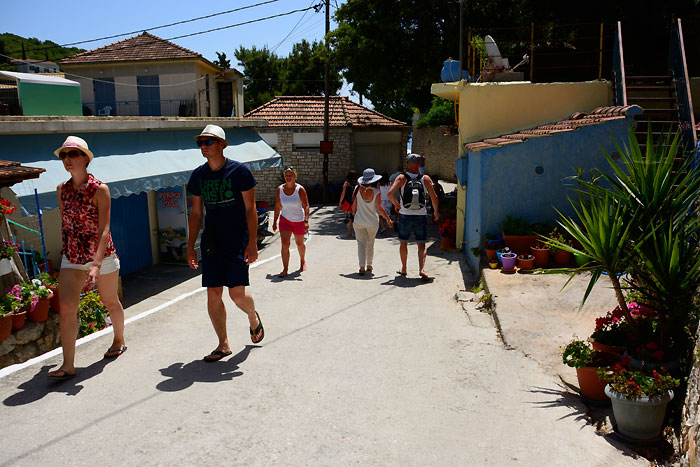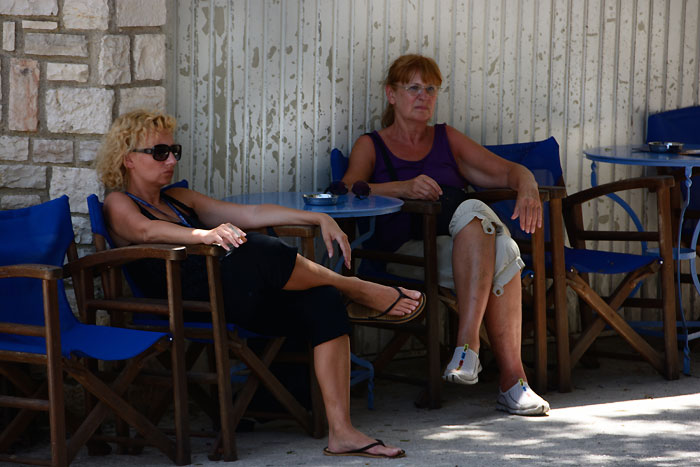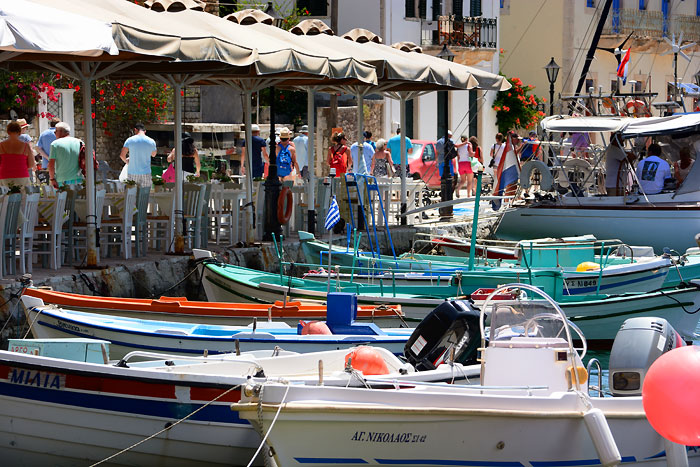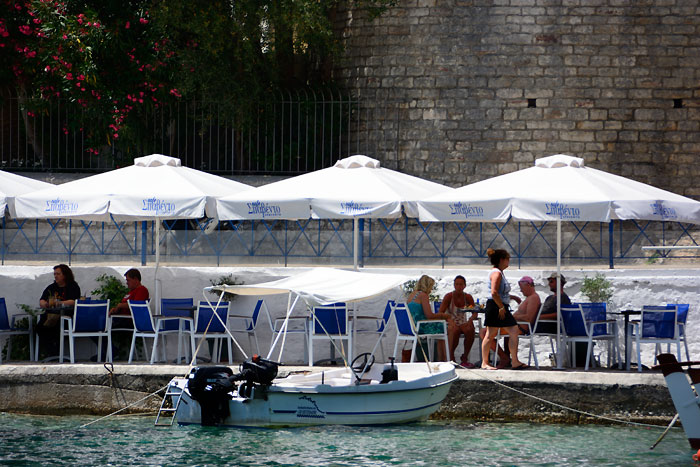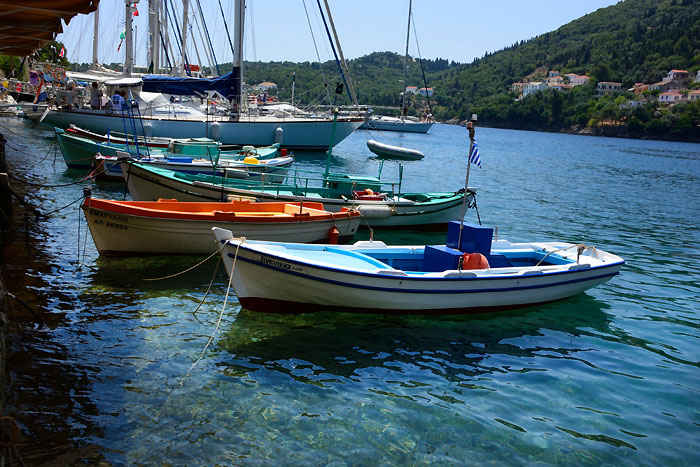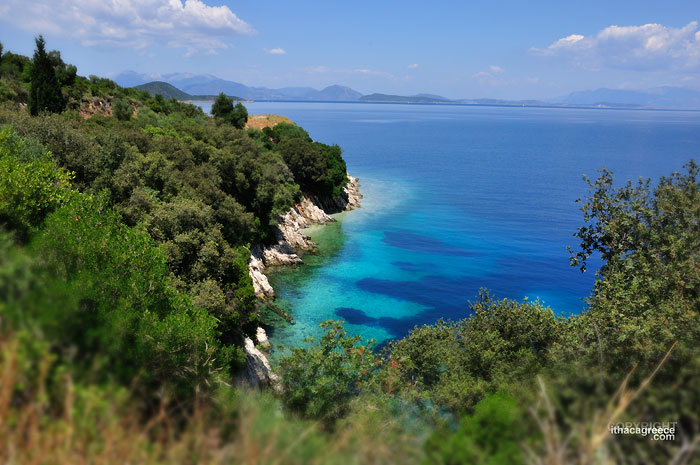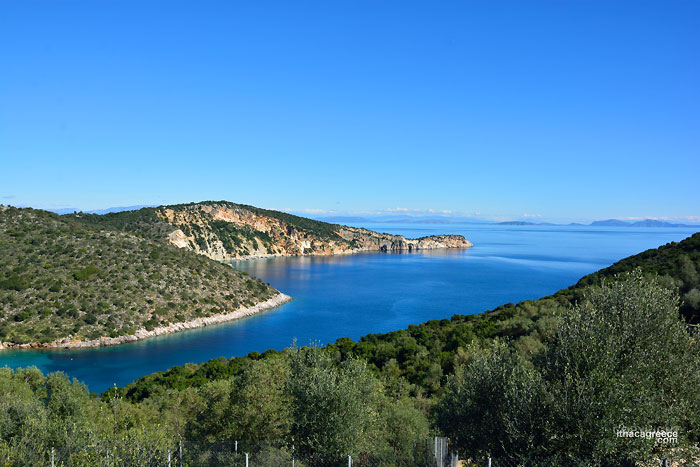 Saturday 20th - After Thursday thundery weather which hit the south in a big way, a little in Frikes and Kioni too, but barely anything in Stavros, yesterdays atmosphere was cleared to a brilliant clarity of view. Absolutely perfect!
Below - Vathy. Ithaca Greece's capital in the south of the island.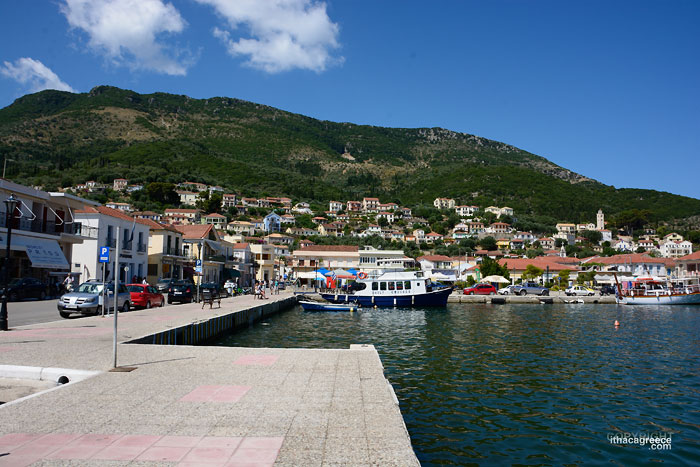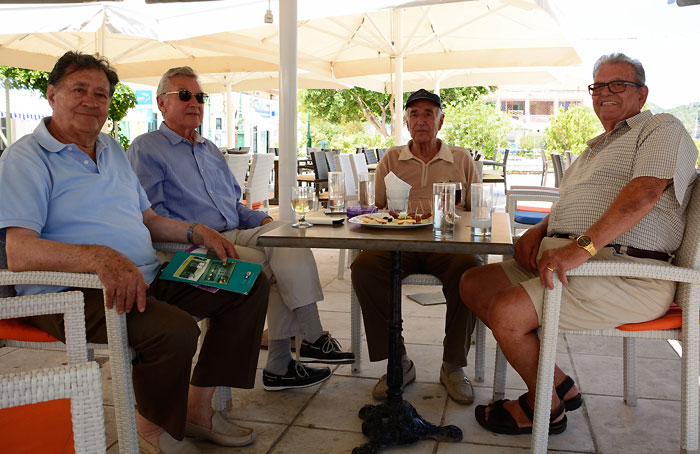 Above - What better way to spend a Friday morning than with some good company, an ouzo and a meze.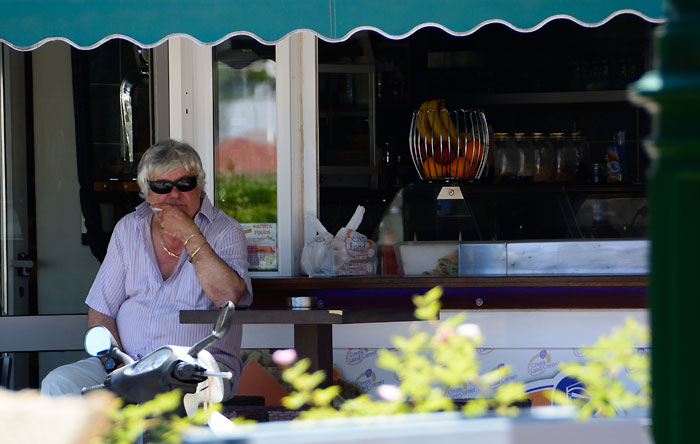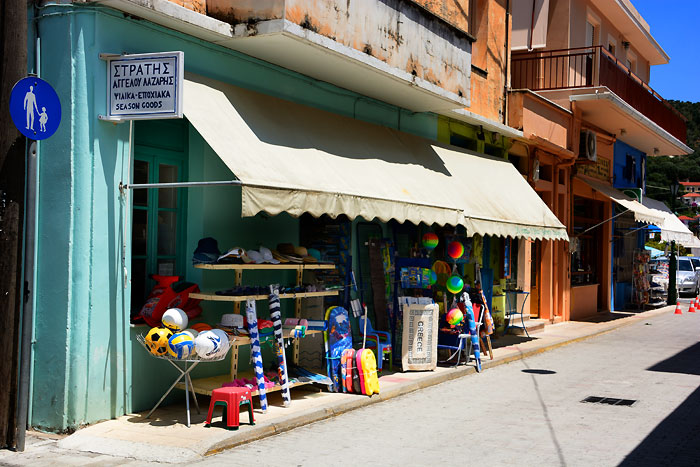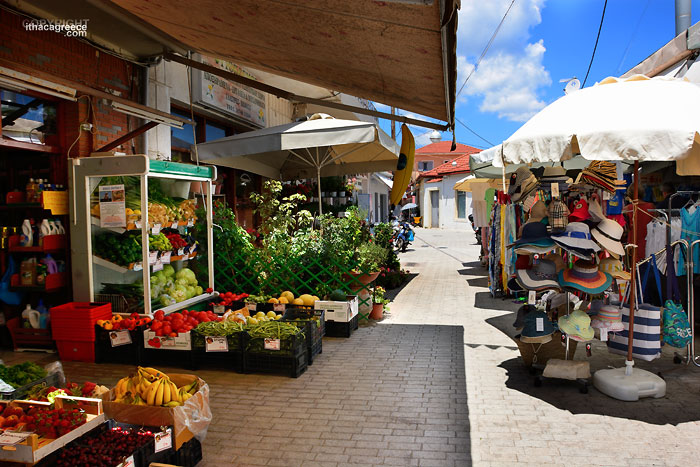 You would expect the impending weekend to be a busy time for the island, but infact, it's the middle of the week where Ithaki Greece sees the most action in regards to visitors.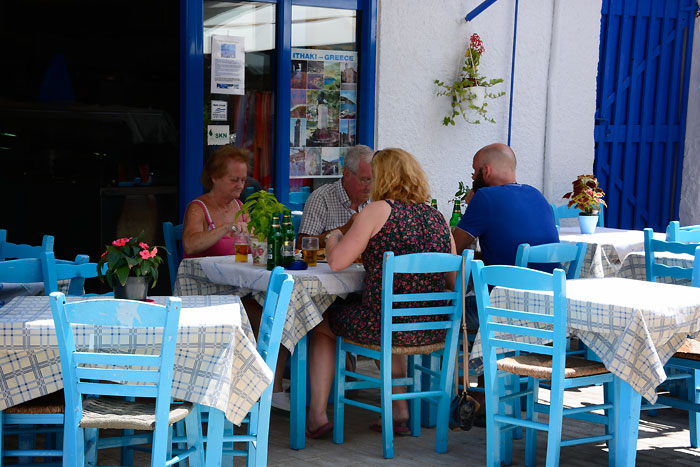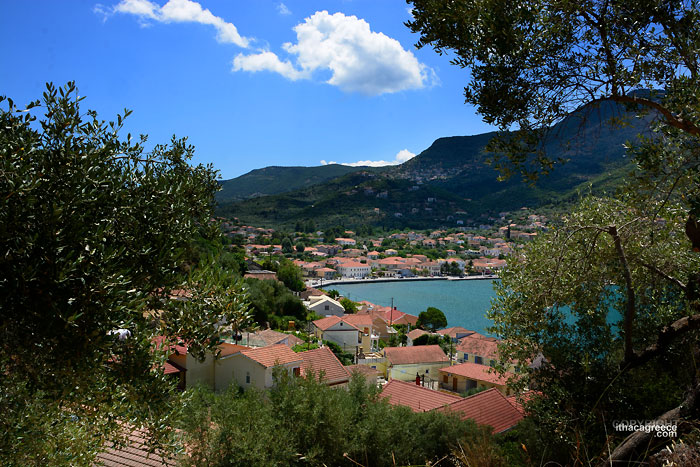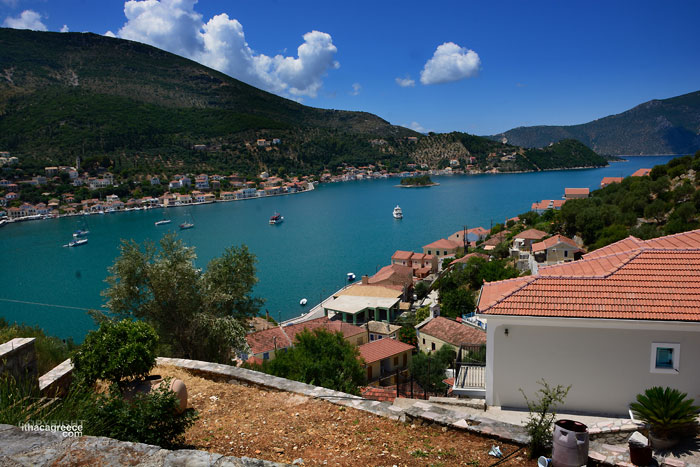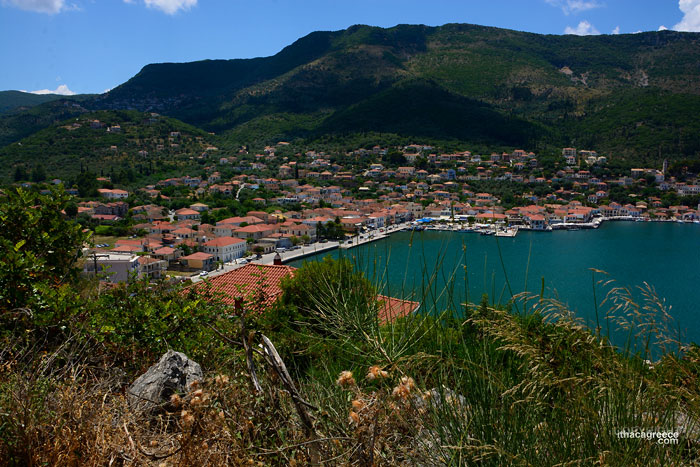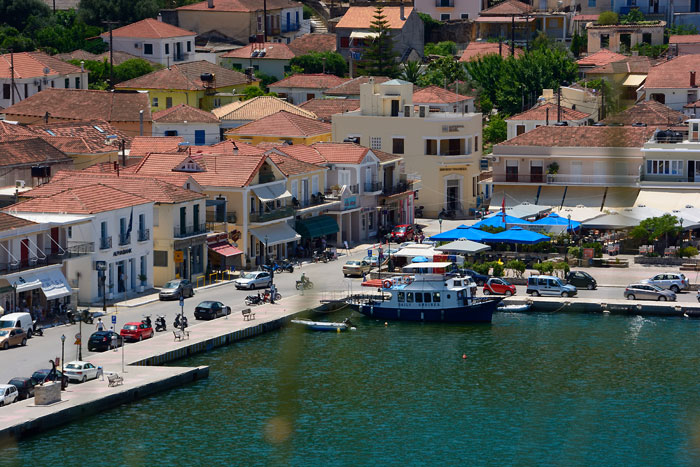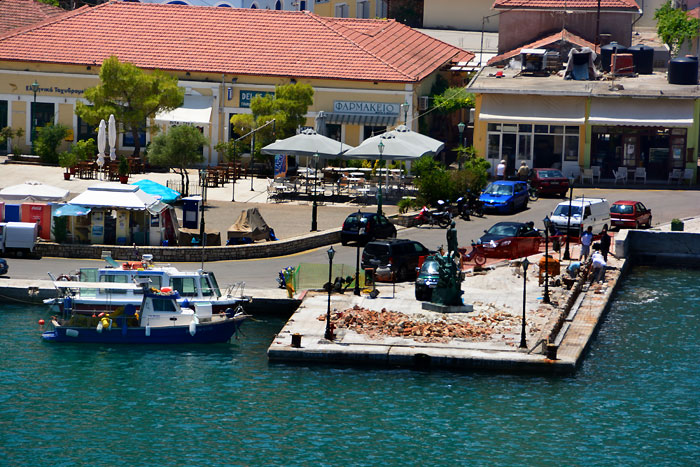 Above - Vathy pier near the Odyyseas statue, is getting a stone wall built. Wouldn't want anyone to fall into the water now would we.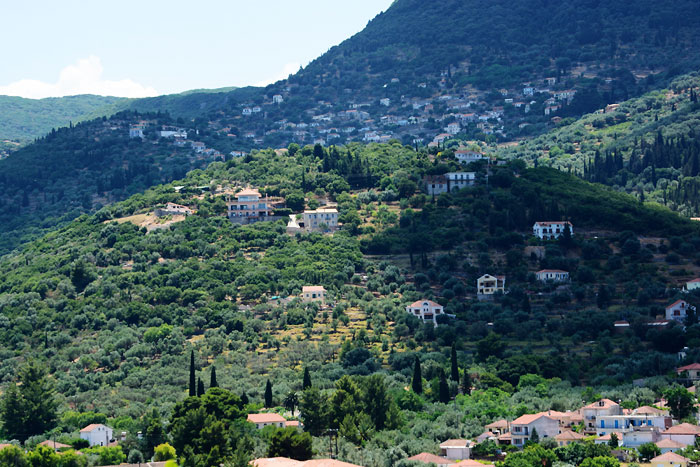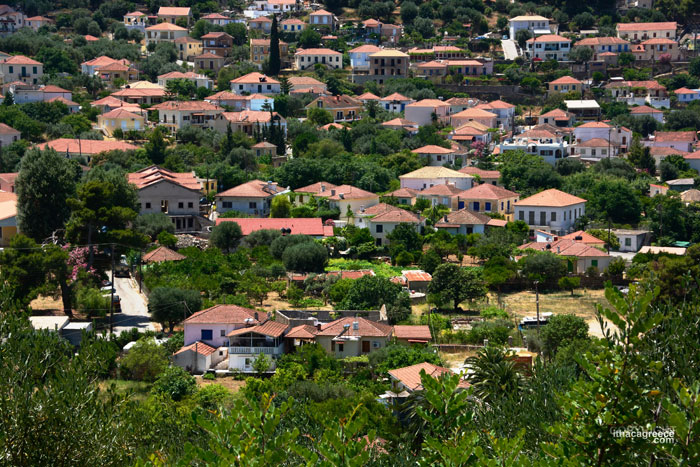 Above - The back of Vathy town.

---
June 2015
It's hot hot hotting up this month
Monday 1st
It feels like suddenly, overnight, summer has hit in full force with hotter days and sultry nights. Just lovely. During the day the number ONE destination is again, the beach.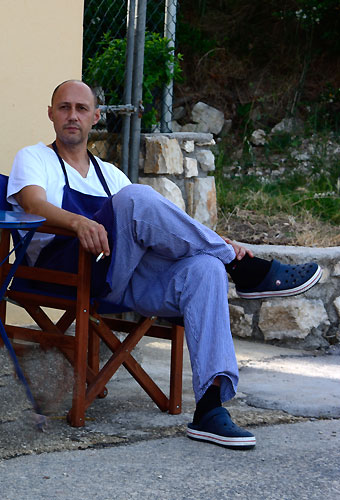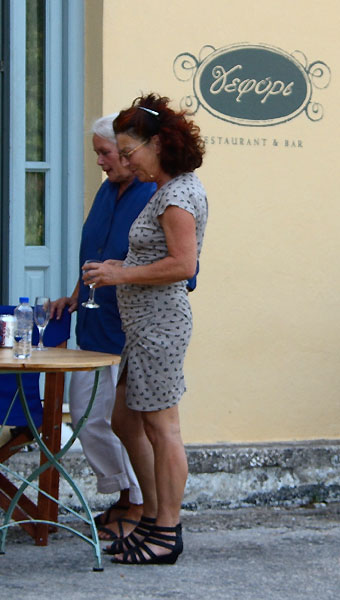 Above - Hanna from Exoghi and Klara from Vathy, 2 of Ithaki's artists, turn out to view Ester van Zuylens work.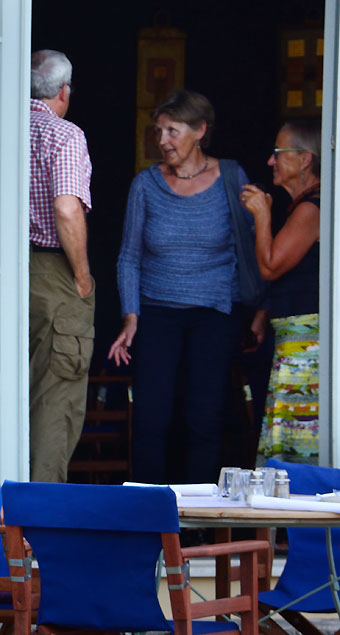 Below - Ester van zuylen who is currently showing some of her art at Yefuri Restaurant in Platrithia, keeps her guests entertained. Ester who had her opening yesterday, is showing a new side to her talents, but still coming from her spiritual core which has always influenced her work.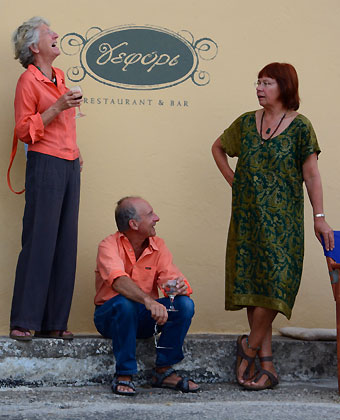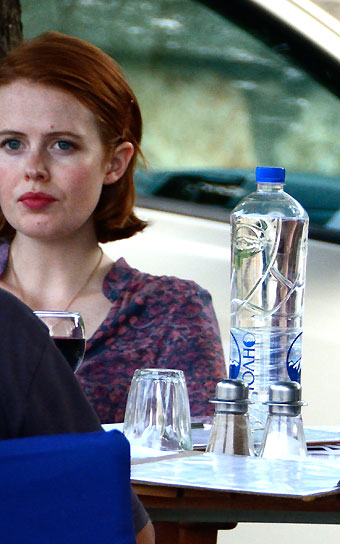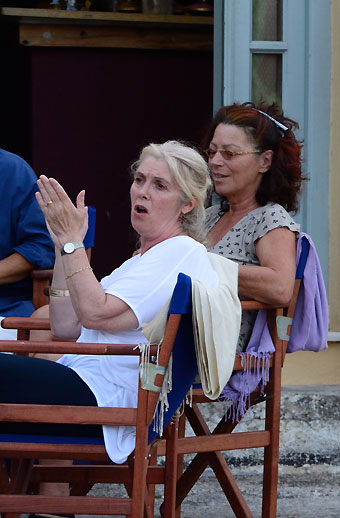 Above - By-standers applaud as the marathon runners pass by, giving them some well-earned encouragement on a warm evening in the north of Ithaca island in Greece. After the marathon the night ended with music and traditional dancing in the traditional costumes.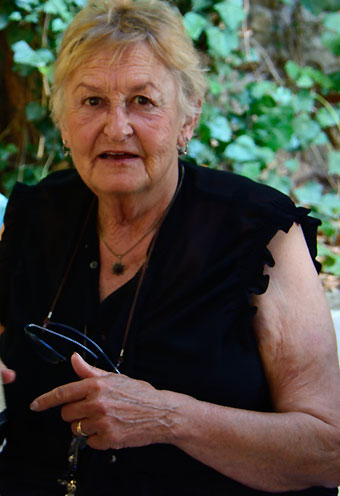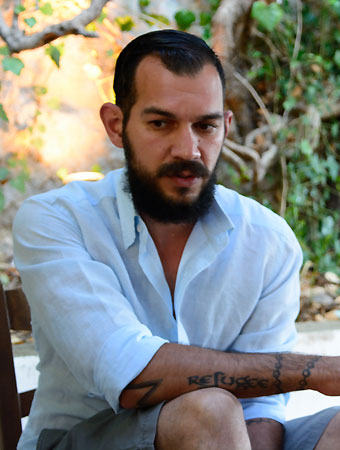 Above - Nikos (usually at Spavento Cafe bar in Kioni) doing a stint in Frikes at the new restaurant on the strip, Ageri.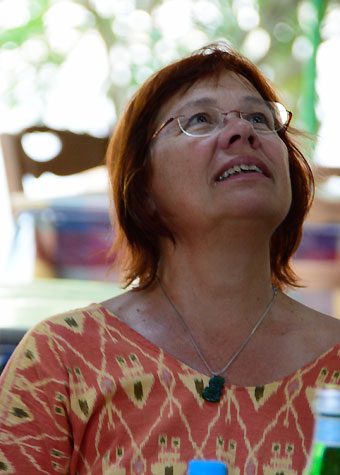 Is it a bird? Is it a plane? No, it's summer on ithaca.
Thursday 18th - It was pretty busy in Kioni (and generally around the island) today. Despite the gloomy armageddon prediction hanging over us, there seems to be one more important purpose than doing right by the banks, and that's doing right by ourselves. Good weather, good fun, sunshine and a holiday go a long way toward warding off the frightening forecasts the world is making about Greece. You know me, I could easily get on my soapbox right now, but I won't because there's too much doom and gloom around the world as it is, and today I want to add nothing more than some pretty colours to the world.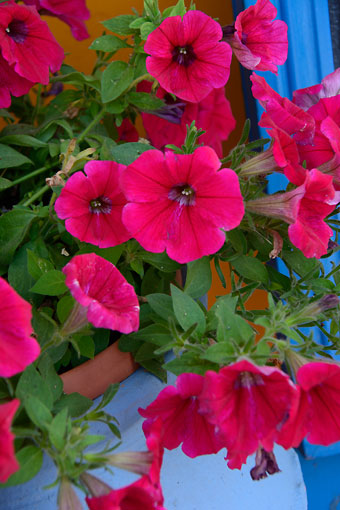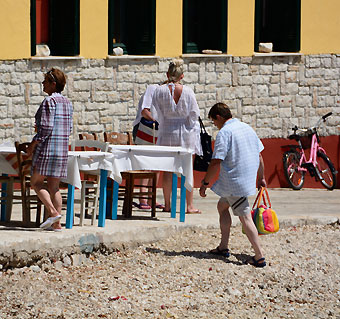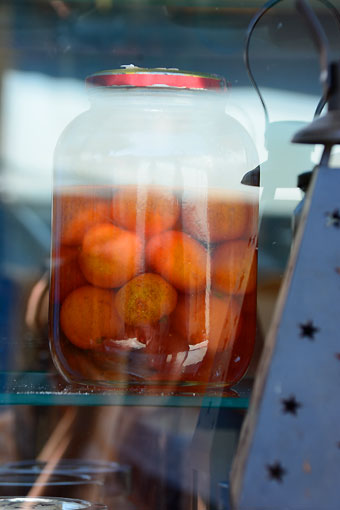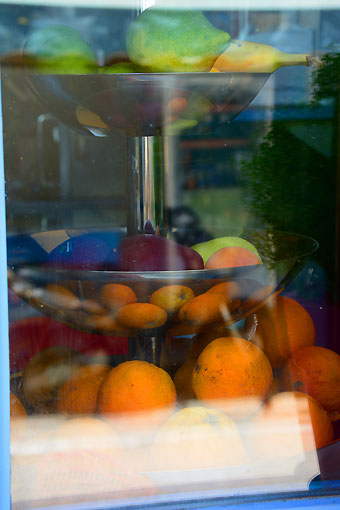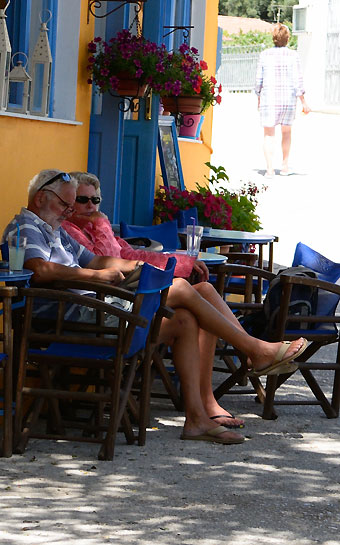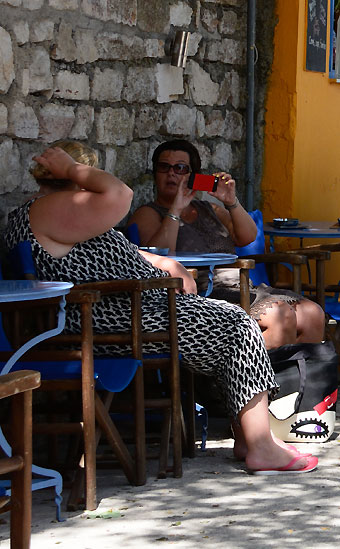 Just a reminder that there are so many fun things to do this summer. Boating trips, scuba diving, kayaking, cruises, yoga, reiki, pilates and so much more. Visit the General Business Links with Holiday Activities, Health and Beauty and of course the very important gift shops for those special memories of your Ithacan holiday.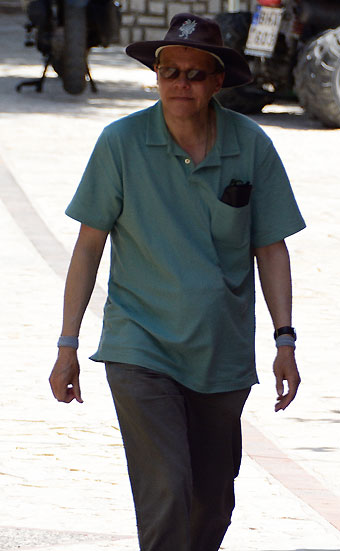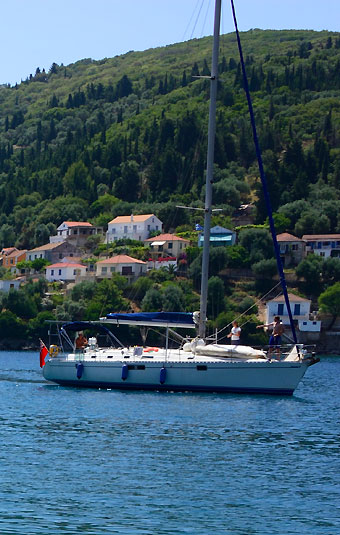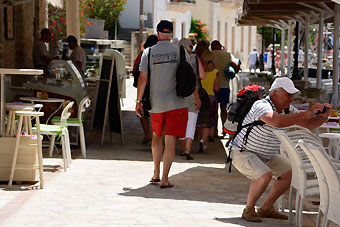 Saturday 20th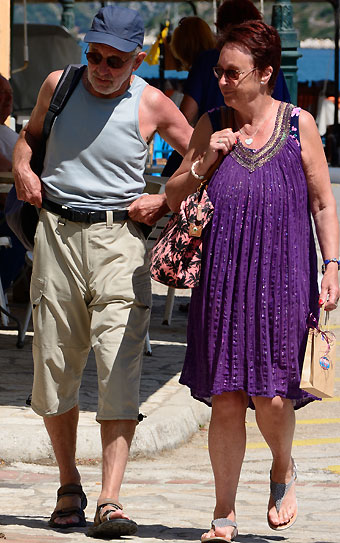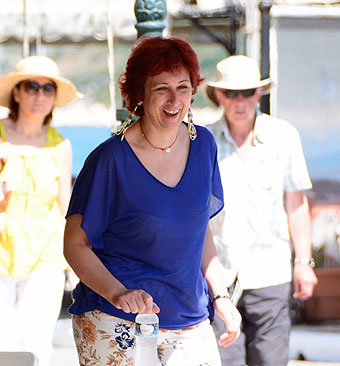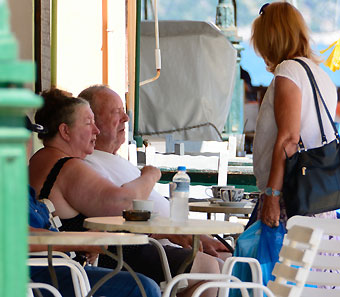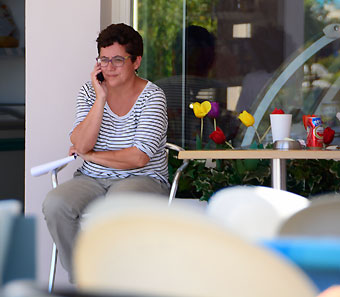 Above - Where else in the world would you be able to have a seat at the butchers? A nice rest area after some heavy shopping.
Below - Missed the ferry? Somewhere where the ferry doesn't pass? Who can you call? Yianni from Odysseas Sea Taxi that's who.