Since we spent our holidays in summer 2007on Ithaki , the beautiful island and so many lovely people are in our hearts.Soon I'll be back enjoying Ithaki and getting a real taste of Ithaki in winter... So, Judith, Esther, Dimitris, Nicky, Lylia, Marc and all ithacans see you very soon! Some people/ islands come by and quickly go, others stay with you for a (long) while and leave footprints on your soul and you will never be the same... Ithaki is that... nothing less.. a lot more
Alice and Georges from holland
Happy New Year to all in Ithica. We found the Island by chance after a visit to Kefalonia,and fell in love with it.The first time we stayed at Captain Yannis Stefanos the propriator was very helpful and we met his lovely wife Penelope and his parent who made us very welcome There is just something about the place that oozes relaxation and calm. The firt time we met George, who we thought was a farmer ,he was actualy a bank manager. we see him now every time we go,we also met Betty from Toxieth cafe, who is now a firm friend along with her husband mum dad brother and grandma whos lovely home we visited in pera hori. We were even invited to their twins first birthday party, Through them we met Anna and George,George is in charge of the electrical power on the Island,they invited us to their wedding in Athens but unfortunately we were unable to attend, Then of course there is Nicos from Nicos restaraunt and his lovely hard working wife penelope. Nicos always calls my partner Tony his brother and makes us very welcome. Last spring we asked Betty to arrange our accomadation with a lovely lady called Vasso who spoke only Greek. This was not easy but made for a fun packed holiday with much sign language in a lovley traditional greek home with an amazing garden we had the place to ourselves almost the whole two weeks, Vasso was always leaving tasty greek dishes outside our room and couldnt do enough for us,she actualy cried when we left. Even the lady in the bakers remembers us when we return. We have visited many lovely Greek Islands but none with people like you meet on Ithica who take you to there heart ,we will be visitors for many years to come, thank you Ithica,see you in June
Barbara & Tony Poulton England
Hello Erika, Unfortunately my visits to Ithaca over the last decade have been few and far between, in 2001 I took my lovely fiancé there to get married and managed another trip there in 2005 to take our then 3 year old daughter and introduce her to the magic and mysteries of one of the most remarkable and awe inspiring place in the world – Ithaca. 2008 has sprung upon us, with another year fleetingly disappearing behind us, however bringing much joy with the birth of our second daughter in December 2007, and now returning from leave over December, and longing for some serenity sitting here in my office, decided to view the Ithaca web site for the first time. Erika, all I can say that it is an absolutely fantastic site and could not stop reading all the articles and your daily journal through the winter. In brief it is remarkable and opens ones mind that Ithaca , although a very special place, is not only about "summer holidays". There is so much more than what is perceived on the surface, life beyond that, people for who they are, a community with ups and downs, businesses, arts and culture, and organizations, and "some" politics as well. In brief, your website is remarkable, and I commend you for all the hard work and effort that you put in on a daily basis. I not sure if the locals or ex-pats understand what an asset you are to this tiny island, however I would like to extend my thanks and gratitude for the remarkable work you are conducting on behalf of a very special place. I'm not sure when we will be heading back to Ithaca , but hopefully soon, and although I'm sure we have brushed paths in the past, would like the opportunity to meet you in person… again. Here is to a successful 2008! Kind regard
s
Michael Deftereos SA
Dear Erika, I have just come across your wonderful website – I absolutely love Ithaca, and previous years have not found much to remind me of its beauty and to give me 5 minutes to whisk me off there again (online). My wife and I first visited Ithaca some years ago before we were married and stayed in the hilltops overlooking Kioni – and from that first moment we stepped into our apartment we were wowed by the beauty and tranquility on offer. We had a fabulous time, and for some reason it felt so homely to me, I knew we would return. Indeed we did in June last year, married and with our daughter of 1 – we stayed in Vathy at The Yellow House, which was just perfect for us with a little one – although when we first arrived it rained quite a lot for 2 days, thereafter it was stunning, warm.hot and just blue blue skies – we loved Vathy, and it had everything we needed for a family holiday. Remote enough to be quiet and restful, busy enough to give us local amenities and shops, picturesque enough to enjoy our evenings on the balcony or by the pool, and friendly enough to welcome us for our morning coffee everyday. When in Ithaca we have of course visited many many places including Frikes, Stavros, Kioni (of course for old times sake and all the little coves, beaches and nooks I will never forget in Stavros in June 07 we ate the best Greek food ever in a very family restaurant opposite the school playground – it was torrential rain and we sat inside and ate the best Stifado I have ever tasted – and we watched the rain pour down with some locals watching the TV! Everyone was so very welcoming and lovely to our daughter too. Well, we are coming back again – this June in fact and again to The Yellow House in Vathy – so you know of The Yellow House? Is it is still beautiful and has unobscured views over Vathy? I wanted to know with a toddler on board with us now, whether there are any really good parks in Ithaca where we might be able to take her where it is safe for her to play a bit – she is full of energy and so we do want to be able to give her some time in anything resembling parks – but previous visits we haven't found anything. Have you any other tips for places, beaches we should try when coming this summer. I cannot wait to come again, I rarely visit anywhere twice, with so much of the world to see, and certainly three times is unheard of – so Ithaca really is something special, and it feels as if we are coming home for our holidays – the drive across the Island and be able to see the sea on both parts of the drive through out of Vathy is one of my most favourite places in the whole world. I would be most grateful to hear from you – as we anticipate our next holiday in Ithaca . Very best
Website is looking great as usual - we love it. Keep up the good work Erika. We were so shocked to read about the Yefuri Restaurant and feel so sorry for Andy and Mark especially as they were not on the island when the fire happened. I am not surprised to read about the community pulling together though it just proves how wonderful the Ithacan people are. We were at Yefuri in late October - Dimitris Danis and Judy Levy took, Terry, Cameron and myself there to celebrate Terry's 60th birthday and we had a fabulous evening (despite the weather!!). Cameron was surprised and pleased to see that his chips were served wrapped in paper (just like home). I do hope it will be open for business soon and they catch the person(s) who did it and string them up by their *****!!!. We were also just reading your "tell me about it letters" and would like to say to the person who wrote about Dimitris Danis paying you to put him on your website so many times - Dimitris is a very popular person with people on and off the Island . We are lucky to have been good friends with Dimitris for many, many years and although we keep in touch on a regular basis we love to see him on the website as I am sure many of his other fan club members do - so keep the Dimitris Danis pictures coming please. Also tell the people who want to travel independently to the island from the UK that it is really easy. We do it regularly (as you know) and the only problems we ever encounter are usually in the UK !! We fly to Kefalonia airport, get a taxi to Sami, have a leisurely lunch in Sami while waiting for the Kefalonia ferry to Piso Aetos then a taxi to Vathy (where our accommodation is). The taxi drivers usually drop you right by the ferry ticket office Sami if you tell them you want the ferry and the people in the ticket office speak fairly good English. When you get to Piso Aetos if you haven't got a taxi booked, just speak to one of the many taxi drivers there and if they already have a booking they will organise something or even come back for you (they are really good) sometimes you may have to wait but there is a place for drinks etc. It is easy but saying that we do remember how apprehensive we were the first time we did it many, many years ago. Ask Dimitris about our first time of travelling independently to the island when the taxi he had ordered for us didn't turn up and we were stranded at Piso Aetos before there was anything there and we were rescued by the then Manos Rep Greta (who we knew from previous years travelling with Manos). It didn't put us off!! We are looking forward to being back on the island again in May but until then the website will keep us up to date as usual with events on the island - thanks Erika. Love and best wishes
Hi Erika I cannot believe that anyone could be so mean spirited as to set fire to the Yefuri restaurant. Andy and Mark richly deserve all the support they have received from the locals in getting their restaurant back to normal because they are two of the warmest,friendliest and kindest people we met on our holiday last year. They welcome locals and tourists alike to their fantastic restaurant. So please send them our very best wishes and we look forward to seeing them in the summer.
Kath and Gordon Leeds England
locals of kioni... great, poli orea, efkaristo poli! best greetinx
valentino rudi austria
Thoroughly enjoyed the video's! I'm sat in the office in Whitby (on the North Sea Coast in North Yorkshire ) on a Saturday and it is blowing a hooley outside (50-60kmh). I am a good deal more cheerful now, they have brightened my day up considerably! Ithaca seems to have a way of doing that mind! Ithaca seems a long way away (but only six and a half months until we are back in Kioni hopefully) and the website keeps me going! All the best and kindest regards
Nick
Just wanted to say hi, and that i look at the ithaca greece website, quite often, and it's so nice to see whats going on around there in winter, with all your lovely pictures, and updates of stories.. Thanks, really l ooking nice at the mo.. LIke the view of kefalonia,, looks like you been having ok, weather. compared to here in london , miserable, overcast most days,, but spring is on it's way, with milder temperatures. take care then.
Melanie
Hi Erika I cannot believe that anyone could be so mean spirited as to set fire to the Yefuri restaurant. Andy and Mark richly deserve all the support they have received from the locals in getting their restaurant back to normal because they are two of the warmest,friendliest and kindest people we met on our holiday last year. They welcome locals and tourists alike to their fantastic restaurant. So please send them our very best wishes and we look forward to seeing them in the summer.
Kath and Gordon Leeds England
Hi Erika and Demetri We hope you are both well. Website is looking great as usual - we love it. Keep up the good work Erika. We were so shocked to read about the Yefuri Restaurant and feel so sorry for Andy and Mark especially as they were not on the island when the fire happened. I am not surprised to read about the community pulling together though it just proves how wonderful the Ithacan people are. We were at Yefuri in late October - Dimitris Danis and Judy Levy took, Terry, Cameron and myself there to celebrate Terry's 60th birthday and we had a fabulous evening (despite the weather!!). Cameron was surprised and pleased to see that his chips were served wrapped in paper (just like home). I do hope it will be open for business soon and they catch the person(s) who did it and string them up by their *****!!!. We were also just reading your "tell me about it letters" and would like to say to the person who wrote about Dimitris Danis paying you to put him on your website so many times - Dimitris is a very popular person with people on and off the Island . We are lucky to have been good friends with Dimitris for many, many years and although we keep in touch on a regular basis we love to see him on the website as I am sure many of his other fan club members do - so keep the Dimitris Danis pictures coming please. Also tell the people who want to travel independently to the island from the UK that it is really easy. We do it regularly (as you know) and the only problems we ever encounter are usually in the UK !! We fly to Kefalonia airport, get a taxi to Sami, have a leisurely lunch in Sami while waiting for the Kefalonia ferry to Piso Aetos then a taxi to Vathy (where our accommodation is). The taxi drivers usually drop you right by the ferry ticket office Sami if you tell them you want the ferry and the people in the ticket office speak fairly good English. When you get to Piso Aetos if you haven't got a taxi booked, just speak to one of the many taxi drivers there and if they already have a booking they will organise something or even come back for you (they are really good) sometimes you may have to wait but there is a place for drinks etc. It is easy but saying that we do remember how apprehensive we were the first time we did it many, many years ago. Ask Dimitris about our first time of travelling independently to the island when the taxi he had ordered for us didn't turn up and we were stranded at Piso Aetos before there was anything there and we were rescued by the then Manos Rep Greta (who we knew from previous years travelling with Manos). It didn't put us off!! We are looking forward to being back on the island again in May but until then the website will keep us up to date as usual with events on the island - thanks Erika. Love and best wishes
Pat, Terry and Cameron
Just wanted to say thank you very much for all your help. I thought the entire island was asleep when i received no feedback for any of the emails I sent. Thank you for putting me in touch.
Allison
Dear Erika, We have just about finished the work at the yefuri café and I wanted to ask you to publish this note on your website. It's hard to know what to say. We feel overwhelmed by the amount of help we received. Some people helped for days on end and others just a little, a few local ladies baked cakes, whilst others brought us beers and transported burnt furniture. Others changed holiday plans, wrote kind words of encouragement, paid for paint, one woman even donated some money via the website. In the end, it wasn't how much folk helped that was important because what mattered was, whether local or from abroad, young or old, the kindness of all the volunteers made the whole experience bearable and for this we would like to extend our heart felt thanks. . We start this season by opening Friday, Saturday and Sunday evenings at 6pm (and Sunday brunches) from Friday 21 st April so, please come and say hello.
Mark Stevenson and Andy Papas
, Yefuri Cafe Platrithias
Hi Erica A few weeks ago when Sue and were visisting Kefallinia and were having super at Katerina Dima's Possada Resturant in her exquisite Meseum Hotel George Molfetas she introduced us to her two guests. Historian Adam Nicolson was in the company of a BBC radio producer and they were maikng 3 radio programs called Homer's Landscapes The first is to be broadcast on BBC Radio 3 on Sunday 30 March at 21.30 GMT and is also available over the internet. I thought many of your avid readers in UK and elsewhere might be interested. I mailed Adam a copy of Dimitris Paizis' book "Homer's Ithaca on Cephallenia?" - his opinion was very much that of the Ithacan Friends of Homer - that Bittlestone was - shall we say - misguided. Should be a good listen! Best regards
Hi Erika, I was interested to see Mike Bennett's letter recommending Dimitris Paizis' book. I bought this last year in Vathy on Mike's recommendation and found it worth every euro.
Bittlestone's book takes literally the received translation of Homer's geographical description, at least where it happens to suit his argument, but ignores facts where it suits.
"Ithaca and Homer (the Truth) by Christos I. Tzakos, again bought in Vathy, (and recommended to me by Katerina Venturis), is another must read for anyone interested in proving the obvious, killing as it does any claims that Homer's Ithaca was anywhere else but your island. I understand that Friends of Homer are about to release further research (it hasn't reached here yet), that Ithaca is Ithaca. It would be nice to think that it will get the same
amount of coverage as Bittlestone, but somehow I doubt it.
Whilst there are so many important issues on the island - water, power, fires, phones & adsl, to name a few - it must seem slightly amusing that outsiders take the Homeric debate so seriously and spend so much time promoting their own theories.
If you really are interested, and haven't read the books I've already mentioned, there are two books that every visitor to Ithaca should read, ideally whilst on the island.
These prove beyond any doubt that Homer's landscapes are all around you and that trying to place the action anywhere else is a complete waste of time.
These are the Iliad, and the Odyssey, by Homer. The only books you'll ever need! Now, if we could just find the palace.......... Mike Ashton (Mikalis Paparazzi) Cumbria, England.

Mike Ashton (Mikalis Paparazzi) Cumbria, England.
I listened to the Radio 3 thing about Odysseus last night. Am I the only person suspicious of the amount of time he spent on that island with Calypso ? Couldn't get away ??? Hmmmm ......I will certainly get to Ithaca soon !
Lesa
Dear Erika, George and I appreciate your site, which by the way, is getting richer every day. We appreciate your pictures, especially the ones of Afales bay, since it is the view from our home, but the house is not finished yet, and we are still in New York . Your pictures are the next best thing to being there. Attached is a photo that George took last April. We plan to celebrate Easter on the island. Hope to see you then.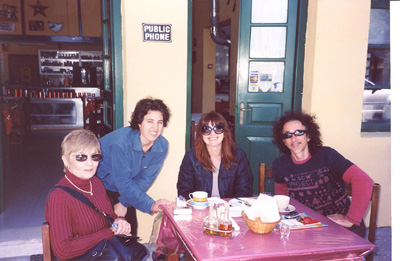 Irini Alexandropoulos Collins
That Homers school Ester walk on the site looks really fab! Nice to see familiar faces looking like they're having fun too.... Hopefully Ester might be doing it again in early May - when we're back...
Adrian Lunney UK
23 April 2008
Good morning from sunny South Africa , I would be grateful if anyone logging onto your site could assist. Our father Michael VLISMAS was from Vathi,, Ithaca and came to South Africa at age 16 in and around 1912. He had a natural sister OLGA and a step sister ROSINA. From few visits to the island we have been able to trace that Gregory from Gregory's Tavern is a cousin once removed and that George from Ithaca Supermarket is also a cousin once removed. On a visit 2-years ago we visited with Angelica (George's sister) who was quite frail, but because of the language barrier could not ask too many questions. I do believe that the house that my father and sisters lived in is now owned by a local Ithicician musician. If any of your readers could throw some more light on this information, our family would be most grateful. We have recently completed a family tree from our mother's side and would desperately now like to do the same for our father. Kind regards,
Hiya Ericka Great videos ! It's almost ( almost ) like being there. Today's videos of Ester's walk and Vathy / Frikes are wonderful. Can't believe I'll be on Ithaca in 2 and a half weeks. We arrive 8th May. I'm really looking forward to seeing Springtime - I've only ever been September / October time. Will the mountains still be blanketed in flowers ? I hope so. Looks like it will be hot too - can't believe that. It's so cold and grey here. Hope that you will be free for dinner one of the evenings - I know how busy you are. Let me see if I can 'book' you in advance ! Best wishes
hi erika happy easter to you all on iithaca we are looking foward to seeing you all in september but at the moment it is all steam ahead for our daughter katies wedding on thursday 1st may .we are all getting very excited about it. we shall boure you silly with the photos when we see you all in sept. love to nec , poppy and ariadne and all.
Thank you! Thank you! Thank you! The video of Good Friday made me cry. It has been many, many years since I've been to Ithaki over Easter. You have made my year. Great job Erika. I always love the photos, but to see the service and the epitafio carried through Kioni was amazing. For 6 mins or so I was transported to Kioni.
Hi Erika, I see you're still struggling to get ADSL. I have attached below the way we fought with the UK Government and our big service provider BT to speed things up and get ADSL into the english countryside. It did work, although we are still campaigning to get it finished all the way. Happy to talk to you when I'm in Kioni from 22-29 June.
Broadband
I was involved in a successful campaign to get broadband into rural areas of Britain . Even now there are areas in the British countryside that do not have ADSL, but I think we have 98.5% coverage. Whilst I know that things work differently in Greece , perhaps some things we did may help you.....

First
Start a campaign, gave it a name and a logo - we used "Broadband Rural Britain" This may sound simple, but it is important. It gives the media and the politicians something specific to worry about.
You need a team
You'll need someone who understands the technology - eg ADSL and the real (don't believe everything they tell you) ability to deliver a service, plus other methods such as satellite and wireless, someone who understands the media, someone who understands politics and someone who can get things done.

Decide on your arguments
Why do you really need broadband? Because without it, remote areas such as north Ithaca will suffer. Businesses cannot compete with those who have it. Tourism will suffer - hotels in north Ithaca cannot take bookings the same was as hotels in Kefalonia or Lefkas can. Schoolchildren cannot enjoy the same advantages that schoolchildren in Athens do. Doctors, vets and farmers cannot take advantage of new technology where remote medical diagnoses can take place over the internet - this saves lives.

Get support
if you've never had broadband, you really don't understand what you're missing. But some will because they have it at work, or their friends and family have it. Harness their support and make them local "broadband champions". So you now have supporters in Frikes, Stavros, Kolieri etc. As well as using their energy you can teach them the bigger arguments.

Involve the politicians
You now have a lot of supporters - even more if you have your petition. Meet your local politicians and explain why they need to support you. Explain to them that they are not doing their job correctly if they allow their voters to struggle whilst others succeed. Once you have the backing of local politicians you can take your argument to Athens , and national government. Businesses, the tourist industry and young people in north Ithaca do not have the same basic rights available to them - this is 2007! If you cannot get ADSL, then maybe government should put some money into alternative solutions. ASK THEM!

Involve the media
The press, radio and TV love a good story with human interest. If you get 1,000 signatures on your petition, make sure that the media know. But more important, find real life examples of people who are losing out because they don't have broadband. Your "broadband champions" will be able to get to the heart of the small communities and discover a child who cannot do his homework, or someone who works from home that will have to move from Ithaca to get broadband. Or someone who will not bring their business to Ithaca because they cannot get broadband. Make it personal. Make it economic. And make it discrimination against small islands.

Involve Otenet
Show them the strength of opinion by having a public meeting. And get your experts there - especially the one who knows technology. Get your politicians there - and most importantly, get the press there.
The people who sell broadband (Otenet) will be happy to generate more demand for their service, even if they can't deliver it just yet. They want help too. Who is your biggest user of broadband in Greece (not just Ithaca ). In the UK it is the BBC , and they happily came along to small villages and no charge, to show how important it was. Then everyone started to listen!

Keep going .
This won't happen overnight. Otenet will say that it is too expensive. Politicians will say they have more important things to do. But politicians need votes. Otenet need good PR. Embarrass them in to making an example of northern Ithaca . And once you get broadband, the rest will follow.
Mike UK
Hi Erika thanks for posting the 'boat around Ithaca ' photos – truly rare views indeed. You can see the remains of terraced agriculture in one and the dramatic cliffs with vegetation growing on them is awesome.
G
Hi Erica We were really sorry to see the stupid scrawls on your For sale signs. Hope it's water off a duck's back to you. Loved the clever spotty dog. Best Wishes
Di & Gerard
Thank you for putting together this website. My extended family lives in Ithaki ! I truely miss Ithaki and your website, allows me to "be there". Keep up the great work!
Eleni From California
Hi Erica, Thanks for the photo's of Mum's birthday, they were great and her granddaughters, who were sorry they couldn't be at "Gabor's" birthday loved seeing the photo's of Gabor, Aunty Catherine, Uncle Phil, the Lucas clan etc. Always enjoy my Ithaki fix, hopefully in person next summer!!!! Yours faithfully,
Elena
Dear Erika, thought I would quickly write to say hi. I am really missing Ithaca - and can not believe that it is just about two years since I was there. Soon all the Panigiria will be starting and my mind will be there - thinking of the carefree life - where the only thing that matters is having a good time. I hope you have a great Summer taking photos and keeping us (who are not lucky enough to be there this year) updated with the latest and greatest happenings in Ithaca .Regards
Karly Kallinikos, Melbourne Australia
Before visiting Ithica for the first time last year we found your website and it gave us a wonderful introduction to the island. This year we are returning . We regularly view your website to remind ourselves of the beauties of Ithaka and its people, and in anticipation of our two weeks visit in September. Somehow you have been able to capture in your website the magic and flavour of the island and for this you deserve a big thank you.
Mike/Dap Berkhamsted, Hertfordshire